There's nothing more cozy once the cool weather hits than grabbing a comfy throw, a cup of hot cocoa and putting a pot of simmering potpourri on the stove.
In the past I have shown you how to make a refreshing and light Lemon And Rosemary Stovetop Home Fragrance which is awesome for freshening up your home in winter and spring. Today's apple, orange and cinnamon potpourri recipe is its earthier cousin that will remind you of Grandma's kitchen on Thanksgiving Day 1972.
Minus the turkey. I didn't add any turkey in my potpourri.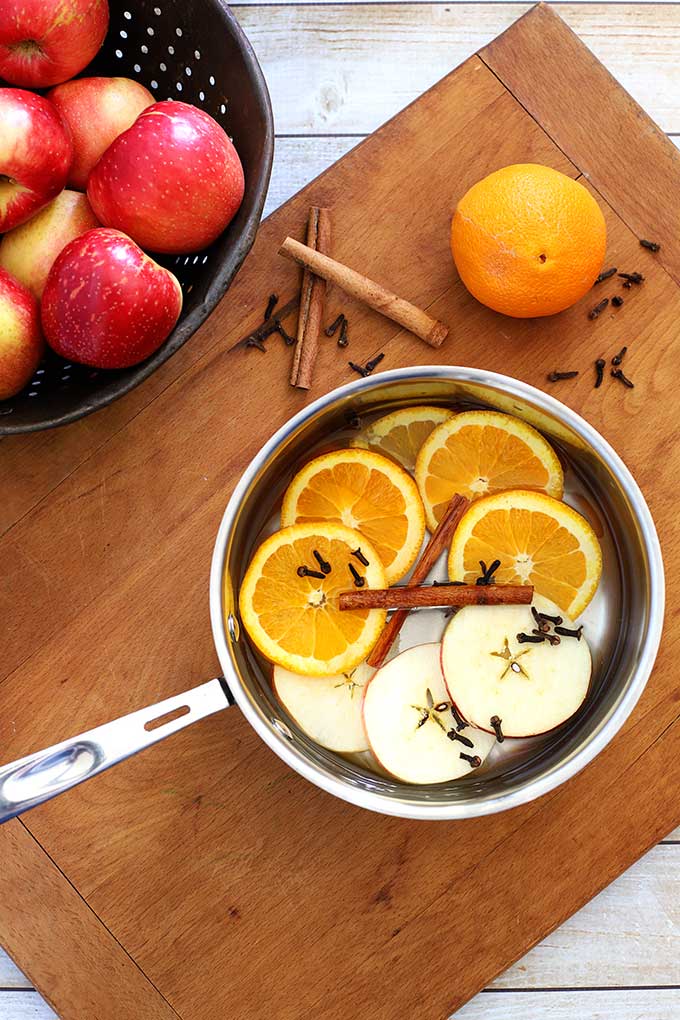 This all-natural potpourri recipe requires only 6 simple ingredients you probably have in your pantry (unless you are like me and went all Marie Kondo on her spice drawer in the spring).
My favorite thing about this potpourri recipe is that it's so easy to make . . . it is pretty much impossible to mess it up. A little slicing here and little opening of spice jars there and you're on your way to making your house smell wonderful this holiday season.
You can use this potpourri recipe from early fall, through Thanksgiving and Christmas. And beyond!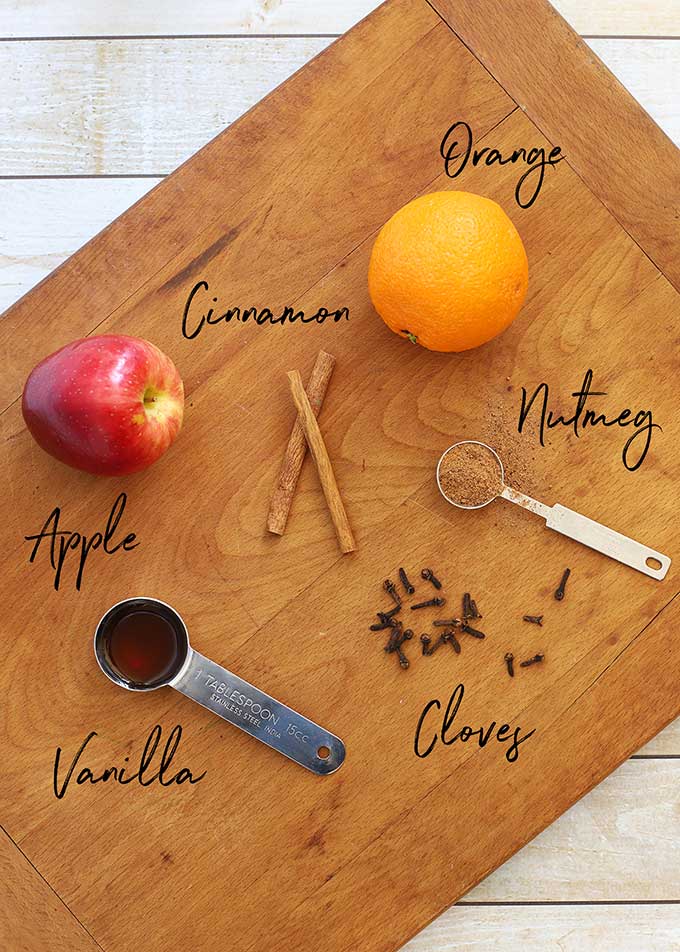 Homemade Simmer Stovetop Potpourri
Ingredients:
1 Apple sliced
1 Orange sliced
2 Cinnamon Sticks
1 teaspoon Nutmeg
1 Tablespoon Cloves
1 teaspoon Vanilla
Instructions:
Slice orange and apple into thin slices and place in the bottom of a saucepan.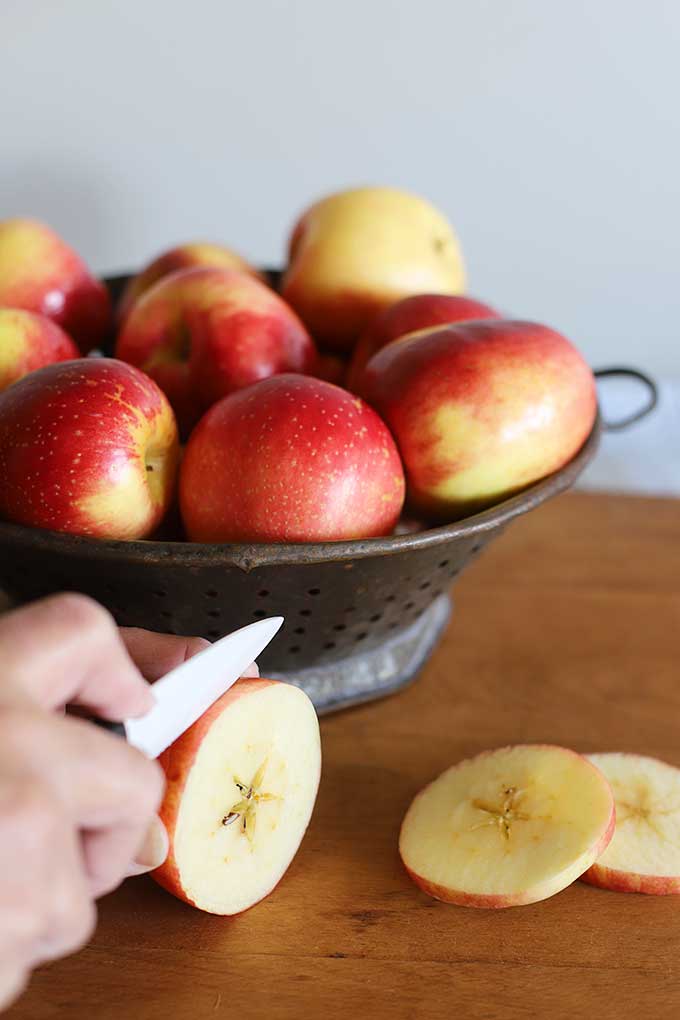 Add your cinnamon sticks, nutmeg, cloves and vanilla.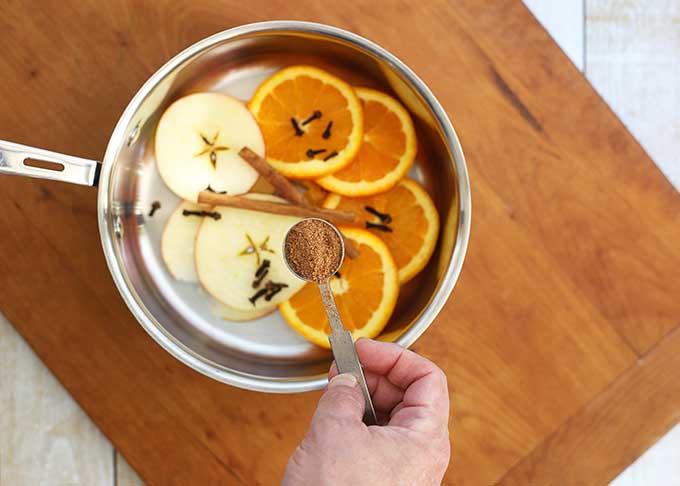 Cover with 2 cups of water (exact measuring isn't required, just enough to cover the fruit).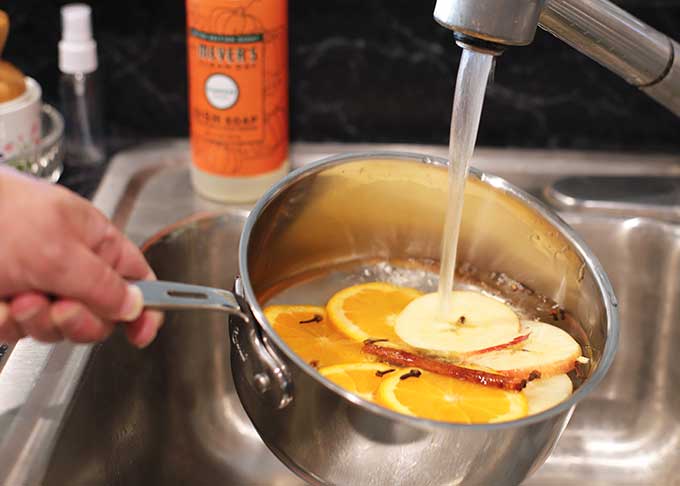 Bring mixture to a boil and then reduce heat to a low simmer. You will leave the pot on the stove at this low simmer for the remainder of the time you want to enjoy all the wonderful smells of the season.
Occasionally check on your potpourri and when the water starts to run low, add more.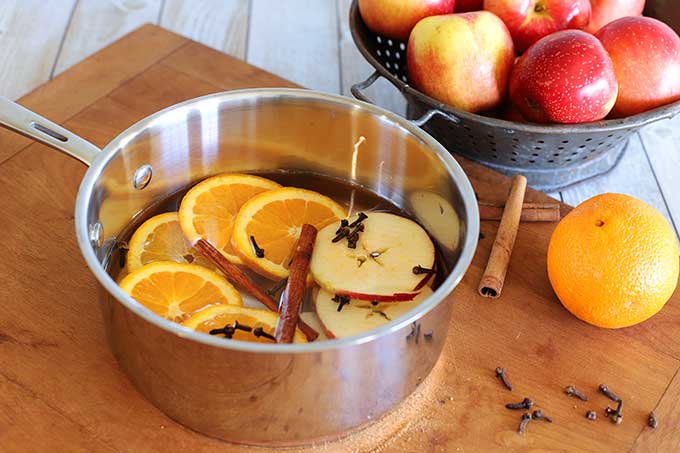 You do not want to leave the house while this is on the stove. Please keep an eye on it.
Without adding additional water occasionally, all the water will eventually evaporate and you'll be left with dried, burnt fruit and spices. And that is not a good smell.
This is just something you need to keep an eye on, but the smell is worth it.
So worth it!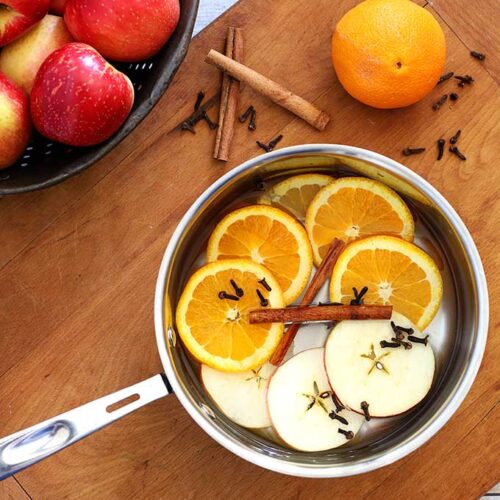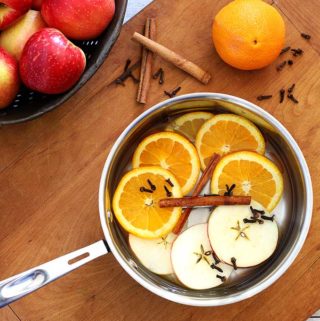 Homemade Simmering Potpourri
This easy stovetop potpourri requires only 6 simple ingredients. It's an all natural potpourri recipe perfect to use from fall through the holiday season.
Print
Pin
Rate
Supplies
1

Apple

sliced

1

Orange

sliced

2

Cinnamon Sticks

1

Teaspoon

Nutmeg

1

Tablespoon

Whole Cloves

1

Teaspoon

Vanilla
Instructions
Slice apple and orange into thin slices and place in the bottom of a saucepan

Add in your cinnamon sticks, nutmeg, cloves and vanilla

Cover with water and bring to a boil

Occasionally check on your potpourri and add more water if needed.
Notes
DO NOT let the saucepan run dry, make sure there is always water in the pot.
How long does stove top potpourri last? Can you reuse stove top potpourri?
You can reuse your potpourri 3-4 more times.
After you are done enjoying it for the day, let the potpourri cool, pour it into a lidded container and put it in the refrigerator. It will keep for up to a week in the refrigerator. Just pull it out, bring it to a boil again, reduce it back to a simmer and enjoy.
After reheating 3-4 times it's time for a new batch.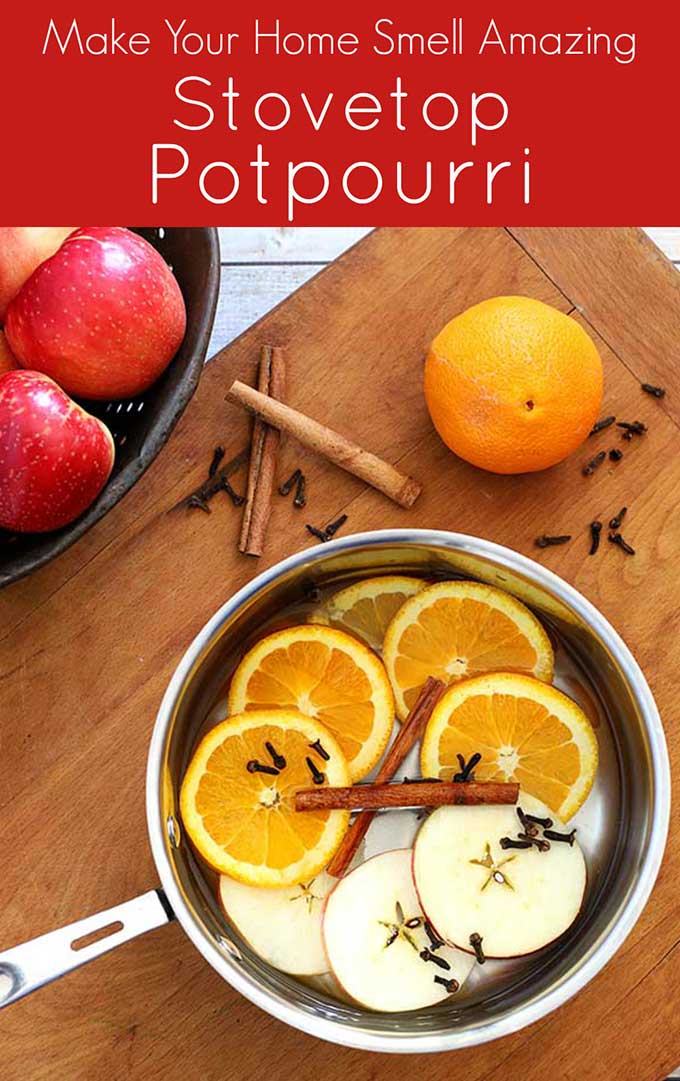 Check out the web story version of this article HERE.
Other posts you may enjoy: