Today is Farmhouse Friday and Farmhouse Garden Planters is the theme of the day!
But before I get into farmhouse garden planters, I'm going to talk a little about chickens. There's a connection. Really there is.
I've ALWAYS wanted to have chickens.
It seems so idyllic and folksy to have a flock of chickens running around the backyard. I'd go out and feed them everyday. With my apron tied around my waist, grabbing handfuls of chicken feed out of my pockets and sprinkling it around the ground for my girls.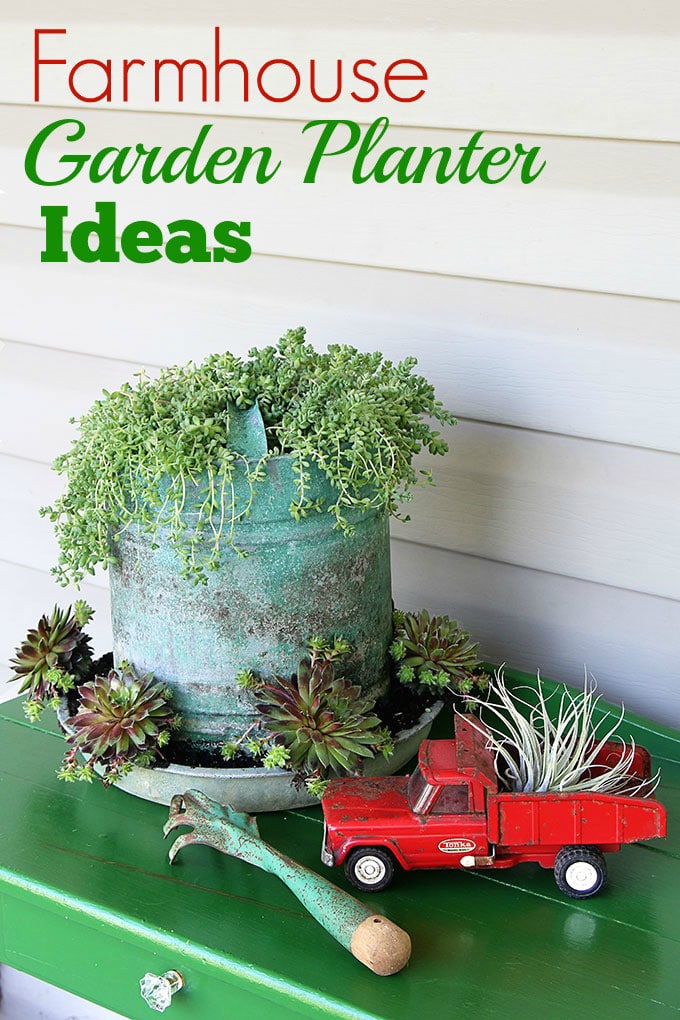 They'd come running up to me as soon as they saw me. And we'd be best of buds.
I'd gather their eggs every morning from the handmade chicken coop with cedar shingles and little cupola on top and then wander back inside the house and make fresh omelets for my family.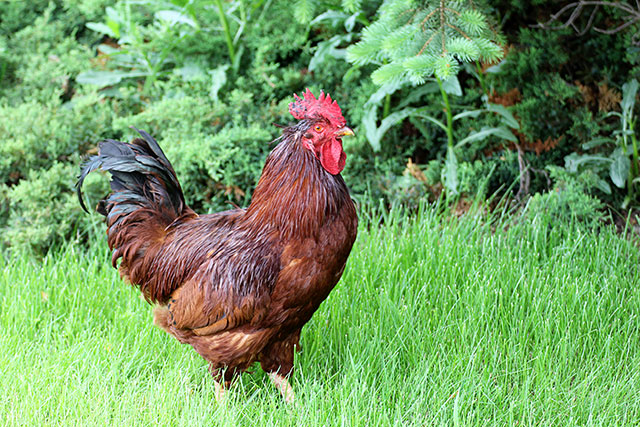 Screech . . .
Here's where it all goes wrong.
I can not eat an egg if I know WHERE it came from!
Don't get me wrong, I fully understand that all eggs come from chickens, but if they come prepackaged in styrofoam egg containers it's so much easier for my mind to disconnect that the eggs came out of a chicken's butt.
See, I'm not even sure where the eggs come out of, but it's somewhere down below in their nether regions.
Go ahead. Kick me out of the Farmhouse Friday group, but a warm egg that I KNOW came out of a chicken recently . . . just makes me queasy.
I guess I could still have my chickens, but I'd have the problem of what to do with all those darn eggs.
Which brings me back around to Farmhouse Garden Planters. A few years ago I found this chicken waterer at some sort of sale. Estate sale, yard sale, barn sale. Whatever.
I liked it because it had a farmhouse look, but I haven't really used it too much in my house. And since I have the "fresh" egg issue, it wasn't going to be used in my non-existent chicken coop.
It's perfect to plant succulents in though!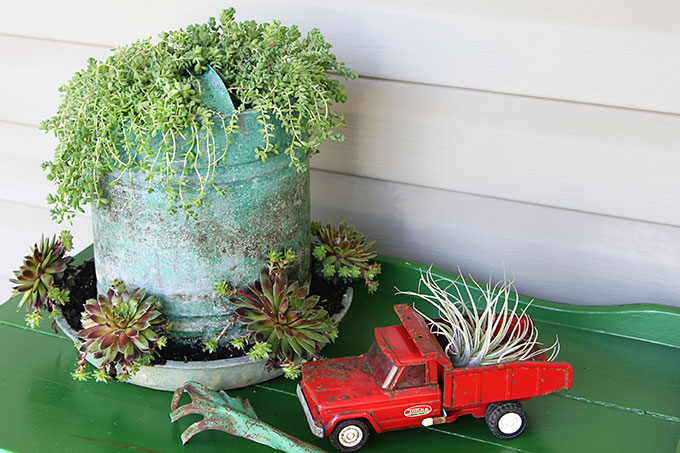 In the top I have Sedum 'Himalayan Skies', also known as Corsican stonecrop which has a slight bluish cast to it and has pinkish/white flowers later in the summer.
Oh, and butterflies love it!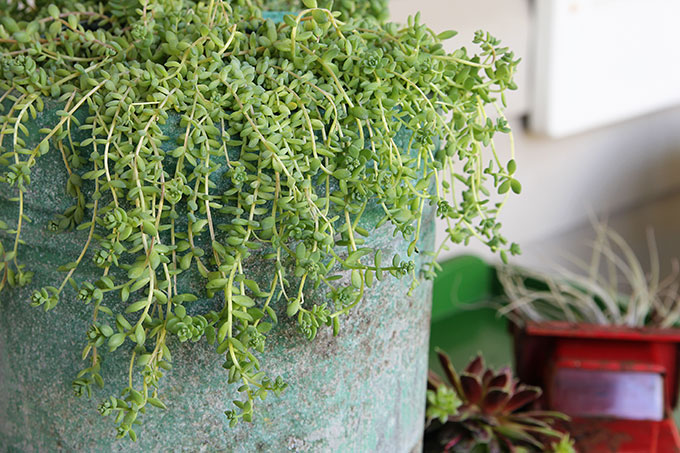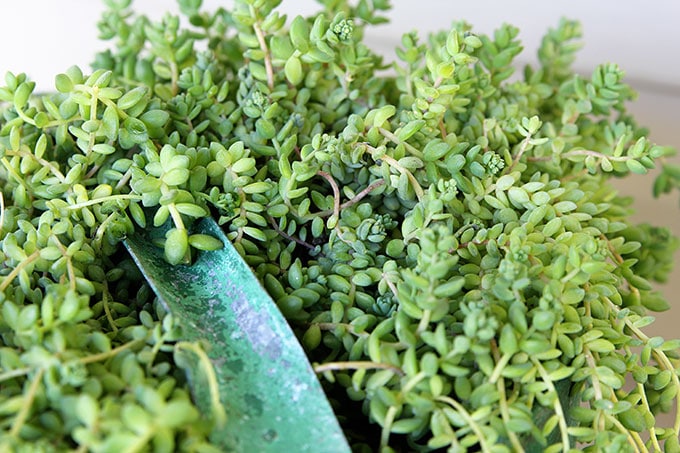 Tips For Growing Corsican Stonecrop
full sun
hardy in zones 3-9
grows 2"- 4" high
likes its soil to dry out between watering
Around the bottom I planted some Sempervivum aka Hens & Chicks (how ironic).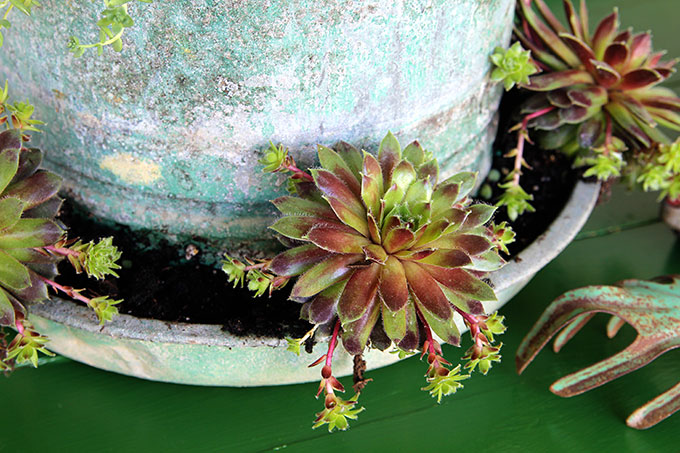 The big ones produce babies (chicks) which I'll then replant beside their mamas, so it will eventually be one big circle of hens and chicks all holding hands and singing Kumbaya.
Tips For Growing Hens & Chicks
full sun
hardy in zones 5 and up
grows 2" - 4" high
likes well drained soil
And hitching a ride in my new Tonka truck, I have an air plant (Tillandsia).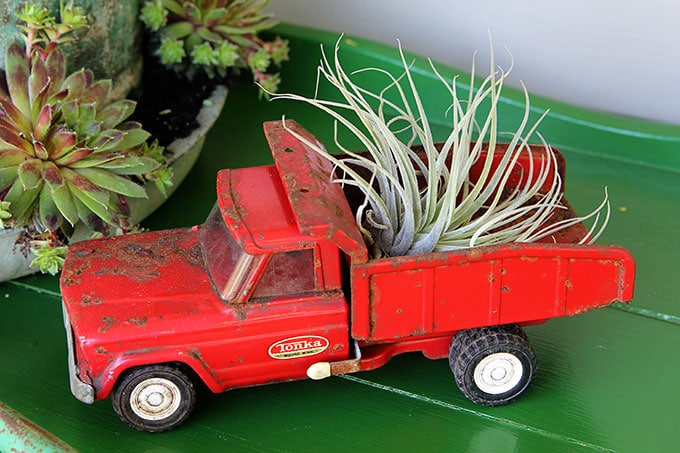 Tips For Growing Air Plants
protect from full direct sunlight
hardy in zones 9 or higher, can be grown inside the house anywhere
size varies
does not need soil, but does require water
The fun thing about them is every week you just remove them from wherever you've thrown them and soak them in water for about 20 minutes, dry them off and they're ready to go off and live in a beat up old Tonka truck for another week. The whole no dirt thing makes them a fun plant to grow.
I'm going to do a post on more tips for growing air plants along with fun places to grow them later next week.
Other Farmhouse Garden Planter Ideas
anything galvanized (buckets, livestock troughs, tubs)
wooden crates
wagons
watering cans
just about any kind of tin (cookie tins, potato chip tins, etc)
old wash tubs (the kind with metal legs your Grandma used to wash her clothes in)
wooden ice cream buckets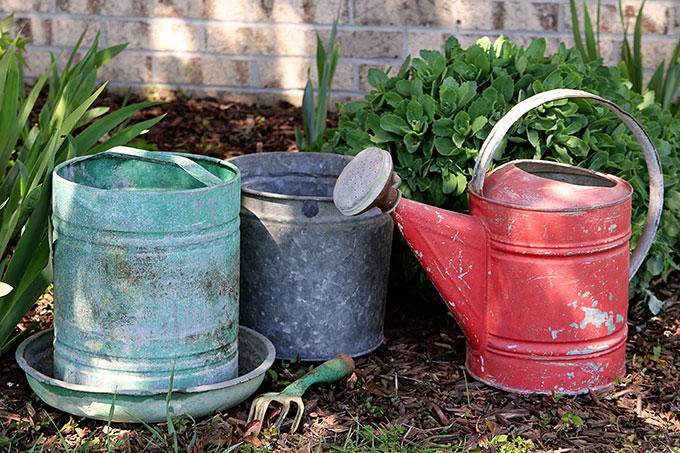 You are only limited by your imagination.
(This post contains some affiliate links for your convenience. You can read my full disclosure policy here.)
In case you don't have access to that sort of thing, I've compiled a little Online Shopping Guide For Farmhouse Garden Planters (just click on the links below the fancy-dancy photo/graphic):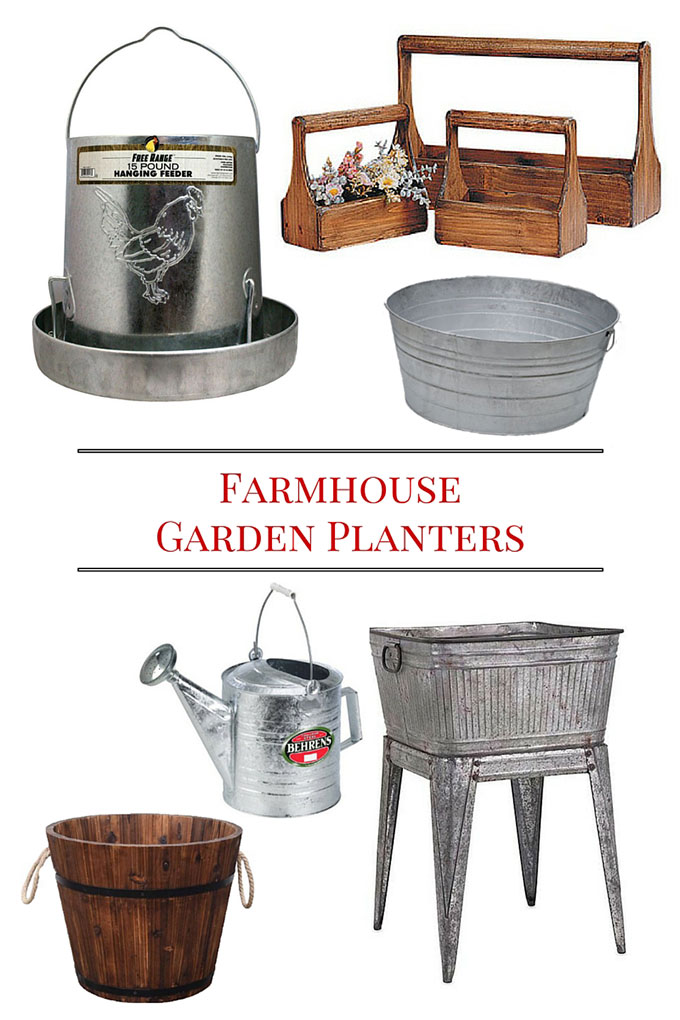 Poultry Feeder - Wooden Planter Set - Galvanized Tub
Galvanized Watering Can - Wash Tub & Stand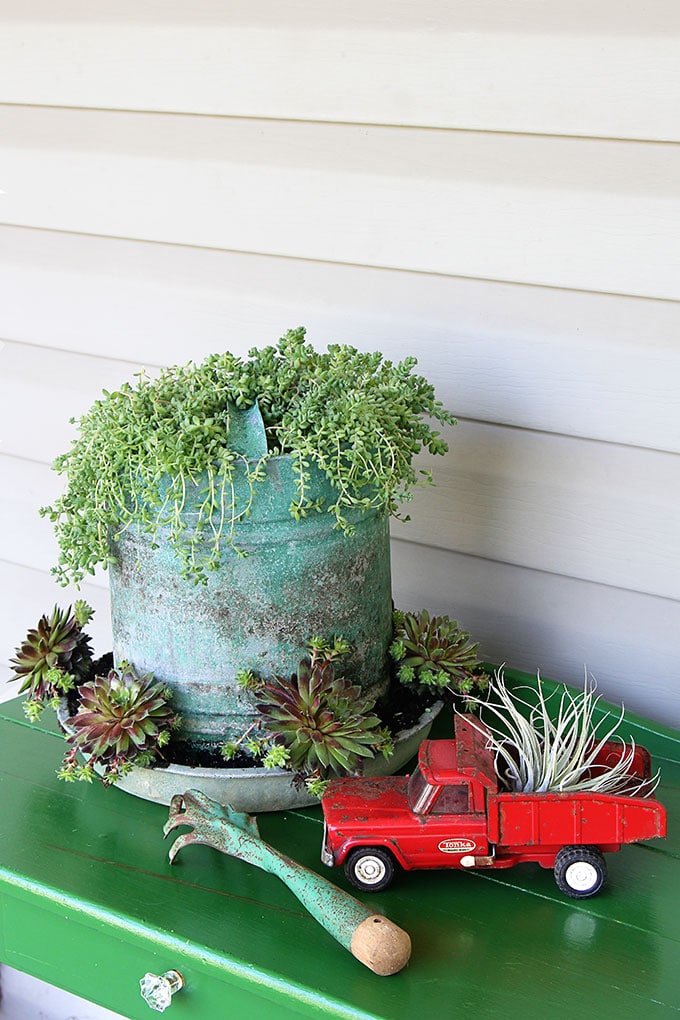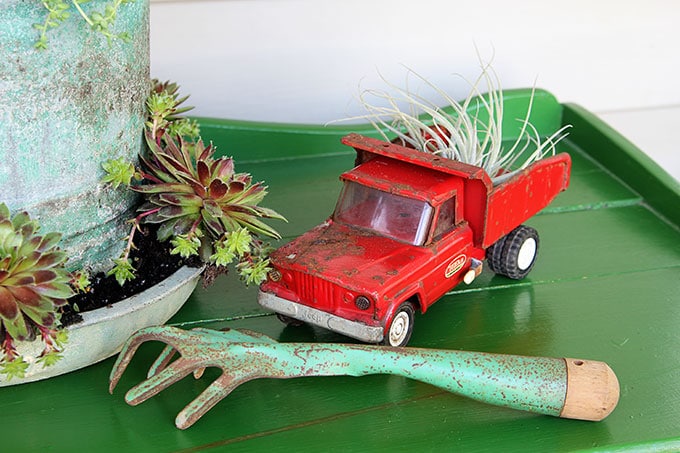 Some other posts you may enjoy:
Summer Porch Decorating Ideas
Sailing Away Into Summer - Summer Home Decor
Growing Black-Eyed Susan Vine
Best Soft And Chewy Oatmeal Cookies
And here's a big long Pinterest photo you can pin if you'd like. And with that, I'm out of here. These yard sales aren't going to shop themselves!