Get out your vintage Halloween noisemakers peeps, because it's giveaway time!!!
Because I know you all like the vintage junk I buy . . .
And I know you all like Halloween . . .
I've combined the two into one Frightfully Fun Halloween Giveaway.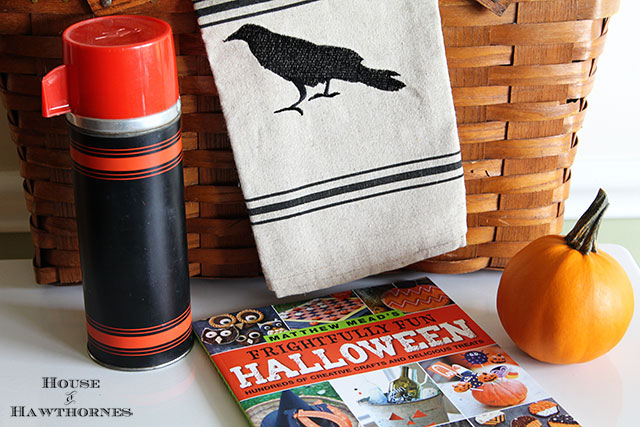 MATHEW MEAD'S FRIGHTFULLY FUN HALLOWEEN MAGAZINE
This is one of those "keeper" magazines. Heavy stock paper, gorgeous photos and lots of awesome Halloween ideas. And it's brand spanking new, never been opened or thumbed through.
ONE BLACK AND ORANGE VINTAGE THERMOS
You know how I love my Thermoses, so I thought it only proper to gift one to you. It is similar to the one I showed you on my Eclectic Vintage Farmhouse Fall Porch post. Just think, we'll have matching Thermoses 🙂
This is truly vintage and truly used, so please only use this for Halloween decor and do not drink out of it. Because, come on, that would just be gross.
CROW TEA TOWEL
Not handmade by me (like you might have actually thought I had made it?), but pretty darn cute and fallish.
What's NOT included?
The picnic basket and pumpkin. There's mailing issues with both of those and they're mainly used to just pretty up the photo.
The only thing left, is for you to ENTER.
Entries close at midnight, Saturday, October 11th - Eastern Standard Time. The winner will be announced on Sunday, October 12th.
For those of you who are new here, I go pretty old school on giveaways. No hoops to jump through. No need to stand on your head and twirl around.
But you do have to go through the Rafflecopter above to get entered (it doesn't ask for facebook likes or Pinterest follows or anything extra like that).
Good luck and spook on!