When you're a thrift store, vintage loving fool like I am, your office or craft room tends to be decorated in your fun vintage finds. It's just nice to have that stuff around you. To inspire you.
But you also need plenty of storage to organize your crafting supplies and what-not, so why not use some of those thrift store finds as storage pieces.
Double duty is the name of the game!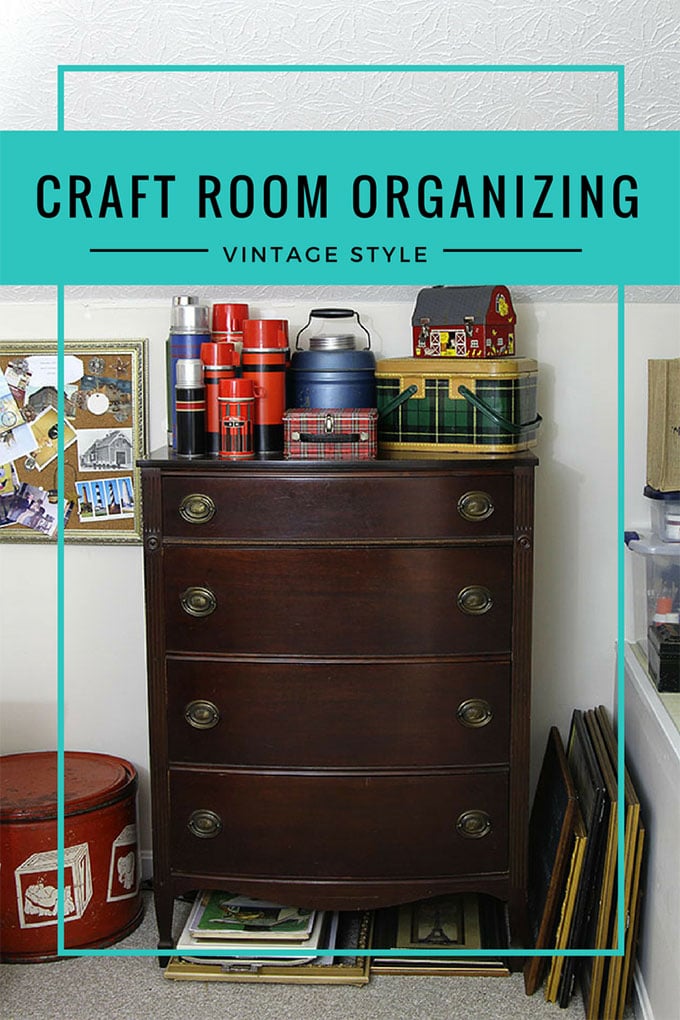 This is Part 2 of my Home Office posts. Part 1, where I give you a tour of the space, can be found here - Home Office Decor: Vintage Style.
First, here is a list of some of my favorite vintage/thrift store pieces to organize with.
Home Office Organizing: Vintage Style Storage Pieces
Picnic baskets
Tins
Suitcases
Rotating Metal Bins
Locker Baskets
Wooden Crates
Vintage Shelves or Dressers
Second, here is what I store in all my picnic baskets, tins and such in my office/craft room.
Home Office Organizing: What The Heck I Store In All That Stuff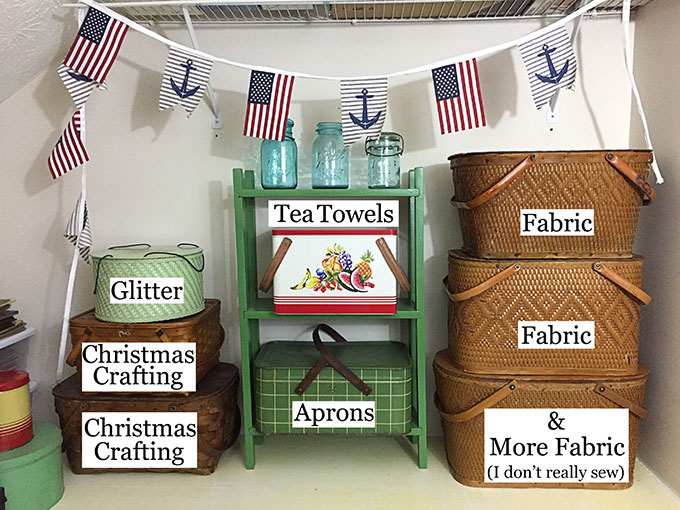 Seriously, other than an occasional pillow cover, I hardly ever sew. Yet I have 3 picnic baskets full of fabric? I may need to rethink that.
I did use some plastic storage boxes for my childrens book because they are sort of fragile and for the paint and adhesives because they're sort of messy and/or smelly.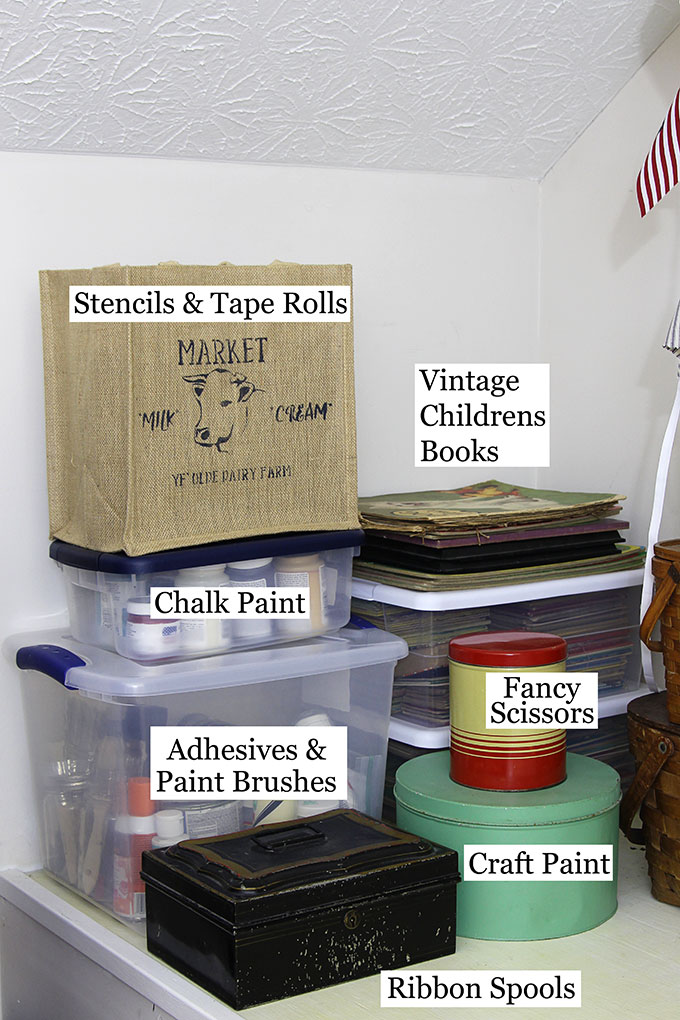 Yes, I have a lunchbox full of paper napkins. Don't judge.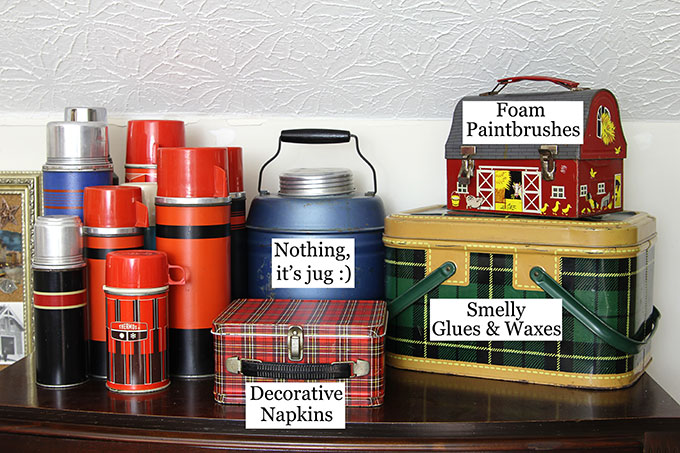 OK, maybe you can judge, because at the dinner table I just grab a few paper towels to use as napkins. I save these pretty ones for "projects" that never seem to get "done".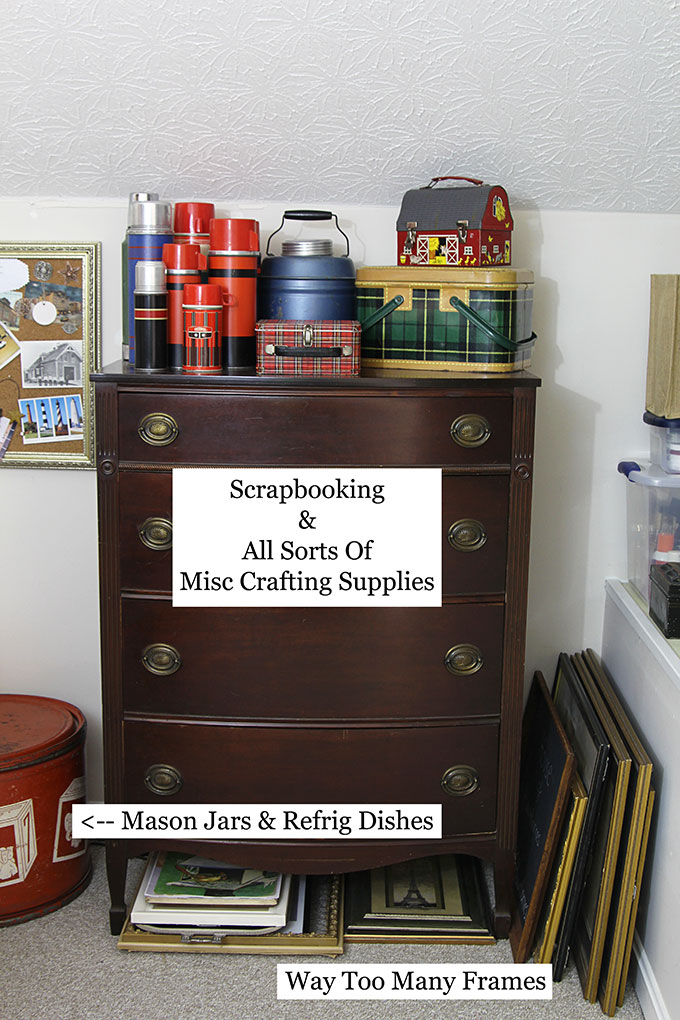 The last storage piece would be these Industrial Rotating Bins I bought at Harbor Freight. I've had lots of different stuff in these bins over the last few years, but my favorite use is to corral little bits and bobs of craft supplies.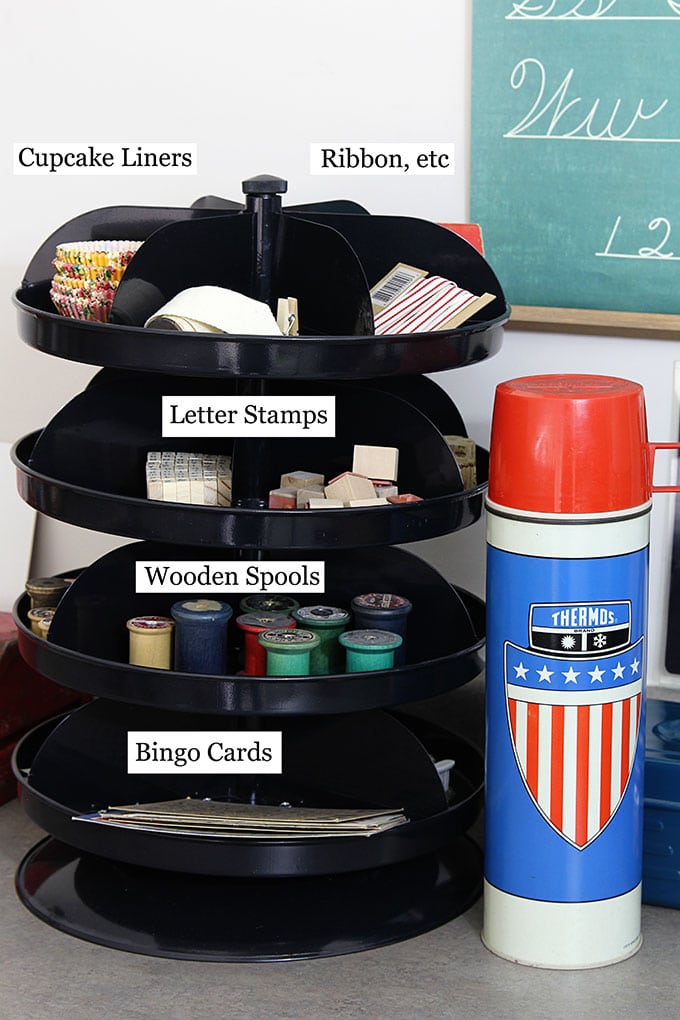 Now, even though I love how organized my office is NOW, it was not always this way.
CONFESSION TIME:
When I talked to you about purging and decluttering in my Kon Mari Method: For Thrift Store Shoppers post a few weeks ago I was lying.
Sort of.
I had done really well with Marie Kondo's book with 95% of the house, but I had been avoiding an entire room of my home. An entire room!!!
And yes, I know you're supposed to sort by category not room, but my office/craft room was avoided at all costs because I knew it was going to take some deep soul searching to get through this one. Some hard decisions had to be made. And I didn't want this whole room of vintage, thrift store goodness mixed with beloved crafting supplies to take down the whole KonMari Method before it even got started.
So I left this room for last and just started seriously purging and organizing my office area a few weeks ago.
I thought you might "enjoy" some BEFORE photos (actually they are sort of IN THE MIDDLE OF THE PROCESS photos, since someone forgot to take true BEFORE photos). Sorry for the hideous and fuzzy cell phone photos.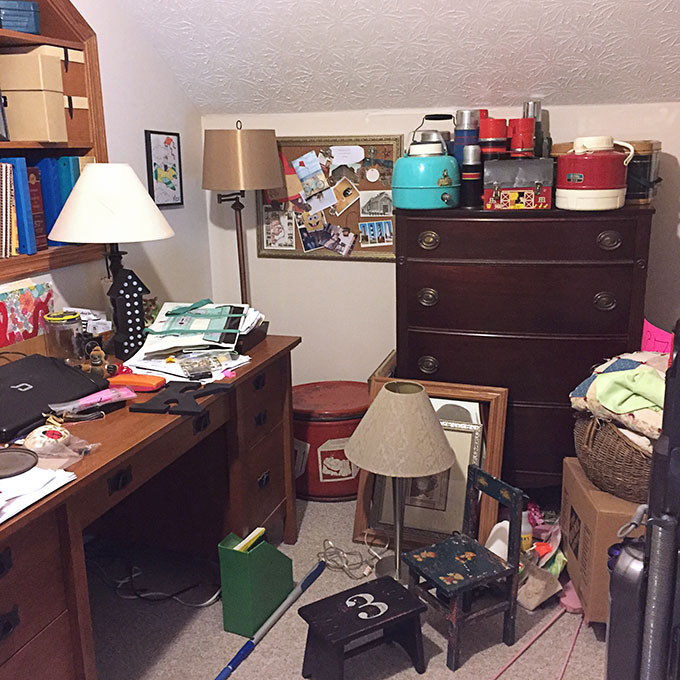 and this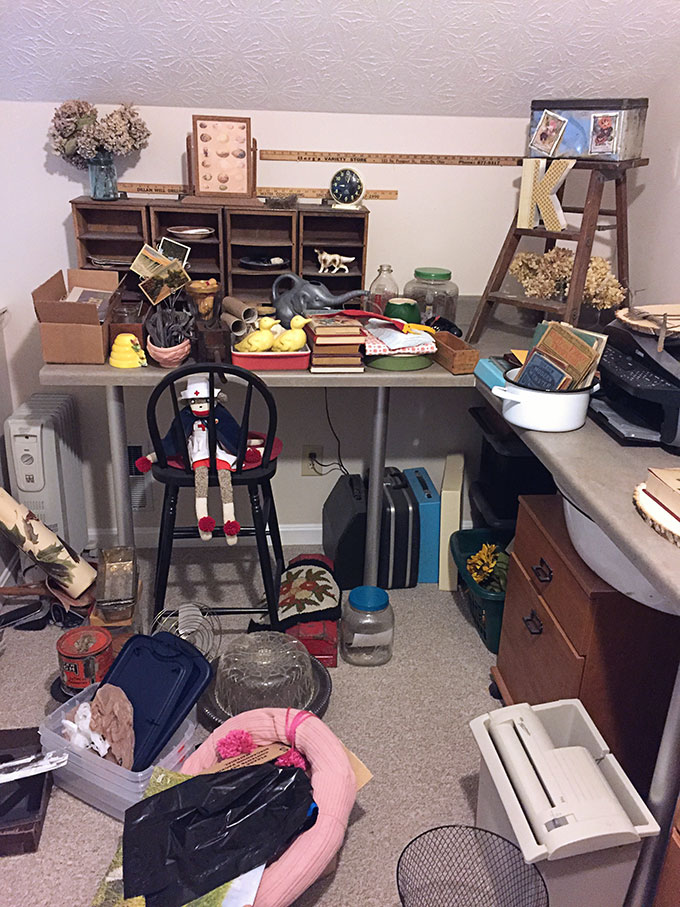 Egads!!!
Now, keep in mind this was mid-purge, where you throw everything into piles and sort the heck out of it. It didn't look quite this bad before the KonMari-ing started or I could be lying again.
And after a lot of sorting and holding things in my hand and asking myself if I really, really LOVED it and wanted it in my life forever and ever, I whittled the room down to a more manageable level.
Ah, so much more peaceful now!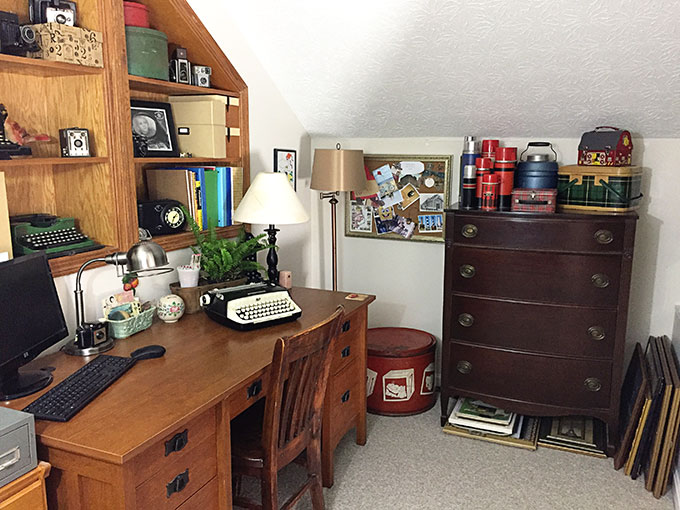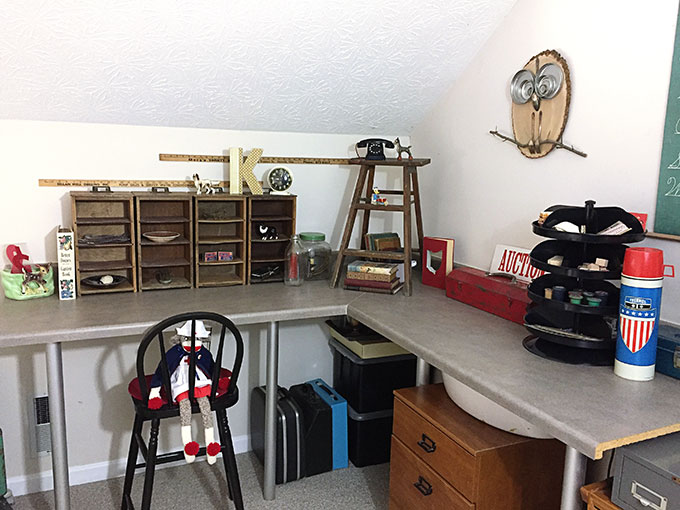 So let's summarize:
Using tons of vintage items to organize your office or craft room is fun and makes the whole process less painful
Don't let your office or craft room get out of hand in the 1st place
But if it does, don't be afraid to use the KonMari Method to snap it back into shape
Part 1 of this series can be found here - Home Office Decor : Vintage Style.
And here is my post about the KonMari Method: For Thrift Store Shoppers