Mosquitoes suck!
Literally!
And lucky for me, I am one of those people who get welts and itch endlessly when bitten by those vampires with wings.
They can ruin your outdoor summer fun if you let them, so I try to keep them far far away.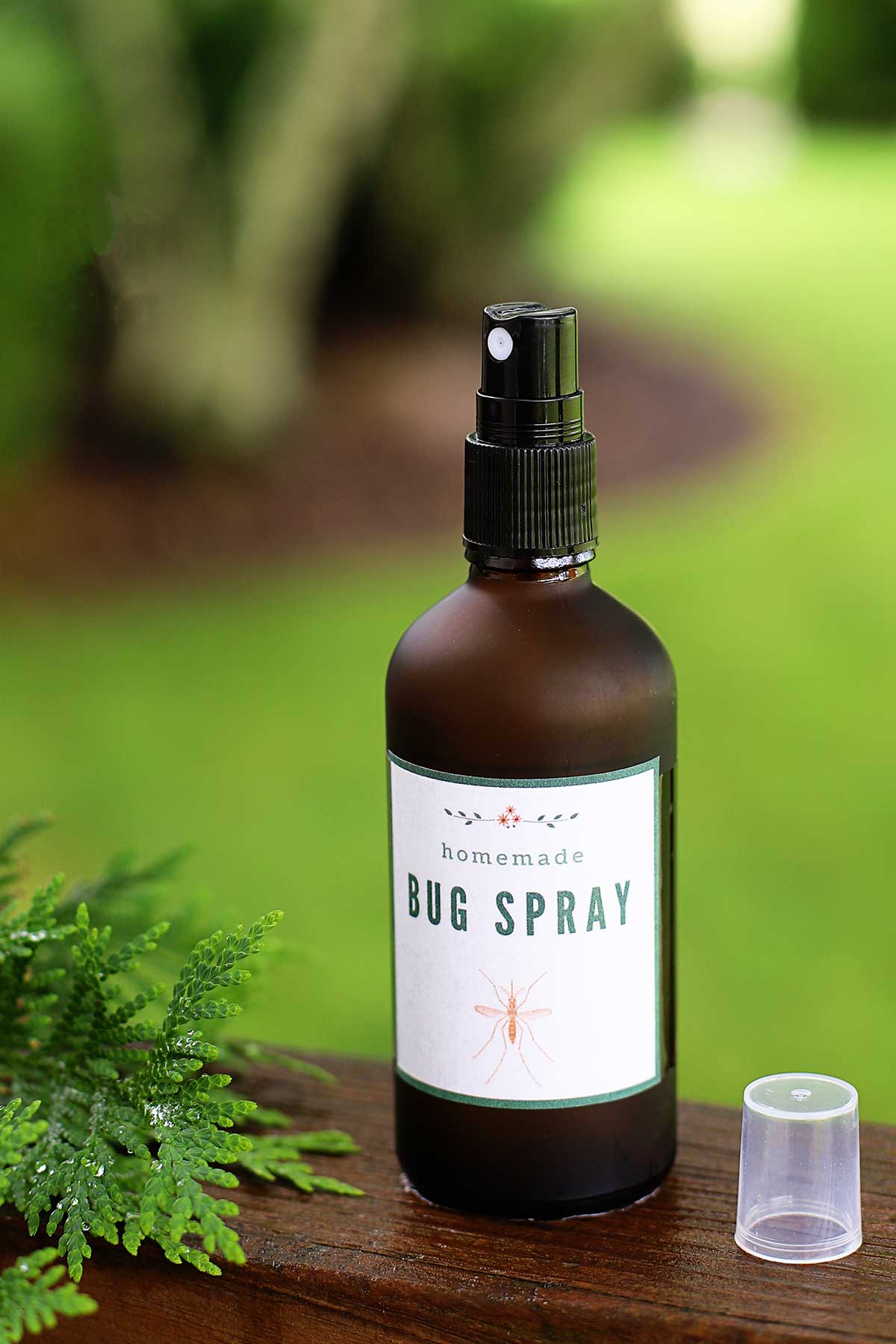 Instead of dousing myself in chemicals this year, I decided to make my own more natural insect repellent instead.
I'm happily surprised how well it works. I'm not missing the smell and messiness of the store-bought bug sprays at all.
The only downside I'm seeing so far is you have to apply it a bit more often than traditional store bought sprays, but that's not enough to deter me.
How To Make Homemade Bug Spray
I knew I wanted to make a natural version. Now you can use herbs if you want, but it seems so much easier to just pop a top on a little bottle of oil and skip the growing, harvesting and boiling part that comes with using fresh herbs.
And I didn't want to use too many ingredients, so I basically left it at 2 essential oils, water and witch hazel.
That's 4 ingredients if you're counting!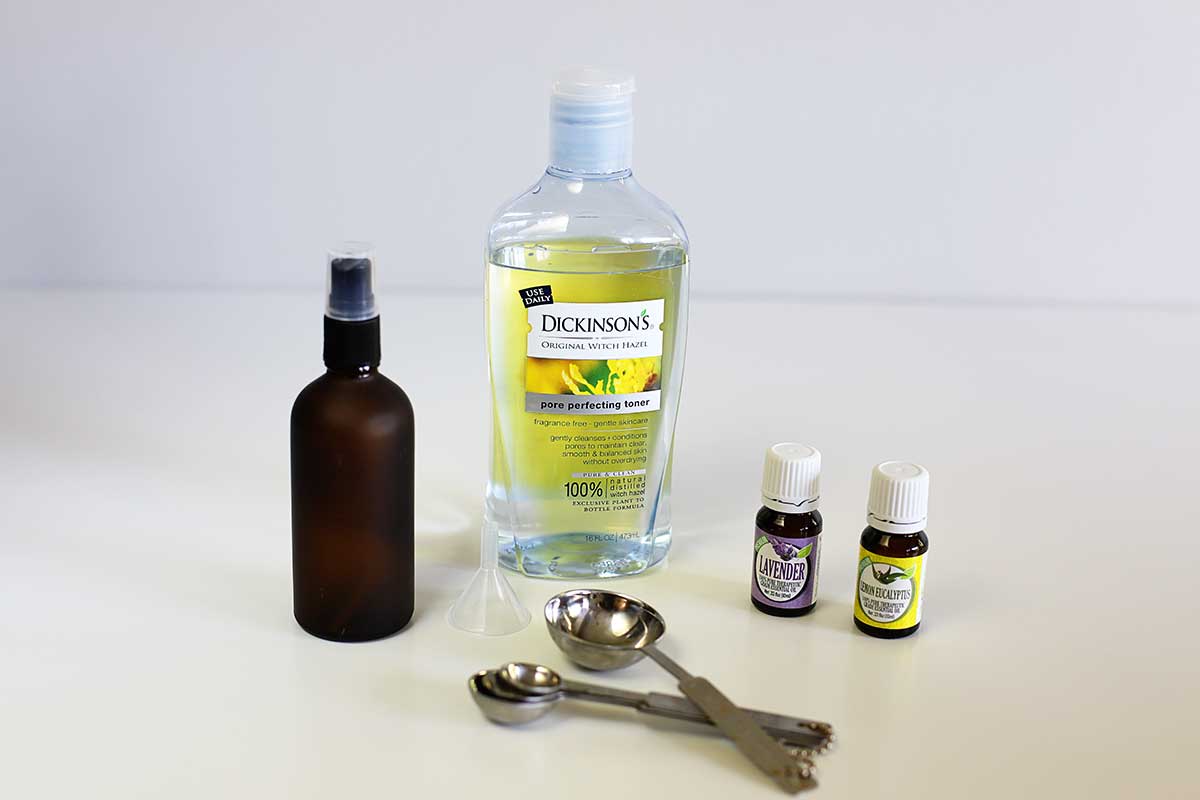 The oils I use are:
Lemon Eucalyptus oil - great for most stinging and biting bugs.
Lavender oil - it repels mosquitoes, moths, fleas and biting flies. Plus it smells nice.
Witch Hazel is used to help the oils and water combine (or "emulsify", if I want to put my college Chemistry classes to work). Some people use Vodka instead of witch hazel which is the same idea, just more stingy if you happen to spray it on a cut.
What About Ticks?
Rose Geranium oil is particularly helpful with ticks, so if ticks are a problem in your area, add 20 or so drops to the recipe.
What Kind Of Bottles Do You Need For Storing Homemade Bug Spray?
Both amber and cobalt blue bottles block UV light which can be harmful to the oils. And glass bottles are best as the oils can break down plastic over time.
The cute little amber bottles I found have a matte finish on the outside of the bottle which I liked and they do come with a little funnel, a little dropper and some labels you can write one (although not super cute).
Speaking Of Cute Labels, Where Can I Get The Mosquito Labels You Used?
They are sort of cute aren't they? I made those myself and you can get the free labels HERE (for personal use only please).
The labels are sized for the 4 oz bottles (although my bottles say they were 3.4 oz, they actually measure to be 4 oz???). When you pull them up on your computer and click on the printer symbol make sure you print them as Original Size.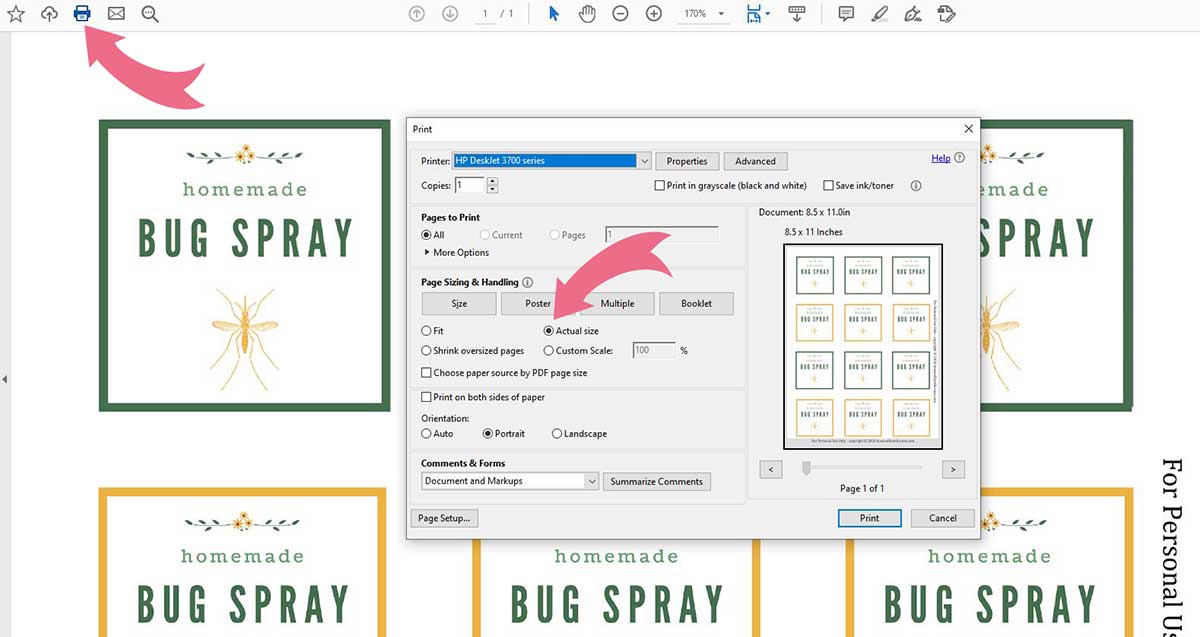 I have both green and yellow bordered ones on the sheet that will pop up just in case you want variety.
To attach them to the bottles, simply cut them off the sheet and use a slightly larger piece of packing tape over top of the labels to adhere them. 3-4 pieces of scotch tape would also work.
(This post contains some affiliate links for your convenience. You can read my full disclosure policy here.)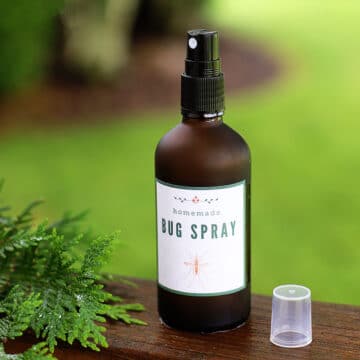 Natural Mosquito Spray
Homemade natural bug spray made with essential oils
Print
Pin
Rate
Instructions
Add Water and Witch Hazel to bottle using a spout

Using dropper, add Lemon Eucalyptus and Lavender essential oils to the bottle

Screw on spray topper and shake bottle to mix the ingredients
Notes
Please Note:
Shake well before each use.
You will want to re-apply bug spray every few hours.
Do not spray near eyes - if needed on face you can spray some on your hands and rub onto face, still avoiding eye areas.
Although in general essential oils are safe on your skin, there may be some people (especially small children) who are extra sensitive to some natural ingredients. You can always spray on clothing instead of skin if you are worried you may be one of those people.
Oh and before I forget, there is no need to buy expensive oils for this. Don't even think about it. It's just bug spray!
And also, I am not a super duper expert in the field of oils, although I have purchased a few over the last year or so. I just did my research and found that these oils work well for winged vampire control.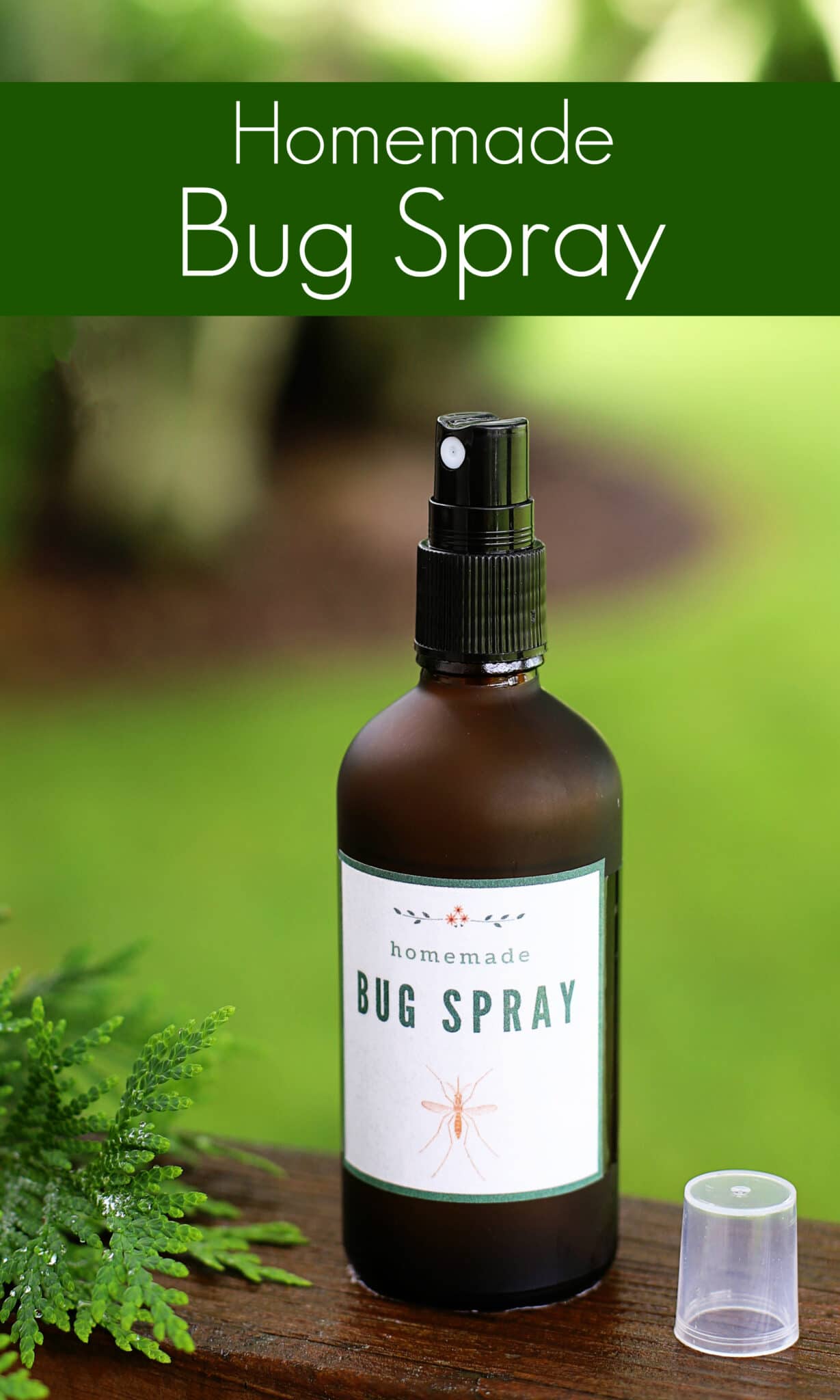 Other Articles You May Enjoy:
Homemade Squirrel Repellent Recipe
How To Get Rid Of Skunk Smell On Your Dog
DIY Stove Top Home Fragrance (Lemons & Rosemary)
Best Homemade Hummingbird Nectar