I'm not sure whether to call this embroidery or cross stitch or what?
I would lean toward cross stitch, but I'm not using traditional aida cross stitching cloth to make it.
But then again, I am using DMC floss and I am making big old x's???
So after much deliberation . . . cross stitch it is.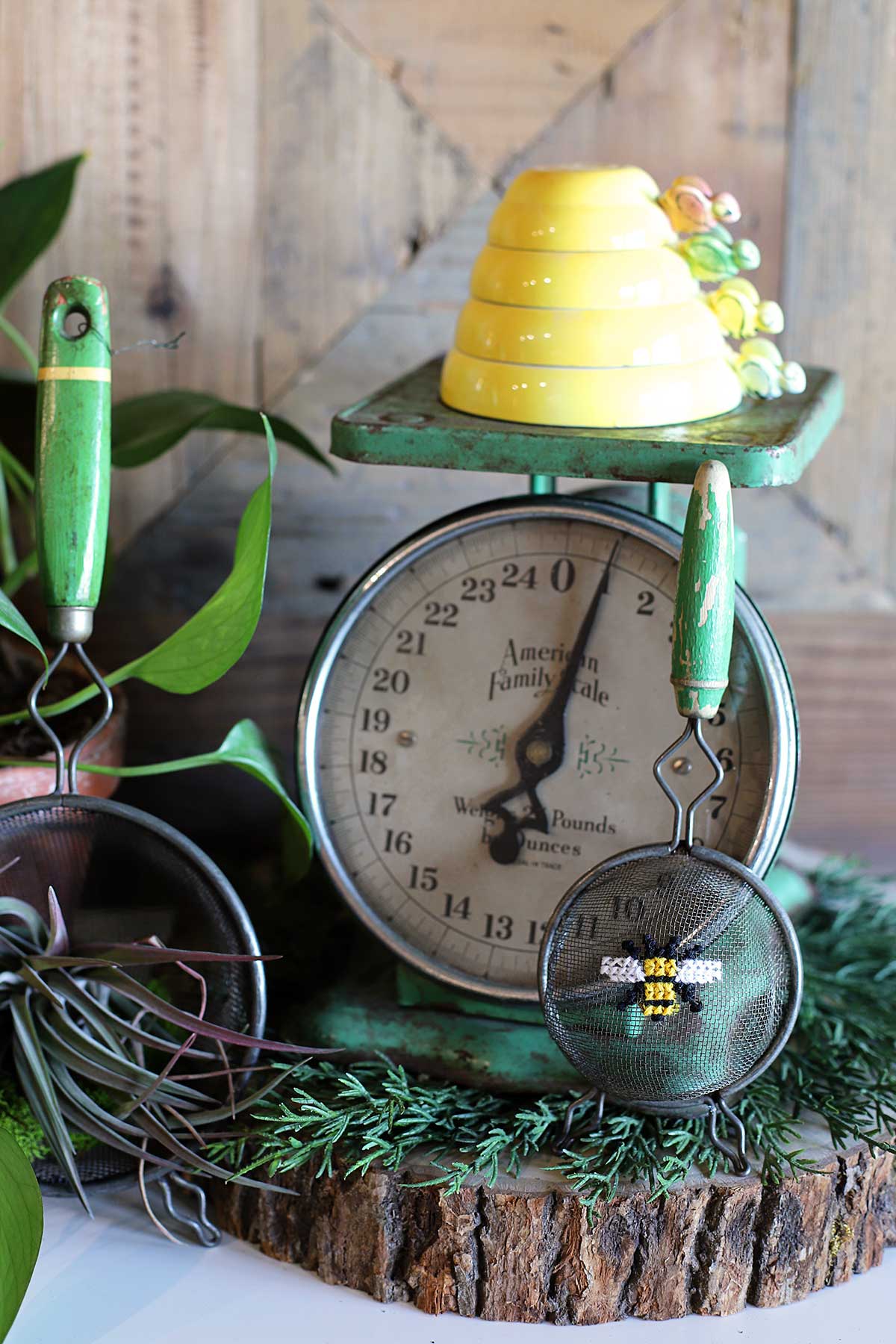 Last month when I showed you some of my Vintage Garden Tools Repurposed For Gardening and I included a rather large vintage strainer as an air plant holder, I also had an idea for how to use some of the other smaller vintage strainers I had found.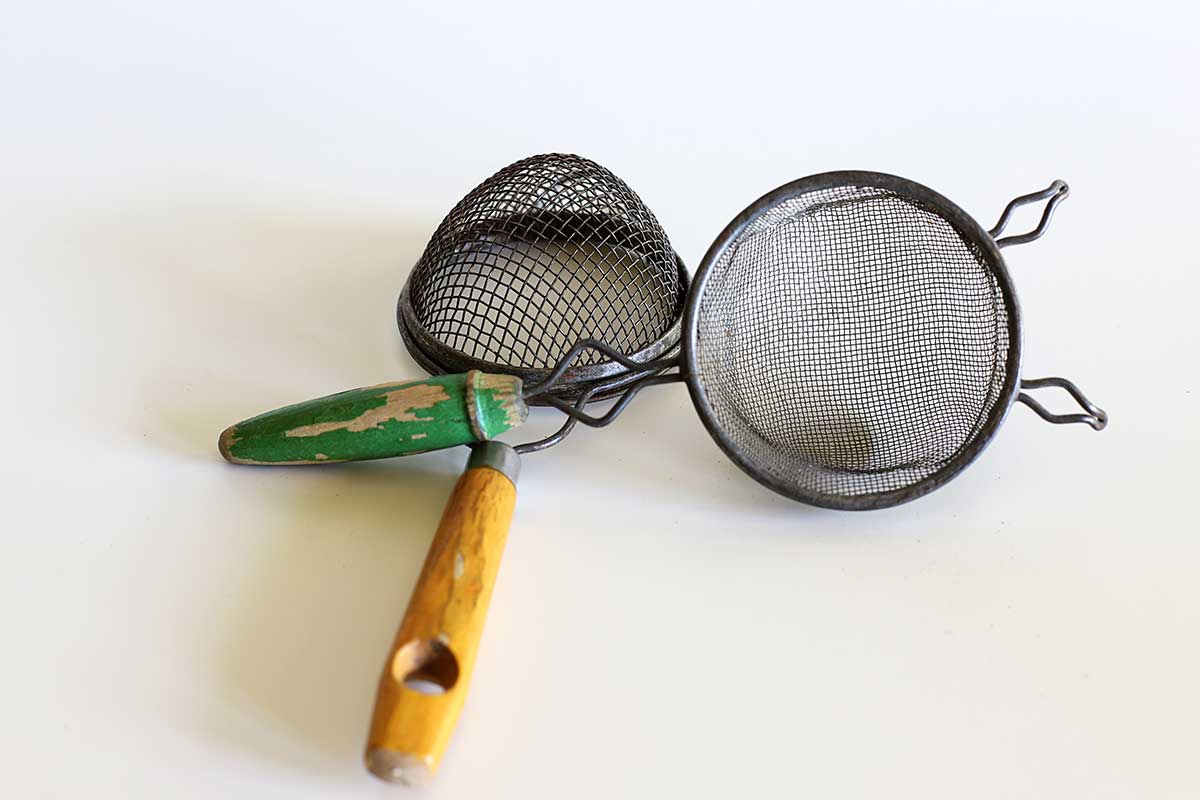 Why not cross stitch a design on them!
I had originally planned on making a bee design on one strainer and a beehive design on the other strainer. I had two of them so why not make a matching pair, right?
But I miscalculated how long it would take me to whip up the first one. Time got the better of me and I decided I'd just do the bee for now.
So no beehive for you.
Basic Materials Needed For Cross Stitching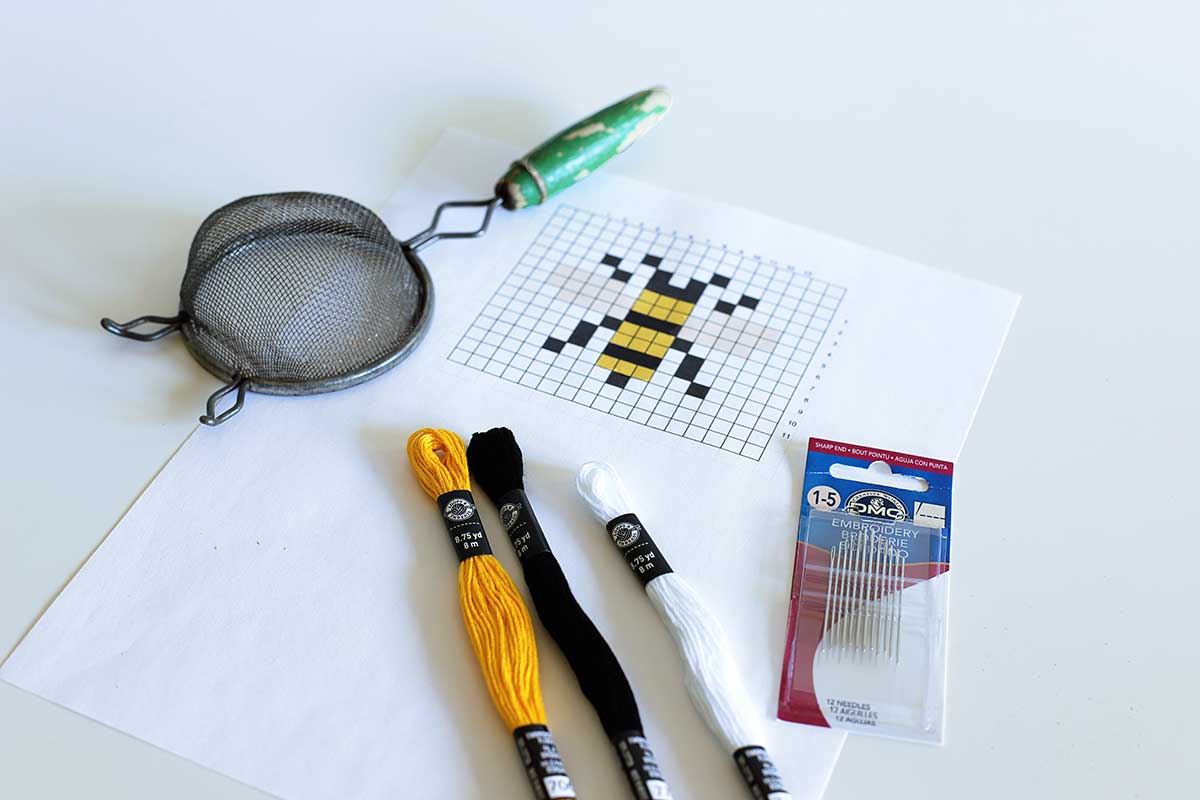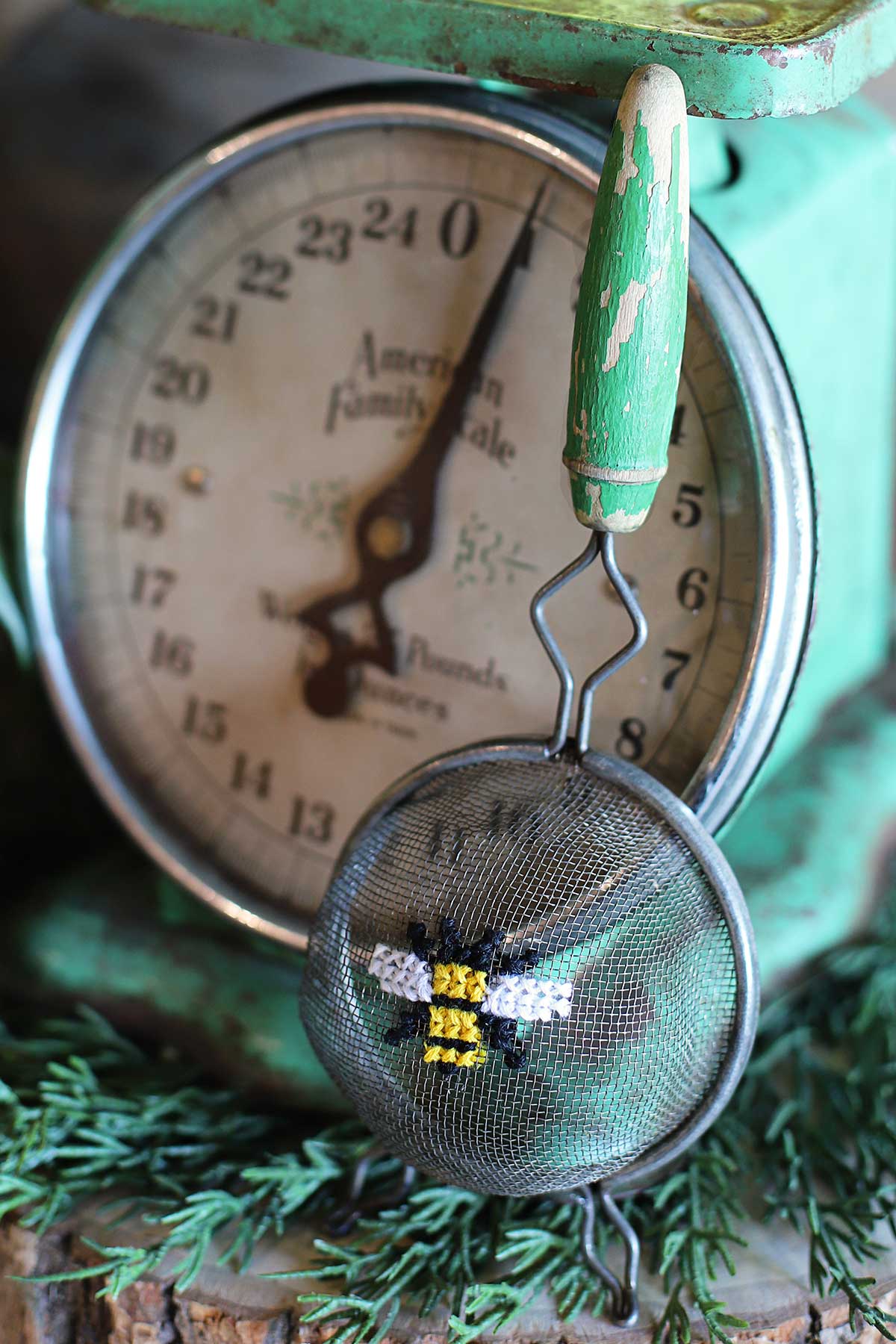 Tips For Cross Stitching On Metal or Mesh
Since the holes were fairly large on my metal strainer, I used the entire 6 strands of floss instead of splitting it down to 2 or 3 strands. I wanted the bee to be beefy enough to be seen and not something you just casually notice when up close to it.
I used a size 3 Embroidery Needle which has an eye large enough to accommodate 6 strands, yet small enough to fit through the screening. You could also use a tapestry needle if you want a blunter end, I used the embroidery ones because there was a little thing called a pandemic going on and I didn't have a lot of needle choices at the house.
Since the mesh on a strainer is curved, it's nearly impossible to make your second part of the x like you normally would, by poking down and poking back up in the same swipe. You'll most likely have to poke down and poke back up in two strokes. Unless I'm the only one who used to do one swipe to speed up the process and if that's the case you can just ignore me.
Knots may be an issue. It is hard to get a good knot on a curved object, but just try to hide them as best you can. And since mesh is see through, you won't be able to keep your thread running from one like colored area to the next unless they are literally side by side. Basically, you will have to knot off more than usual.
And the number one odd thing is instead of poking the needle through holes and covering over squares like you do in aida cloth, you are covering up empty space with your x's. You can see my diagram below.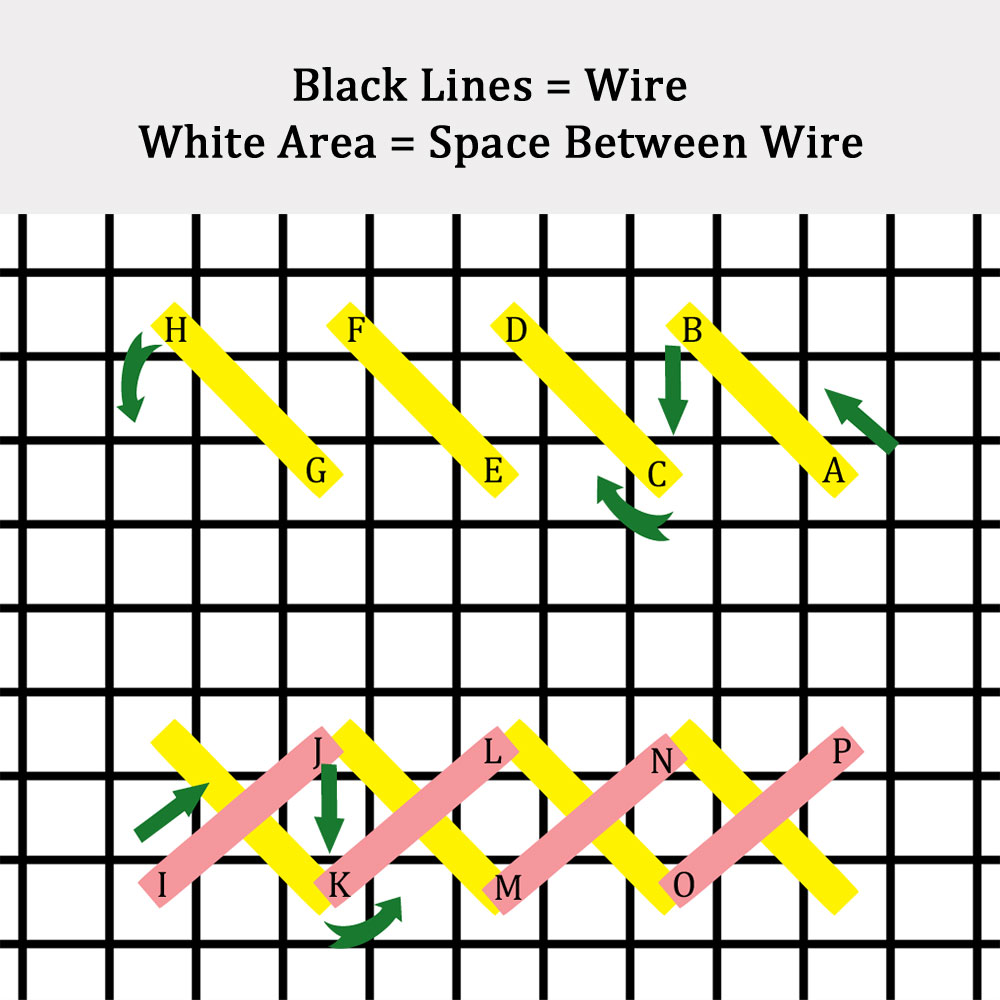 For some reason this was very counter-intuitive to me and I got lost a few times before I got the hang of it.
I guess you could just put x's where the wires intersect and call it a day, but I didn't feel the coverage was very good that way.
FREE Bee Cross Stitch Pattern
You can Get Your PDF of Bee Cross Stitch Pattern HERE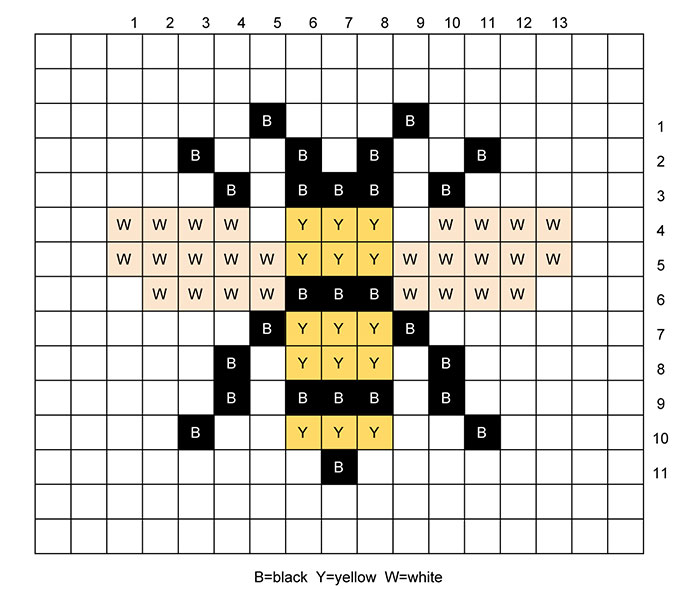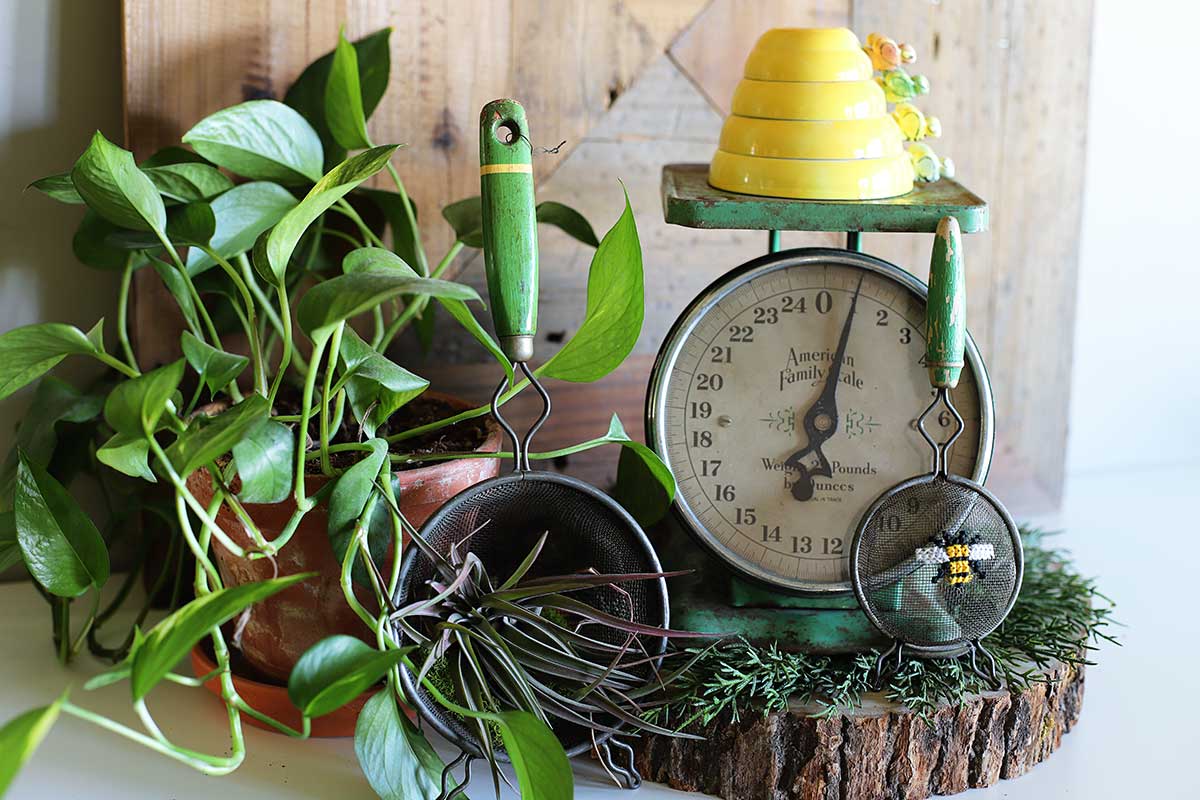 Fun Non-Traditional Items To Cross Stitch
Kitchen Strainers, Colanders and Sifters
Tennis and Badminton Rackets
Splatter Screens ( Kim from The Kim Six Fix shows how she did similar stitching on a splatter screen from Dollar Tree in her post How To Stitch A Sieve, Strainer or Splatter Shield.)
Window Screening (think chippy old wooden screen door)
Caning on a chair
Pegboard
Really, anything that has a grid pattern!
Have you cross stitched any non-traditional items I can add to my list?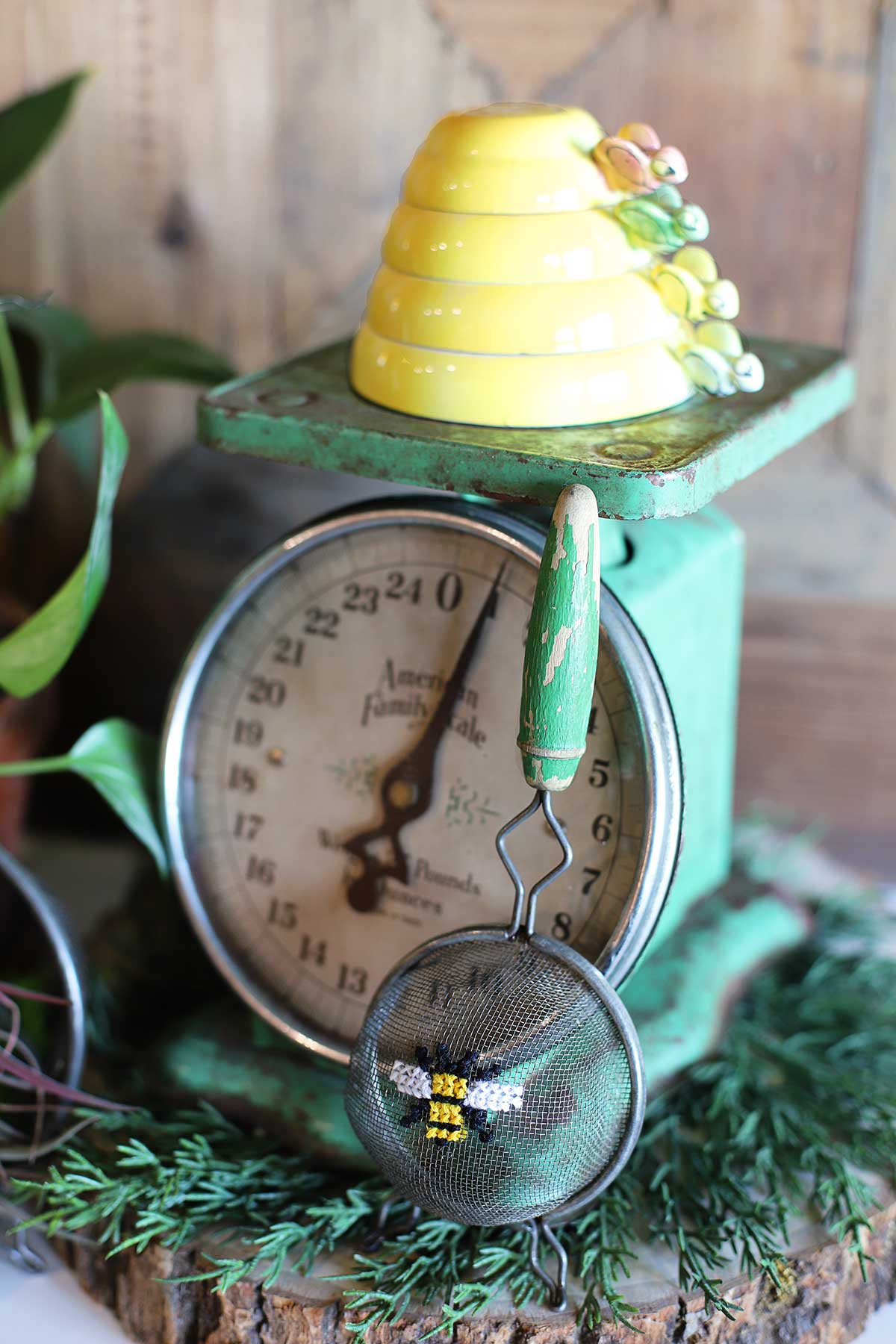 BTW, if you just stopped by to admire my chippy green metal scale, I recently repurposed a scale I found at the thrift store into a fun piece of fall decor in my article titled Weighing In On Fall Decor: Repurposing A Vintage Scale.
More Repurposing Ideas From The Thrift Store Decor Team
And an extra treat today, it's Thrift Store Decor Wednesday here so pop on over to the other bloggers and get some ideas of how to repurpose thrift store finds!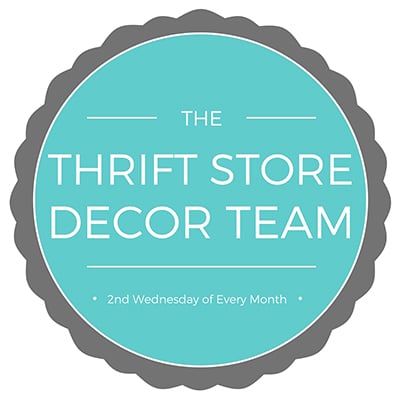 Petticoat Junktion - Old Birdhouse Makeover
Domestically Speaking - Farmhouse Craft Organizer
My Repurposed Life - Thrift Store Doll Rocking Chair Makeover
Our Southern Home - Horse Statue Makeover
Sadie Seasongoods - American Flag Decor In Buffalo Plaid
House Of Hawthornes - Bumble Bee Inspired Makeover (that's me)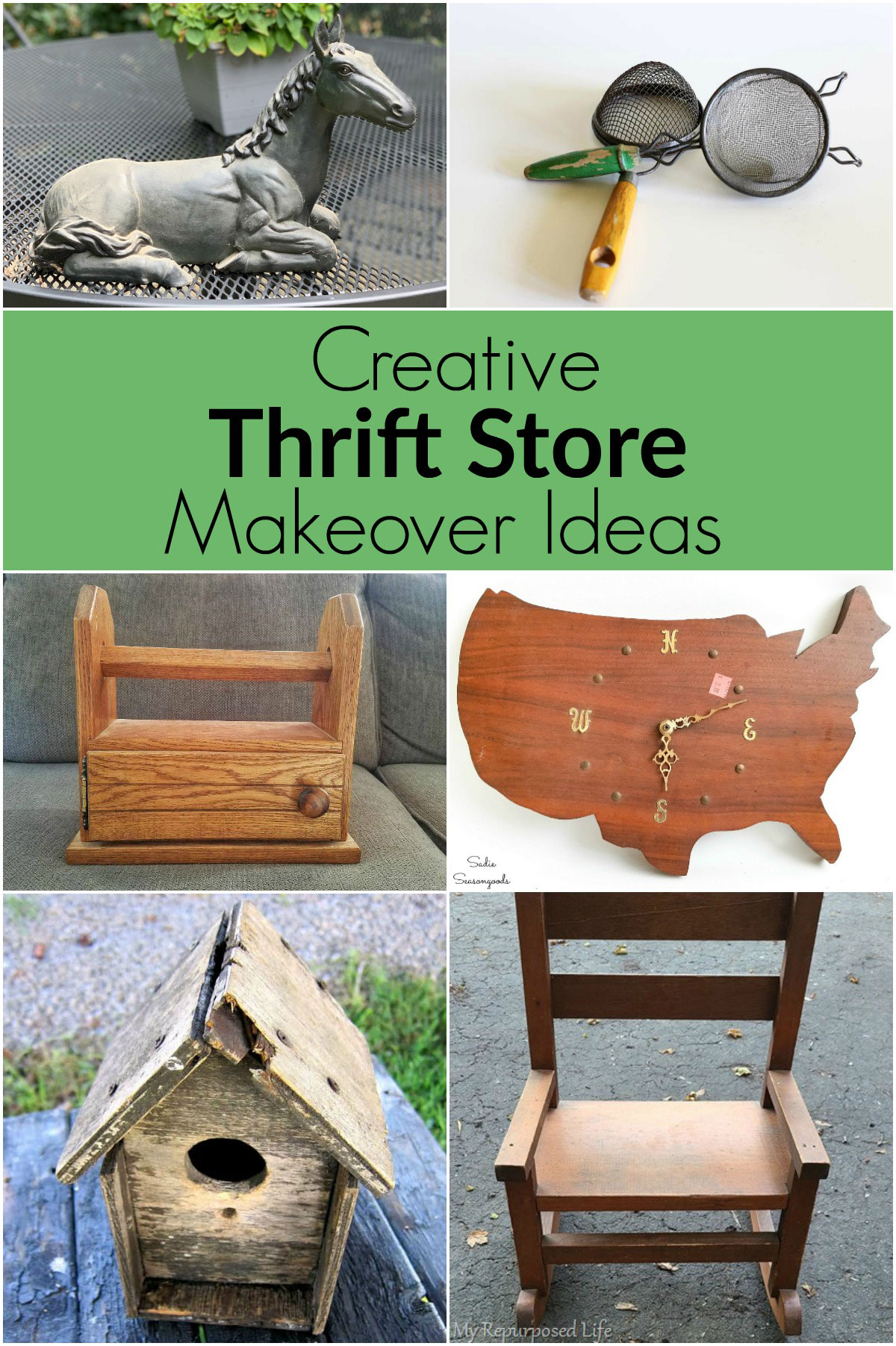 Other Posts You May Enjoy:
How To Turn A Vintage Thermos Into A Lamp