A couple years ago I made a cute hot chocolate station out of a plaid school lunchbox. It was compact, just the right size for 2 people and it looked very festive setting on the counter.
This year I decided to kick it up a notch and make a hot chocolate bar with more options and on a much larger scale.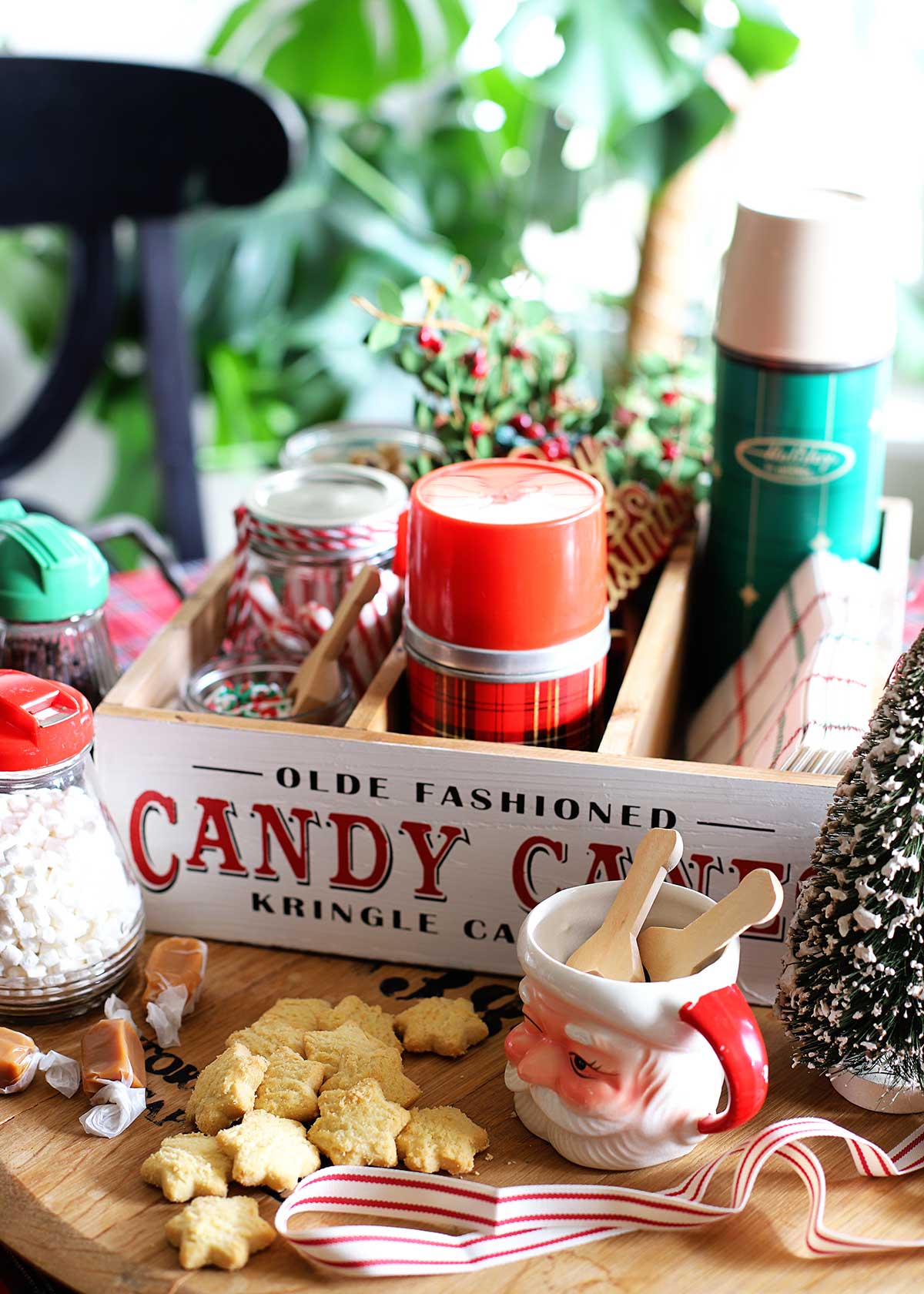 I have it setting on my kitchen dining table as the centerpiece and it pretty much takes up the whole top of the table.
In case you want to make your own, here's what I have put on mine.

How To Make A Hot Chocolate Bar
I started with a HUGE wooden tray that was made from a wine barrel lid and topped it with a seasonal crate I found at the local grocery store.
I have seen similar crates at Michael's earlier in the season. A vintage Coca-Cola crate would look festive also.
By starting with the wooden tray I could make it look almost like a fancy charcuterie tray, which is so popular now, but yet have the items in containers so they can sit out for a bit.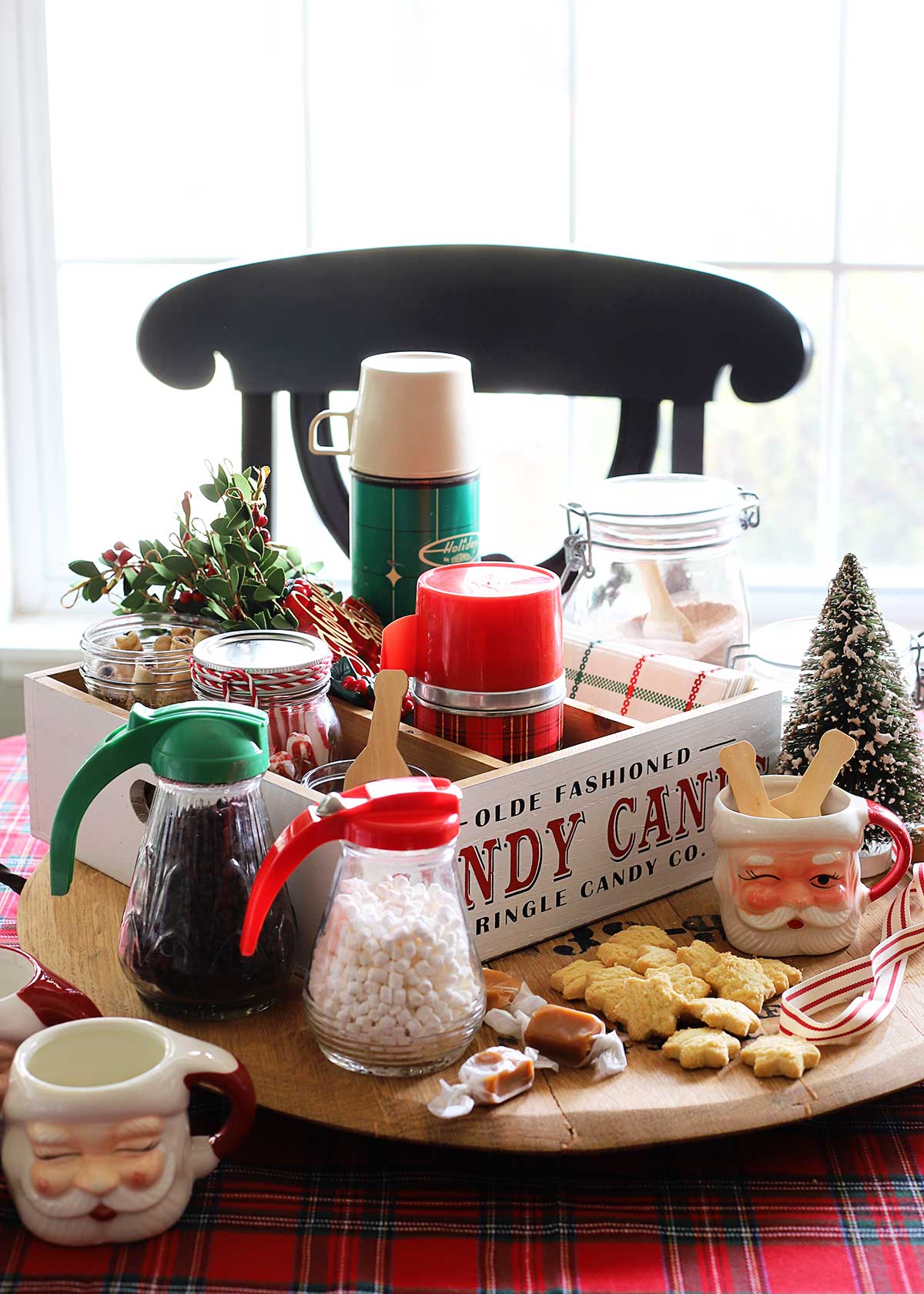 Various mismatched mason jars are corralling Pirouline rolled cookies, Bob's peppermint sticks and colorful sprinkles (aka jimmies for the East coasters).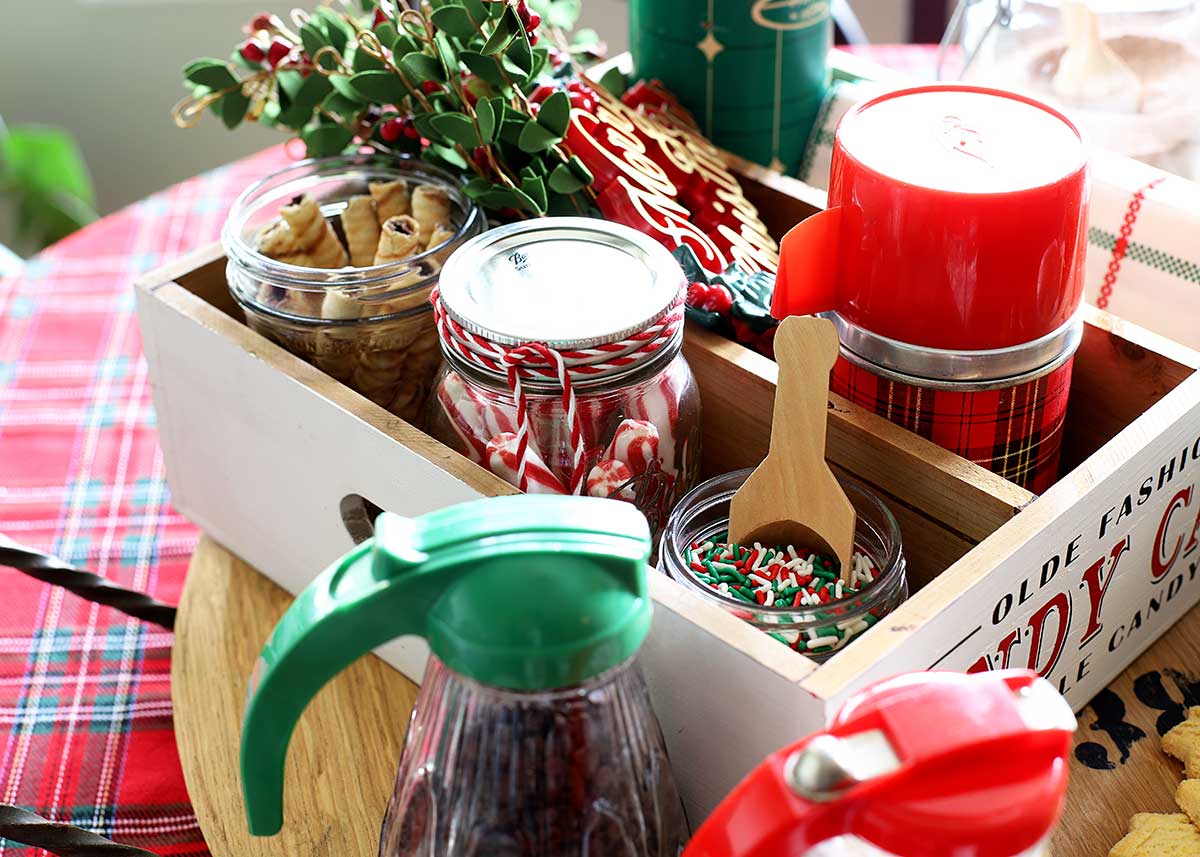 I picked up these syrup pitchers at the thrift store because they had red and green spouts, but had no idea what I was going to do with them.
Turns out they come in pretty handy to dispense little items at the hot chocolate bar, since the spouts have fairly large openings.
I have mini chocolate chips in one and dehydrated marshmallows in the other (like the "magically delicious" marshmallows in Lucky Charms cereal).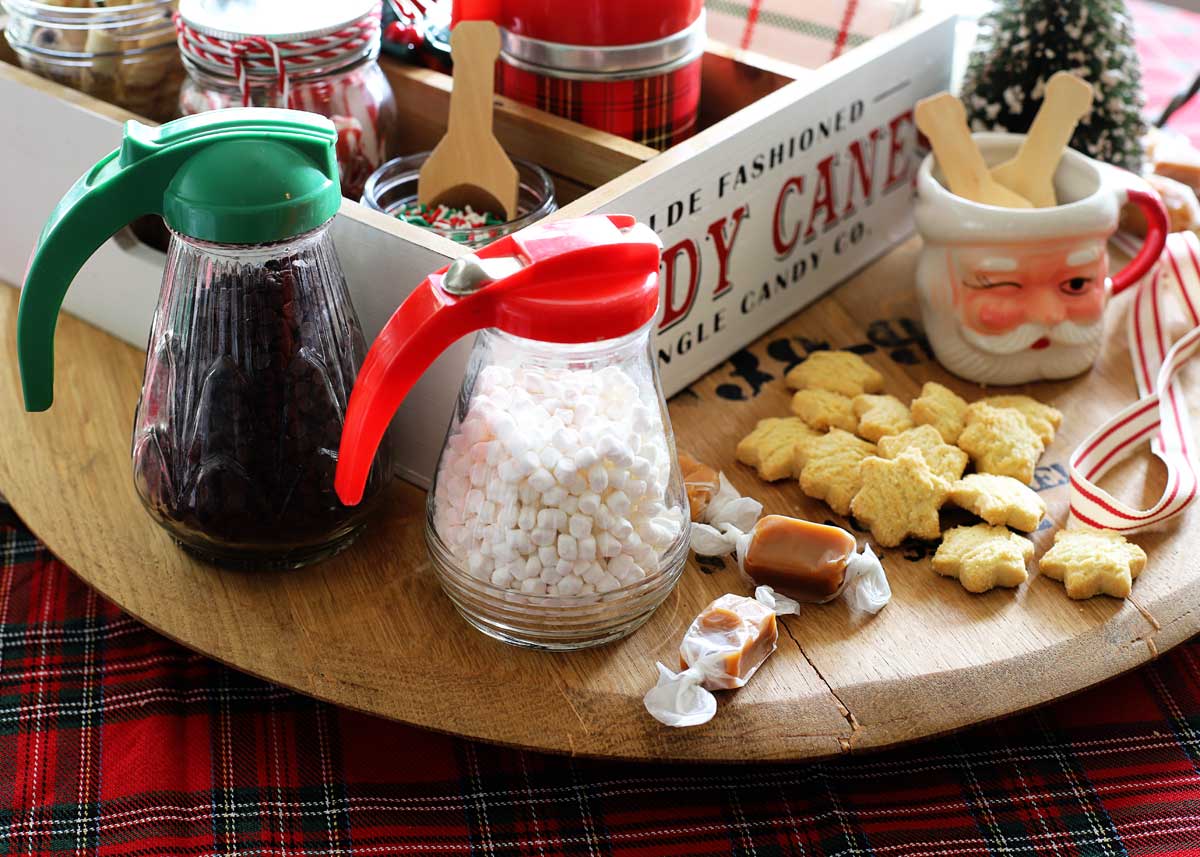 I threw some Walkers shortbread stars on the wooden tray as a grazing snack. This would be one item that couldn't be left out all the time.
Ask our dog Lacey who thought it would be fun to inch her nose up onto the table to get a good sniff of them.
The caramels are for either eating as is (yum!) or cutting up and melting in your hot chocolate.
And then I have a small French mason jar with attached lid for the traditional puffy mini marshmallows and a larger one to hold the cocoa mix.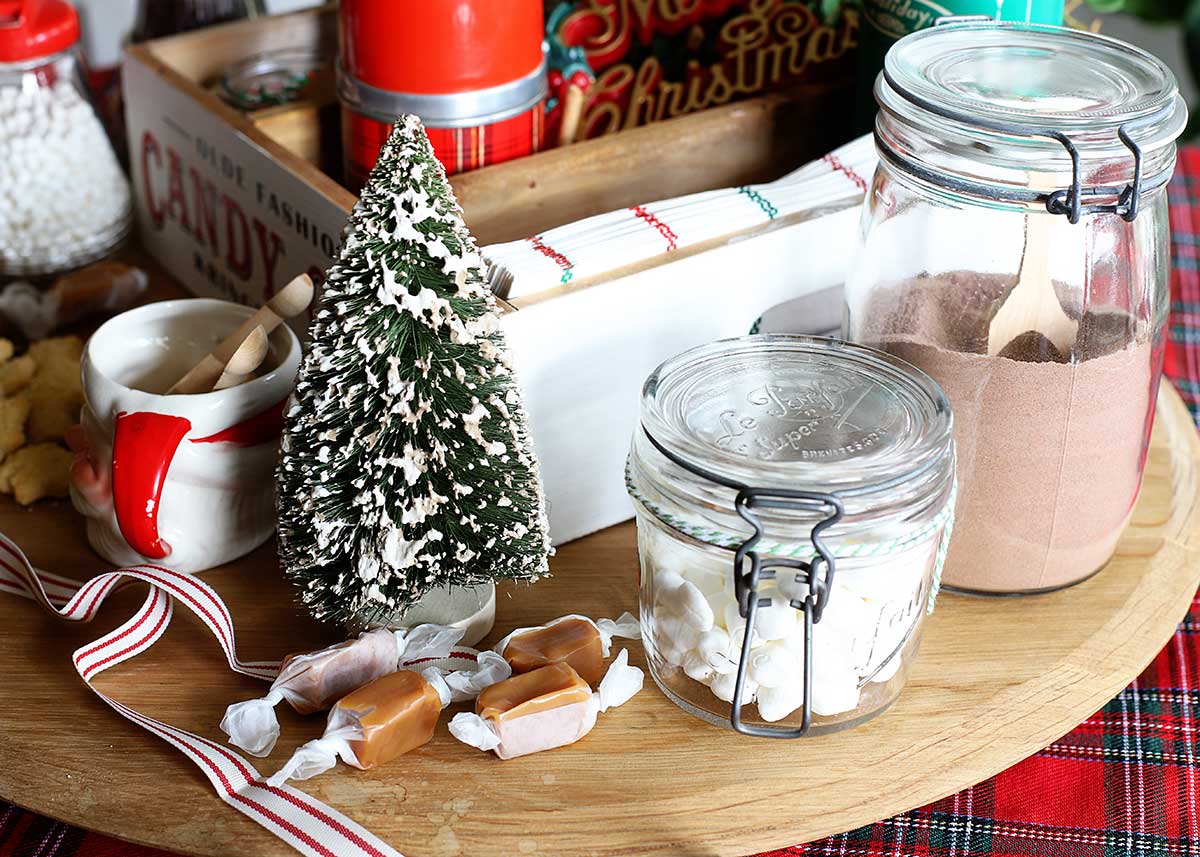 Some festive napkins, spoons, Santa mugs and a couple thermoses round out the display.
You can fill the thermoses with boiling water if you are having a get-together and want people to be able to graze the hot chocolate station at their leisure throughout the afternoon.
Or they are just as fun to use as purely decorative pieces.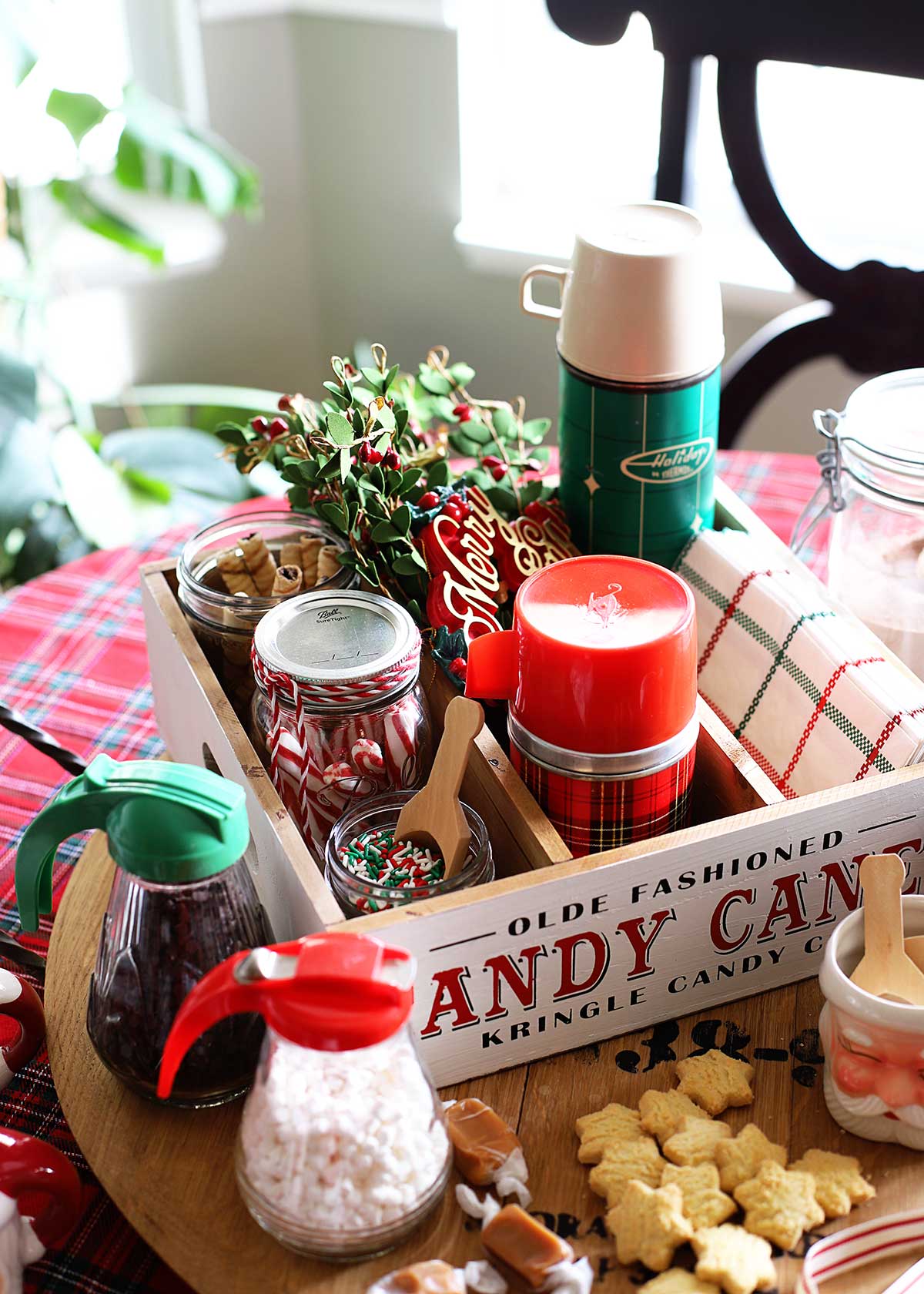 And I don't know about you, but a hot chocolate bar at Christmastime HAS TO HAVE at least one Santa mug.
I think it's a law.
This one is holding extra wooden scoops, but I do have a set of my Pottery Barn Reproduction Santa Mugs on the table also for actually drinking out of.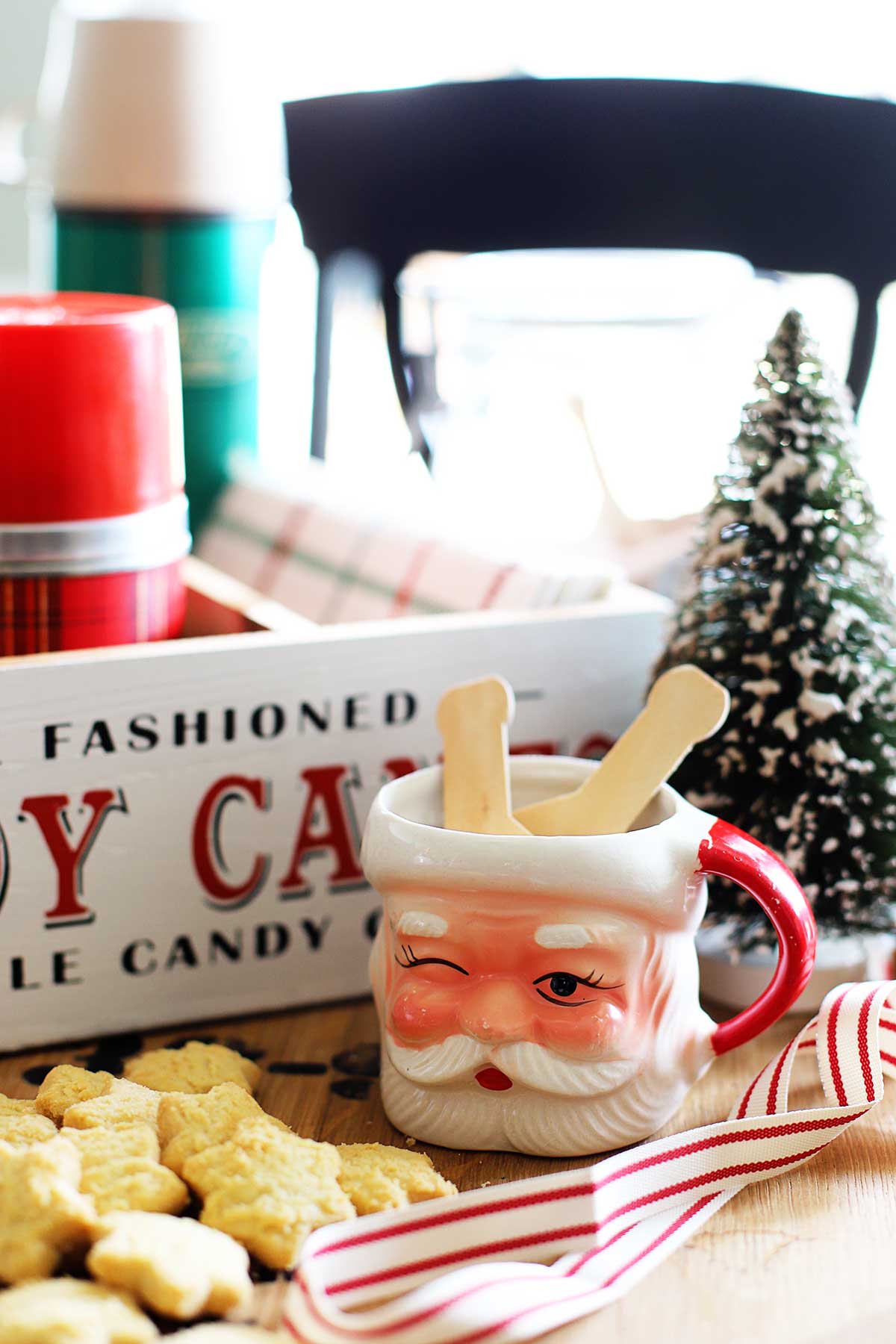 (This post contains some affiliate links for your convenience. You can read my full disclosure policy here.)
Hot Chocolate Bar Topping Ideas:
Homemade Hot Chocolate Mix (see recipe below)
Mini-marshmallows
Mini-chocolate Chips
Dehydrated Marshmallows (small hard marshmallows similar to what's in Lucky Charms)
Bob's Sweet Stripes* or Candy Canes
Zachary Peppermint Thin Mints* cut into quarters or Andes Mints
Caramels
Festive Sprinkles (Jimmies)
Crushed Candy Canes
Chopped Up Hershey Bars
Chocolate Covered Pretzels
Cinnamon Hearts Candy (Red Hots) or Shaker Of Cinnamon
Whipped Cream
* I'm going to link to these three items at Amazon so you know what they look like, but DO NOT buy them there. Don't you dare. Dollar General has both of these for $1 or so and I'm sure you can probably buy them at Walmart, so it's silly to pay 14x that on Amazon. I love me some Amazon, but not for this type of stuff.
** Again, this is what they look like, but they seem awfully darn high on Amazon.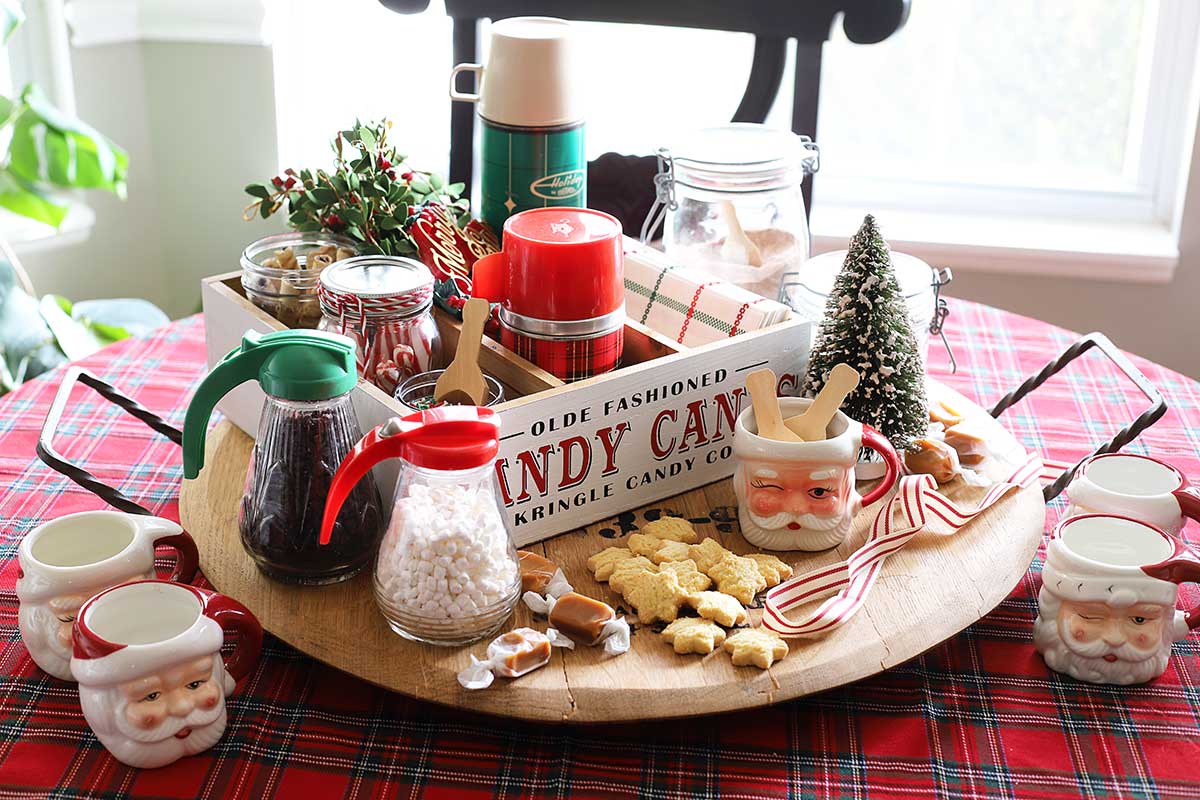 Festive Props For Your Hot Chocolate Station:
Santa Mugs
Wooden Scoops
Wooden Stirring Spoons
Ball Jars
Thermoses - these traditional plaid Aladdin thermoses are cute or these Wamika thermoses comes in all sorts of cool plaid colors for a slightly more modern look.
Seasonal Crate or Vintage Coca-Cola Crate
Wine Barrel Serving Tray or Charcuterie Tray
A vintage Shiny Brite, Santa or snowman is always appreciated
Homemade Hot Chocolate Mix
This is the recipe I used to make my mix in the jar.
Although you can easily buy hot chocolate mixes at the local grocery store, I prefer to make my own since it's so darn easy to make and it is the little homemade touches that count around the holidays.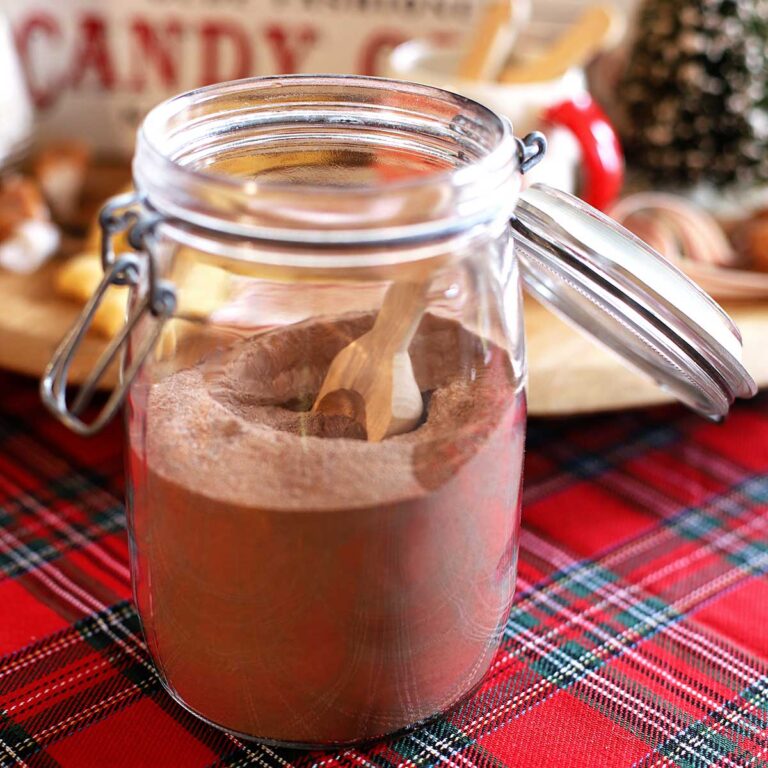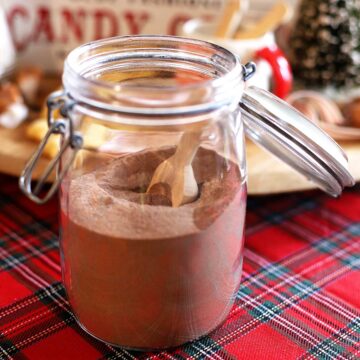 Homemade Hot Chocolate Mix
Quick and easy homemade hot cocoa mix, perfect for gift giving at the holidays.
Print
Pin
Rate
Ingredients
2

cups

nonfat dry milk

2

cups

powdered sugar

1

cup

unsweetened cocoa powder

1

teaspoon

fine salt
Instructions
Whisk all ingredients together in a large bowl until thoroughly mixed.

Store homemade hot chocolate mix in an airtight container or large mason jar.

For individual servings, use 3 Tablespoon of the mix with 8 oz. hot water.

To give as gifts, fill pint sized mason jars ⅔ of the way with the mix. Layer mini chocolate chips and mini marshmallows on top. Tie festive ribbon or baker's twine around the top of the jar.
Notes
Can be stored in the pantry for up to 6 months.
But let's be honest, you could easily just rip open a bunch of packets of hot chocolate mix and throw it in a jar and run off to watch more Hallmark Christmas movies if that's your style.
Have you set up a hot chocolate bar this year?
Other posts you may enjoy:
Tom & Jerry Drink Recipe
DIY Simmering Potpourri Gift And Printable Tags
Plaid Christmas Decor Ideas For The Holidays