I'm always on the lookout for quick and easy homemade hostess and teacher gifts for the holiday season. And these DIY simmering potpourri jars definitely fall into that category.
The recipe is a variation of my Homemade Stovetop Potpourri, but made to be easily gifted in a mason jar. Because who doesn't love a mason jar full of holiday goodness.
I've included a printable tag you can attach so the recipient knows exactly what to do with it once they get it home.
And spoiler alert, this post is part of a blogger holiday tour sponsored by Angie from Postcards From The Ridge and if you scroll down to the bottom you will see a whole lot of other blogger's ideas for Christmas gifts and home decor!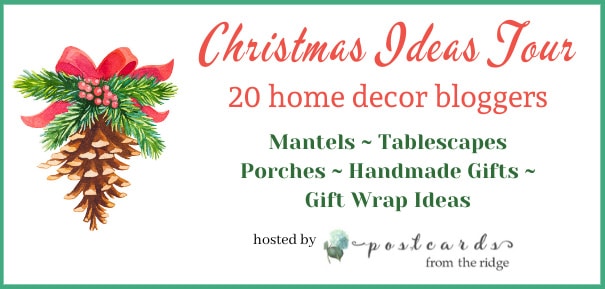 (This post contains some affiliate links for your convenience. You can read my full disclosure policy here.)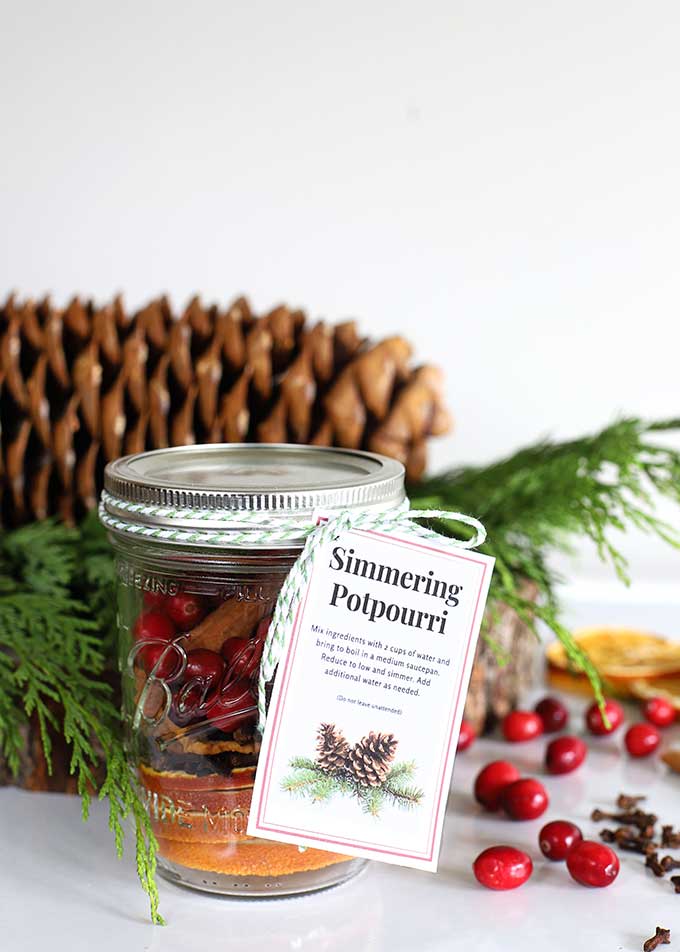 DIY Simmering Potpourri Gift
Ingredients Per Jar:
3-4 Orange Slices
3-4 Apple Slices
1 Tablespoon Cloves
2 Cinnamon Sticks
¼ Cup Cranberries - dried or fresh (fresh looks more festive, dried will last longer)
Wide Mouth Mason jar - pint sized
Printable Gift Tags With Instructions (you can get them below)
(Just a note about buying cinnamon sticks - if you buy the jar of cinnamon sticks in the spices aisle of your grocery store, there is normally only 4-5 cinnamon sticks in the jar. I found bags of cinnamon sticks in the fruit and veggie section that had roughly 12-15 sticks in the bags for the same price. Not that cinnamon sticks are expensive or anything, but I try to save a few bucks here and there when I can.)
Instructions:
Dry your fruit (instructions for drying your apples and oranges in the oven is included below). This is VERY simple to do, but will take a couple hours, so pop on a holiday movie and grab a cup of cocoa while the fruit is in the oven.
Layer your oranges slices in the bottom of the mason jar.
Followed by your apples slices and topped with your cinnamon sticks.
Sprinkle your cloves and cranberries over the top.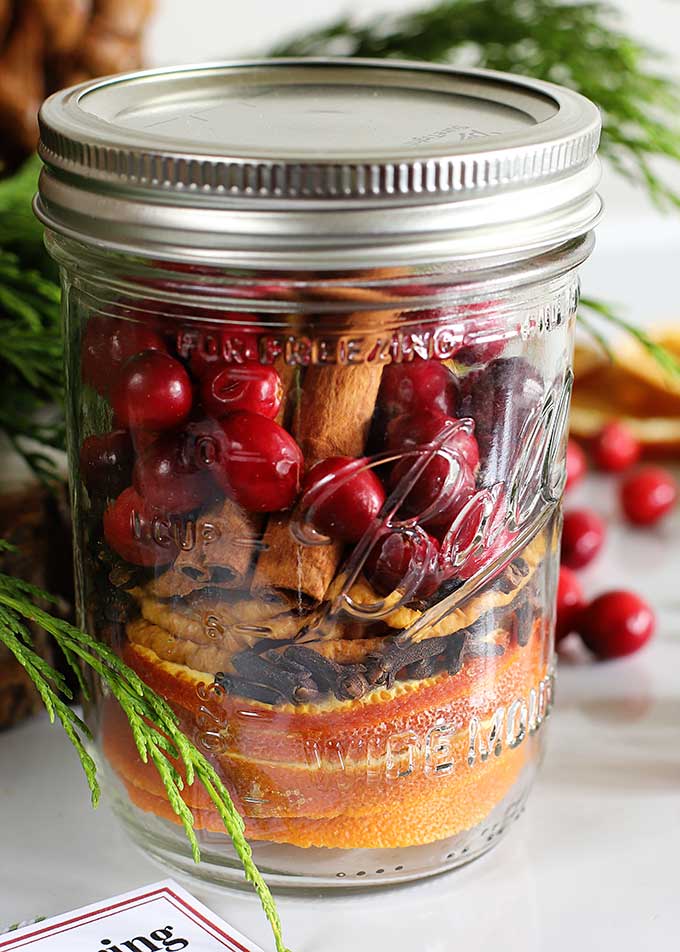 As mentioned in the ingredients, dried cranberries will last longer, but there's nothing like the pop of red from the fresh cranberries to liven up the jars. Your choice, but I used fresh cranberries in my photos.
Print out your gift tags, attach to the top of the jar by cute baker's twine and you are a gifting goddess.
How To Dry Fruit In the Oven For Christmas Potpourri And Crafts
Pre-heat oven to 200 degrees
Line baking sheet with parchment paper
Cut your apples and oranges into ¼" thin slices, discarding the ends of the fruit.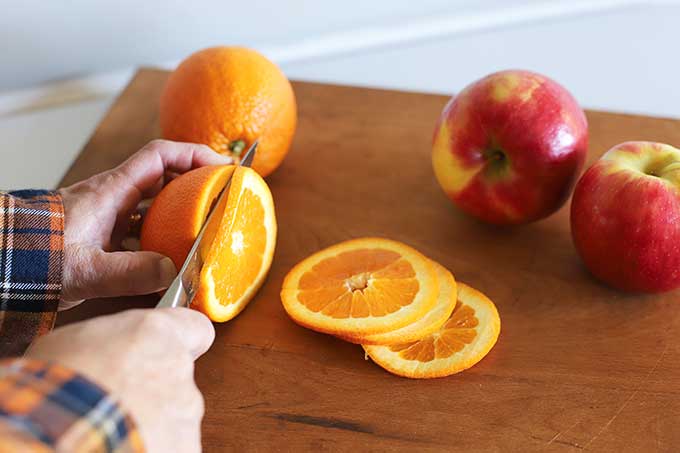 Pat the slices with a paper towel to remove excess moisture and place fruit on the baking sheet.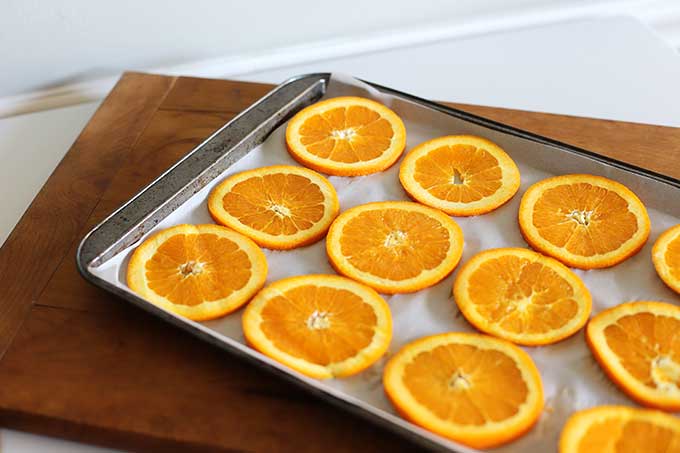 Bake for 3-4 hours until the slices are mostly dry to the touch, yet not shriveled up brown messes that you have to throw in the trash (been there, done that, I'll blame it on a rather enchanting Hallmark movie).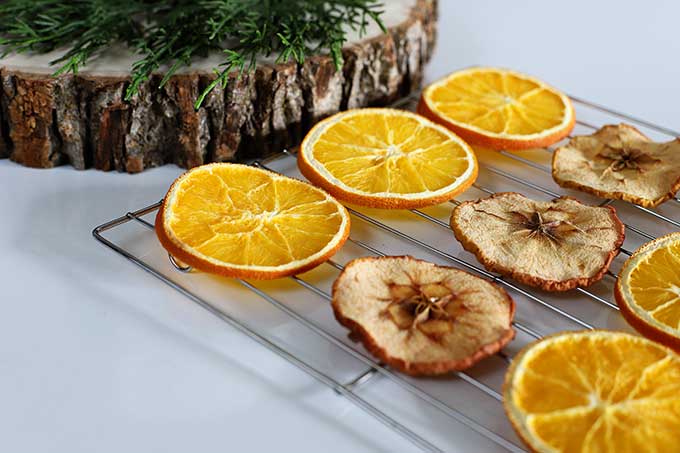 Your dried fruit can be used in potpourri, Christmas ornaments, strung as a garland for your tree or used in your holiday wreath.
How To Dry Cranberries For Potpourri And Crafts
Cranberries take a little longer to dry than apples and oranges. You will still use an oven set to 200 degrees though, so you can start both at the same time.
Line a baking sheet with parchment paper.
Put your cranberries in a large bowl and add enough boiling water to cover them.
Let them sit in the boiling water for 5-10 minutes. You will hear the skin pop open, which is normal.
Drain the cranberries and pat them dry with a paper towel.
Lay them in a single layer on the parchment-covered baking sheet and bake for 5-7 hours.
FAQ Cranberry Question - Why do you put boiling water on them, puff them up and then dehydrate them? I know it sounds odd to add water and then take it right back, but the boiling water is to blanch the cranberries which cracks open their thick skin. Once their skin is cracked, the excess moisture inside has a way to easily escape in the oven.
Free printable simmering potpourri gift tags
Since some people prefer to work with PDFs and some prefer JPEGs (photos), I've attached two separate ways to get the tags. So just pick your preference and print them out on white paper or cardstock.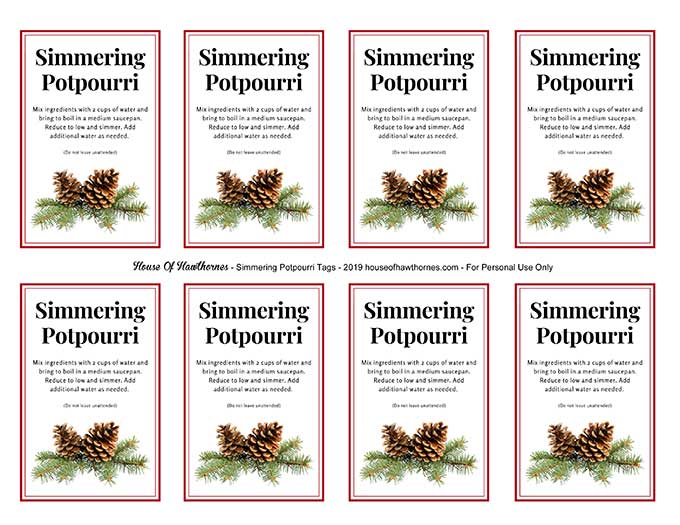 Click HERE to get printable gift tags in PDF form
Click HERE to get printable gift tags in JPEG form
I hope you enjoy making this holiday gift as much as I did!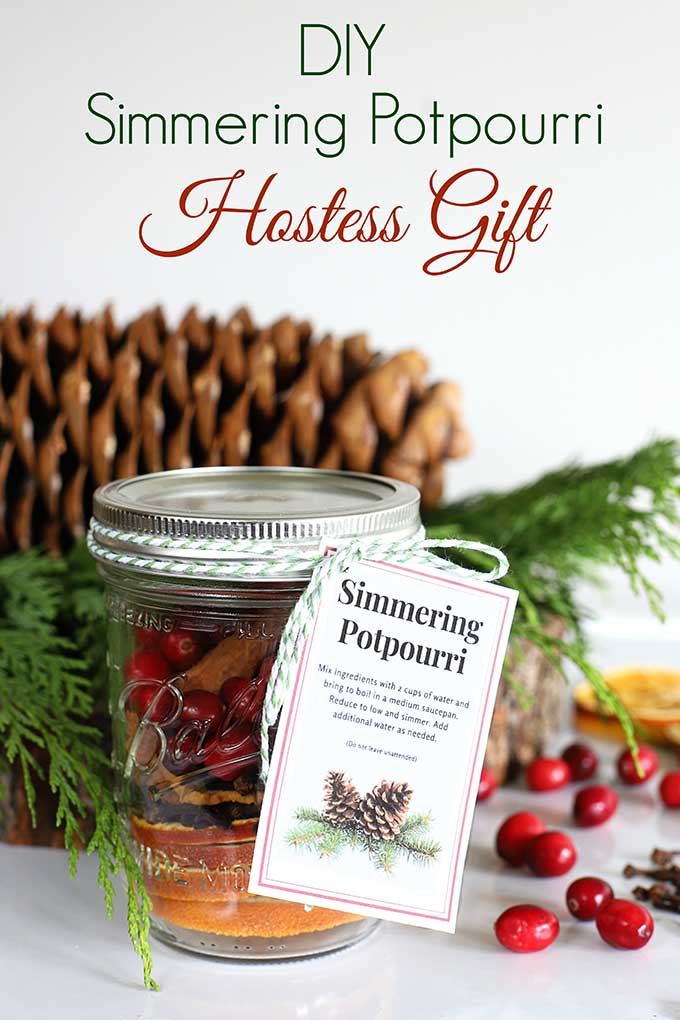 Christmas Ideas Tour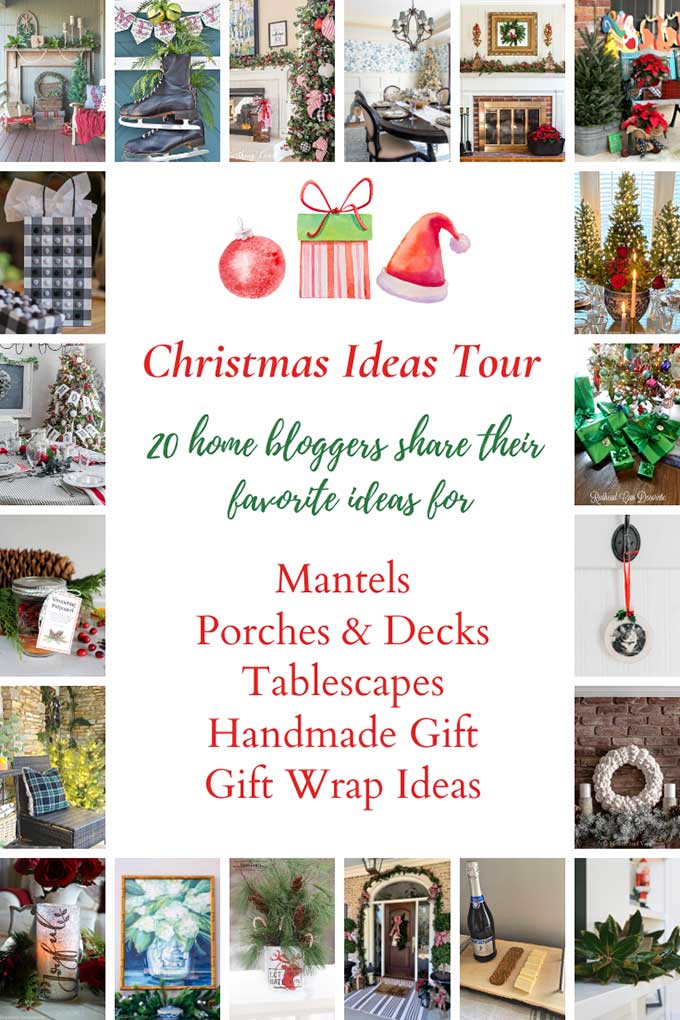 Are you ready for more ideas? Here are some great ones for your mantel, porch, table, plus handmade gift ideas and gift wrap ideas.
Lots and lots of great Christmas inspiration here! Just click on the blog name to visit each one.
Mantels
Porches & Decks
Tablescape Ideas
Handmade Gift Ideas
Gift Wrap Ideas
Check out the web story version of this article HERE.
Other Posts You may Enjoy:
How To Make Cloved Oranges For The Holidays
Lemon And Rosemary DIY Stovetop Fragrance
Holiday Hot Chocolate Bar with Homemade Mix Recipe (great for gifts)