Time to unveil my thrifty finds of the week. There's not a lot of them, but they are some of my favorites finds so far.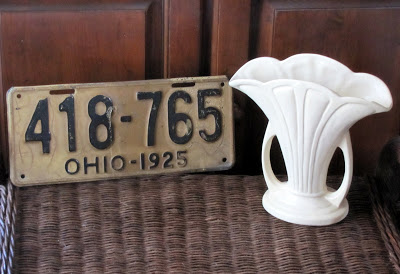 I nabbed this awesome Hull Pottery vase at Goodwill yesterday. This is the first thing I have ever found at Goodwill. EVER. Now, I have found things at Volunteers of America and Salvation Army, but Goodwill finds have eluded me. Until now.
I have recently started collecting vintage white and cream colored vases, so this vase jumped right off the shelf and into my hands at the store. It begged me to buy it and give it a better life in a home that would love it and nurture it. I couldn't say no.
This thing is fairly large - approximately 9" tall by 9"" wide and weighs 2 ¼ pounds.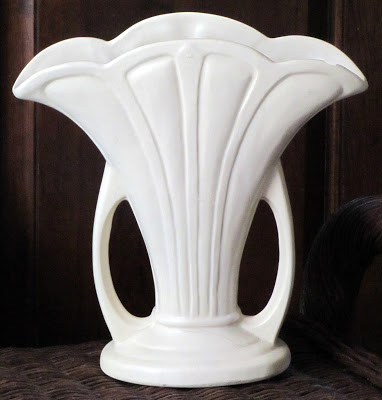 When I bought it I had an inkling of what kind of vase it was. I mean it had the feel of a Hull or McCoy piece (heavy, matte glaze, aged look), but it just had USA on the bottom with a the number 47-9 on it. It wasn't until I got home and researched it did I find that it was indeed a Hull piece.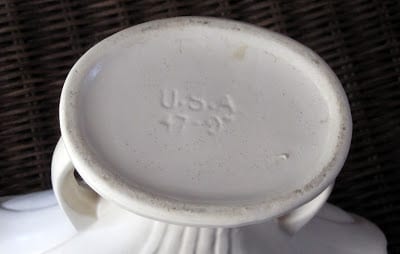 And although not a thrift store find, I love this license plate. I bought it at Polly of Sassafras Stuff 's booth in Lancaster. I was down there to check out her new fall display which I absolutely loved, but while there I found this license plate on sale. And how often is something ever on sale at an antique store?
Look, it's from 1925. Not that that particular year means anything at all to me, but 1925!!!
And it has the same look as my subway sign which is what drew me to it in the first place.
I haven't found a permanent place for it yet, but I have a vision in my head. I will show it to you when I have it in place.