Am I too old to say I "heart" something? Oh well, I just did!
On Monday, also known as the last day I felt even remotely warm, I ventured out to find some goodies to get me through this week's arctic cold blast.
I found this cool rusty red tin at the antique mall. I'm a sucker for rusty tins. They're great to hide stuff in on a bookshelf or counter and it was only 3 buckaroos.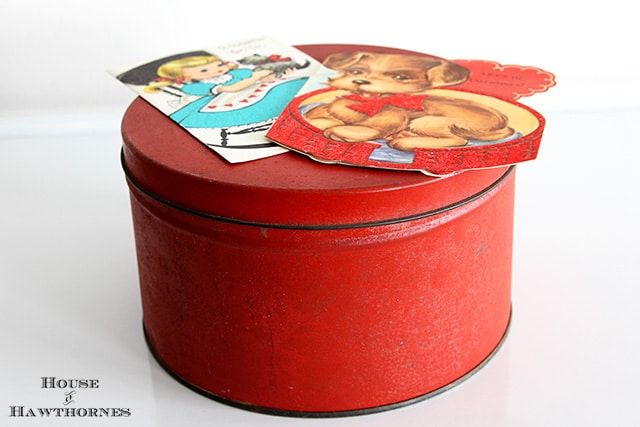 And it's red. Anything red is good for the big V day coming up.
Speaking of Valentine's Day, I'm also a sucker for old Valentines. LOVE them! So when I found these 1950's Valentines, I snatched them up for $1 a piece.
An adorable puppy sitting in his little doggie bed.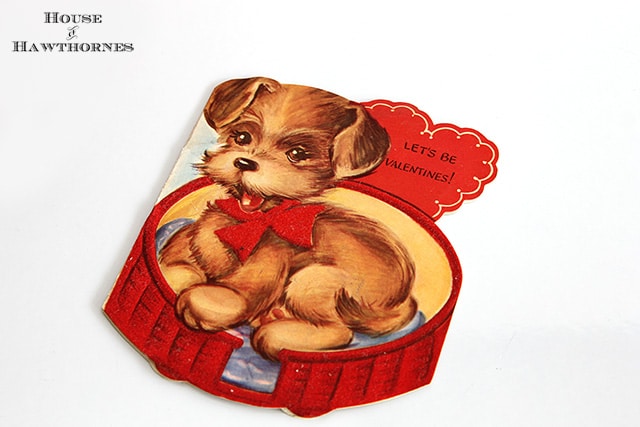 And a cute girl sitting in a rocking chair with her brand new kitten.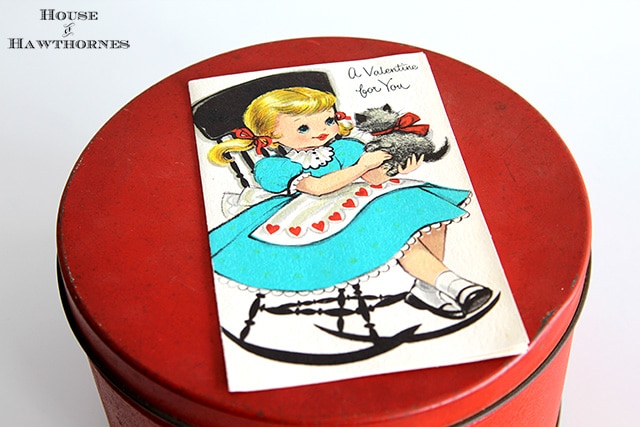 How do I know they're from the 50's? Grandma and Grandpa signed and dated them. Can we get a collective Aww?
1 .. 2 .. 3 .. Aww!!!
And I found a hobnail Fire King planter/jardiniere/whatever-the-heck-it's-called thingie at the thrift. I'm not a huge hobnail fan, but it sort of matches the pink one that I own.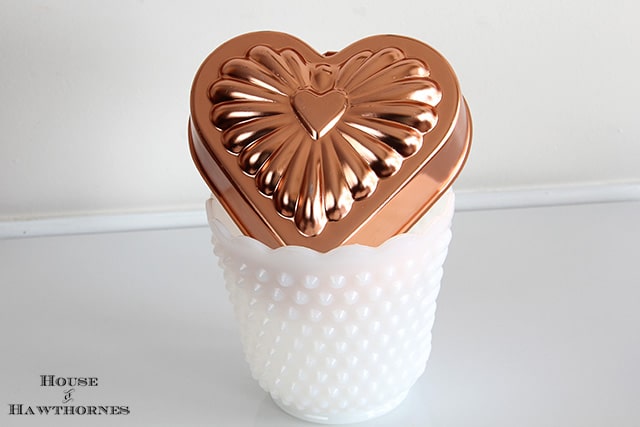 I also bought this copper colored heart mold for 99 cents. You'll see it in another post this week where I make something with it. Yes, I actually use this stuff sometimes!
I can assure you I did not make jello with it though. Well, maybe I did in a round about way, but you'll have to wait to see it.
Hey, is this what he meant, when Jim Croce sang about saving Time In A Bottle? It's really a jar, but same difference.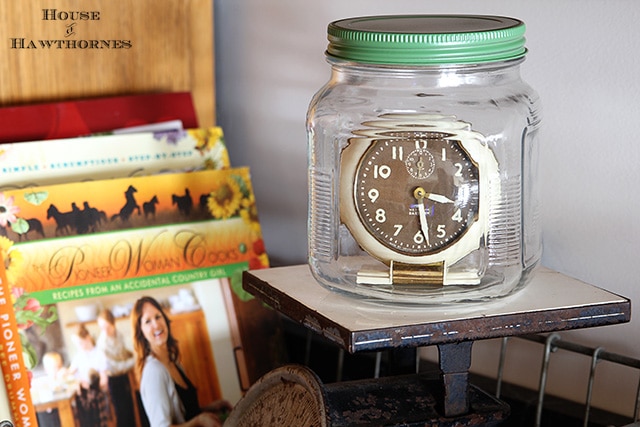 I found the Westclox Baby Ben alarm clock at a thrift store before Christmas for 99 cents and I forgot to show it to you.
It does work, but I do not wind it!!! Have you ever noticed how LOUD ticking clocks are? How people ever lived with that constant TICK, TICK, TICK before the invention of electric clocks is beyond me.
OK, I've got a HUGE case of spring fever today. It's 10 degrees as I write this and my son is actually back at school. After all these snow days, negative degree temps and being cooped up in the house, I'm getting pretty darn excited about this little heat wave of ours and I'm going to celebrate it by heading off to some more thrift stores. Wish me luck.
BTW, thanks so much for all the comments and emails on my last post. You guys are the bomb!
Linking with Wow Us Wednesday