Learn how to make DIY Birdseed Suet Cakes for your backyard birds. They're also excellent holiday hostess and teacher gifts that the kids can help with!
One of my favorite things to do once the weather starts cooling down and the birds have less natural things to eat in the yard (berries and worms) is to make suet bird seed cakes for them.
And why make them in boring square shapes when you can make them in fun shapes!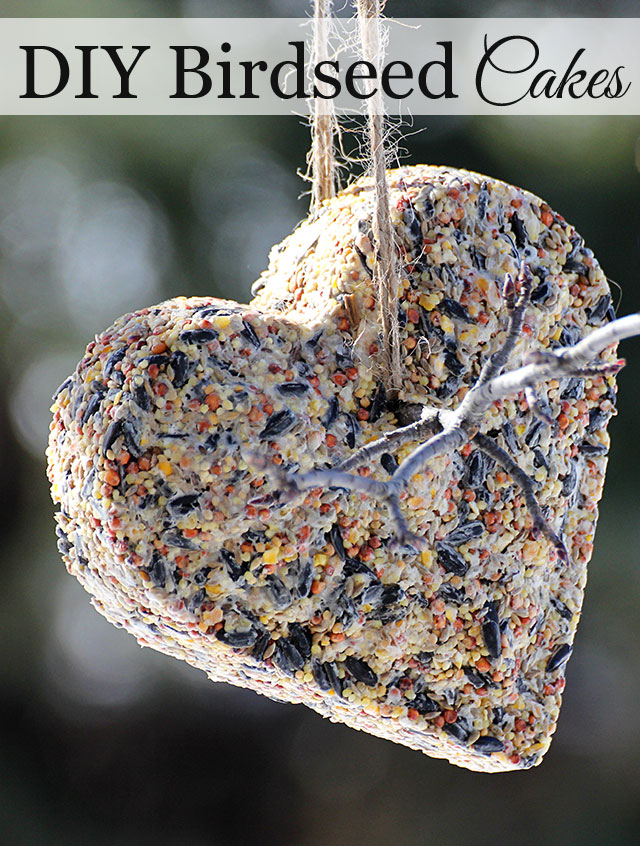 Remember the
heart shaped jello mold
I got at the thrift store?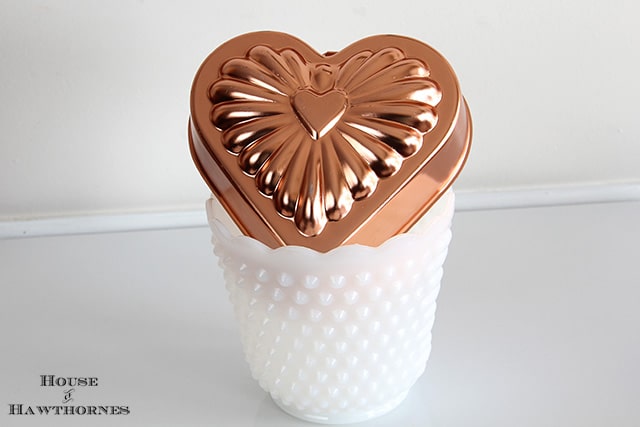 Well, I didn't make jello with it, because that would just be too obvious. And who wants to hear about making jello anyhow? Snoozefest!

I made DIY birdseed suet cakes with it!!!
That uses gelatin. So, come to think of it, I sort of made jello for you after all.
Come along as I take you through the journey of how to make something you can probably buy in the store for $1. It's so much more fun to make it yourself though!

Supplies:
3 cups wild bird food
½ cup boiling water
3 tablespoons Karo syrup
1 packet unflavored gelatin (Knox or a generic version)
¾ cup flour
non-stick cooking spray - I prefer Pam, for obvious reasons 🙂
a mold of some sort - jello mold, bundt pan, etc
string, twine or yarn
a straw if your mold doesn't have a hole for easy hanging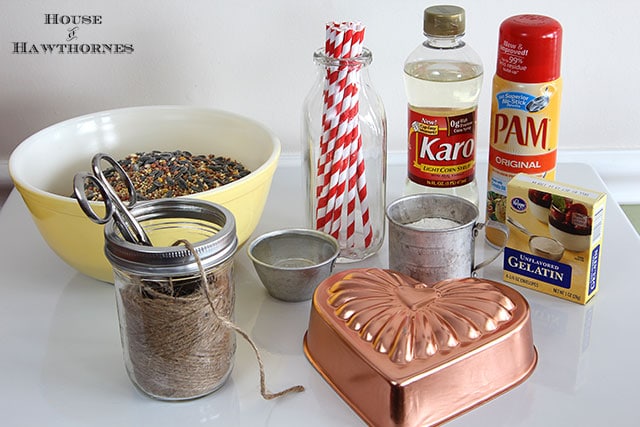 Directions:
Spray your mold with cooking spray
Mix the gelatin packet into the boiled water until it is dissolved.
Add flour and syrup until it is mixed well. It's going to look like a thick cake batter.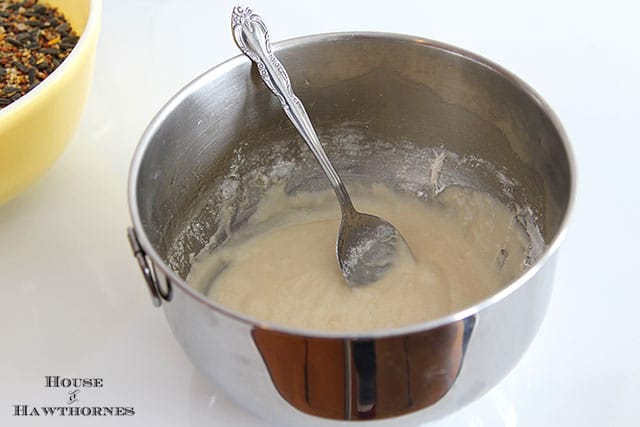 Add birdseed into the mixture and mix well.
Spoon ½ the mixture into your mold.
Push straw through the seed mixture to the bottom of the mold.
Add a bit of string (this is going to act like a piece of rebar in cement and add extra stability).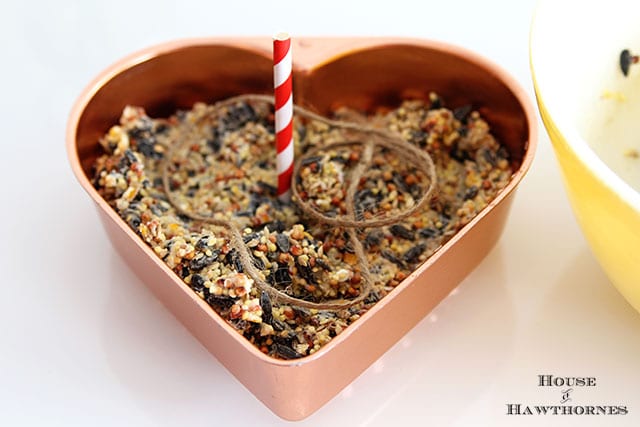 Spoon remaining seed mixture into the mold and compress it down as much as humanly possible.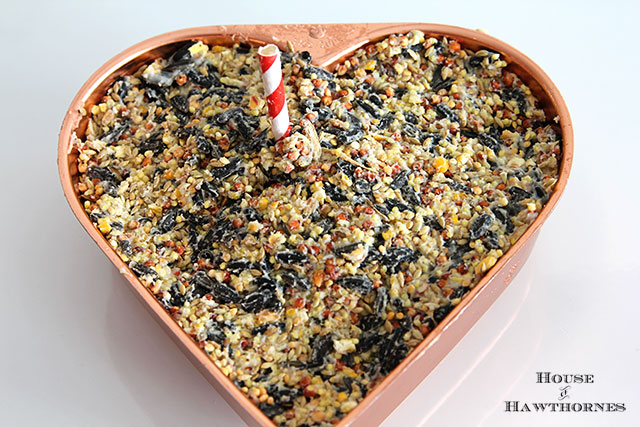 Put mold into the fridge or freezer overnight to harden up and allow the gelatin to set.
Remove from the mold. If your seed cake doesn't slide out of the mold easily when you turn it upside down, sit the bottom of the mold in a shallow pan of warm water for a few minutes and the cake should pop out.
Gently remove straw and thread a piece of string through the hole for hanging.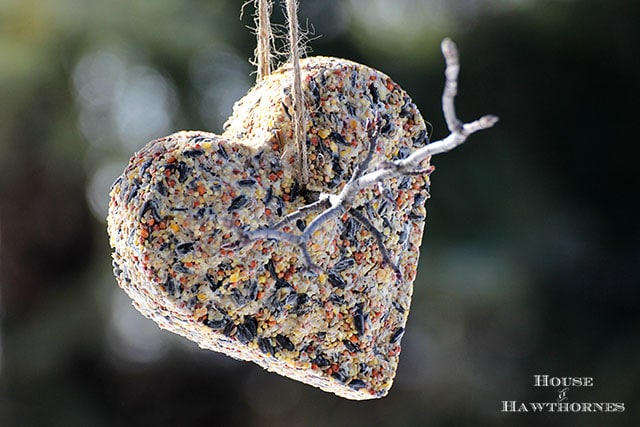 I figure the birds can steal the "rebar" string to make their nests with when they're done eating through the cake.
I added an extra step of putting a twig in the hole as a little perch for the birdies.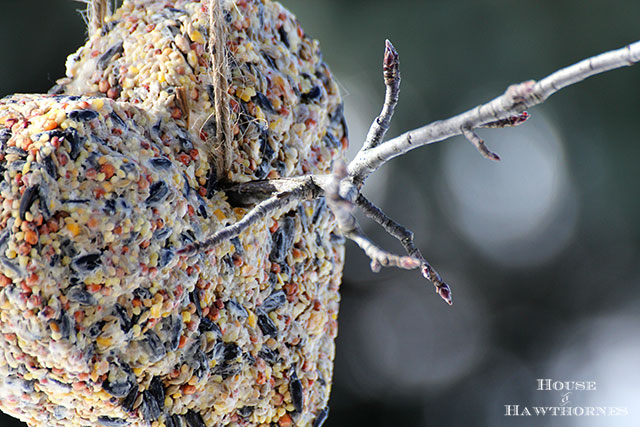 I did not put that in the official directions, because so far none of the birds are using the darn twig. They'd prefer to just stand precariously on the top and eat the seed.
So much for my plan of a quaint photo of a cardinal sitting on the twig, eating the birdseed cake and smiling at the camera.
Tips and Tidbits:
This recipe is for a medium sized jello mold. If you were going to do a large bundt pan, you may want to double it.
Do not dilly dally when making this. Once the mixture starts to cool, you don't have a lot of time to work with it in the molds before it starts setting up.
If you plan to give these as gifts, please keep them refrigerated or in a cool place until you gift them.
If you're looking for a low-melt suet recipe that holds up better on warmer days, I have a recipe with peanuts and berries that the birds LOVE → No Melt Suet Cakes For Birds.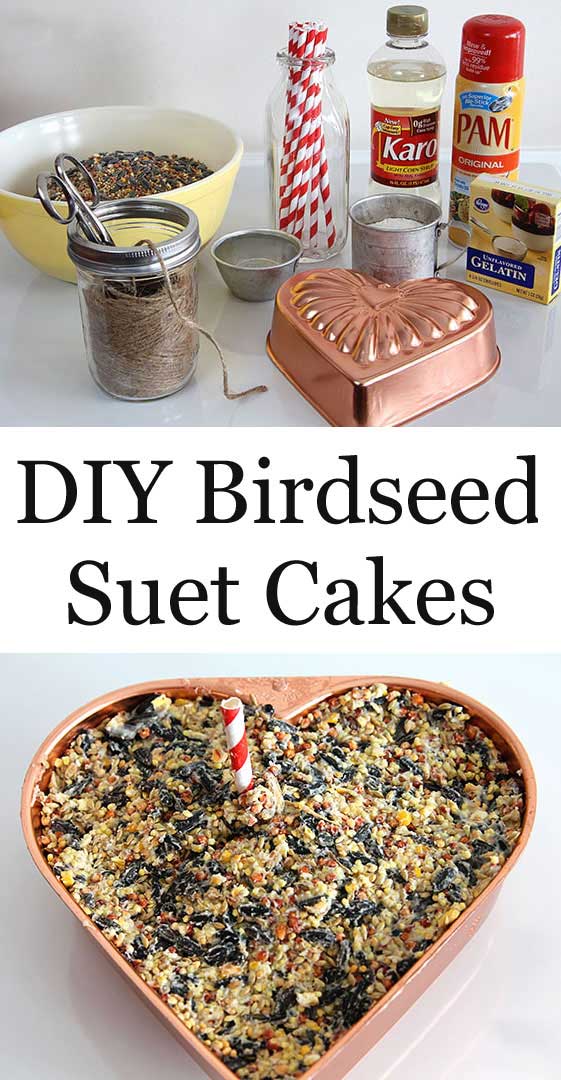 This Explains So Much:
About Karo syrup - My mom used to use this syrup for pancakes and waffles and such. The first time I ever had maple syrup was in college and I about gagged. It's funny that Karo syrup is what I thought syrup was supposed to taste like.
Needless to say, my Mom was not the best cook 🙂 I won't get into what she used for spaghetti sauce.
Now get out of here and feed the little birdies! They need to gain their winter five ten pounds like the rest of us.
(This post contains some affiliate links for your convenience. You can read my full disclosure policy here.)
Some Other Post You May Enjoy:
Homemade Squirrel Repellent Recipe
Vintage Tin Dollhouse Repurposed Into Birdhouse
Vintage Snack Set Bird Feeder