I attended an estate sale on Saturday. This was the second day of the sale and, since I couldn't attend the first day, I wasn't expecting much of the stuff I had seen in the ad to still be there. Even though I knew ahead of time that I wasn't going to get the good stuff, I was still hoping to find that little gem that other people had rushed past on the way to the bigger glitzy items.
But when I started looking around the house, I quickly realized that this was not my scene. About all that was left was a bunch of Snoopy figurines and tacky (not vintage, just plain tacky) Christmas ornaments. Bummer. But you snooze, you lose and I should have been there on Friday if I had my eye on something.
I decided to walk through the garage on the way out of the sale, because I was desperate to find something to make this trip worthwhile. A hammer. A nail. Anything at that point. Nope, nothing interesting.
Wait, what's that odd shaped canister attached to one of the wall studs? It was sort of dark in the garage and the item was roughly the same color as the wall stud, so I can see why the other 2,000 people who had come to the sale before me hadn't seen it. It's a small antique fire extinguisher.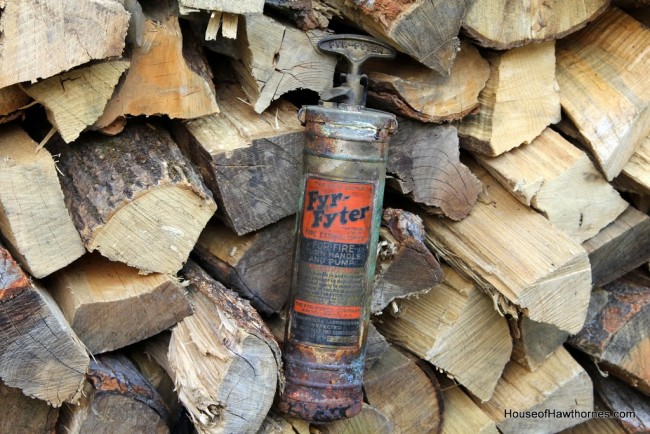 It's around 12 inches tall. Not sure if it's copper or brass, but even though it looks a little rough right now, it should clean up (OK, a lot rough).
There was no price sticker on it, so I ran to find the guy with the apron on to see if it was actually for sale. It was! It should have been marked $20.00, but since it was the ½ price day at the sale, it was only $10.00.
He even unscrewed it from the wall for me.
Here comes the spooky part. The thing that had caught my eye in the online ad in the first place was a photo of two full size vintage fire extinguishers. I didn't need them, but had thought that if they were cheap I would buy one as a decorative item for the living room. Debbie at Debbie Dooshas one in her living room and I always thought it was a neat, eclectic piece.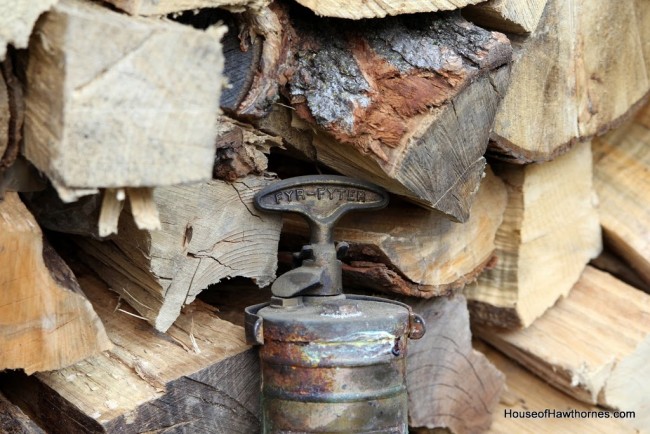 This was not one of the ones shown in the ad, but a much smaller version, but I am still taking this as a sign from someone up there in heaven (you know who you are!) that they were overseeing my shopping adventure on Saturday.
Now I just need to clean it up and I'll be all set to put out some fires!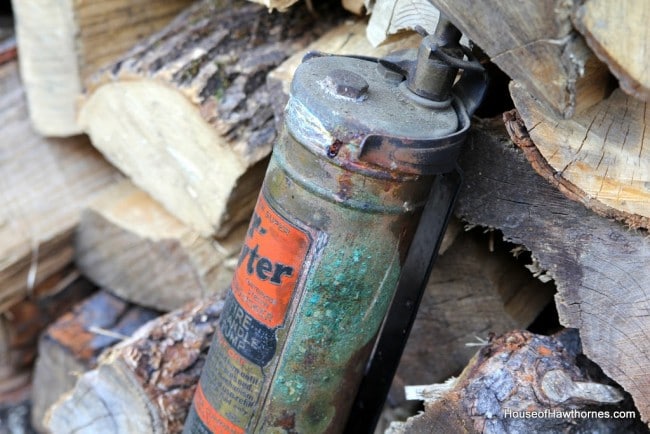 Not really. My husband, the Junior Safety Patrol Marshall, is paranoid that since the thing is so old that it will spontaneously go off in the house one day, so we're removing the chemical from it. Killjoy. It will just be for looks.