I may be a little late in posting my Christmas porch this year, but I wanted to show you what I decided to do for Christmas . . . before Valentine's Day hits.
This year I wanted to do an easy porch.
One that's not over the top, just a typical look that's easy to replicate. Nothing too intimidating.
In other words, nothing that needs me to spend hours outside in 12° weather tearing down Christmas decor next month cussing to myself as I go.
I'm talking to you, pine garland around the entryway.
I'm very much into EASY and RELAXED Christmas decorating this year with using what I have and trying to spend the least amount of money possible.
My Nostalgic Little Red Wagon Christmas Porch Decor
My porch this year is a mix of traditional, with a bit of whimsy and a tad of nostalgia thrown in.
I started by dragging my little red wagon out of the garage.
I found this beauty at a yard sale for a couple of bucks and other than using it to make a Little Red Wagon Coffee Table, it has mainly sat in my garage taking up space.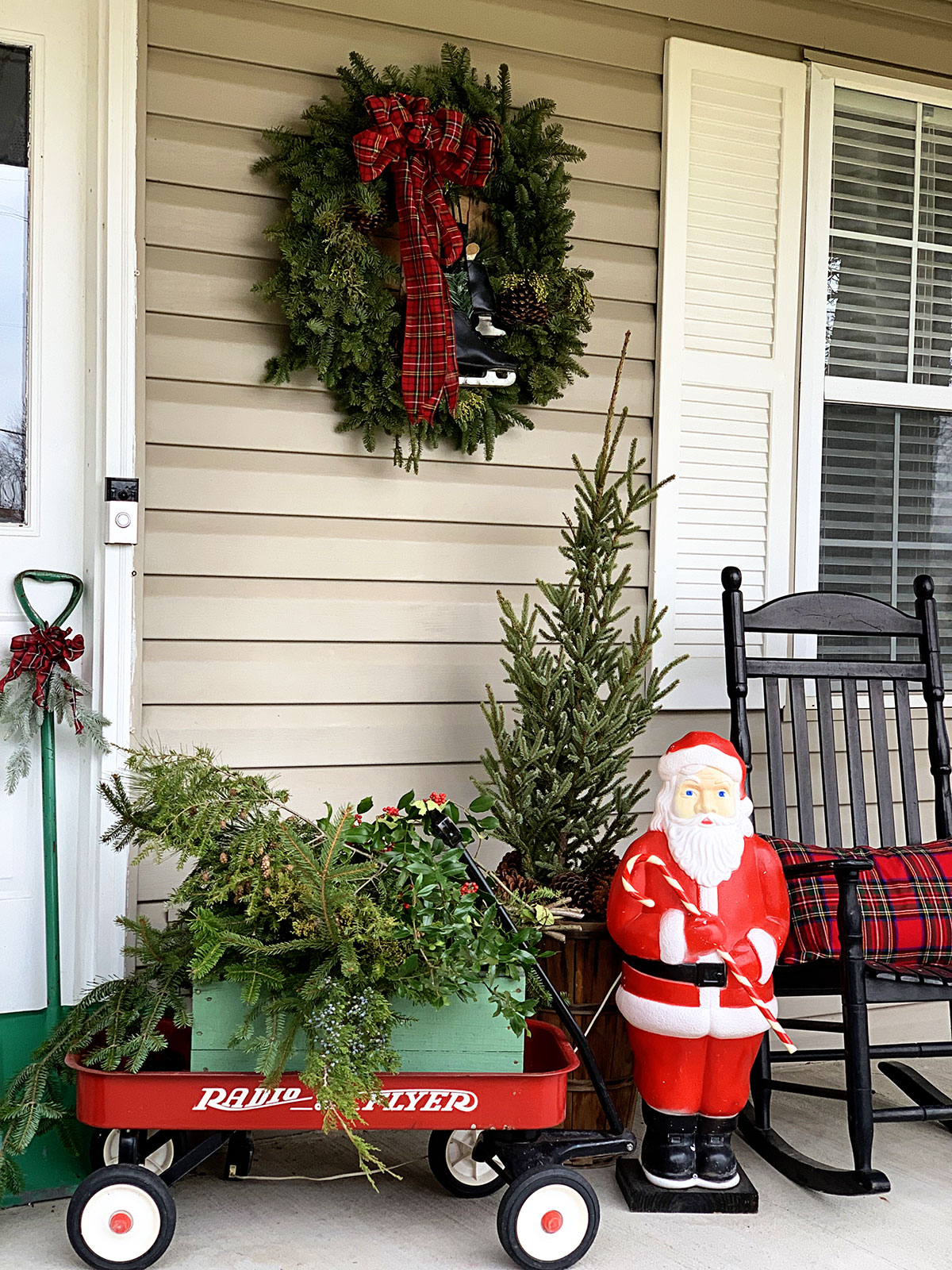 Until now.
I added a green wooden crate (aka a present) and topped it off with a bundle of mixed pine boughs and holly some farmer was selling in town.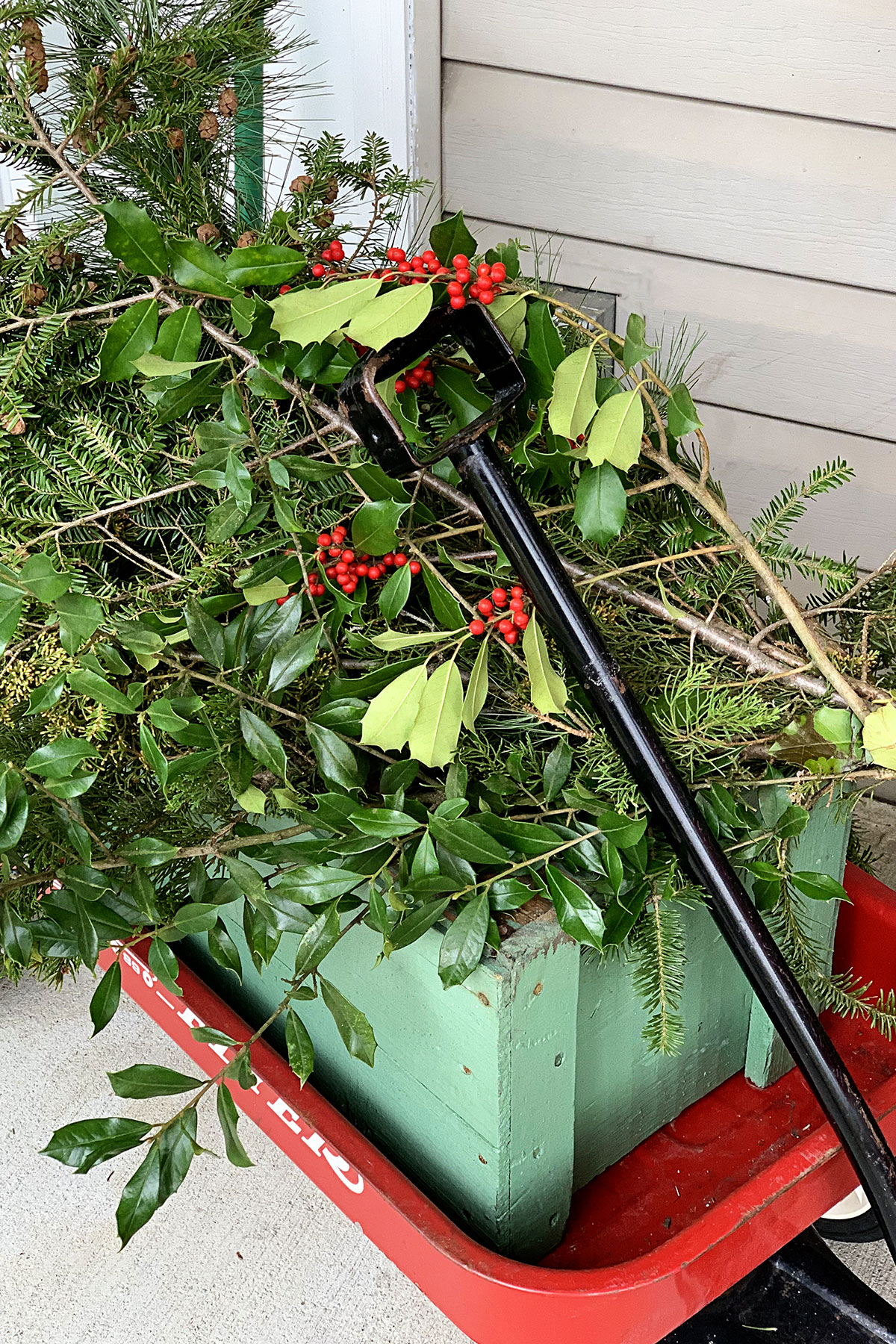 The greenery is meant to be used to make winter porch pots like I've done on my front porch in the past, but this year I just thought it would make a good accent for the wagon.
And of course, you have to have a blow mold Santa on your front porch if you are going to have a red wagon, right?
I've had this guy for a few years and have mainly used him inside the house.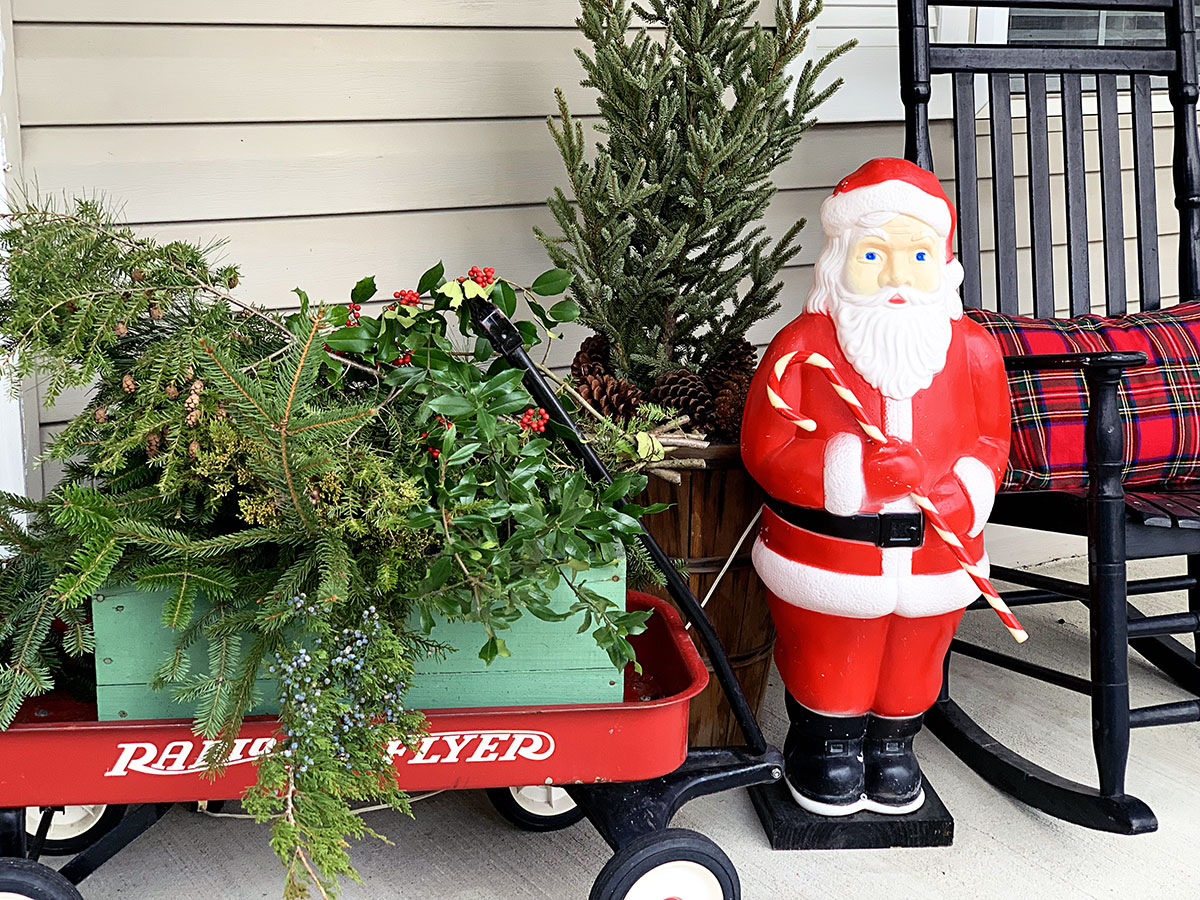 He's got a coat and mittens on, so he can handle it outside though.
The wreath is basically a large store-bought fresh pine wreath that I wired an old bushel basket lid to the back of.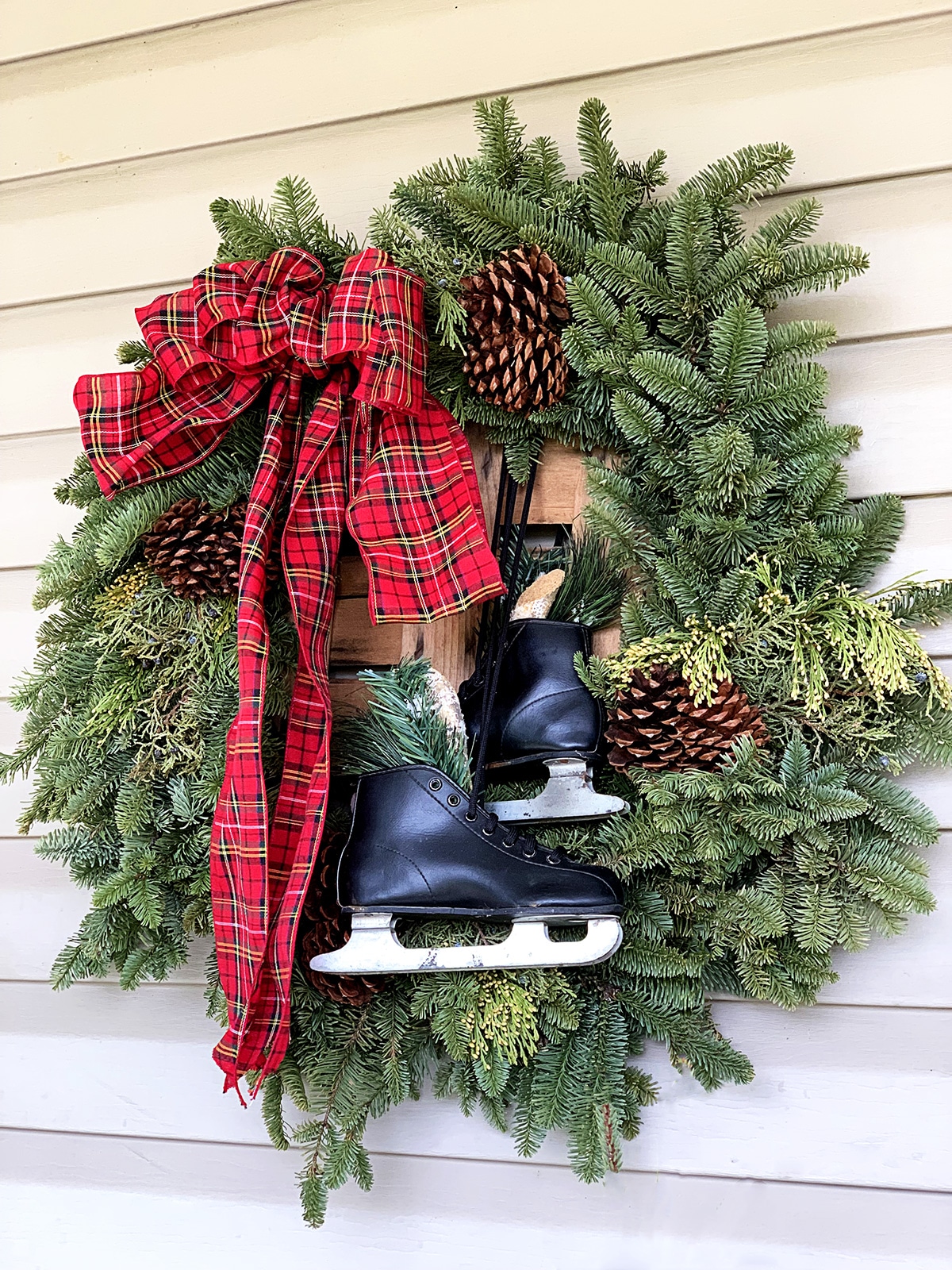 I added a tartan plaid bow and hung some ice skates on it.
Oh, and I stuffed some faux greenery picks from Michael's into the top of the skates. Just because.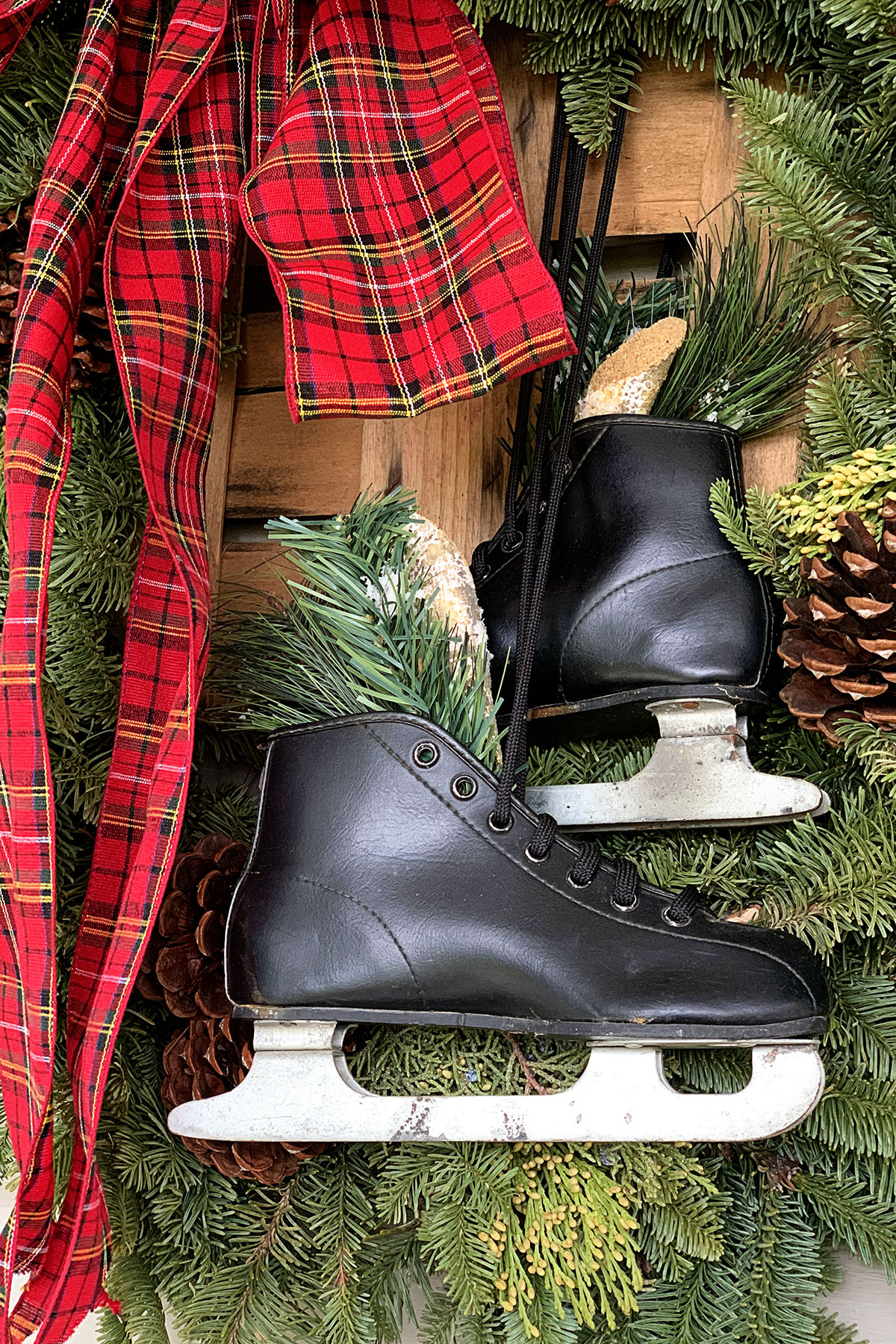 The whole wreath took about 10 minutes to throw together, 5 of which were trying to keep the dog from eating the pinecones.
In the rockers, I used the very same tartan plaid pillows I had on my Christmas porch last year.
It's all about reusing what you already have.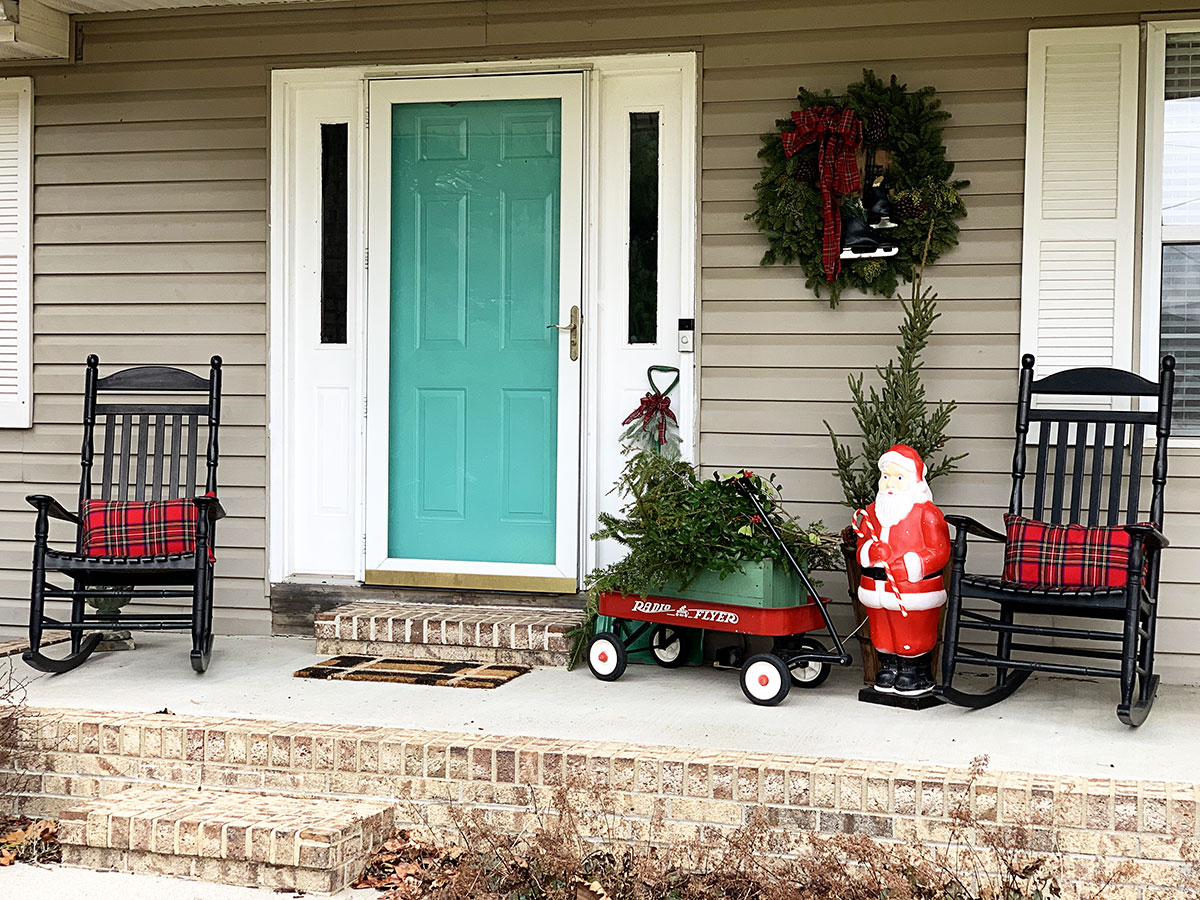 So no, I do not have garland strung across my entryway.
And no, I didn't spend $497 on porch decor.
But I think I am enjoying this less is more look!
Ask me in January when I am simply toting Santa back inside and taking the bow off the giant wreath and calling it my Little Red Wagon Winter Porch Decor.
Or will I have to take the pillows inside too?
Regardless, undecorating after Christmas will be a snap!