This free printable calendar for 2022, using beautiful vintage farmhouse watercolor images, is an inexpensive and cute way to keep track of the new year.
I hope you had an amazing stress-free holiday season and you and all your loved ones were able to get together and celebrate.
And stay healthy! That healthy part is the hard part this year.
So far my immediate family (all 3 of us, plus the dog) has been able to avoid the dreaded virus. Knock on repurposed barn wood, I'm hoping to keep it that way.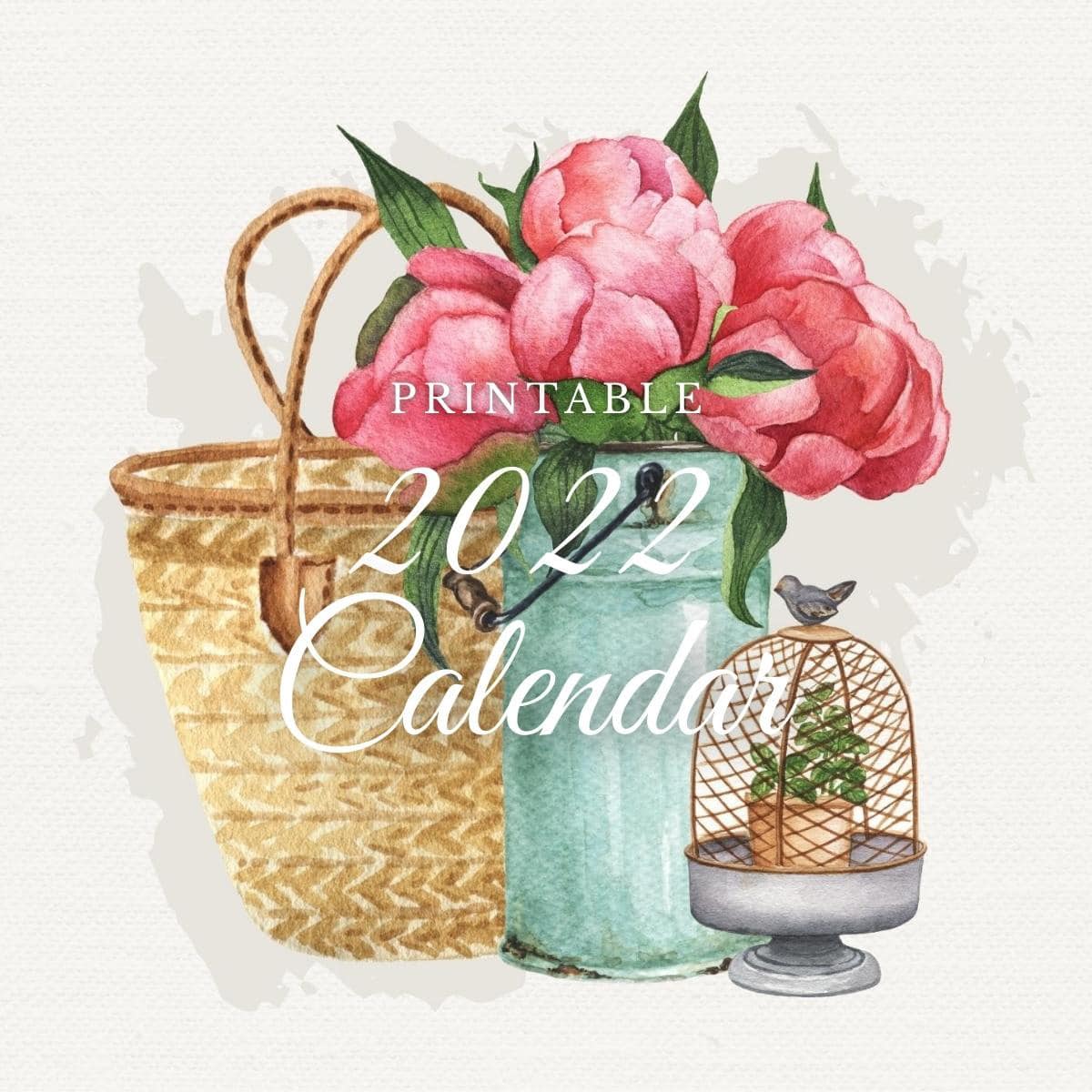 To start off the new year right, I've created a cute printable calendar for you!
This year I decided to do a vintage/farmhouse watercolor-themed calendar. Combining my love of all things vintage with my love of knowing what day it is.
BTW, I don't actually know how to make my own watercolor paintings, these images were all purchased from someone WAY more talented than me.
Somewhere between my eyes seeing a pretty thing, my brain thinking "You got this, girl" and my hands actually holding a paintbrush there's a total disconnect.
But I do so enjoy the dreamy look of watercolors!
The 2022 calendar consists of:
A cute Calendar Cover Sheet
12 equally cute Monthly Calendar Sheets
1 not-as-cute, but very functional Year At A Glance Sheet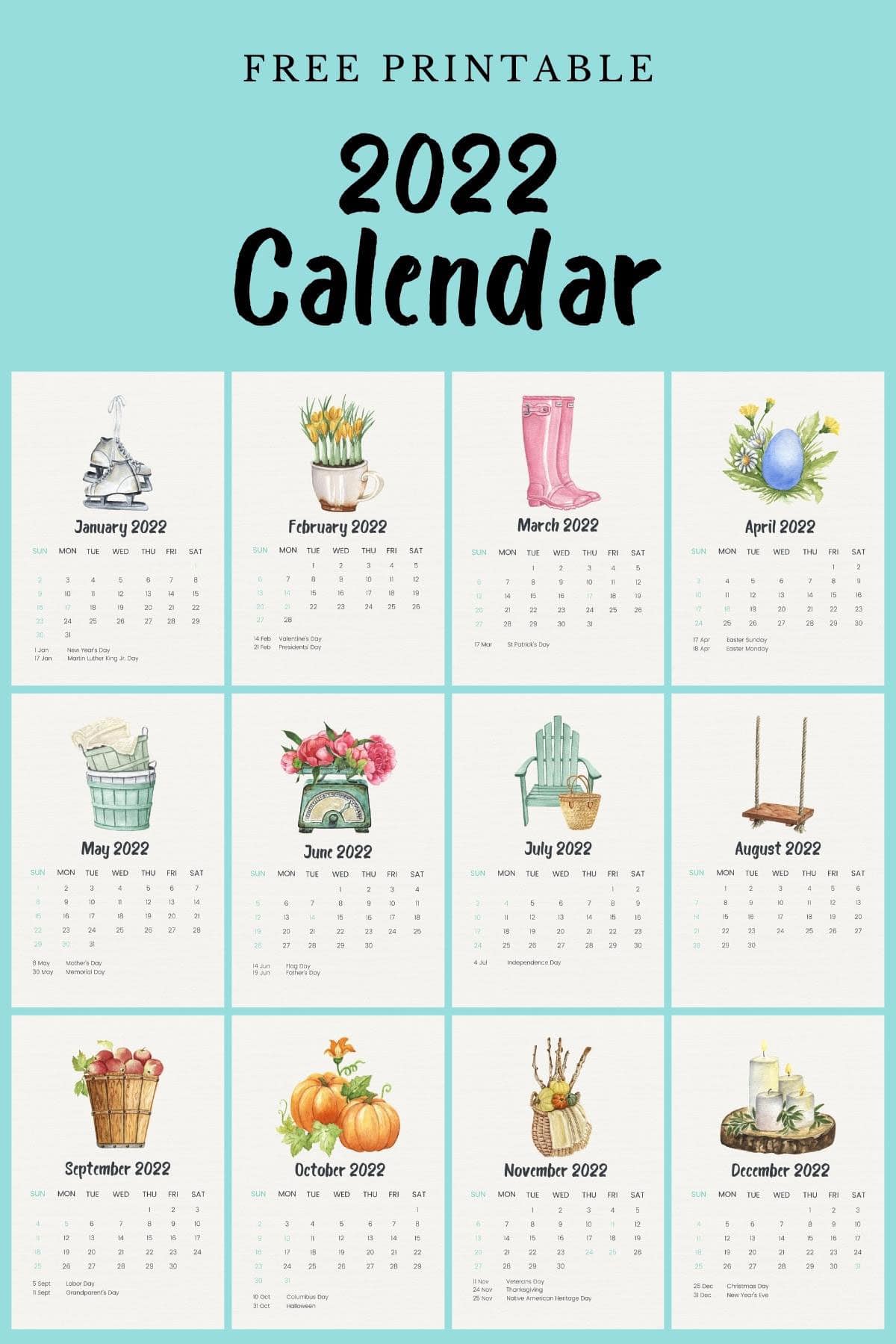 How To Use Your Printable Calendar:
Put them on a clipboard (that's how I use mine).
Affix each month to your fridge using one of those cute refrigerator magnets from that time you visited Dollywood back in 2007.
Use a 3-hole punch to make holes on the side and put in a 3-ring binder.
Have your local office supply company bind them for you.
Frame them.
Or just simply thumbtack them to your bulletin board.
How To Print Your Calendar
First of all, you can print the whole thing at once or you can print them out individually each month as the year goes by. Totally up to you.
It's easiest and quickest to print them out at home if you have a color printer. You can use any type of copy paper or you can use cardstock if you want a weightier feel.
Or you can go online at Staples and have them print it out for you. Which is what I did, then I just popped on by the store later that day to pick the pages up. Very easy.
Walgreens has a similar printing service and I believe you can just go through the pharmacy drive-thru window to get them when they're done (unless that's just a quaint small-town Ohio thing).
It cost roughly $7.50 + tax if I remember correctly and I had them printed on the 28 lb copy paper (just a tad heavier than typical copy paper).
Tips For Copying It To Your Computer
The files are stored on Box, an online file storage system.
When you click on the above link it will open a new screen and take you to the Box site.
If there is a green bar across the top X out of that (it's just an ad asking you to sign up which you do not have to do).
You should see a square box with a downward pointing arrow in it on the top right of the screen (will be under the green bar if you haven't X'd out of that yet).
If you copy it from that square box, it will copy all the calendar pages as a zip file* onto your computer and will be stored wherever your online copies are stored on your computer (normally a folder called Downlo*ds).
Or if you prefer to get each month individually you can click on the three dots (. . .) that come up if you hover to the far right of each month and click to save it to your computer from there.
If you use the big square box method and aren't familiar with zip files, it's just a way to quickly compress the files into one smaller file so it is faster and easier to send to you. You'll click on that zip file (looks like it has a zipper running down the file) and then you can see each individual month.
Other Posts You May Enjoy:
DIY Reusable Beeswax Bowl Covers