Where to find vintage Christmas decor reproductions at big chain stores. No need to spend all your time scouring estate sales anymore! Score!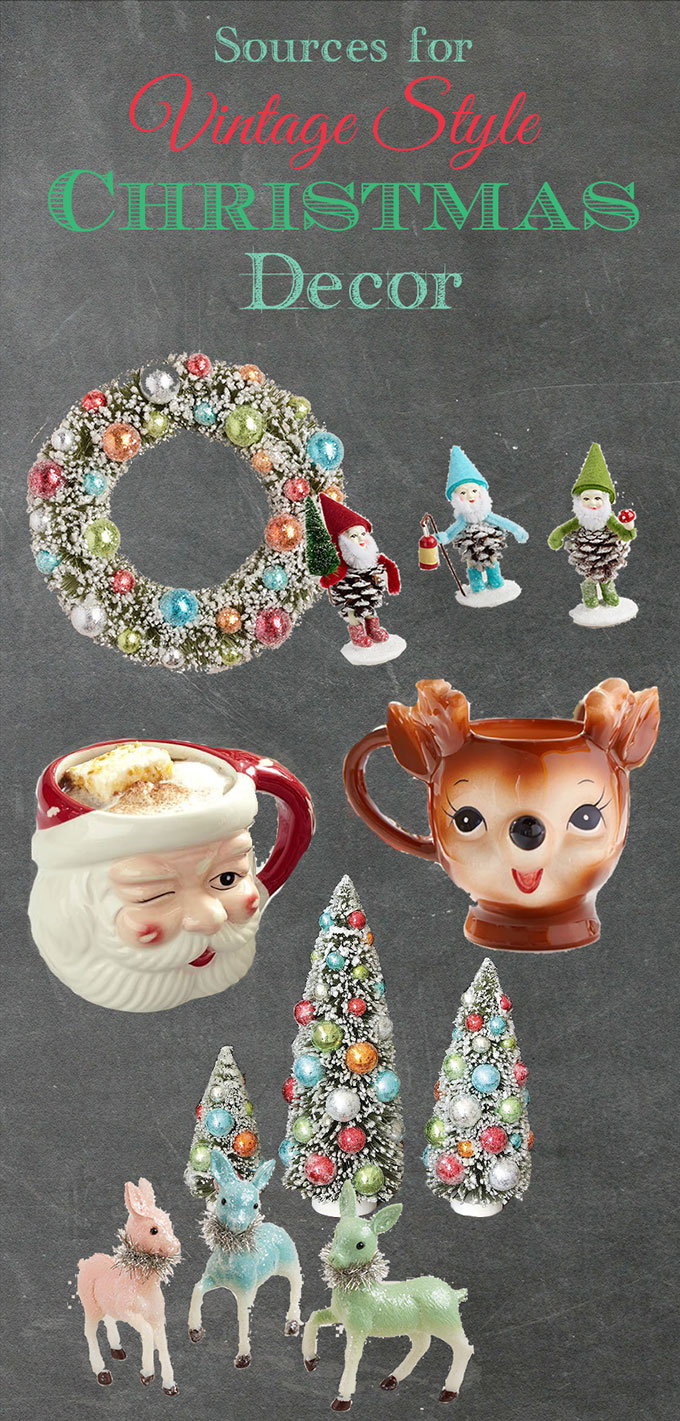 The jig is up. We're mainstream now. The whole world knows how cool vintage Christmas decor is.
As I'm running around town trying to find matching Christmas jammies for the family, I noticed that stores are carrying more and more vintage-like Christmas items this year.
Sure, it's fun to buy the real vintage stuff out in the wild, but that can get pretty darn expensive. And it's hard to find this time of the year.
So now that the chain stores are selling some pretty cute vintage inspired stuff, it's a chance to get the look without the endless searching at thrift stores, estate sales and yard sales. (I must be getting old.  When did I start complaining about the drudgery of hitting an estate sale?)

(This post contains some is chock-full of affiliate links for your convenience. You can read my full disclosure policy here.)
You can get your Santa mug fix on at Pottery Barn.
Vintage styled Santa Mugs – just like my vintage ones I find at the thrift stores, but no chipping paint and weird stains. Yo, you can actually drink out of these!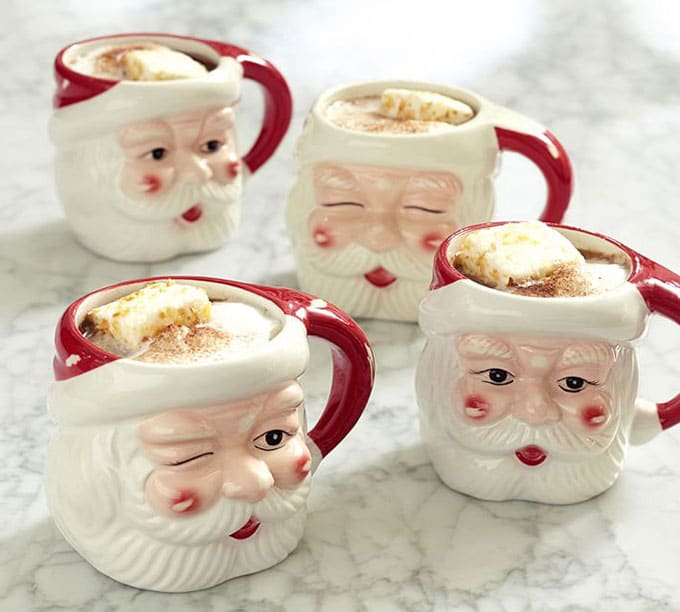 Warning on these guys – I think they sold out of them last year and they've been out of stock at least once so far this year, so if you want them, snatch them up.
Or if Santa isn't your thing (shh, don't say that too loud or he might hear you), then these cute little Cheeky Reindeer Mugs may float your sled. They remind me of Rudolph's girlfriend, Clarice.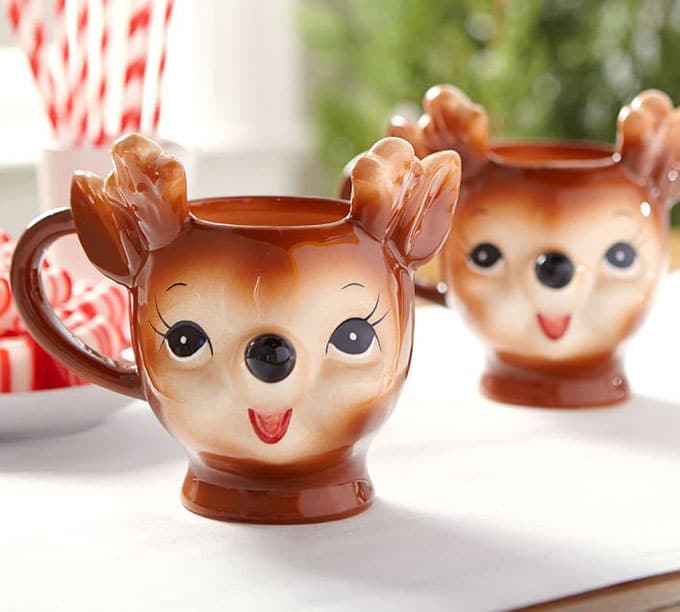 Or what about a cute as a button Snowman Mug?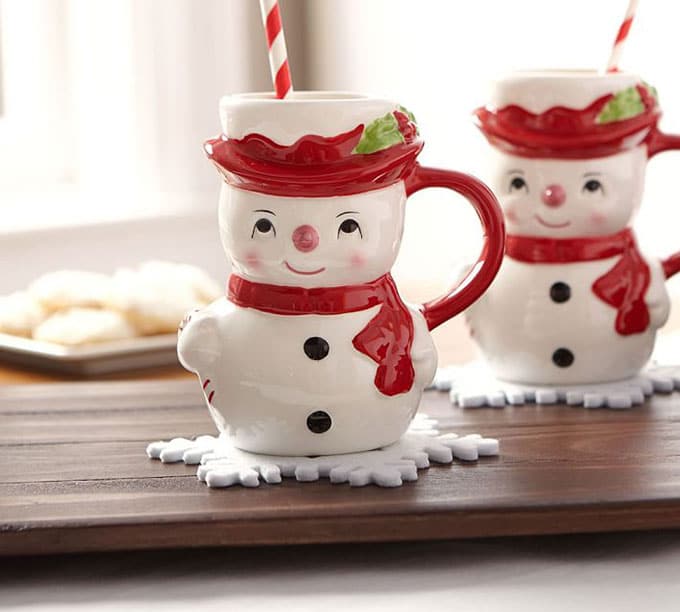 Next stop on the vintage Christmas train is World Market, where vintage goodness has exploded.
Pinecone gnomes. Now, World Market calls them gnomes, but aren't they elves?
Or are gnomes and elves the same thing?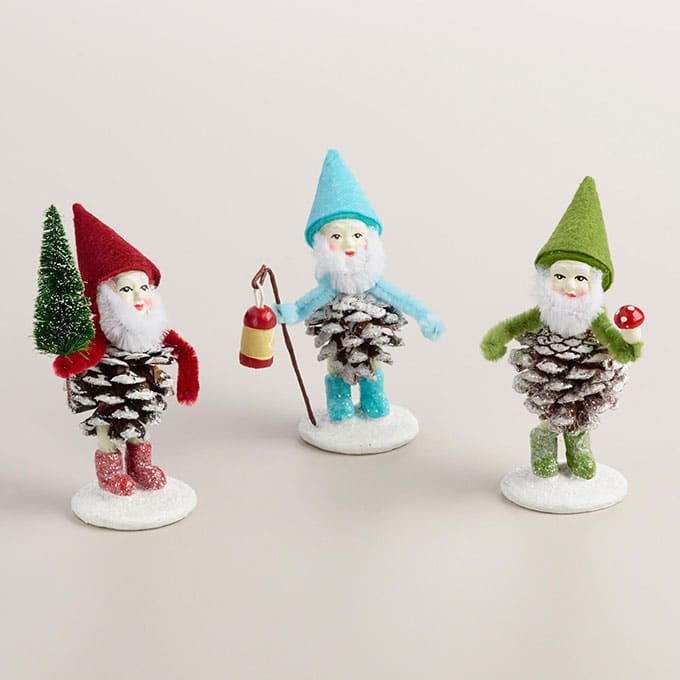 And they have putz houses!!!! OK, they call them "paper" houses, but we all know they're called putz houses!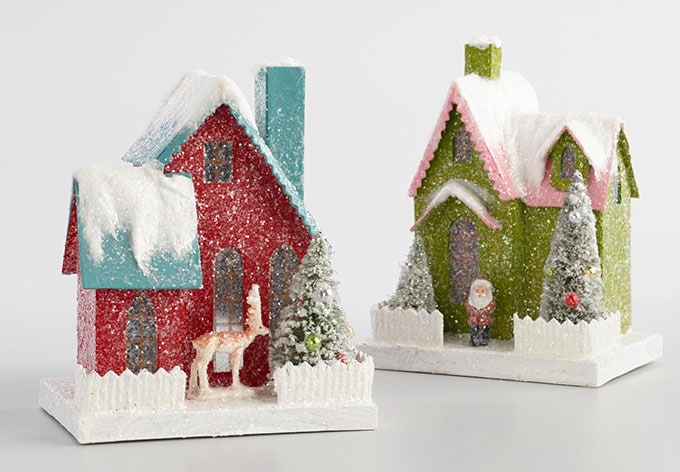 The colors on this bottlebrush wreath are fantastic!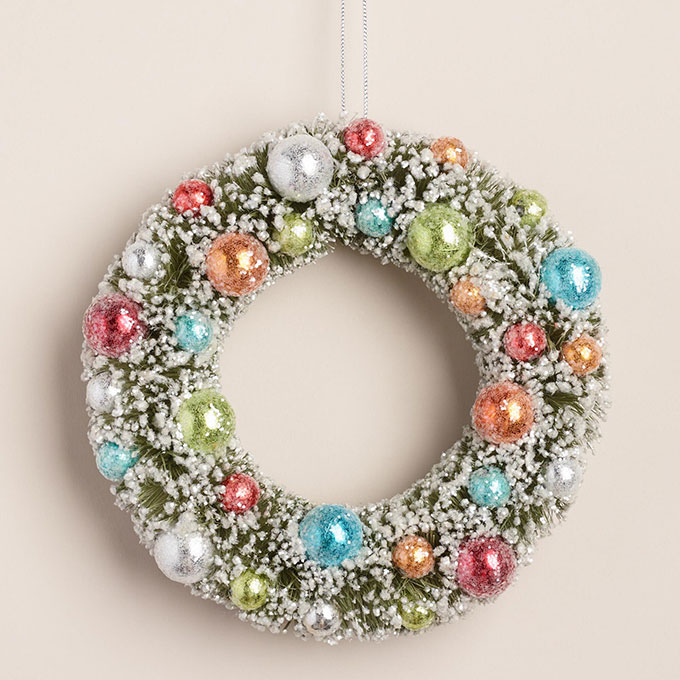 A cool set of vintage looking deer. These girls look like they are dancing.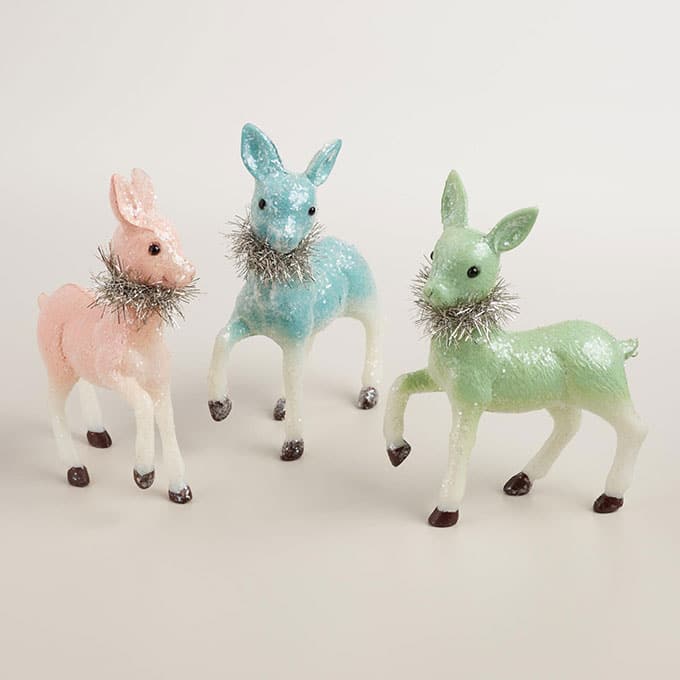 These funky retro bottlebrush trees little trees look very similar to one of my Grandma's tiny trees.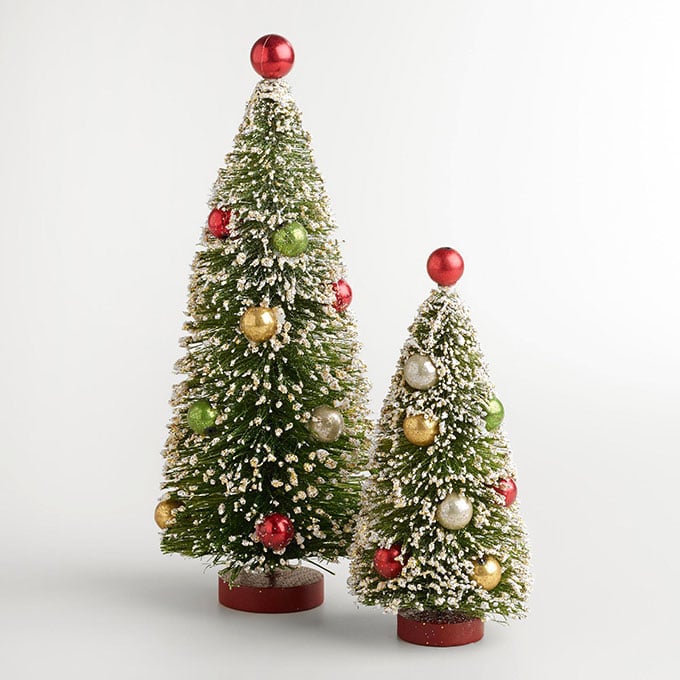 How adorably vintage are these snowmen salt and pepper shakers from Retro Planet. I have some plastic snowman ornaments that look almost exactly like these guys!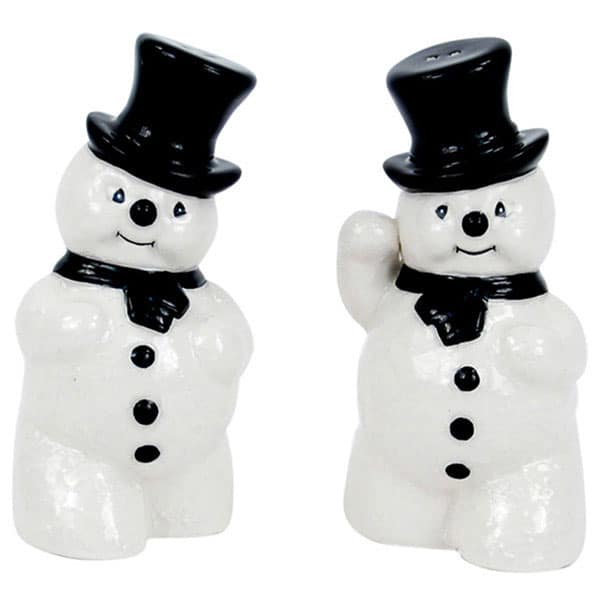 Retro Planet also carries this metal sign that is a reproduction of a tinsel box.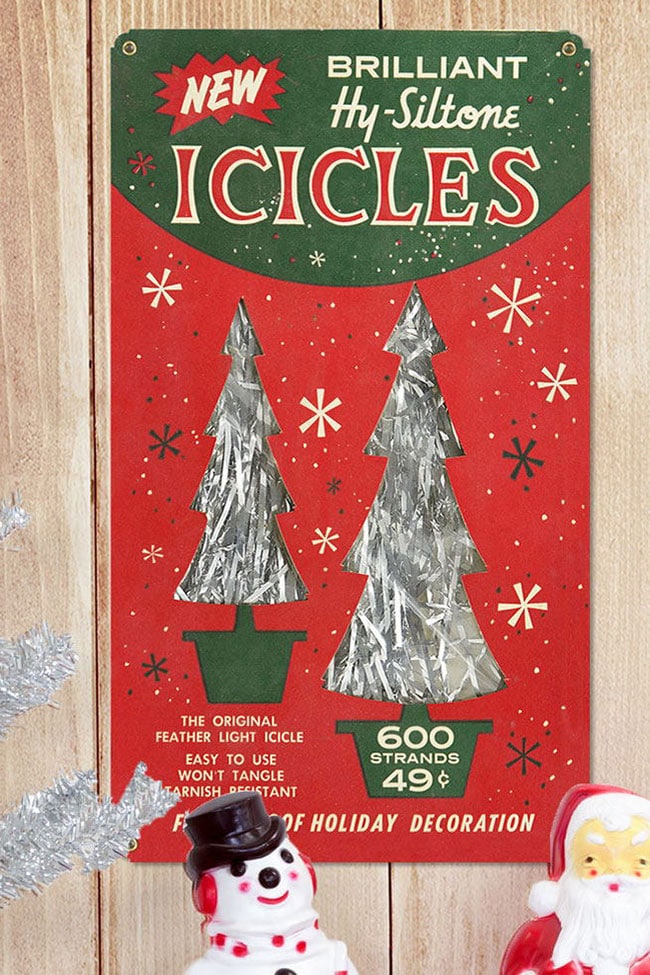 And a lot of vintage inspired wrapping paper sheets like this one with a Christmas village on it.  It's made for wrapping small gifts or crafting (not like it's an entire roll).
JoAnn Fabrics has a very cute retro looking knee hugger elf ornament!!!  I have some of the original ones and they nailed it on the look, the size is a tad bit smaller than an authentic one though.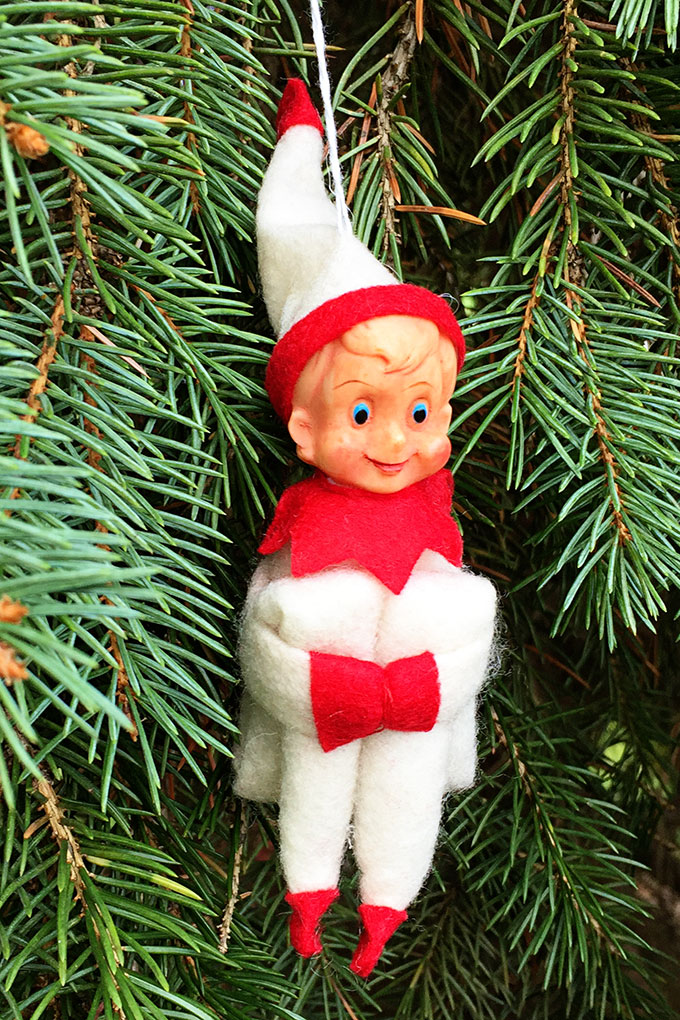 And I can not find this online, but Walmart has some if the old style icicle stuff that you hang on mantels or shelves.
Here is some handmade stuff very similar to it that I made a few years ago to give you an idea of what I'm talking about.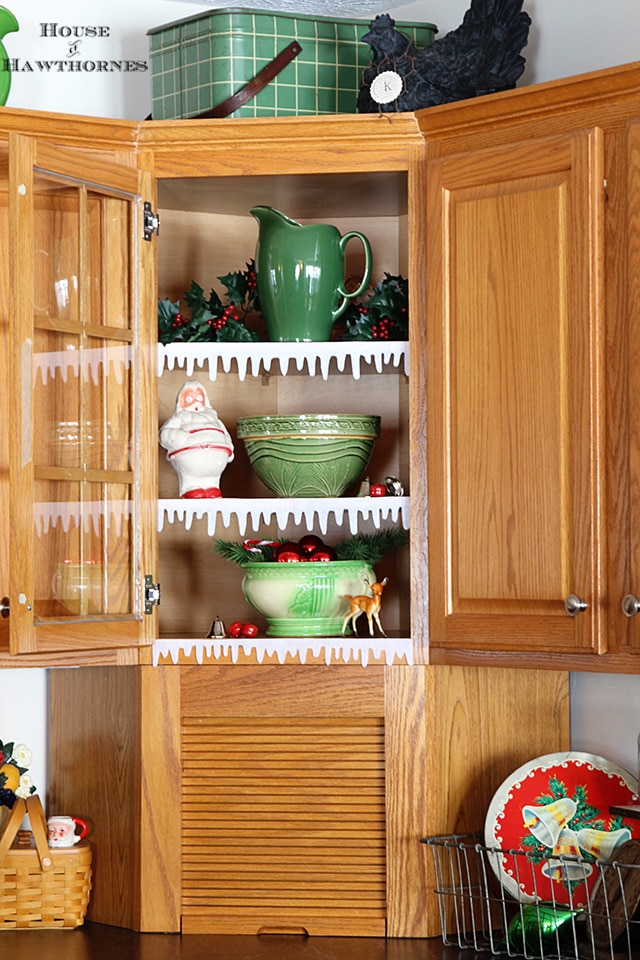 But anyhow, I about peed my pants in joy when I saw it in Walmart's Christmas aisles.
Of course, you always have Amazon, Etsy and Ebay to shop at also, along with my other gift guides to guide your sleigh tonight:
Gift Guide For The Vintage Lover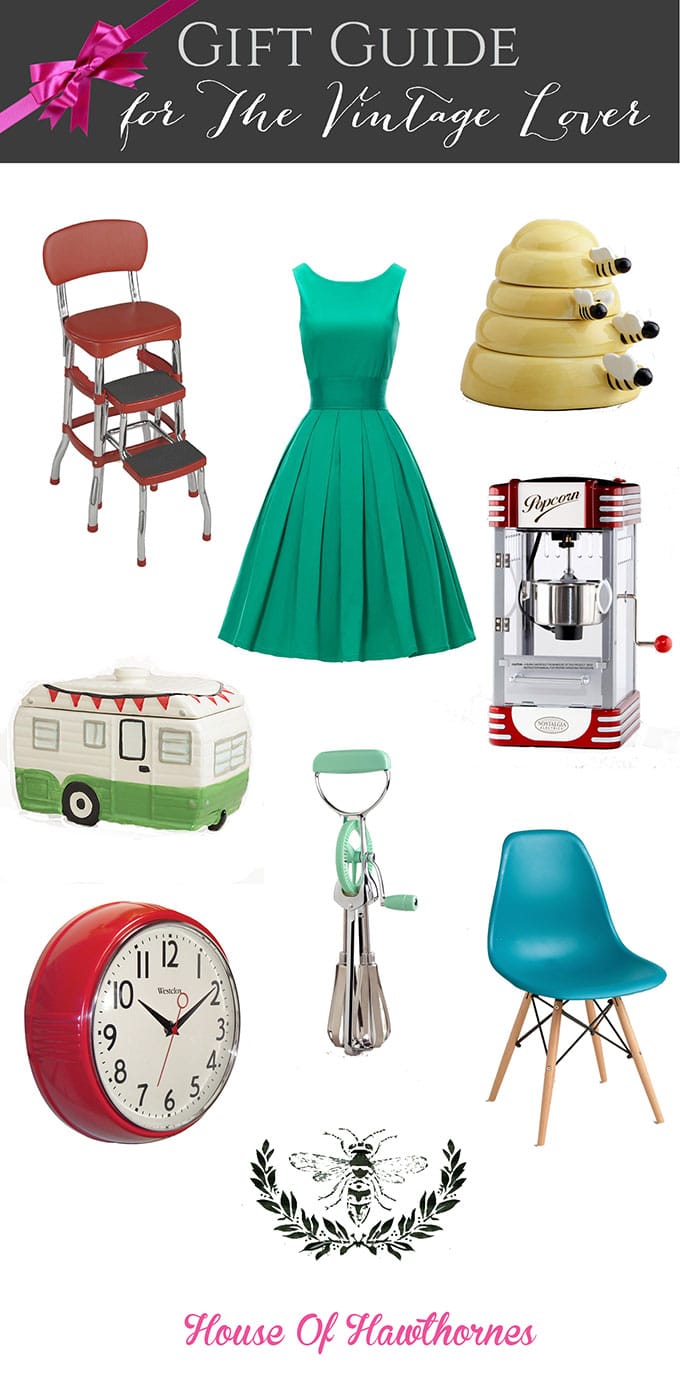 Holiday Gift Guide For The Retro Christmas Lover (2014)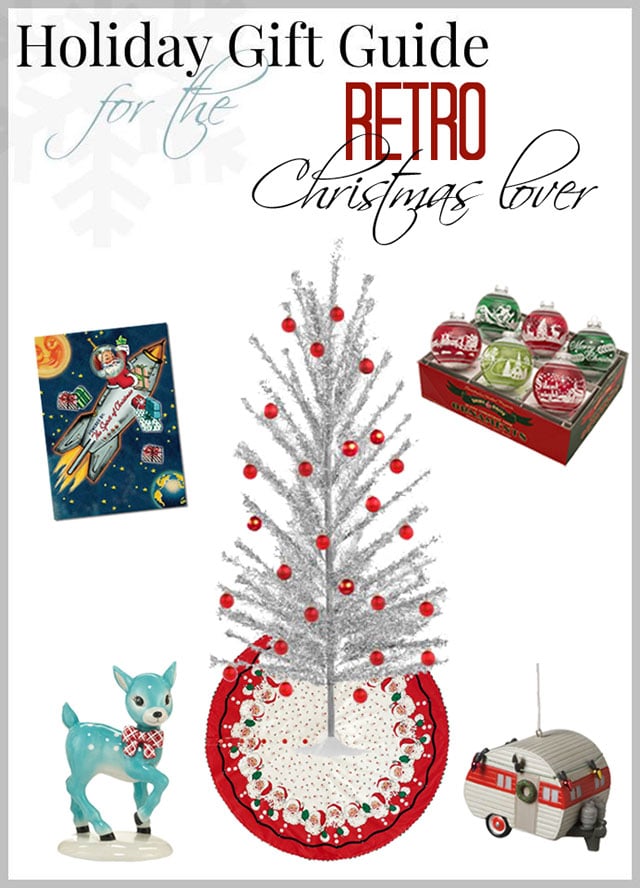 Holiday Gift Guide For The Etsy Shoppers Out There (2014)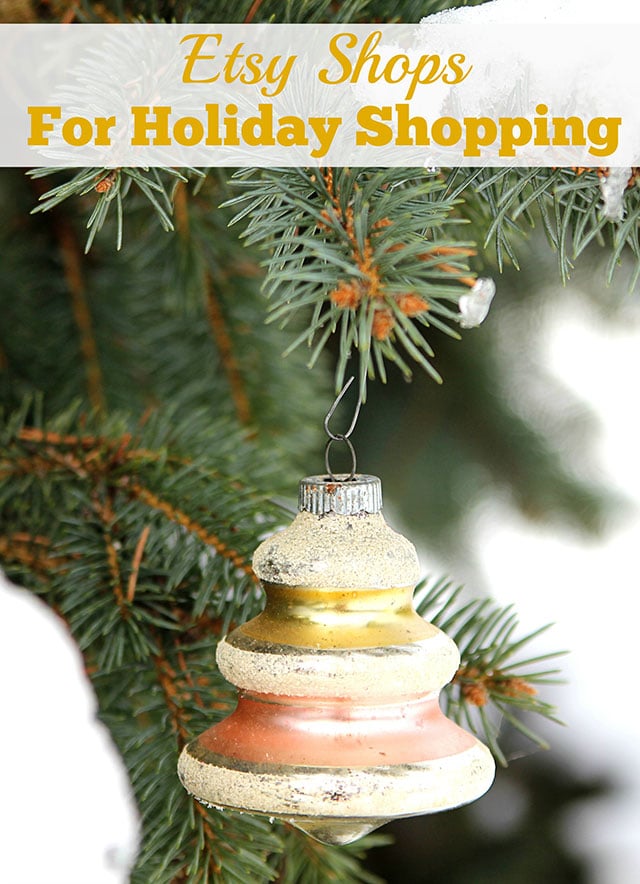 OK, I think that's enough shopping inspiration for the year.  I've got some cooking to do!