Find reproduction vintage Christmas decorations at the big chain stores. No need to spend all your time scouring estate sales anymore to get the nostalgic vintage inspired Christmas look! Score!
Updated For 2023 Holiday Season
The jig is up. We're mainstream now. The whole world knows how cool vintage Christmas decor is.
As I was running around town trying to find matching Christmas jammies for the family, I noticed that stores are carrying more and more reproduction vintage Christmas decorations this year.
Sure, it's fun to buy the real vintage stuff out in the wild, but that can get pretty darn expensive. Plus it's hard to find this time of the year.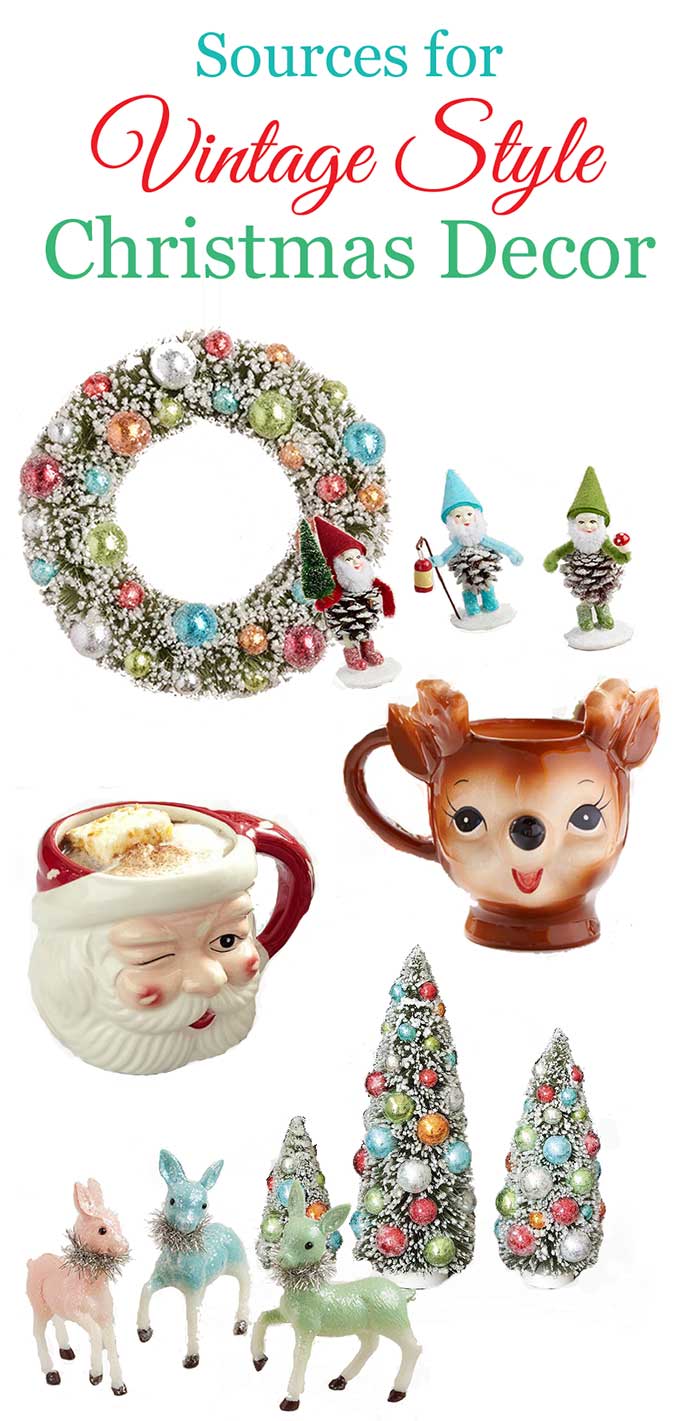 So now that the chain stores are selling some pretty cute vintage inspired stuff, it's a chance to get the look without the endless searching at thrift stores, estate sales and yard sales. (I must be getting old. When did I start complaining about the drudgery of hitting an estate sale?)
(This post contains some is chock-full of affiliate links for your convenience. You can read my full disclosure policy here.)
Where To Find Vintage Christmas Decor Reproductions
Pottery Barn
You can definitely get your Christmas mug fix on at Pottery Barn.
Vintage styled Santa Mugs - just like my vintage ones I find at the thrift stores, but no chipping paint and weird stains. You can actually drink out of these!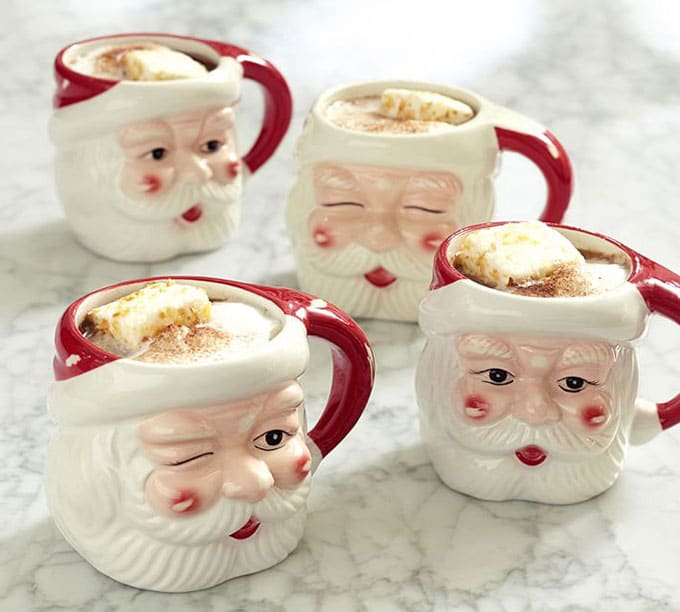 Look, he's winking at you!
Warning on these guys - they sell out of these Santa mugs every single year, so if you want them, snatch them up pronto.
Or if Santa isn't your thing (shh, don't say that too loud or he might hear you), then these cute little Cheeky Reindeer Mugs may pull your sled. They remind me of Rudolph's cute little girlfriend, Clarice.
Of course, now that I'm typing that I realize the mugs are boys since they have antlers.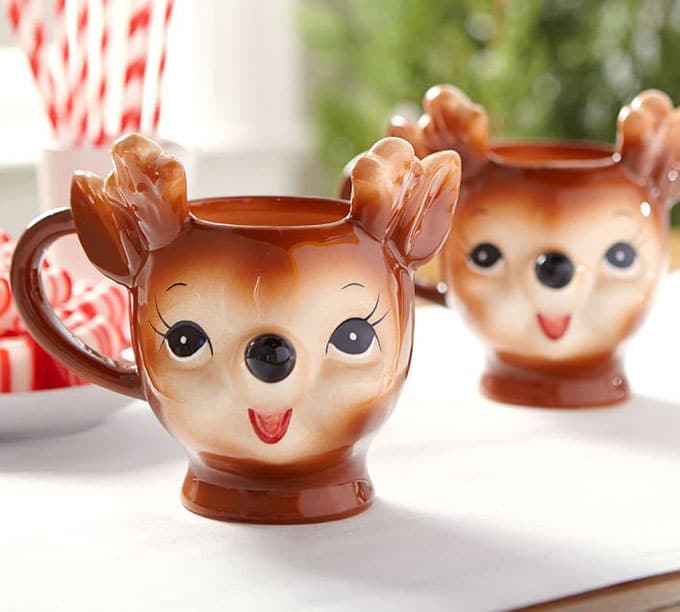 Or what about a cute as a button Gnome Mug wearing a sweater?
Not quite as vintage-esque, but these would be adorable to drink cocoa out of after a cold and snowy day of sledding!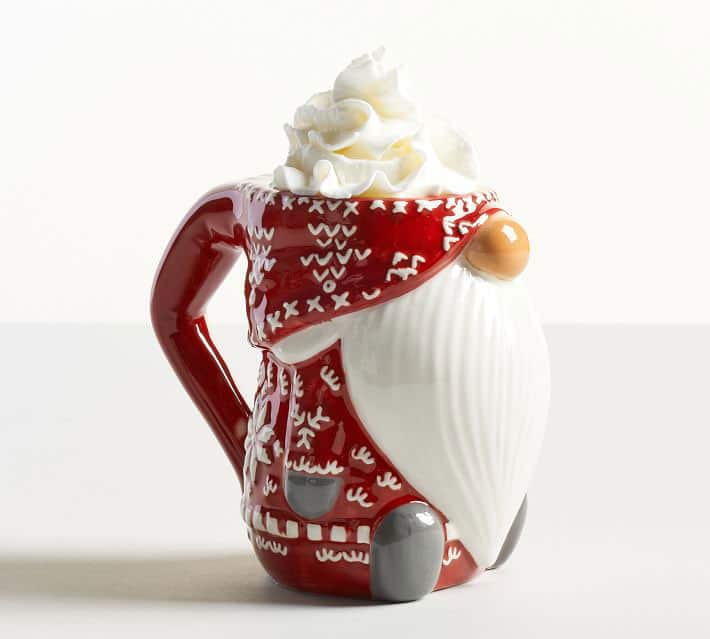 World Market
Next stop on the vintage Christmas train is World Market, where vintage goodness comes and goes. Some years they have more of it than others.
2023 is a so-so year, but I do have to say these mid-century modern houses are AMAZING!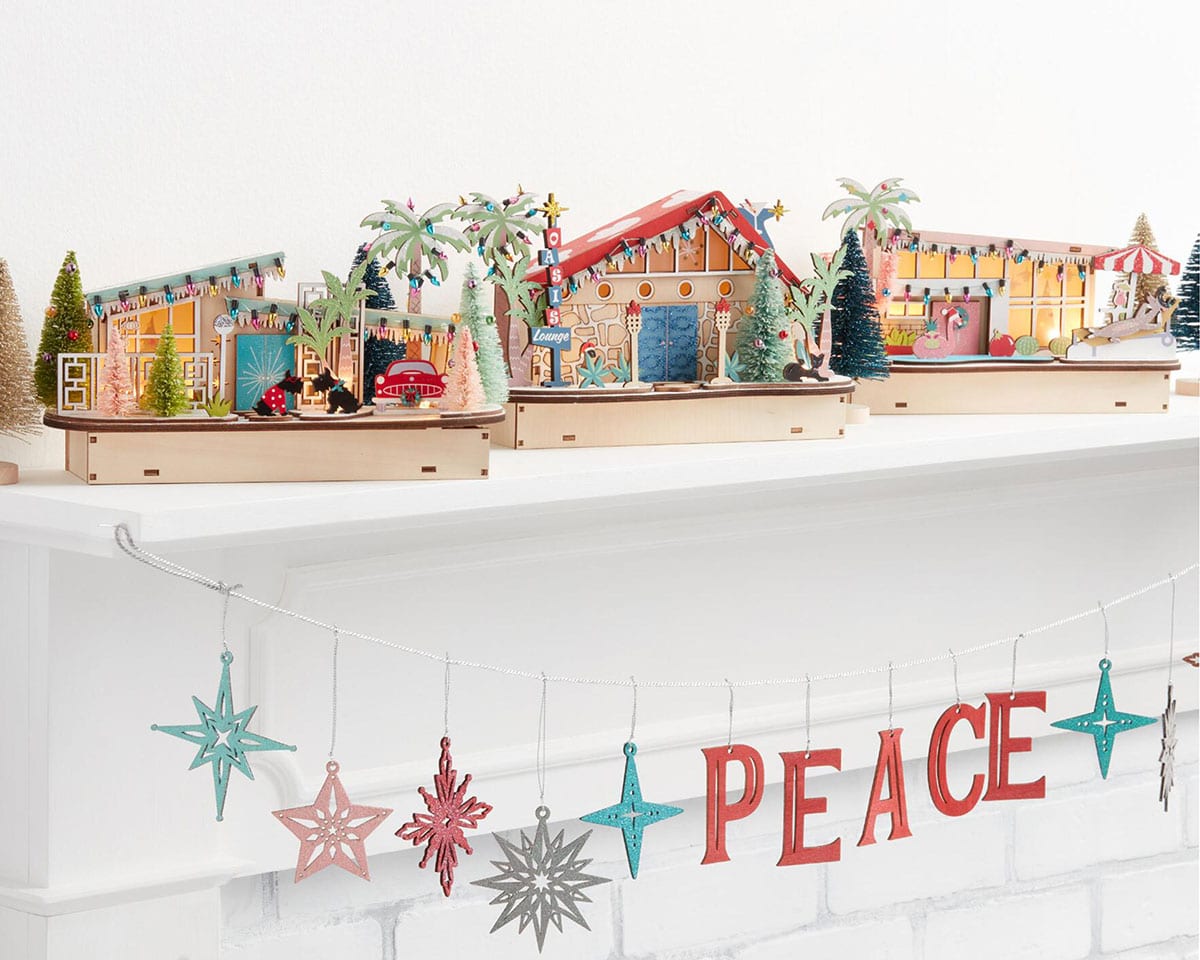 left to right - Mid-Century Home (with Scotties) - Mid-Century A-Frame - Mid-Century Pool House (with flamingo!)
Although you would not have seen houses used as Christmas decor back in the day (they were more into putz houses back then), they do have that cool 1960's Palm Springs vibe!
And those mid-century modern stars hanging on the garland are perfect.
Here's a set of 4 retro-inspired Santa Claus plates. These would be so fun for Christmas morning brunch.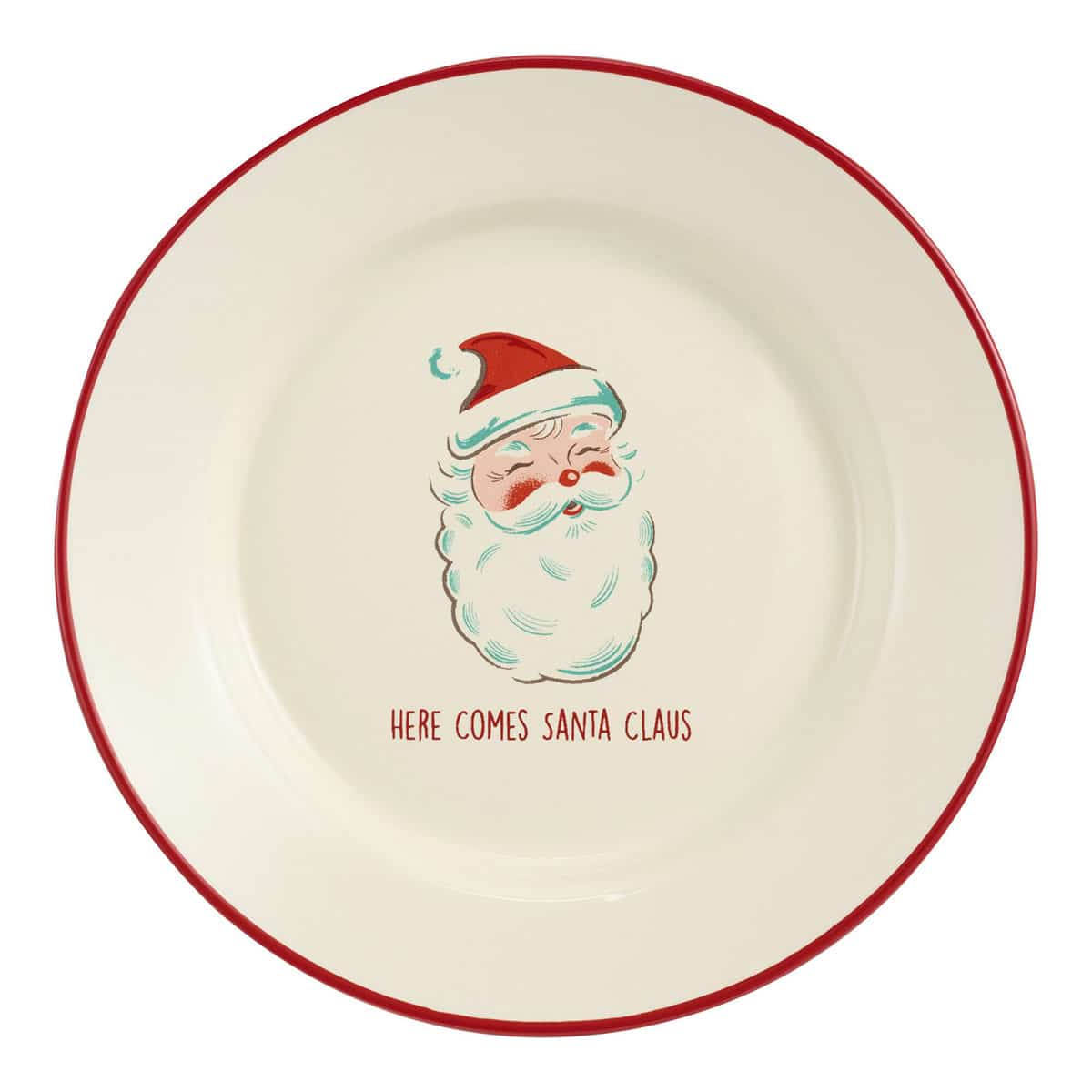 Target
Not a ton of truly vintage-looking at Target this year. But I did find these fun bottlebrush trees!
This large bottlebrush tree with faux snow and ornaments stuck in it looks almost identical to one my Grandma had.
This one is 14" tall (which is huge for one of these trees), but Target has them in an assortment of sizes if you are looking for smaller.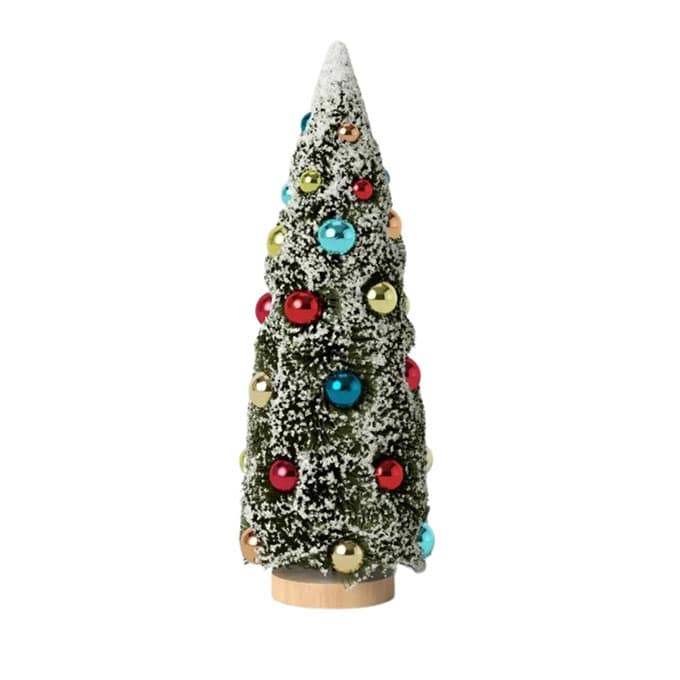 These cardboard Christmas houses are made to look like the putz houses you would arrange beneath your Christmas tree. Target has a couple different styles of these houses, some with battery operated lights for setting on the mantel and some that just hang on the tree.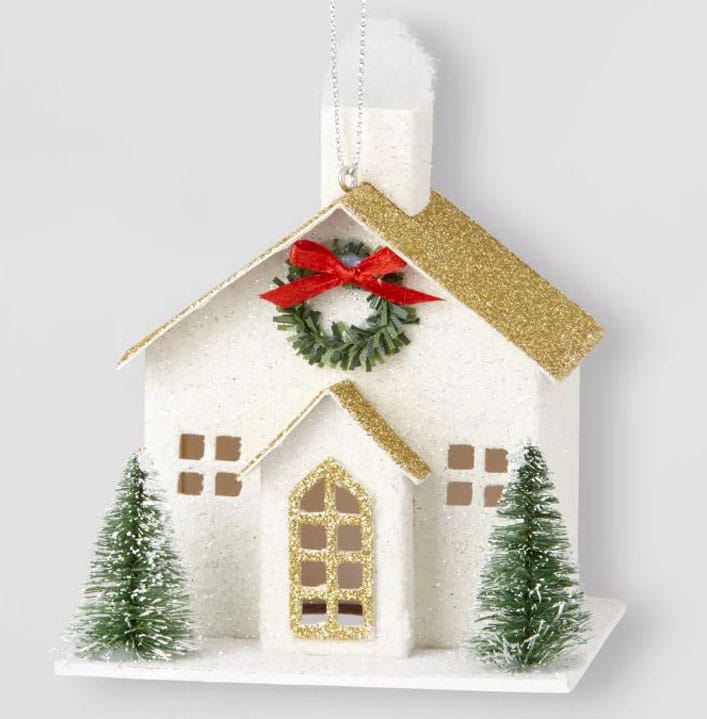 This two-pack of little vintage-looking deer are adorable. They are on the smaller side, but priced to be affordable (less than $5 for the 2-pack).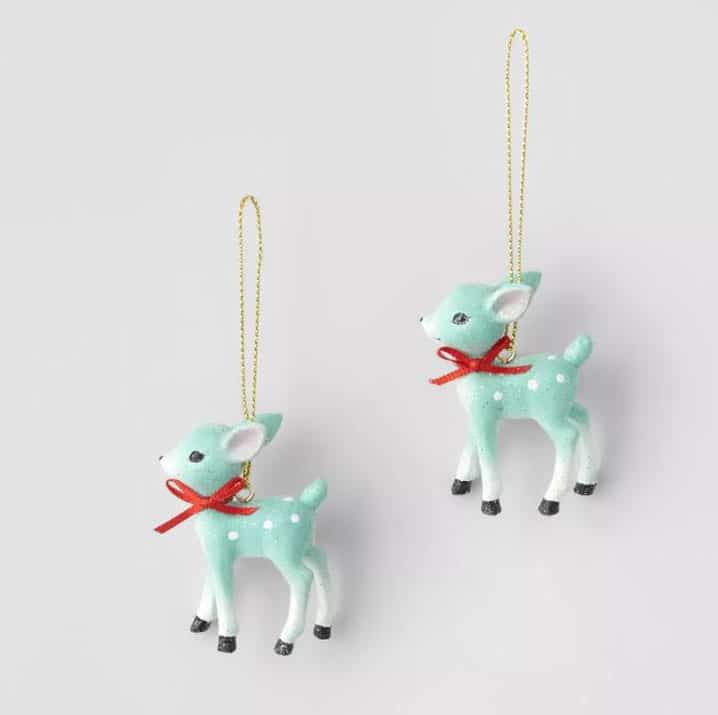 If you're in the market for a new tree this year, I love the sparse Christmas tree look of this one. It reminds me of the old-time somewhat spindly Christmas trees you see in old photos.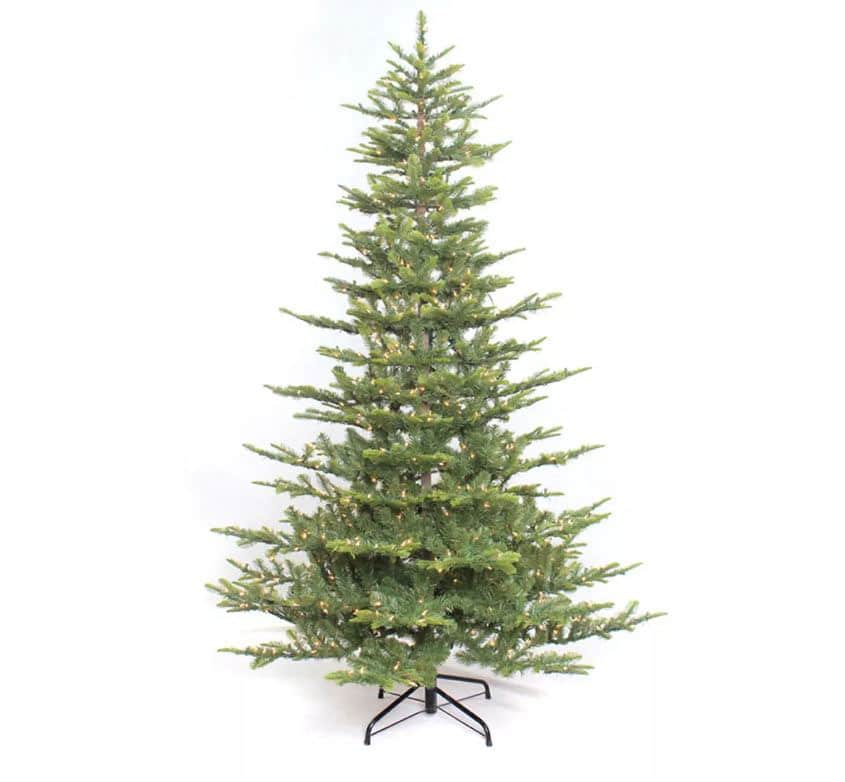 Other than that, Target is a little bit of a disappointment vintage-wise for me in 2023! They had so much vintage looking goodies to choose from last year I think it spoiled me!
Walmart
Yes, Walmart!
Walmart has really stepped up their vintage game this year. Big time!
Of course, Walmart has the ultra-trendy ceramic Christmas trees.
These trees have become so darn popular in the last few years, so if you didn't save your Grandma's ceramic tree you can still get in on the trend with these reproduction ones.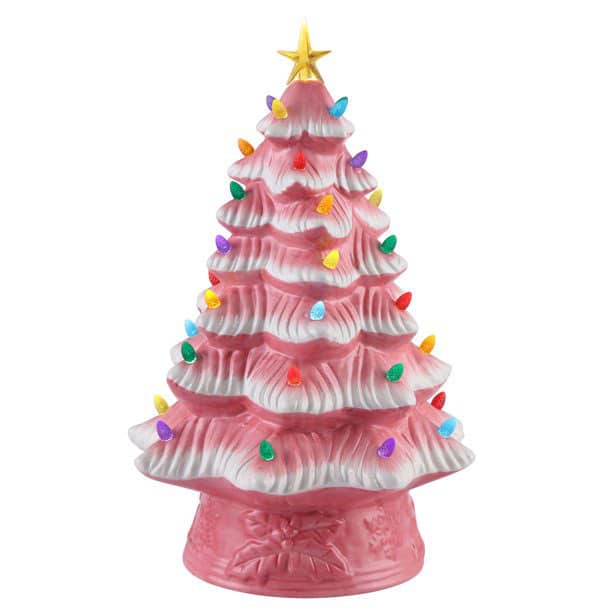 This 11" snowman blow mold is pretty darn cute also! And he's just the right size to set on your holiday buffet table.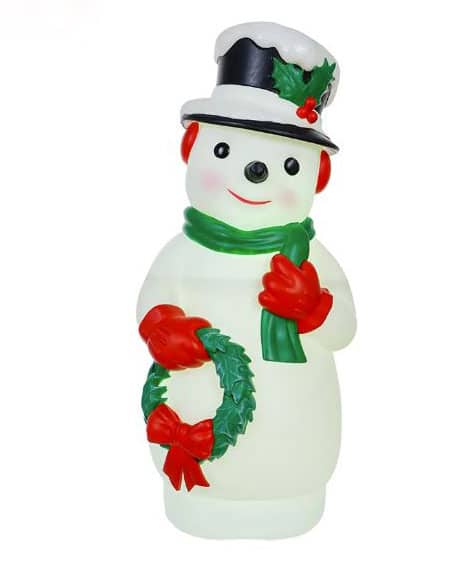 Don't get me started on the extremely cute 24" retro-looking deer blow mold they have this year. So adorable. They keep coming in and out of stick online, but I found mine at my local store!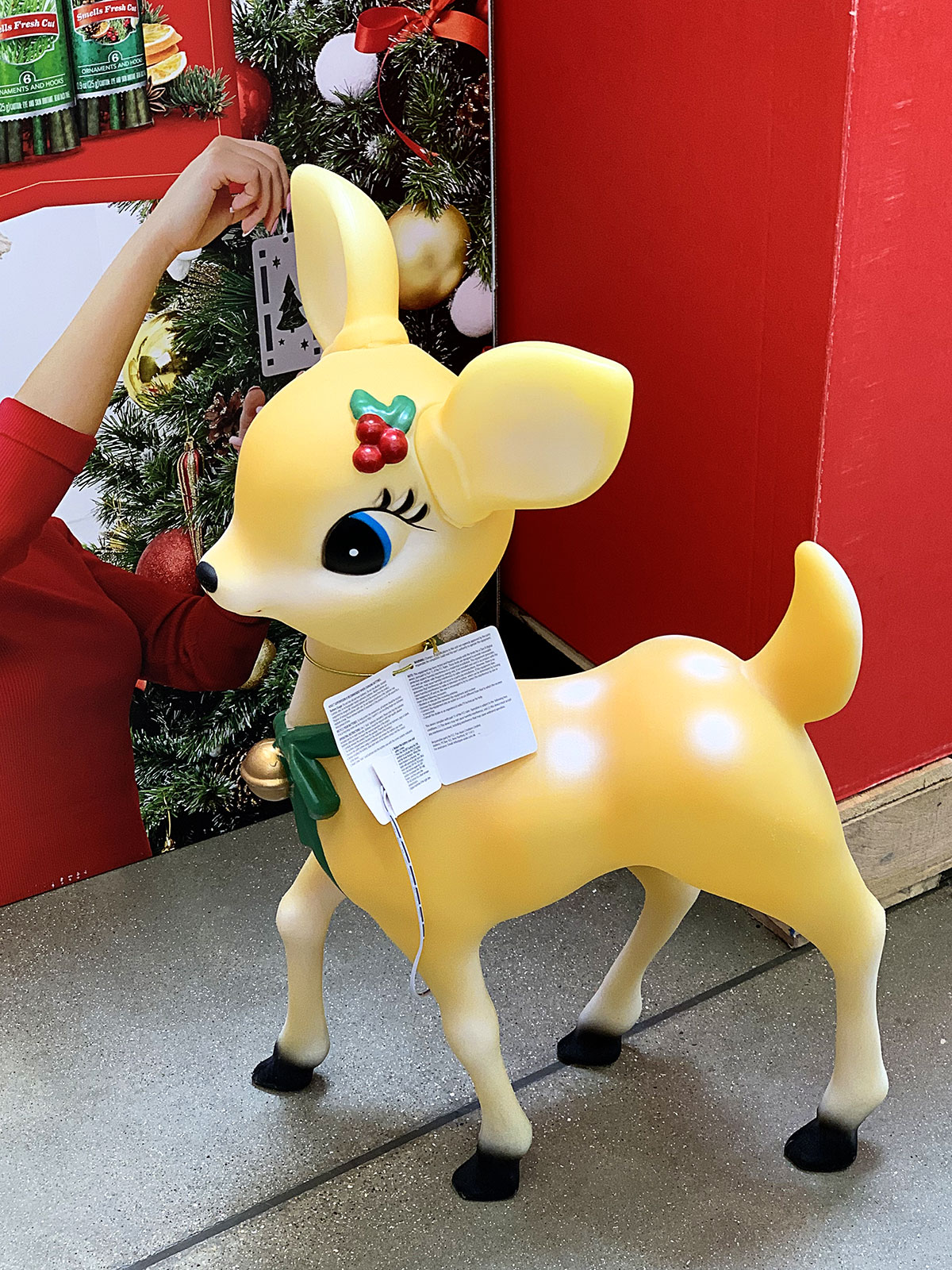 You are going to think I am obsessed with vintage-style deer figurines, but I had to show you these deer.
I promise, no more deer!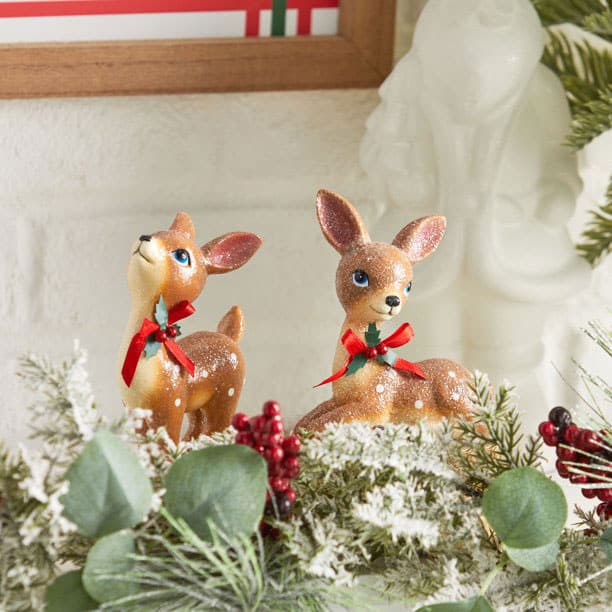 Ok, so I can not find this online, but Walmart has some of the old style felt icicles that you hang on mantels or shelves.
Here is some very similar handmade stuff I made a few years ago to give you an idea of what I'm talking about.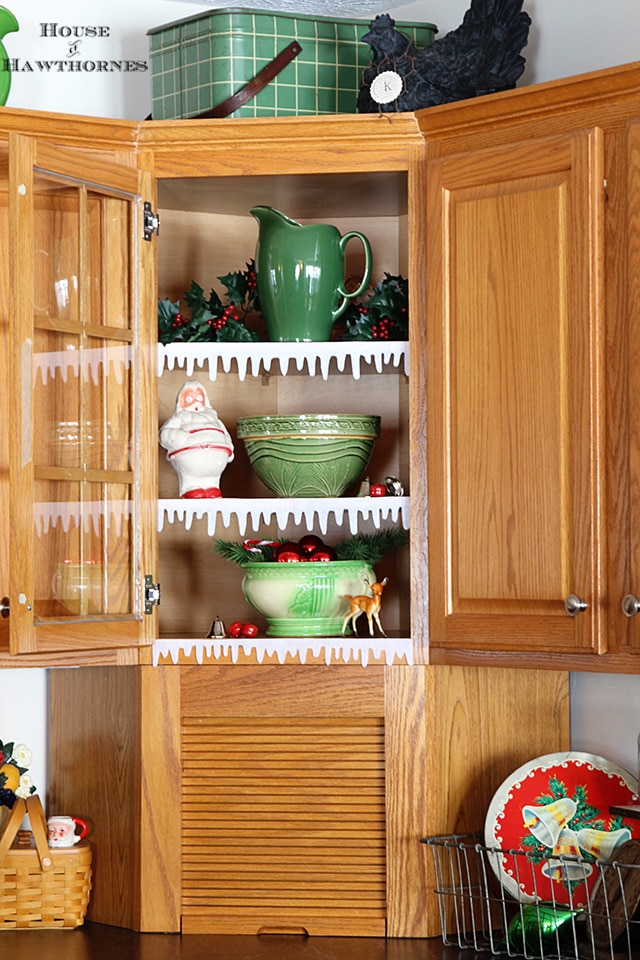 But anyhow, I about peed my pants in joy when I saw it in Walmart's Christmas aisles.
Edited to add - I have found it online on Amazon if you want to pick it up - Icicle Trim.
More Vintage Christmas Shopping
If that's not enough retro Christmas goodness for you, I have two additional vintage inspired shopping guides:
OK, I think that's enough reproduction vintage Christmas decorations to get you in the mood . Go forth and let the retro Christmas decorating begin!