Need a quick and easy craft to get you in the mood?
In the mood for Halloween that is. I can't help you with your other "mood" issues, but I hear they make little pills for that.
What about a painted mason jar Halloween craft!
Well, I think I've finally perfected the art of covering a glass jar with paint!!!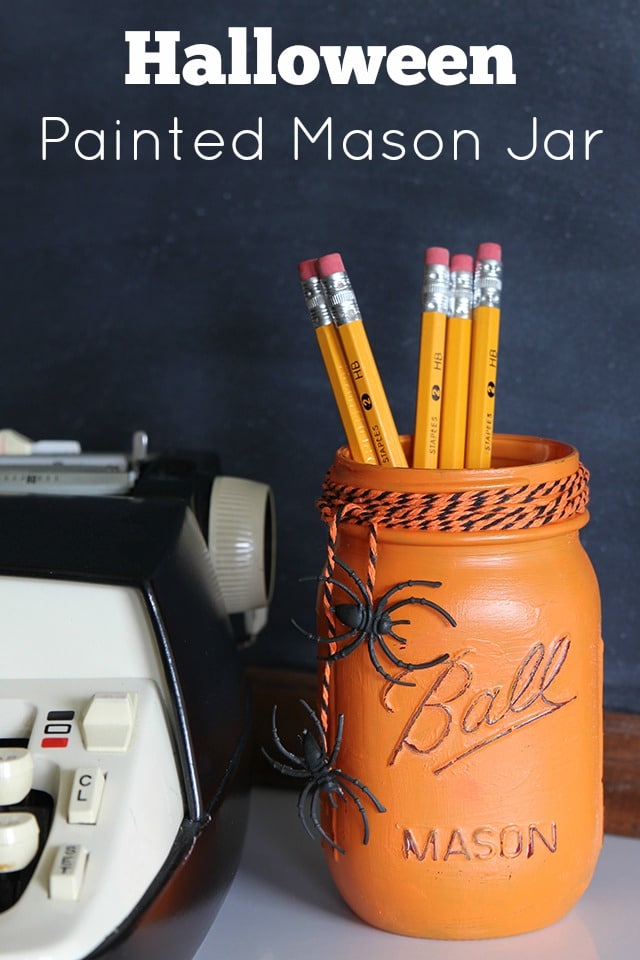 I know, I know. It doesn't seem like it would be awe inspiring and that hard to do, but I can't tell you how many jars I've painted and they've come out mediocre at best.
My tip of the day? Use a mason jar.
The spaghetti jars and pickle jars just don't have enough ridges and bumps on them to give the jar some interest.
Remember the jar I painted in the spring? Didn't use a mason jar. Should have.
I painted this one for Halloween.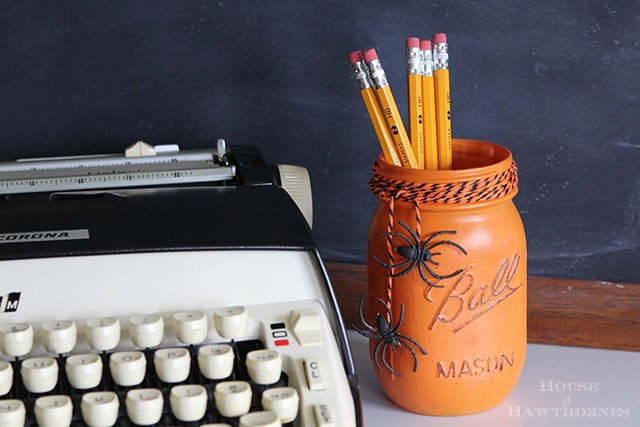 (This post contains some affiliate links for your convenience. You can read my full disclosure policy here.)
Painted Mason Jar Halloween Craft
Supplies Needed:
Sorry, no blow-by-blow photos, since I forgot to take photos as I went this is pretty easy and self-explanatory .
Step 1 - Paint the outside of a mason jar with craft paint. I used Martha Stewart's Multi-Surface Satin paint in the color Mace (#32057). Better known as pumpkin orange for the rest of us.
Step 2 - After coating it twice and allowing it to dry, take a sanding sponge and knock off some of the paint over the letters and raised areas of the jar to give it a rustic look.
Step 3 - Wrap some festive bakers twine around the top. The craft stores have all sorts of fun colors of this bakers twine nowadays.
Step 4 - Snip off the ring part of the plastic spider rings and glue the remaining spiders to the ends of the twine. I found my spider rings at Dollar Tree smack dab in the middle of a bag of spider webs.
Step 4.5 - Stand back and admire your insanely easy Halloween craft.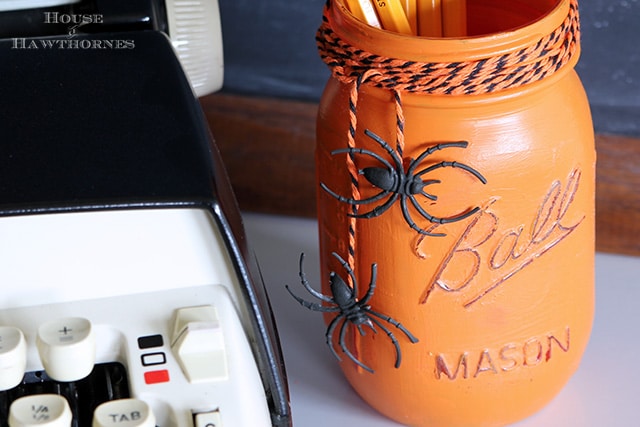 There you have it.
Quick. Easy. Halloween mood inducing. My job here is done.
What have you been making for Halloween?
Are you more of a spooky and scary Halloween person? Or more of a cute and cuddly Halloween person?
Check out the web story version of this article HERE.
If you liked this, you might want to check out these posts:

Making Faux Caramel Apples (For Fall Decor)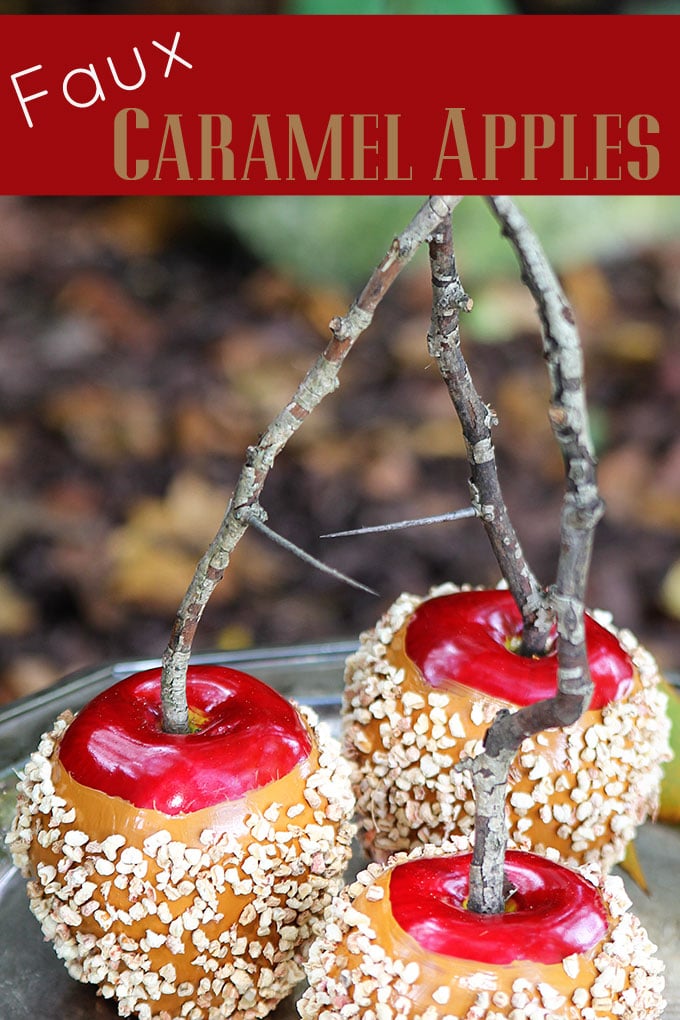 Repurposed Funnel Jack-O'-Lantern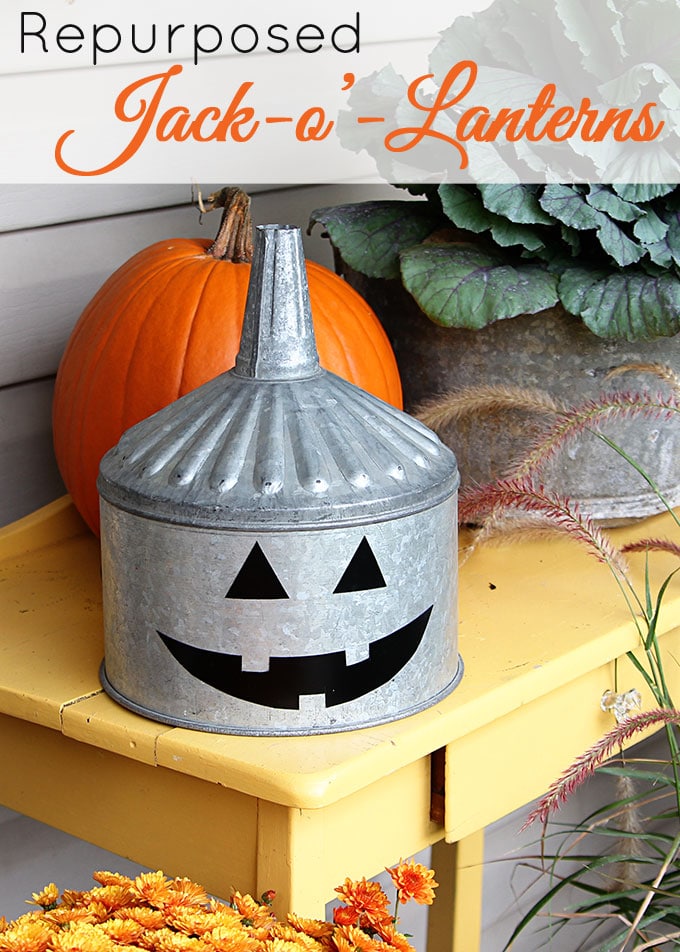 Transitioning The Porch From Fall To Halloween