One of my favorite things to upcycle is glass pieces from the thrift store.
There are SO MANY bowls, candy dishes and platters just setting on the thrift store shelves waiting for someone to take them home.
They sort of lost their home decor appeal sometime in the 60's when people stopped setting out bowls full of peppermints and ribbon candy on their coffee tables. Now they're just taking up space in cupboards across the country.
Next stop is the thrift store.
You'll remember I made Easy DIY Candles In Granny's Candy Dish last year. And I made a kookie owl out of a Repurposed Vintage Glass Snack Set. I've made a bird feeder out of another snack set (I swear those snack sets spontaneously multiply, there's a never ending supply at my local thrift).
So I recently decided to save this pressed glass candy dish from the Goodwill bins and see if I could give it new life.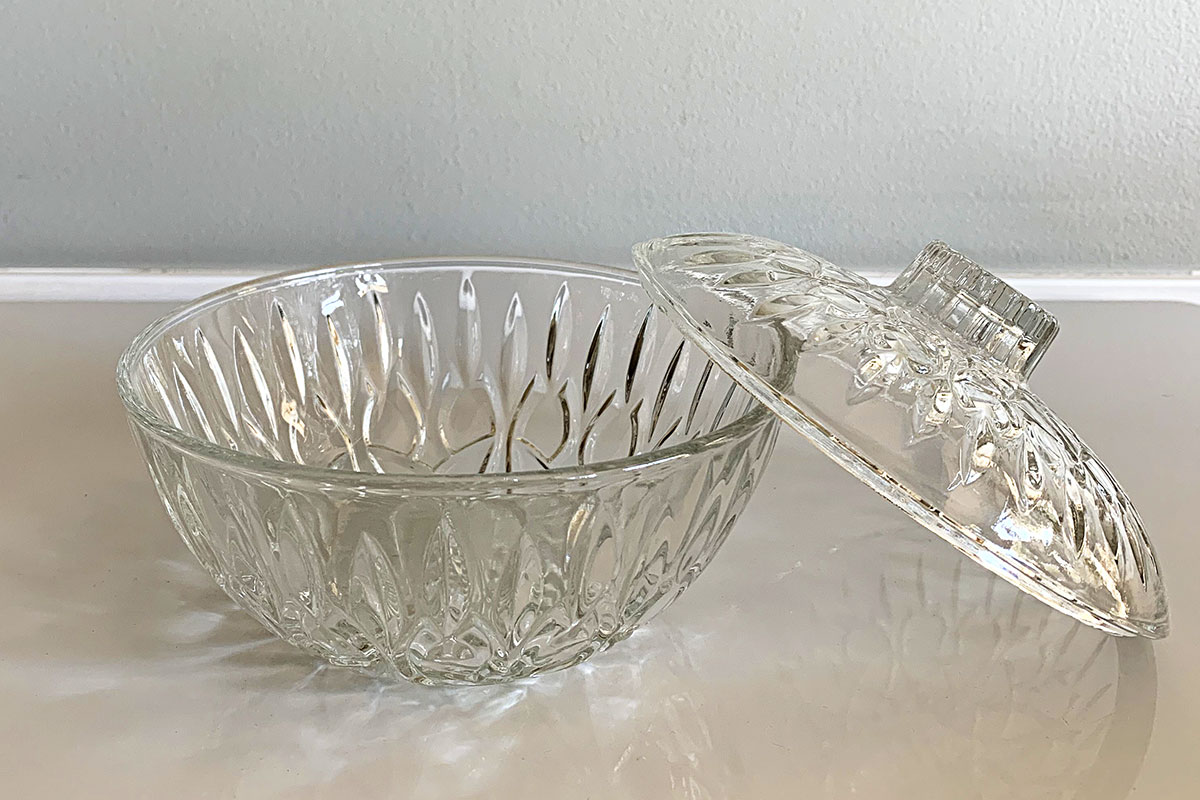 ✨ BTW, today is Thrift Store Decor Wednesday, so make sure you hang around to the end of the post to see the rest of the team's thrift store repurposes for the month!
What Is Pressed Glass
Pressed glass, sometimes referred to as Pattern Glass, is made by pressing molten hot glass into a mold and using a plunger to get it into all the grooves and patterns of the mold. Every piece coming from the mold looks exactly the same.
Pressed glass was made to mimic the more expensive cut glass and was very easy to mass produce, making it affordable to the average housewife.
Not sure if you have cut glass or pressed glass? Pressed glass is smoother to the touch than cut glass and normally has visible mold lines (seams where the pieces of the mold would have fit together in the manufacturing process).
I would say that 99.9% of the glass at thrift stores sn the inexpensive pressed glass variety.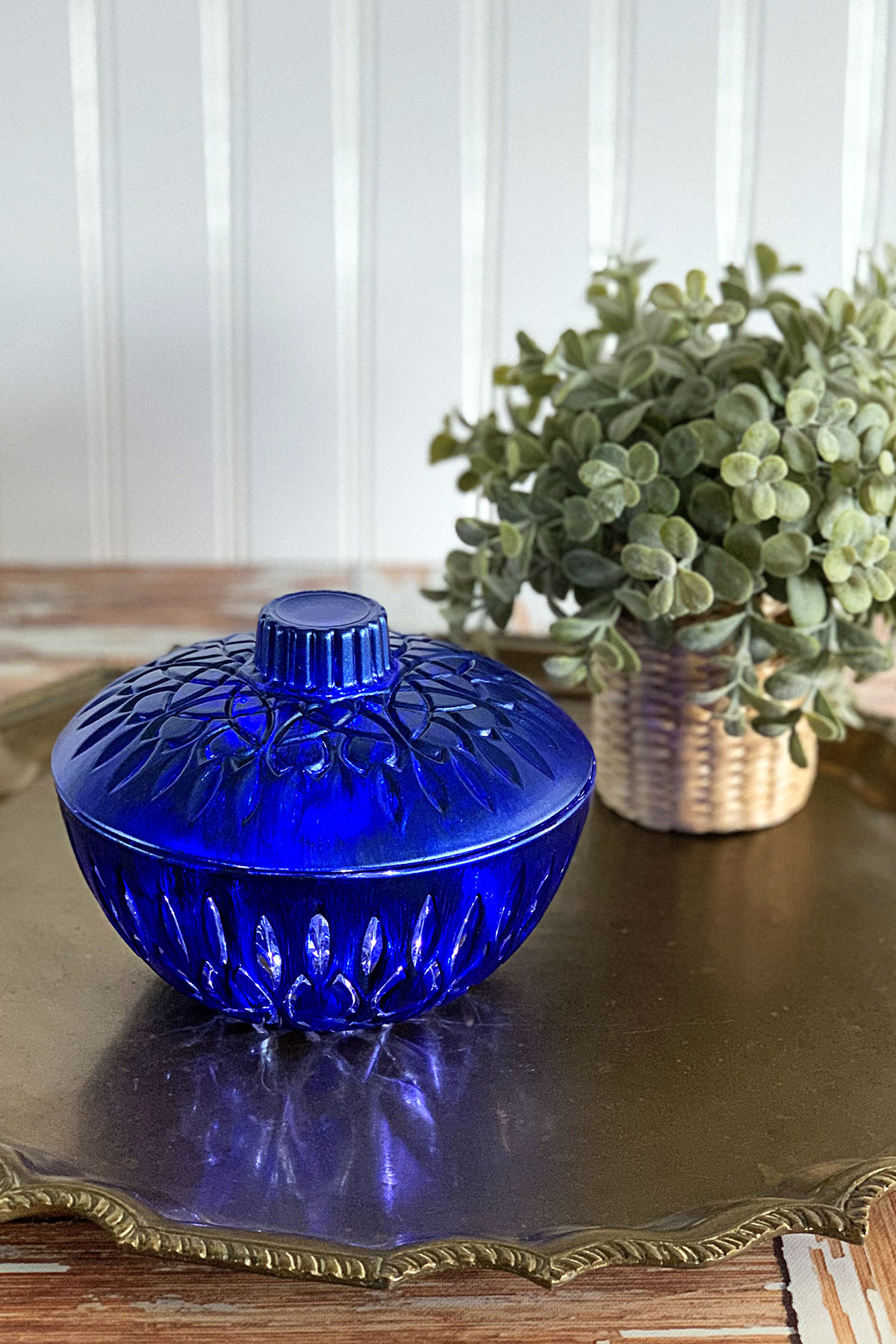 Pressed Glass Upcycle
Supplies: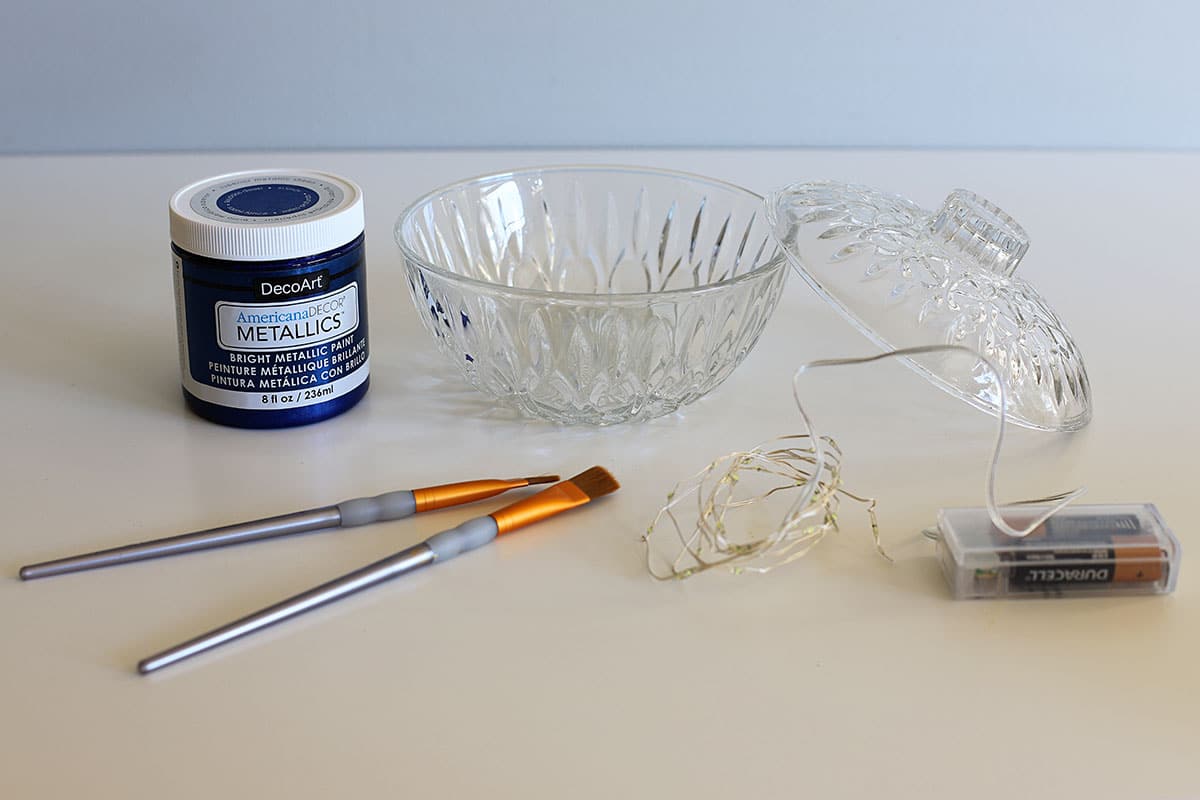 Instructions:
Time needed: 15 minutes
Step By Step Instructions
Clean Glassware

Wash glassware in the sink with normal dish soap and warm water. Air dry and then clean a second time with rubbing alcohol.

Rubbing alcohol just helps to ensure any soap residue is removed which helps the paint to adhere better.



Paint The Lid

Paint 2 thin coats of paint onto the OUTSIDE of the lid, making sure to cover the indents in the glass.



Paint The Bottom

Paint 2 thin coats of paint onto the OUTSIDE of the bottom, this time leaving the indents unpainted.

This sounds difficult, but if you use a foam brush and lightly run it over the glass it automatically avoids getting into the indented areas.

The reason I totally covered the lid with paint yet avoided covering all the indents in the bottom is because I wanted the lights to cast a nice glow on the bottom section without shooting out all over the place. (Totally my preference, you do you).



Insert Lights

Lay your lights into the glass dish and put the lid on. The lights will dimly shine through the bottom section of the glassware, making an interesting pattern on the table.



Project Completed

Stand back and admire your incredibly easy thrift store upcycle.
And pat yourself on the back for rescuing a piece of glassware from the trash can.

Did I mention most thrift stores just toss left over glass into the trash if it doesn't sell in a set amount of time? Sad, but true.


Alternate Ways To Use Pressed Glassware
hold dry potpourri
fill with small ornaments for the holidays
as a jewelry holder on your nightstand
insert a flower frog and use as wedding centerpieces
put that old nasty ribbon candy in them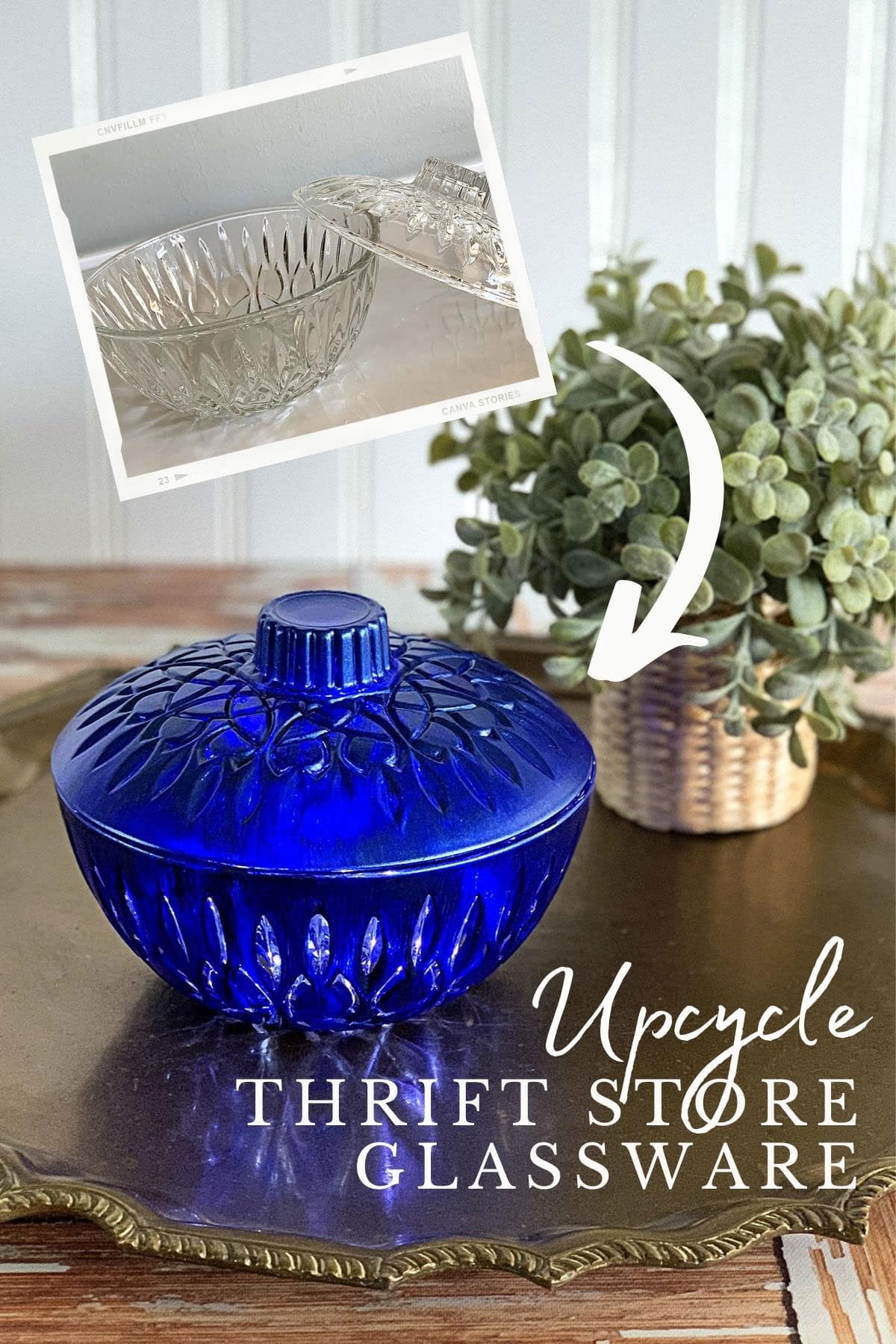 Now let's go see what the other Thrift Store Decor Team members are up to today!
Thrift Store Decor Team Projects:
Folding Tray Table Makeover - My Repurposed Life
Thrifted Spice Rack Repurposed As Christmas Decor Shelf - Organized Clutter
Small Hanging Christmas Display - Petticoat Junktion
DIY Outdoor Two Tone Furniture Finish - Our Southern Home
Autumn Leaf Dishes for Fall Decor - Sadie Seasongoods
Easy Layered Chippy Paint Finish - Reinvented Delaware
Tray Makeover Using Peel And Stick Tiles - My Uncommon Slice of Suburbia
Christmas Farmhouse Toolbox - Domestically Speaking
Repurposed Wooden Calendar - Shop At Blu
Pressed Glassware Makeover - House of Hawthornes (that's me)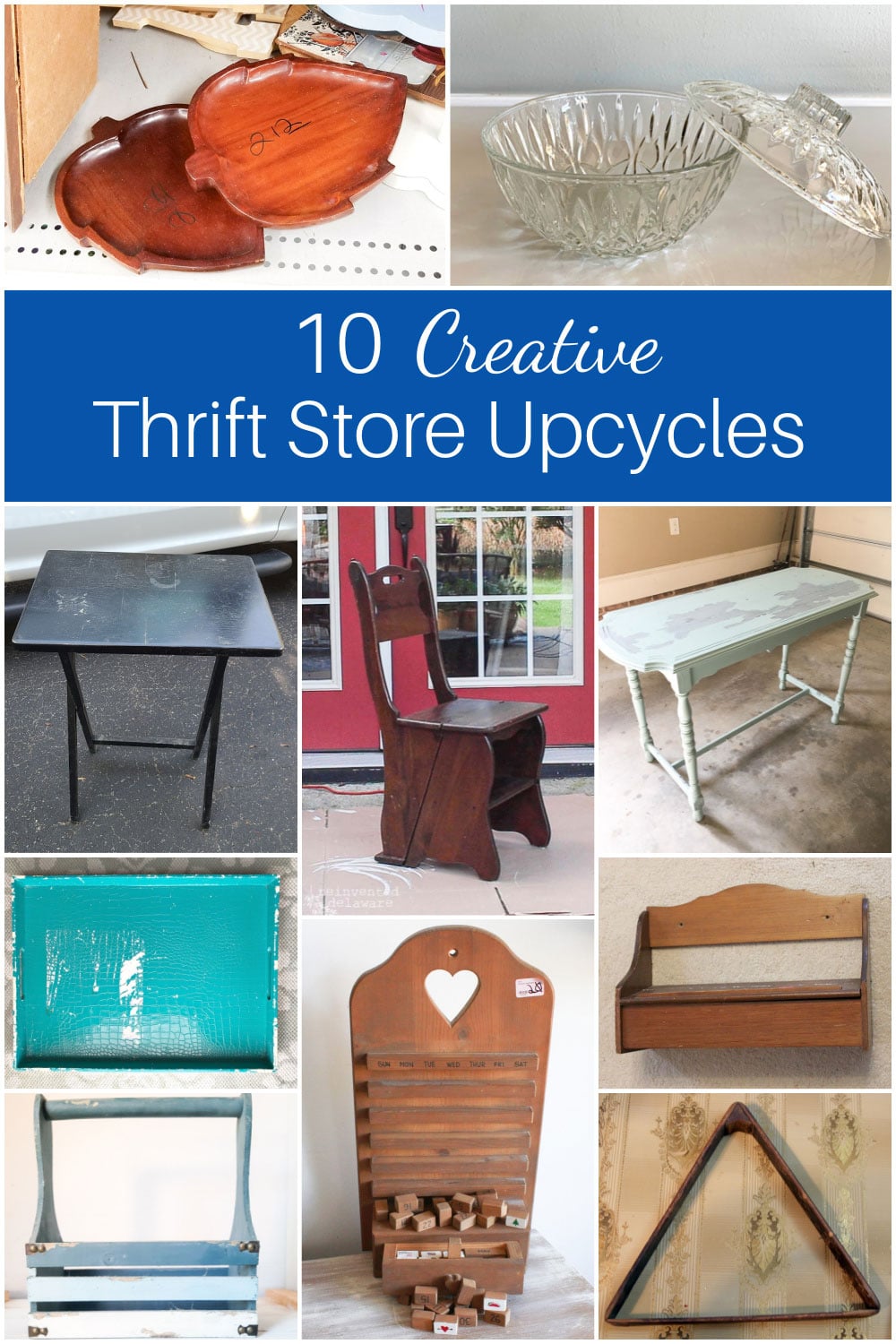 Check out the web story version of this article
HERE
.