I run across these vintage glass snack sets at the thrift stores. All. The. Time.
The day I picked this one up, I had at least 40 to choose from. It was a regular glass-a-palooza.
They were made by Hazel Atlas, Federal Glass, Anchor Hocking and probably every other glass type company back in the day. Every self respecting mid-century hostess had her glass snack set and a glass punch bowl in her party planning arsenal.

I decided I wanted to repurpose my snack set into a snack set for the birds. Real birds, not china ones with sparkly eyes.
A place where a bird could sit and relax, have a little nosh and chat with a few friends.  Doing so, all the while, in the lap of 1950's luxury.
How To Make A Vintage Snack Set Bird Feeder
(This post contains some affiliate links for your convenience. You can read my full disclosure policy here.)
Supplies:
Vintage glass snack set
Piece of 1/2″ wide copper pipe – mine was roughly 3 1/2 feet long (found in the plumbing dept)
A 1/2″ copper C X FPT adapter (found in the plumbing dept)
Waterproof epoxy – I used J-B Weld MarineWeld
Glass Glue – I used Loctite Glass Glue
Tomato stake or similar stake to pound into the ground (has to be thin enough to fit inside the copper pipe)
Instructions:
Depending on where you buy the pipe, it may come in the correct length already. If not, have the ever helpful plumbing department specialist (who worked at Taco Bell last week) cut the pipe to length for you. I wanted mine to sit just over my peony bushes, so 3 1/2 foot worked for me.
Wash and thoroughly dry glass tray and cup.
Apply the J-B Weld to the rim of the larger part of the copper adapter and adhere to the bottom of the tray. Let dry thoroughly.
Apply the Loctite Glass Glue to the bottom ring of the cup and adhere it to the designated cup area of the tray (the trays have indented areas to keep your beverages away from your cucumber sandwiches).
Let dry thoroughly.
Note: I used two different glues because the LocTite Glass Glue is great for adhering glass to glass (cup to saucer), but not so much for adhering metal to glass (pipe to saucer), so I used the J-B Weld to adhere the copper adapter to the bottom of the plate. I didn't want the whole thing to come crashing down onto the ground when one of those fat robins sat on it.
If you like, you can drill a small hole in the bottom of the cup so excess water can drain from the seed cup. You will need a Glass And Tile Bit Set for this. Totally optional as you can just as easily change out the birdseed if it gets too wet.
Fill the cup with seeds.
Pound stake firmly into the ground and slide copper pipe over the stake.
Slide your snack plate with copper adapter over the top of the pipe.
I also added water to the tray area, so they could have a little sip or swim while they were there.
Then sit back and watch your birds have a fancier lunch that you are having.
And for all you bird lovers out there, I just used the flowers to pretty up the photos. Totally not necessary.
Your birds won't hate you if you leave out the flowers.
If you haven't had enough glass snackware or bird feeding shenanigans, Sherry at Back 2 Vintage collects vintage snack sets, so you can check out some different styles.
And recently Dawn at We Call It Junkin showed how she uses her vintage snack sets for everyday food. No paper plates at her house!
Yvonne at StoneGable has a nice tutorial on making similar feeders with china cups and saucers too. I actually found the idea to use copper pipe from her tutorial, because I had been planning on using cast iron pipe. Copper is so much cheaper and easier to have cut.
OK, get off the computer and feed those birds!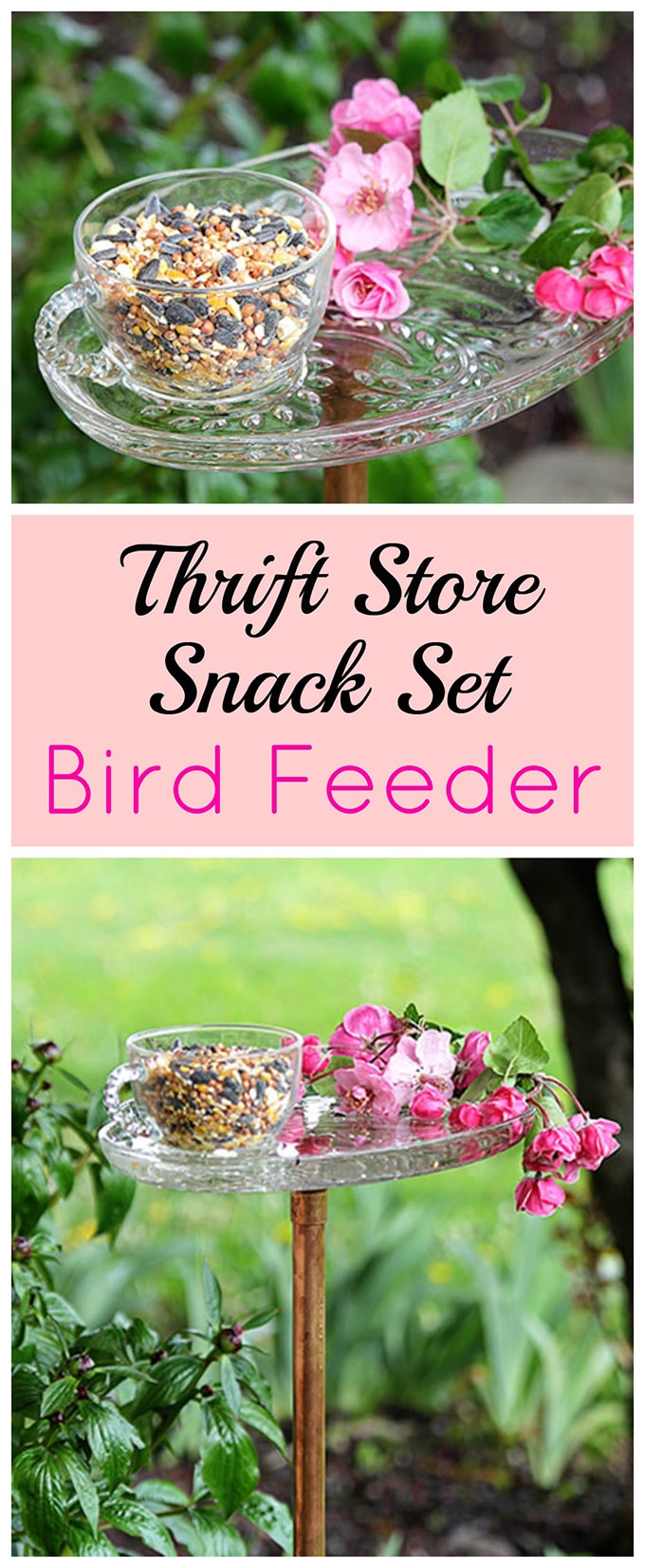 If you liked this post, you may like these also