When I'm taking down my Christmas decor, I always leave a bit of greenery on the porch outside to transition it from a festive Christmas porch into a more generic winter porch.
Normally, I remove my red tartan plaid pillows, the Christmas bow on the wreath, and any obvious Christmas items (bye, bye Santa blow mold).
And just leave a plain pine wreath, my bare black porch rockers, and a porch pot filled with just greens and birch logs.
It's a long cold winter here in Ohio, so although I want a little bit of decor on the porch, it doesn't make sense to dress it up too much.
But this year I decided to add a snowman to the porch pot to give it a little more character.
I think our friend Frosty gave the snowmen a bad rap. Since his cartoon is a Christmas story, people jump to the conclusion that all snowmen are Christmas snowmen. And honestly, that's just not true.
Snowmen are for the entire winter season. Or until it's time to decorate for Valentine's Day or Spring.
Or they melt.
And since today is Thrift Store Decor Wednesday (look for the other posts down at the bottom), I decided to make an upcycled thrift store snowman!
Move over Frosty The Snowman, I'd like to introduce you to Thrifty The Plate Snowman.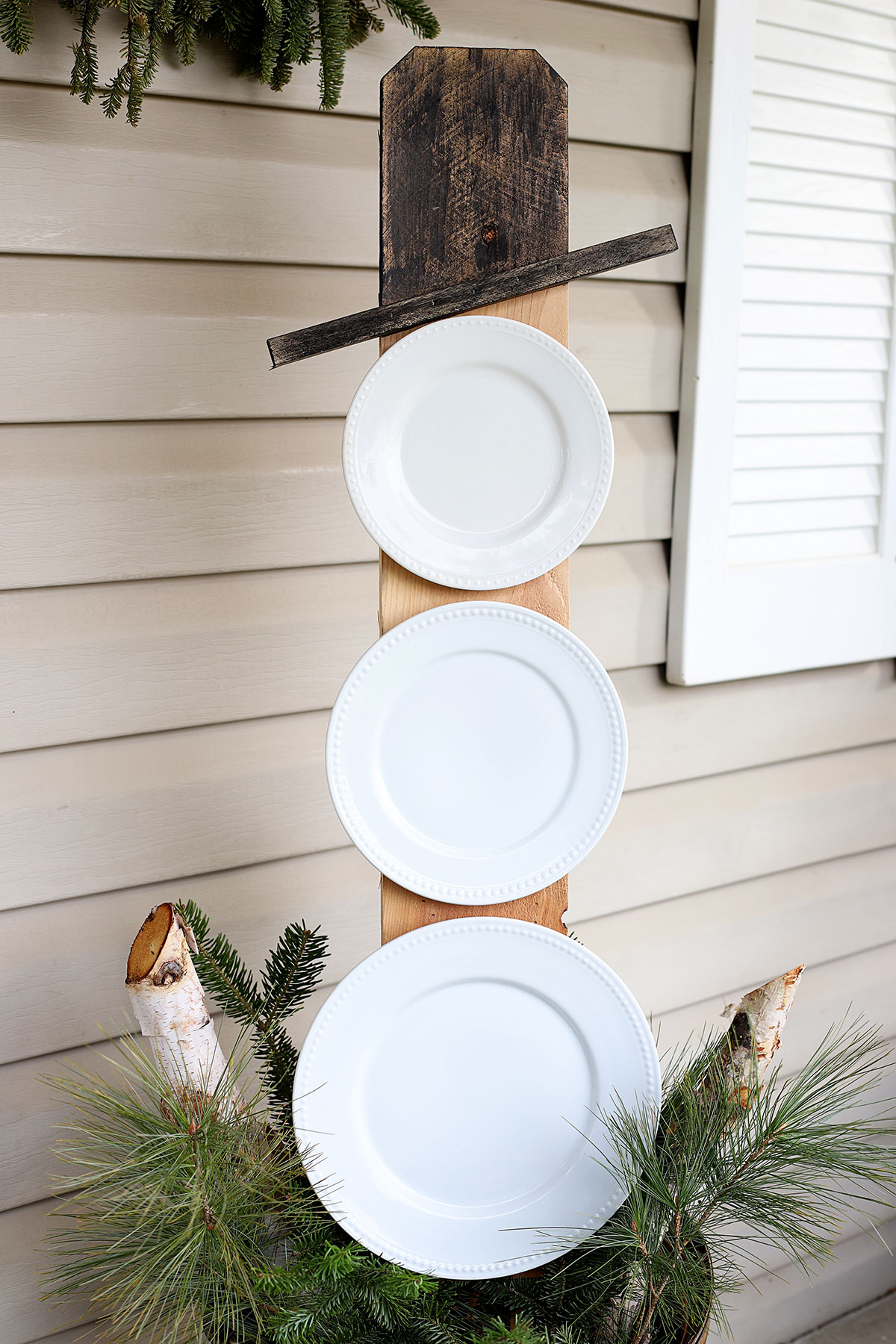 Can you believe I couldn't think of a more pun-worthy name for him? I'm slipping.
How To Make An Upcycled Snowman
(This post contains some affiliate links for your convenience. You can read my full disclosure policy here.)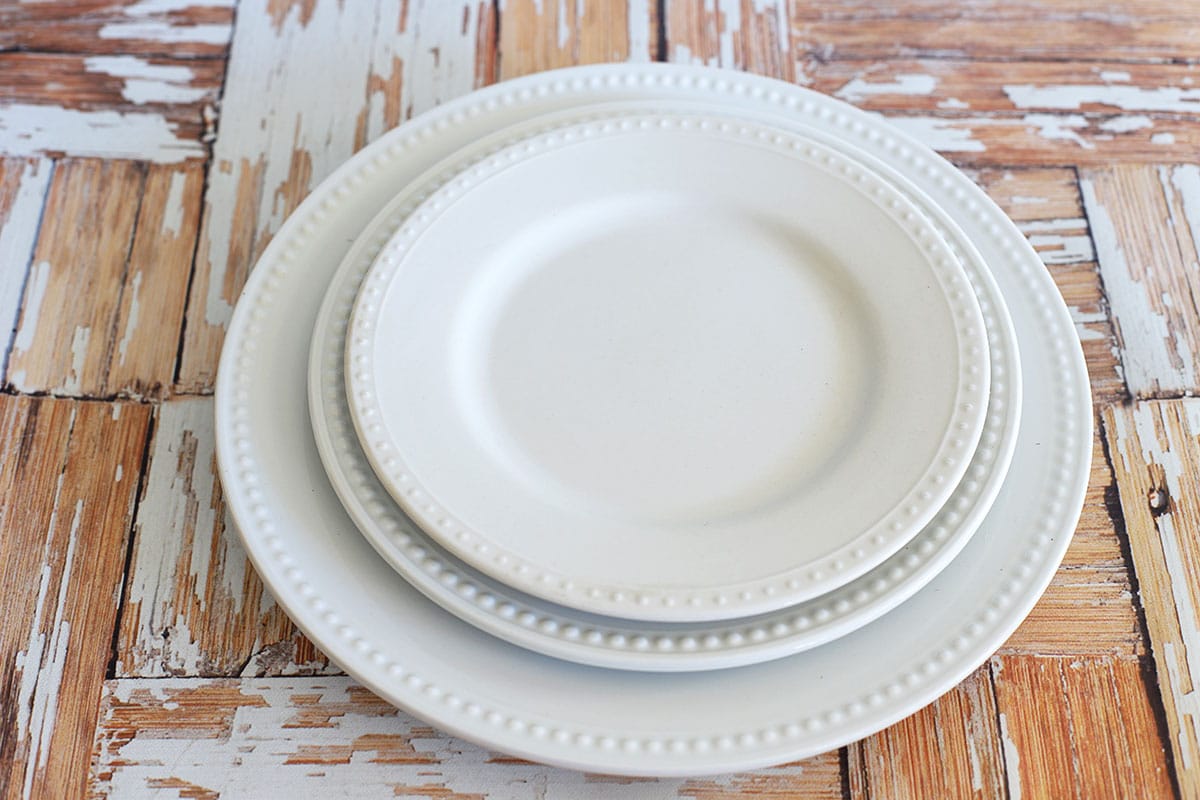 Supplies Needed
Sidenote: Best Adhesives For Outdoor Repurposes and Garden Projects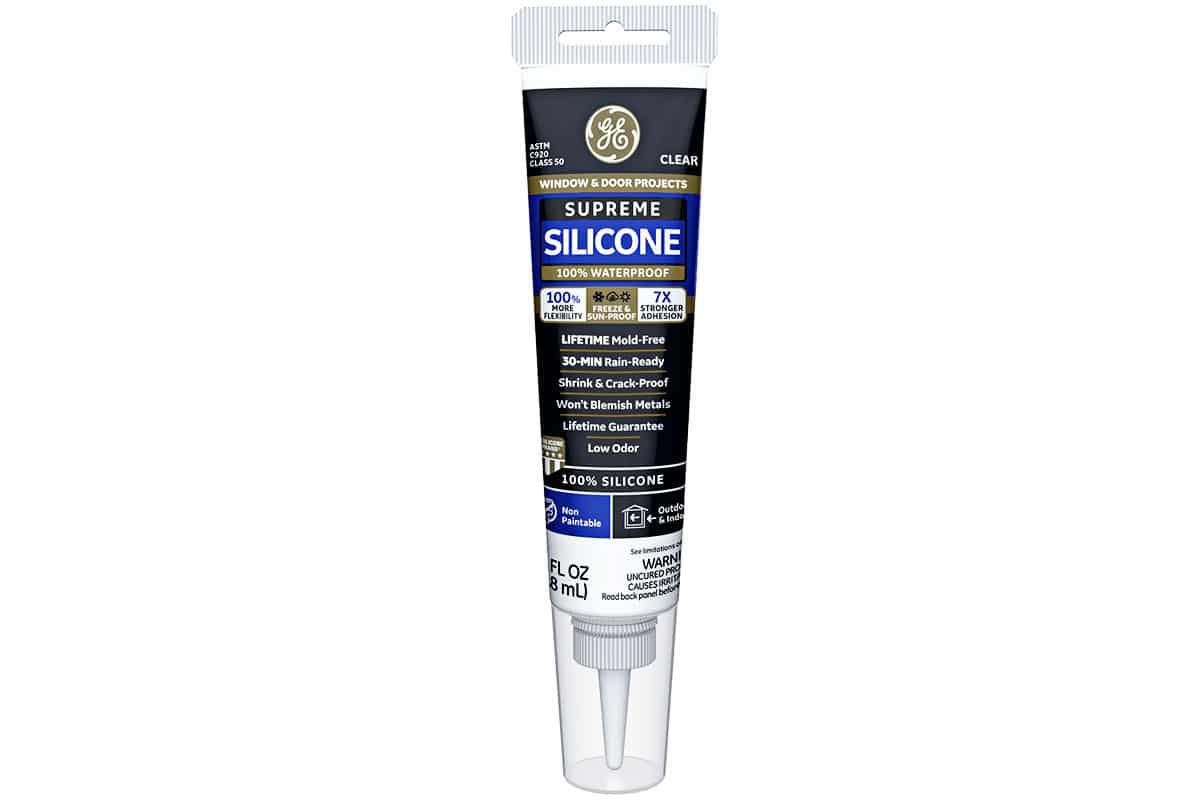 Let's talk about glue for a second.
You need a heavy-duty water-resistant adhesive that can handle the weather since this is going to be exposed to cold temperatures and maybe even a little snow and rain on your porch. This GE Silicone for Windows & Doors is 100% waterproof and doesn't shrink and crack as a typical all-purpose glue would.
I use this type of adhesive for all my outdoor projects and leave the Gorilla Glue and Elmers for indoor crafting.
The last thing you want is your plates to come crashing down onto your porch and the next thing you know the UPS guy cuts his foot while delivering your packages and refuses to come to your house anymore.
BTW, you don't have to use this specific brand, DAP makes a similar adhesive if you are partial to their products.
Board Cuts
Cut your fence picket to 3 ft long, you will discard the remaining 1 ft
Cut each of your two square dowels into two pieces - one 12" long which will leave the remaining section 24" long (you will use both long pieces, but only one of the shorter ones)
Instructions
Time needed: 30 minutes
Cut Boards

Cut your boards prior to putting it together. Board cut lengths are listed above.



Add Stakes

The stakes are so you can push the snowman down into the planter firmly. You will nail them into the back of the picket, driving the nails/brads from the front into the back.

Take your two 24" long square dowel pieces and place the stakes so 12" will overlap the back of the fence board and 12" will be hanging below the fence board. I spaced the brads out every 2".

If you prefer to hang your snowman on the wall, you can skip this step and put a sawtooth hanger on the back of the snowman instead.



Attach "Hat"

Attach your 12" section of the square dowel to be used as the brim of the hat for the snowman. I put my brim at an angle with the lowest part roughly 8" down from the top of the board. This will sit just on top of the snowman's head.

But, it is a good idea to make a dry run of where you will place your plates so you have an idea where the hat brim should go. Everyone's plates will be slightly different sizes, so although 8" worked for mine, yours will most likely be somewhat different.



Paint The Hat.

Dry brush black paint onto the hat brim and the top of the hat.

Dry brushing just simply means to lightly dip your paintbrush into the paint can, dab off any excess on a paper towel, and lightly brush the paintbrush over the wood.

It should give it a more worn, less perfect look.

Now, if you want to just paint it solid black, you can, but I felt the rustic nature of cedar fence boards called for a more rustic paint job.



Glue Body Sections (ie Plates)

Run a bead of glue around the back of the plates and press them firmly against the board.

Depending on the instructions on the glue you use, make sure you keep the snowman in a horizontal position (pretend he is napping) until the glue has cured.

My glue said "30-minute rain-ready", so I took that to mean 3 hours lol. I always err on the side of caution when breakable things are involved.


And Frosty Thrifty is ready for his debut!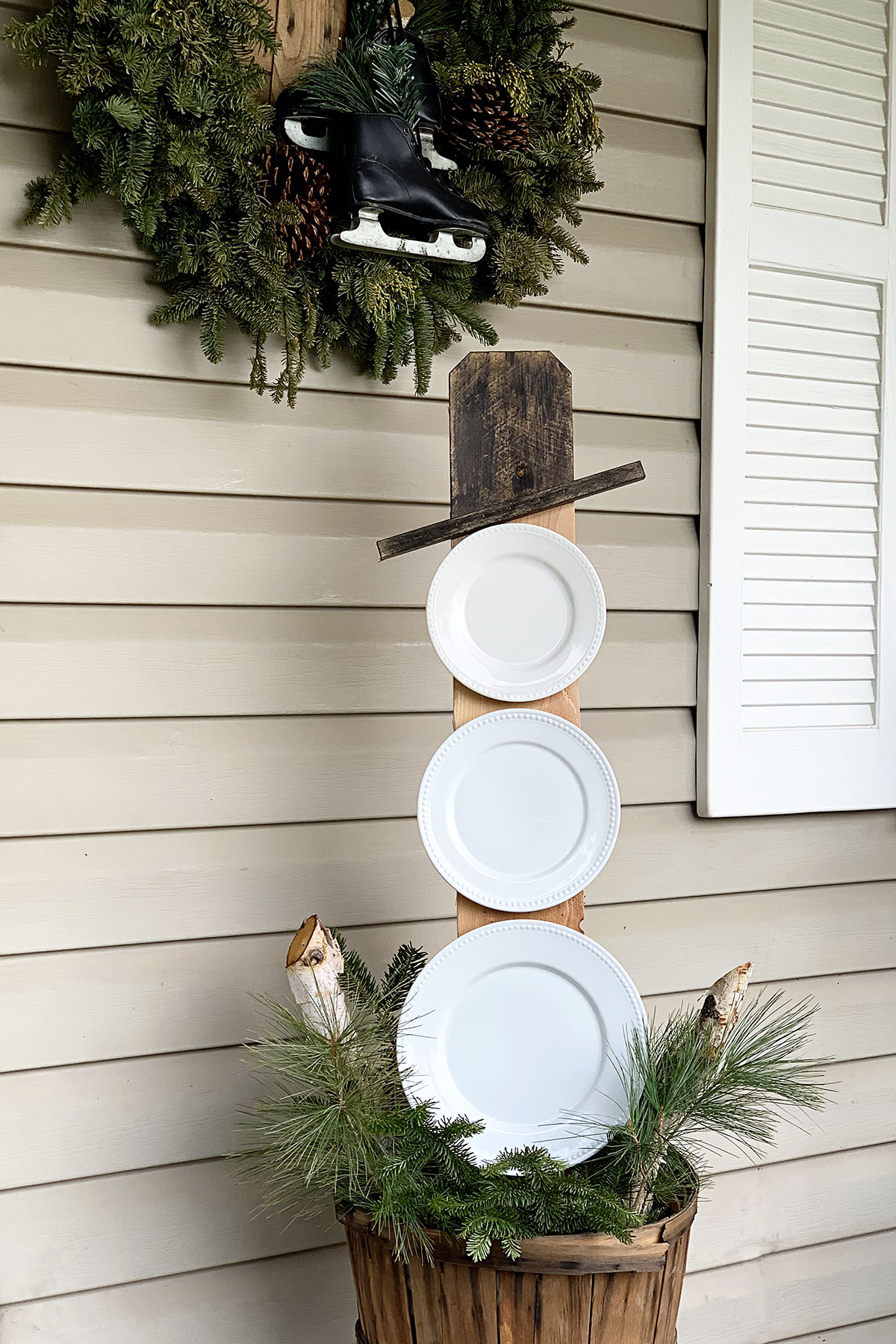 Other Things To Put On Your Winter Porch AFTER Christmas
Sled or Toboggan
Ice Skates
Snowshoes
Skis
Basket or Urn Of Pinecones
Stack Of Decorative Firewood or Birch Logs
Thrift Store Decor Team Projects
Now let's go see what the other Thrift Store Decor Team members are up to today!
Shutter Mail Organizer - My Repurposed Life
Thrifted Wooden Box Boho Makeover - Organized Clutter
How To Upcycle A Floral Centerpiece - Petticoat Junktion
How To Easily Paint Wicker - Our Southern Home
Pine Tree Embroidery For Winter Decor - Sadie Seasongoods
Upcycled Stepladder Decorating Ideas - Reinvented Delaware
How To Spray Paint Wood Furniture - My Uncommon Slice of Suburbia
How to Upcycle a Vintage Metal Library Stool - Shop At Blu
Upcycling Plates Into A Snowman - House of Hawthornes (that's me)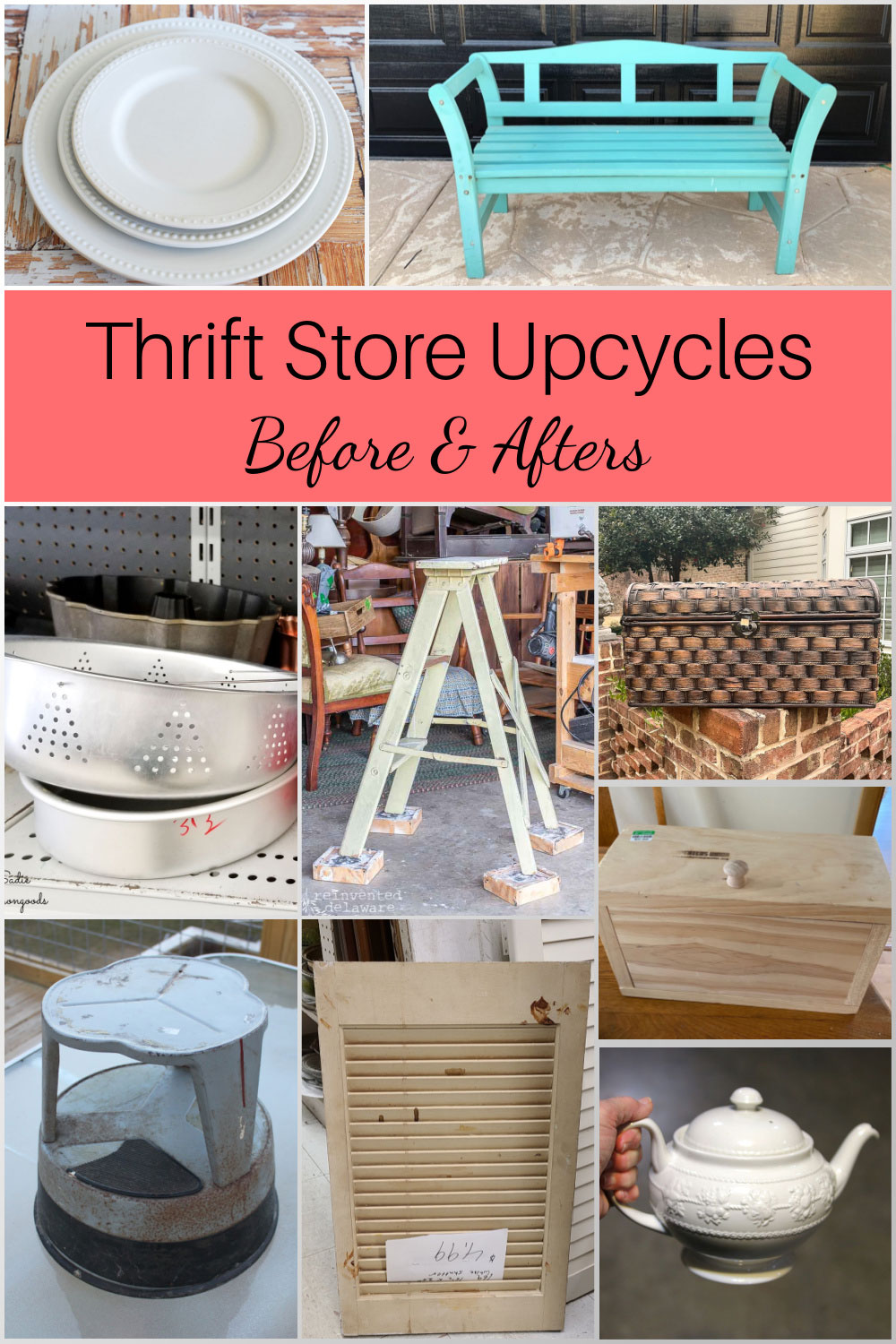 View the web story version of this article HERE.
Other Projects You May Enjoy: