I bought these cute little salt and pepper shakers today. Does that mean I'm out of my January thrifting doldrums?
I love their bright red color and they've been on my short list of things to look for when out thrifting, so I was excited to find them at the local old lady run charity thrift store.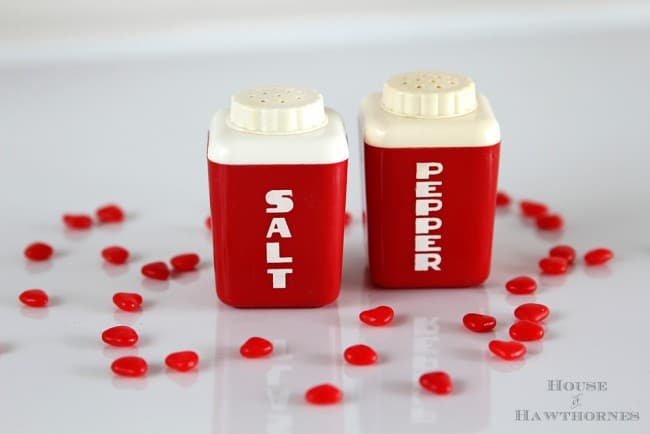 Don't they look Valentiney? OK, you got me, I'm a little obsessed with Valentine's Day decorating ideas right now. Not sure salt & pepper shakers are going to be the center of my decorating theme though.
If not for Valentine's Day, they would look cute in a 4th of July picnic basket.
They were in a bag of assorted items that was marked $4.00. I did not want the other items that were in the Ziploc baggie at all, so when I checked out I asked the lady if I could buy the salt and pepper shakers for the advertised $4.00 and then go ahead and donate the other items in the bag back to them.
I pay the full $4.00 - I take the salt and peppers - they keep everything else - pretty simple, right?
She looked at me like I had asked if I could steal something. I had to explain it three times and then she only grudgingly accepted my donation to their store. With a big sigh, to boot.
That's me. Always rocking the boat.
Linking with Time Travel Thursday, Treasure Hunt Thursday, Vintage Thingie Thursday.