Later this week I'll be dashing off to the Country Living Fair here in Ohio. It's actually a big weekend around here with that and then the Springfield Antique Show And Flea Market Extravaganza going on about an hour from here.
In a couple weeks The Junk Ranch is going on over in Arkansas. Not close, but I'd love to go some day to see my blogging peeps out yonder.
It is officially the season for flea markets, festivals and fairs. And barn sales and craft shows and . . .
Lots to do. Lots to see. Lots to buy.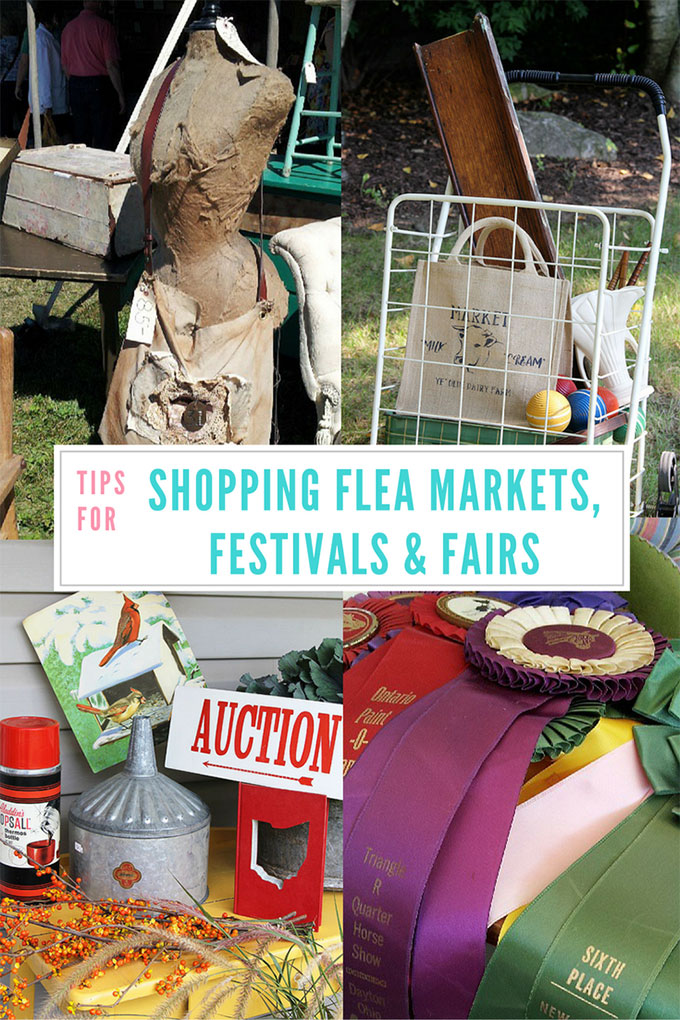 So I thought it's as good a time as any to give you my . . .
Tips For Shopping Flea Markets, Festivals And Fairs
1. The early bird gets the worm
Shop Early - For the best selection shop as soon as they open. The Country Living Fair has early-bird tickets available where you get in before the hoards of people who bought regular tickets can enter the gates. Oh, My, Golly! Did that make a huge difference. It was so nice to casually and enjoyably shop the fair before the cattle other shoppers were let in.
Regardless of where you go . . . go early.
2. The last minute bird gets the deal
OK, not as catchy as #1, but Shop Late or The Last Day - The best bargains can often be found late in the day or on the last day of a show. Last year I found lots of vendors cutting prices just so they would have less to cart back home. And now all the vendors will hate me, but hey, I'm here for my peeps.
Bring cash, most vendors at larger shows take credit cards nowadays, but cash still rules the roost.
3. You snooze you loose
Buy it when you see it or you may lose it - Many a time I've went back to grab something on the way out and it was gone. The nerve of those people to buy MY thingie-doo-wop. Didn't they know I wanted it!
4. Paying full price is for suckers
Haggle, but don't be obnoxious. OK, items at the Country Living Fair are pretty much set prices, so this may not be the best place to earn your haggling chops. But other flea markets and festivals are great places to ask if they will take a lower price. But if you want to bargain, then at least be respectful.
Yes, you might be able to find the same thing at a thrift store for $10 if you go to 2,459 thrift stores over the next five years. But these people have done the legwork for you, have cleaned the item, have toted it to the fair, have paid booth rental fees, have staged their area, etc. So asking for 5-10% off is reasonable, but asking for half price is just plain rude.
I think a very nice passive way to inquire about a reduced price is to ask "Is that your best price?" And if the answer is YES, either pay it or walk away.
5. Dress for success
Clothing. Wear some. But seriously, if you're going to a spring or fall show the weather will be varied, so I normally wear a light sweater over a short sleeved t-shirt or blouse, so I can disrobe as the day goes on.
And for all things Holy, wear comfortable shoes. You're going to be walking. A lot.
My first year at the Country Living Fair I wore a pair of brand spanking new boots that were oh so cute and adorably fall-ish. And I had the blisters to prove it the next day.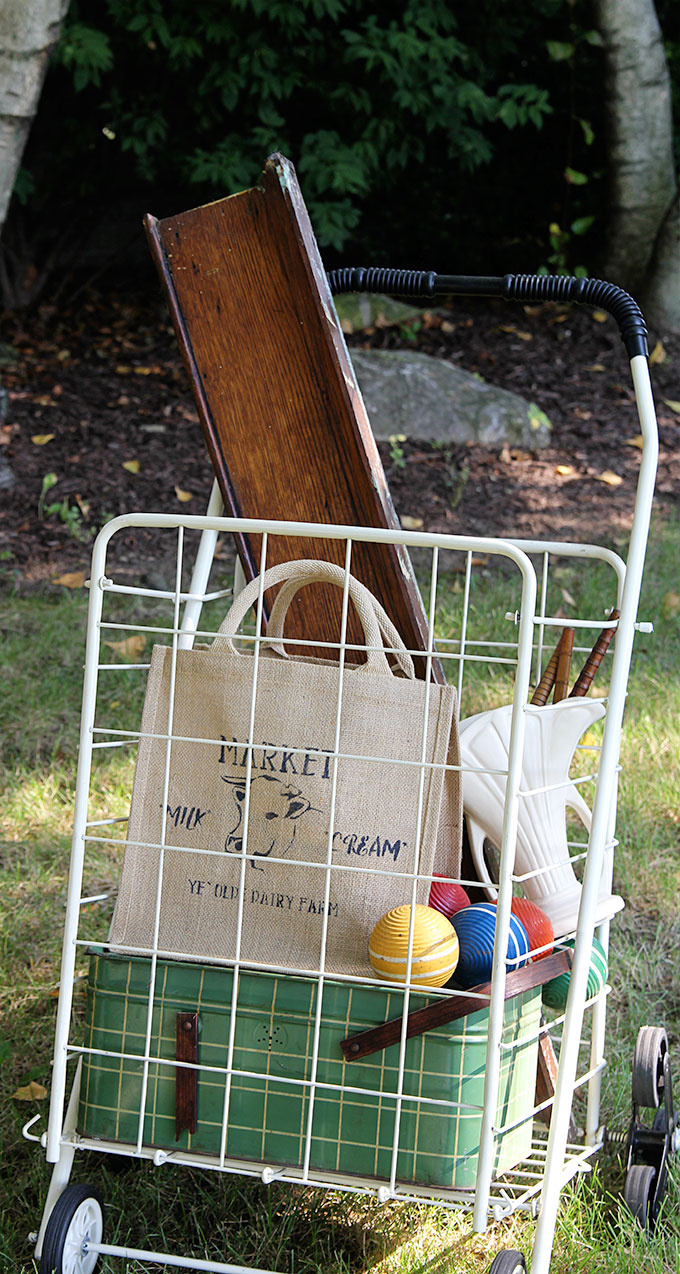 (This post contains some affiliate links for your convenience. You can read my full disclosure policy here.)
Things to bring with you
Tote bag or two (I normally fold a second tote up inside my main tote)
Wheeled cart with bag attached (optional, although pretty nice to have)
Over the shoulder purse or fanny pack (for hands free shopping) - Do they still make fanny packs or have those been banned in the United States?
Hand sanitizer or wipes
Tape measure
Magnifying glass or jewelers loupe
Sunscreen & bug lotion (optional, depending where and when you shop)
Bottle of water
Snack bar or box of Twinkies (your choice)
Cell phone and charger (if you plan to take tons of photos or video)
Flashlight
Leatherman tool (if you need to disassemble a piece of furniture for ease of moving)
Gloves (if you are planning on purchasing a large piece of furniture)
Magnets (if you want to check if a piece of silver is plated or Sterling silver - a magnet doesn't stick to Sterling silver)
Do not forget your wallet - been there, done that, not fun
Cardboard box and blanket left in the car to pack things with for the happy ride home with your new treasures!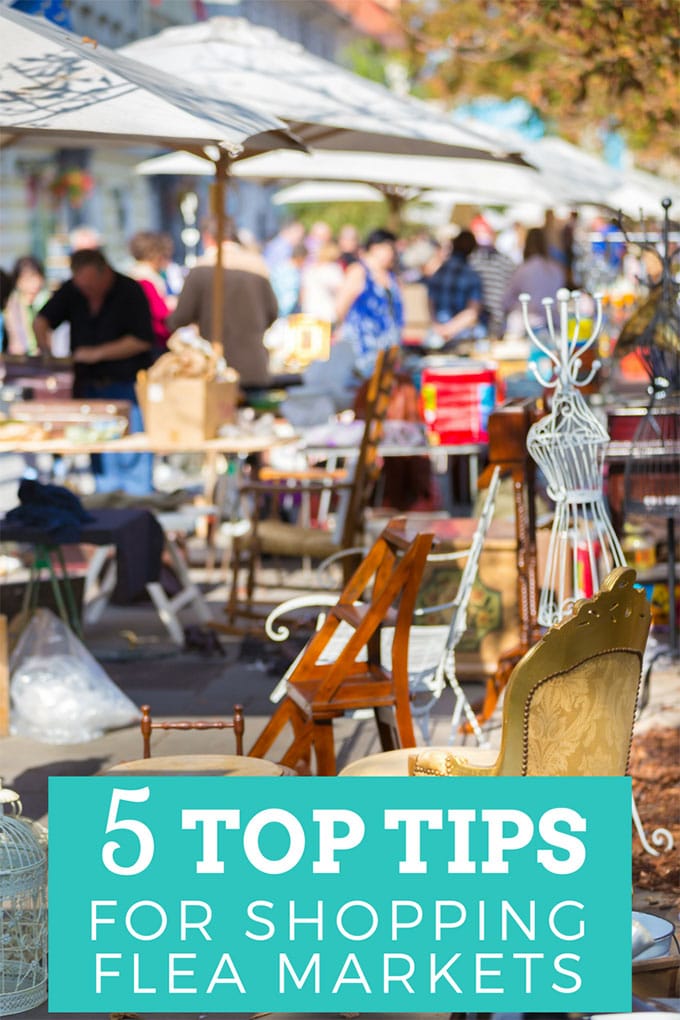 What about you? Any shopping planned this weekend?
Any ideas to add to the Tips For Shopping Flea Markets, Festivals And Fairs?
If you liked this post, you may like:
Top 10 Thrift Store Shopping Tips
40 Yard Sale Tips For A Killer Sale
Top 5 Things To Look For At Yard Sales This Year
Shopping Church Rummage Sales