Learn how to make a DIY Southern bottle tree using blue beer bottles - super duper easy to make. Also known as a tomato cage bottle tree.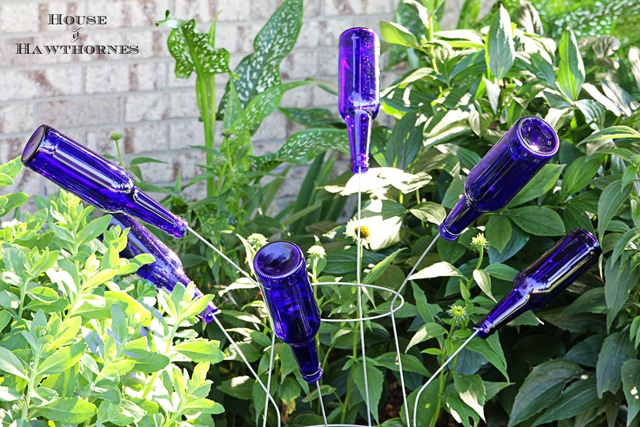 This tomato cage bottle tree is the story of a project a year in the making.
I started thinking about making this project a year ago.
I bought the supplies for making this project a year ago.
I even blogged about my frustration in not getting to make this project a year ago.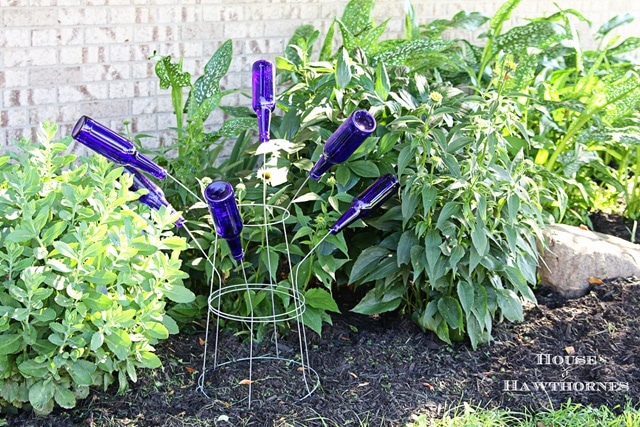 If I knew it was going to be so easy, I would have just made this *$#% project a year ago.
In actuality, it only took about ten minutes to put my bottle tree together.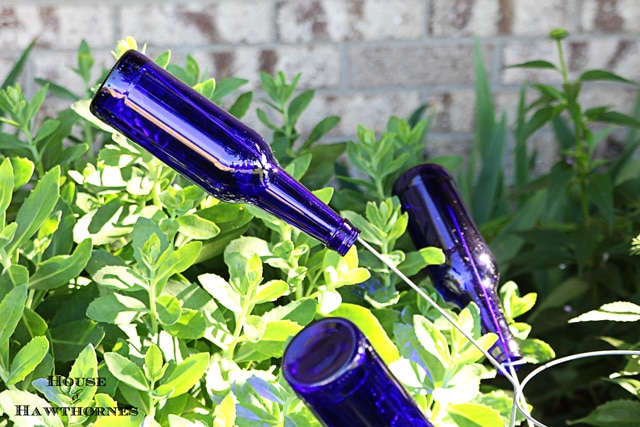 The hardest part was chugging all that beer 🙂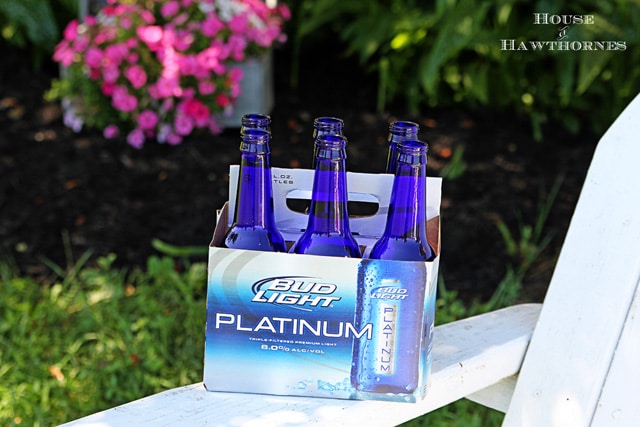 I used a six pack of Bud Light Platinum, which comes in the prettiest shade of blue. When was the last time you said a bottle of beer was pretty?
And two tomato cages. I bought the cheapest ones that Lowes carries. They have three rings on them.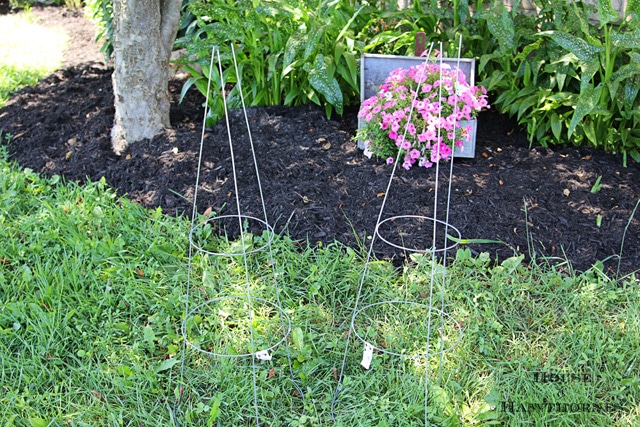 I used them upside down for the project.
I also used a pair of fence pliers to cut the caging. They are like wire cutters, but made for heavier fencing. I would think regular old wire cutters would probably work also.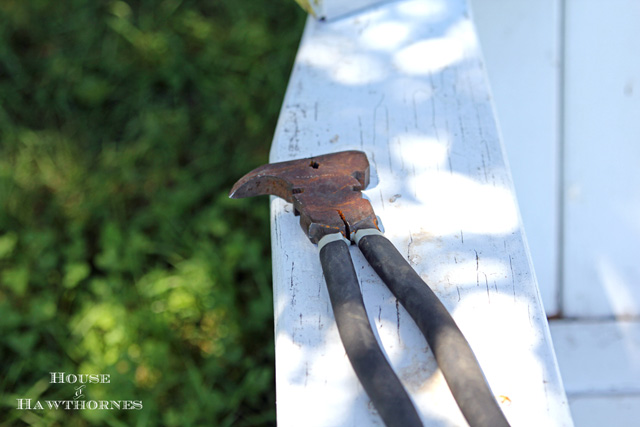 The first cage on the left was left intact. I just bent the arms on the top of the cage (which is technically the bottom, but the top in this photo) outward a little so the bottles would not stand straight up, but rather lean outward.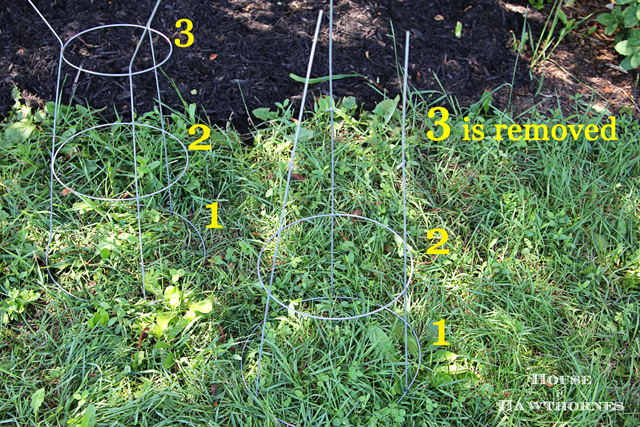 The second cage's top circle was cut off along with about 4 inches of the wire (this will make the bottle holding arms closer to the same length).
I slid cage number one over cage number two, rotated the cages, so the arms would be spaced out equally. Then bent cage number two's arms out at the same angle as the first cage had been bent.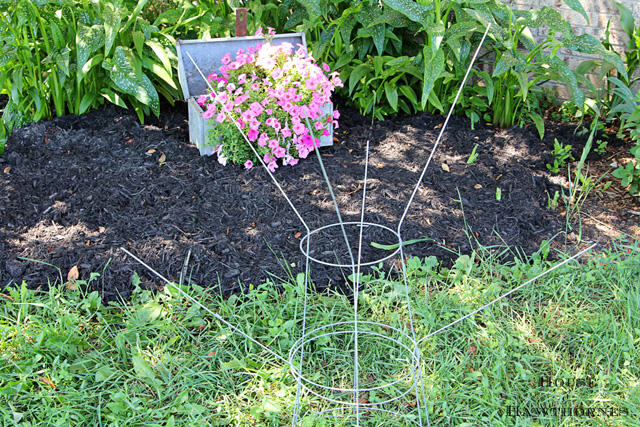 Put your bottle on the arms and you are good to go.
Unless you have a dog.
Lacey started to take quite an interest in the bottle tree, so I made some little stakes out of the left over pieces from the second tomato cage and poked them in the ground at the bottom of the cages in order to make the tree able to withstand a nosy dog.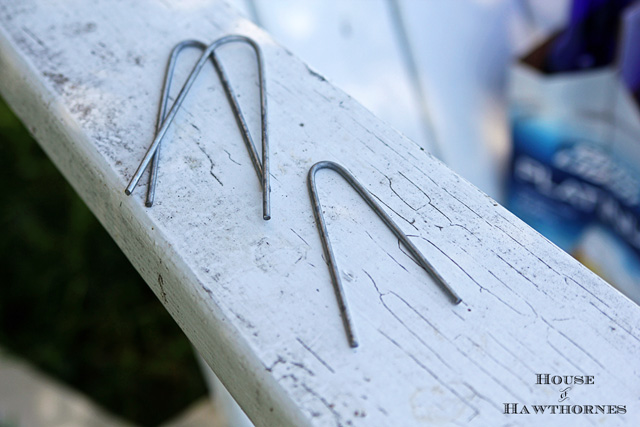 Score one for the humans.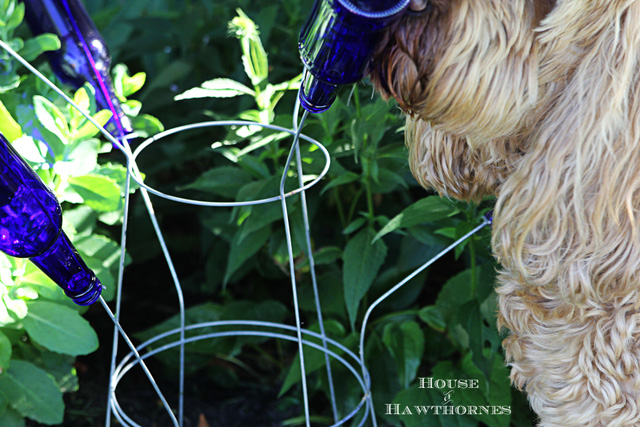 The moral of this story is you can either spend a year worrying about a project or just do the stupid thing. It might just turn out looking sort of cool. And blue.

Other Projects You May Enjoy:
Ditch The Urns: Creative Garden Containers For Your Porch
Container Gardening Made Easy
20 Whimsical DIY Miniature Fairy Garden Ideas