When I found this vintage red and white enamelware frying pan at a yard sale a few years ago, I immediately knew what I was going to do with it.
Repurpose it for Christmas decor, of course!
And then it sat in my craft room year after year, like that sad little Dolly on the Isle Of Misfit Toys. I kept meaning to make something out of it, but time would always get in the way and next thing you know, Christmas had passed it by again.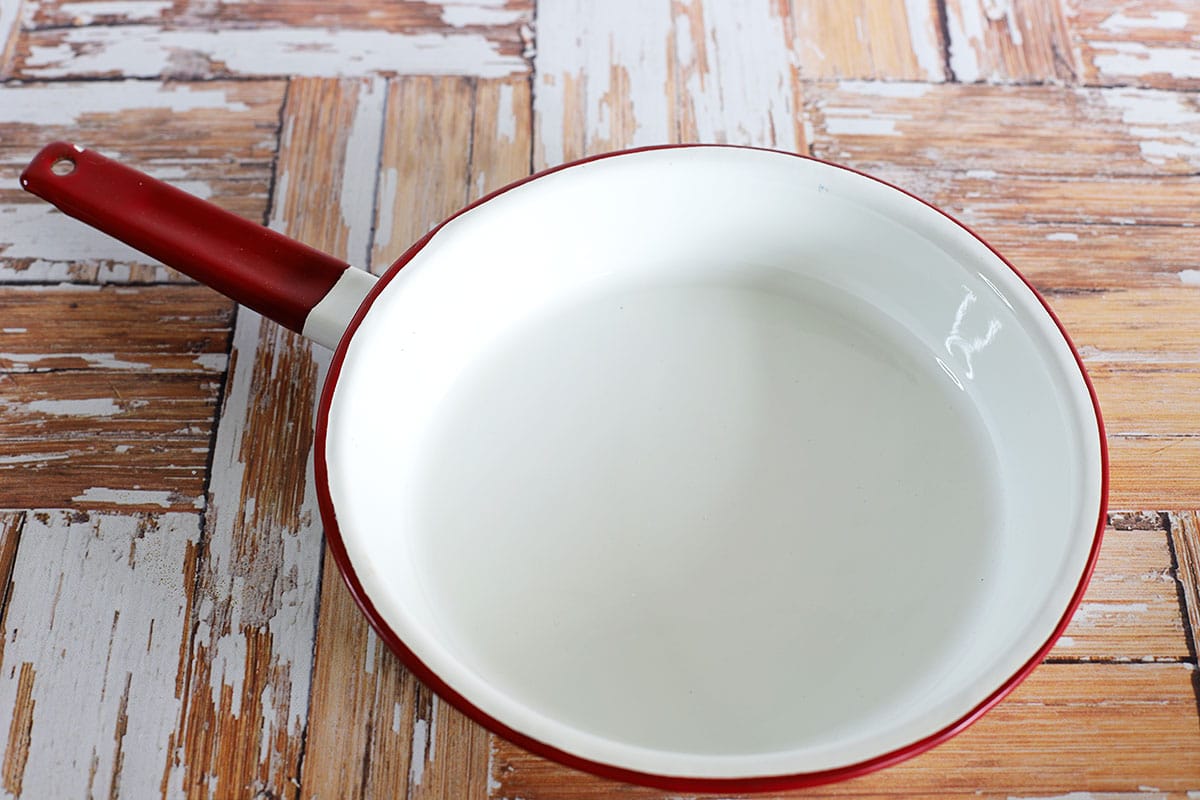 Then this year when I was shopping at Michaels I ran across a red barn Christmas ornament and I knew this year would be the year I actually did the project!
No more procrastinating, I'm rescuing my frying pan from the Isle Of Misfit Toys.
How To Upcycle A Frying Pan Into A Christmas Wall Hanging
(This post contains some affiliate links for your convenience. You can read my full disclosure policy here.)
Supplies: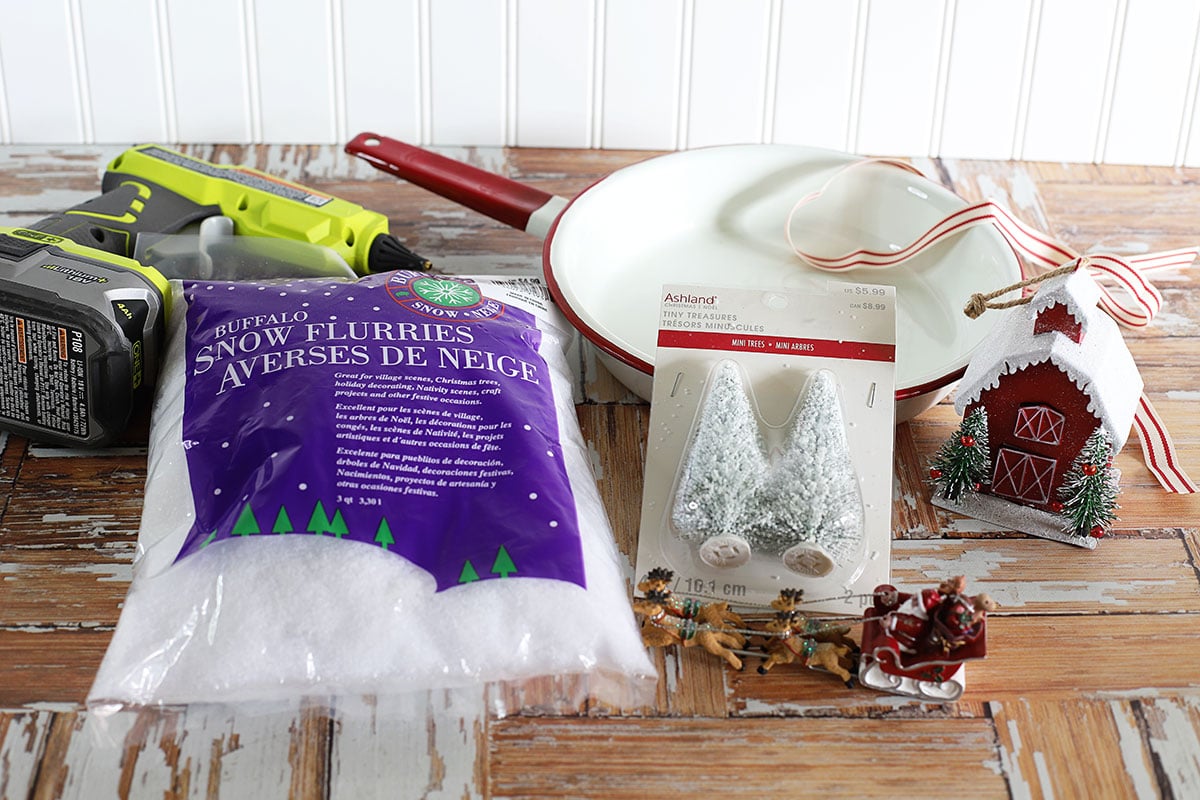 * The sprig of greenery I purchased was covered in glitter. Think long and hard about glitter during the holiday season, because you will be finding that stuff in the oddest of places for months to come.
Instructions:
Time needed: 15 minutes
Step by Step Directions
Remove Hanger From Ornament

My barn was actually a Christmas ornament, so I removed the hanger from the top.



Glue Barn

Using your glue gun, run a bead of hot glue around the back of the barn on the areas which will make contact with the frying pan.



Attach Barn

Press the barn against the frying pan until the glue sets up.



Attach Trees

Run hot glue down the backside of each tree and press them into place beside the barn.

Word Of Warning - the hot glue will melt the sisal trees a little bit, just because of the temperature of the glue coming out of the glue gun. But it turns out to be a good thing because it causes the backs of the trees to be a little flatter, so more surface area attaches to the frying pan.

An Additional Word Of Warning - the hot glue is VERY HOT. Please be careful with your fingertips when using it.



Glue Santa

Run your glue on the backside of Santa and the sleigh.



Step Back

Check the alignment and make sure everything is firmly in place. I sat the frying pan up on its edge and shook it a few times to make sure things were going to stay put.



Embellish The Handle

If you want to add some greenery to the wall hanging now is a good time to do so. You can also add the ribbon or bow at this point (although I forgot to take a picture of gluing the bow on).

Notice all the evil glitter just waiting to fly off into your eyeball.



Add snow.

I decided to go with a different type of snow than I had originally planned. In my product photo, I show a bag of flaky Buffalo Snow, but I decided to use the Buffalo snow that looks like cotton batting instead (easier to glue down and less messy).

I just ran a generous amount of glue on the bottom of the barn and stuffed the wad of fluffy snow in there.



Hang Your Masterpiece

Run twine or ribbon through the frying pan handle and your Christmas wall hanging is all set to be hung!


Now let's get to the awkward part. The Santa w/ Sleigh was purchased either last year or the year before at Michael's in the section of Christmas miniatures they used to have for decorating Christmas villages and dollhouses.
I don't see it this year on their site. At all. I've looked all over and can't find it anywhere else either.
Normally I would have just made the project with something you could buy, but I had this one all done by the time I figured out they didn't sell Santa anymore (I actually figured that out about five minutes before hitting publish on this post).

Anyhow, Walmart does have Santa & Sleigh cake toppers that might work. Or you could find a little Santa to stand on the chimney. Or skip Santa altogether (gasp).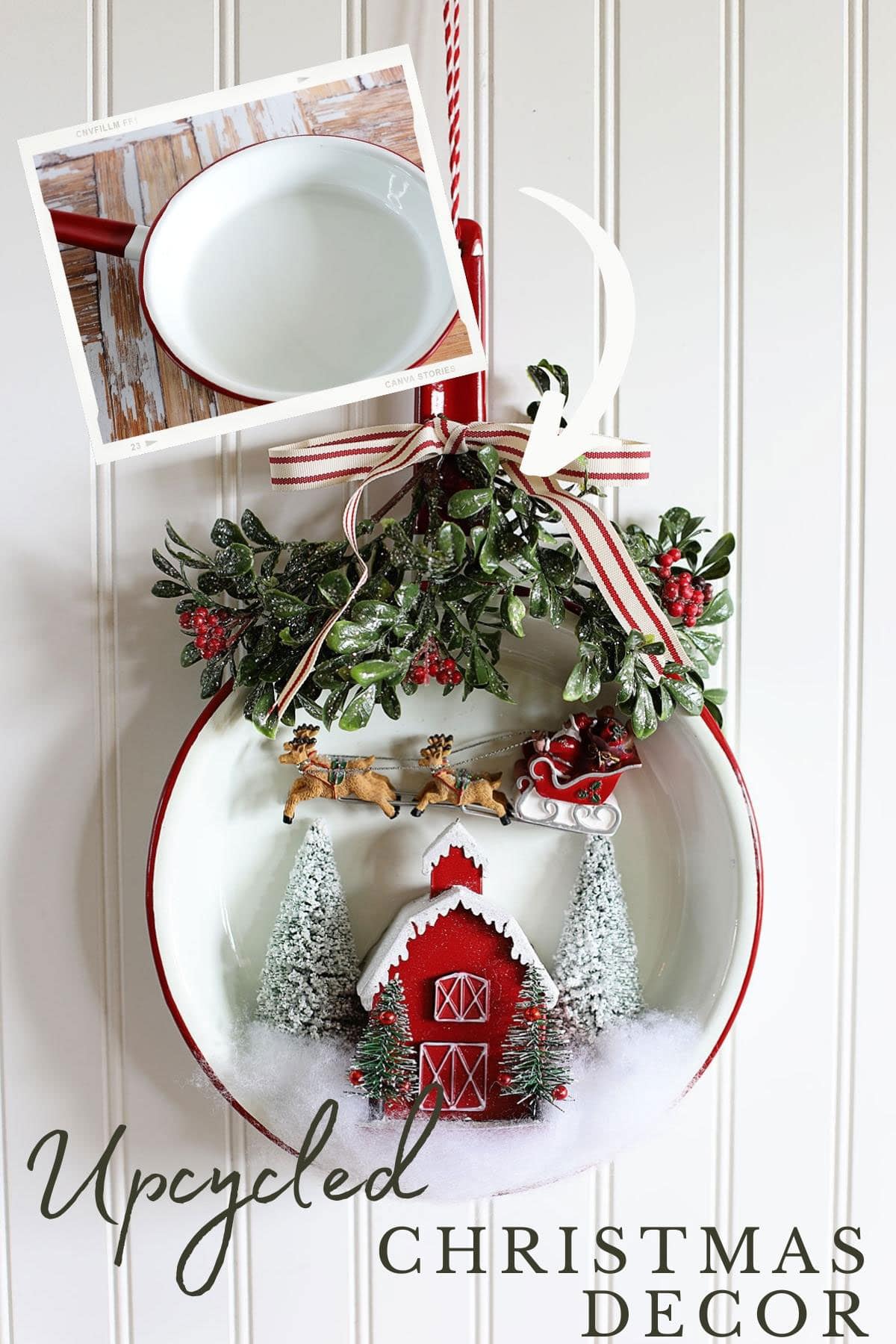 Other Projects You May Enjoy:
Homemade Winter Wreath With Fresh Evergreens
Silverware Tray Repurposed For The Holidays
Vintage-Style Chenille Pipe Cleaner Ornaments (w/ Printable Faces)