Nothing, and I mean NOTHING, says the start of the holiday season more than hanging a festive Christmas wreath on your front door.
It's normally the very first thing I do when starting my holiday decorating. Followed by putting out my Christmas doormat and then coming back inside to finish off the left-over pumpkin pie.
This year I decided to make my own wreath with fresh greenery and some classic holiday bells.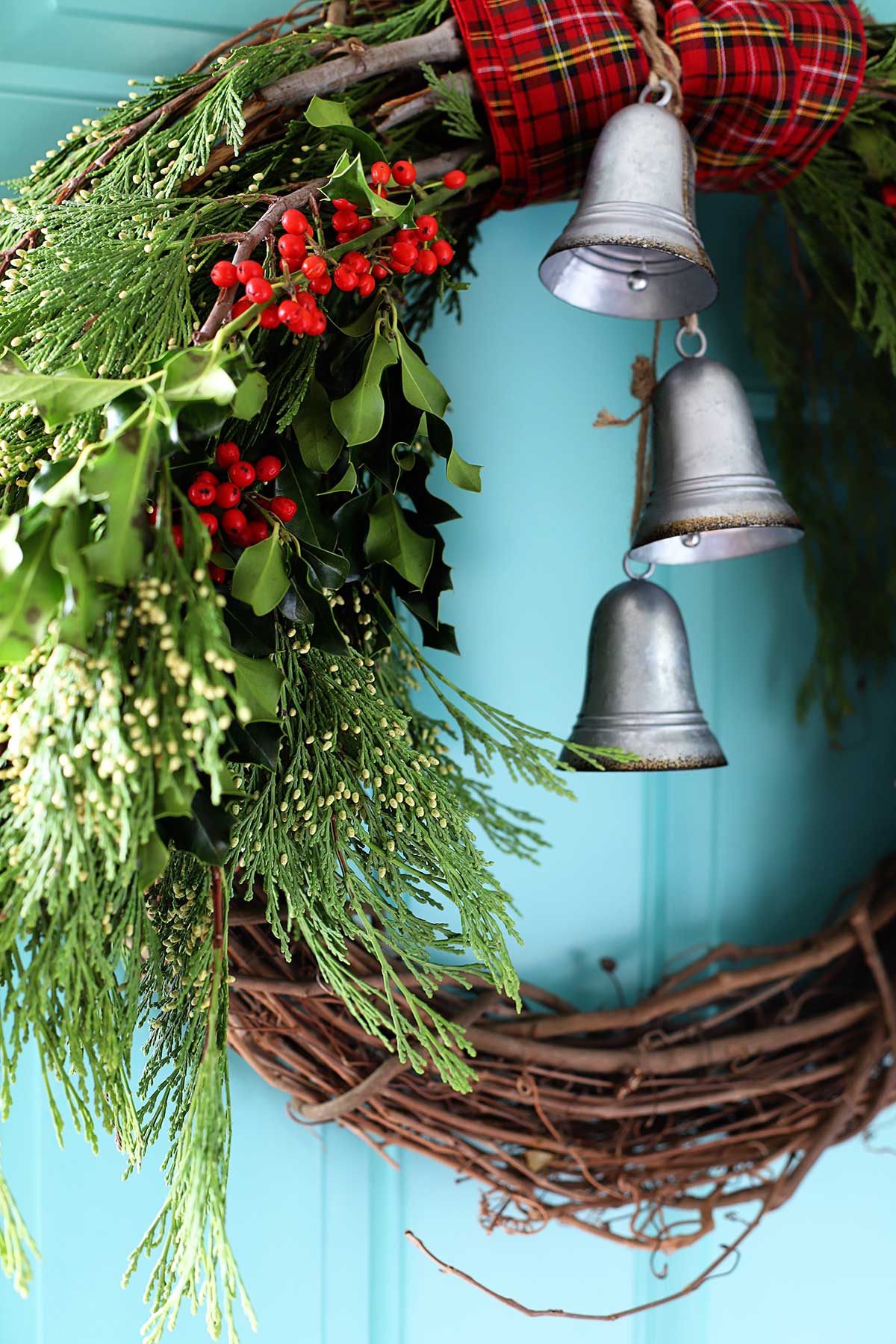 And plaid. There has to be plaid.
My wreath turned out to be fairly thrifty. I already had the large grapevine wreath in my garage and the ribbon was from my ever expanding "all things plaid" hoard. So the only things I purchased were the bells and the fresh greenery.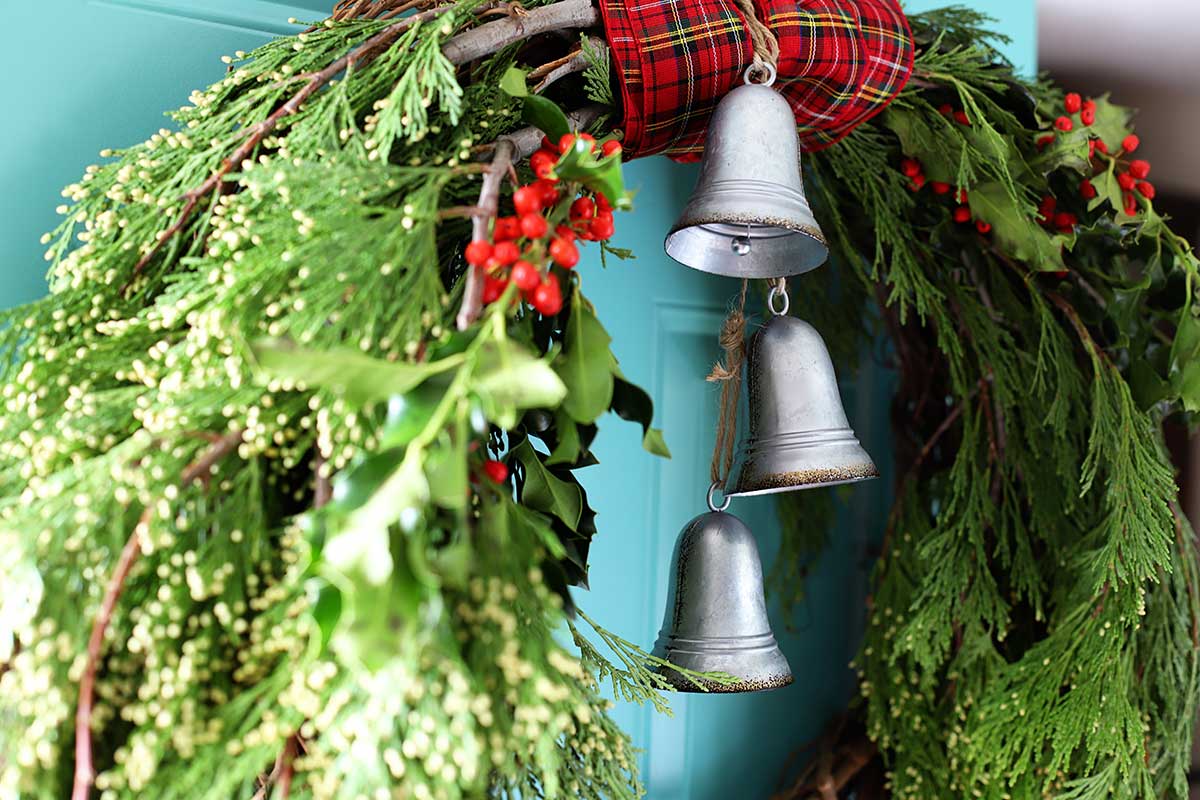 I purchased the cedar boughs and holly from a local garden center. Lowes and Home Depot should also have greenery in stock this year, but honestly I've been trying to buy from locally owned businesses more this year because the small guys have had it extra rough.
And of course, you can always scavenge for greens in your yard if you want to be super-thrifty. Just make sure "your yard" isn't the local city park, because they don't take kindly to people hacking away at their trees.
(This post contains some affiliate links for your convenience. You can read my full disclosure policy here.)
How To Make A Winter Evergreen Wreath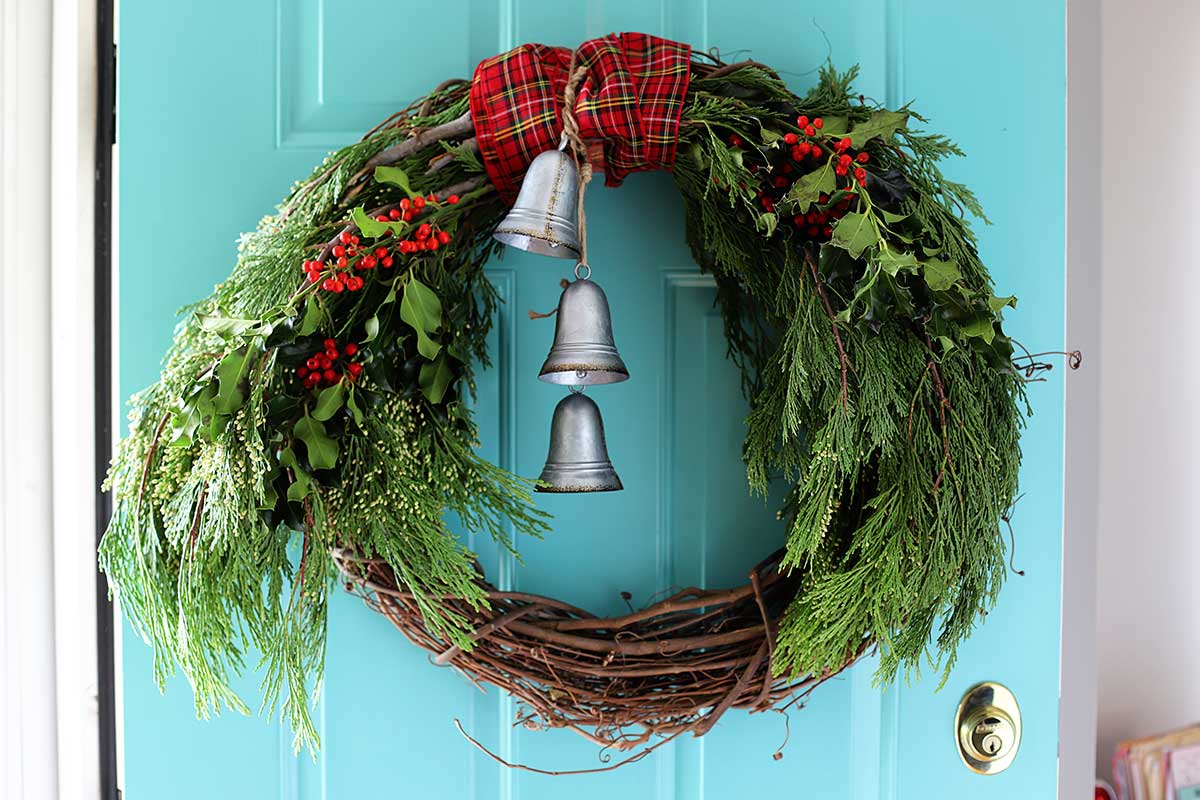 Supplies:
Grapevine Wreath - 18" or 24"
4 Fresh Cedar Boughs (1 bundle)
4 Fresh Holly Stems (1 bundle)
Ribbon
Bells
Scissors
Packing Tape (optional)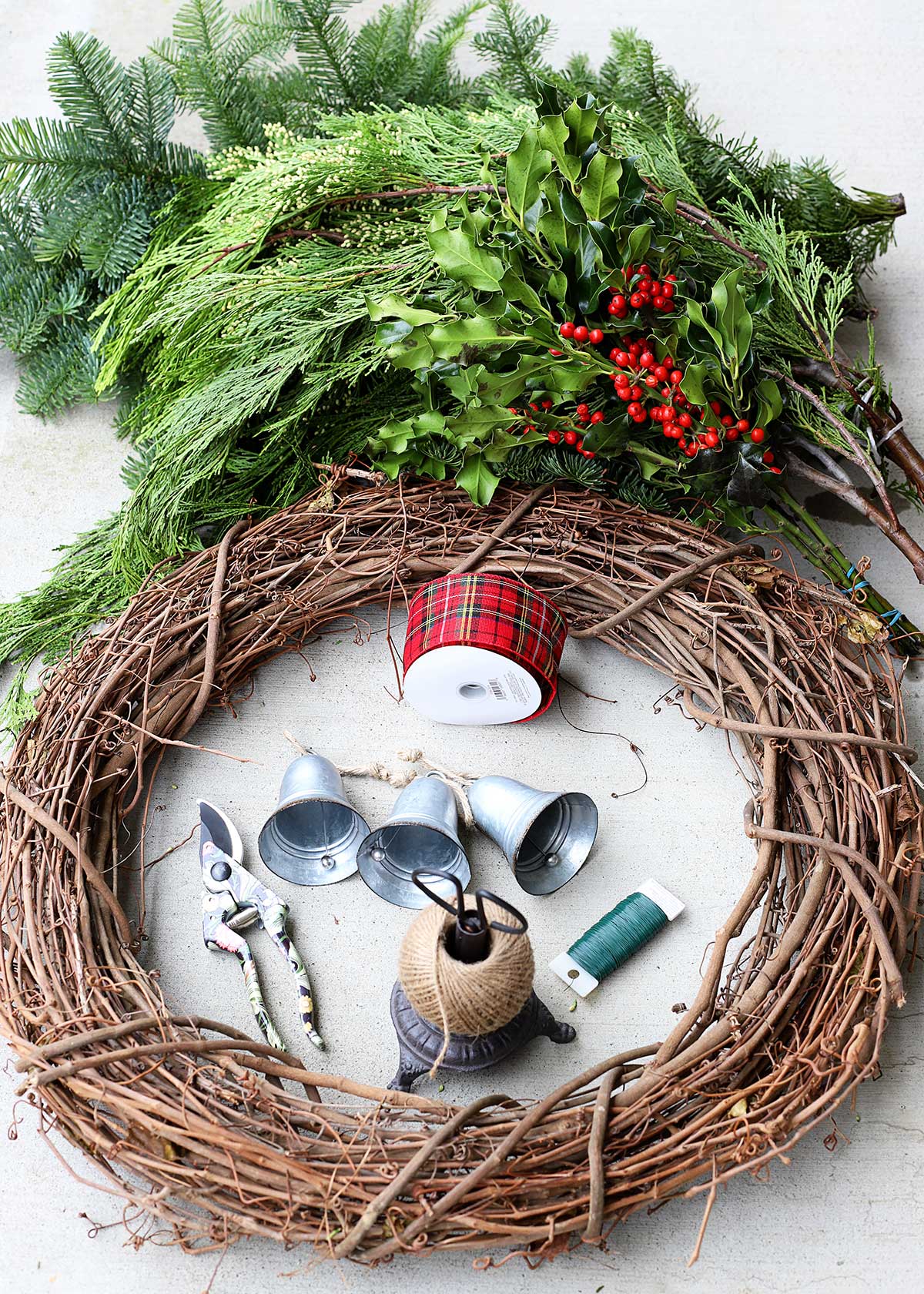 Instructions:
Lay your wreath on a flat surface.
Stack ½ of your cedar boughs on one side of the wreath and wrap your paddle wire (it's basically thin wire used by florists to hold flowers together) around the entire wreath securing the branches to the grapevine.
Wind it around the grapevine wreath and toward the cut end of the cedar boughs roughly 8 - 10 times. You want the boughs to be very tightly attached to the grapevine, so space out your wire to cover roughly 5 inches of the boughs.
Any wire you can see will be covered with either the other set of boughs or by ribbon, so don't worry about perfection here. Just wind it up nice and tight.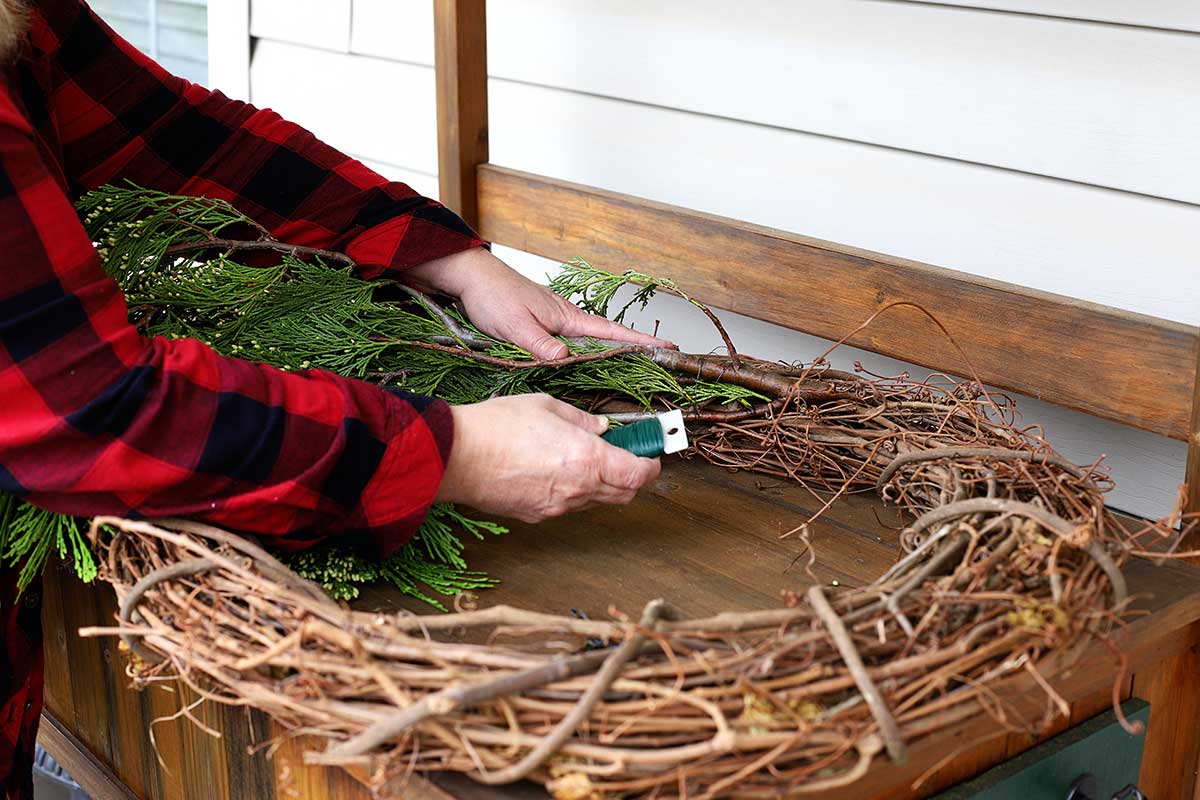 Wearing a festive flannel shirt while doing this project is suggested!
Then stack the other half of the cedar boughs on the other side, overlapping the first set. Before you start wiring this set of boughs in, it helps to stand the wreath up to double check your alignment to make sure you're going to end up with equal length sides.
Repeat the wrapping of the wire.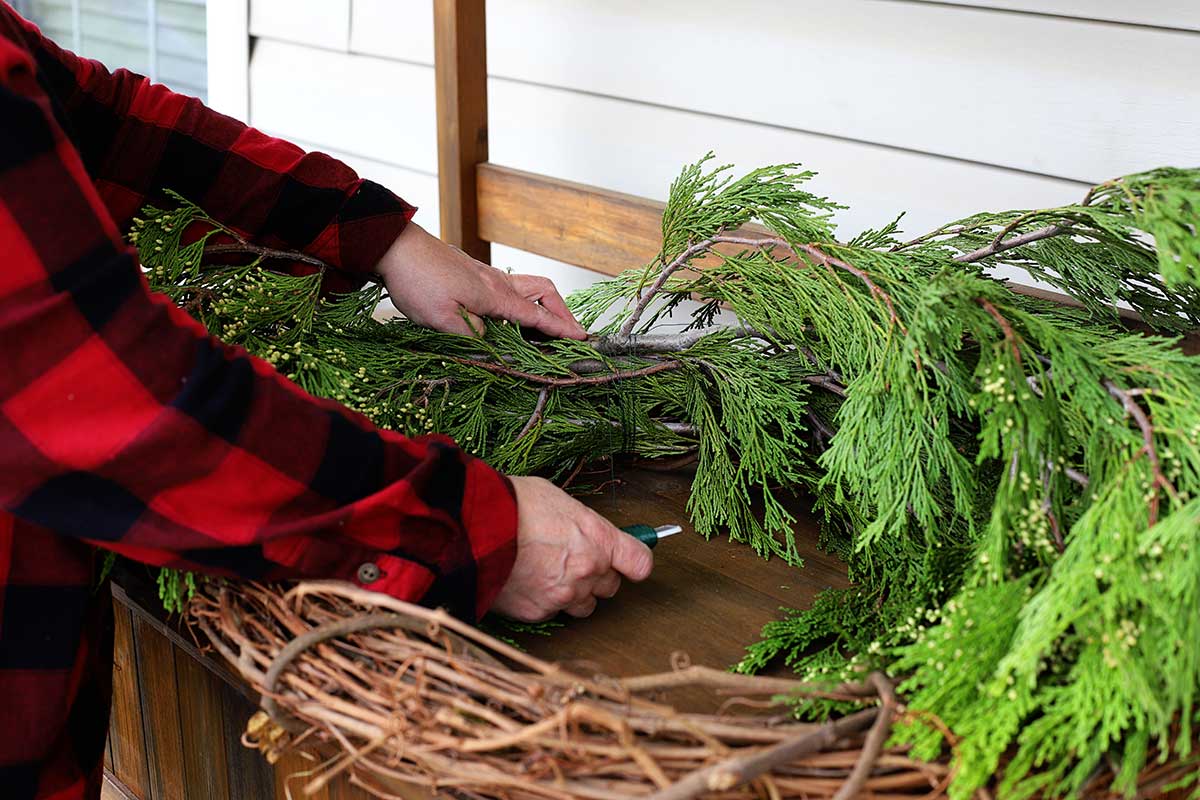 Tuck two pieces of holly on each side of the wreath, sliding them into the branches of the cedar.
Then wrap a few rounds of wire around them in the middle to hold them in place.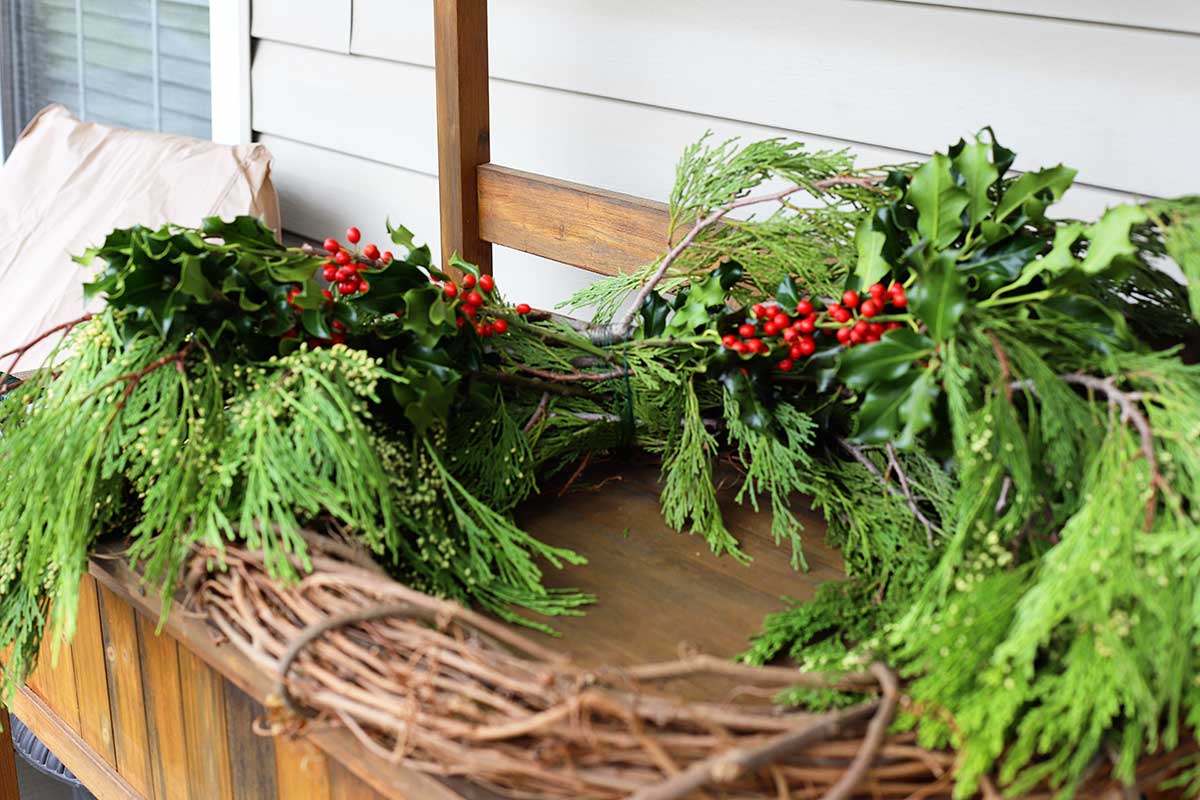 This is where it gets ugly.
To make extra sure the cedar and holly aren't going anywhere, you can wrap some packing tape around the middle of the wreath.
This is totally optional, but since it can get windy on my porch, I thought it was an extra step worth taking.
And again, this is getting covered up by ribbon, so no one besides you and me will ever know it's there.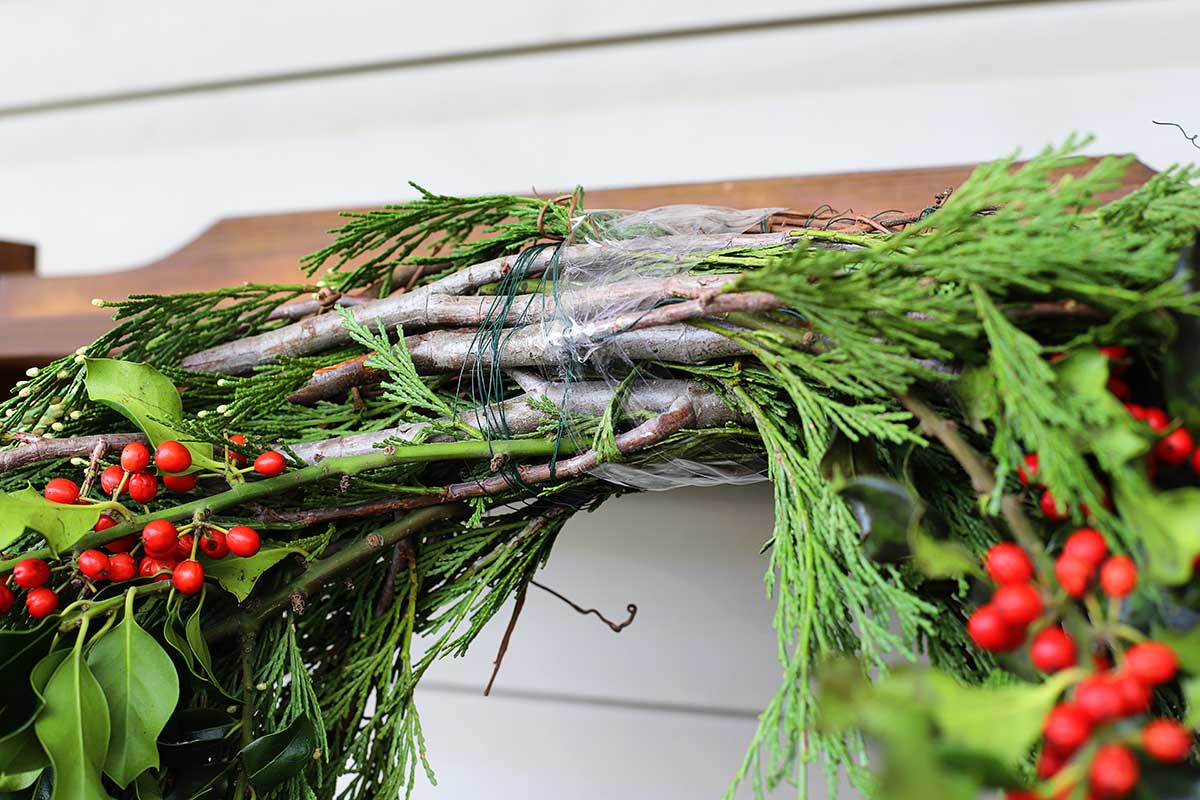 Note: Although the photos don't show you this, now is the time to attach your wreath hanger.
Most wreath hangers won't be wide enough to "cup" both the grapevine wreath and all the extra greenery you are adding. If you add the wreath hanger now, you can have the hanger hold on to just the grapevine part.
Personally, I didn't think to do that until I was all done and then had to cram the whole thick thing into my measly wreath hanger.
OK, so now wrap your ribbon around the top of the wreath a few times, covering the wire.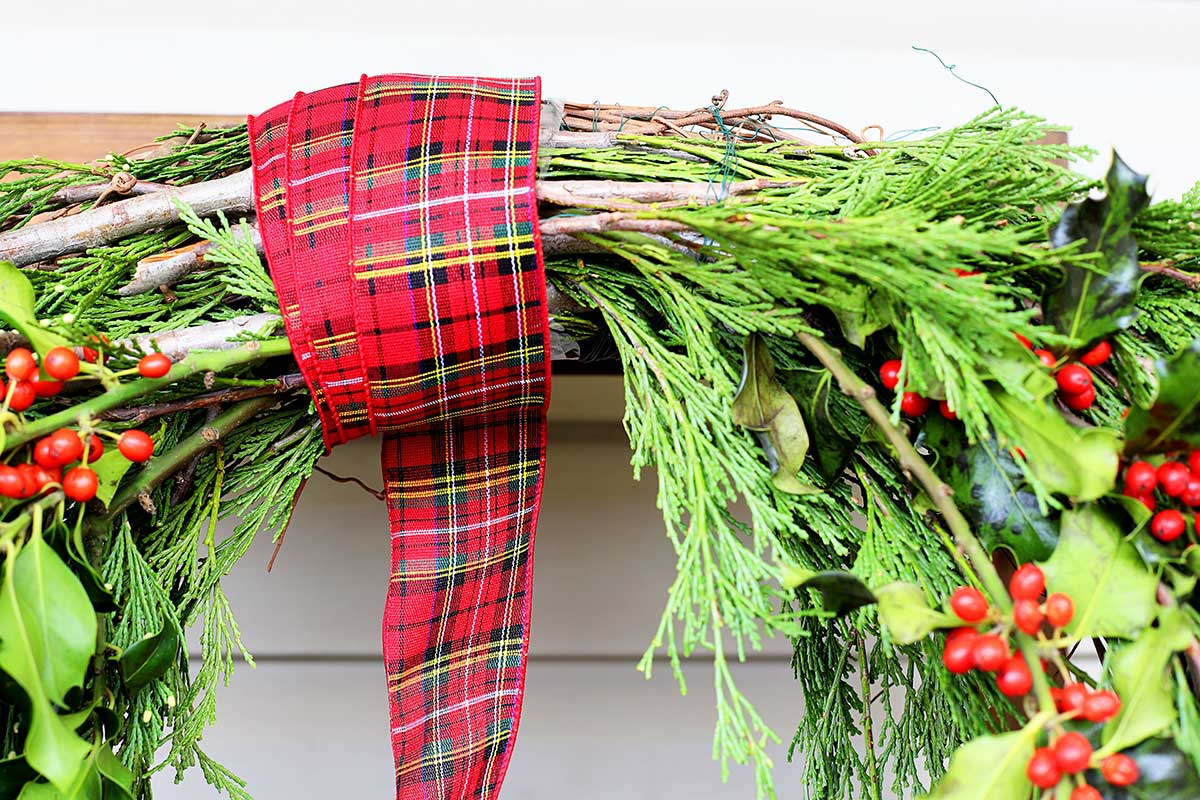 On my wreath, 6 wraps of the ribbon was enough to cover the wires and tape. Play around with the spacing of the ribbon so it's visually appealing and balances out the size of the wreath.
If your bells are not strung up together yet, now is the time to tie them all together and make sure you have enough string to hang them from.
I wanted my bells to hang inside the opening of the wreath and not dangle below the wreath so I spaced them out accordingly.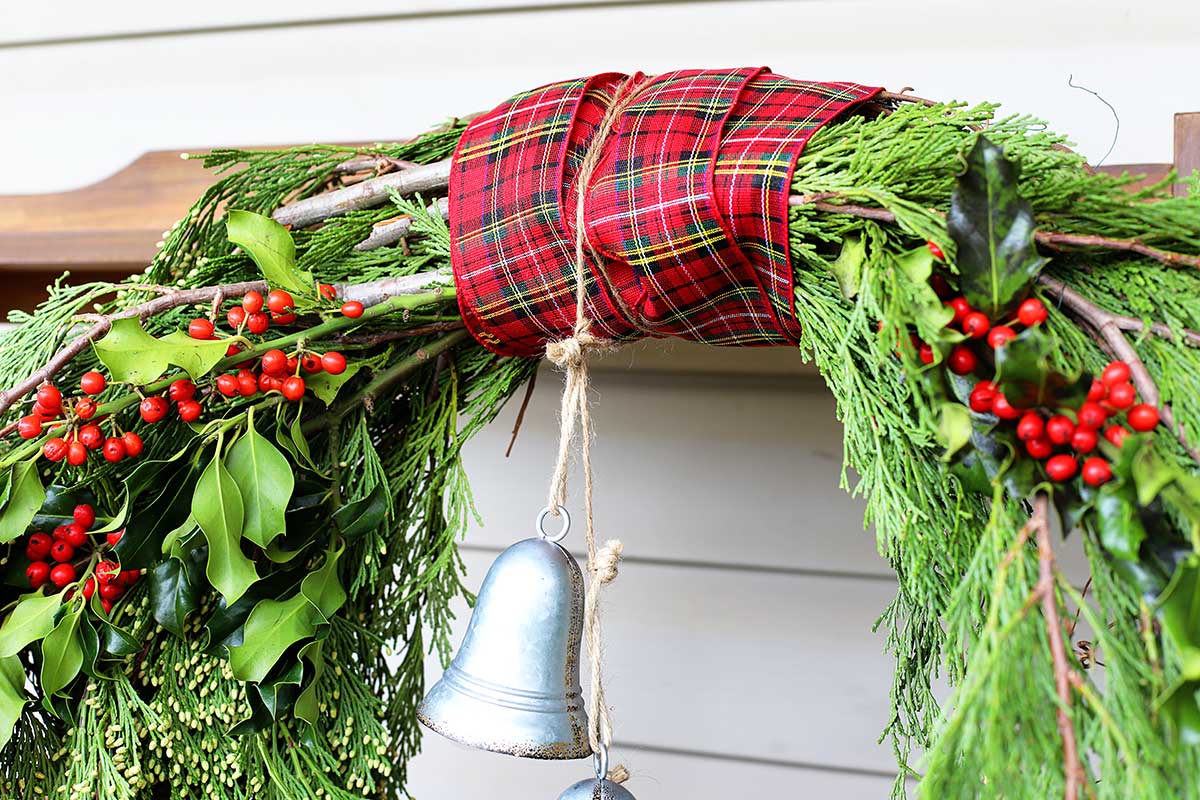 Then I tucked as much of the bell's "rope" under the ribbon as I could.
Now all that is left is to hang it on your front door and wait for the Amazon delivery people to compliment you on your homemade wreath.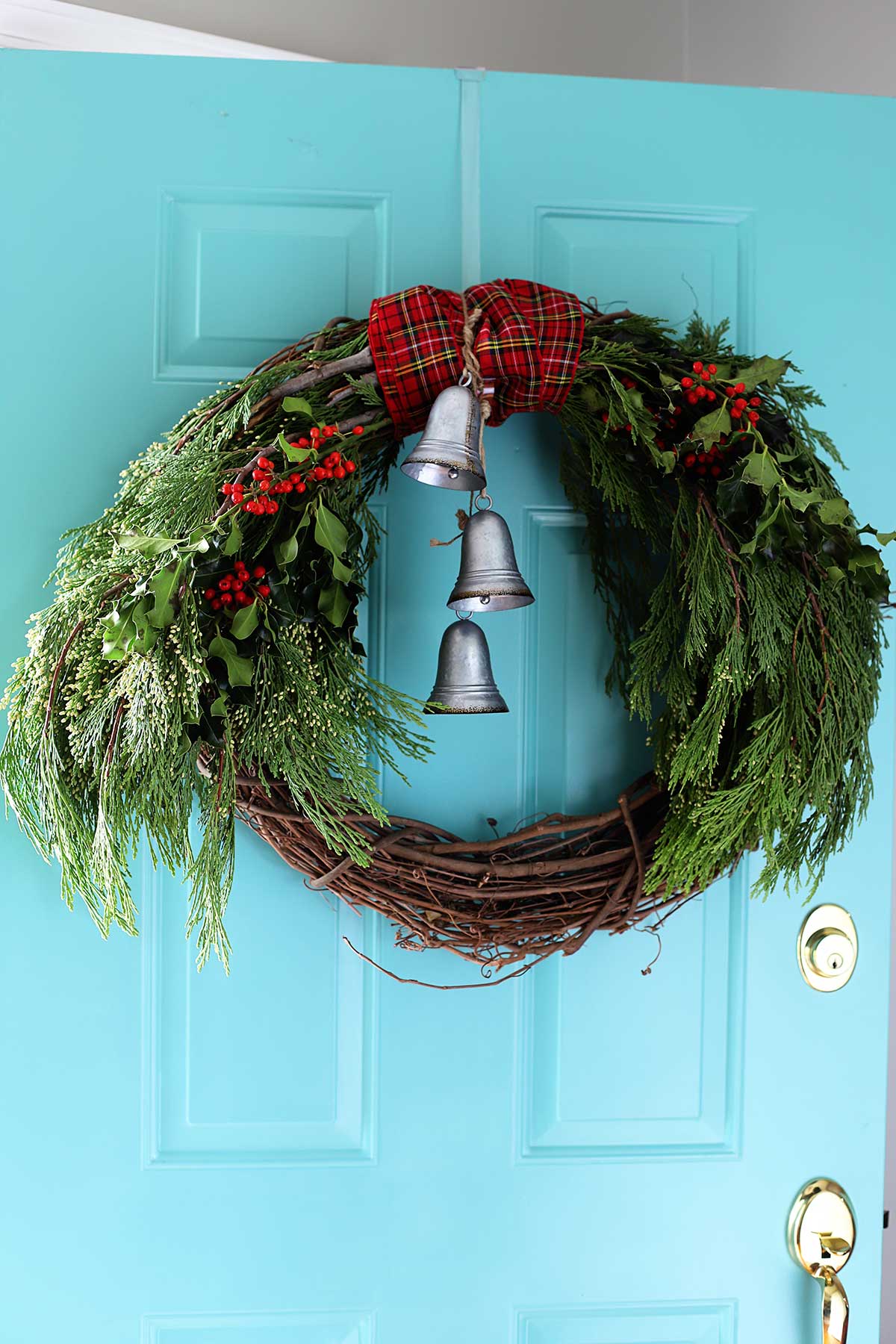 BTW, I'm going to be in a porch tour with quite a few other bloggers on Wednesday, so make sure to stop on back for that!
You'll be able to see my wreath along with the rest of my Christmas porch shenanigans.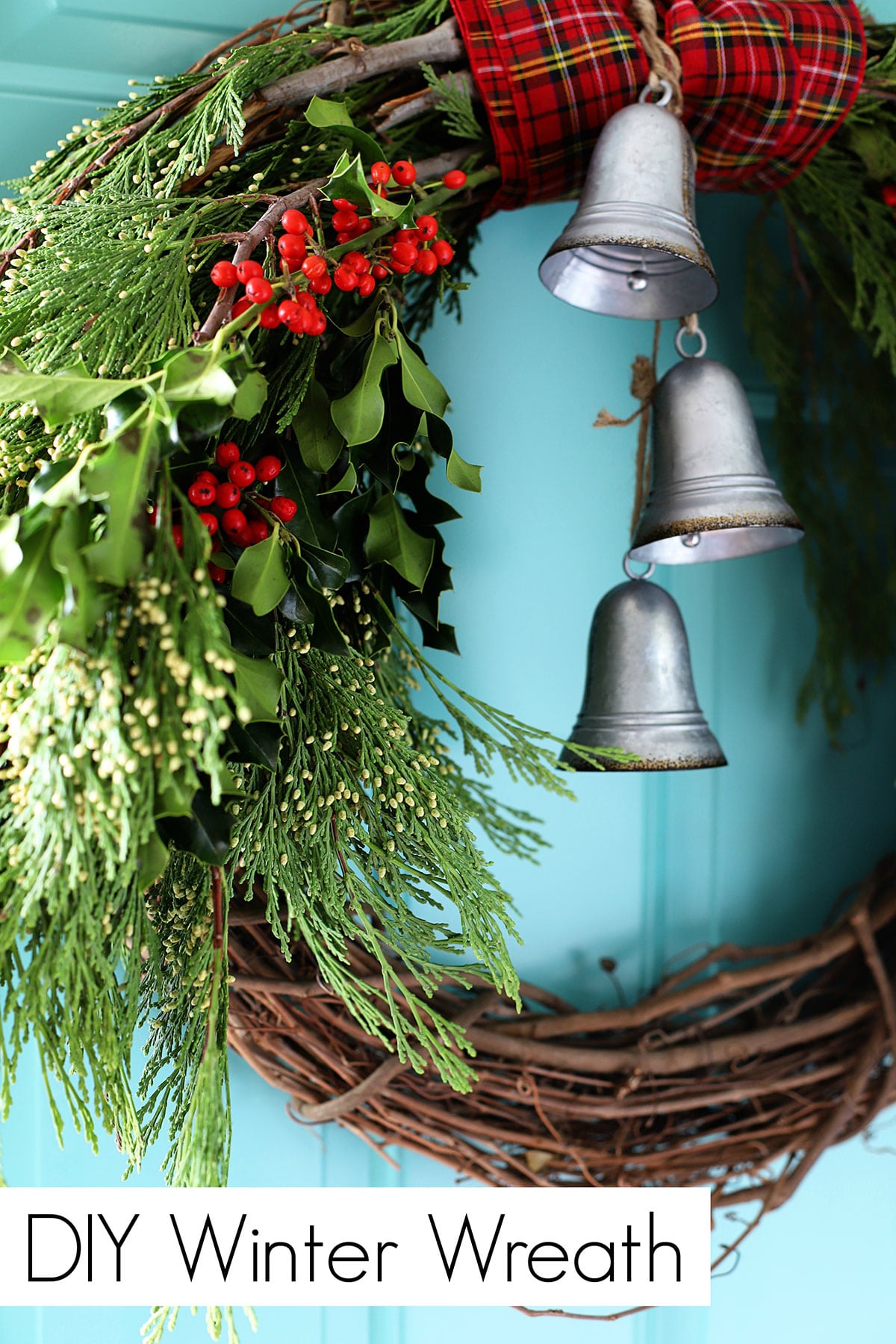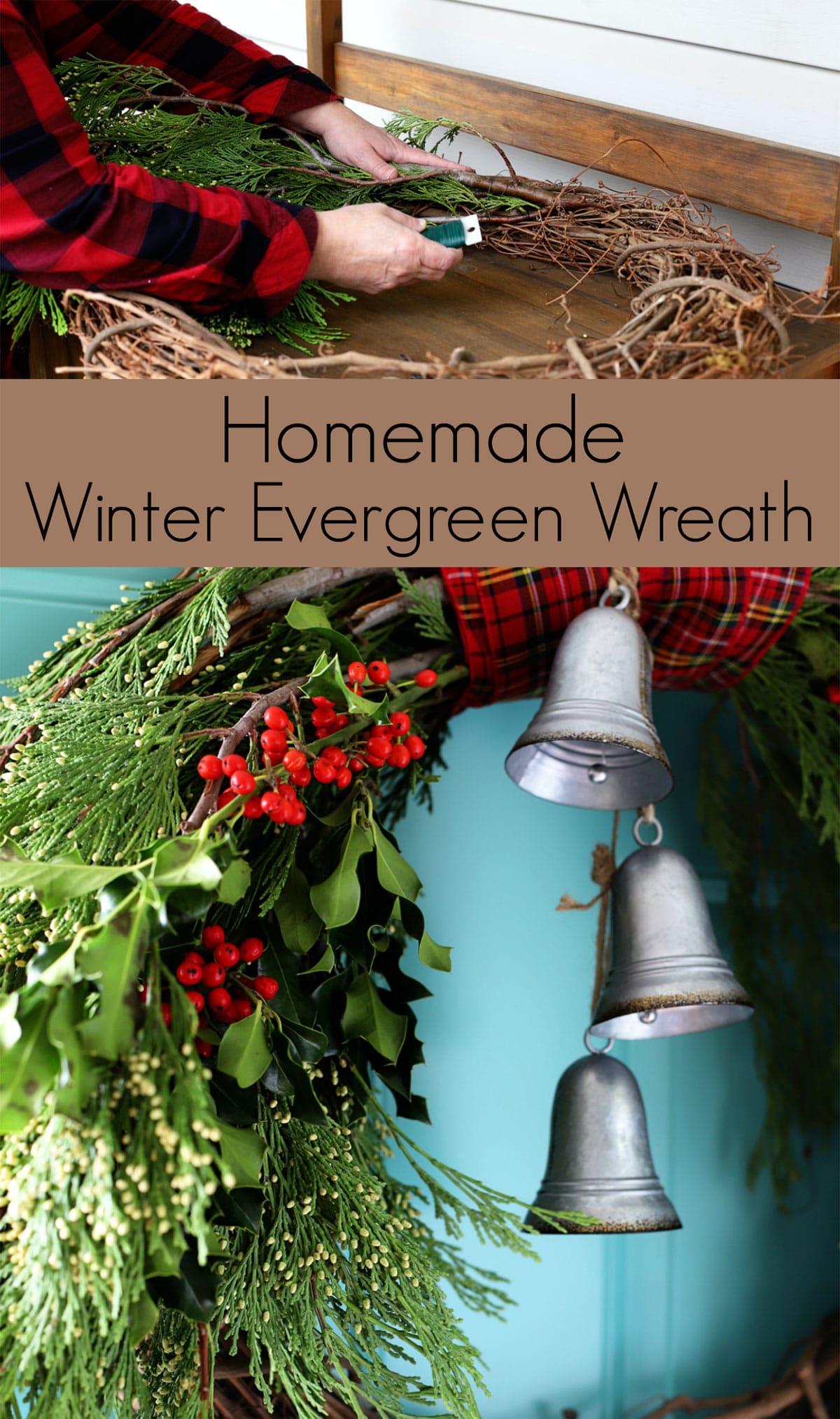 View the web story version of this article HERE.
Other Posts Your May Enjoy:
Quick And Easy Hydrangea Wreath