I wanted to do something different for the Christmas wreath on my front door this year.
Sure, I could have hung your basic pine wreath from the grocery store on my door. I've done that plenty of times in the past and it's OK. It's perfectly acceptable and does the job.
But it just so happens that while out at a yard sale this summer I ran across a very dirty PLAID thermos picnic set. Minus the thermoses and with a broken sandwich keeper, so basically just a plaid bag.
But it was a plaid bag!!!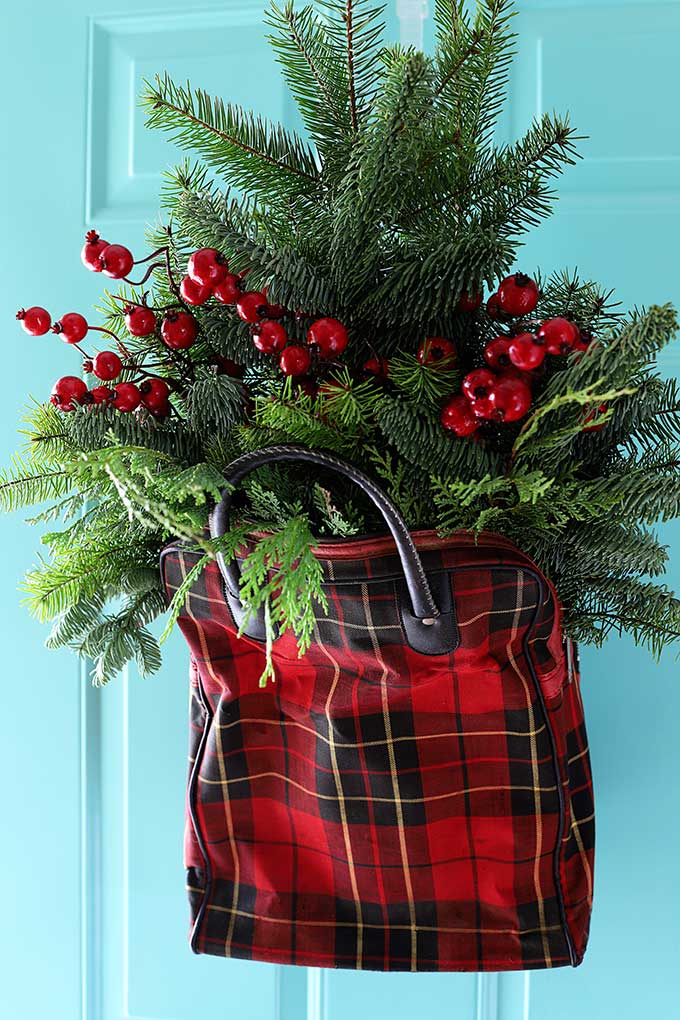 And that bag was just begging me to do something fun with it.
Except this thing looked like it had been stored in the garage for the last twenty years. Under a big old pile of wood and oil cans and may have had a few mice living in it.
It was pretty gross and it took me a good long time to get up the nerve to unzip the thing and see if anyone had actually taken up residence in it.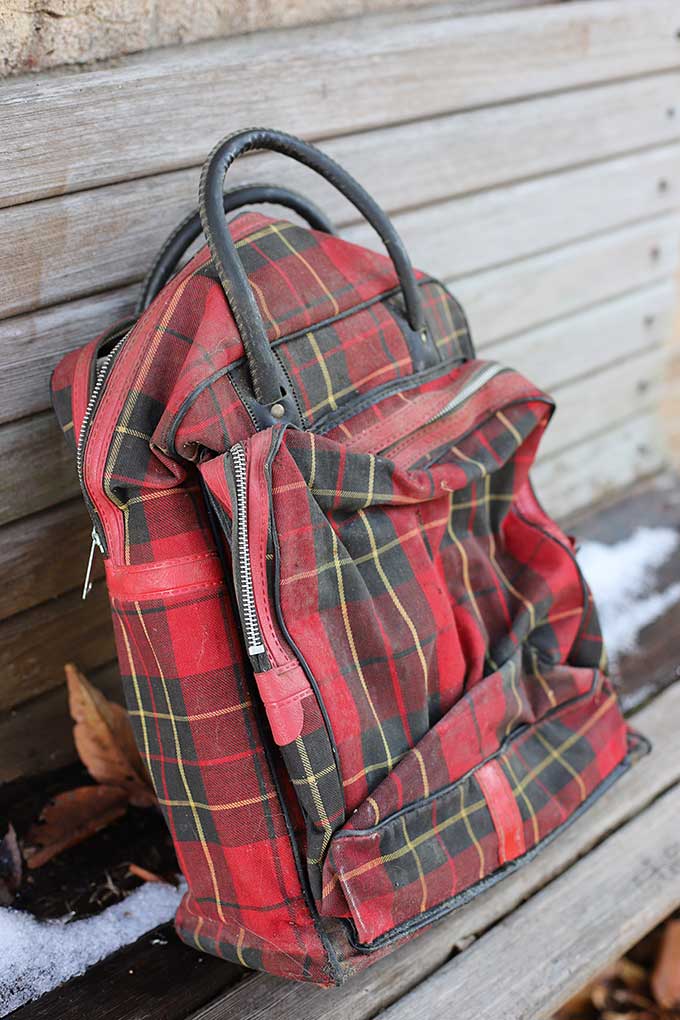 Thankfully, they had not! No little carcasses to dispose of.
But oddly enough, as soon as I laid eyes on that poor excuse for a picnic set I knew exactly what I wanted to do with it.
Door wreath!
Now, I know what you're thinking. What are the chances of me finding a plaid thermos bag, girly? Well, I'm here to tell you you can use a purse, a grocery tote, a bowling bag or just about any other bag shaped item you come across to do basically the same thing!
New, used, found in a barn, it doesn't matter.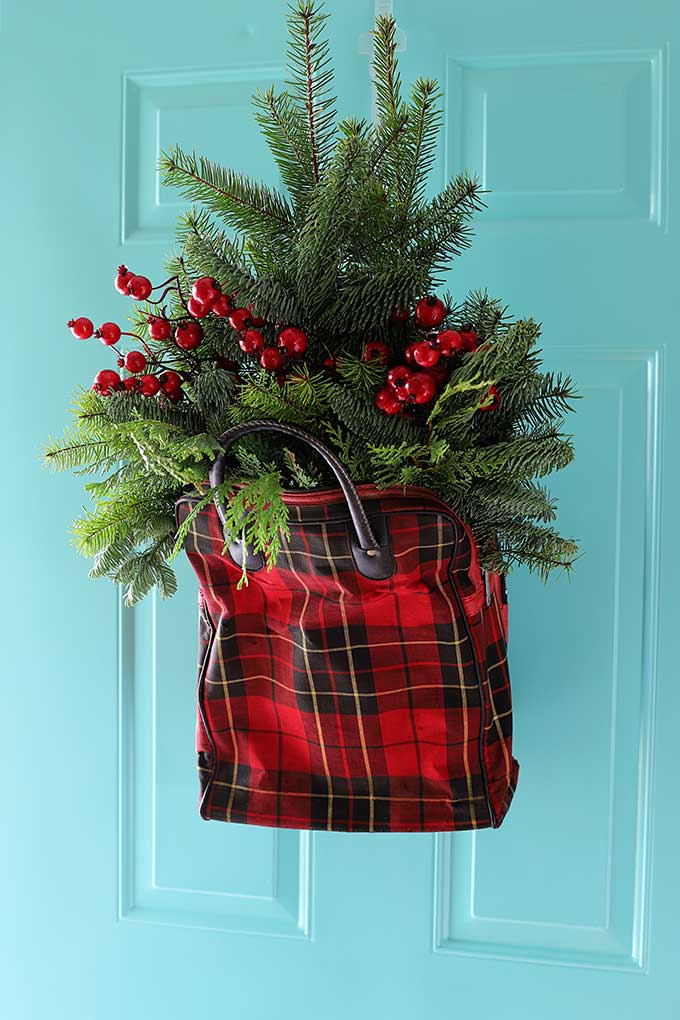 Repurposed Christmas Door Hanger Tutorial
(This post contains some affiliate links for your convenience. You can read my full disclosure policy here.)
Supplies:
Fresh Greens - I used 2 branches Noble Fir, 3 branches Douglas Fir and 3 branches Cedar
2-3 Festive picks - I used faux crabapple stems
Block of Wet Floral Foam
Cereal Storage Container or similar plastic container
Pruning Shears or strong scissors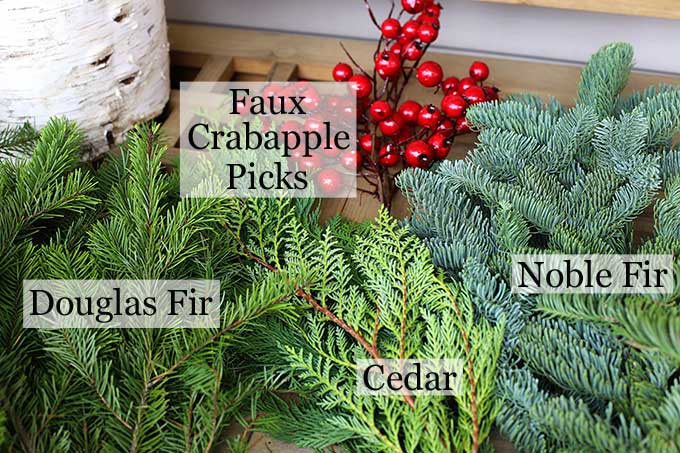 Instructions:
Thoroughly clean your bag/purse/tote/whatever. I figured you did not need to see a sink full of dirty water, so I'm skipping that photo.
Soak your floral foam in water and place it in the bottom of the cereal storage container.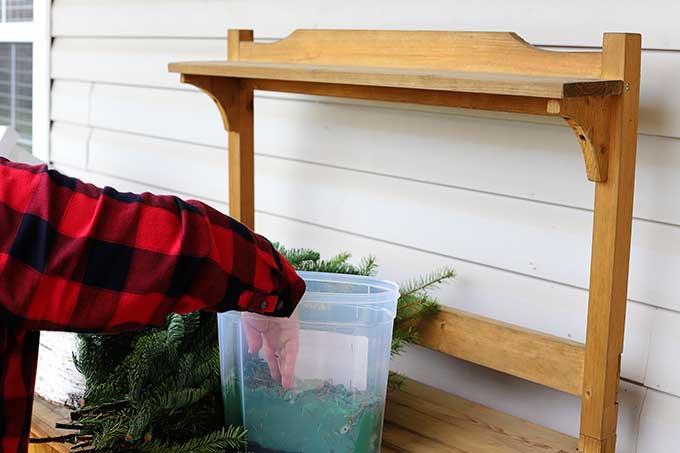 Make fresh cuts on your greens so they can absorb more water (sort of like cutting the end of your Christmas tree before putting it up).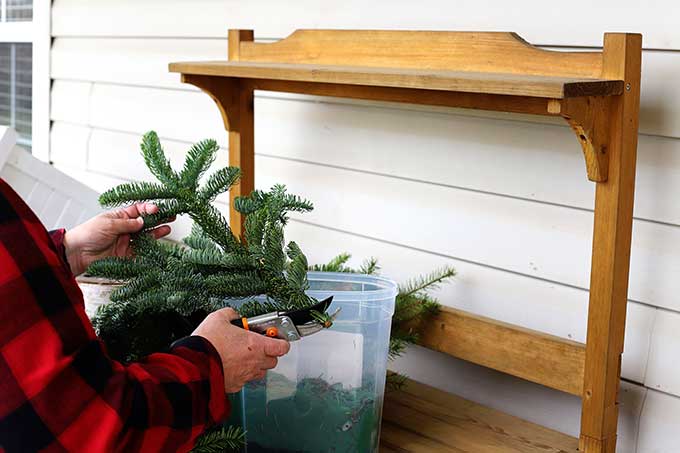 Place your greens in the container, pushing them down into the moist foam.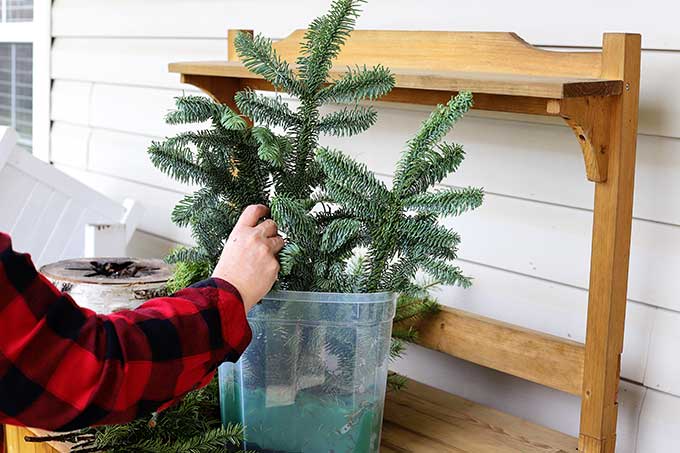 I like to place the sturdier Noble Fir in first, followed by the thinner stemmed Douglas Fir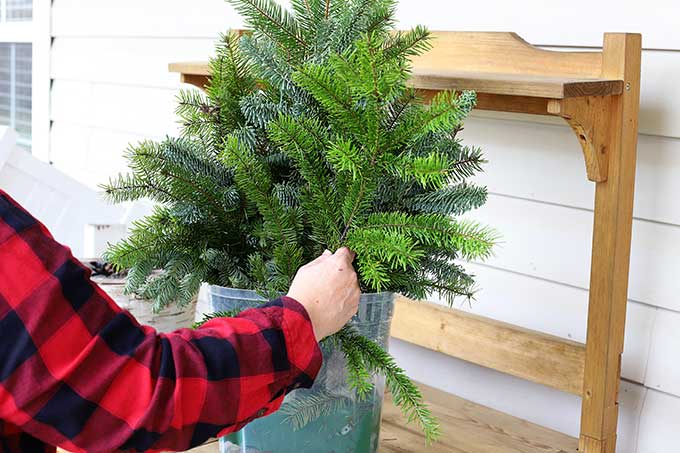 and then place the Cedar so it slightly drapes over the edge.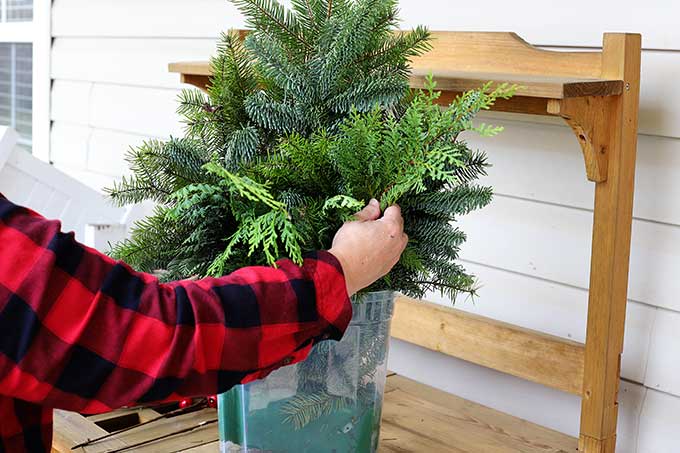 Lastly, place your artificial stems in the arrangement. No need to push them into the foam, the greens will hold them in place.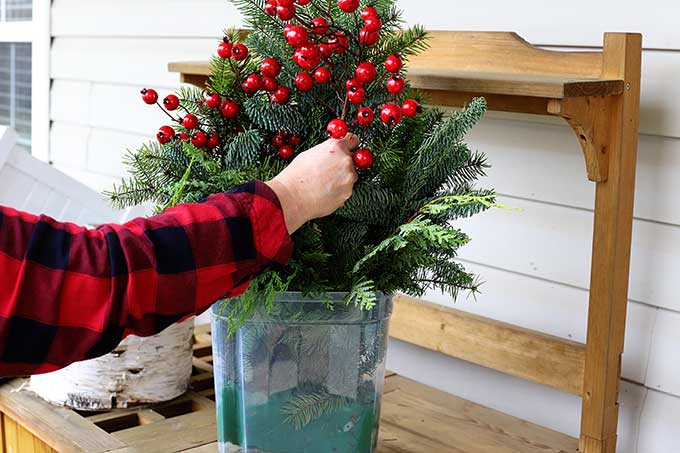 Once complete, slide your masterpiece into the bag, fluffing the greenery if needed.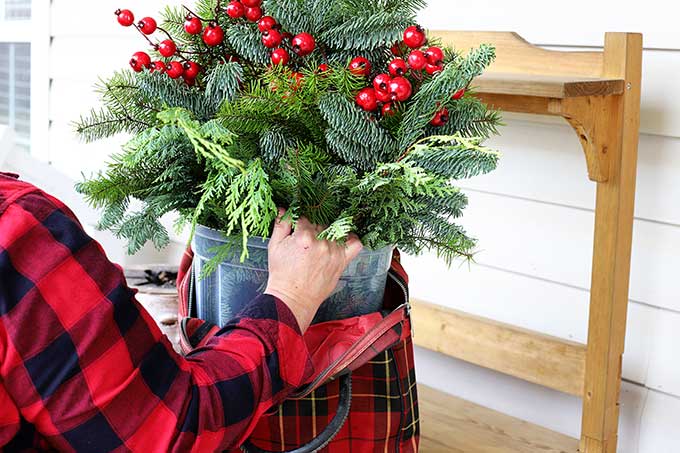 Hang your new door hanger on your front door and await glowing compliments from your friends and neighbors.
Oh, and I don't know if you've noticed this, but you don't even have to hang it on anything. This would look cute just setting out on your porch!
BTW, when I painted my door teal last year it was summertime and I was all about summer colors. Once fall and winter came around I was pretty sure I had made a major decorating mistake in choosing that color.
But you know what, it looks pretty festive next to my bright green and red "wreath"!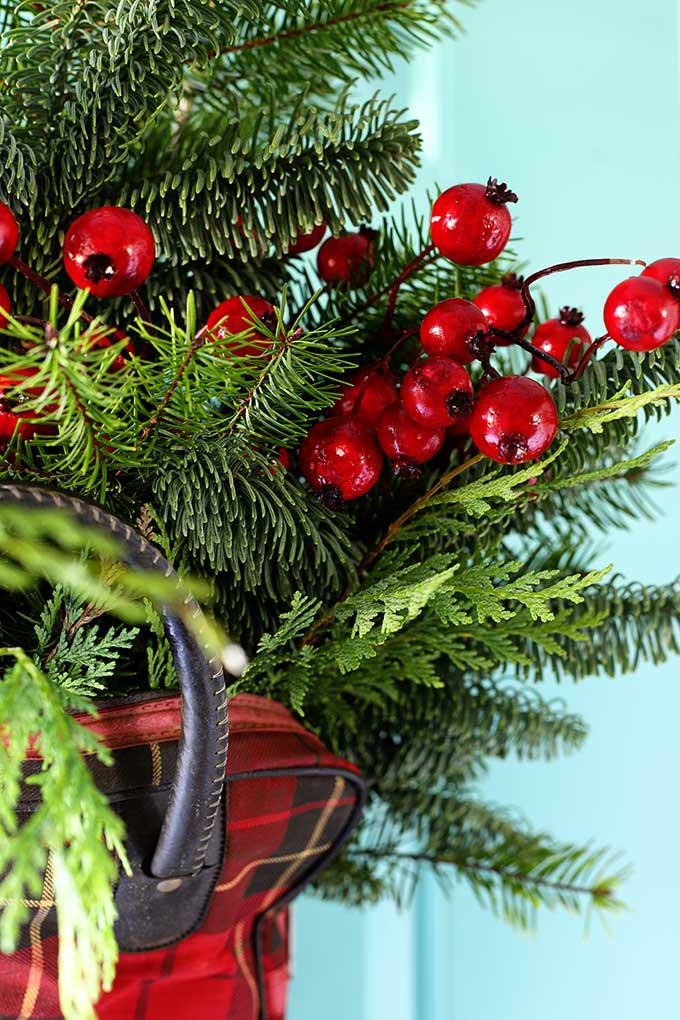 I think the teal is a keeper no matter the season.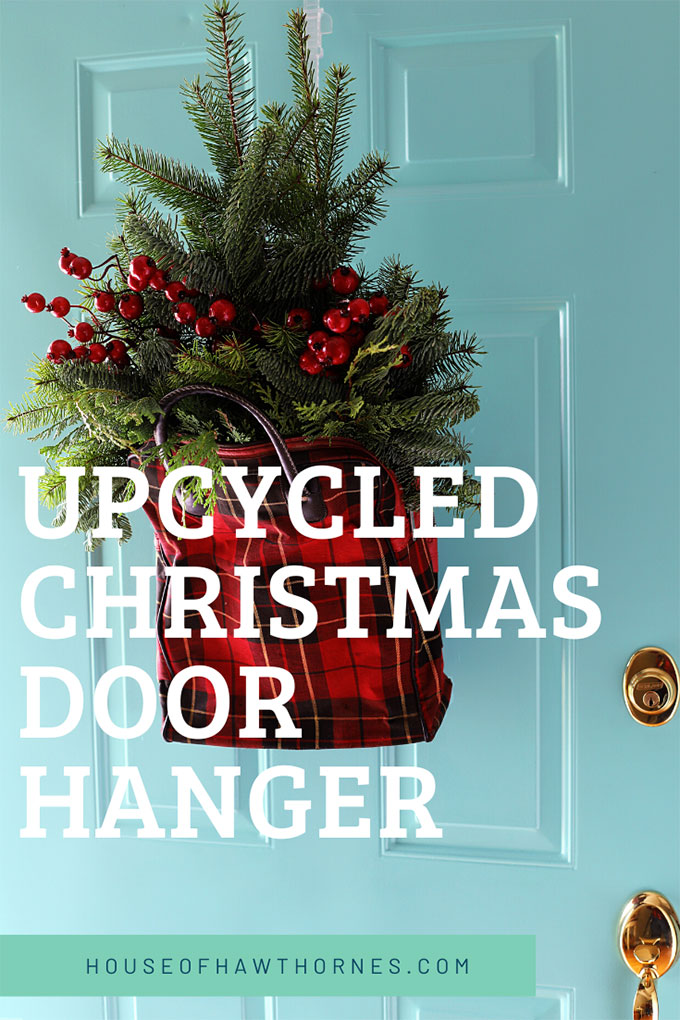 Other posts you may enjoy:
How To Make Winter Porch Pots
Christmas Porch Decorations
DIY Rustic Log Bird Feeder
100 Best Thrift Store Makeovers