That's me in that DIY snow globe there.
Just cross country skiing through life. Eyes forward, head up, not a care in the world. No idea I'm about to butt my head up against the glass.
Just in my own little world, waiting for someone to come along and shake it up a bit.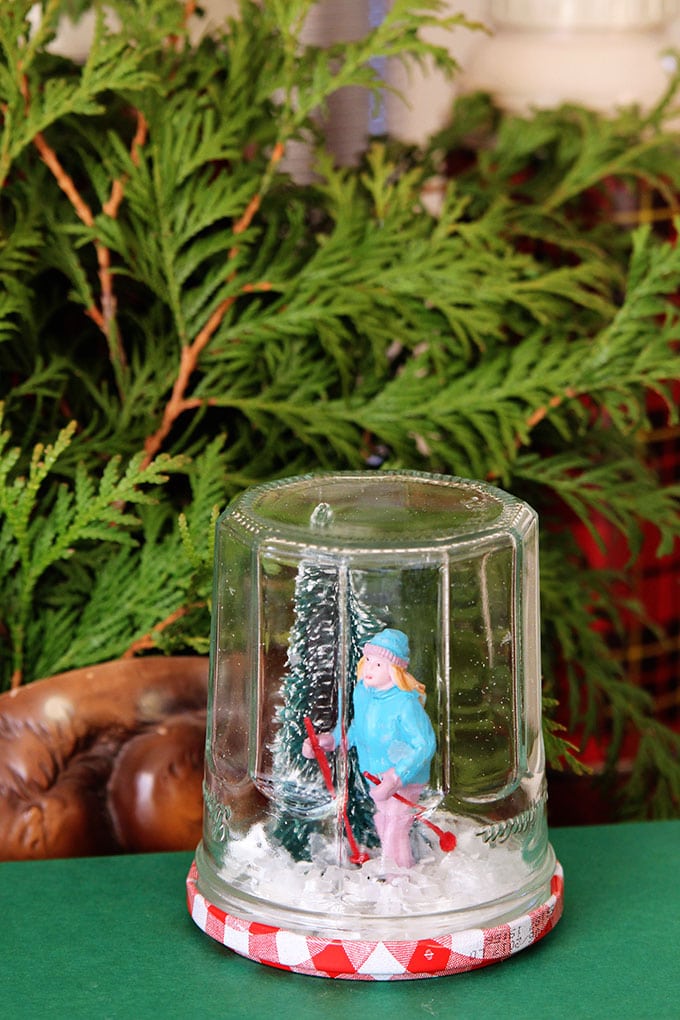 I do love a good snow globe though! But I don't like the water in them, because eventually the water leaks out or dries up and then you are out of luck.
No chance of that with my DIY snow globes, because THERE IS NO WATER!
(This post contains some affiliate links for your convenience. You can read my full disclosure policy here.)
DIY Snow Globe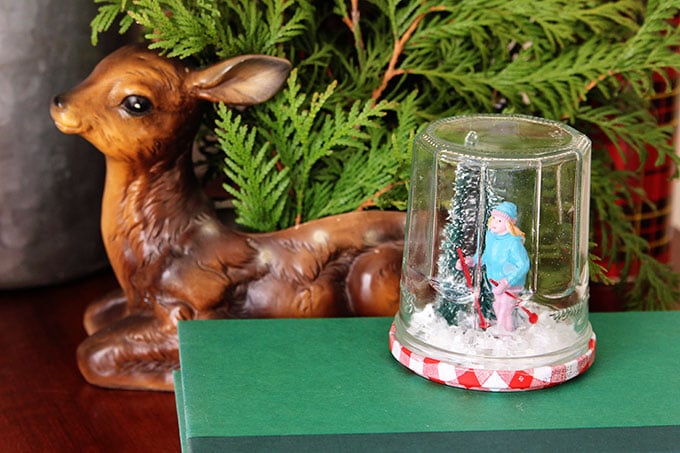 Supplies Needed:
Glass jar (jelly and pickle jars are good choices)
Fake snow flakes
Glue dots or hot glue gun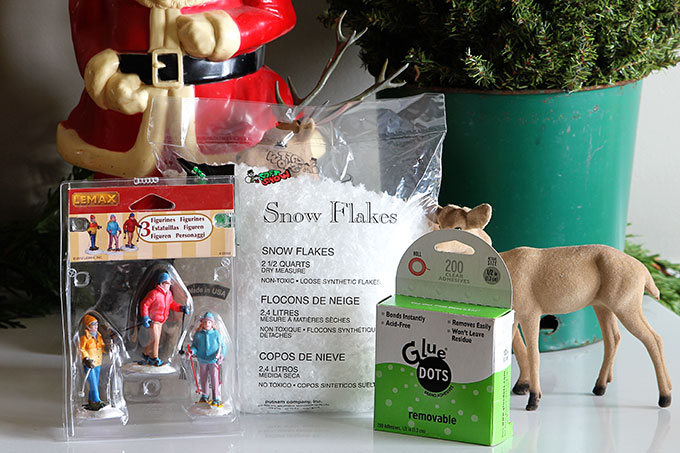 Instructions:
Find a super cute jar. Yes, not all jars are created equal.
I like the 13 oz Bonne Maman jelly jars for this, because they have festive red gingham lids and the sides of the jars are pretty much straight up and down.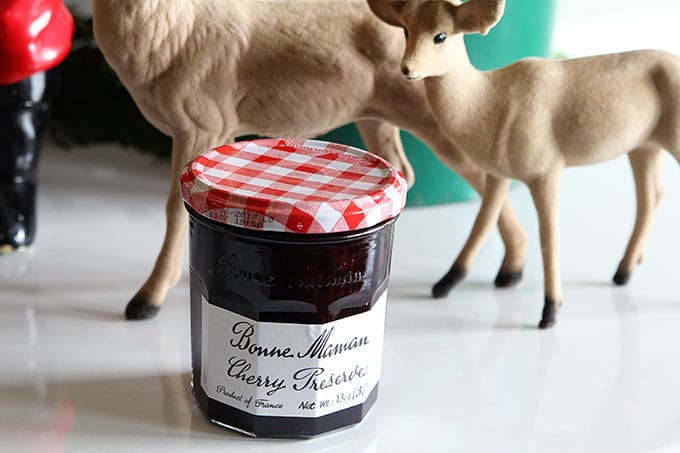 Smucker's has jars with gingham lids also, but the mouth isn't quite as large. And this is one time where having a big mouth is a good thing.
Move the jelly to another container, so you can eat it later and soak the jar to remove the label.
Dry jar thoroughly.
Put a couple teaspoons of fake snow flakes in the bottom of the jar.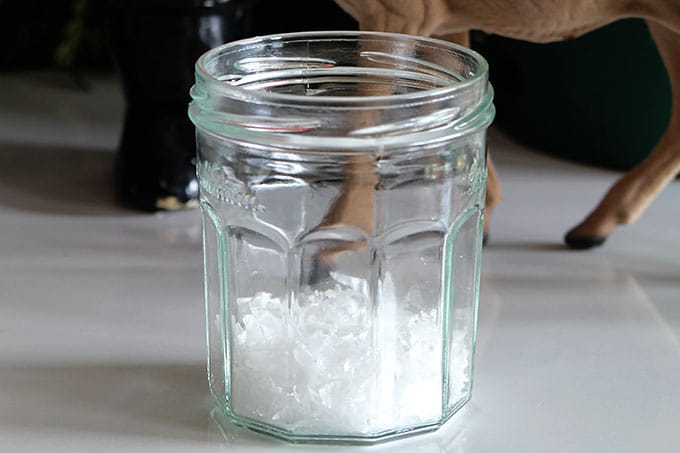 Glue your skier or whatever you choose to the lid.
You can either use glue dots or a hot glue gun. (Although I showed you glue dots in the photo, I ended up adding a bit of hot glue just to make sure it was stuck down good enough to make it through a few blizzards).
Screw the lid back on the jar, being careful not to let all the blood rush to the head of your skier.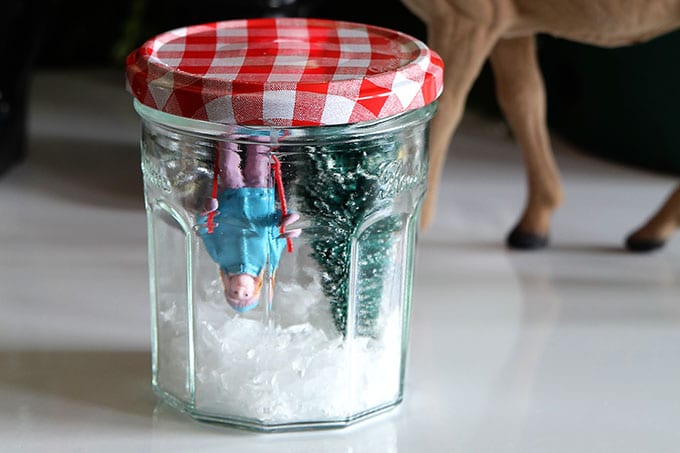 Turn the jar over and shake the "snow" down to the bottom.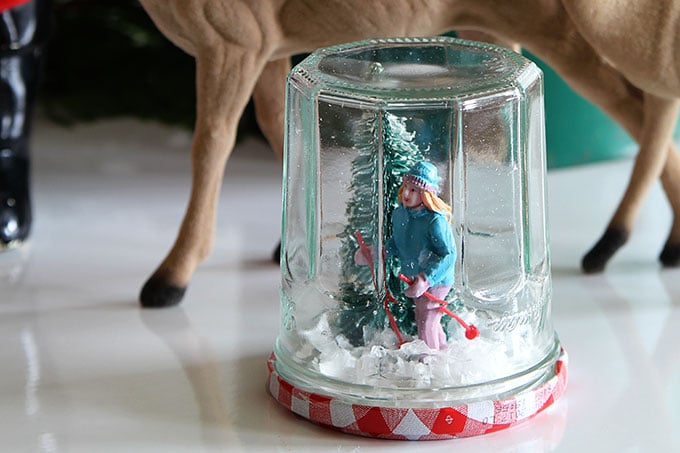 Done.
Now go back to baking Christmas cookies, drinking eggnog and wrapping my Christmas presents.