Vintage? Eclectic? Farmhouse? Whatever you call it, it makes for some fun and unexpected patriotic Fourth of July decor.
Call it vintage, call it eclectic, call it farmhouse.
Whatever you call it, it is 4th of July decor that is easy and simple and made from things I had setting around my house.
My number one rule in 4th of July decor is if it's RED, WHITE or BLUE it is fair game.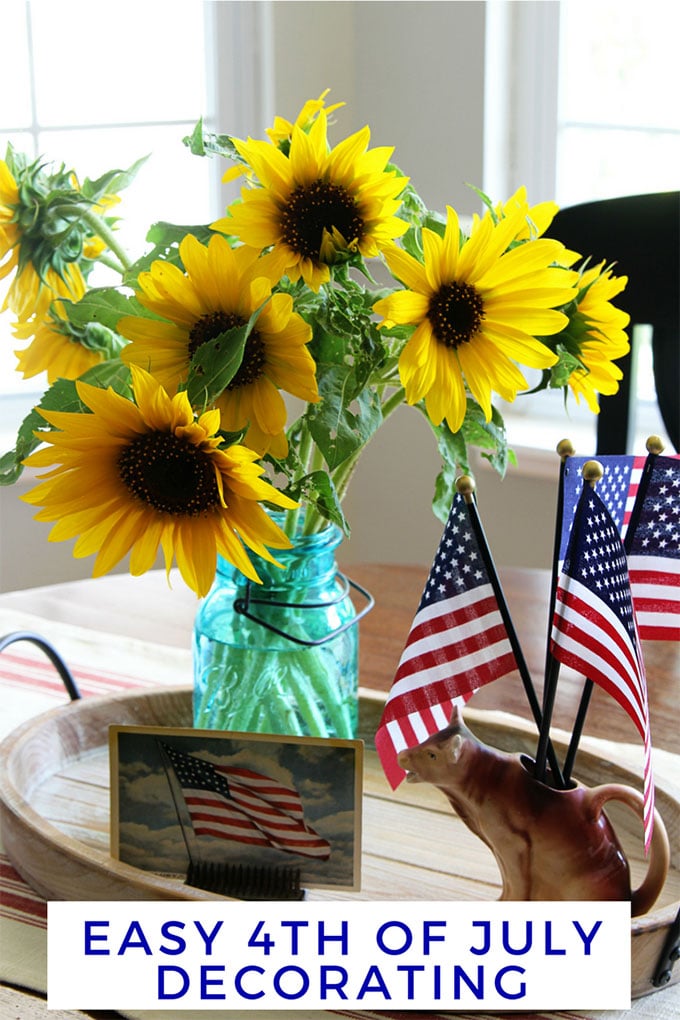 And if it's a FLAG, well then all the better.
And no need to stick with the obvious. Statue Of Liberty, Uncle Sam, bald eagles . . . yawn.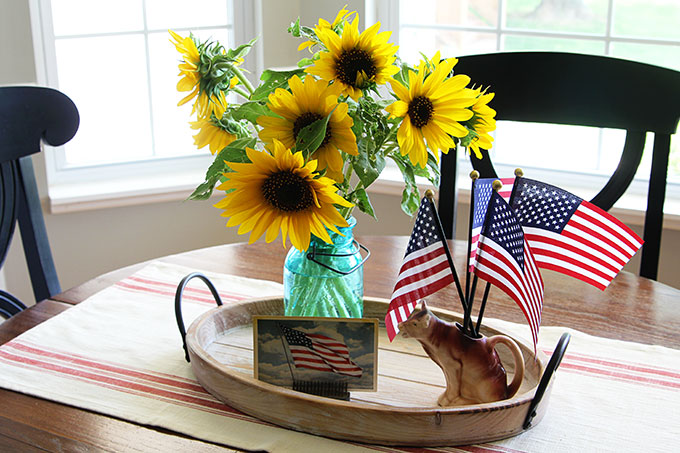 Let's get wild and let our red, white and blue freak flags fly.
On my dining table in the kitchen I made a sunflower, flag and cow centerpiece.
Look cows have been around since way before 1776, so they have earned their spot on the table.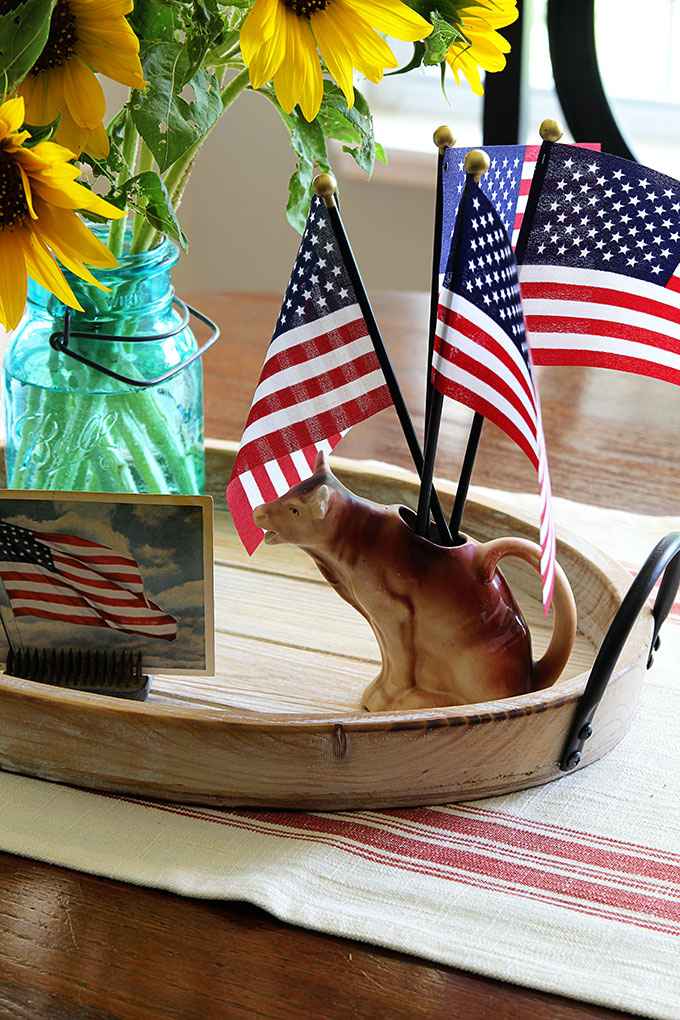 I'm not sure how he feels about the flags sticking out of his back though.
I've had the vintage patriotic postcard for years. I just put it in a flower frog to prop it up a bit.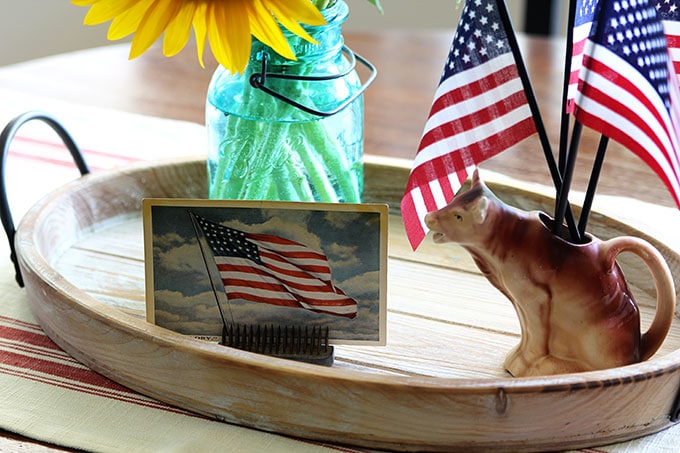 I love flower frogs, but wow, if you get one of those spikes from heck under your fingernail it's a PAIN!
Plopping these gorgeous sunflowers I bought at the local farmers market in a mason jar adds an instant burst of summer color.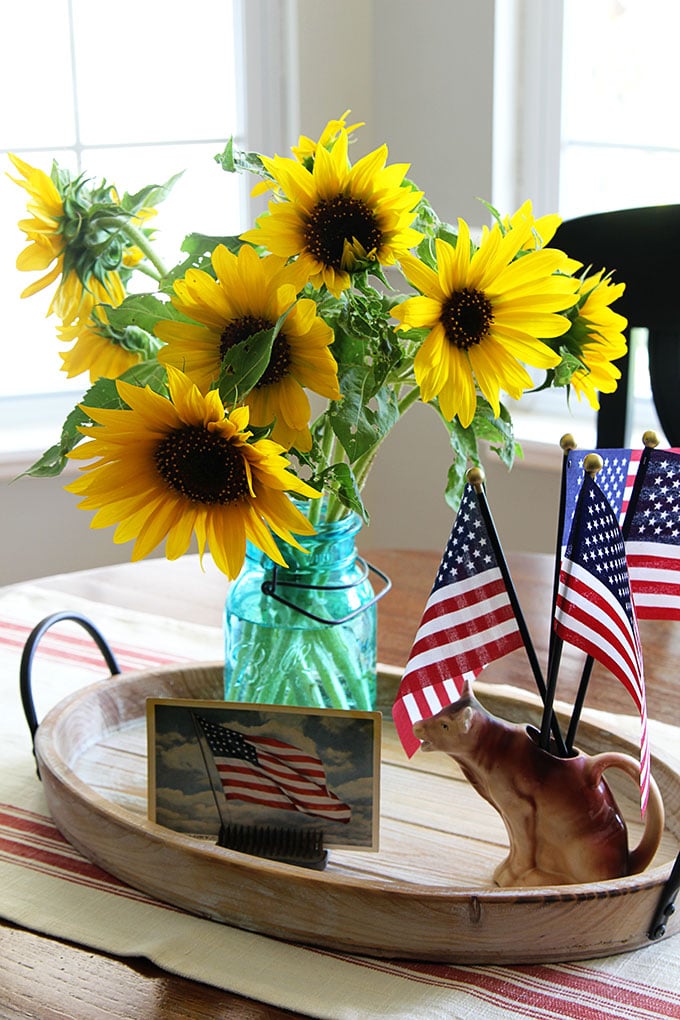 Keep in mind that sunflowers grown at the farm tend to be a little more worm eaten than their fancy cousins that come from the grocery stores.
I didn't want you to think I had been munching on the leaves myself.
On my turquoise dresser in the living room I carried on the sunflower/flag theme (light on the sunflowers this time).
I pulled out my DIY Nautical Patriotic Banner again this year. It's the banner that just keeps on giving.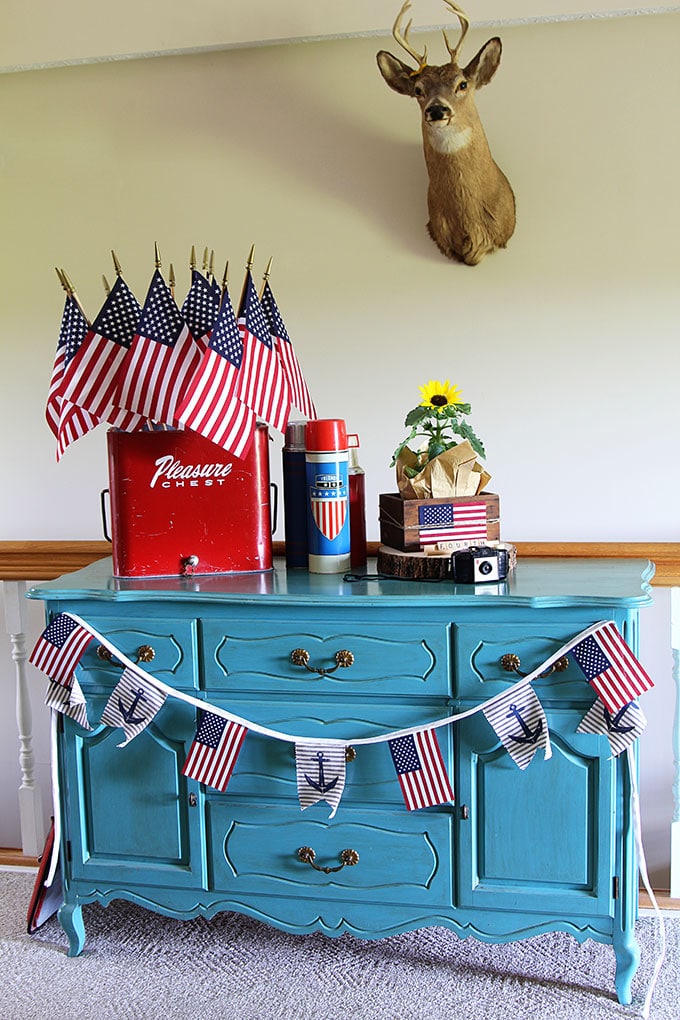 I put some flags in my Pleasure Chest, because flags pretty much = 4th Of July.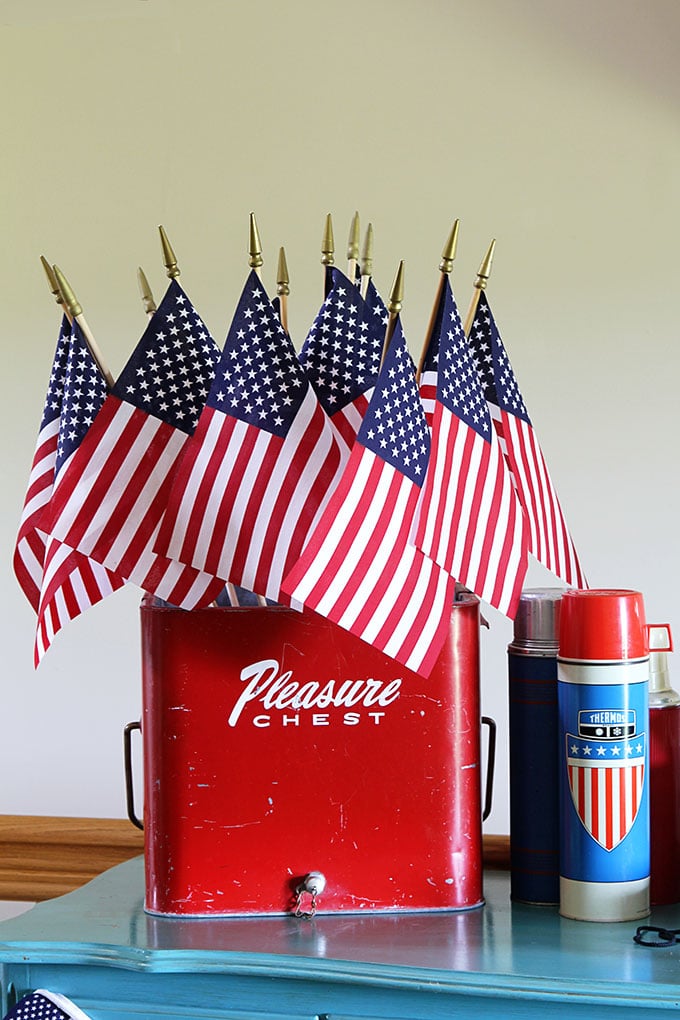 And a Pleasure Chest pretty much = boob jokes.
My niece gave me this patriotic Thermos for Christmas last year and it is PERFECT for a 4th of July vignette.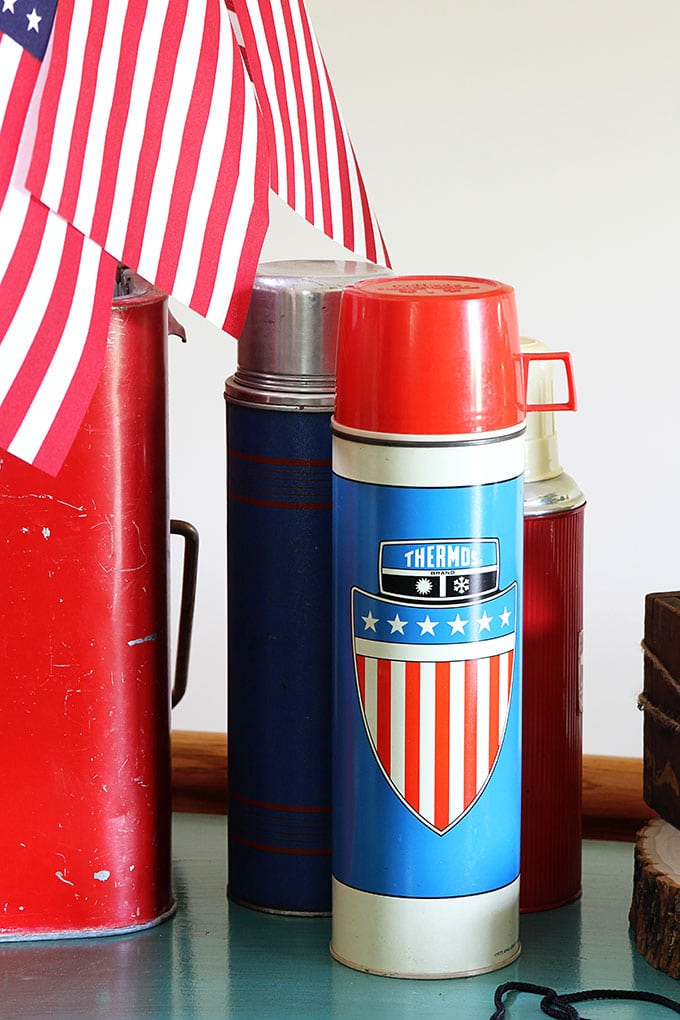 It says 1975 on the bottom of it, so it may have been made for the Bicentennial in '76???
I just wrapped some twine around this wooden box to hold the flag in place (it's one of those cheap little flags on a stick that I took off the stick).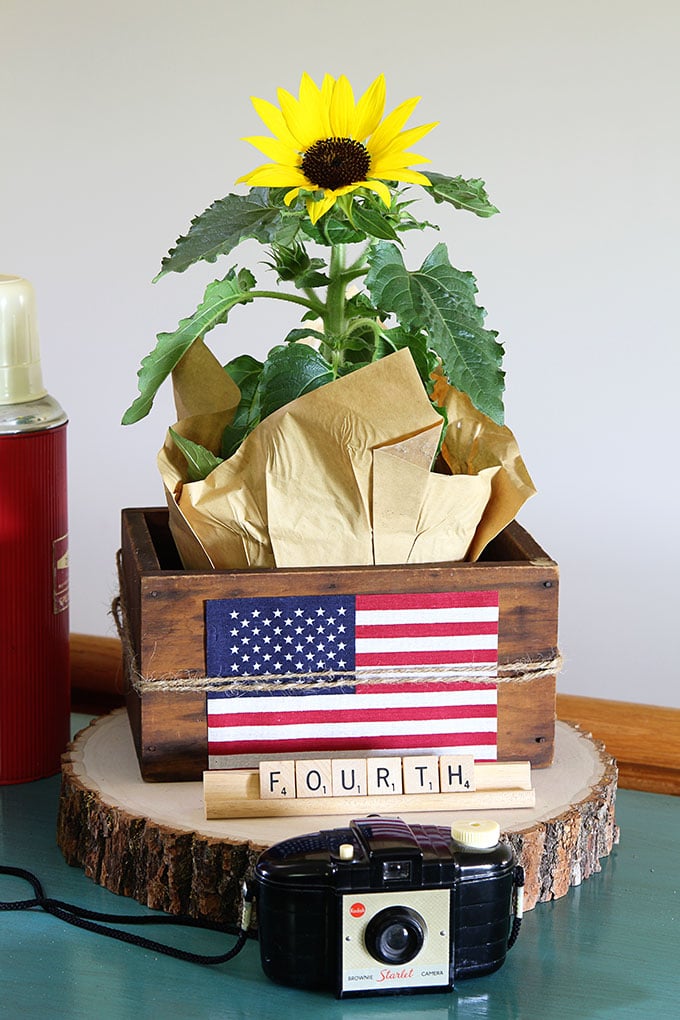 A vintage camera, some Scrabble tiles and a sad (happy?) little sunflower plant round out the vignette.
I'm not sure if Scrabble tiles are so 2015, but I'm still spelling out weird things with them every now and then. Long live the Scrabble tile!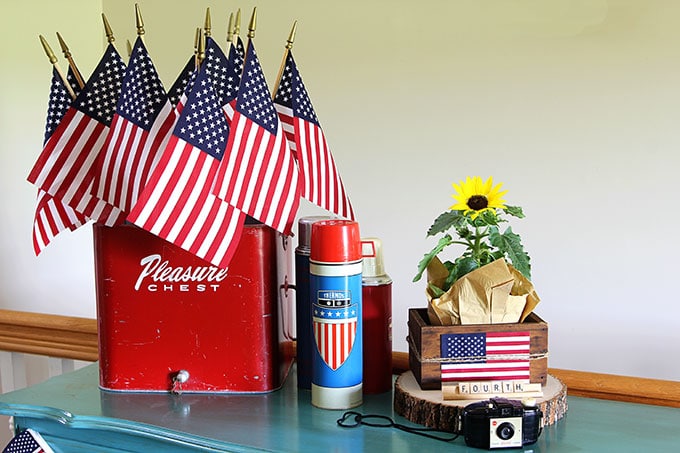 BTW, do you ever wonder what Betsy Ross and George Washington would think of all the weird ways we display and depict American flags nowadays?
They're either rolling over in their graves or high-fiving each other.
I'm going to go with high-fiving, because it's less disturbing than grave rolling.
OK, that took a weird turn.
Are you all decorated for the holiday yet? Or do you skip this one?
For more patriotic decor and DIY projects:
Retro Picnic Supplies For Your Fourth Of July Barbecue
4th Of July Vintage Postcard Printables