I whipped up this nautical patriotic banner Sunday morning on a whim. I've been wanting to add something patriotic to that sailboat shelf that I showed you in my Sailing Away Into Summer post the other day, but thought it might get too busy with something else on top of the croquet box, so I opted for something hanging below it.
Don't you hate when you're not sure how to decorate your croquet box?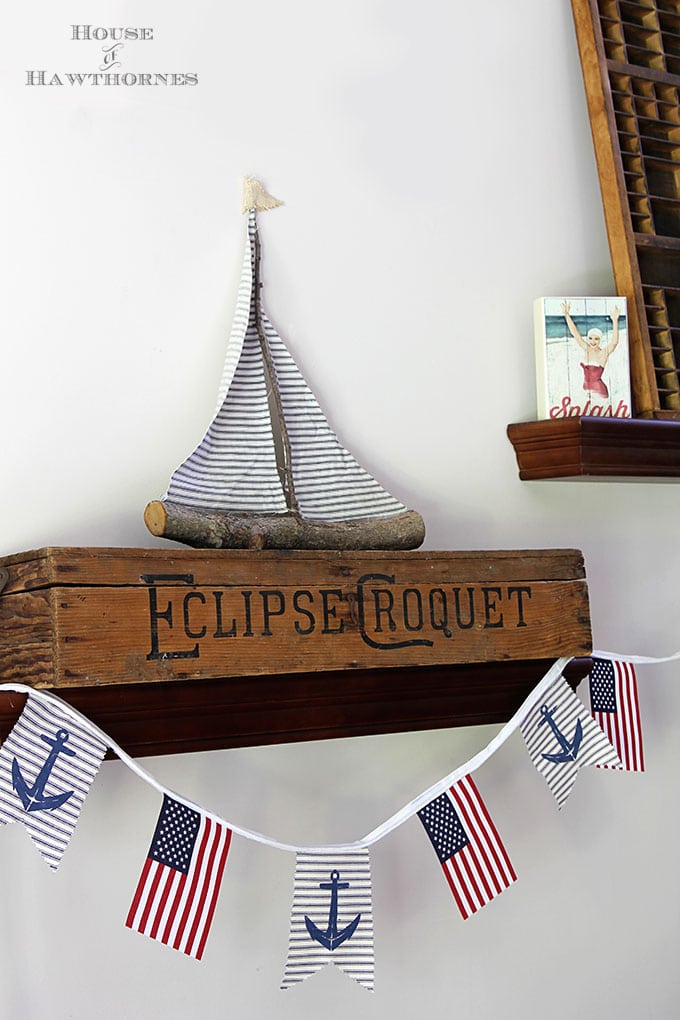 I wasn't going to bother showing a "how-to" thingie on it, because it's pretty self explanatory. But after asking some people on facebook if it was too simple to bother showing a tutorial for, I decided to show you the steps.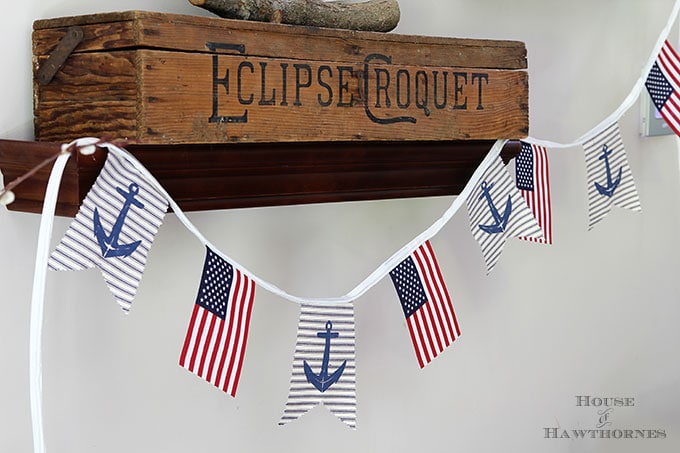 It appears that simple is the new black.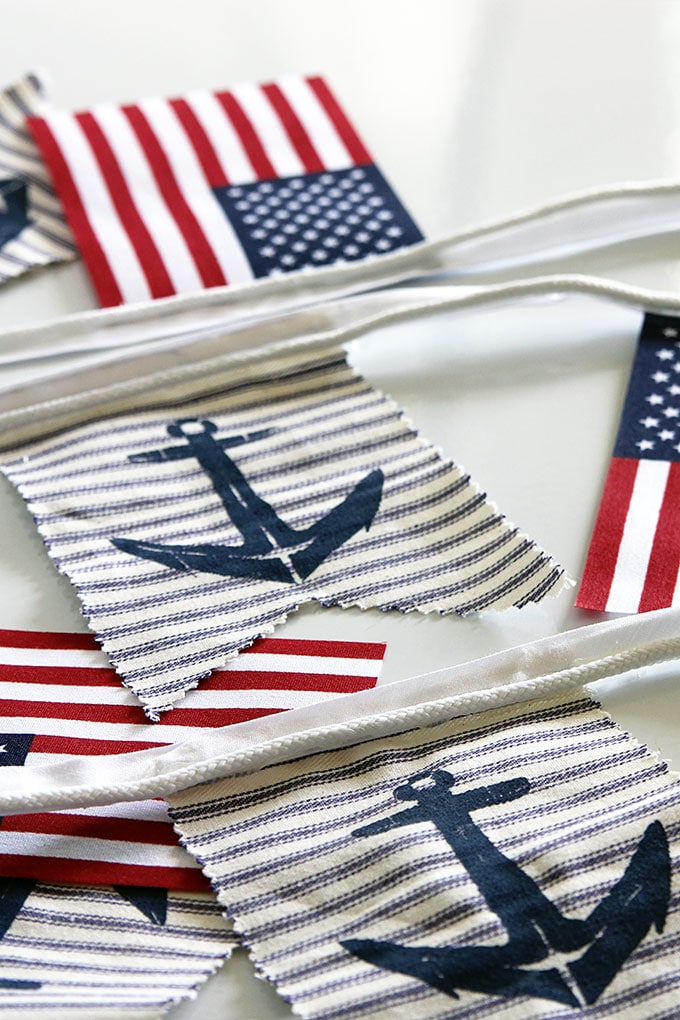 Ok, on to the tutorial.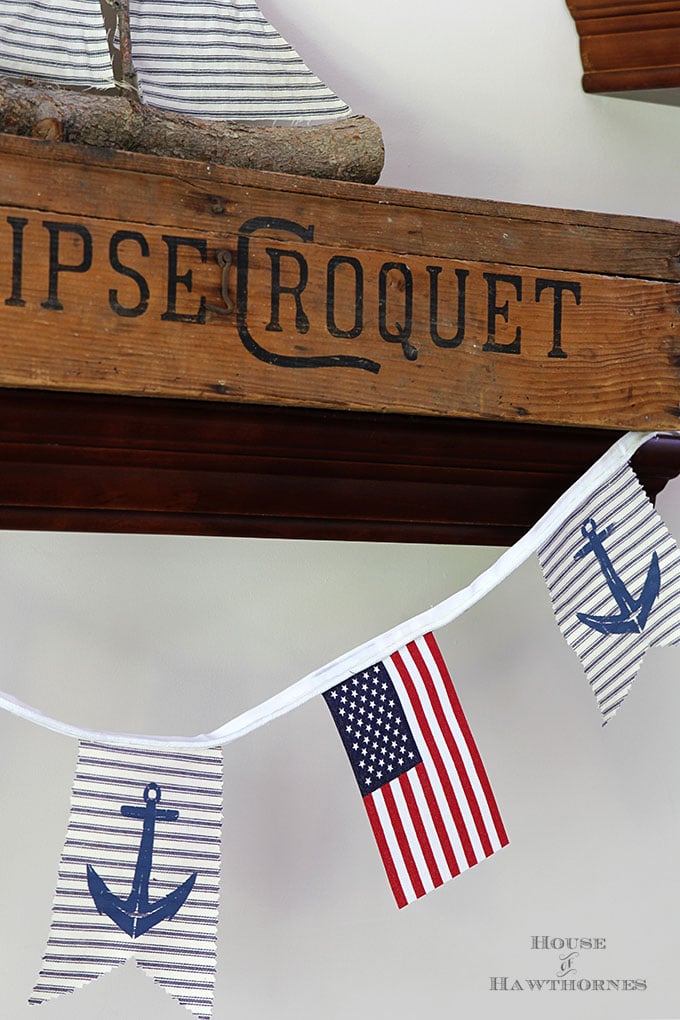 DIY Nautical Patriotic Banner
SUPPLIES NEEDED:
¼ yard Blue and white ticking - found in the utility fabrics area
4 Mini flags (4" x 6 ¼")
Blue craft paint - I used Americana brand's Uniform Blue
Foam stencil "brush" (you could use a regular foam brush if you want)
1 pack of Extra Wide Double Fold Bias Tape (3 yards, .5" wide)
An anchor stencil - I used Plaid's Folk Art Home Decor stencil
Hot glue gun
Optional:
Pinking shears if you want to get all fancy with your cutting
White clothesline rope
Skill Level Required:
Ability to use scissors, dip a brush in paint and safely hold a hot glue gun (that one is trickier than you would think)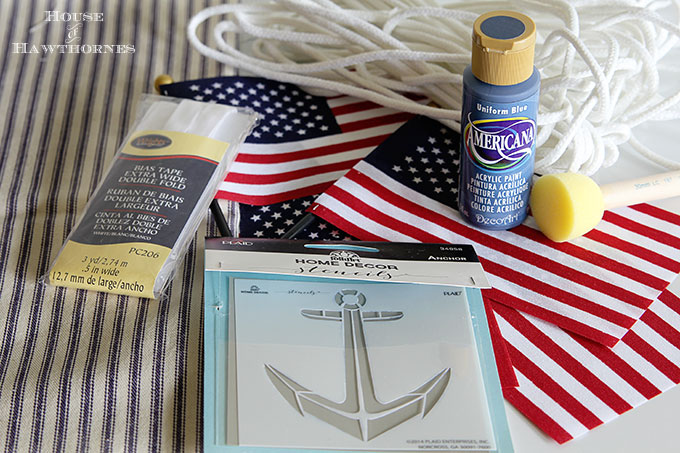 I removed my flags from the sticks (they were held on with teeny tiny little staples). I don't recommend using a razor blade utility knife to pry them out. Unless you think your fingers are too long. A fork prong should work.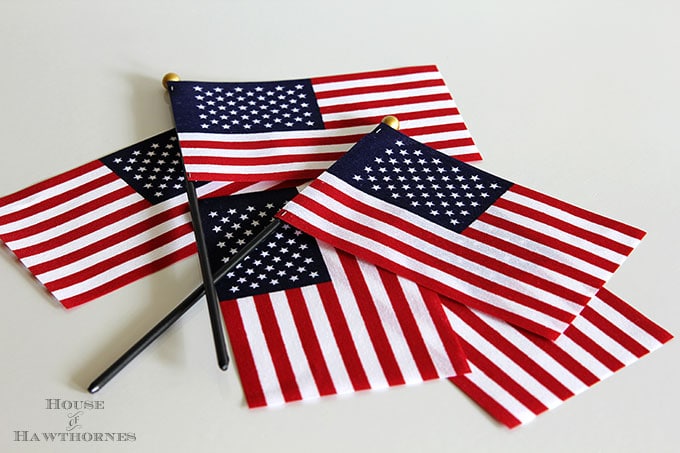 I made a template for my ticking banners so they would be uniform by cutting a big 4" wide and 6 ½" long rectangle out of a file folder. Then I just folded it half lengthwise and cut out my notchy part for the middle.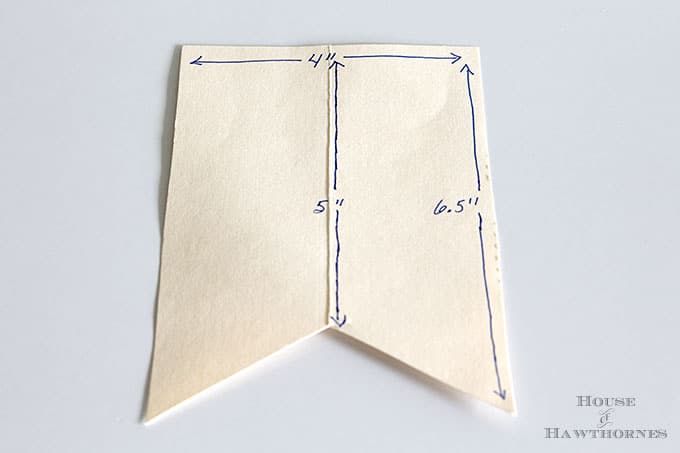 I laid my template on the ticking and cut out 5 of my banner parts.
My banner has five banners and 4 flags so that it would start and end on a banner part. There is extra bias tape on each end, so you could easily get another flag on each end if you wanted to.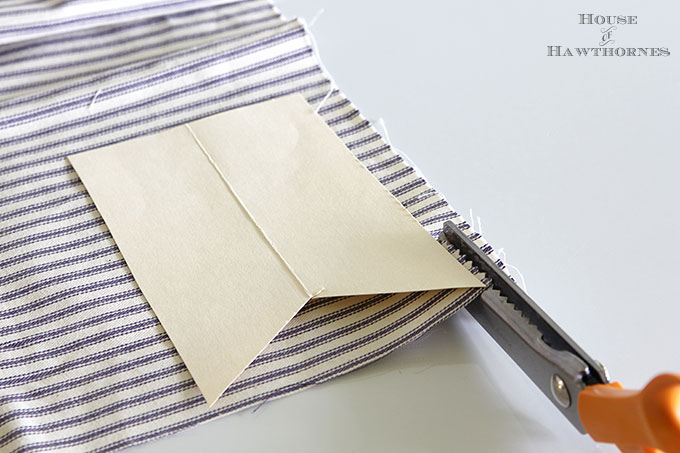 I then took my stencil and the blue craft paint and stenciled my anchors on the ticking.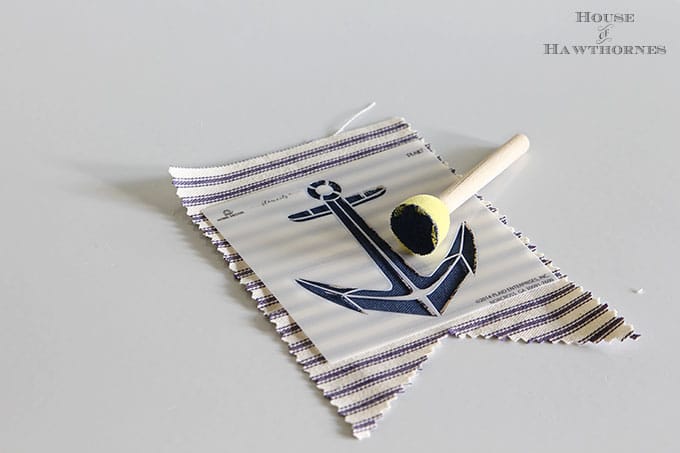 I ironed the bias tape to get rid of the folds caused by being wound around the cardboard card and laid it out on the counter to eyeball where I wanted my flags and banners to be placed. With my casual eyeballing, I figured it would look good with a 4" spacing between each flag/banner.
Then I fired up my hot glue gun (I call him Bernie), opened up the fold for the bias tape and slid in the flags/banners. I then ran a bead of hot glue across the tops of the flags/banners and pressed the tape shut.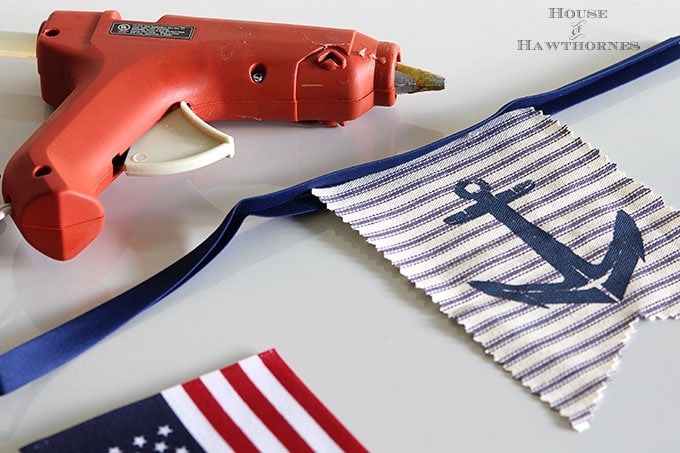 You can glue all along the entire bias tape, but because Bernie and I have a contentious relationship I just glued where the flags and banners were inserted. The less molten hot glue I come in contact with, the better.
This is totally optional, but if you still have fingertips left you can take clothesline or other small roping and glue it to the top of the banner as an added embellishment.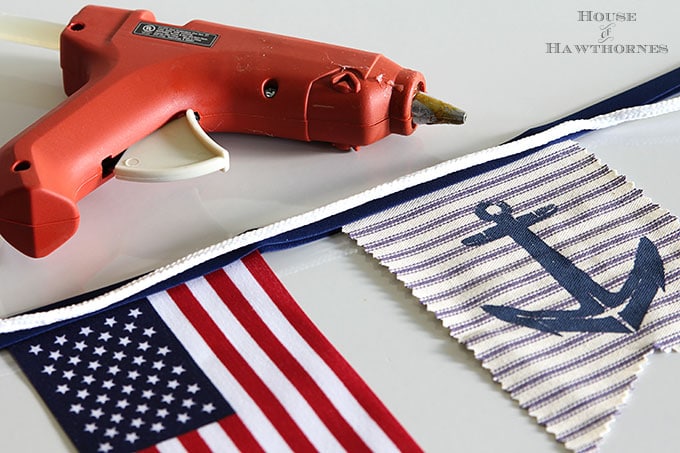 BTW, I recreated this whole tutorial for you AFTER the fact, so the bias tape used in these photos is blue, when I actually used white for my real one. Blogger magic.
Wait a few minutes for all your glue to dry and your'e good to go.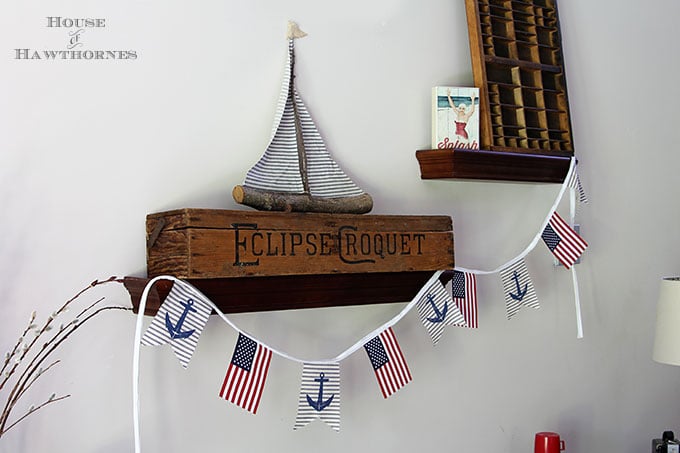 Other posts that might get your patriotic juices flowing:
Come Sail Away (the tutorial on how I made that twig sailboat)
Last Minute 4th Of July Dessert Ideas