You might remember, I had decided to take all the china and glassware out of my corner cupboard in my dining room last Christmas and use the cabinet for seasonal decor instead.
Best decision EVER!
We hardly ever use the dining room. Like maybe possibly 2 times a year.
But since I converted a corner of the dining room into my office a few years ago, I sit in there every single day writing my blog and doom-scrolling on Facebook and Twitter.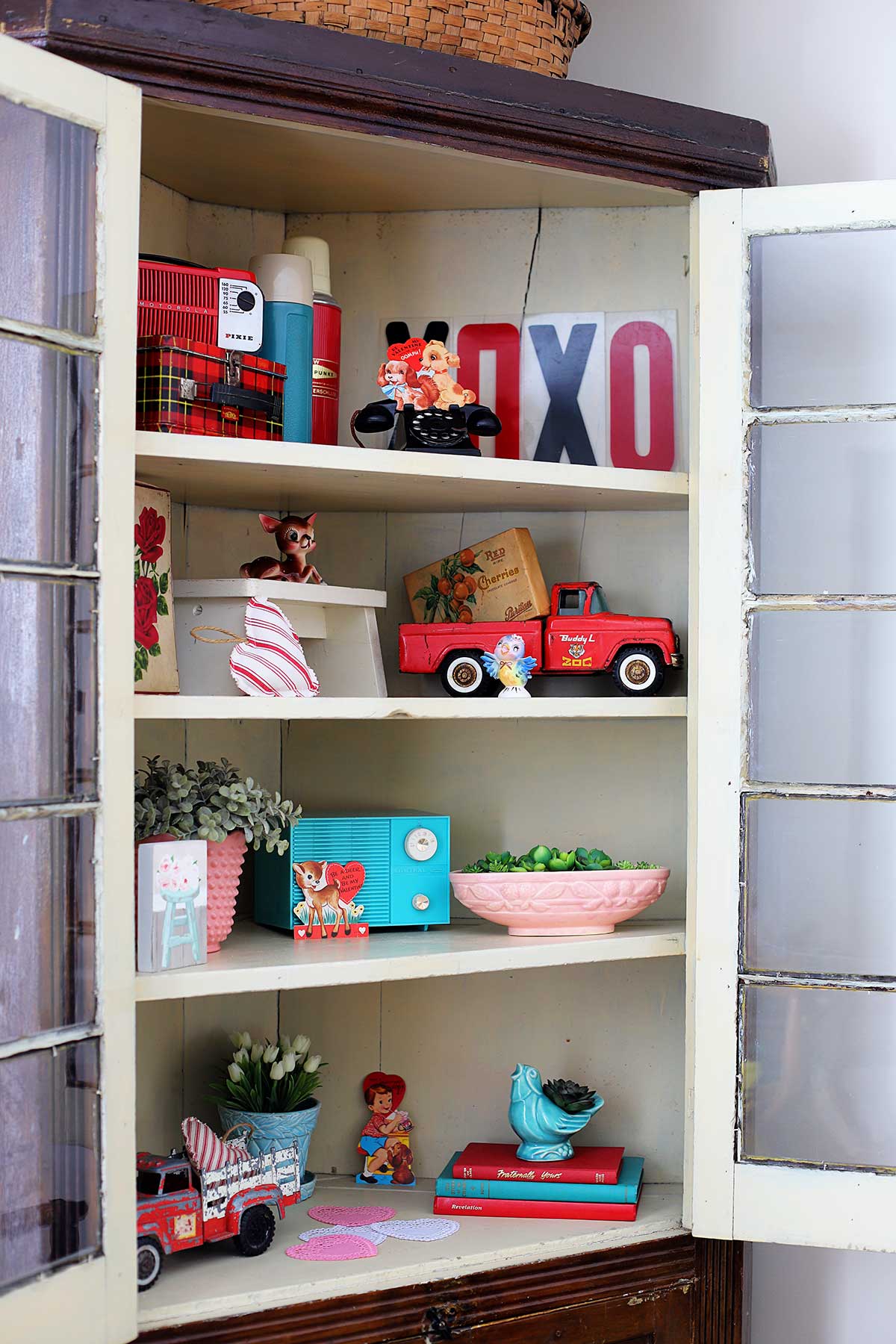 So I was spending a lot of time staring at a cabinet full of china while I was working. It's much prettier to stare at some vintage goodies instead.
It's a cabinet that I remember fondly from my grandmother's house. She used to have all sorts of trinkets and toys in it for the grandkids. Then it later went to my mom's house and even later came to live at mine.
This year for Valentine's Day I decided to decorate it up again.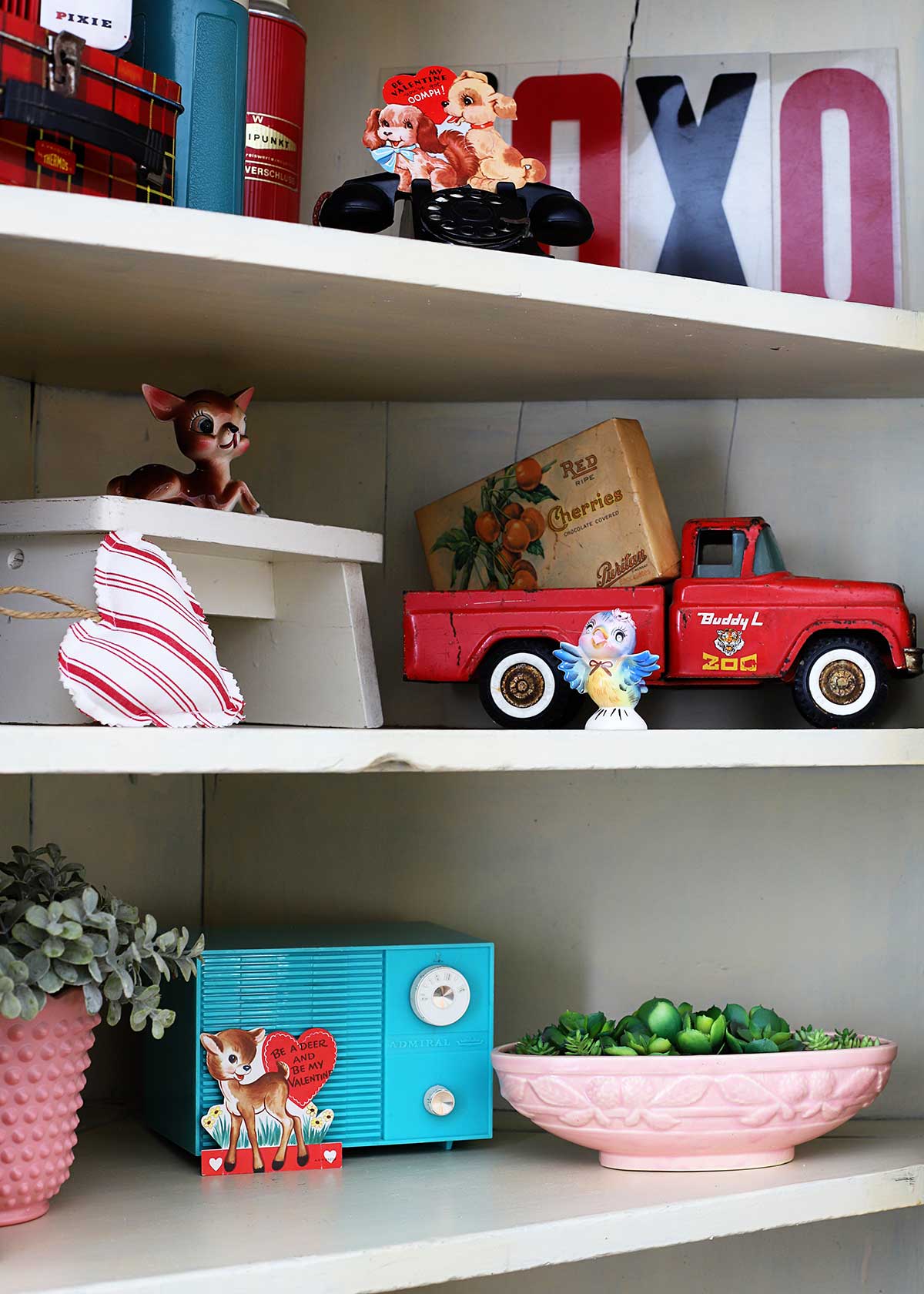 I tried to not make it too cutesy, but then my inner-child took over and it ended up being pretty darn cutesy.
In my mind Valentine's Day is for kids more than adults anyhow.
I started out with some pastel colored pottery.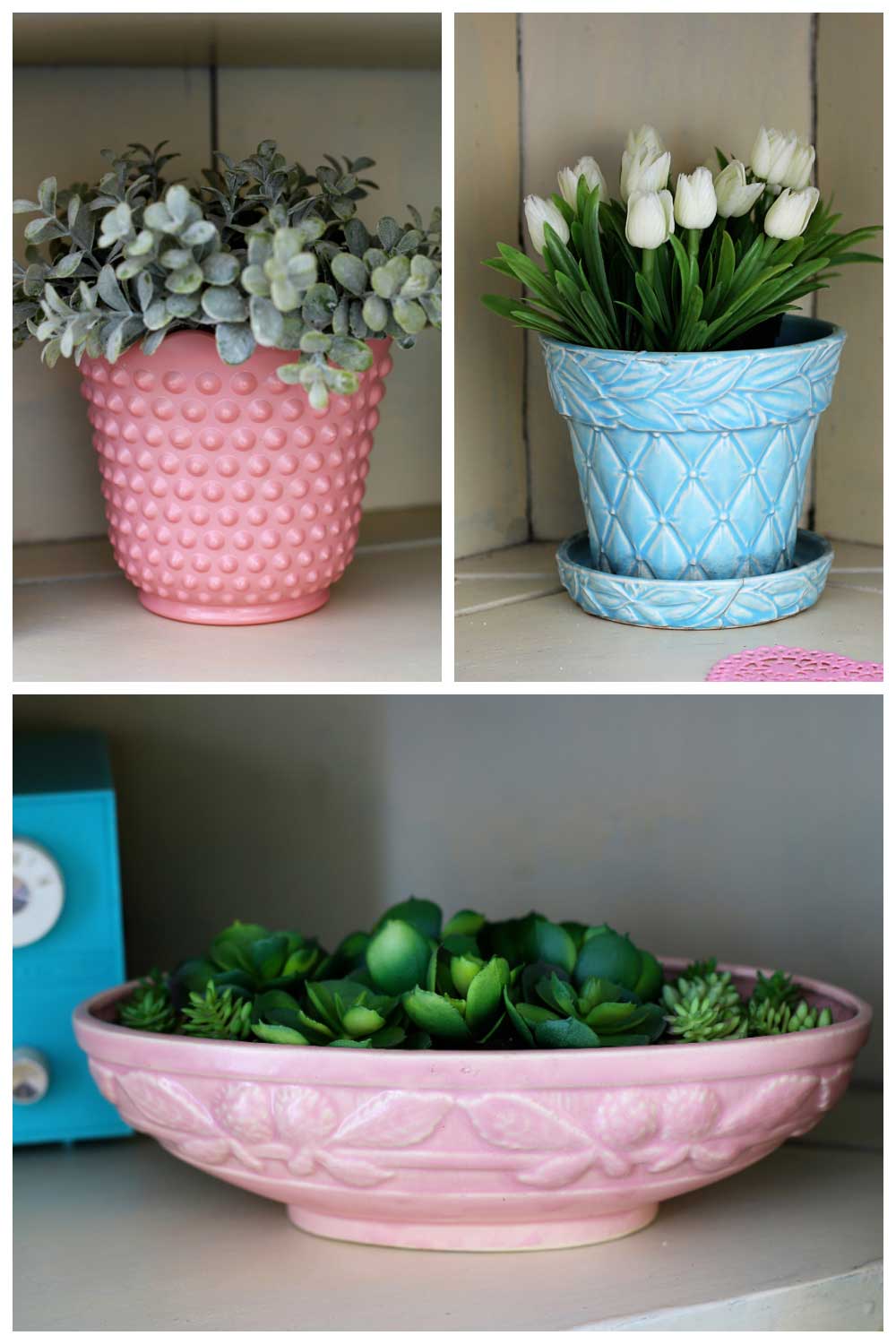 Top Left - pink Anchor Hocking Fire-King hobnail planter (the hobnail pattern is almost always seen in white)
Top Right - blue quilted McCoy planter (I've also seen this called a diamond pattern)
Bottom - pink oblong McCoy planter - not sure of the design name (Berries? Pinecones? Thistles? Some fictional plants the factory workers made up to play with us?)
Added a vintage blue Admiral radio a reader sent me.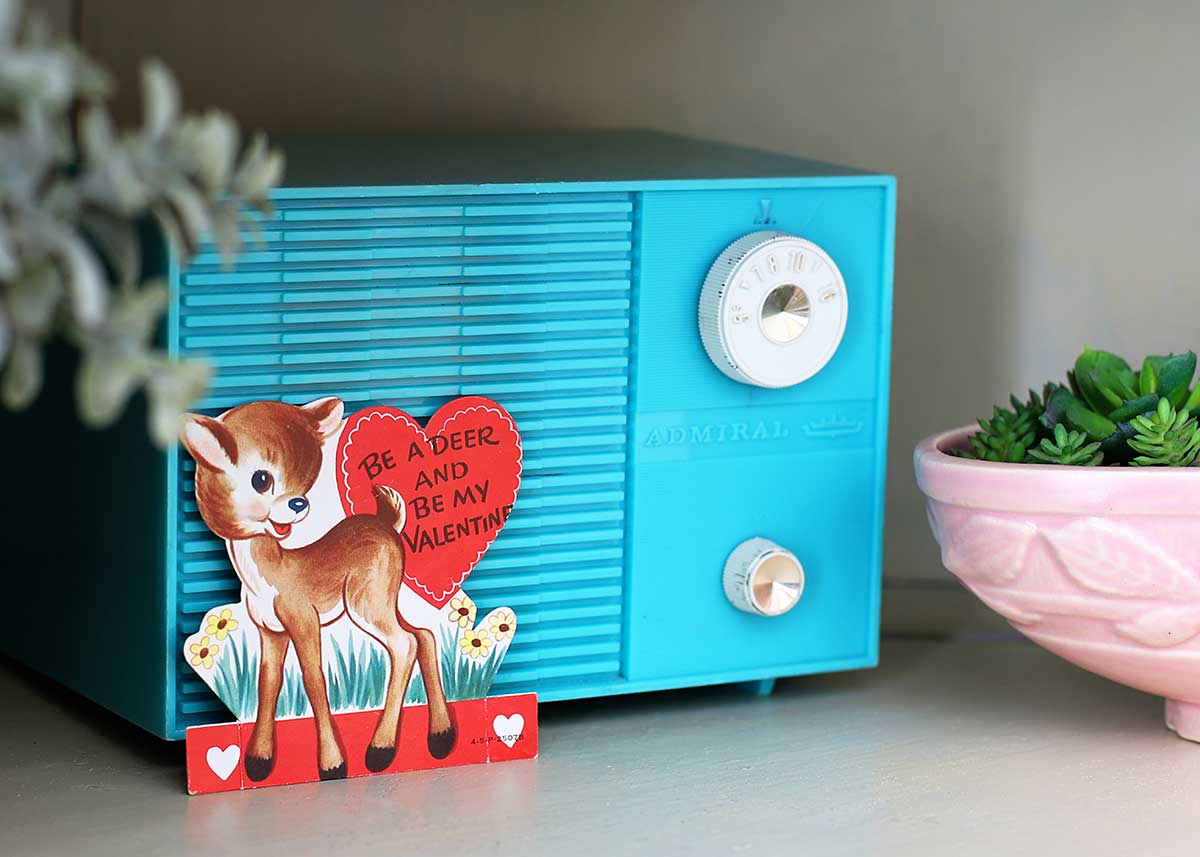 And a couple red trucks.
Red trucks are not only for Christmas, but are for Valentine's Day around here.
My Buddy L Zoo truck carries a chocolate covered cherries box. Oddly enough it probably hasn't had chocolates in it for 50 years, but it still smells strongly of chocolate.
Not sure if it's advisable to sniff old chocolate though.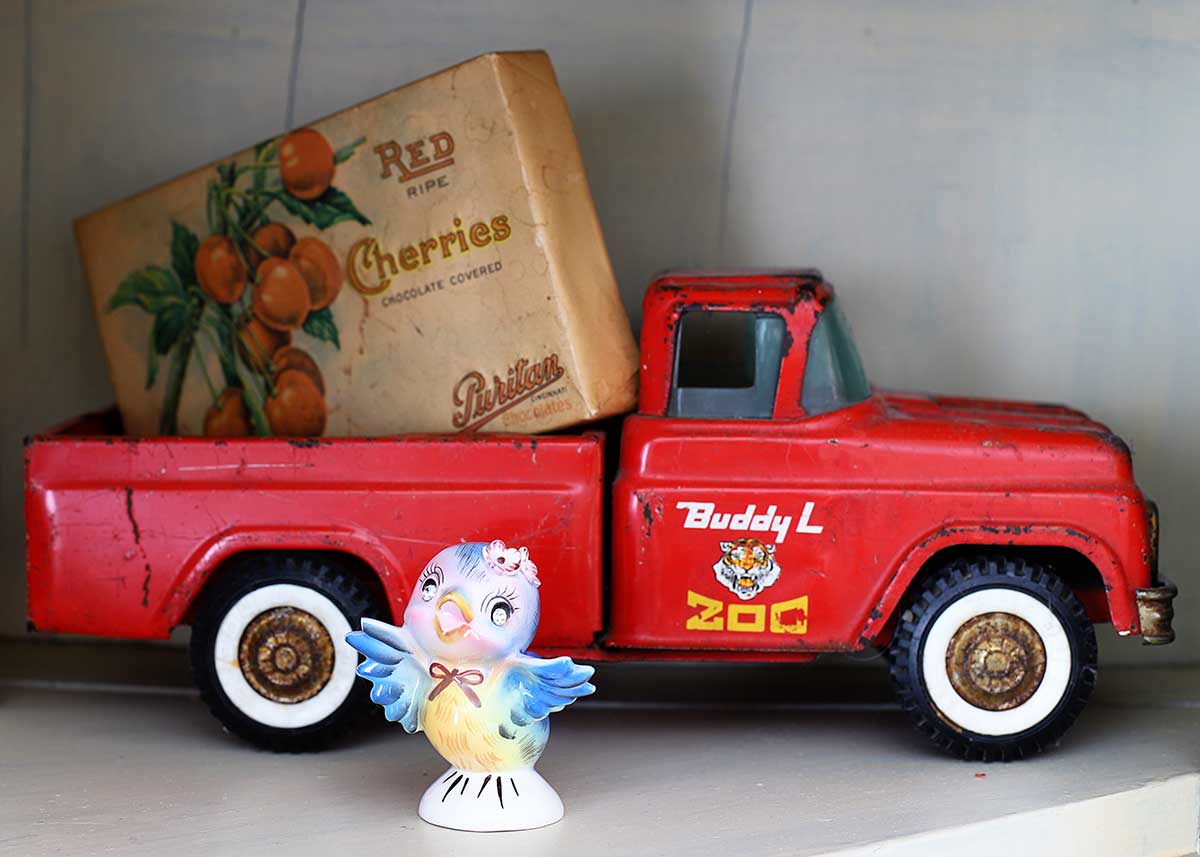 My kitschy anthropomorphic bluebird with rhinestone eyeballs flew into the photo. Before you run off to Google, anthropomorphic just means an animal or plant that has human characteristics (eyelashes, bowtie).
This red truck was found at a local vintage store. It's had a hard, hard life, but I really liked the chippiness of it.
I just tossed a heart shaped hanging thingie into the truck bed.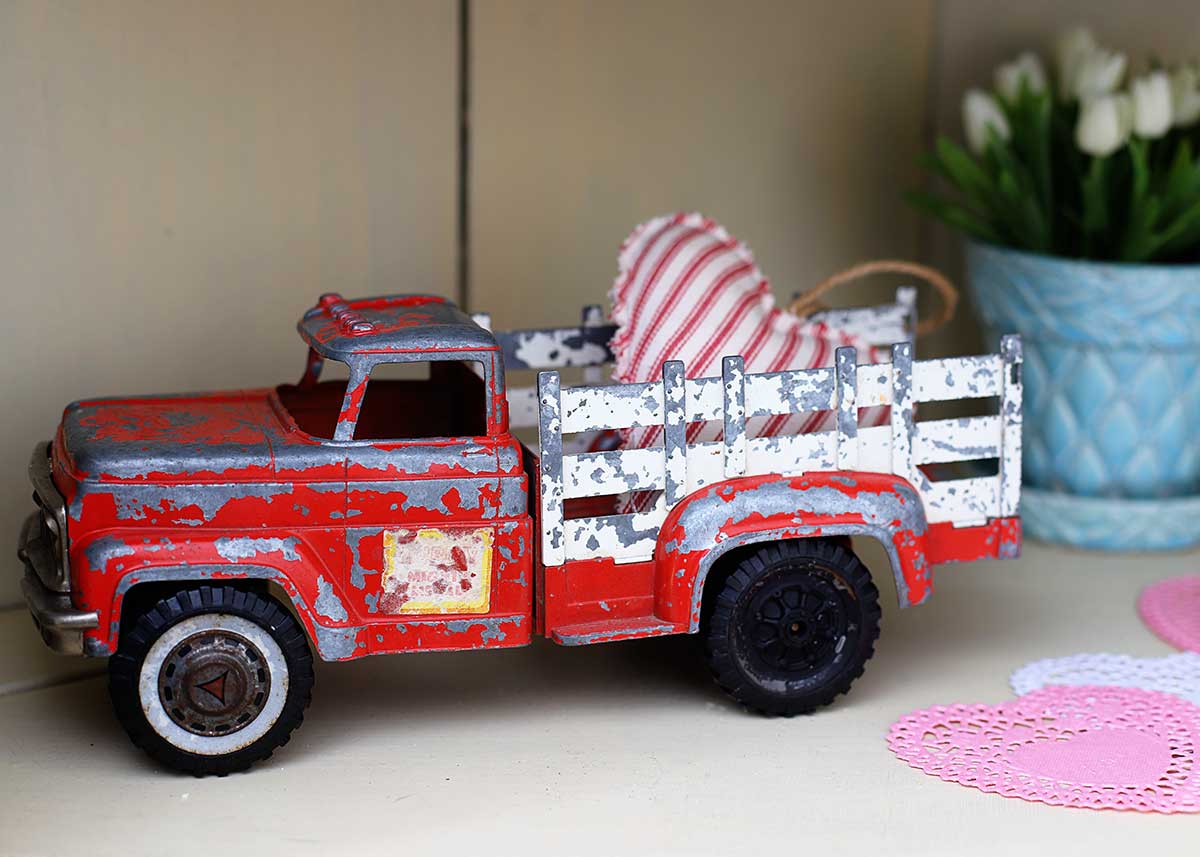 Of course there is a hint of plaid in my cabinet, just because I'm OBSESSED with all thing plaid. And a couple color-coordinated thermoses.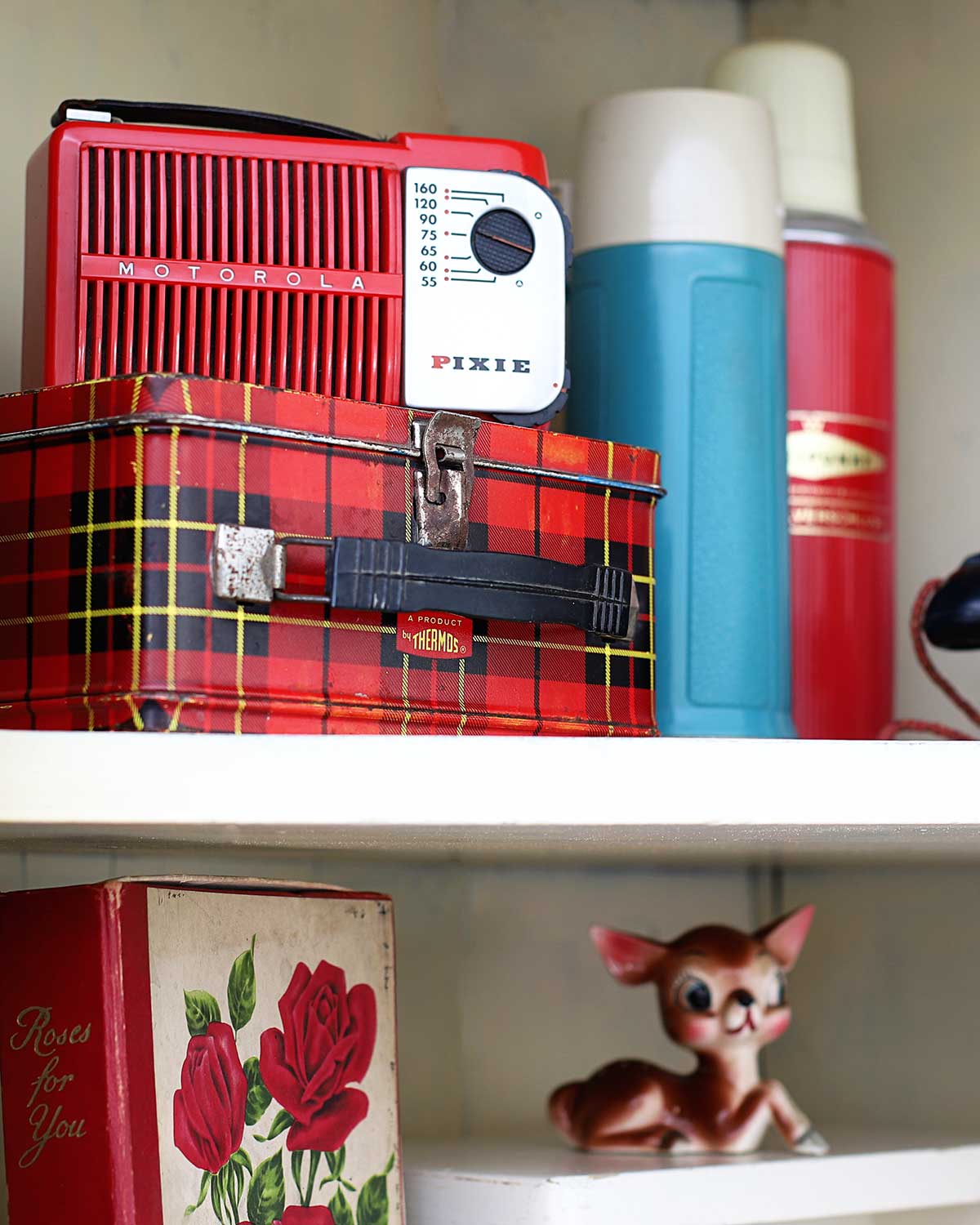 This little blue bird planter is another McCoy piece. I found it years ago at a yard sale for a couple bucks.
Back when people had yard sales and you could go to them. I'm hoping yard sales are going to make a big comeback this summer!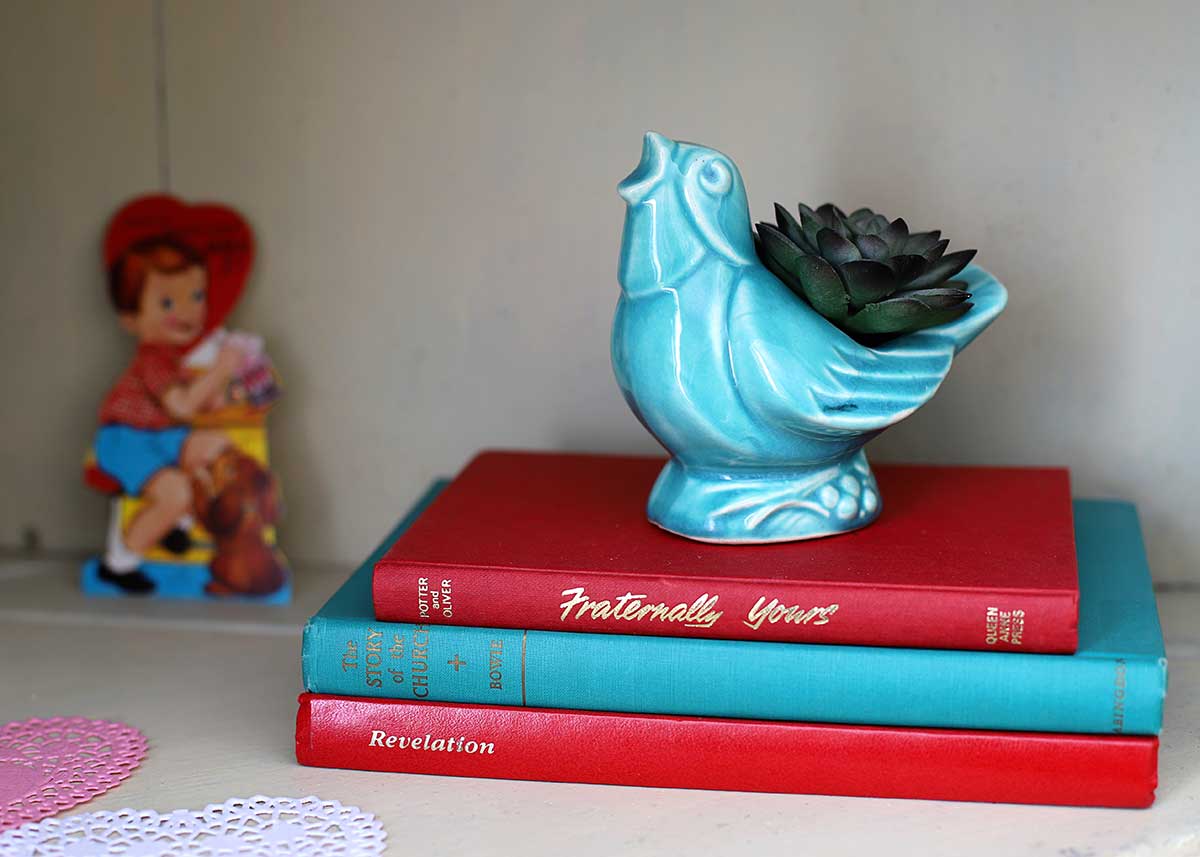 Tips For Decorating For Valentine's Day Without Being Overly Obvious
Use lots of totally normal non-Valentine's Day decor as a base.
Add some red, pink and white items in. Turquoises if you want another pop of color.
Then layer in your typical Valentine's Day pieces - hearts, vintage Valentines, doilies, etc.
Use a little bit of greenery to "spring" it up a bit - roses, tulips, etc.
Don't take it too seriously, Valentine's Day is lighthearted and playful. Have fun with it!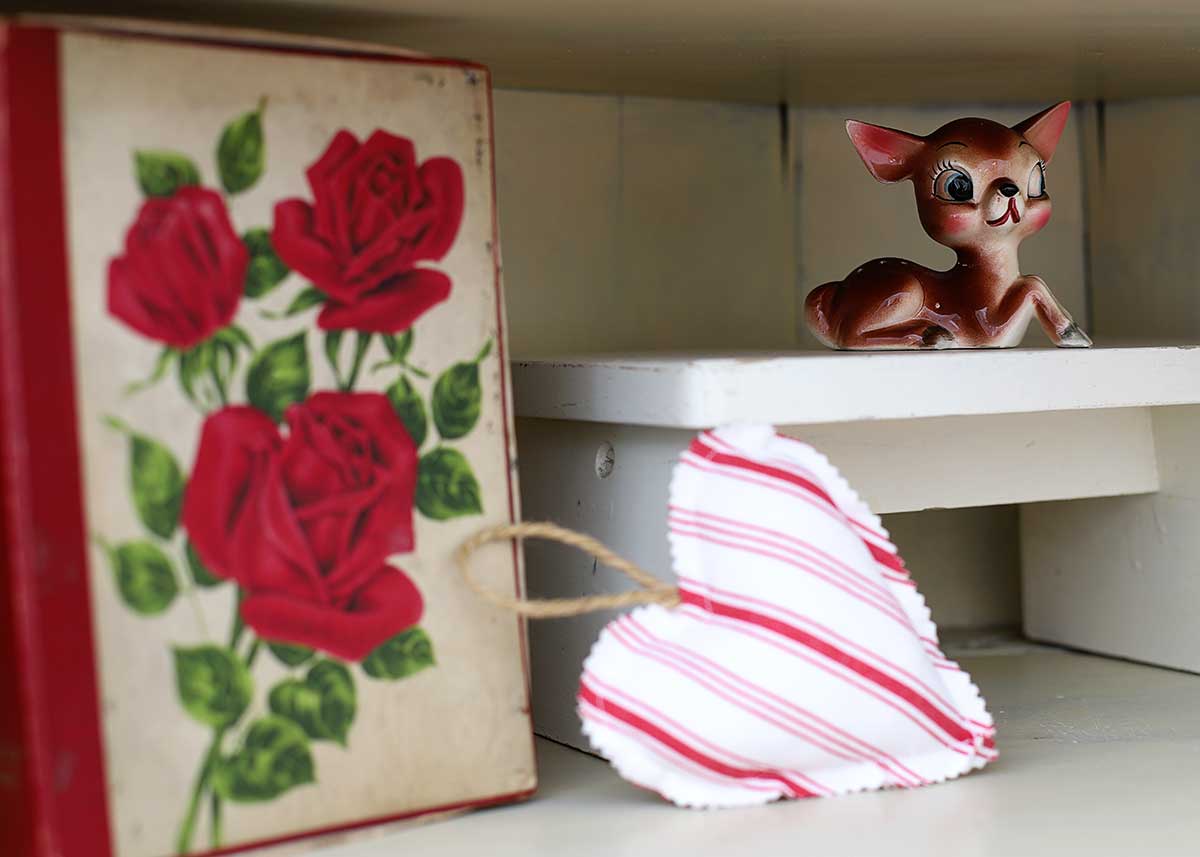 Where To Find Vintage Valentines
I have found almost all of my vintage Valentines at estate sales, antique malls and local small vintage-styled gift/decor shops.
You can also find them on Etsy or Ebay.
Or if you are very lucky, you may find them in your Grandma's attic.
The ones that were handed out in the classroom are much more readily available than the adult Valentines, I think just because of the sheer number of ones that would have been bought for any school year.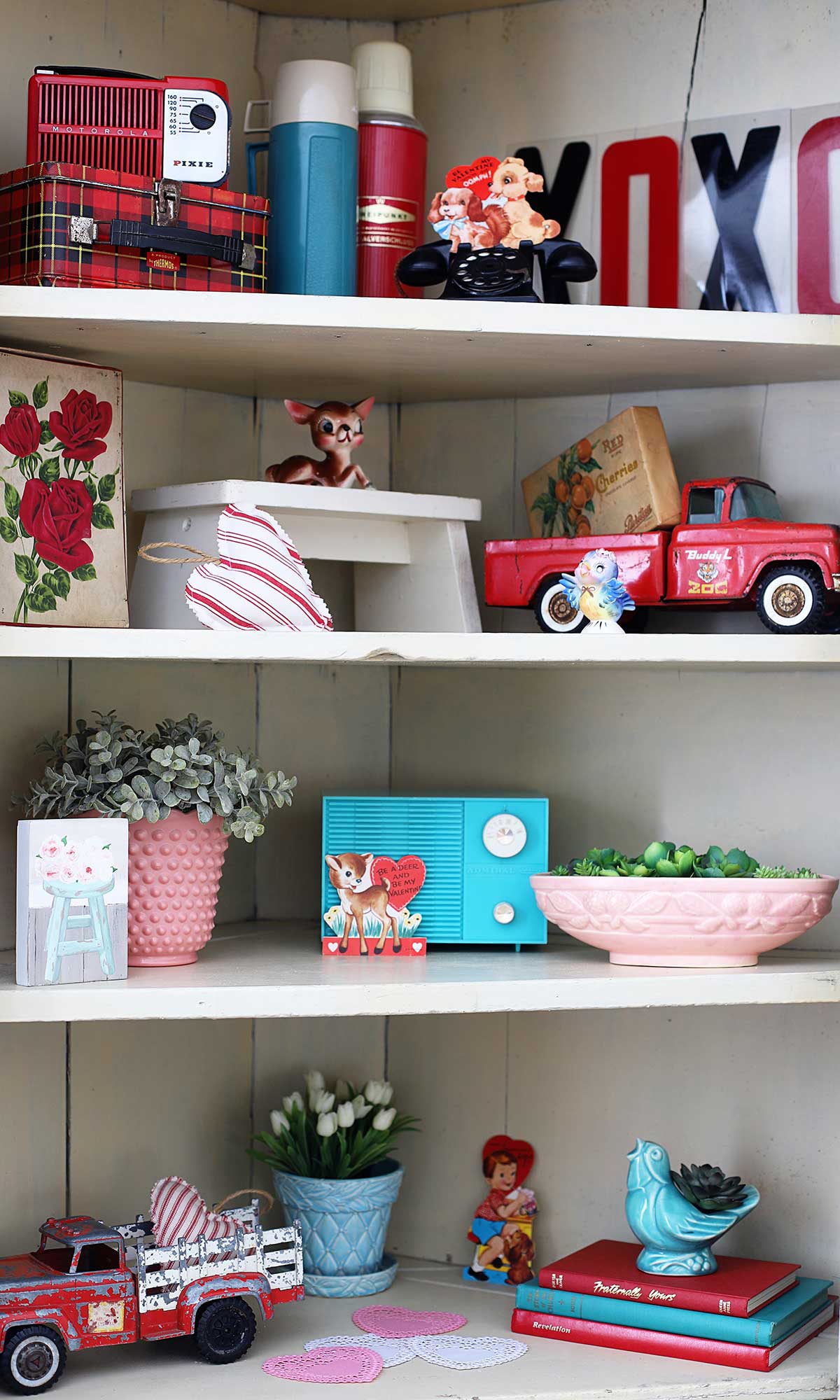 Have you decorated for Valentine's Day yet?
Other Post You May Enjoy:
How To Display Vintage Valentines
Valentine's Day Chalkboard Vignette