Do you all know what a wall pocket is?
They were quite the "arrow" or "bunting" of home decor back in the early 1900's. No self-respecting Martha Stewart wannabe housewife would be without one.
What? That was before Martha's time?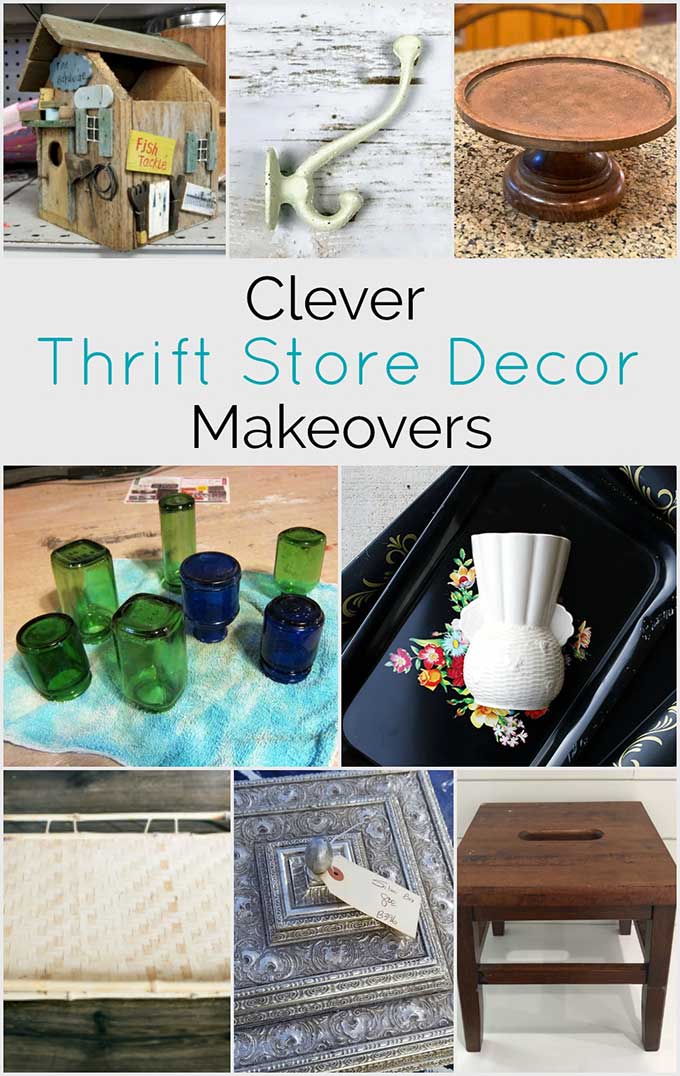 She's no spring chicken you know!
They were normally ceramic, shaped like vases, animals, houses, cuckoo clocks, you name it and had a hole in the back where you could hang it on your wall.
People would put flowers in them to fancy up their blank wall space, so they are sometimes called a wall pocket vase or wall pocket planter.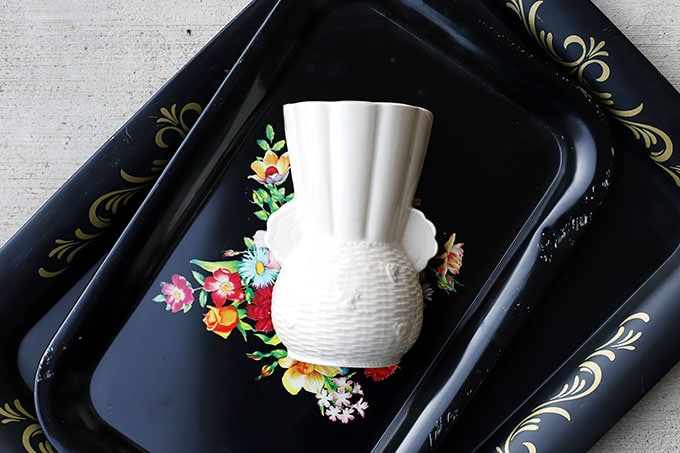 But home decor changes. Wall pockets fell out of favor. They went the way of chevron patterns, burlap crafts and the 1980's goose.
Now people mainly just collect them as a cool thing to collect. Normally just hung on the wall by themselves with no flowers. Or part of a gallery wall. Or stuffed into a cupboard.
Some of them are VERY collectible though. Especially the McCoy ones, which seem to fetch a pretty penny on Ebay.
Pottery Companies That Made Wall Pockets
Mccoy
Hull
Shawnee
Roseville
Weller
Holt-Howard
Rookwood
Well, when I found a wall pocket for a pittance at the thrift store, I just knew I could do something fun with it.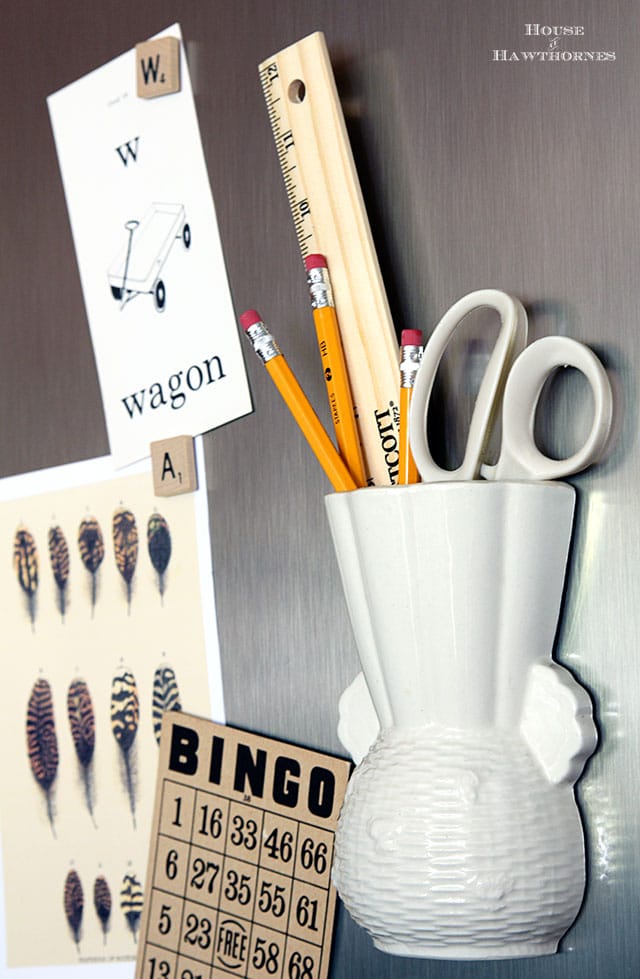 It started life off as a wall pocket. And now it's a wall pocket organizer.
No humongous change there.
But sometimes you don't have to paint something or take a hacksaw to it to make it something useful in today's world.
I was really struggling with what to call this. The term refrigerator organizer was bounced around, but then that made it sound like I was going to keep track of my ketchup and mayonnaise with it.
I finally decided on the term wall pocket organizer, but it's really my little command center for stuff I don't want cluttering up the counter. Not a condiment in site.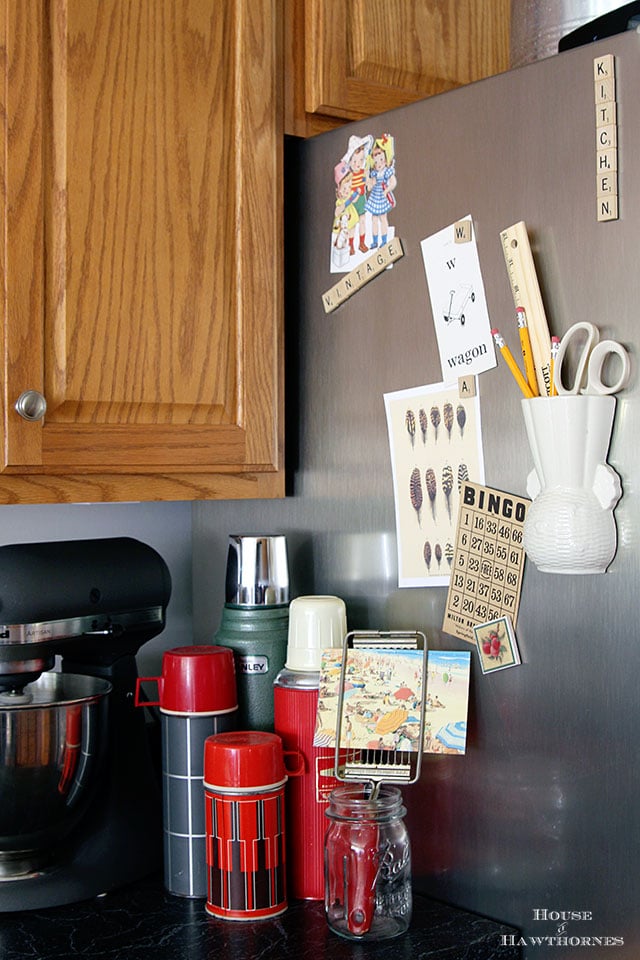 How To Upcycle A Vintage Wall Pocket Into A Wall Pocket Organizer
You might think I'm nuts for pounding a nail into my refrigerator to hold this thing.
But it's actually held in place by magnets.
I found these cool magnets that come in a roll, sort of like scotch tape.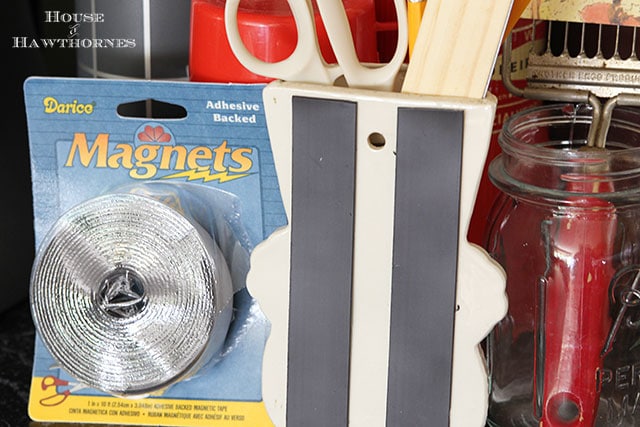 You just cut off a strip, remove the adhesive paper and stick it to what you want magnetized. Another one of those crafty things that I may just become obsessed with.
Case in point. Did you notice the Scrabble letters on the fridge?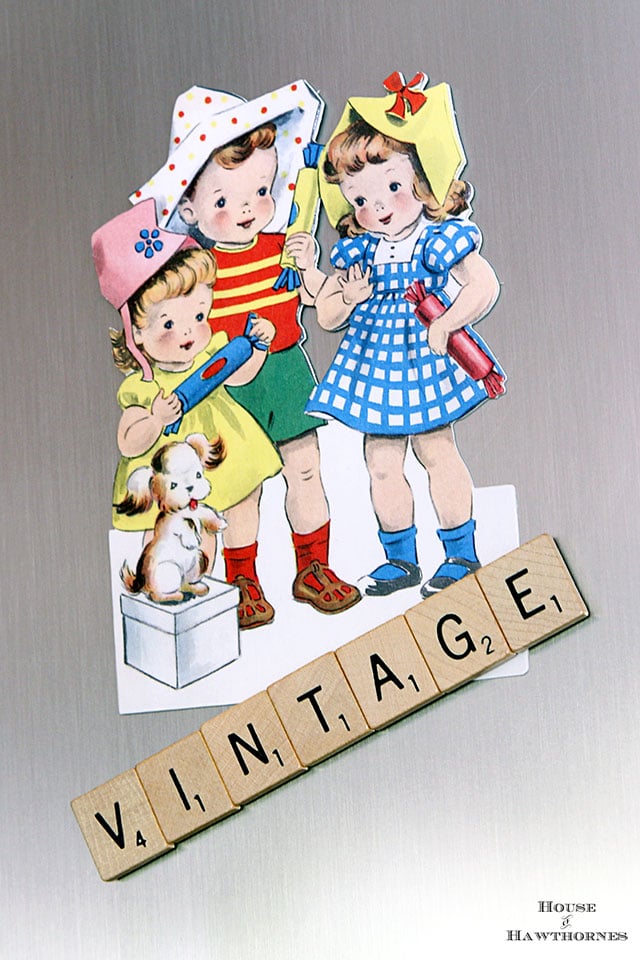 I just simply removed the adhesive from another long strip of it and plopped the Scrabble letters down on it.
Ten second craft! And it's an eleven pointer!
So don't think you have to grab a can of spray paint or root around in your garage to find your miter saw in order to do an upcycle project. Sometimes it's just tweaking something slightly to bring it up to date for today's busy world.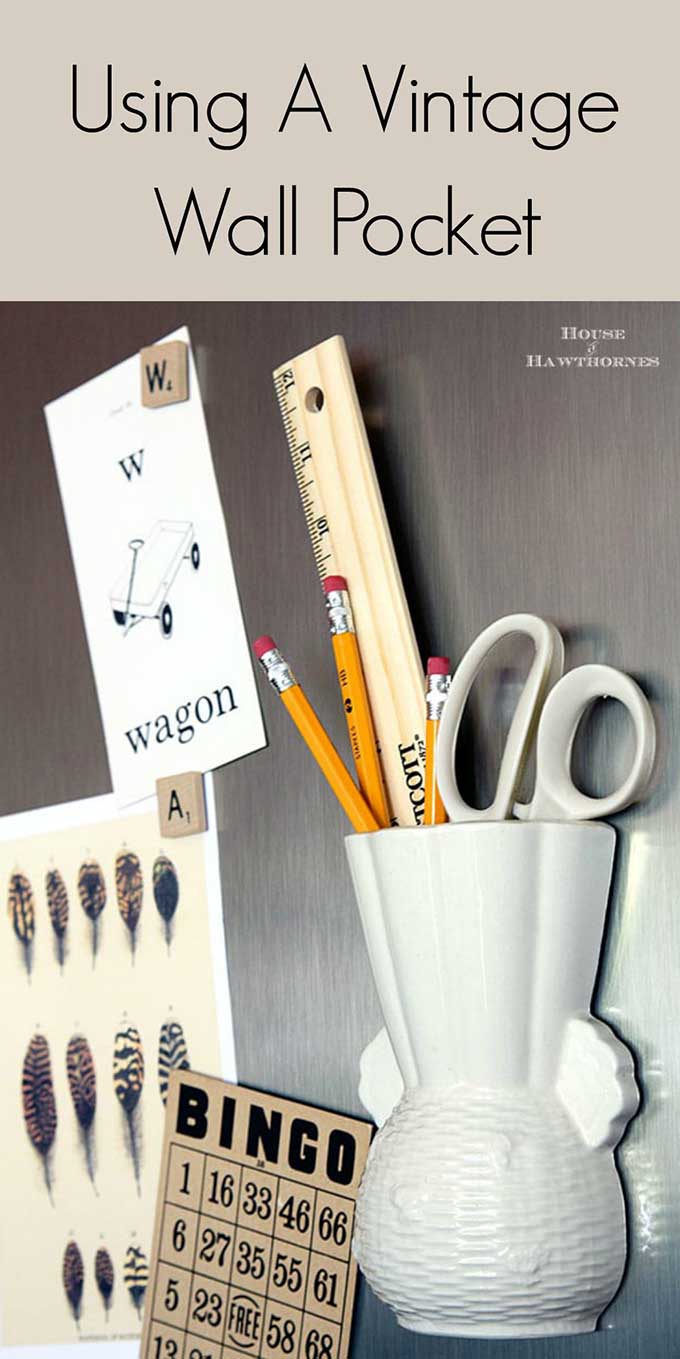 OK, girls and guys, today is Thrift Store Decor Wednesday, so pop on over and see what the other bloggers have done with their thrift store treasures.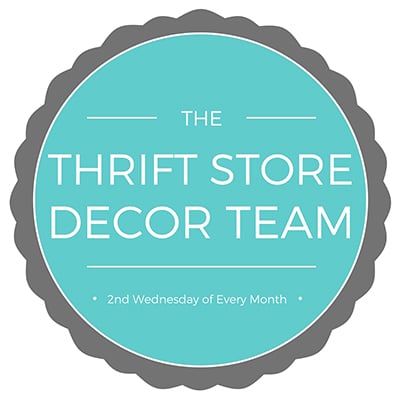 Refresh Restyle - Wooden Step Stool Makeover
Petticoat Junktion - Bling Bottles
My Repurposed Life - Large Trinket Box Makeover
My Uncommon Slice Of Suburbia - Farmhouse Apron Hook
Sadie Seasongoods - Fixing A Broken Up Birdhouse With Barnwood
Domestically Speaking - Stripe Painted Tray
Our Southern Home - Pedestal Makeover
House Of Hawthornes - Vintage Wall Pocket Organizer (that's me)
Other posts you may enjoy:
Mid Century Plant Stand DIY
Boho Succulent Garden From Repurposed Thrift Store Tray
How To Upcycle Old Boots Into Clocks