Thrift Store Decor Upcycle - Forged Aluminum Serving Tray Turned Boho Succulent Garden
I've got exciting news today! Big! Huge!
Starting this month, today to be exact, I am joining with an amazing group of bloggers as part of the Thrift Store Decor Team. Once a month we will each repurpose a thrift store find into something totally fantabluous for you!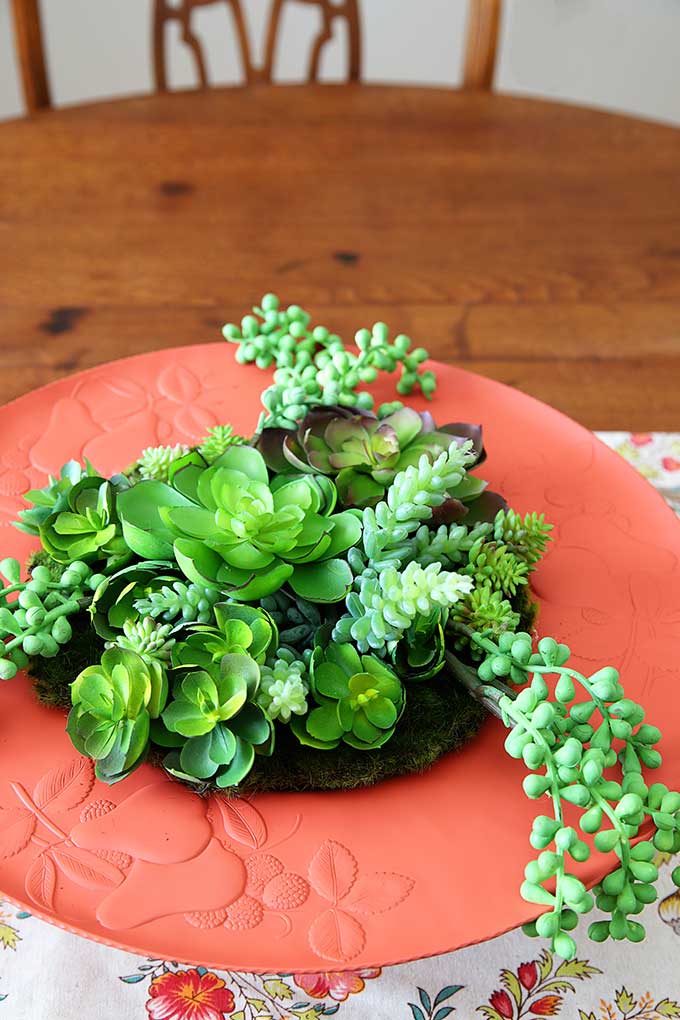 So you get to see great thrift store hauls (yeah!!!) and also a fun way to repurpose them into something useful (double yeah!!!).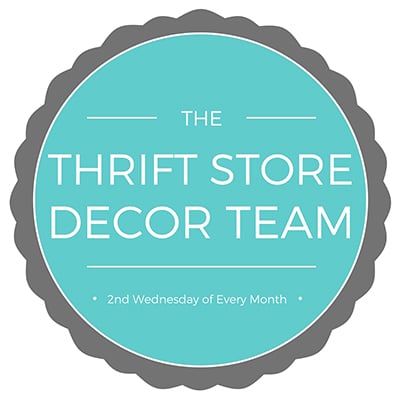 First I'll show you what I gave a makeover to and then at the bottom of the post you can check out the other stuff the girls are repurposing for you.
While at the thrift store last week I spotted this forged aluminum serving tray by Everlast.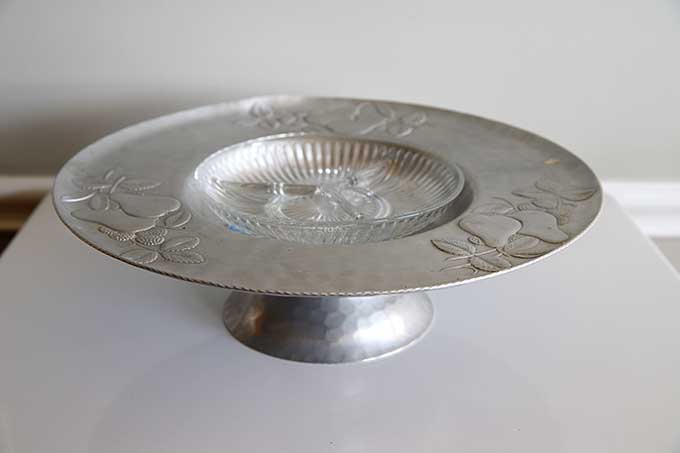 Mid-century modern. Sort of dirty looking (certainly not shiny). And not highly collectible these days.
They're normally larger pieces, so the kind of thing you don't want just hanging around the house taking up shelf space. Thus they make their way to the thrift stores quite often.
Plus they have the problem of being very easily scratched, dented or bent, so finding a pristine condition one is a rarity. And this one was NOT a rarity, by any means.
In other words, it was ripe for a makeover!
Boho Succulent Garden From Repurposed Thrift Store Tray

(This post contains some affiliate links for your convenience. You can read my full disclosure policy here.)
Supplies:
Thrift store serving piece
Spray paint (I used Design Master's ÜberMatte Spray in Salmon)
Faux moss mat
Faux succulents (I purchased mine at Michaels)*
Glue gun
Glue sticks
Sandpaper or sanding block (220 grit)
Scissors
Band-Aids (for when the glue gun gets way from you and burns your finger tips)
*This project can be made with real succulents and dirt if you wish. Although I do a lot of gardening projects in the spring and summer, I am not the best at keeping succulents alive inside my house, so I chose to use realistic looking artificial succulents in this project.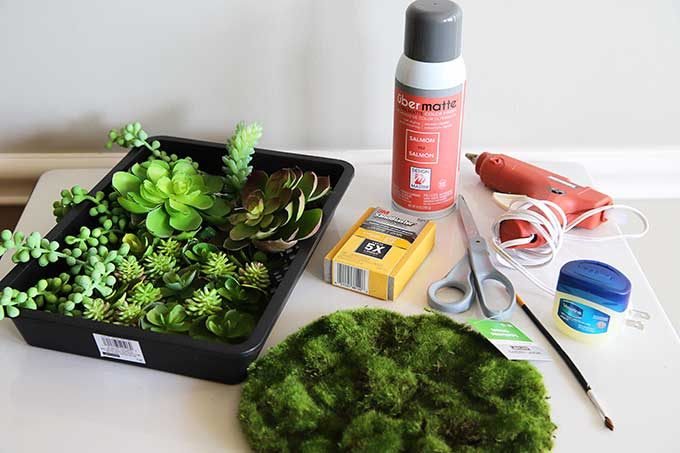 Please disregard Vaseline and paint brush in this photo - this girl changed her mind half way through the project.
Instructions:
Clean your serving tray, removing any price stickers and grease from the surface and then very lightly sand the tray. You are just trying to give the paint a good surface to grab on to, so just do a quick once over with the sanding paper, being very gentle.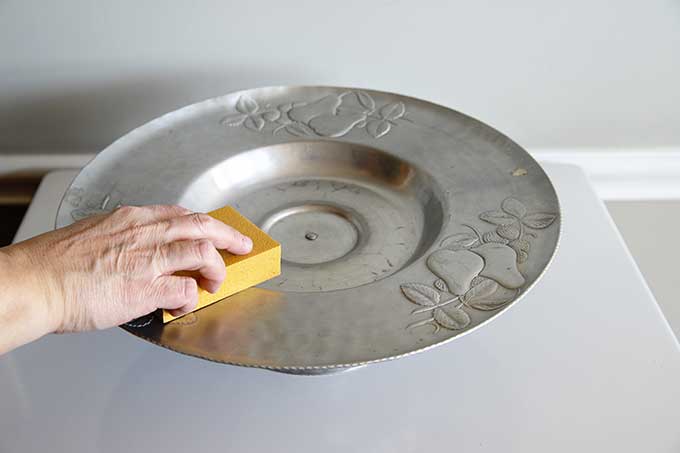 Use spray paint to cover the surface. Obviously I didn't actually use the spray paint inside the house (cough cough), this was just for the photos.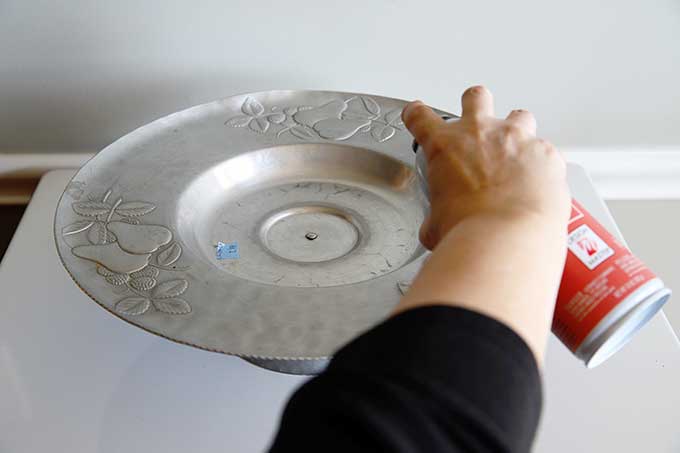 I used three light coats to cover the surface. At this point you could use a dark wax on it to really bring out the raised fruit, but I left mine simple and classic.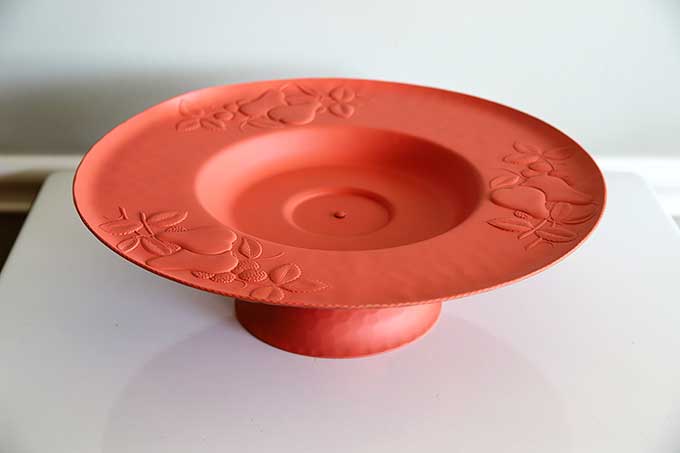 Cut your moss into the shape you prefer (mine was already a circle, so I left it as is) and lay the succulents onto the moss until you find an arrangement that you like.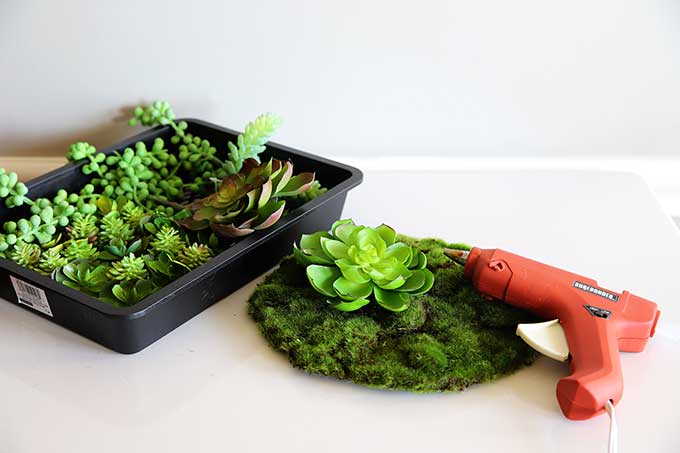 You may need to cut down any longer stems to get them to set correctly. Once you fine-tune your grouping, hot glue them to the moss one by one.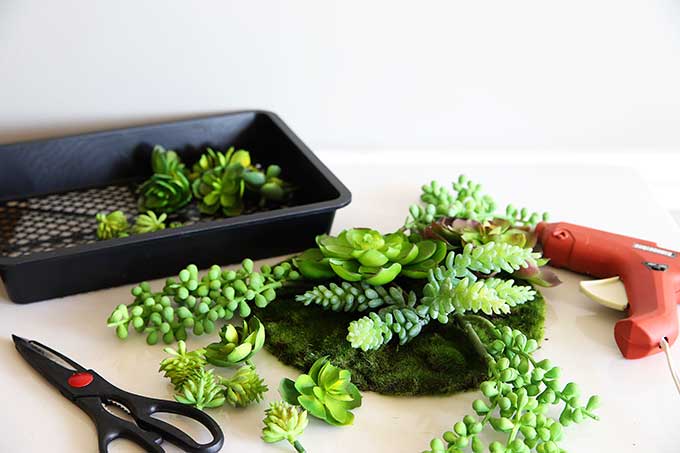 I chose to be somewhat asymmetrical in my design, because when they grow in real life, they tend to follow their own rules.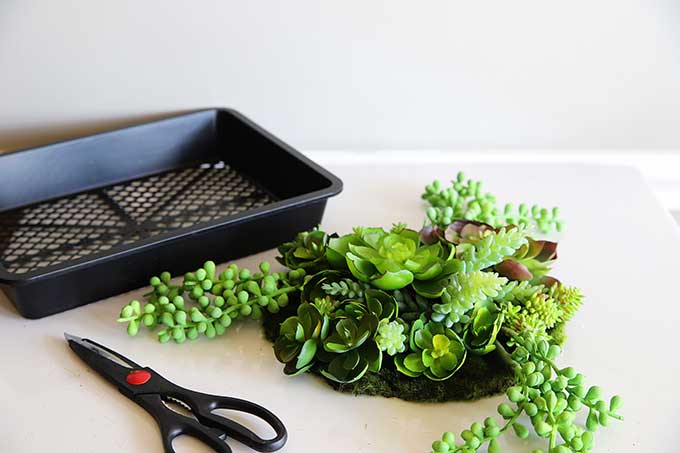 Once dried, simply lift your masterpiece onto your tray and off you go.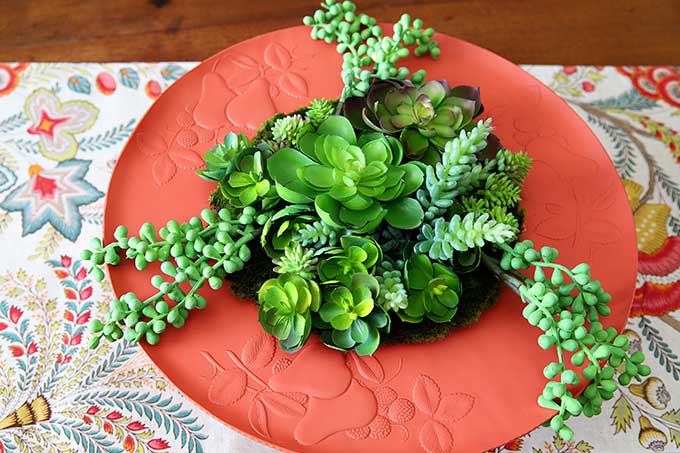 If you ever tire of the whole thing you can just remove the succulents and you still have a festive serving tray underneath.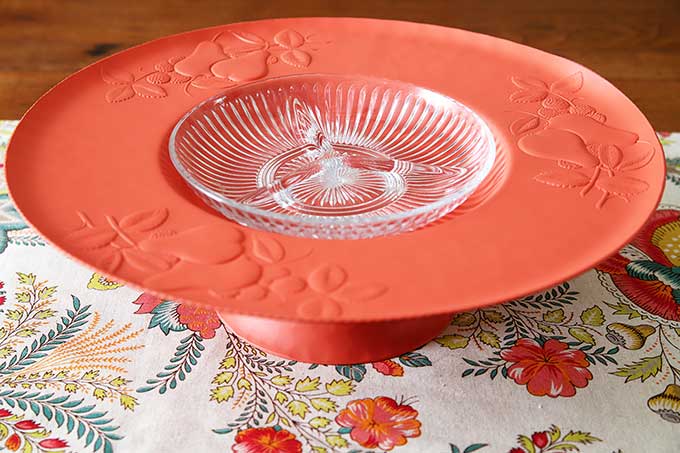 Of course you can't put food on the painted portion, because . . . yuck. But you can still put food in the glass.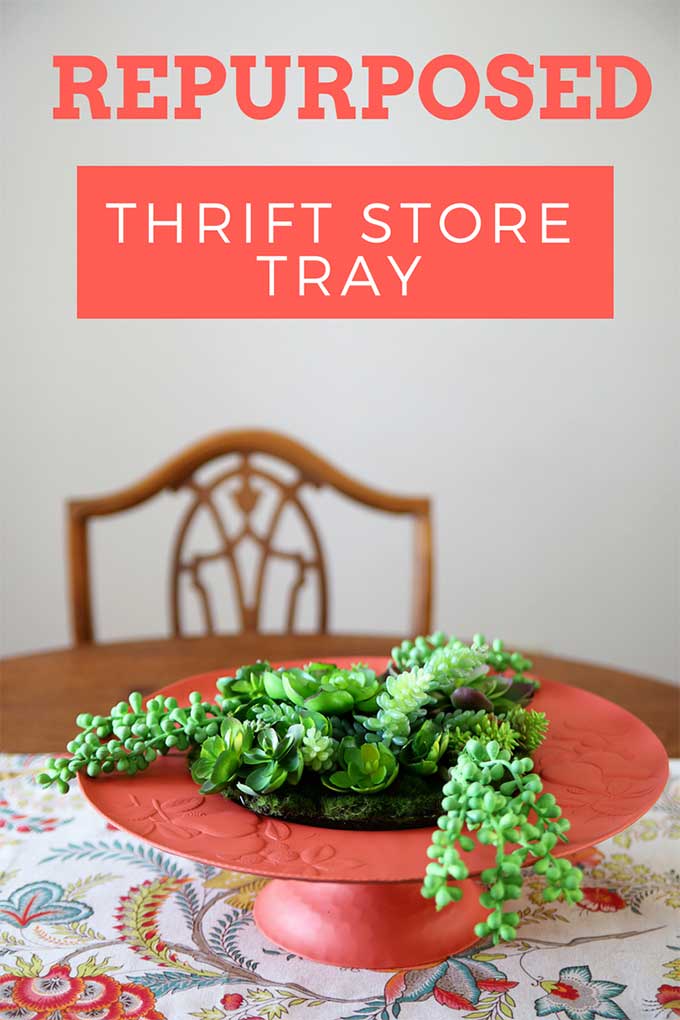 Other Thrift Store Finds That Would Be Perfect For This Kind Of Project:
cut glass bowls
silver trays and bowls
wicker baskets
soup urns
Now go on over and see what the other Thrift Store Decor Team girls did with their thrift store finds!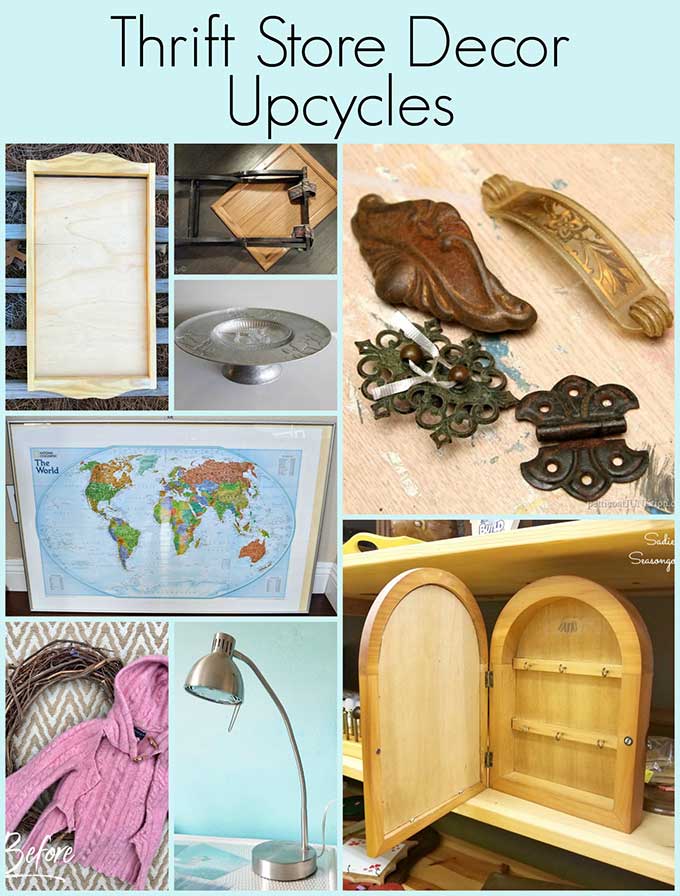 Desk Lamp Makeover - Domestically Speaking
Luggage Rack Side Table - My Repurposed Life
Antique Key Fridge Magnets - Petticoat Junktion
Message Board - Refresh Restyle
Peony And Grapevine Wreath - Our Southern Home
World Map Makeover - My Uncommon Slice Of Suburbia
Key Hook Cabinet Makeover - Sadie Seasongoods
Repurposed Thrift Store Tray - House of Hawthornes (that's me)
Other posts you may enjoy:
How To Clean & Restore Thrift Store Finds
Top 10 Thrift Store Shopping Tips
DIY Industrial Pipe Shelves