I went back and forth whether I wanted to call this a home tour. Because it's not. And then it is.
I decorate my home for my family and me, first and foremost. I feel as a mom that should be my focus at Christmastime and not being all concerned about how it will photograph for the blog.
My Christmas decor is all about creating warm and fuzzy memories for my family.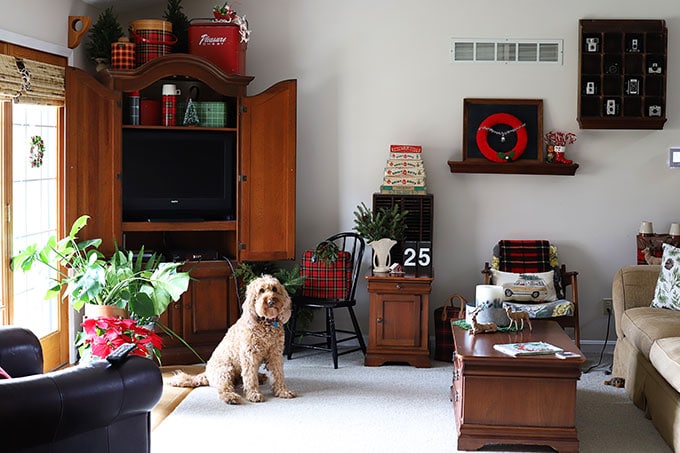 From year to year you will see a LOT of repeats! Things I've used in years past may be used in a different way this year or put in a different place, but I don't go out and buy all new stuff every year.
Sure, I buy some Pottery Barn Santa mugs and a couple things each year to keep it fresh. But the vast majority of my Christmas decor comes from thrift stores and estate sales or are family heirlooms.
Or gasp . . . things my son has made at school.
BTW, I have done a few posts about where you can buy reproduction vintage Christmas decor if you don't have the real thing lying around the house. That is so EVERYONE can get the look if they want it.
So this year, I decided to just show some photos of little snippets of my decorating. Not a full blown home tour with all the bells and whistles. Just a simple tour of what I am decorating with right now.
For my family.
So welcome to my home tour that is not a home tour. AKA, some random festive photos from my house!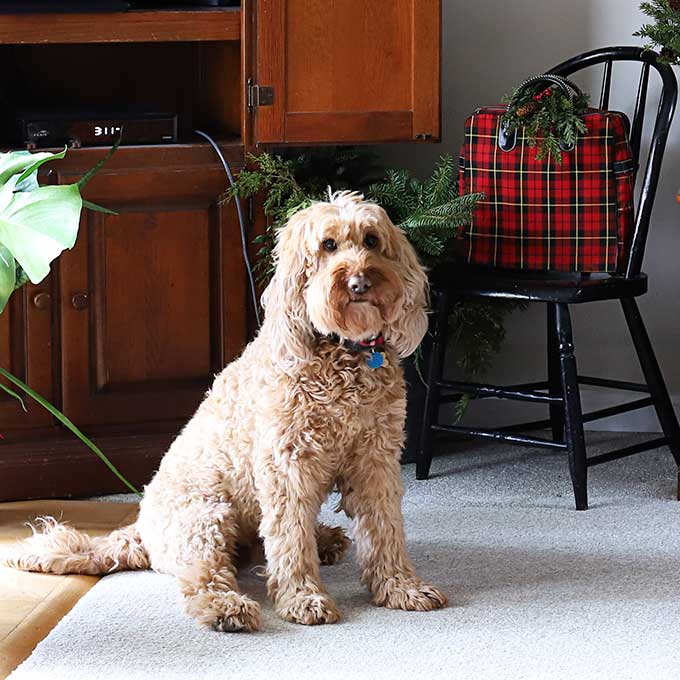 Christmas Living Room Decor
I'm LOVING this red poinsettia I bought on clearance just yesterday at a local garden center. Normally I'm not a huge poinsettia fan, but when I went in the garden center to pick up an extra pine bough (like I don't have enough pine boughs in my yard), I was smitten by the shear variety of colors they grow these in nowadays.
This one is just a shade different than your typical run of the mill variety and I love its vibrant in yo' face color.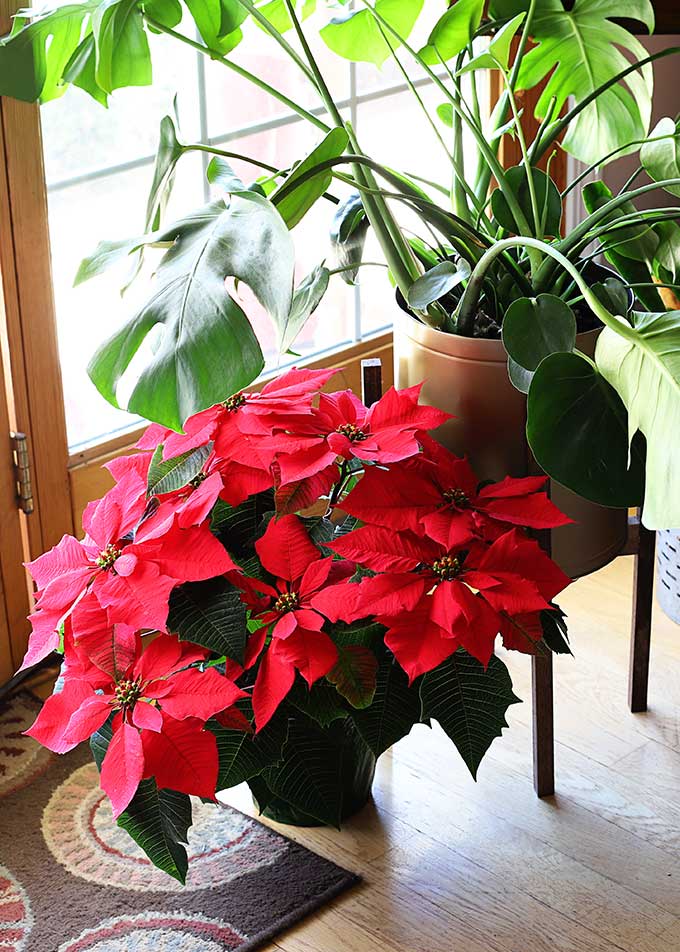 I've had this thermos arrangement in some form or another on top of my tv armoire for the last few Christmas seasons. If it works, it works.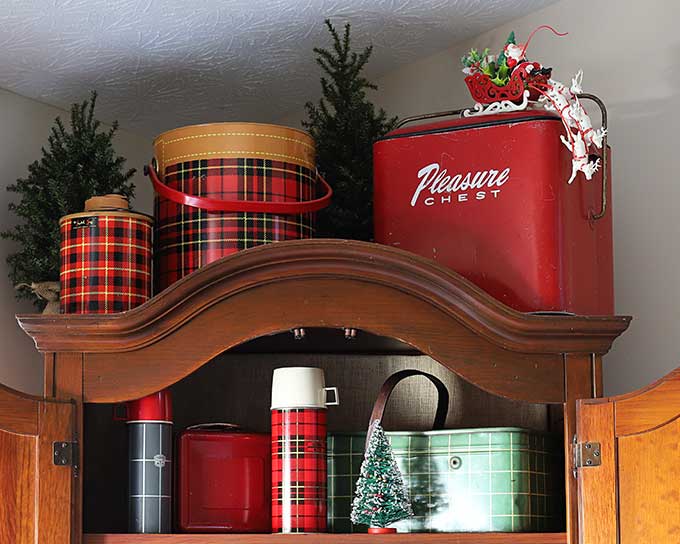 This is where my stack of Shiny Brite boxes landed after its appearance on my Christmas front porch a few weeks ago.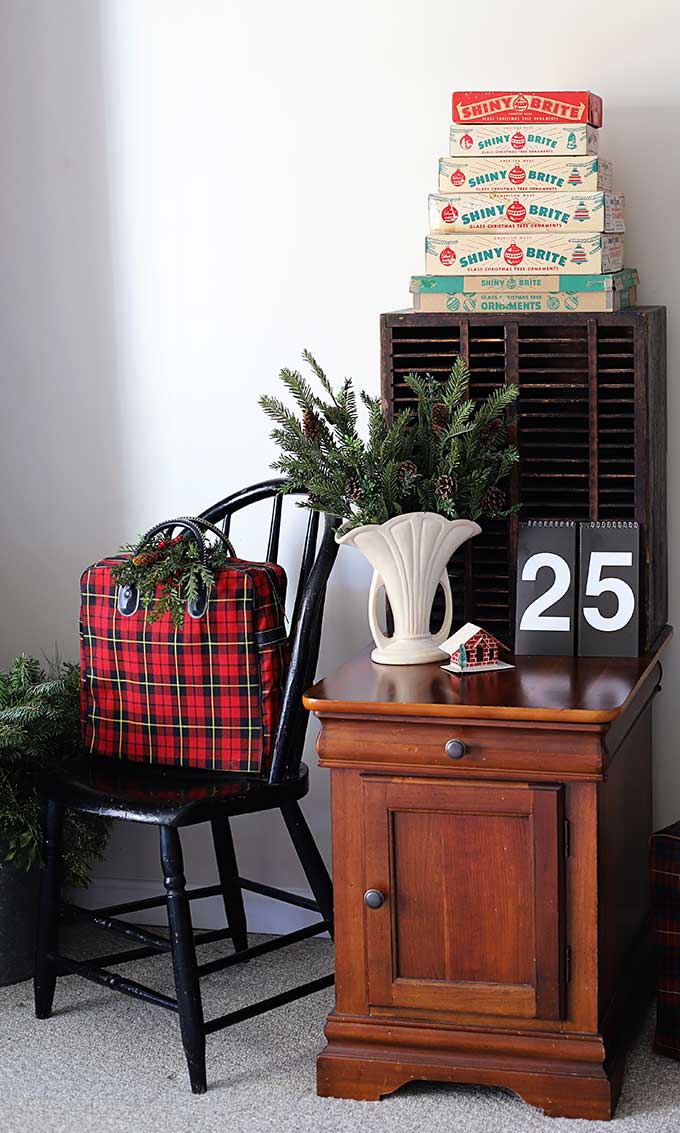 I don't know what the big numbered cards were initially used for, but of course after I was done using them as "31" for my Halloween decor I just flipped the numbers to "25" for Christmas.
I'm sure you'll see them as a "14" for Valentines Day too.
I planted some paperwhites in one of my vintage plaid lunchboxes (no lunchboxes were harmed in this project, the paperwhites are actually setting in a plastic food storage container inside the lunchbox).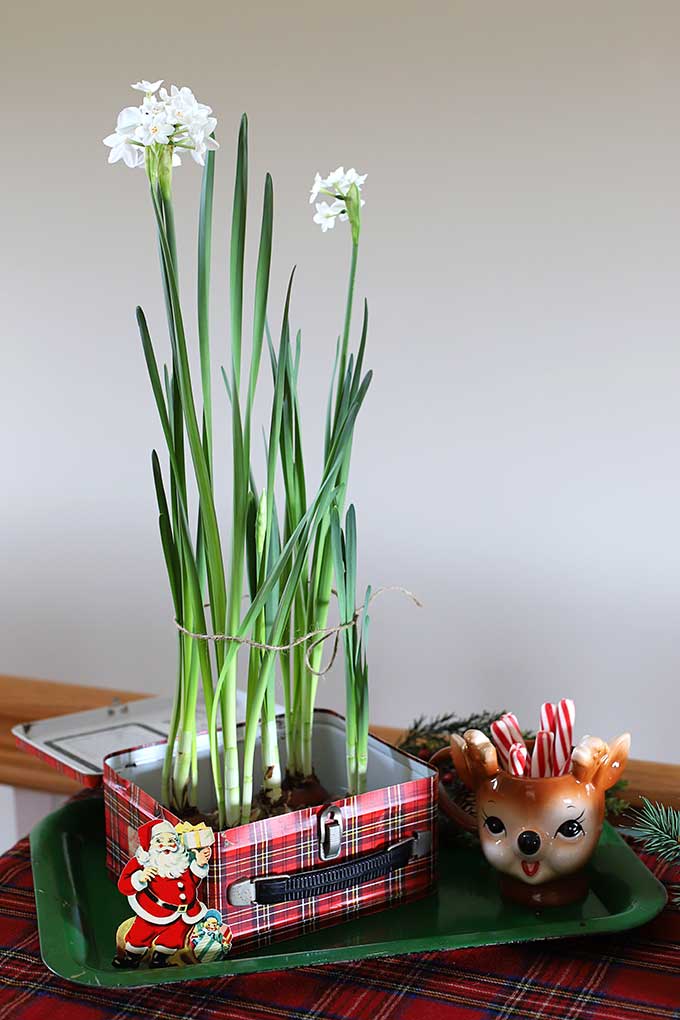 I bought that green vent thingie on a whim at a barn sale I went to this fall. Just because it was green.
It's used to put in your window if you don't have window screens I guess.
When you run across a cute little red radio right before Christmas . . . you buy it.
Pretty sure it doesn't work. Pretty sure I still needed it.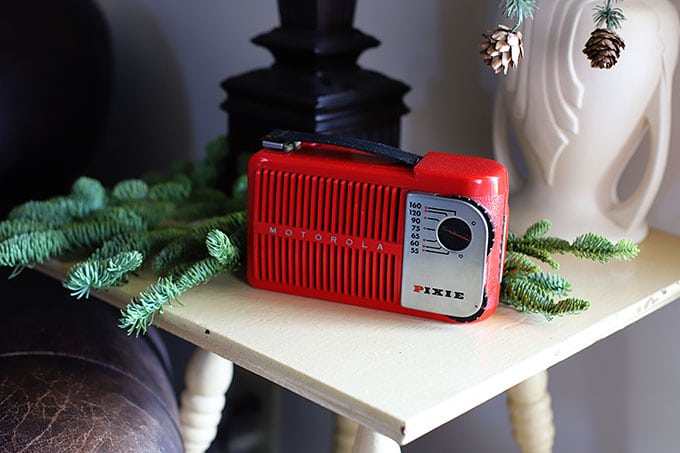 And deer. I have a thing for vintage deer. Fuzzy ones, cheap plastic ones, I love them all.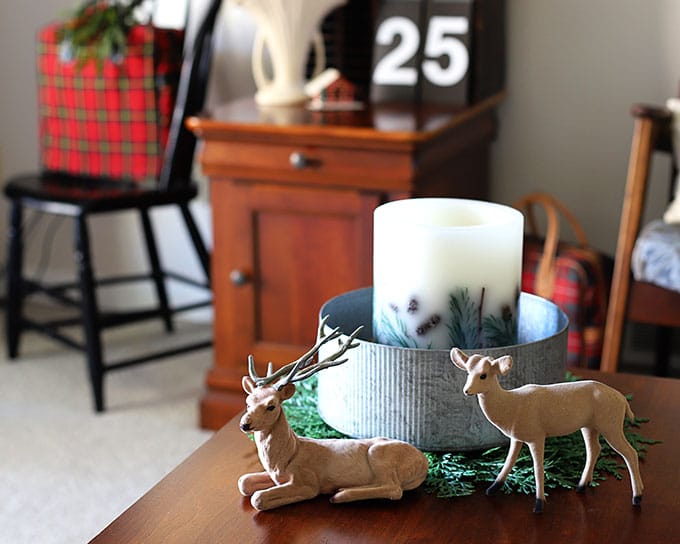 Christmas Dining Room decor
Also known as the room where the neutral tree doesn't match the vibrant reds and greens going on all around it. And I really don't care.
This is where the "designer" in me fails. If I like something I go with it. To heck with the rules.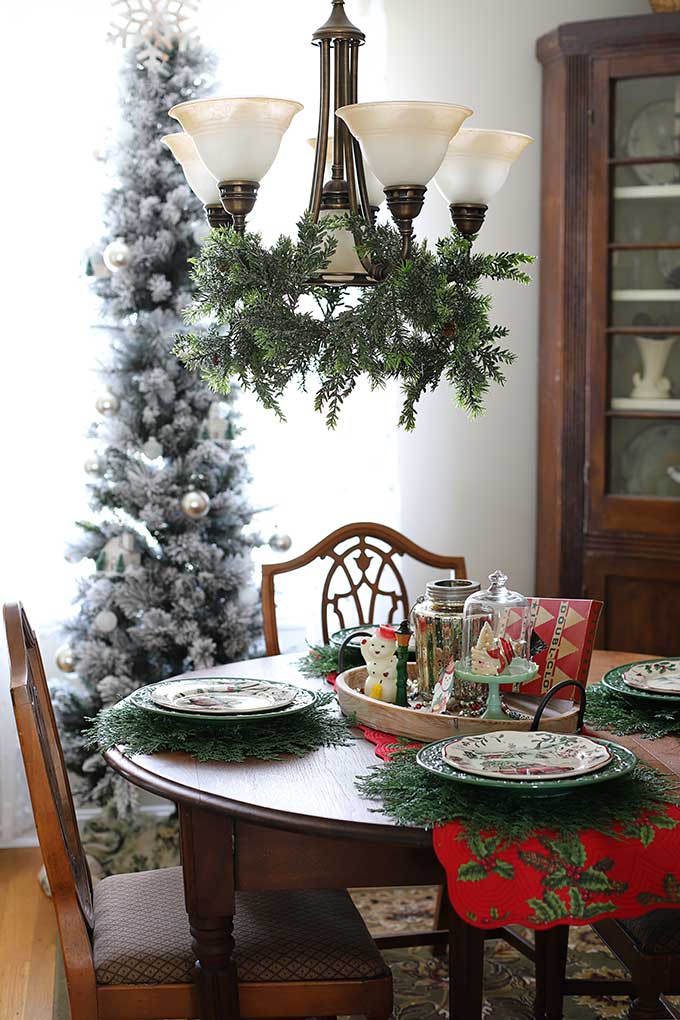 The dinnerware is a mix of old holly plates I bought at Target probably 15 years ago and this year's Walmart's Better Home And Garden's salad plates (I didn't take photos of each one, but there's also a deer and a station wagon with tree on top).
The fluffy greenery placemats I found at JoAnn's this year (I found them in the ribbon section of all places, but the tag says "Blooming Holiday" which would be in the floral department).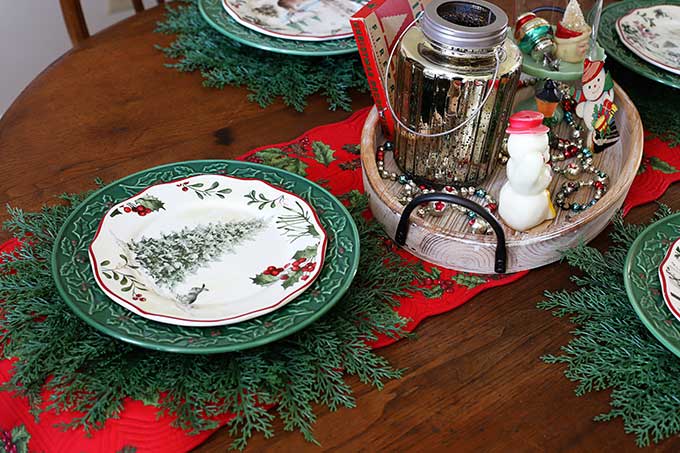 My centerpiece is a random assortment of vintage Christmas decor I sort of haphazardly threw on the tray. Sometimes haphazard is the way to go.
BTW, the mercury glass beaded garland was from my grandmother's tree. I try to find a place for it each and every year!
Santa is standing guard over my vintage Cosco kitchen cart turned drink station. You'd better be good for goodness sake.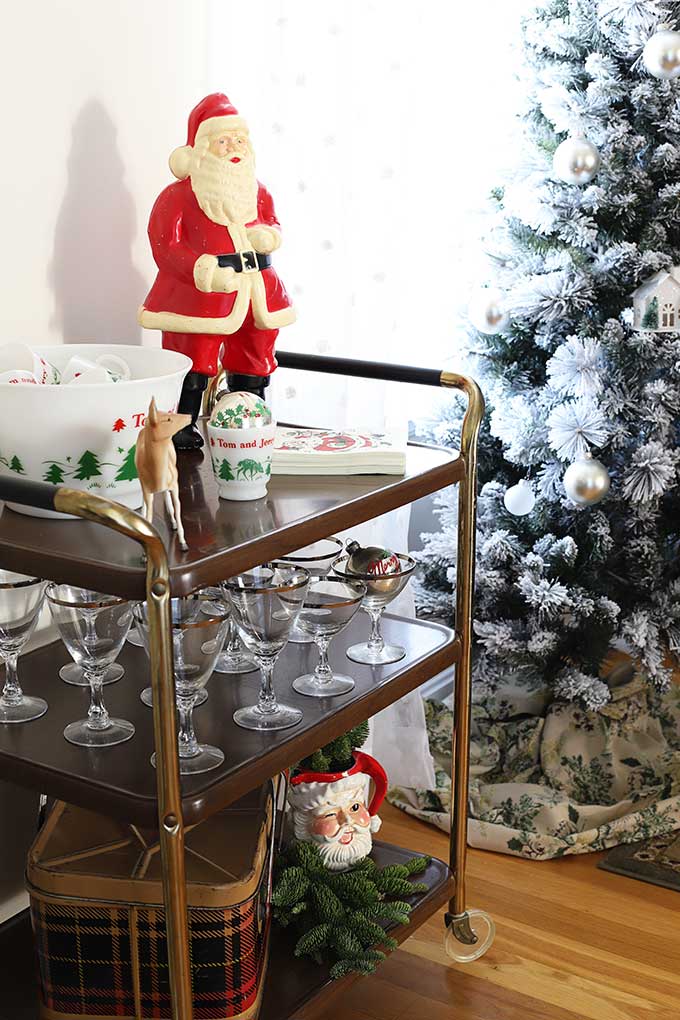 I've got a selection of vintage Santas on the sideboard (aka dresser). The large one on the left is the Rushton Coca-cola one I showed you in last year's holiday home tour.
I'm never sure if I find these guys cute or creepy.
As I mentioned on Instagram, it could have something to do with what time of day you run across them. In the middle of the night they can come across as quite the hoodlums.
My dresser holds napkins, tablecloths and silverware. And the picnic tins hold craft supplies, office supplies (it's like a mobile office with a handle) and some plain old junk I don't know what to do with.
Picnic tins are great for hidden storage!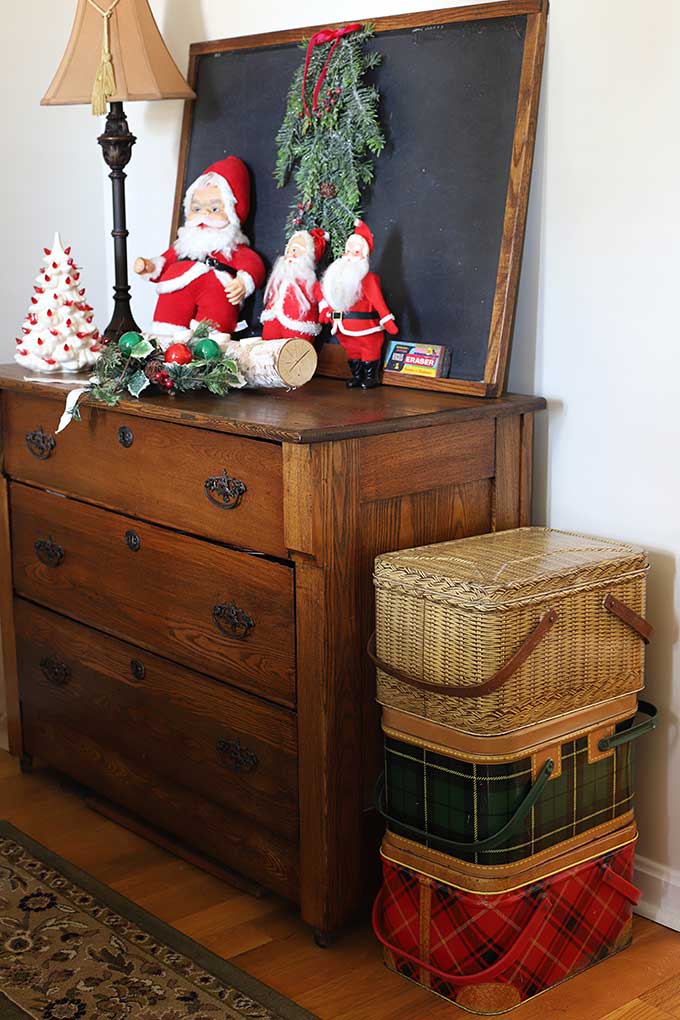 This is the 2nd ceramic tree I found at a thrift store this year. The 1st one I showed you in my 5 Absolutely Iconic Vintage Christmas Decor Items You Just Have To Have (And Where To Buy Reproductions) post and did a giveaway for.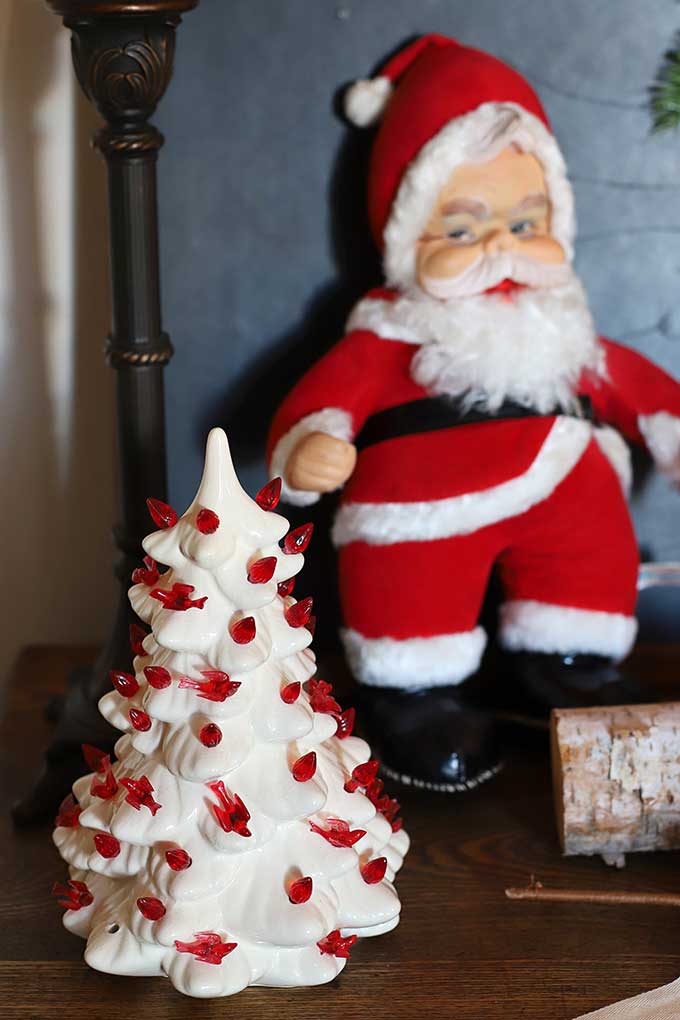 I got all excited about it (and the $1.99 price tag) and then after I got it home I realized it didn't have the lighted base part to it. I just stick a battery operated candle in it instead!
Christmas Breakfast Room Decor
Yeah, this is pretty much it. Not a lot to see here.
Honestly it's so dang hard to take photos of this area with the light streaming in the windows that I hardly ever show it.
I did want to show you how I tied up my floppy paperwhites with ribbon though. No matter how many times I turned them, they kept trying to go to the light.
Heaven is not out my back window, girls!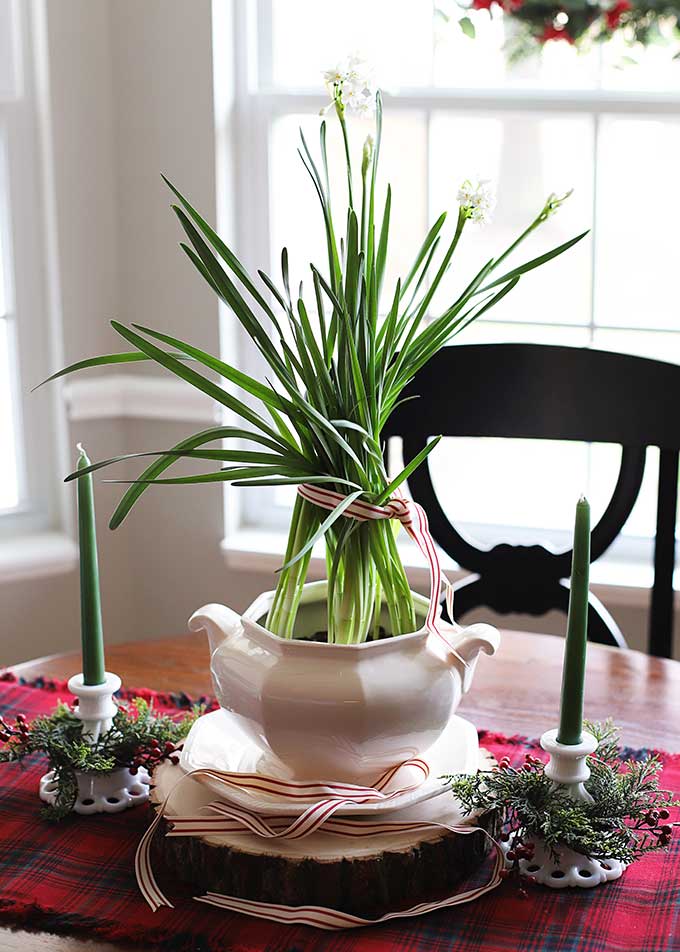 (If you want to know how to grow paperwhites I wrote about them a few weeks ago - Forcing Paperwhites For Christmas).
So get on out of here and go visit with family, drink some Tom And Jerrys (I have the recipe for them HERE) and have a great weekend. The big guy will be here sooner than you think (well, not before 12/24 unless he has his calendar wrong)!