How To Grow Black-eyed Susan Vine
I am on a one woman quest to make the Black-eyed Susan vine (Thunbergia alata) as popular as the super-needy impatiens or the mundane marigolds.
Are you with me?
They. Are. Gorgeous. Period.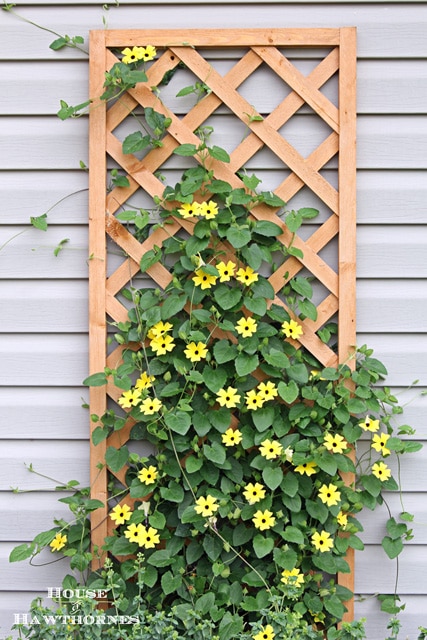 Nothing more to say about them except they are non-invasive and grow like weeds. Polite weeds that stay within their bounds.
They don't run all over the place like some "loose" vines trying to spread their demon seed across the universe. Nope, they are just happy to bloom where they are planted.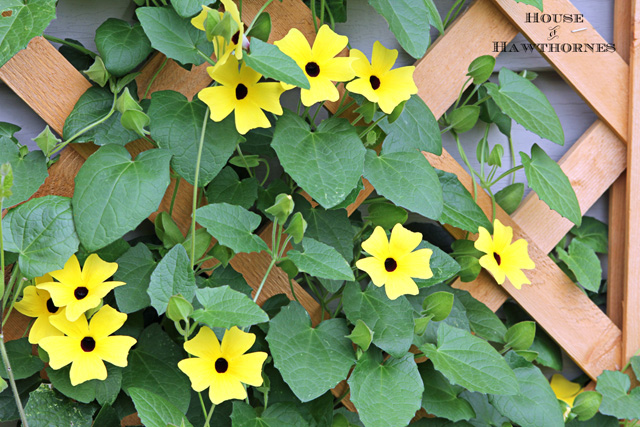 Seriously, if you've never tried one of these you are missing out.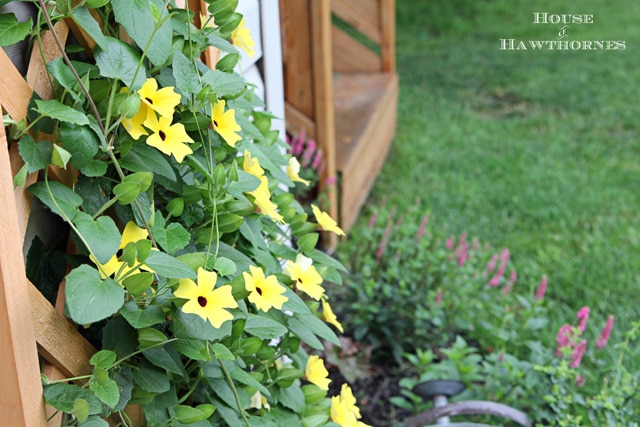 How To Grow Black-Eyed Susan Vine:
Hardy in USDA Hardiness Zones 10-12 (for example, southern Florida, Hawaii, etc)
Grown as a annual in cooler hardiness zones (I grow mine as an annual in Ohio)
Prefers full sun with light afternoon shade
Water regularly (if grown in a hanging basket do not let the pot dry out)
A trellis or stake will be needed, because they sort of go nuts
Can be grown from seed by starting indoors 6-8 weeks prior to last frost date or sow outside when soil temps rise above 60 degrees - plants normally emerge 10-14 days after planting
Companion Plants For Black Eyed Susan Vine:
Any low growing purple or dark blue plant looks AMAZING with the yellow Black-eyed Susan vines, such as Salvia, a purple Veronica (Speedwell) variety such as Royal Candles Speedwell or a purple African Daisy (Osteospermum).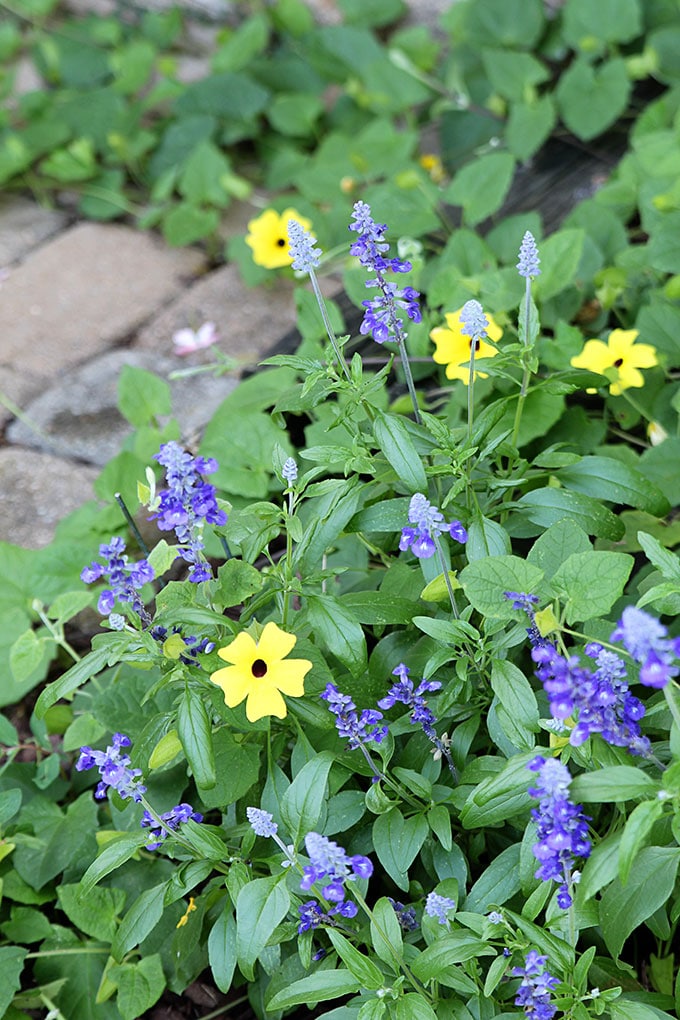 This year I planted Victoria Blue salvia (an annual in these parts) at the bottom on the trellis.
You can also grow another vine along with it such as purple hyacinth bean vine or morning glories if you'd like the color to intertwine all the way up the trellis (or down the hanging basket if you go that way).
(An affiliate link is included below for your convenience. You can read my full disclosure policy here.)
Where To Buy Black-Eyed Susan Vine Seeds:
I get quite a few people emailing me about where they can buy Black-eyed Susan vines. I buy mine locally, but considering you all don't live right around the block from me, I did find Black-eyed Susan vine seeds for sale online HERE.
And I located a similar wooden trellis HERE or a white PVC coated trellis HERE.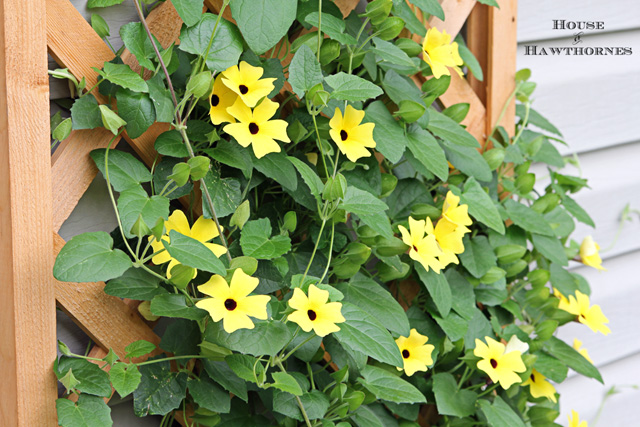 Black-Eyed Susan Vine not blooming?
Black-eyed Susan vine does go through a period in the dead of summer heat (late-July and August) when it tends to slow down on producing blooms. As soon as cooler weather starts back up again in September it should start to bloom again in force.
Other than that, make sure your plant is in full sun, you are watering it sufficiently and you are not over-fertilizing it. Too much nitrogen can cause plants to produce more foliage and less blooms.
How many Black-eyed Susan vines do you put in a planter?
In your average sized hanging basket (10-12") you would plant 2-3 single plants.
In larger urns you would plant 4-5 depending on the size of your container.
I always err on the side of the more the merrier, but when you have trouble finding the urn under all those gorgeous yellow blooms come July . . .

Update: This is my latest Black-eyed Susan vine variety to try - it's called Arizona Sunset and it has the most gorgeous shade of redish-brown flowers.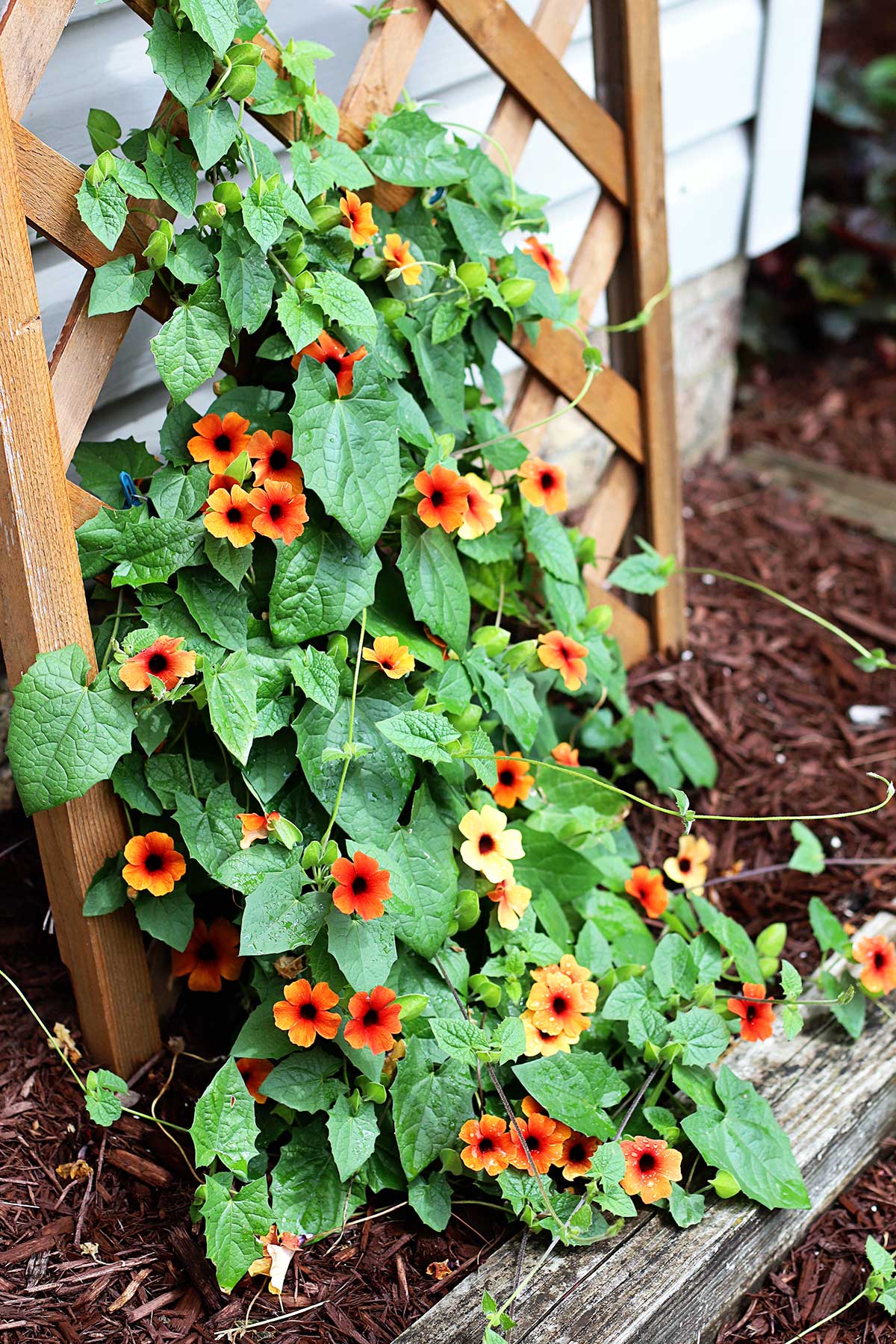 This photo was taken in June 2019, so early yet in the growing season. Although the plant grew probably 20 times this size by September, I felt the flowers weren't quite as prolific as the original yellow varieties had been in the past. Tons of foliage, great color, but ultimately less flowers.
Other Gardening Ideas you might enjoy:
How To Grow Peonies Your Neighbor Will Envy
5 Simple Tips For Growing Clematis