Yesterday I showed you my barn sale finds, so today I'll continue with my church rummage sale finds:
Last year I went to a few awesome church rummage sales and they all had some good vintage items. This weekend three out of the four church sales were filled with rubbish. Really, poor quality stuff that should have just made its way to the trash can. Old weed wackers that didn't work, half used boxes of Depends and lots of other pretty useless stuff (unless you have bladder issues).
The Methodists, Presbyterians and Lutherans didn't have anything worthwhile, but I did luck out at the Christian Church though.
I bought a bag of a whole lot of miscellaneous kitchen utensils for 25 cents. 99.9% of which I just turned around and donated to Goodwill, but I was interested in this thing in the bag.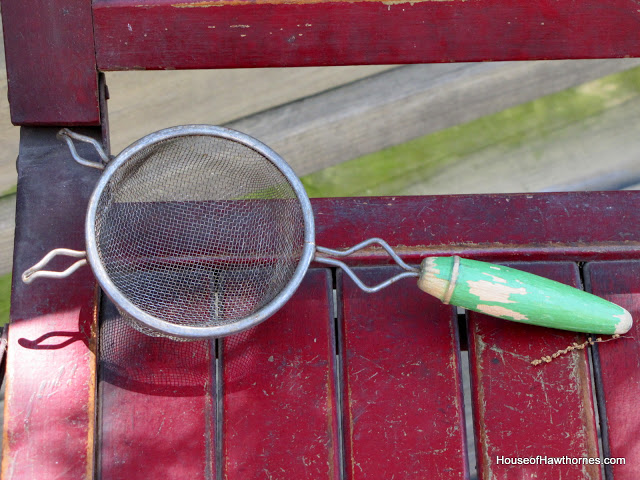 It has a great chippy green handle.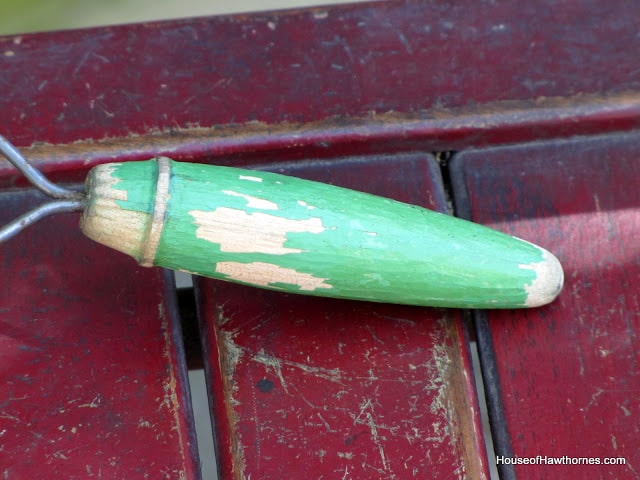 Any idea what it is though? And don't ask why I bought something that I didn't know what it was. You've all been there, done that.
And then I found this vase. A little old lady working at the church sale came over to me when I picked it up and told me she hoped I would love it as much as she had. She told me her Grandmother had given it to her and she had kept it all this time but had recently decided to go ahead and donate it to the church sale.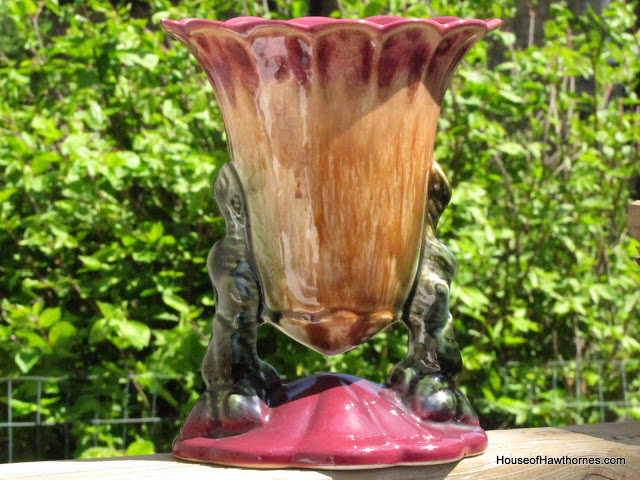 I told her I would love it as much as she had and I told her about some of the other vases I had. She seemed very happy that I was buying it.
For 75 cents. Did I mention it is a Hull vase?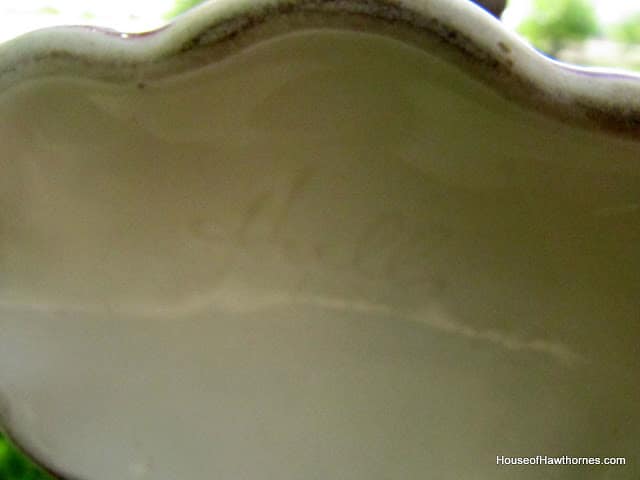 It is called a suspended vase, but I'm not sure what the decorative finish is called. Hull tended to make the same vase styles with different finishes and details on them.
Oh, and I left a little sumpin sumpin as a donation to the church when I checked out. Something about the combination of the nice old lady, being in a church and a ridiculously priced piece of pottery made me feel a little guilty.
BTW, my theory on why I find a lot of pottery pieces at thrift stores and yard sales is that a lot of pottery was made within an hour or so drive of where I live in Ohio, so I think it is just more readily available around here. Roseville, McCoy, Weller, Shawnee and Hull were all eastern Ohio pottery manufacturers. As well as Homer Laughlin in East Liverpool, Ohio.
There are benefits to living in Ohio!