How to make your own log planter for succulents using a bonfire log you can buy at your local hardware store. DIY succulent log planter without cutting down your own tree!
I've been wanting to make a succulent log planter for a while now, but my husband wasn't fond of me taking an axe to one of our trees just so I could have a pretty planter. Men!
Occasionally I'll see a tree all cut up on the side of a country road, but BUGS. The tree might be infested with something I don't want to bring home to my house.
And then I ran into these bonfire logs at Home Depot (I've also seen them at other hardware stores and a local grocery store) and my mind started twirling.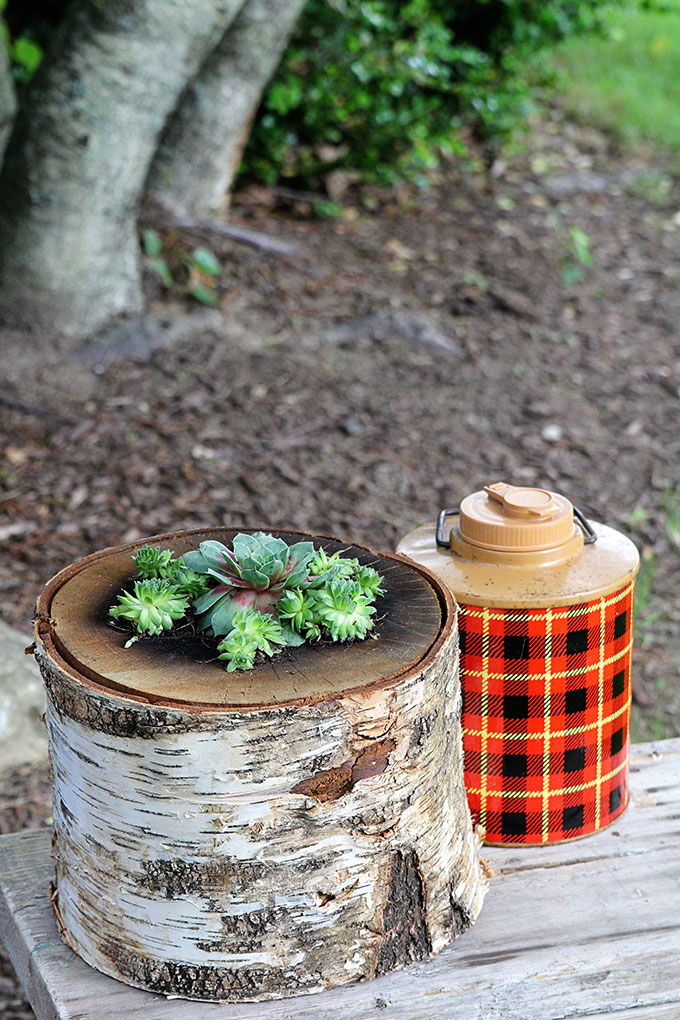 More than usual.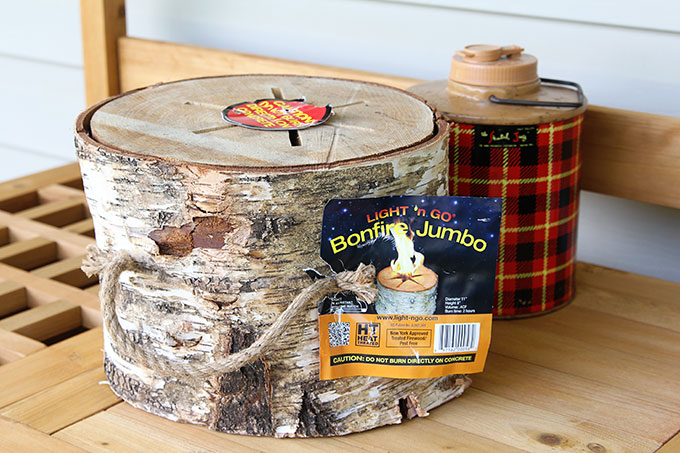 Why can't I make one of THESE into a succulent log planter?
I mean it's a tree stump. It's wooden. It says it's non-toxic, all-natural and all that jazz.
There's no chemicals in it, just good old-fashioned wood that has been dried and slit so it burns better. And no bugs!!!
Plus they have gorgeous birch bark on them!!! I'm a sucker for birch bark!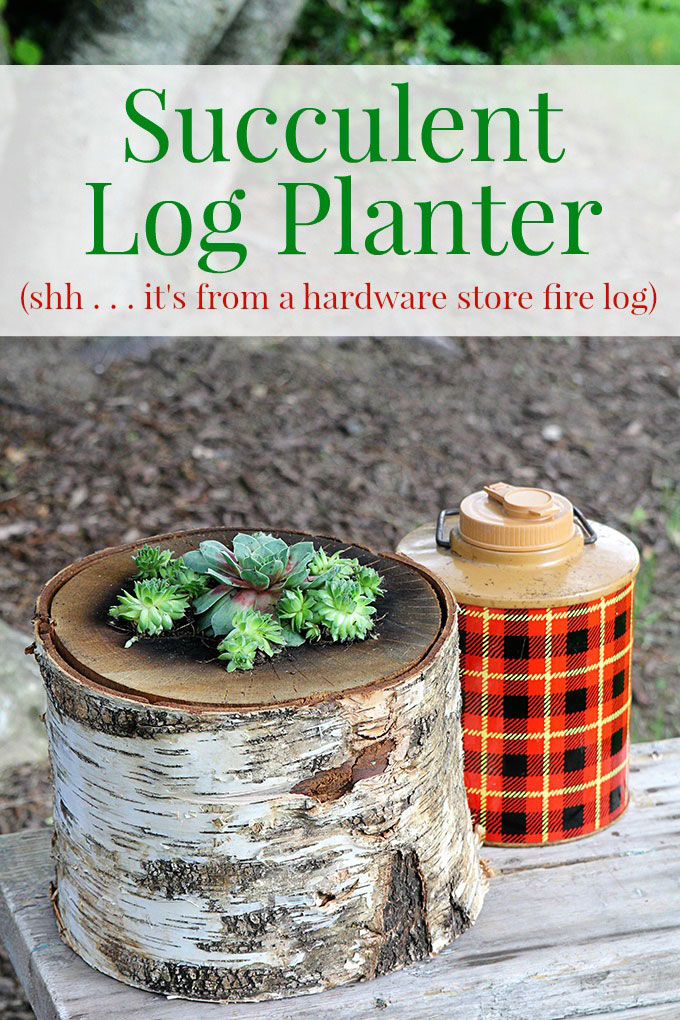 How To Make A Birch Bark Succulent Log Planter From A Grocery Store Bonfire Log
Step 1 - Make An Indentation Large Enough To Plant In
We're talking an indentation roughly 3-4" deep. Succulents don't need a ton of leg room to grow.
These logs are actually kiln dried so they burn better, wherein lies my problem. These things are HARD. Yes, yes, all wood is hard, but this is could make-a-lumberjack-give-up-his-day-job kind of hard.
I tried chiseling out of spot and then tried drilling holes with a spade bit, but both those methods were taking FOREVER. I decided to go with good old fire to speed up the process.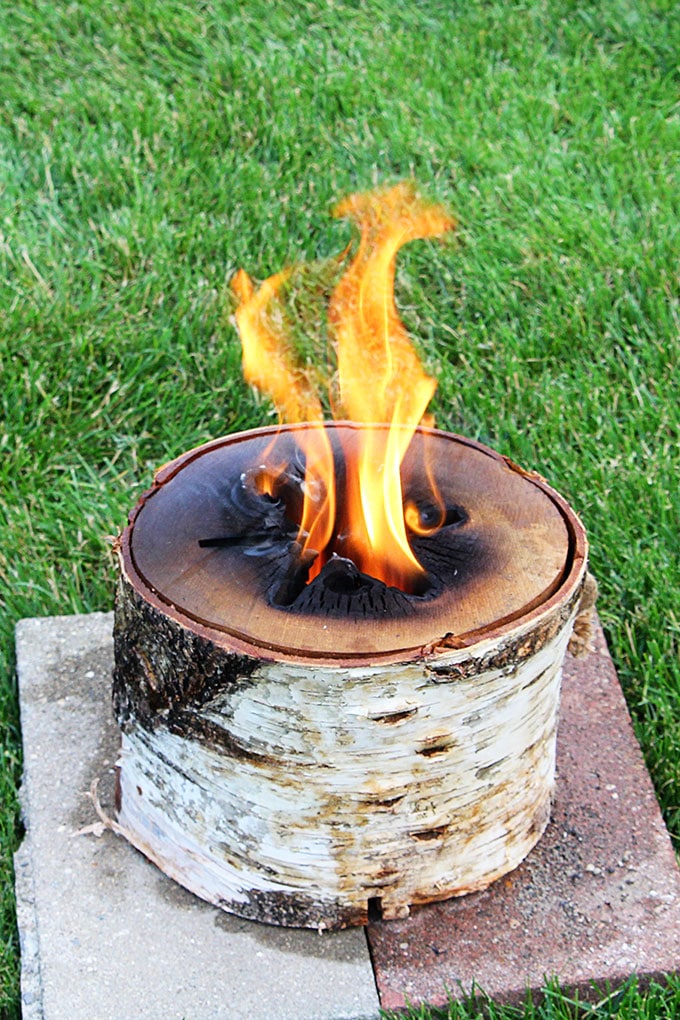 It is made to be a bonfire log for your fireplace or camping after all, so it's not out of the realm of possibilities.
I just needed to burn it down a little bit so there would be room to plant some succulents, so I lit the wick and watched it very very carefully. I did not want it to get out of hand and I did not want the yummy bark to get burned.
I ended up using a water bottle to squirt water on the outside bark and around the top where I didn't want it to burn. I believe all in all, I let it burn for about 30 minutes.
And then I doused it with water. A lot of water. And let it sit overnight.
Then doused it again with water in the morning just in case. I did not want there to be any chance this thing was still burning. At all.
Optional Step 1.5 - Cover Your Bottom
If you want to put this on your patio dining table, you may want to staple some landscape fabric or some plastic to the bottom in case it leaks (stray dirt falling through or water). Mine is just going to be setting on the ground, so I don't mind any leakage.
Step 2 - Safety First and Foremost, AKA I'm About To Get All Smokey Bear On You
Please, please, please. If you use the burning method, do not even remotely think about bringing this into your house or even close to your house for days and days.
And keep it in a very safe place away from brush and trees. As my friend Smokey Bear says "Only you can prevent forest fires!".
Step 3 - Plant Your Succulents
I put a couple cups of pea sized aquarium gravel in the log to fill up the bottom and to help with drainage, followed by some potting soil.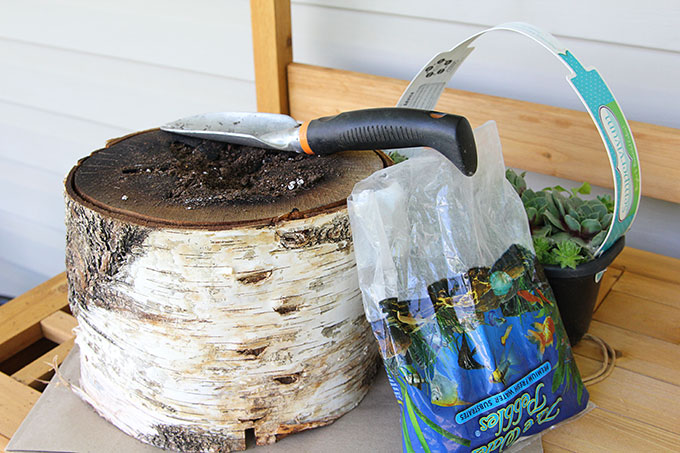 And then I planted my succulents.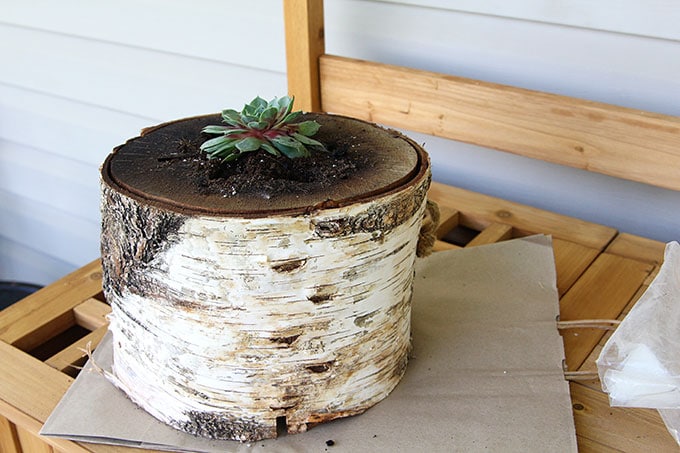 To water them, I used a spray bottle and sprayed them down good.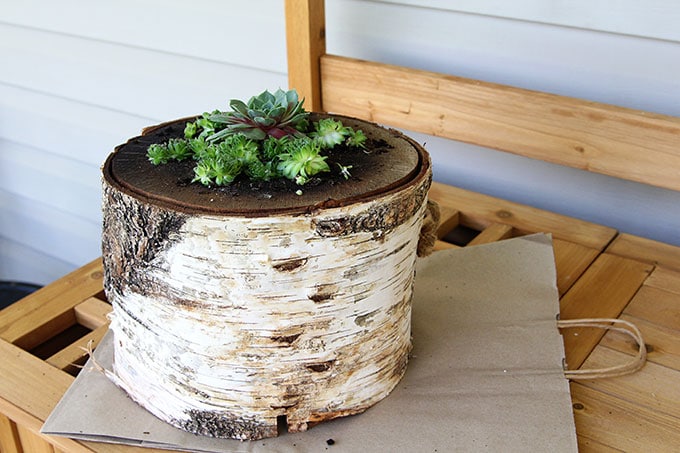 I used hens and chicks in mine, because you can buy them almost anywhere nowadays. And they're pretty.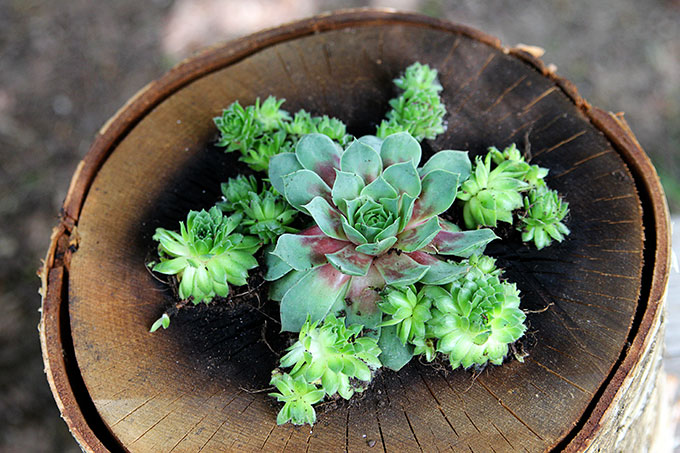 I ended up taking out my vacuum to suck up some of the extra dirt that was laying on top. You could also brush it off with a paint brush or your husband's toothbrush. Your call.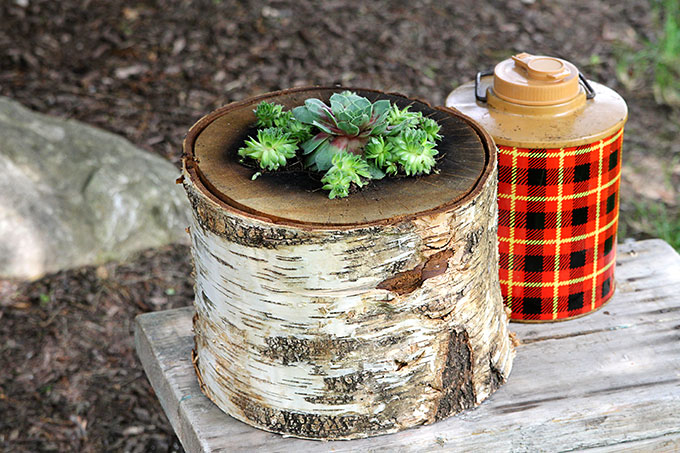 So let's recap, shall we:
Run to the hardware store or grocery store and look for the birch bonfire logs.
Get all giddy when you see the lovely birch bark (try not to caress the logs in the store, the employees don't need to see that).
Chip away at the top.
Chipping probably won't work, so go ahead and light it on fire for roughly half an hour (in a safe place according to the directions on the label).
Extinguish your fire. Leave the log in a safe place. DO NOT bring it into the house right now. DO NOT even think about it. Just don't.
After you are entirely sure it's not even remotely on fire or has coals burning, you can plant in it.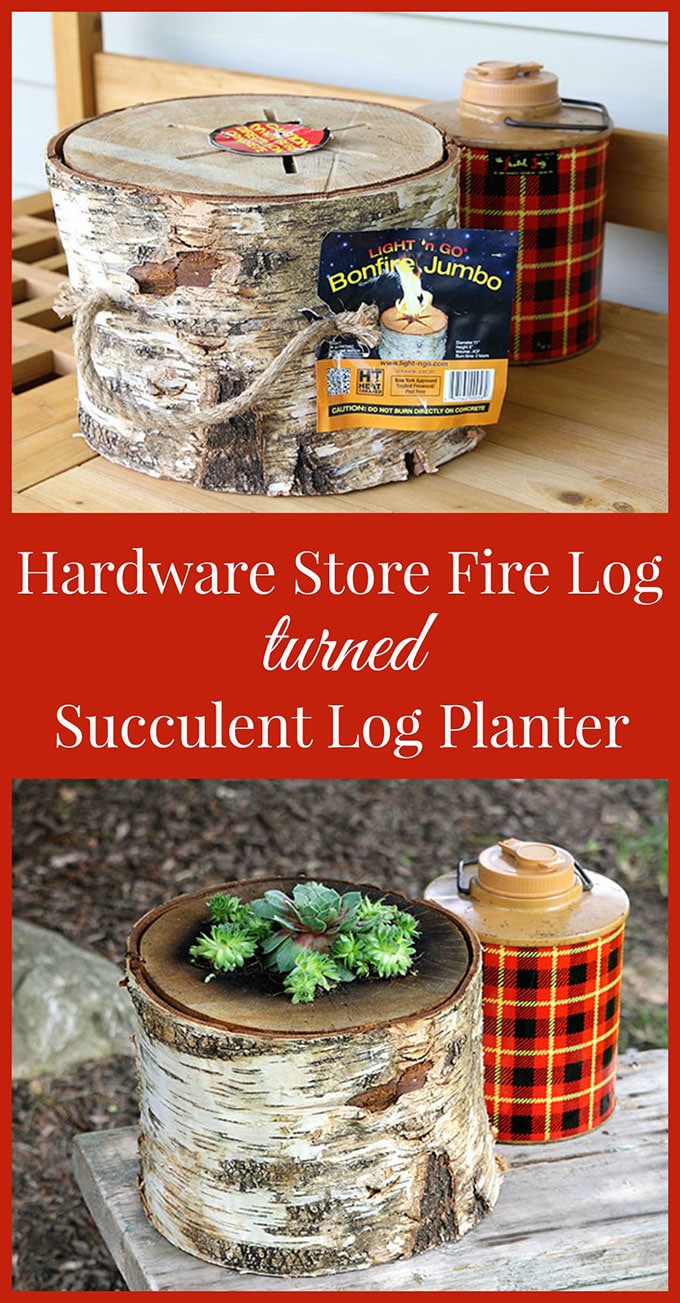 Other summer projects you may enjoy:
How to Plant A Fun Succulent Planter Bowl