I know I just did a Homemade Hummingbird Nectar Recipe the other day and today I'm showing you how to make a cheap and easy bird bath, but really I don't JUST write about birds all the time. I'm just a little bit obsessed with my bird friends this time of year.
When I was checking out the Goodwill bins (aka the Goodwill Outlet Store) the other day I ran across this cardinal vase. Crock? Lidless cookie jar?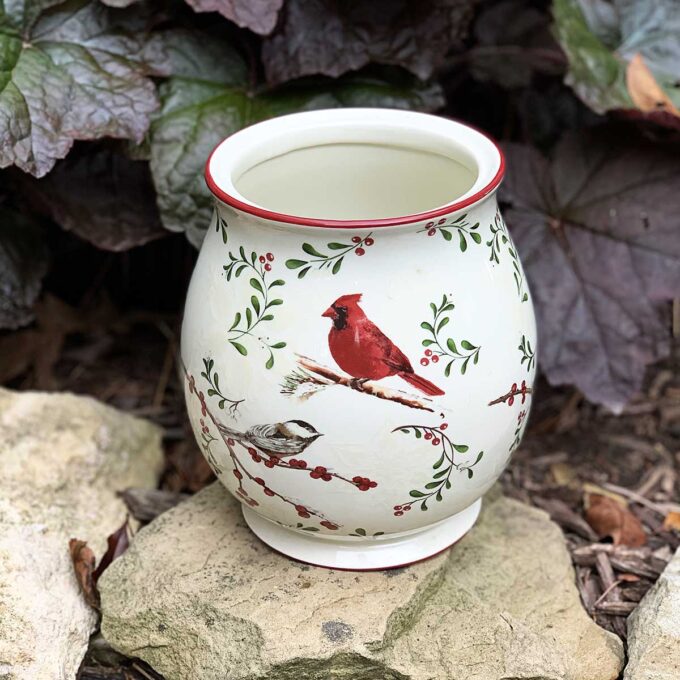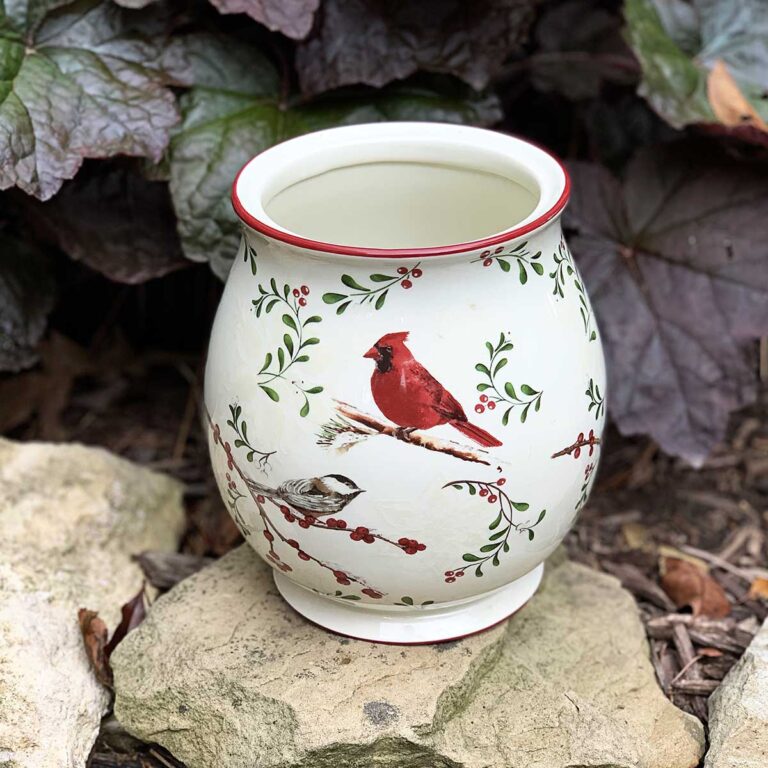 OK, I don't know exactly what it is, but it was cute and cheerful. I think it was originally sold as a Christmas item at Walmart a few years ago.
✨ BTW, today is Thrift Store Decor Wednesday, so make sure you hang around to the end of the post to see the rest of the team's thrift store repurposes for the month!
I just knew it could be something special. Besides my mom LOVED cardinals and we have a ton of cardinals that live in our yard, so I just had to buy it.
I added some other thrift store kitchenware pieces to go with it to make a fun, slightly Christmas-like bird bath!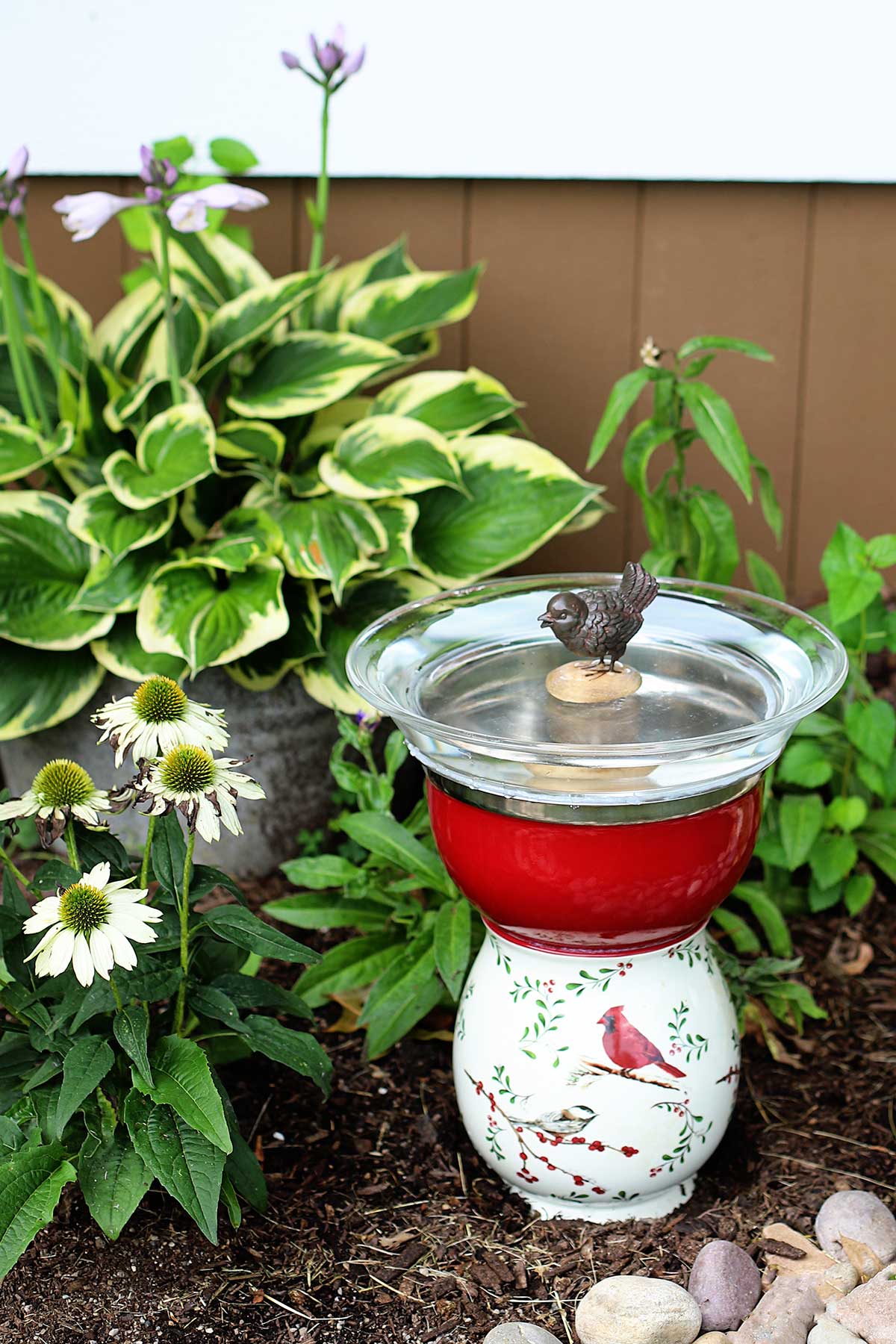 What Type Of Glassware To Use As The Bowl For The Birdbath
I went back and forth between what I wanted on top for the birds to splash around in. I ended up choosing a glass pie pan, because there were 14,592 of them at the thrift store to choose from in all different shapes, sizes and depths.

Whatever you choose, make sure it is not too deep for the birds. Your birdbath should not be deeper than 2". Most backyard birds don't swim per se. They'll use your bird bath to drink from or to splash water onto themselves, but they're not submerging themselves or doing a backstroke. They have to be able to stand either on the rim, on top of stones or in shallow water. Unless you want to learn bird CPR, anything deeper than 2" is asking trouble.

Some thrift store items you can use as a bird bath bowl are terra cotta saucers for plant pots, upside down cooking pot lids and large serving trays. I've even used an upside down galvanized trash can lid in the past.
What Type Of Glue To Use
I'm sort of partial to the GE Silicone 2 CLEAR Window & Door Sealant as my glue of choice for this type of outdoor project. It's water resistant, so normal rain doesn't bother it (although you don't want to use it on something that is going to be submerged under water for any length of time). Although it's made to be a sealant/caulk around doors and windows it also is an adhesive.

For my Penny Bowling Ball project I used a very similar product made by Dap and it has held up admirably.

If you wish to try another type of sealant, Melissa from Empress of Dirt has a Glue Resource Guide For Garden Art Projects that is very very detailed and compares the ins and outs of all sorts of glues. She's not only the Empress Of Dirt, she's the Goddess Of Glue.
How To Make An Upcycled Bird Bath
Gather Your Supplies
At least three pieces of various sized glassware, cooking dishes or pottery - I used the vase?, a mixing bowl and a pie plate
GE Silicone 2 CLEAR Window & Door Sealant (E6000 glue can be used as an alternative)
Sand paper or sanding sponge - I used a 36 grit which is fairly rough (the smaller the number the rougher it is)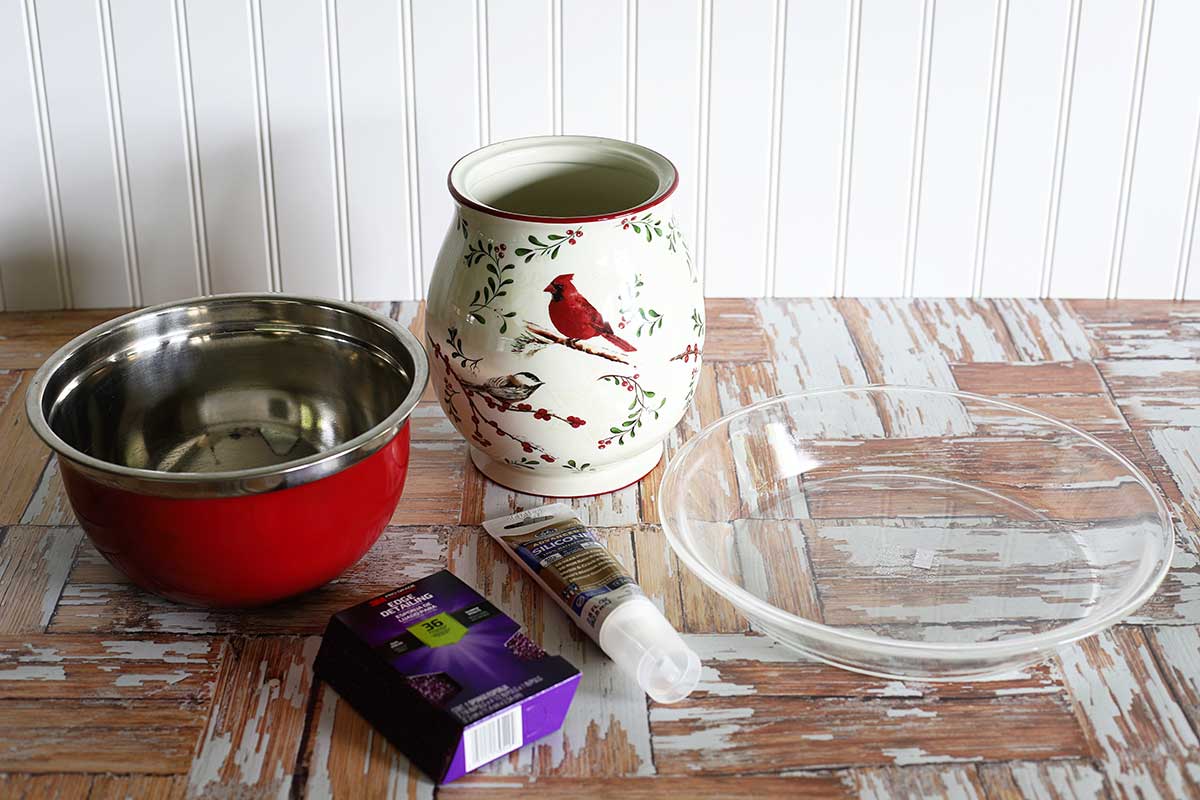 Instructions
Time needed: 15 minutes
Steps
Dry Fit Pieces

It's always a good idea to do a dry run to make sure everything is going to fit snuggly together and you have good contact points between the pieces.



I actually did a dry run in the thrift store with about 15 different pieces to find at least one that would fit snuggly with the finicky cardinal vase (this photo was taken at home). Yes, the thrift store employees thought I was nuts.

Sand Contact Points

Lightly sand the areas that will come in contact with each other. You want the pieces to have a little bit of "tooth" for the glue to hold onto, instead of a perfectly smooth and shiny surface.



Apply Glue

Run a bead of glue where the pieces will come in contact with each other.



Attach Pieces

Press the pieces together and weigh down with a stone, brick or heavy books.



Let Set

Let the glue set up according to the directions on your tube of glue. The GE Silicone For Window & Door Projects that I used is water resistant after 30 minutes, but it is not truly 100% cured for 24 hours. Also, keep in mind humidity and temperature can affect the dry time.

After your cure time is up, fill your masterpiece with water and let the bird bathing commence.



Of course, I had to add the fake bird sitting on a fake stone since I couldn't entice a real bird to be my model for this photography session.
Have you made your own birdbath recently?
Check out the web story version of this article
HERE
.
Thrift Store Decor Team Projects:
Now let's see what the rest of the team are up to today!

Rusty Trash Can Lid Sunflower Wreath - Petticoat Junktion
Repair Fake Wood Dresser Mirror Frame - My Repurposed Life
Macrame Vase Cover - My Uncommon Slice Of Suburbia
Picnic Basket Makeover - Our Southern Home
Frosted Glass Tealights - Domestically Speaking
Repurposed Thrift Store Glassware - House of Hawthornes (that's me)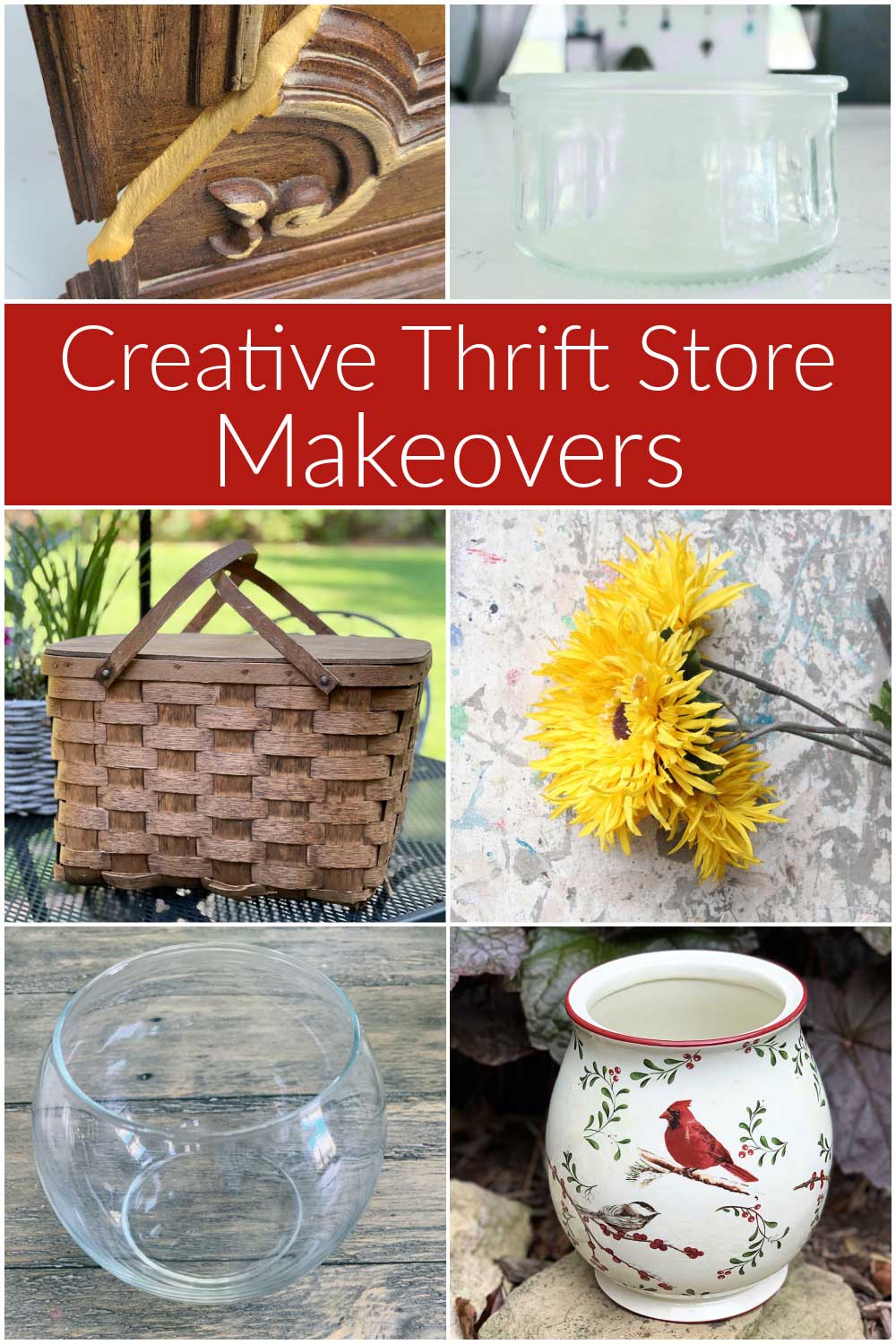 More posts you may enjoy: