If you have a small front porch, you may feel a bit stumped by the lack of space. But, don't be deceived—there is plenty of style that can be packed into the tiniest of porches! Need some inspiration? Take a look at these small front porch ideas and see what I mean!
The Best Small Front Porch Ideas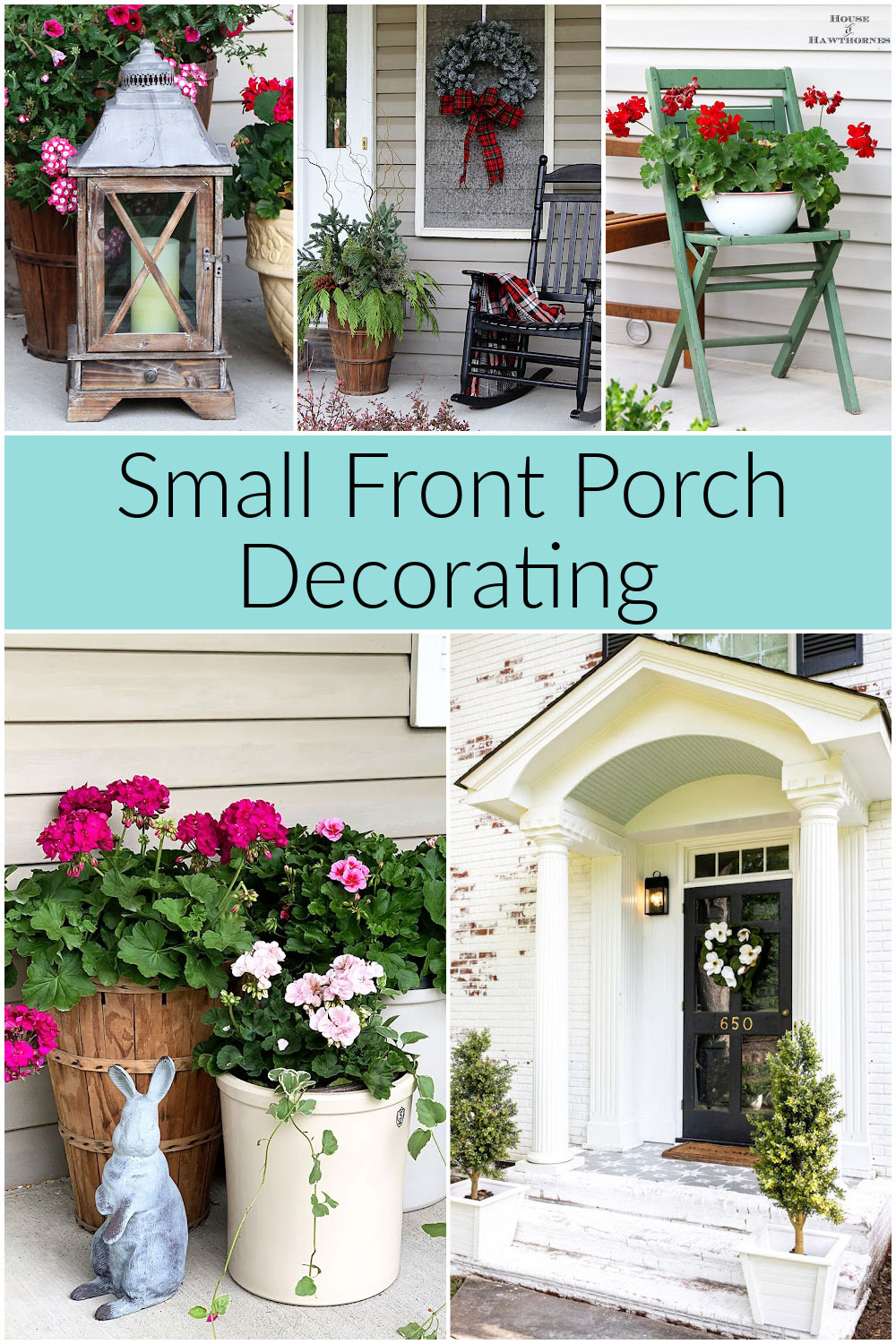 Every house has its own unique front porch, ranging from modest to massive. Then, we also have one of my favorite styles: the small front porch! Tiny but mighty, this space may not grace the covers of Southern-style magazines, but it can still be the perfect spot to greet guests.
Take a look at these small front porch ideas and see what I mean!
1. Add (Small) Seating
If at all possible, a small seating area is an inviting way to welcome visitors to your front porch. The idea is to make the porch cozy, not crowded, so scale will be very important.

This vintage wooden folding chair would work well on a very small porch. Of course, if you want to actually sit on the porch, you would remove the geraniums.
Some additional small furniture ideas for a porch:
Bistro Set
Rocking chair
Bench
Stool
Small side table
Crates stacked on top of each other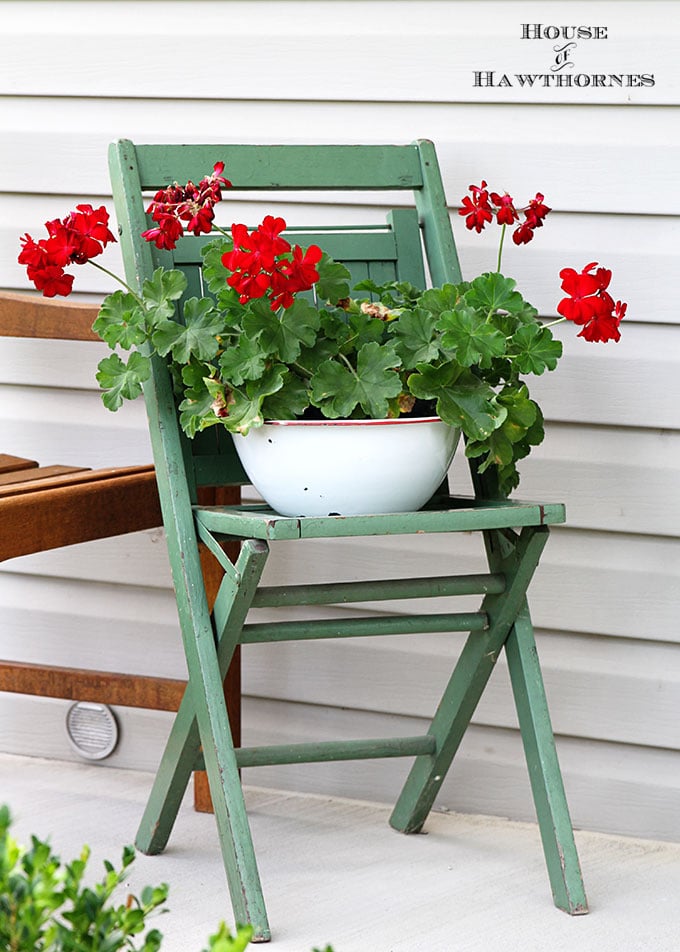 2. Layer Doormats
Using two doormats, one on top of the other, has become very popular over the last few years. It's a chance to increase your porch's curb appeal with minimal effort.
Laura from Inspiration For Moms shows us How To Mix And Match Door Mats to create the perfect combo for your front door. She has lots of examples too!
Layering doormats like this can be done year-round. In the winter months, you can swap out the bottom for a plaid print or something festive, while keeping it more neutral in the spring and summer.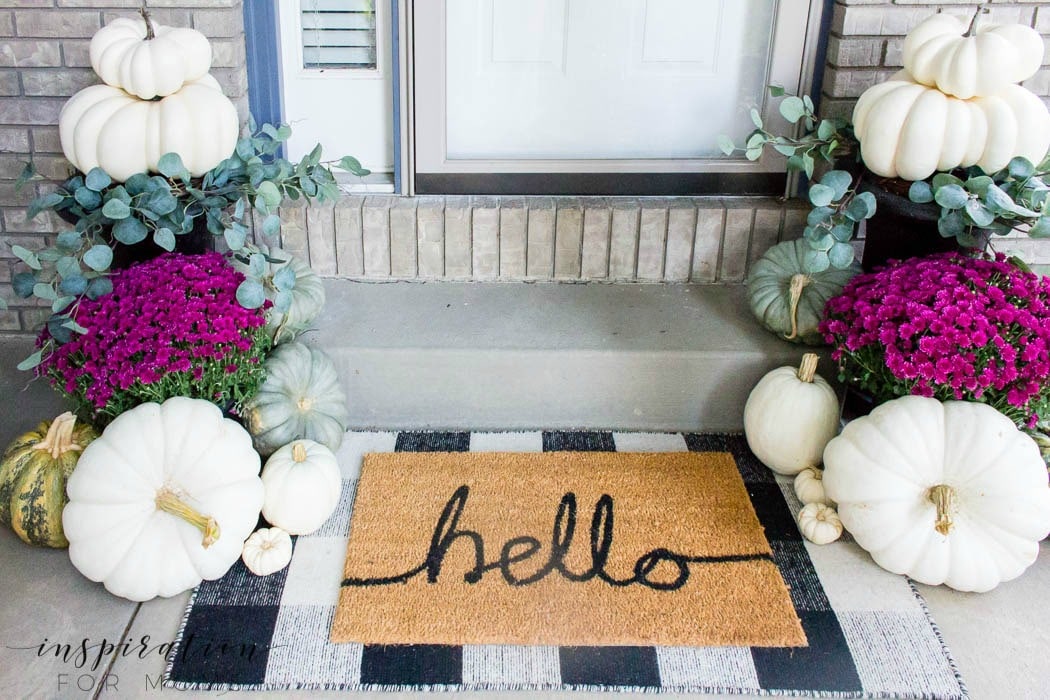 3. Stencil Your Porch Floor
Stenciling your plain Jane concrete is a fun way to elevate your front porch decor with just a little bit of paint and a couple hours of your time.

Robert and Lauren at Blesser House stenciled their concrete porch and it turned out wonderfully! And they have lots of step by step photos to show you how.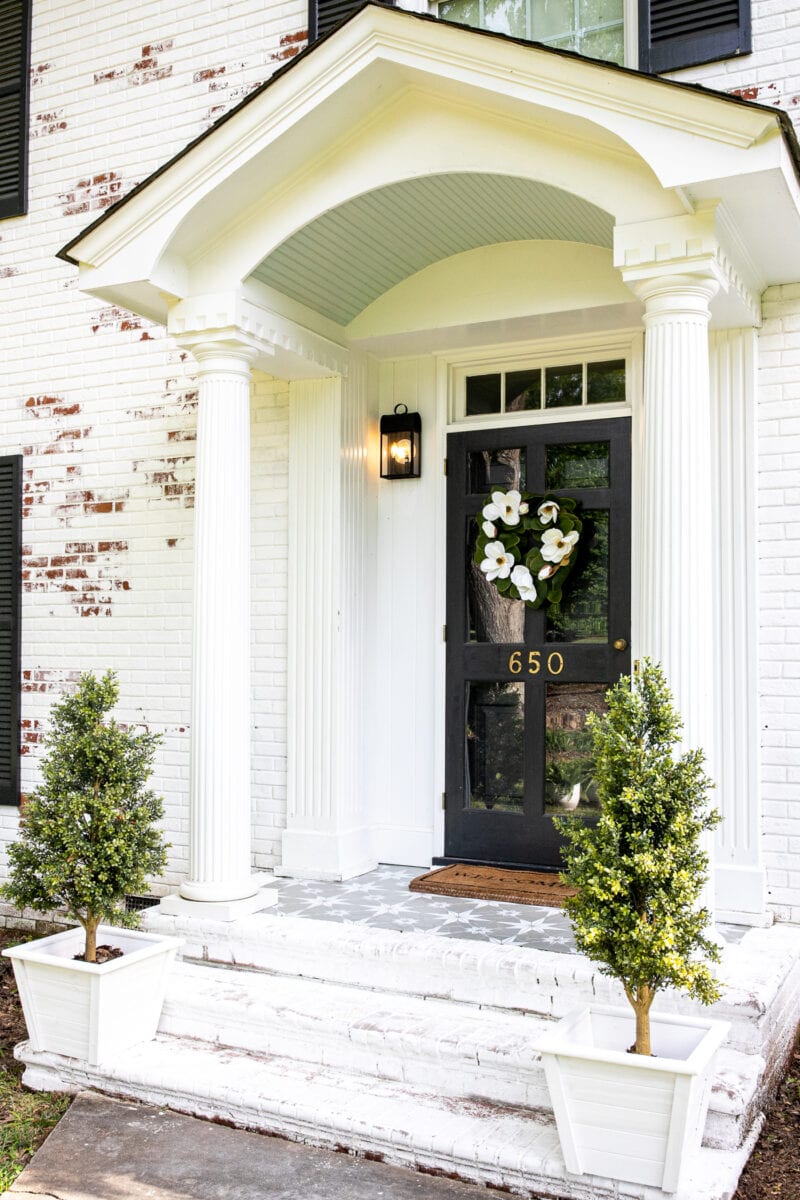 4. Use Plenty of Flowers
Every porch needs at least one pot of flowers. I think it's the law.

I showed you this farmhouse look using two crocks, a peach basket and a few geraniums earlier this year in my article on Favorite Plant Combinations For Container Gardens. Very simple look for a pop of color.

Want a more formal look than crocks? You can use a classic black urn which can be used season after season and swapped for different types of foliage. Ferns, topiaries and small pine trees look wonderful in urns.

If you have a front porch that truly won't allow for even a small planter, don't despair! You can add a planter to your wall with something like this, or simply opt for hanging baskets of flowers that takes up no floor space whatsoever.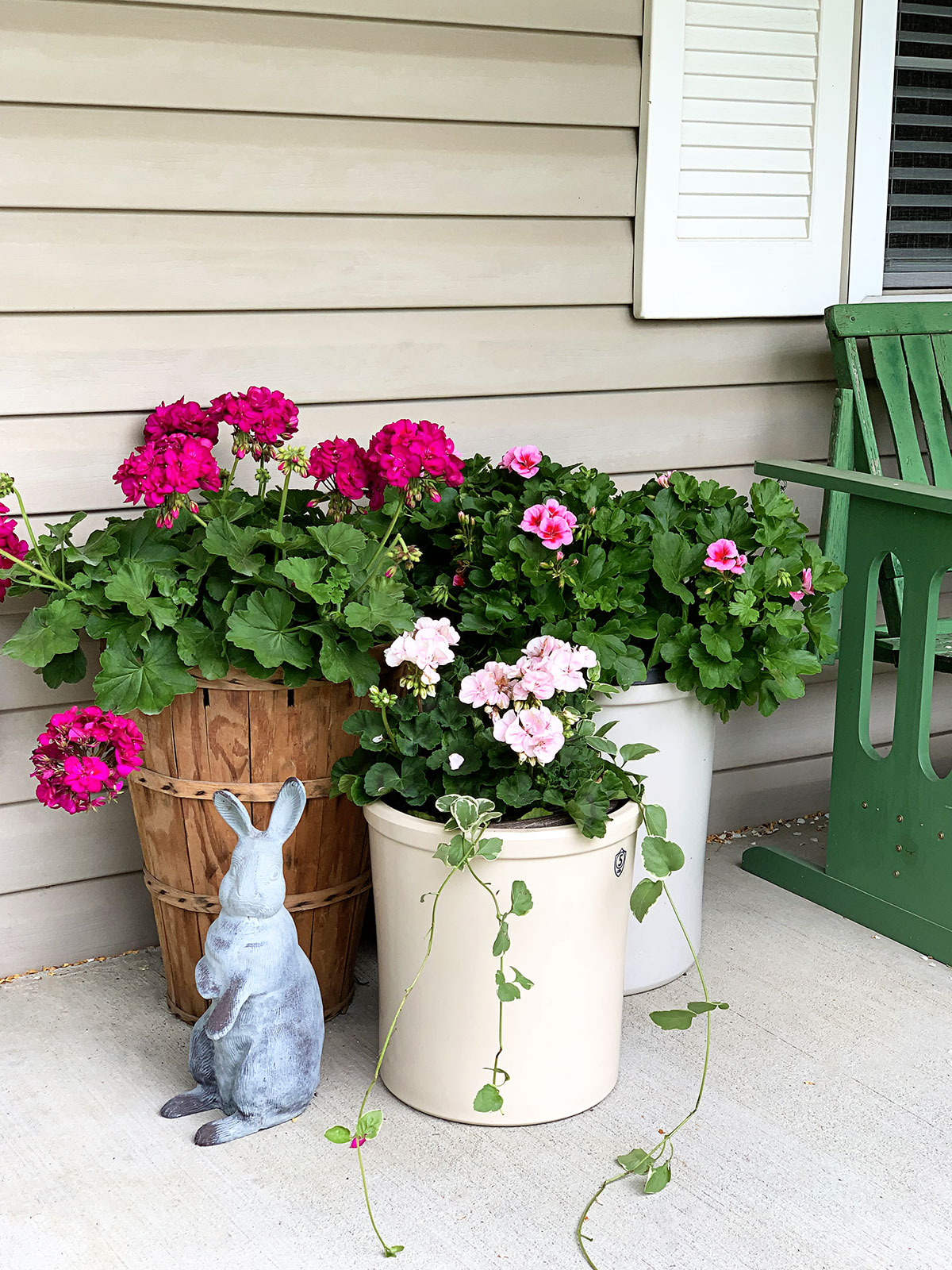 5. Buy - or Build - Custom Planters
If a traditional flower box or urn is still to wide for your space, you can always build your own.

This narrow tiered planter box from Anika's Daily Life fills her small front porch perfectly! No wonder, as she built it for under $10! Even if you aren't particularly handy, you should be able to handle building this project geared toward beginners. Or you can always hire a local builder to do these for you if you're getting hives just thinking about picking up a hammer.
Of course, you have the option of purchasing planters as well, but this narrow rectangle shape makes the most of otherwise unusable space (and it doesn't block access to the door).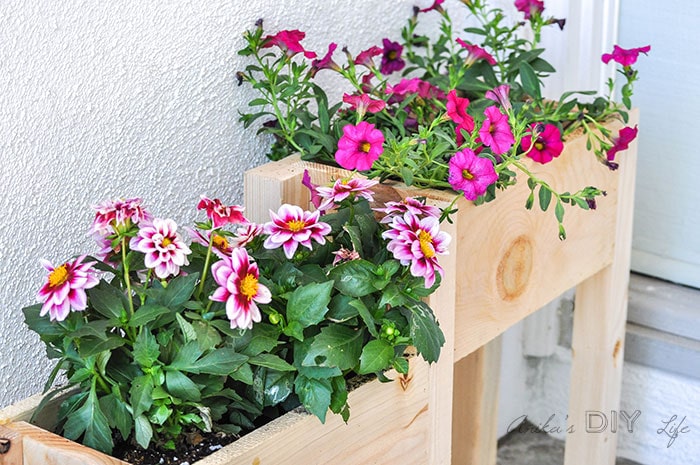 6. Add A Lantern
To add even more personality to a small space you can add a simple lantern to the porch, like this one I used on my Summer Porch a few years ago! It adds an additional layer and takes up very little space.
By using an outdoor battery-powered candle with an automatic timer there's no need to remember to turn them on and off. The outdoor rated ones do not melt in the hot sun (aka plastic) and are water-resistant.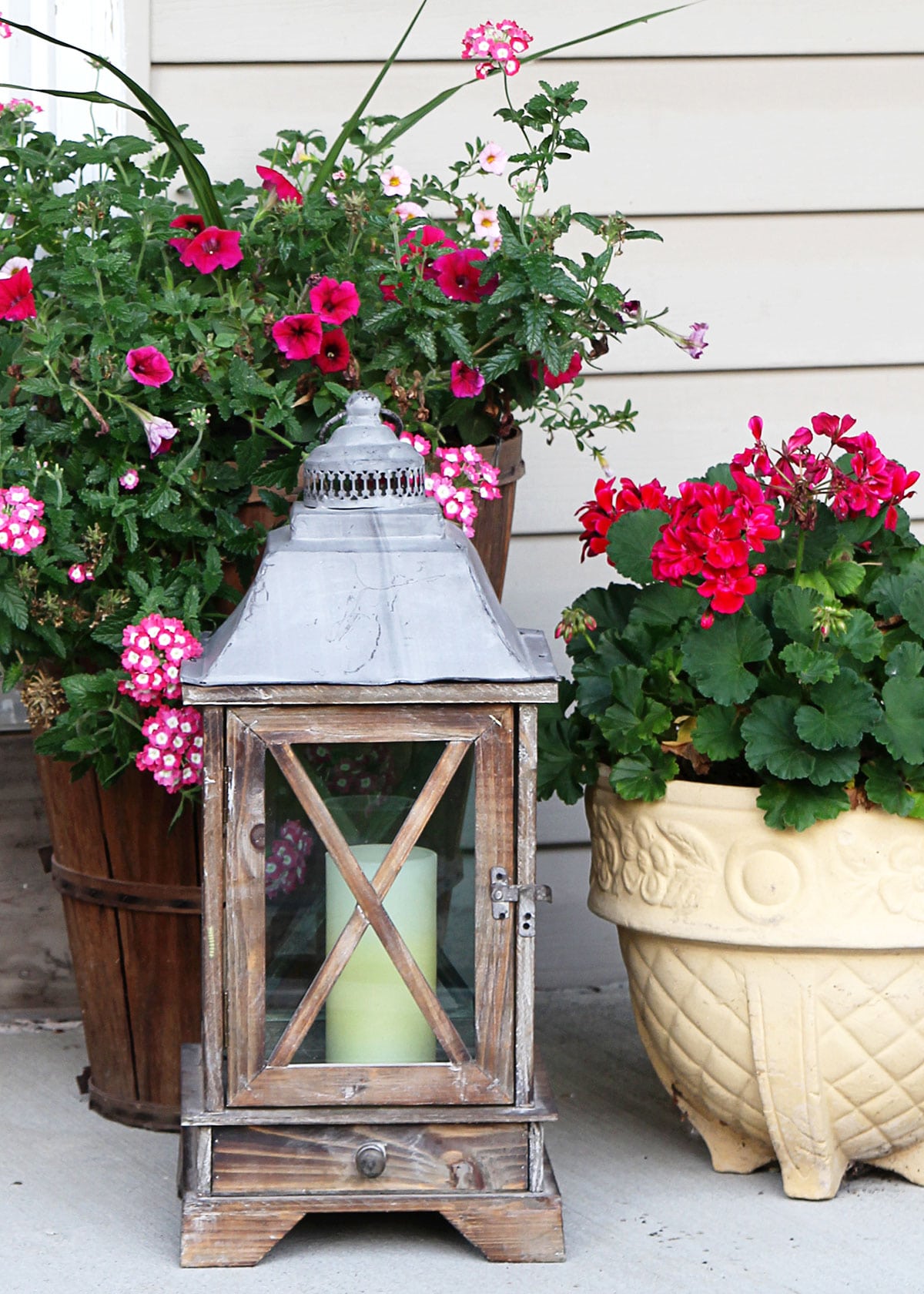 7. Add a Pop of Color with the Front Door
Here's my own front door! This is one of my favorite small front porch ideas because you can pick the color to match your style! I'm a fan of the vintage look, so I painted my door a pretty teal shade (without removing the door from its hinges!).

If teal isn't for you, my post on Front Door Colors That Pop might interest you.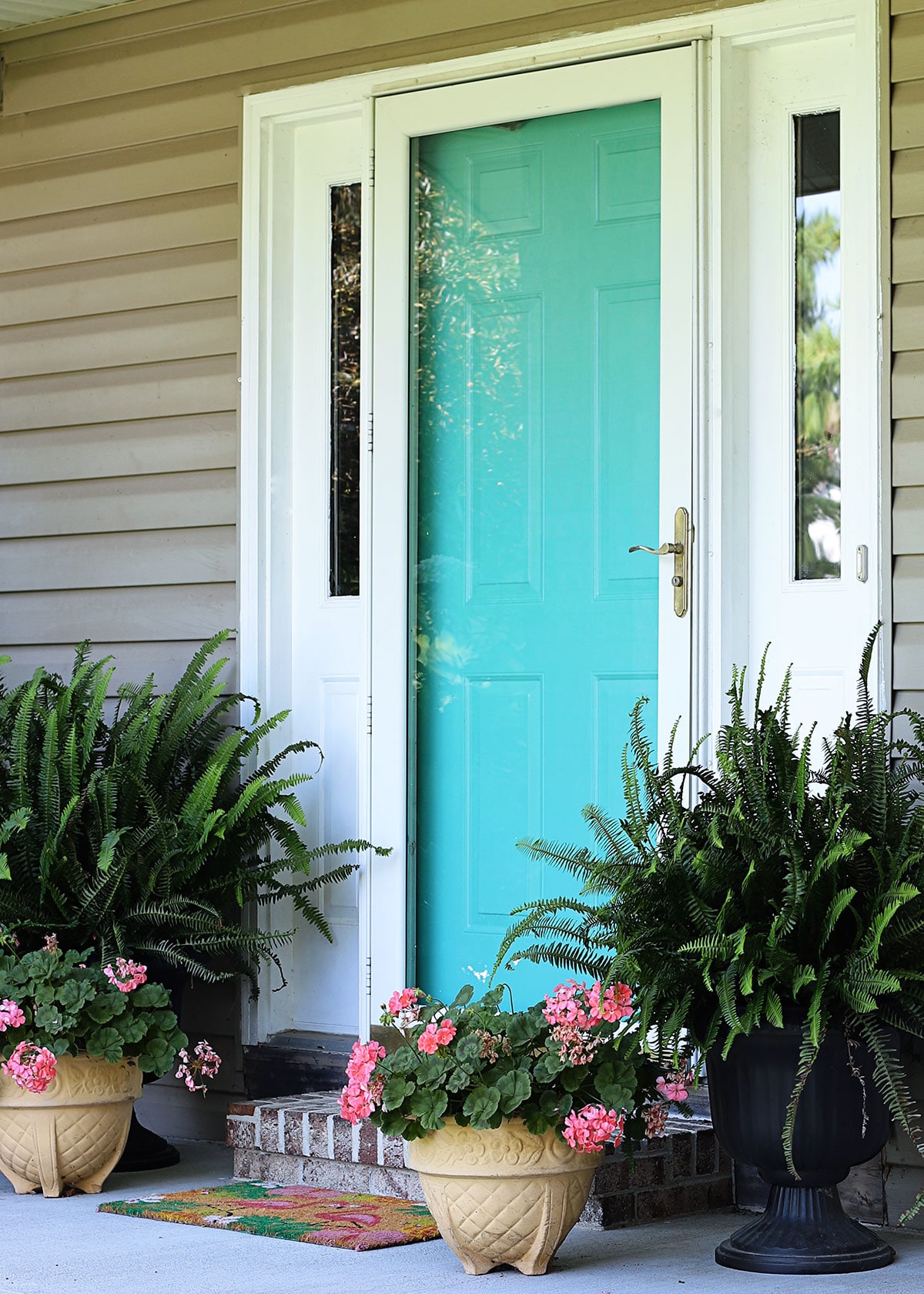 8. Add Textiles and Warmth
If you can fit any kind of chair, rocker or bench on your front porch, a cozy throw or pillow will be an inviting extra layer of decor! I used a plaid winter throw for this winter porch shown below, but you can also use a lightweight throw or pillow on your spring and summer porches.
Cheater Tip: If you don't plan on using the "throw" as an actual blanket to keep you warm you can also use a fabric tablecloth, a large scarf or a couple yards of fabric to get the same look.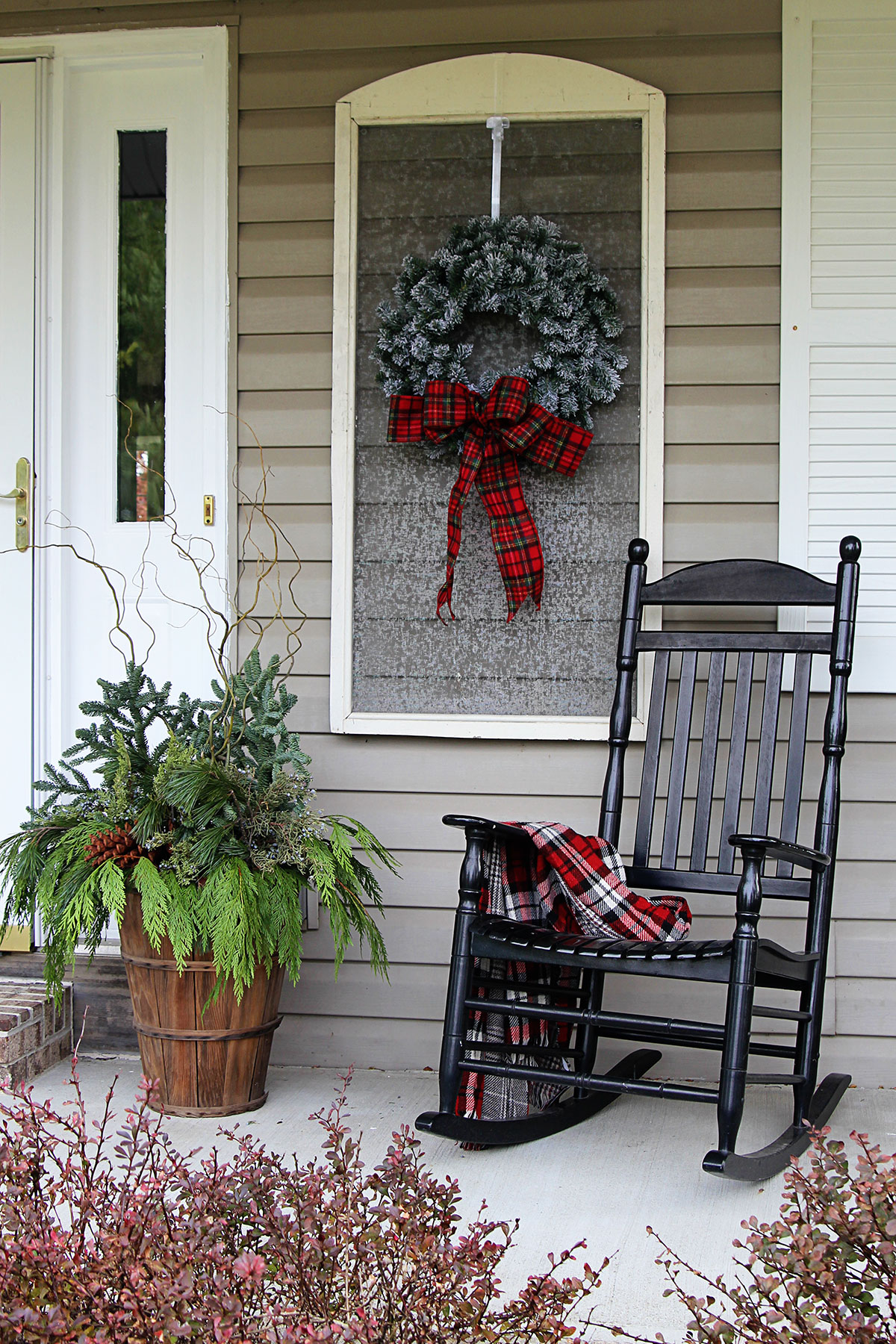 9. Dress Up Your Door with a Wreath
Another great idea for adding decor to a small porch is to adorn your front door with a wreath. A wreath can be as bright or subdued as you make it!
This quick and easy hydrangea wreath I showed you how to make last summer is the perfect example of an inexpensive and simple subdued version of a wreath.
As opposed to my Watering Can Wreath that was bright and whimsical (it even lit up at night).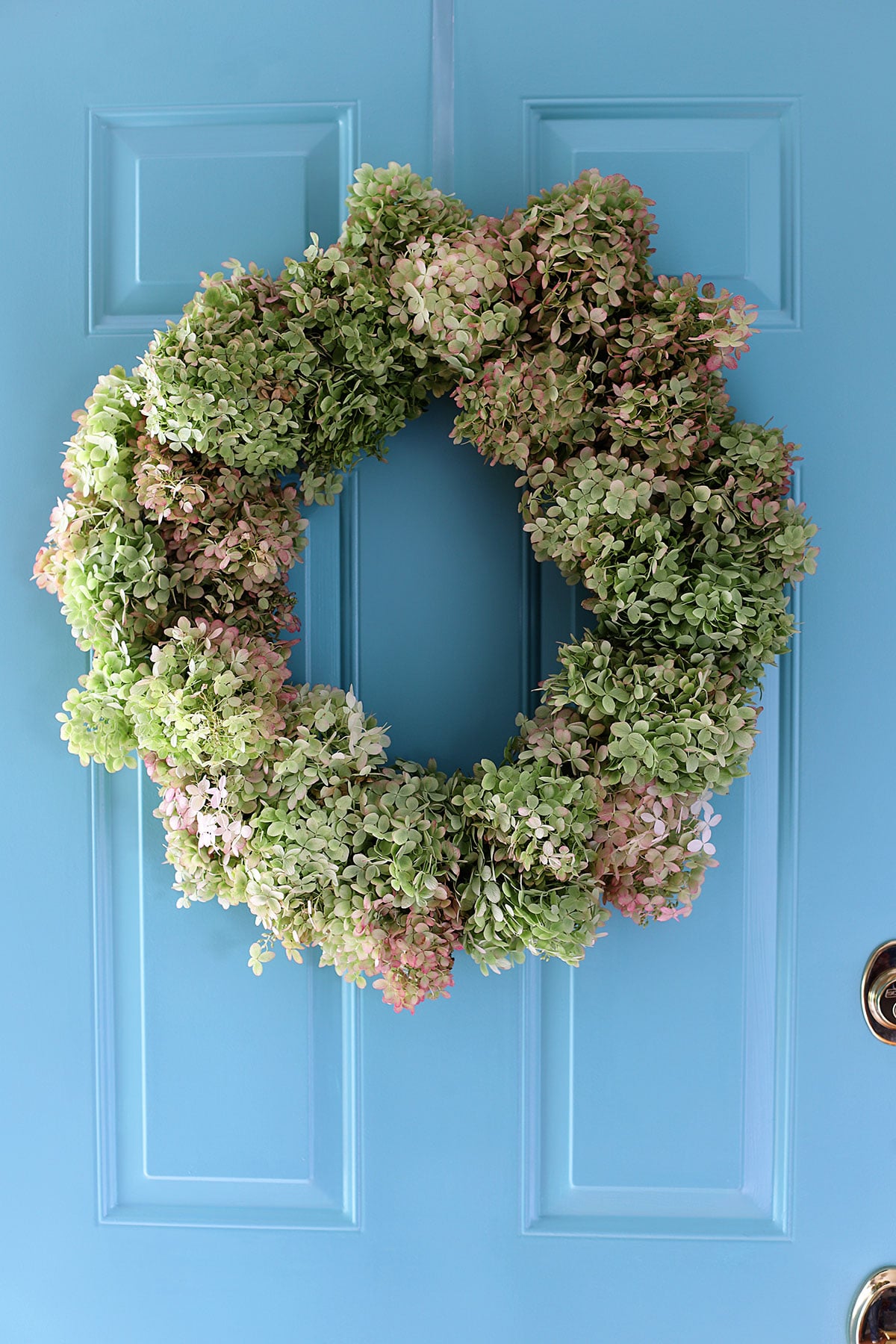 10. Add a Porch Leaner
This is one of the best small porch ideas because it adds a punch of personality with a relatively small footprint. If you haven't heard of one before, a porch leaner is a tall, vertical sign that leans against your porch wall.
Porch leaners have been a trend for a while now. They work well for any space, but I particularly like them for smaller spaces because they give you a ton of visual impact. This is particularly true if you make a porch leaner like this one featured from The House On Silverado (she has a great tutorial on how to make your own DIY Reversible Porch Sign).
Which brings me to my Bonus Tip: make your porch leaner double-sided! That way when you tire of one design, you can swap it for the other side. This works really well for seasonal designs where you can do a Thanksgiving-theme on one side, and a Christmas design on the other.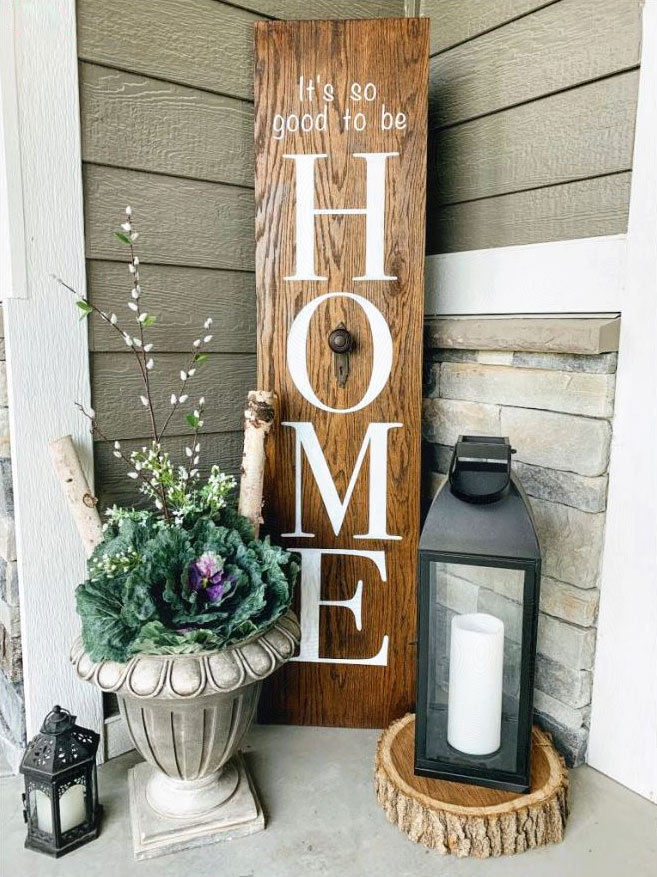 Final Thoughts on Small Front Porch Ideas
So there you have it - 10 brilliant porch ideas that will work in any sized space! Don't fall into the trap of thinking that bigger is better, but instead learn to work with what you have.
Which one of these porch ideas will you be trying first?
(This post contains some affiliate links for your convenience. You can read my full disclosure policy here.)