I got my ears pierced at the ripe old age of 13. I remember it being a HUGE deal in my family with lots and lots of discussion. And not everyone thought it was a good idea.
I think my only saving grace was that my mom wanted to get her ears pierced too, so I think she ended up letting me do it so she could do it too (and not look the grumpy mom who tells you to do what she says, not what she does).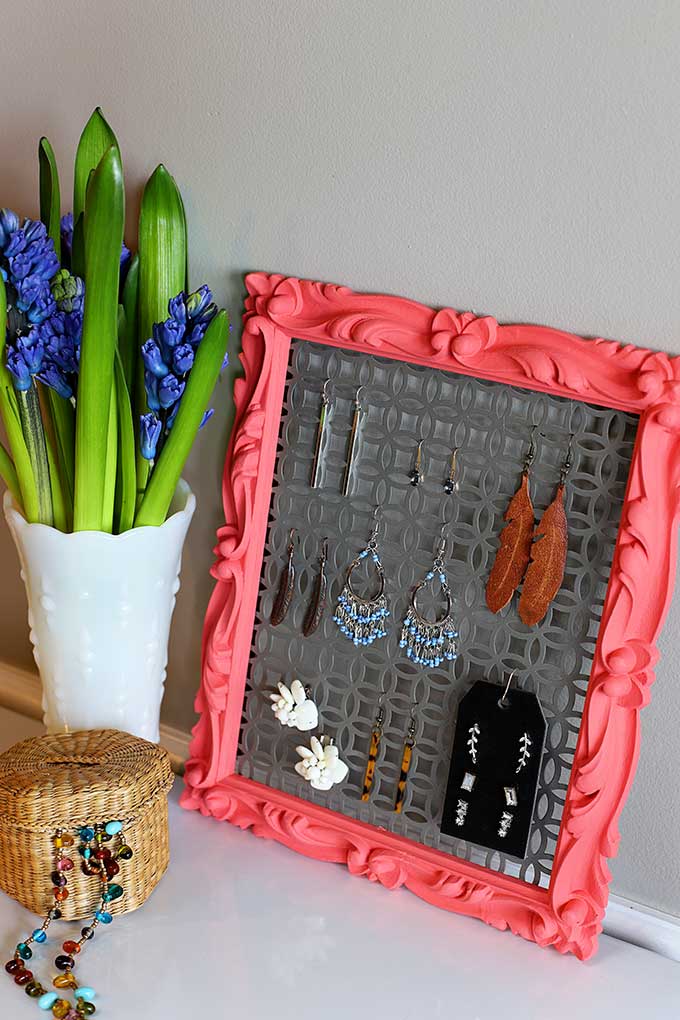 Anyhow, the actual piercing went well, but the aftermath not so much. My ears never really got used to wearing earrings. Oh, I tried, but my body just wasn't having it.
Whenever I would wear them my ears would start itching, then they would swell up and get all full of pus (hope you're not eating breakfast). Next thing you knew I had to take them out.
So I spent the better part of my adult life thinking I couldn't wear earrings. Years wasted earring-less.
And then one day last summer I was at a local boutique and they had THE CUTEST little feather earrings that I just had to try.
And they didn't itch.
My ears didn't turn beet red.
It was a miracle.
OK, not on the scale of walking on water or anything, but still it was a big deal. I don't know if my body has adapted or if it's new technology in earrings, but I can now wear earrings proud and loud!
Hoops! Studs! Dangling ones!
So my next problem was what to do with all my new found earrings I was accumulating!
Well, let's make an earring organizer.
(This post contains some affiliate links for your convenience. You can read my full disclosure policy here.)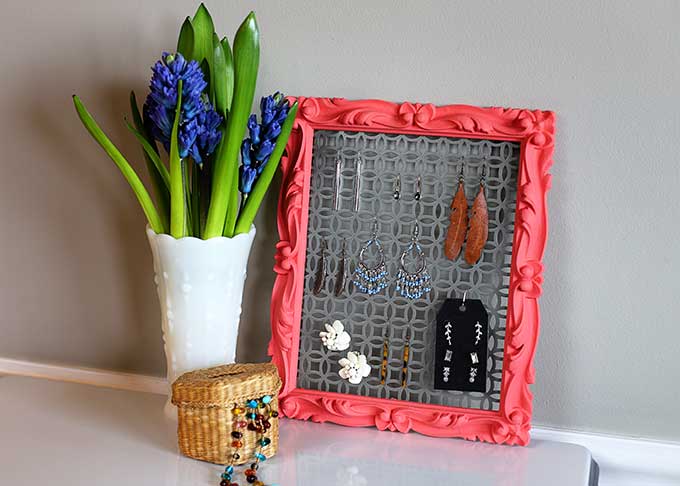 DIY Earring Holder From Thrift Store Frame
Supplies:
Instructions:
First of all, you need to find a frame.
In case you do not have a stash of unused frames at home, an excellent place to find a frame is the thrift store.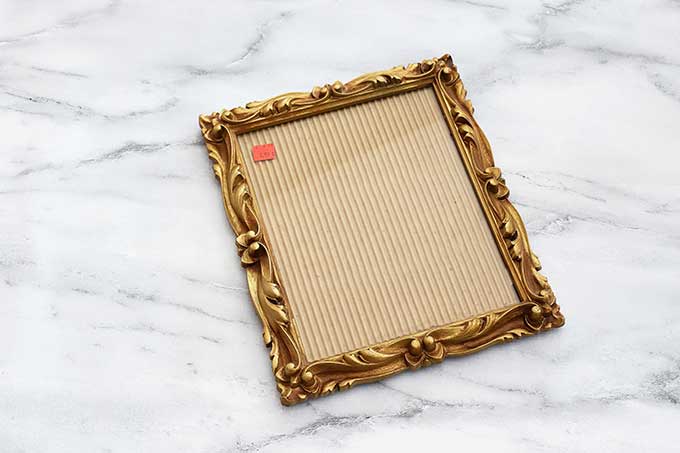 My local thrift had about 592 to choose from, so I picked one that would fit an 8x10 photo and was extra fancy. I was planning on painting it a bold color, so I thought the extra nooks and crannies would pop right out with the vibrant color.
You can either buy the aluminum sheets at Home Depot (see photo below for what the store display looks like) or online at Amazon. I used the Satin Nick Elliptical Aluminum Sheet by M-D Building Products in a 1 ft x 2 ft size.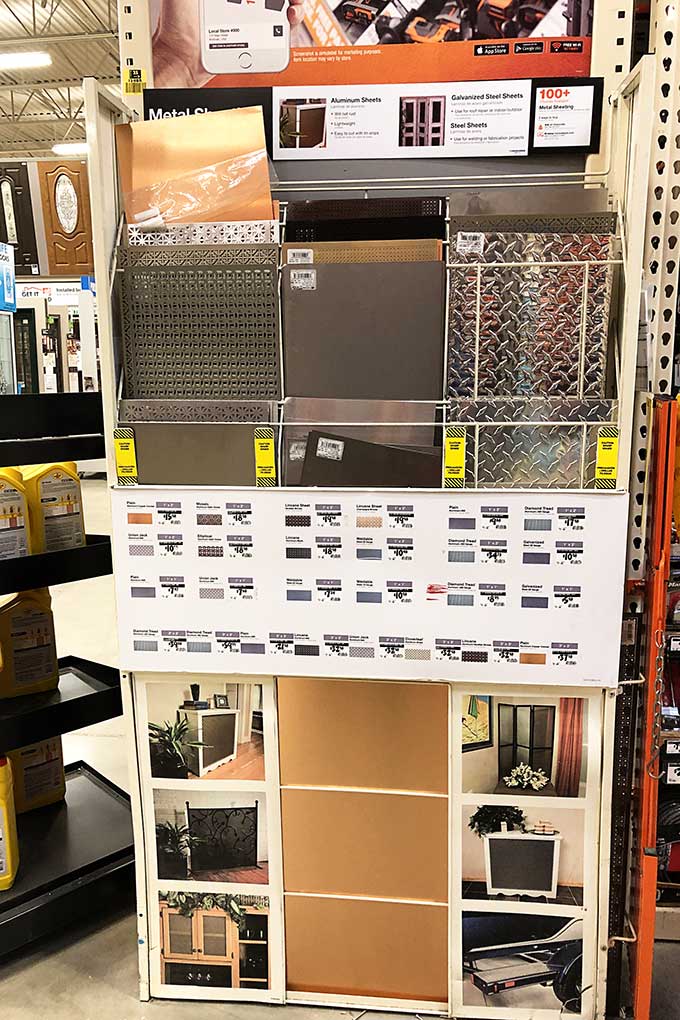 For an 8x10 frame I could have easily gotten away with a 1 ft by 1 ft sheet, but I am planning on making some other projects with the remainder of the sheet, so I opted for the larger size.
I think the company originally produced this stuff to make radiator covers with, but DIYers started using it for all sorts of craft projects too!
Remove any glass and backing from your frame and paint it.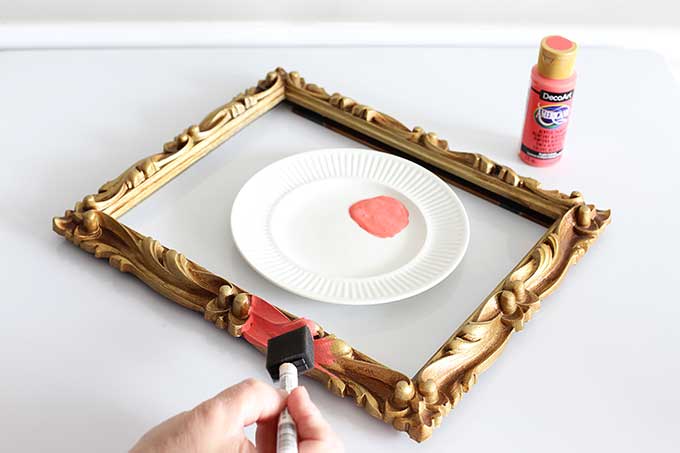 While that dries you can cut out the decorative insert that will go in the back of the frame.
I used the glass from the frame as a guide for how large to cut the aluminum.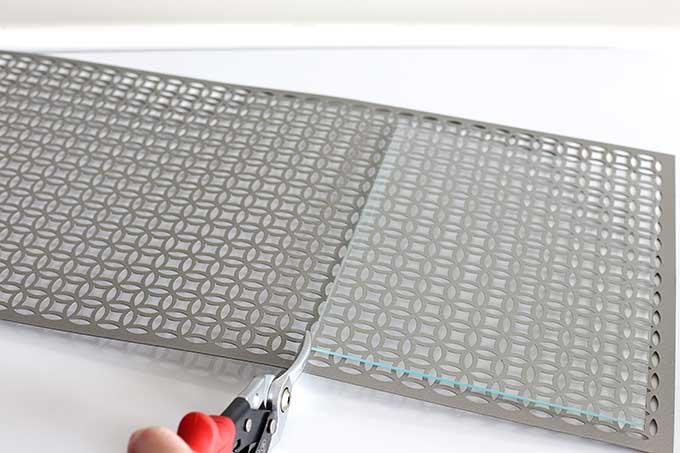 OK, this is where I tell you to BE CAREFUL.
Wears gloves, because this stuff can be sharp and pokey. Eye protection is recommended.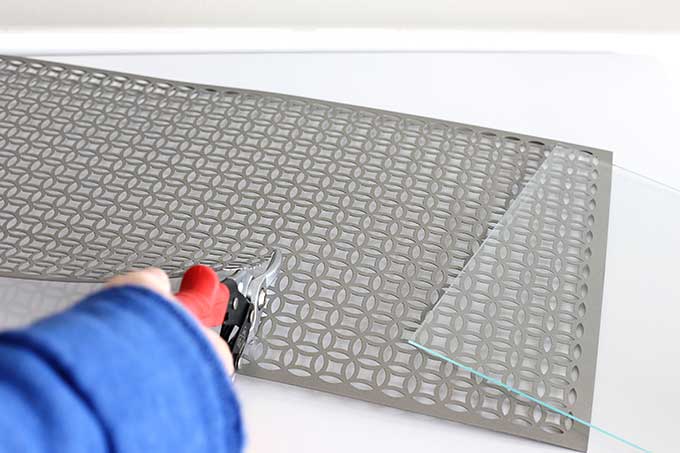 Yes, I know I'm not wearing gloves in these photos. I did run and grab my gloves as soon as I got my first scratch from this stuff.
That said, if you use tin snips it is very easy to cut through this stuff. Think of it as a thick aluminum can. But prettier.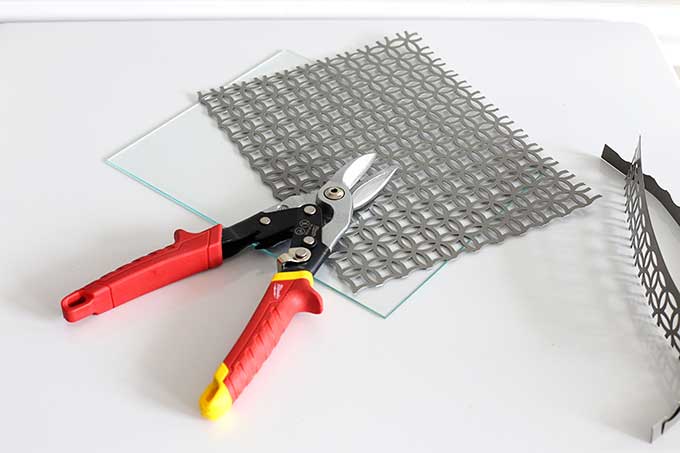 Dry fit your aluminum sheet into the frame to make sure it's the right size. You need it to set on the ledge up against the front of the frame.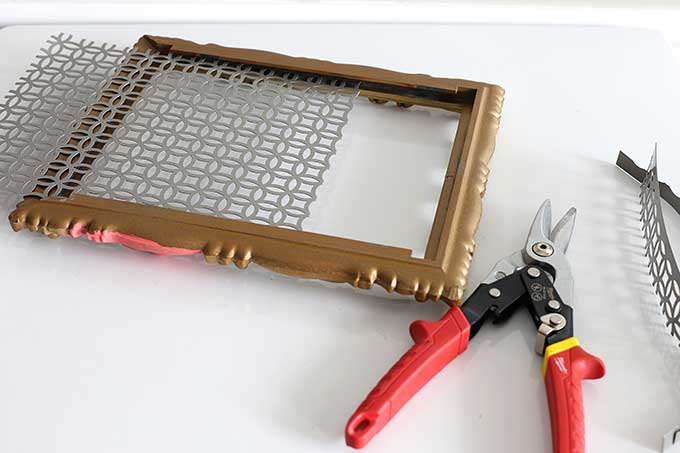 Once you know it's going to fit correctly, pull it back out and apply drops of your E6000 glue around the perimeter.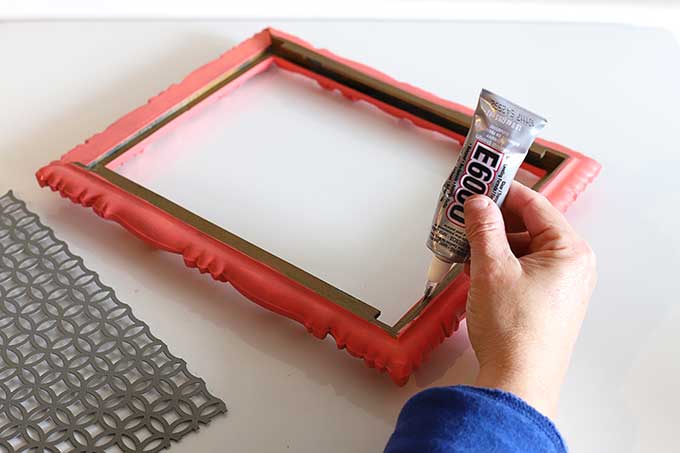 Place your aluminum in the frame, putting a couple books, soup cans, bricks or whatever you have around the house that is heavy on the corners until the glue is dried.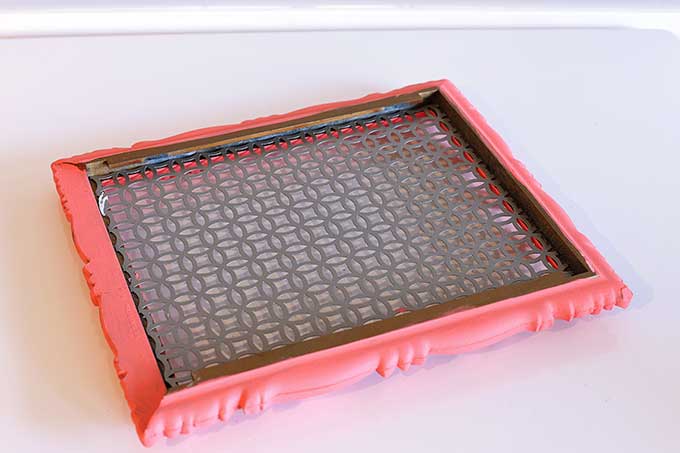 E6000 takes about 10 minutes to start setting up and can take as long as 24 hours to be fully cured. You can use a hand held hairdryer set on low to speed up the dry time a little.
Mine was dried enough I could take the bricks off in 2 hours, but I waited the full 24 hours to hang it on the wall and start using it.
Yep, I know it's not "hanging" on the wall here.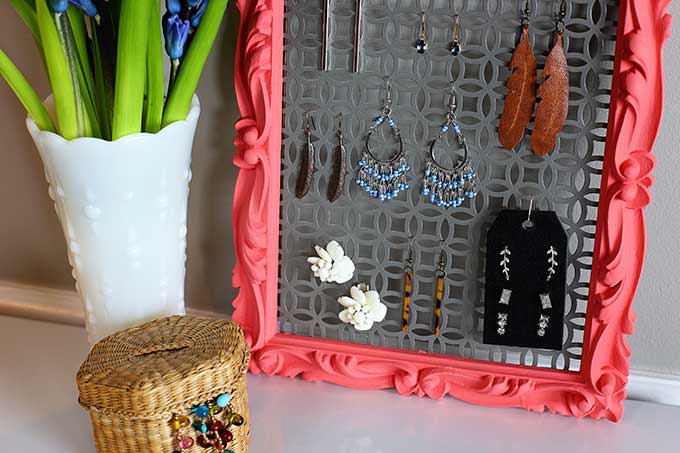 My bedroom is super dungeon-like so I brought it back out into the light and bright kitchen in order to take better photos of it for you!
You're welcome!
How To Hang Studs On Your DIY Earring Holder
I simply used some tags I found at the local craft store (these are chalkboard colored tags, but they also have kraft paper colored, patterned and colors), punched holes in the tags with a ⅛" hole punch and then hung them from the earring holder with a earring hook.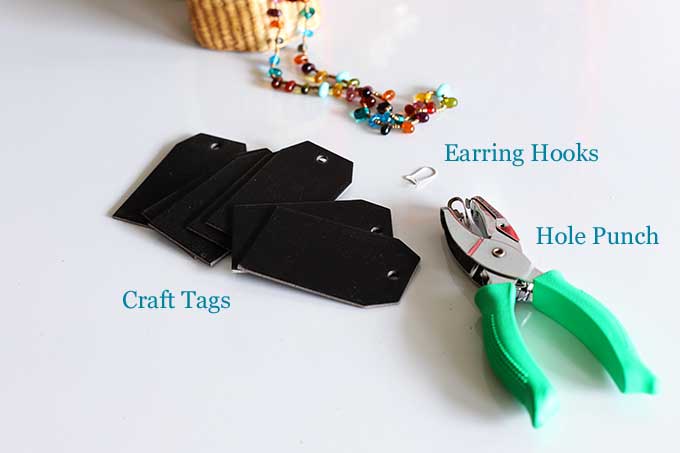 When I want to wear a stud I just take them off the tag and return them to the tag when I am done with them.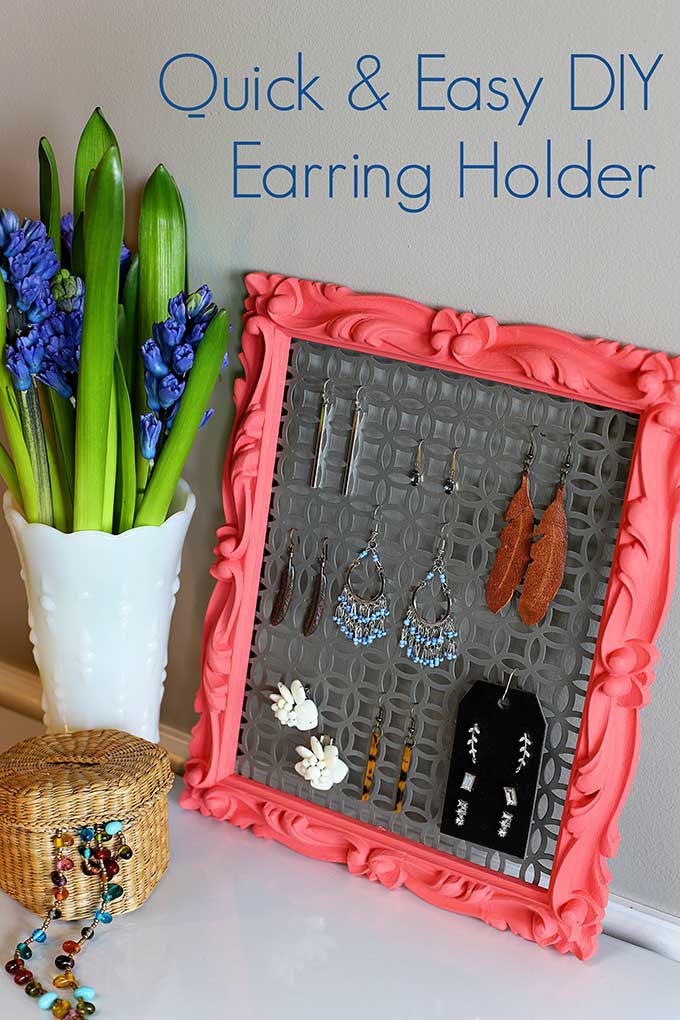 More Upcycles From The Thrift Store Decor Team
OK, now that you have your earrings under control, pop on over and see what my friends have done with their thrift store finds, because it's Thrift Store Decor Wednesday!!!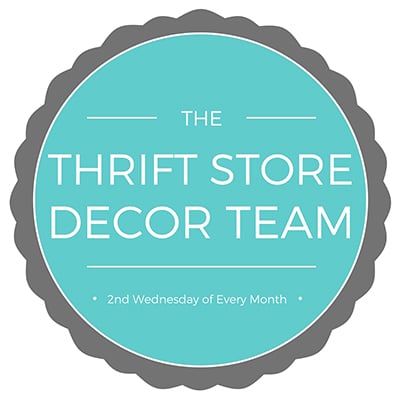 Refresh Restyle - Lazy Susan Thrift Store Makeover
Petticoat Junktion - Folding Tray Table Stand
My Repurposed Life - Decoupage Basket/Hydrangea Napkins
My Uncommon Slice Of Suburbia - Vinyl Record Bowl
Sadie Seasongoods - Vintage Farmhouse Decor With Architectural Salvage
Domestically Speaking - DIY Aged Terracotta Pot
Our Southern Home - Vintage Look Tray Makeover
House Of Hawthornes - DIY Earring Holder (that's me)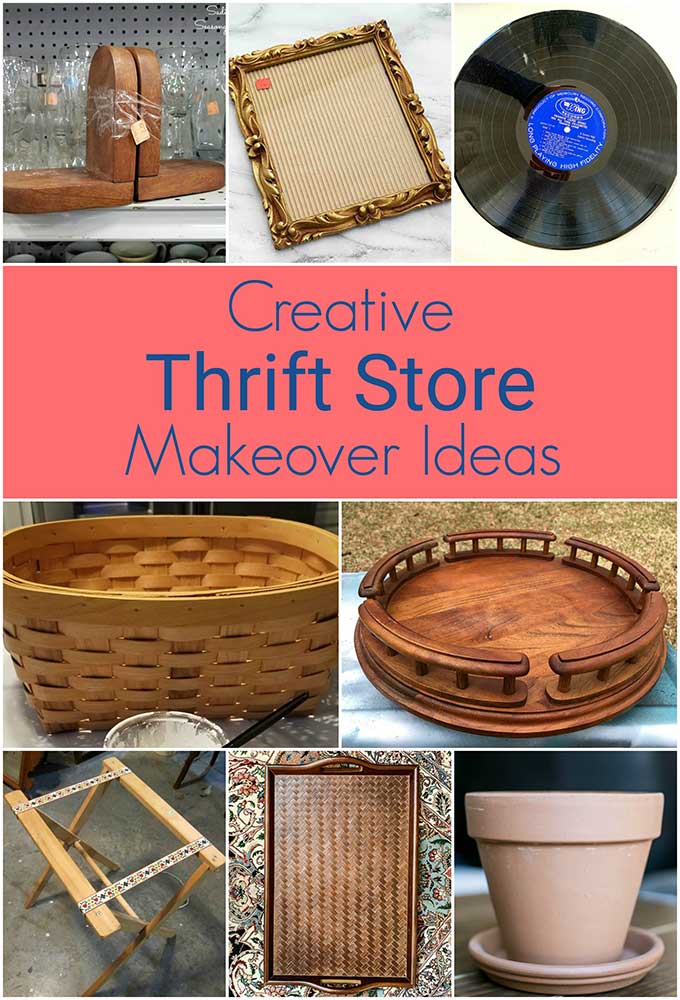 Check out the web story version of this article HERE.
Other posts you may enjoy:
How To Turn A Thermos Into A Lamp
How To Make Silverware Wind Chimes
Top 10 Thrift Store Shopping Tips
How To Clean And Restore Thrift Store Finds