I decided to get all Betsy Ross on you this weekend and made myself a new flag.
Sure, it doesn't have the required number of stripes. Or stars for that matter. Or the right colors.
It's more like a artistic representation of Old Glory.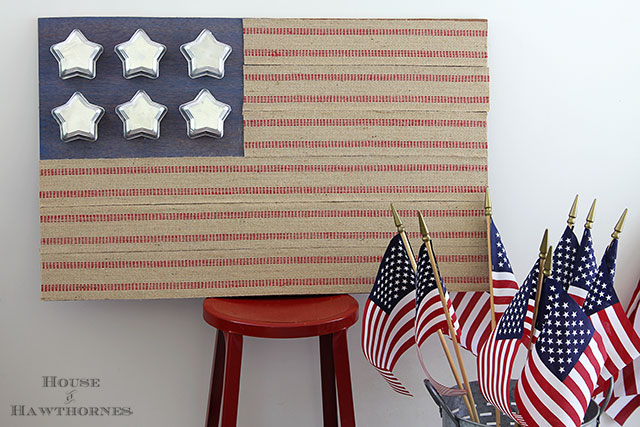 DIY Rustic Farmhouse Flag
Supplies Needed:
21" tall x 34" wide piece of thin plywood
4.5 yards of 3 ½" wide jute upholstery webbing
6 tin star shaped Jello molds
Blue craft paint - Uniform Blue by Americana is a nice patriotic shade of blue
Spray adhesive
Glue gun
Other:
Paint brush, ruler, scissors, pencil
Band-aids if you are clumsy with the glue gun **sheepishly raises hand**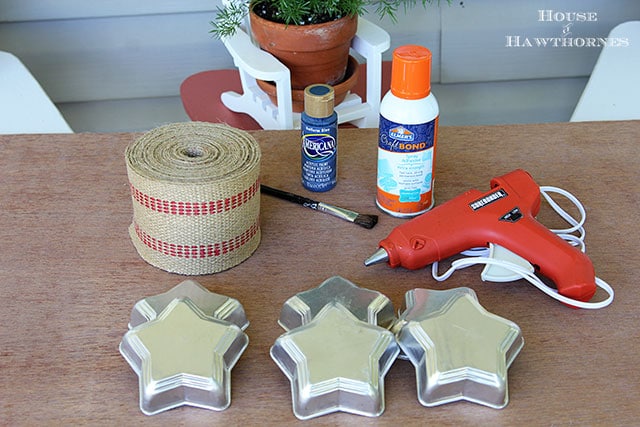 Start out by placing your stars in the top left hand corner. I happened to find 6 of these old Jello molds at the thrift store, so that is what I went with.
You could always use more or less. I'm not going to tell the craft police on you.
And I just sort of eyeballed where I thought they'd look good.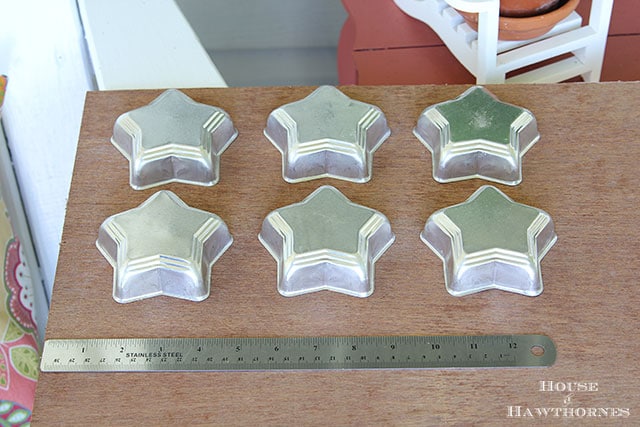 And then using that as a rough guide, I made some light pencil marks to outline where the blue background was going to be.
The top blue rectangle area comes out to be 10.5 inches tall by 15 inches wide. I got the 10.5 inches because it's one half of the height of the board and that would mean there would be three short rows on the top half and three long rows on the bottom half (3 rows of 3.5" wide webbing = 10.5").
And symmetry is a good thing. A very good thing.
I squirted some of the blue paint out into a bowl and added a smidge of water to it to make it slightly soupy.
And painted my rough rectangle.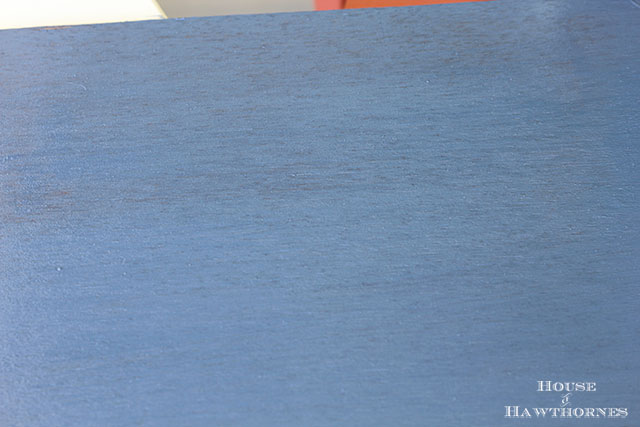 Before using wet paper towel
And then after a few minutes, I took a wet paper towel and drug (is that the correct word?) it across the blue paint to take most of it off and let the wood peek through.
I was going for a weathered look here.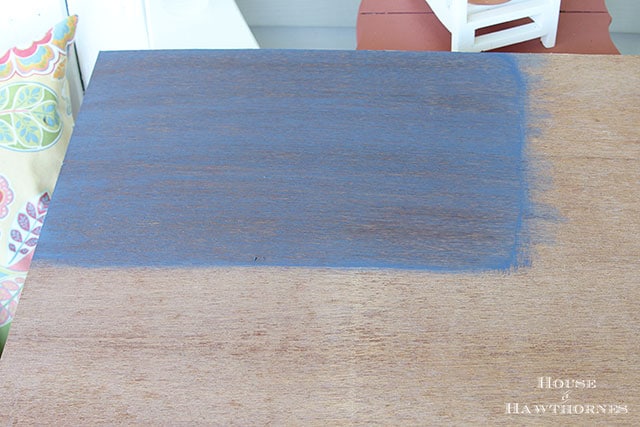 After using wet paper towel
You can see that I was not super careful about my paint lines. No expensive tape was used to make sharp edges.
In fact, I actually painted a little bit past the pencil marks for good measure, since any extra is covered by the upholstery webbing anyhow.
Cut out your three pieces for the bottom rows - 34 inches long.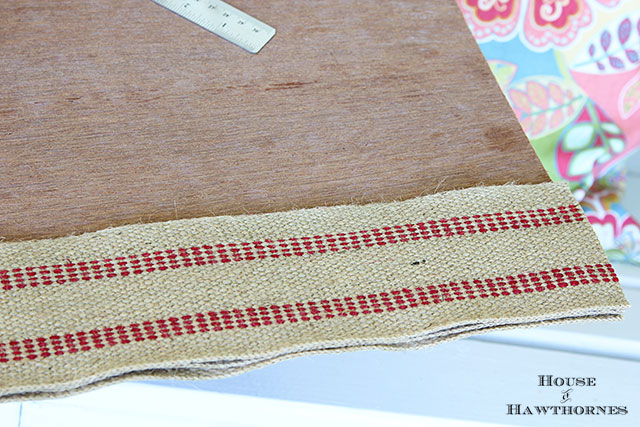 Use your spray adhesive to adhere the webbing pieces to the bottom of the board, butting them right up against each other.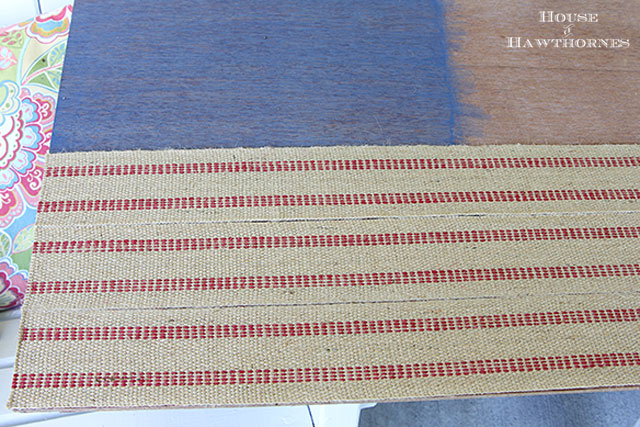 Cut out your three pieces for the top rows - 19 inches wide. And glue them on.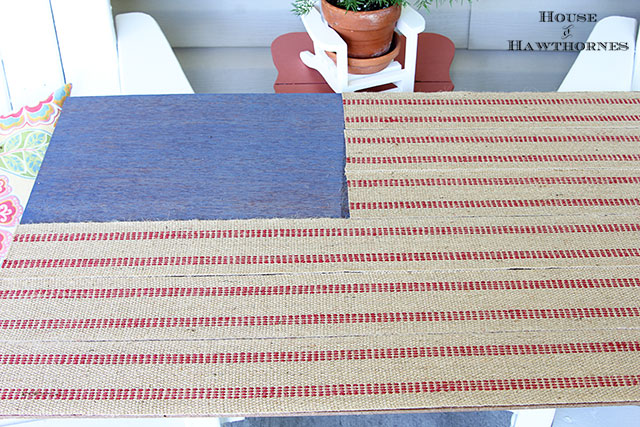 All that's left is to glue your stars onto the wood with your glue gun.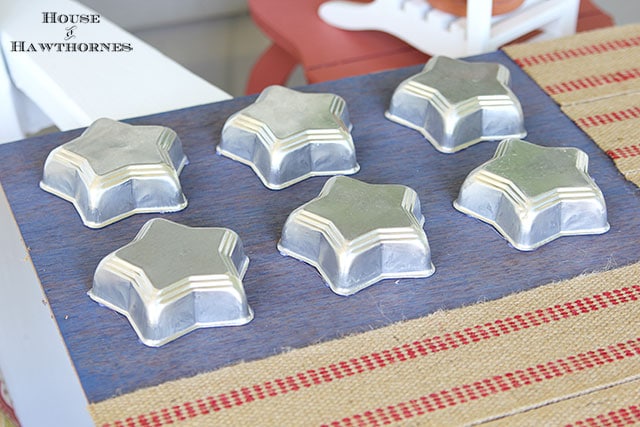 Warning - who knew that putting boiling hot glue from the glue gun onto a tin star would then heat up the star. OK, it's not scalding hot, but it did heat them up a bit. Be a bit careful while handling them.
And you're done.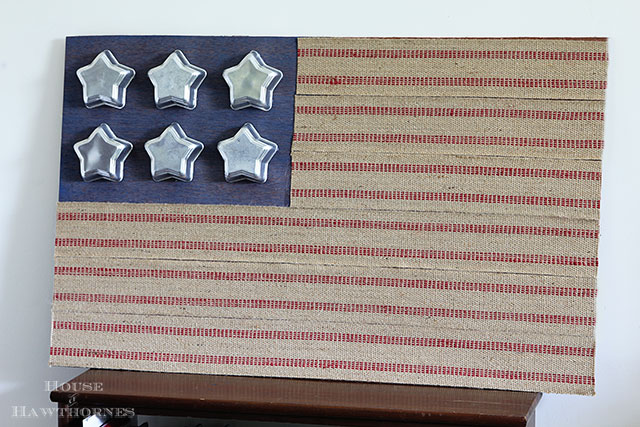 Start to finish 20-30 minutes, if you're not picky about your paint drying thoroughly before gluing stars. I am not picky.
If you wish to hang it you could drill holes in the top and run some jute twine through them. I'm going to use mine setting on a table, so no need to drag out the power tools for me.
Speaking of power tools, I had this piece of wood in my garage, but if you need to buy wood you can have the guys/gals at Home Depot cut it for you. Yes, they will cut wood for you for free. As in F to the R to the E to the E!
I assume our friends at Lowes do the same.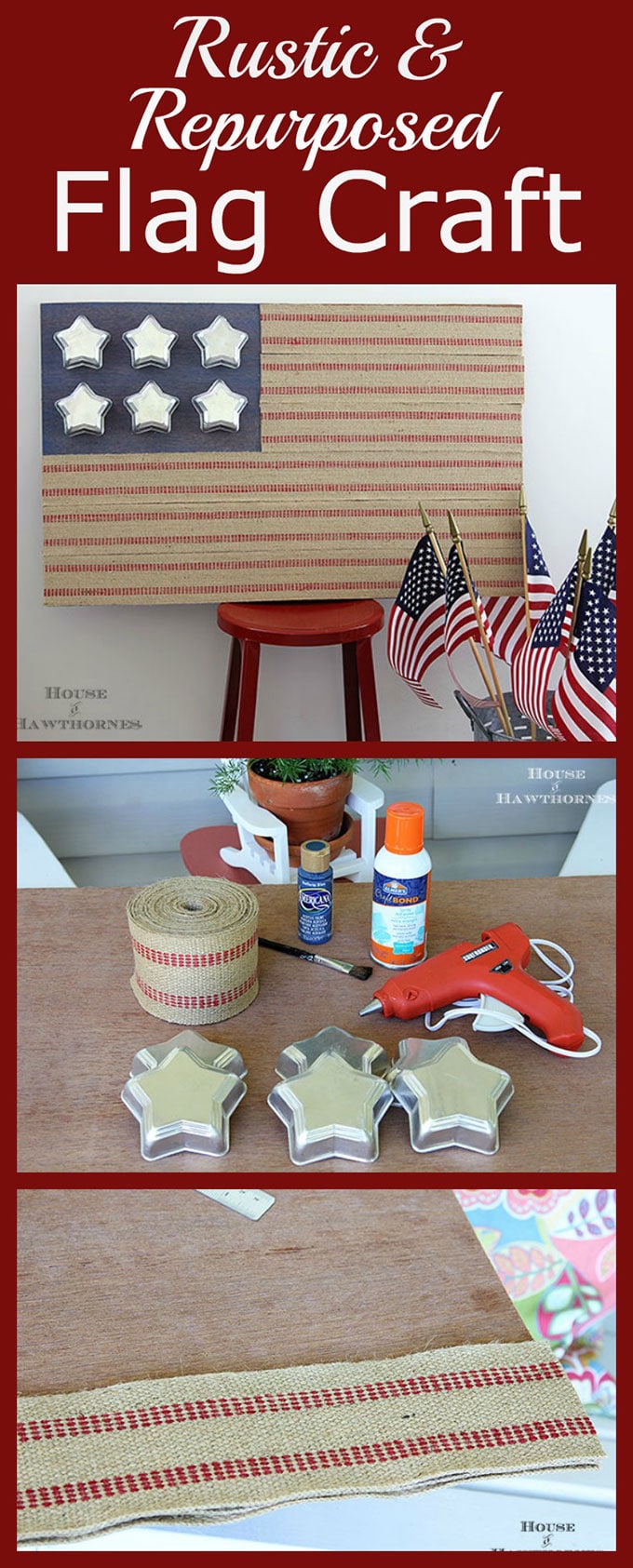 If you're looking for more patriotic decor ides:
Retro Picnic Supplies For Your Fourth Of July Barbecue
4th Of July Vintage Postcard Printables
Top 10 Patriotic Projects, Recipes And Decor
Vintage Eclectic Meets Farmhouse: 4th Of July Style
Have you been connecting with your inner Betsy Ross this summer?