Welcome to another edition of Farmhouse Friday where we discuss all things farmhouse and old. Today on the agenda is Farmhouse Storage Ideas.
Because if you've got stuff . . . you gotta have some place to hide it when company comes over.
Five of my favorite storage ideas are: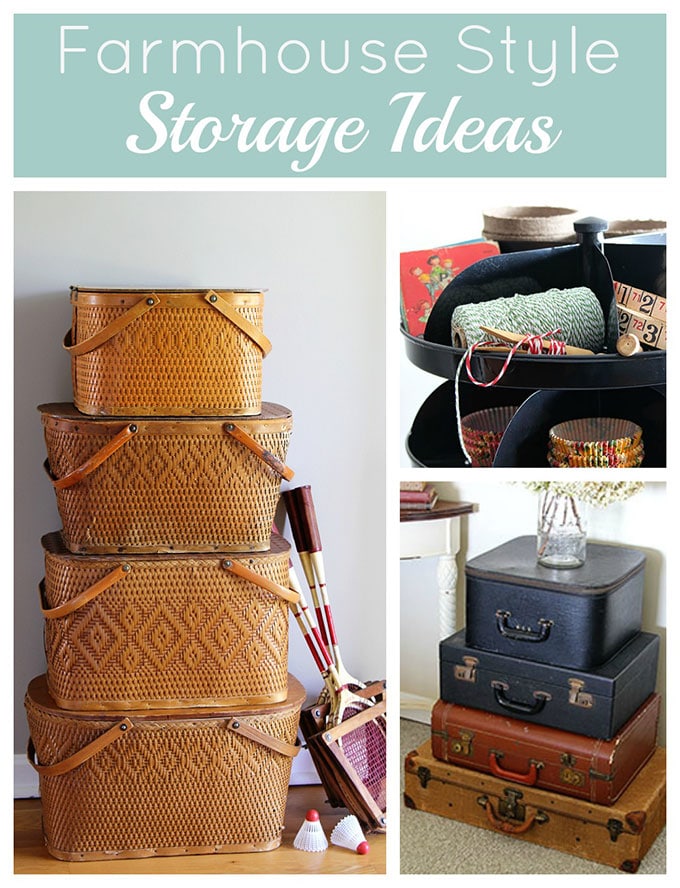 Vintage Suitcases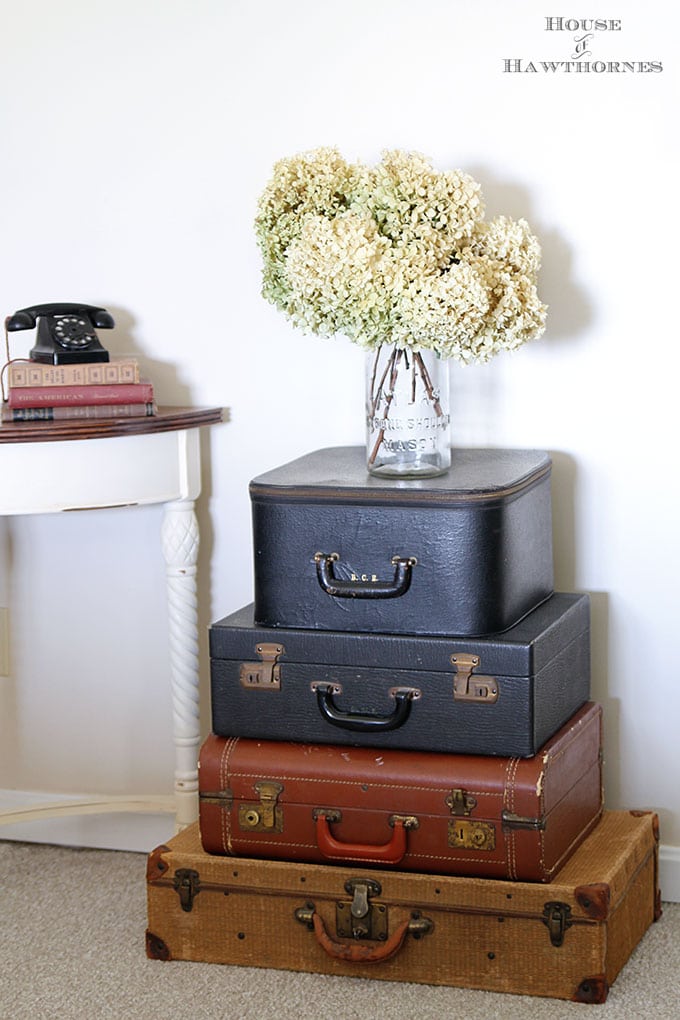 It's not like you're actually going to take these vintage suitcases on a plane or anything, so when you collect them you might as well use them for storage, right?
These are filled with vintage tablecloths and my fabric stash. Yes, I do occasionally fire up the sewing machine and do a bit of sewing.
Tip Of The Day: If you find a vintage suitcase that is a little musty, I have had luck with leaving a box of baking soda (I like the ones they make for the fridge that the little sides pop off) in it for a few days to absorb the stank. I've also heard via Pinterest (and all things on Pinterest are true) that kitty litter works the same way.
Vintage Picnic Baskets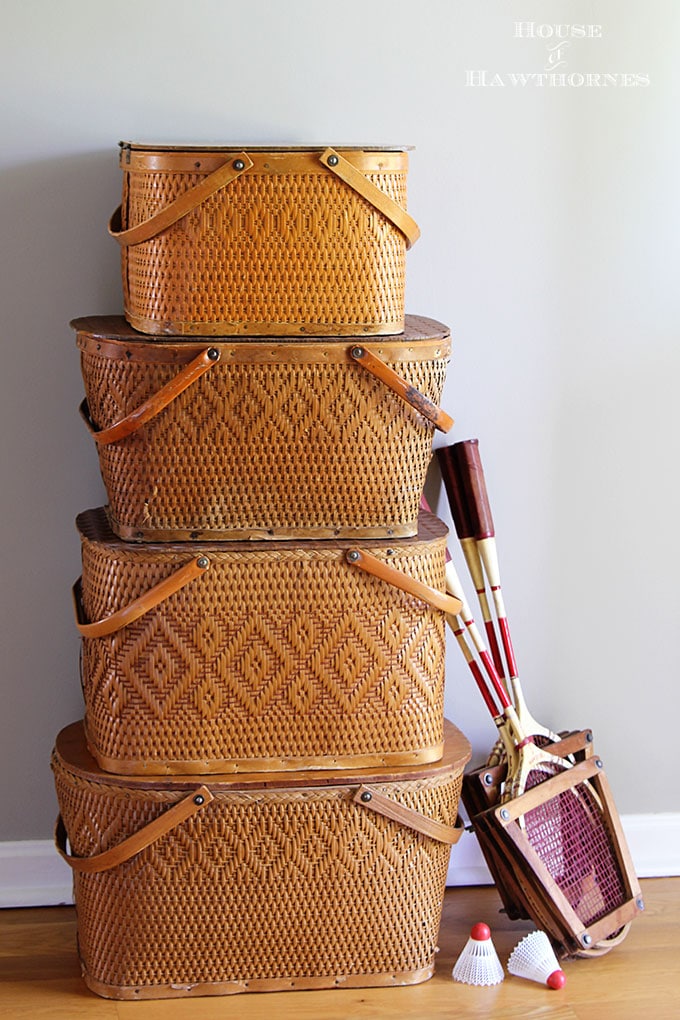 I find vintage picnic baskets ALL THE TIME at thrift stores and yard sales and I have never paid over $5 for one and most of the time it's more in the $2-$3 range. These ones are Redmon, which was a pretty large maker of picnic baskets back in the day.
I actually have around 10 picnic baskets now and I'm pretty sure I'll find another one when I go to a church rummage sale later today. Church rummage sales are picnic basket nirvana.
I like picnic baskets for storage because they have handles so you can tote them all around the house. These have various seasonal decor items tucked away in them.
Toolboxes and Totes
I started collecting toolboxes, totes and metal tins a few years ago. I try to buy the non-greasy, not actually ever been used in a grimy garage kind.
I suppose they might not be hard core "farmhouse", but in my mind they cross over from industrial to farmhouse to eclectic to I-gotta-have-them.
These toolboxes are on a weird built in shelf in my office/craft room and hold all my old family photos in them.
I've also used toolboxes in the garden as planters (it's best to drill a few holes in the bottom for drainage), to store gardening tools on the porch and also in my kitchen to corral all the electronic devices that have taken over my life.
Cheese Boxes (or any wooden boxes for that matter)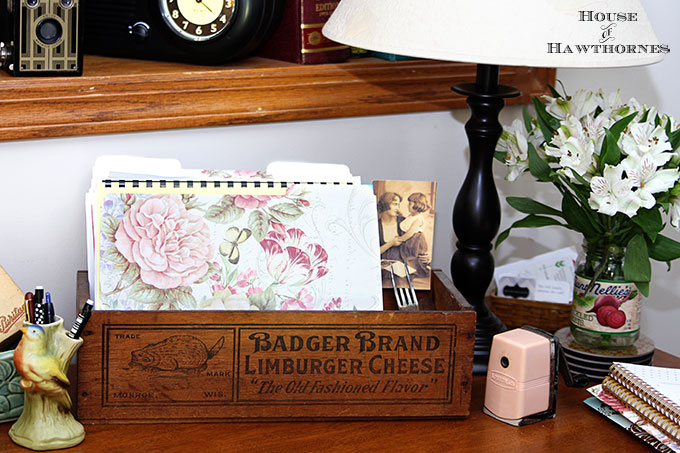 My sister was a hard core cheese box collector. Hard. Core. She probably had close to thirty of them lined up on a shelf that went all the way around her kitchen.
This cheese box sets on my desk as a file folder holder. It's one of the larger 5 pound cheese boxes from her collection.
Rotating Metal Bins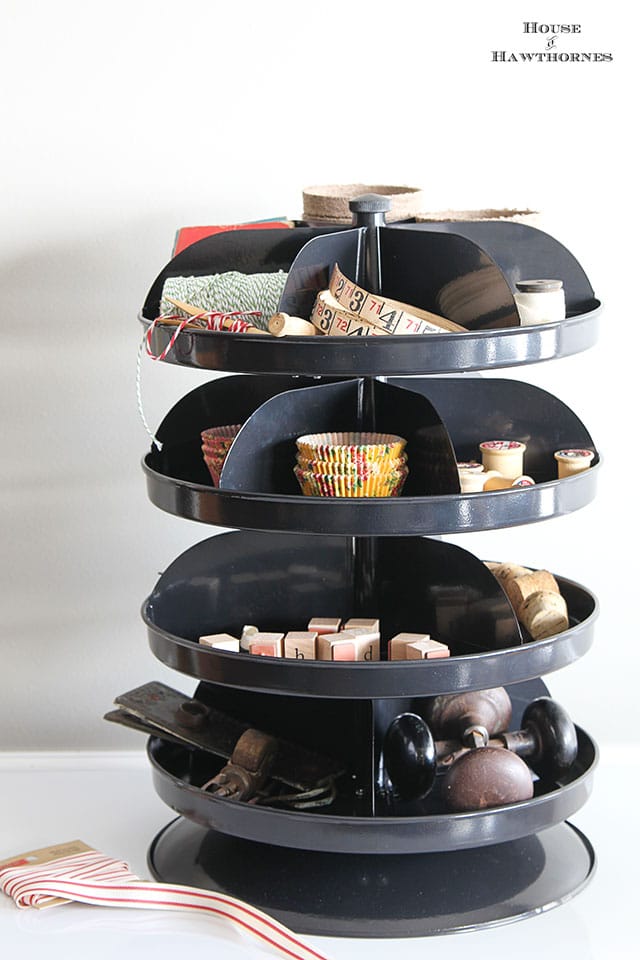 Ever since I showed you the metal bin that I bought at Harbor Freight in my Industrial Rotating Hardware Bins For Less post, I have been in love with this puppy. They are great for having things super duper handy on your desk, craft area or kitchen. But, what they don't tell you (and I will) is that they are CUTE!
I smile every time I walk past this thing! Plus I want to spin it, so there's THAT!
Some other ideas for farmhouse storage are:
wire baskets . . . crocks . . . olive buckets . . . baker's cabinets . . . old Coca-Cola pop crates
So what's YOUR favorite storage idea?