Do you still send out Christmas cards?
Mark me down as old-school, because I can't imagine a holiday season going by without sending my besties, family and people I hardly know Christmas cards.
But I get tired of seeing the cardboard boxes setting out on the kitchen counter all season long (as soon as I put the cards away . . . BAM I get a holiday card from someone I hadn't sent to yet and I have to dig out the cards again).
Just easier to keep them within reach!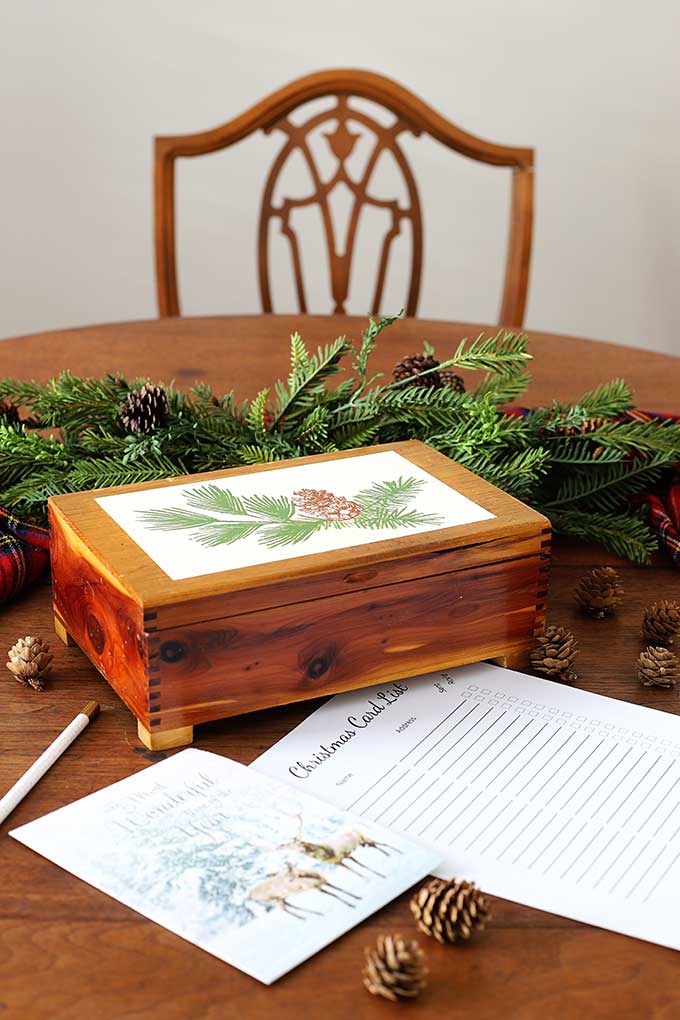 So when I saw this ugly as can be cedar box at the thrift store I immediately knew what I was going to do with it.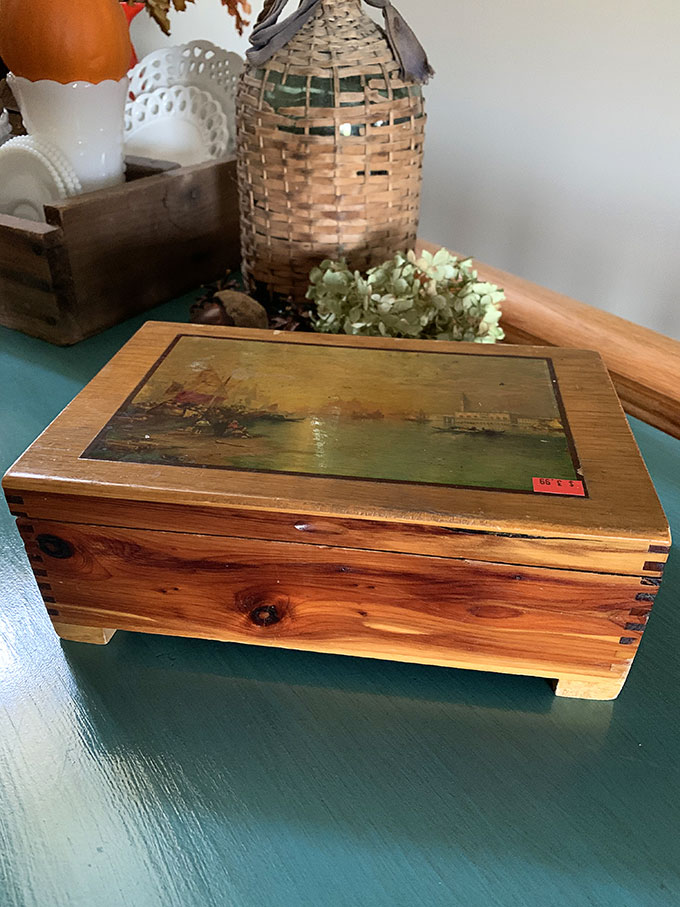 Make a Christmas Card Organizer so I had a place to store my cards!
And can I say these cedar boxes are just dying for a rustic makeover. I love the woodsiness of them, so I didn't want to cover up all that gorgeous cedar and those fantastic dovetail joints on the corners.
Or are they finger joints? I guess I'm not up on my carpentry lingo.
But the whole label thing on top had to go.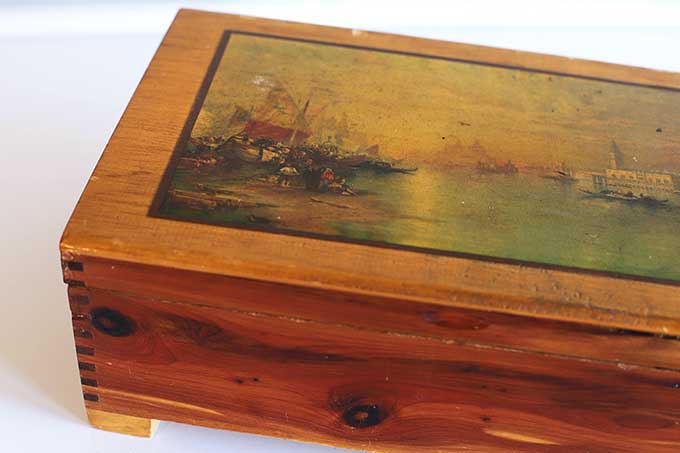 I don't even know what scene that is depicting, but I'm pretty sure it wasn't a priceless piece of art glued to the top of that thing.
Before I get any further here, today is Thrift Store Decor Team Wednesday, so please don't forget to support my fellow Thrift Store Teamers by visiting their posts down below. Just scroll way on down and you'll find them (I highlighted the section in RED for you)!
(This post contains some affiliate links for your convenience. You can read my full disclosure policy here.)
Upcycled Cedar Box aka Christmas Card Organizer
Supplies:
I'm going to show you what I used in case you want to replicate it as is, but feel free to use whatever paint colors and stencils you prefer if you want to go a different route.
Cedar box (or similar) can be found at thrift stores
Martha Stewart Adhesive Silkscreen - Winter Greens
DecoArt Americana Acrylic Paint - Light Buttermilk
DecoArt Americana Acrylic Paint - Hauser Medium Green
DecoArt Americana Acrylic Paint - Milk Chocolate
Foam paint brushes, stencil brushes or stencil pouncers
Scissors
Instructions:
I started by scraping off the masterpiece with a razor blade knife.
Be careful, because . . . razor blades are involved. And they're pretty darn sharp.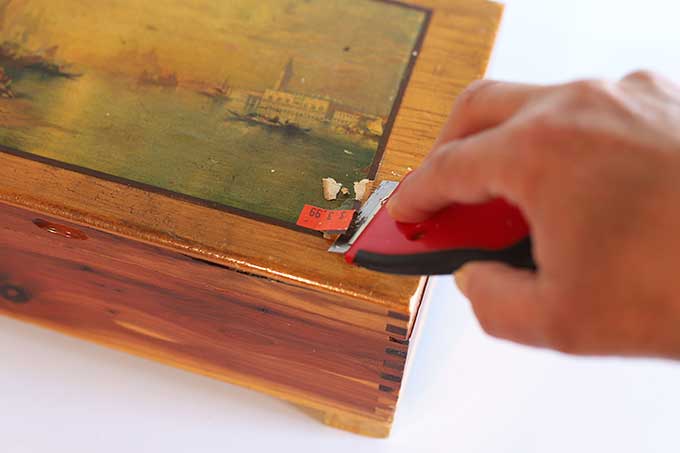 Once that was removed, I had to decide whether to paint the entire top or just the middle area.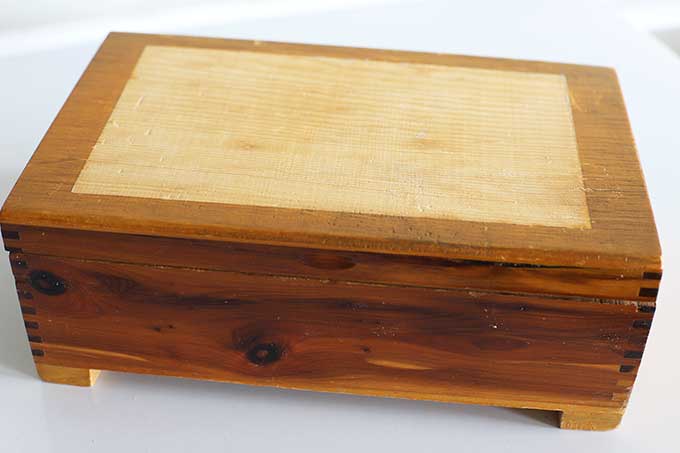 I went with just the middle area.
I used Frog Tape For Delicate Surfaces to tape off the area I did not want to paint and it gave me a nice clean edge.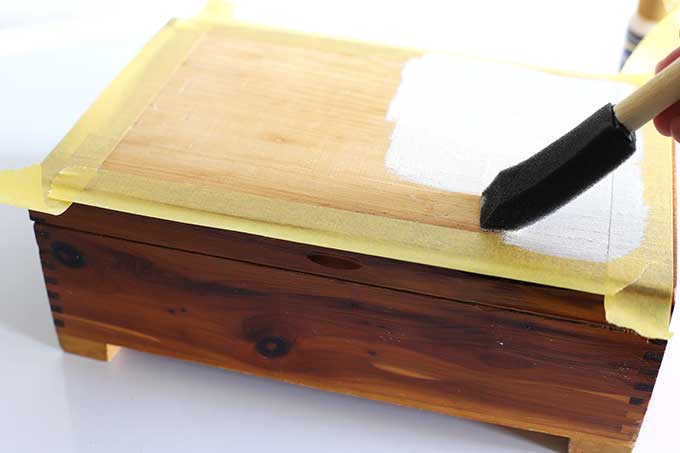 Since I was going for a rustic look, I decided to use this Martha Stewart Adhesive Silkscreen (similar to a stencil) called Winter Greens.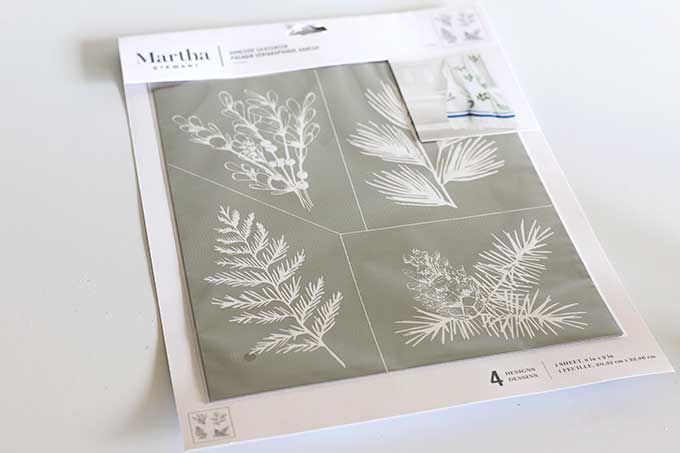 I did make a rookie mistake here - I bought that stencil at Michael's and it was on clearance. Now I can't find it online anywhere so I can link to it for you.
I'm sure other people make rustic Christmas-like stencils out there though.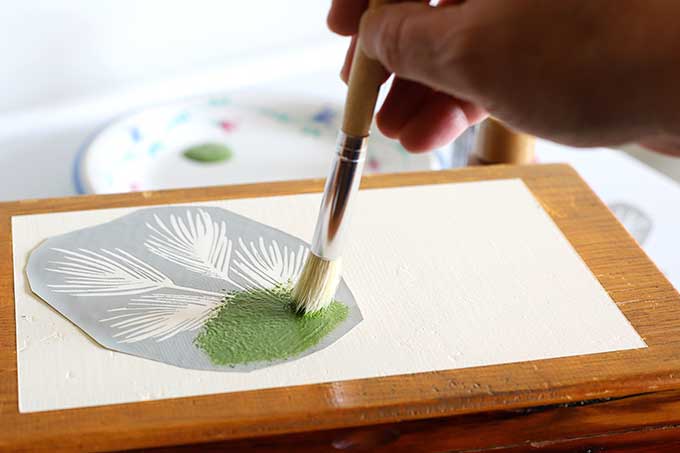 When I was finished with my own masterpiece, I sprayed it with a clear sealer (which I totally forgot to take photos of).
And that's really all I did with the box.
Even though it wasn't a painstaking 49 point tutorial with power tools involved, I do think it turned out pretty darn cute!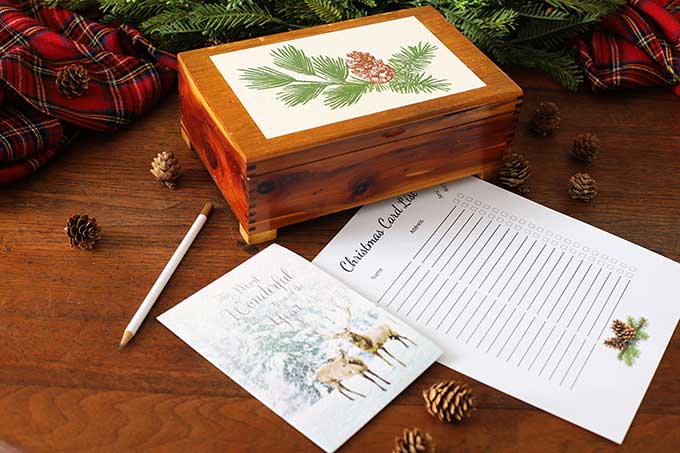 And makes a handy and not so ugly place to store my Christmas cards.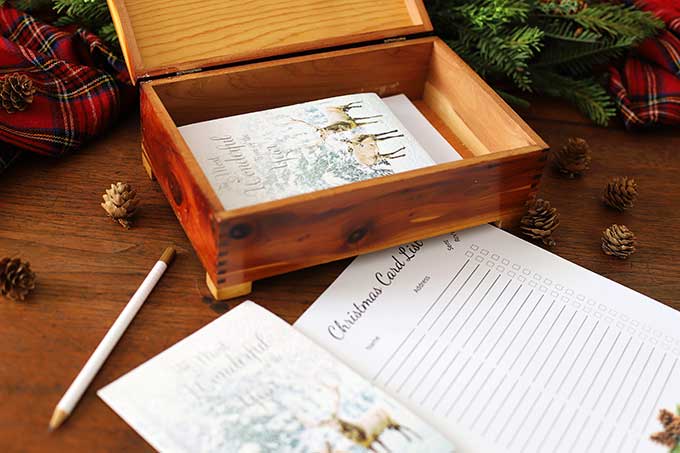 Free Printable Christmas Card List
And since we're talking Christmas Cards here, I made a Christmas card list you can print out and use to keep track of who you've sent to and who you've received cards from.
You can find the Free Printable Christmas Card List HERE.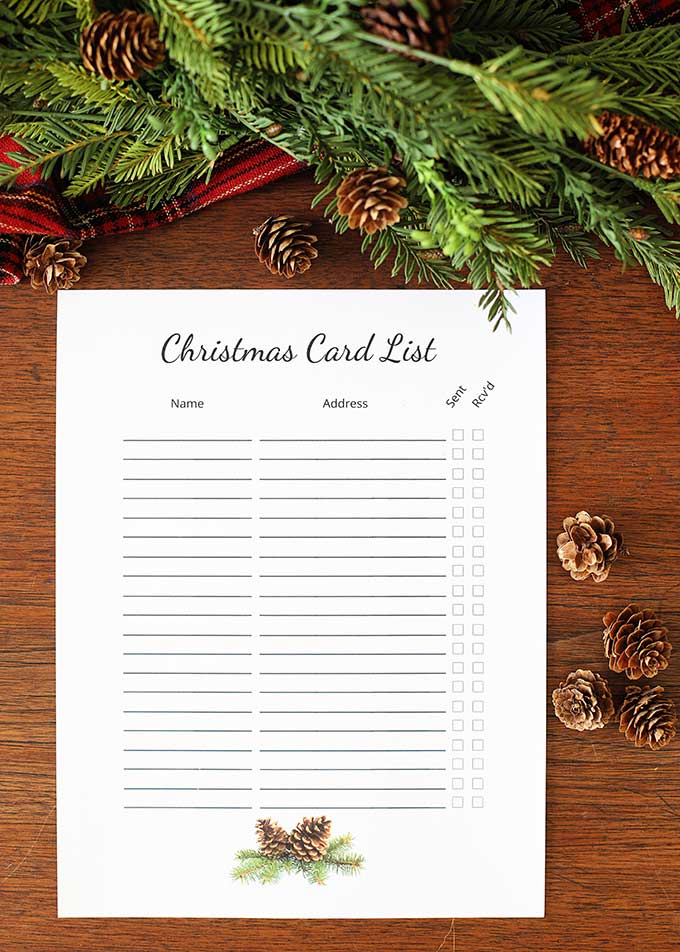 (for personal use only)
More Thrift Store Upcycles From The Thrift Store Decor Team
Today is also Thrift Store Decor Team Wednesday! I cannot contain my excitement!!!
Or exclamation points apparently!
So pop on over to the other thrift store makeovers my friends have been busily working on this month!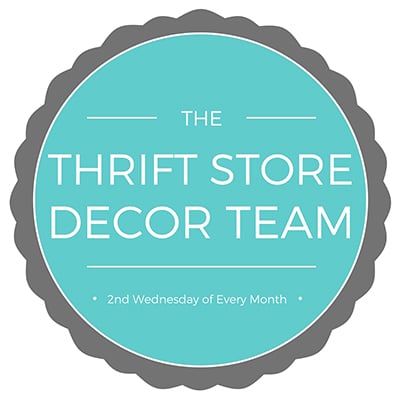 DIY Hand Warmers My Uncommon Slice of Suburbia
Christmas Vintage Wonderland Cloche Domestically Speaking
DIY Snowmen Ornaments Petticoat Junktion
DIY Amber Glass Bottles with a Twist Sadie Seasongoods
Christmas Stocking Shelf My Repurposed Life
Christmas Sleigh Centerpiece Our Southern Home
Christmas Card Organizer House of Hawthornes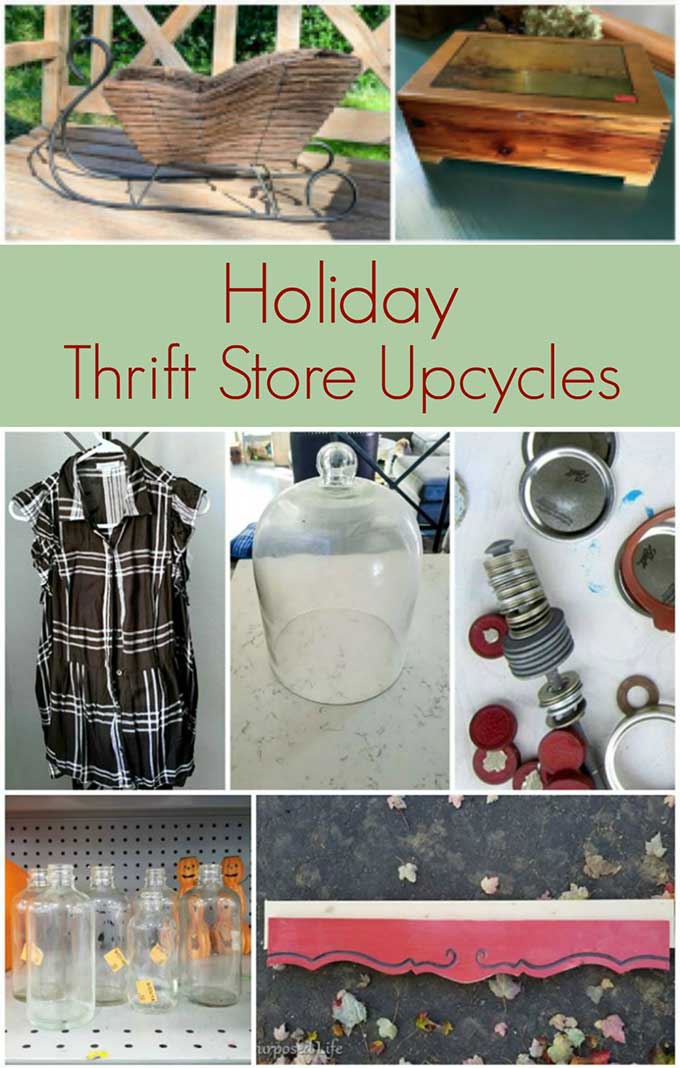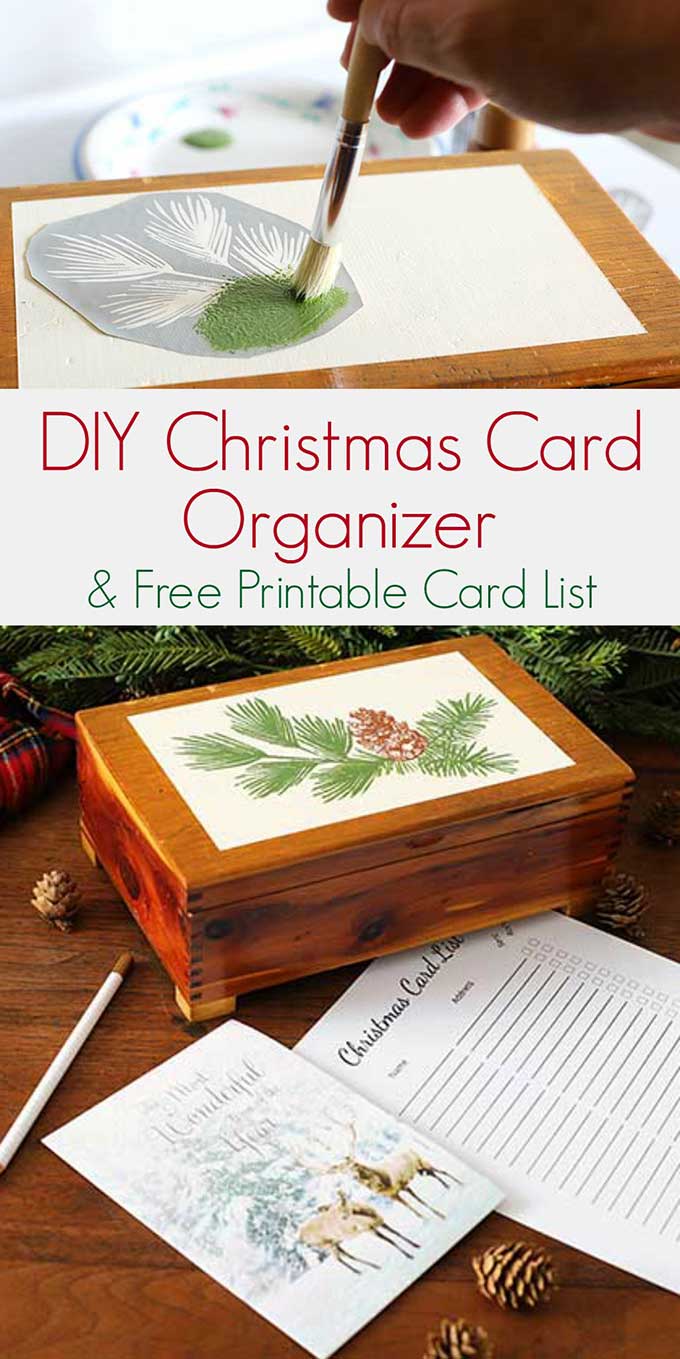 or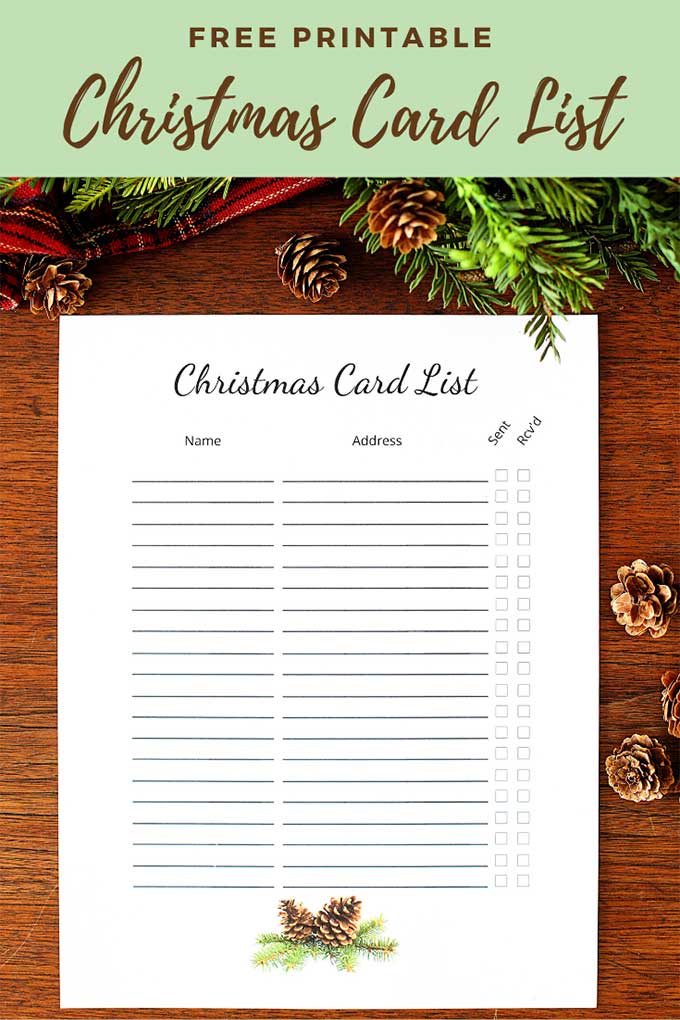 More posts you may enjoy:
Quick And Easy Boxwood Wreath Tutorial
Free Christmas Chalkboard Printable
Christmas Home Tour - Thrift Store Decor Style
5 Absolutely Iconic Vintage Christmas Decor Items You Just Have To Have (And Where To Buy Reproductions)