I've recently been spending quite a bit of time on Hometalk. With spring heating up, there are lots of great gardening and outdoor ideas over there.
Like birdbaths!!!
The nice people at Hometalk put together a cute graphic of over 16 different birdbath ideas that I clipped to my board.
If any of your haven't heard of Hometalk yet, it is a place where homeowners, renters and professionals all share and discuss everything related to homes and gardens (I got that description from their website, in case you can't tell). Everything from home decor to crafts to DIY to gardening and a lot more in between.
(You can click on the photo and it will take you directly to my Hometalk board)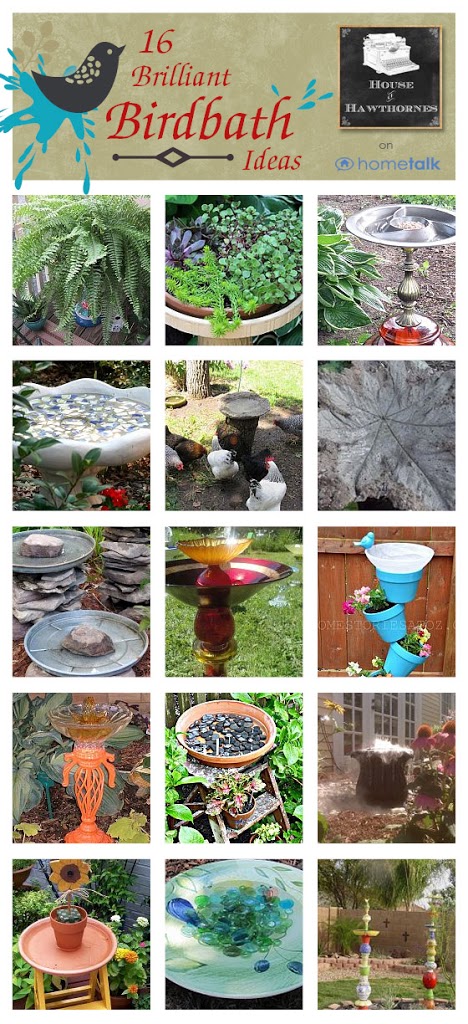 You can ask questions and have other members or professionals give you advice, get inspiration by looking at the pretty photos, do research on future projects you want to do and also post your own projects for people to ooh and ahh over.
And the best part is that you don't have to be a blogger to do it. Yes, those of you who haven't gone over the deep end and started your own blog yet, can post photos and ideas too. Actually a large amount of non-bloggers are on there.
FYI, this is not a paid endorsement for Hometalk, I've just been hanging out there and wanted to share. Sort of like Show And Tell for fun things I've found. No grades will be given out.
More birdbath inspiration can be found here on my blog: