I wanted to give you a little more detail on my new sofa that I showed you in my Colorful Summer Home Tour post, why I chose it and all that went into that enormously important life-altering decision that almost was the death of me.
Too dramatic?
Maybe, but buying pretty much the one item that will set the tone for your home's entire decor scheme and will immediately tell visitors who you are as a person does seem to be a HUGE decision.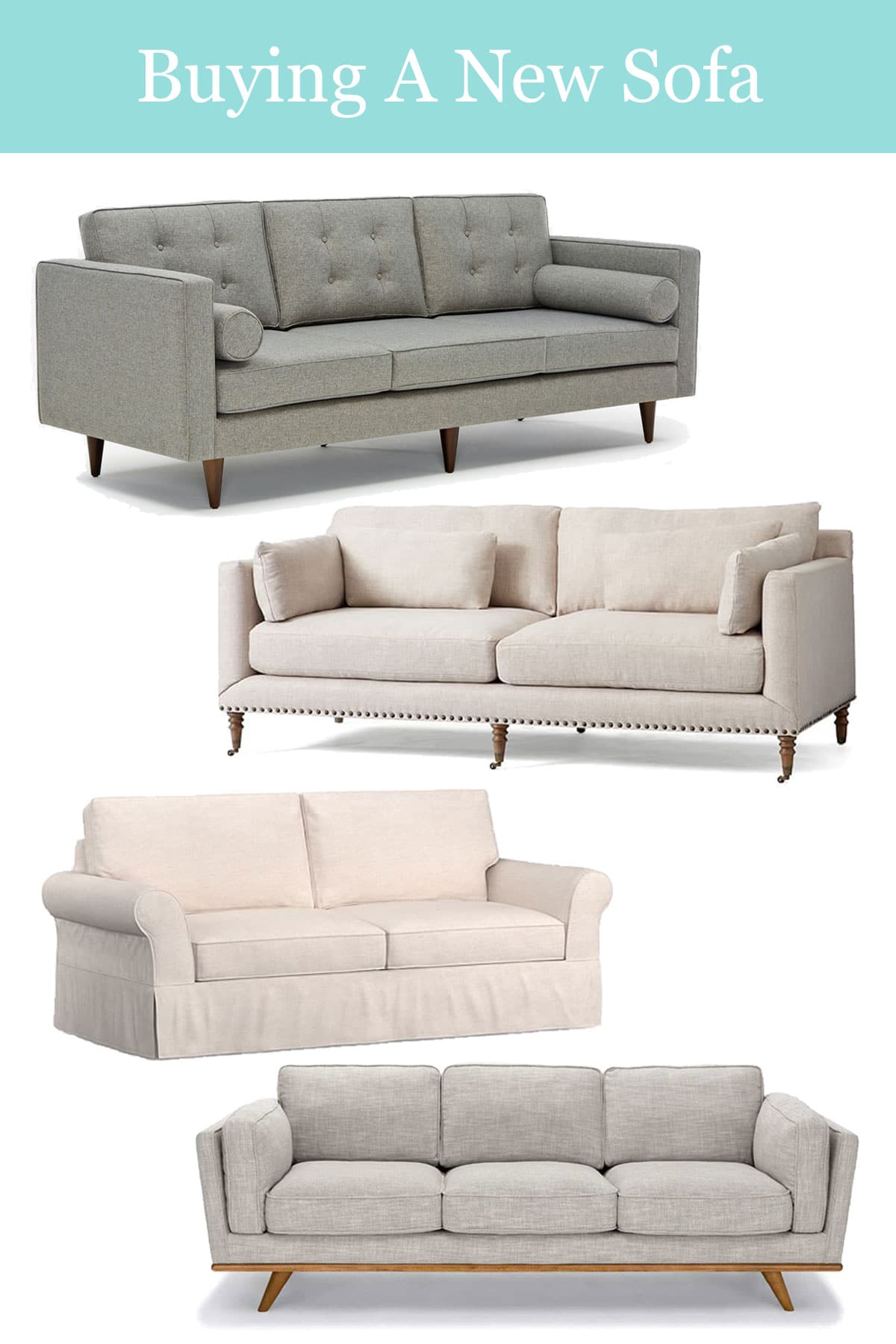 Now, all of you who are thinking "Wow, this is so unlike her. Where's the vintage sofa from Goodwill? Where's the super-bargain friendly sofa that I'm expecting her to buy?"
Well, although I love me some Goodwill and I love a great bargain, I am a little iffy about buying a sofa that Great-Aunt Martha may have peed on. I'm not sure I'd ever be able to get that thought out of my mind even if I did summon all my courage and take a big whiff of a seat cushion at the thrift store.
So pee-pee sofas were off the list for me!
And I'm actually willing to shell out some bucks when it comes to a sofa that I will keep for 10+ years.
Or 15+ years. Yes, my last sofa was 16 years old before I replaced it.
But yes, when you don't buy sofas very often, you can splurge a little bit.
Somewhere around a year ago I decided it was time for a new one. And it took every bit of the last 12 months to finally decide on what I wanted.
Shopping For A Sofa In Person:
At first I thought I'd go the traditional furniture shopping route, since this is the way I have always purchased furniture in the past.
I had the thought in my head that I needed to sit on one, maybe even lay down for a bit to size it up for napping and generally see it with my own eyes in order to pick one out. I just couldn't put my head around spending big $$$ sight unseen.
So I drove all over town to the local furniture places, walked around the stores checking out the selections all the while trying to avoid direct eye contact with the over-aggressive sales team. Am I the only one who weaves and bobs throughout the store trying to outwit the salespeople only to have them pop up when I turn a corner?
I had dreams of quickly and efficiently finding THE ONE I absolutely loved and having it delivered to my home fresh as a daisy in a few days.
But I have to say I was very disappointed when I was looking at sofas locally. I went to small furniture stores and large ones. Local stores and national chains. The huge problem I was having is all the sofas were UGLY.
Or maybe BORING is a better word. The stores were jam packed full of basic ho-hum furniture that could work in numerous settings, but nothing that got me excited.
And I totally understand they're trying to appeal to a wide range of buyers with a lot of safe choices. But, yawn!
I was headstrong on buying in person until it just became evident that it wasn't going to work for me.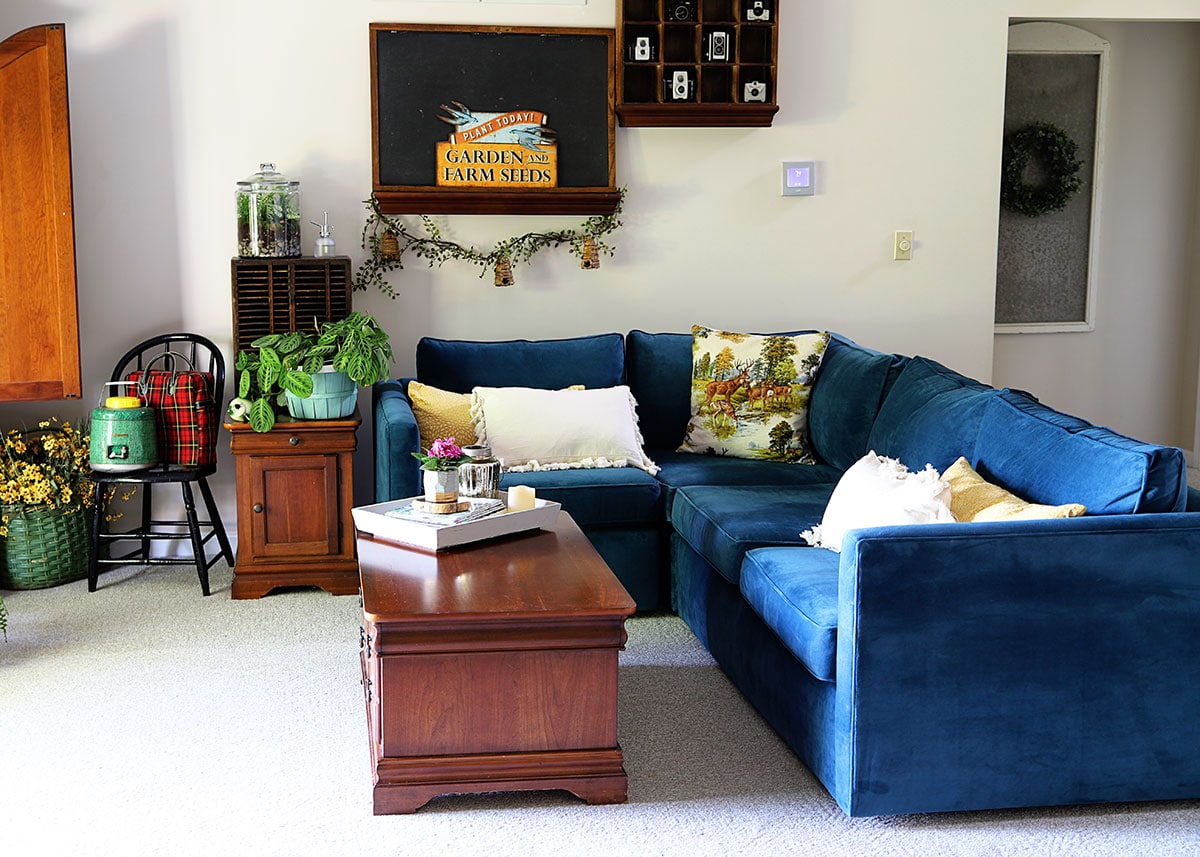 (This post contains some affiliate links for your convenience. You can read my full disclosure policy here.)
Buying A Sofa Online:
Do you know that most people over a certain age are nervous buying a sofa online, but the younger millennials and Gen Z's don't even give it a second thought.
Buy a $10 loufah sponge from Amazon or buy a $1500 sofa from Wayfair, it's all done with the click of a mouse.
I did a casual survey in a facebook group for bloggers over 50 and 99% of them said they would never think of buying a sofa they hadn't sat their butts in.
Granted, online shopping, or the internet for that matter, wasn't a big thing when I bought my last sofa (remember my last sofa lasted 16 years).
But there is something to say for the variety of sofa styles found on the internet. It's almost overwhelming.
3 huge online furniture shopping tips:
Buy on sale. Throughout the year there will be a sale on that sofa if you are willing to wait them out. No need to pay full price. If you're not in urgent need of a sofa (like you're currently sitting on the floor), you can sign up for their emails and get alerted to when the big sales are happening. And with places like Pottery Barn, the sales are substantial when they happen.
Get a fabric sample mailed to you. The color on your computer screen is never exactly what color the fabric is. Ever. Plus you want to be able to feel the texture of the fabric to see if it's soft or itchy or whatever. Take the fabric sample around your room to see what it looks like in different lighting and see if it goes with your existing furniture. Joybird gives you a whole box of fabric swatches (like every color they make) so you can choose wisely. Most companies will mail you squares of at least a few of your top choices.
Read the reviews. Since you won't be sitting in the sofa ahead of ordering it, you sort of have to rely upon other people's reviews of whether it's comfortable and if the fabric wears well. Do take the reviews with a grain of salt, but if there are numerous reviews complaining of the exact same thing, then it's time to move on. Also pay attention to people complaining of delivery taking much longer than expected, because that might also be a deal breaker.
What Style To Buy:
I kept going back and forth between styles I was looking for. Seriously one week I was coveting mid-century modern and the next I wanted slipcovered. I was all over the board.
So I'd say look around to see what style you want and then stick to it. Googling all around the internet will just get you more confused if you haven't narrowed down your basic style yet.
Mid-Century Modern
I had my heart set on mid-century modern and this one looked right out of Mad Men. Especially if you get it in one of the more vibrant colors (it even comes in Bubblegum Pink).
But then looking around my living room, other than the mid-century modern chair I had recovered last year, there wasn't a real MCM vibe going on. And I had just moved my rustic antique bookcase into the room that was no where close to being MCM, so that was a factor.
As much as I really really wanted a mid-century modern look, I had to admit it wouldn't work for me at this time.
Slipcovered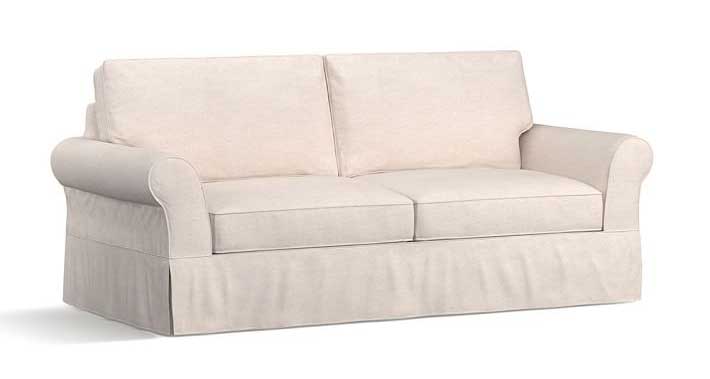 Pottery Barn Comfort Roll-Arm Slipcovered Sofa
My husband was a huge fan of the slipcover route. There's something to say about just throwing your sofa into the washing machine when it gets dirty. Well not the whole thing, just the covers.
But in my honest opinion (and I hesitate to give this opinion lest I have tomatoes thrown at me from people who have this style) I find slipcovers to be too visually "messy" for me. Not hideously messy, but there's something about the inherent wrinkles and looseness of them that nags at my self-diagnosed OCDness.
I had pictures of me trying to steam out wrinkles every time my husband got off the sofa to get a drink of water.
Old-World European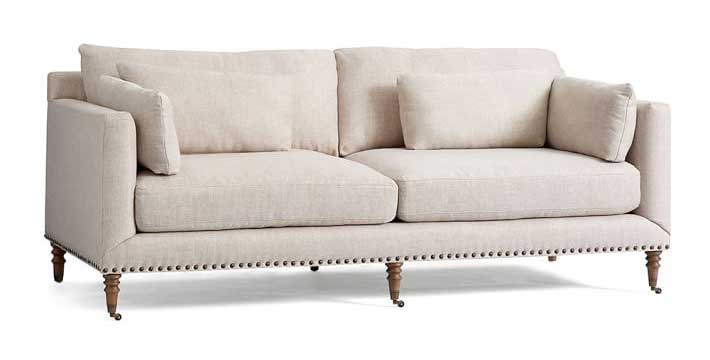 Tallulah Upholstered Sofa from Pottery Barn
I really really liked this sofa. I thought it had a great style and was not something you see everyday. I was impressed that Pottery Barn was carrying it, because in my head Pottery Barn was just slipcovered sofas (which they are not, they have lots of upholstered versions too).
In the end, I wasn't sure how the caster legs on the front would hold up for our family. This was going to go in our main living area so it was going to get lived on. A lot. I was just afraid the six thin legs wouldn't hold up to people not-so-gingerly plopping down on it constantly.
It is a gorgeous sofa though!
Transitional/Scandinavian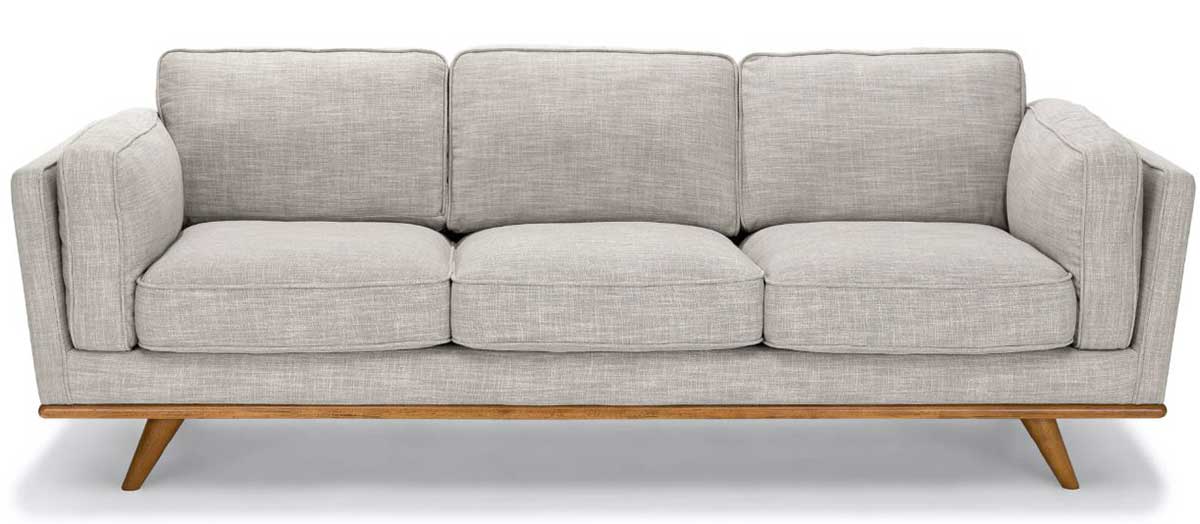 I loved the combination of wood and fabric on this sofa from Article. It had an interesting modern look with a nod to Scandinavian or Mid-Century Modern without throwing it in your face.
It's a sofa that can work in a variety of situations, so that's why I'm considering it Transitional/Scandinavian.
Unfortunately, it was a little too short for my 6'5" husband to lay down on. Sad to say, but the ability to lay down fully was a huge factor in buying a sofa in my house.
Why Did I Eventually Land On Transitional?
I felt that I needed something that would also allow me to change up my decorating style of the room at a later date if I wanted to. Right now I have an eclectic/flea market style going on, but that could change.
And since I'm married to this sofa for the next 10 years at least, a little bit of flexibility in design works for me. So I decided Transitional was the best choice.
In the end, I went with a sofa from West Elm. And not a sofa, but a sectional.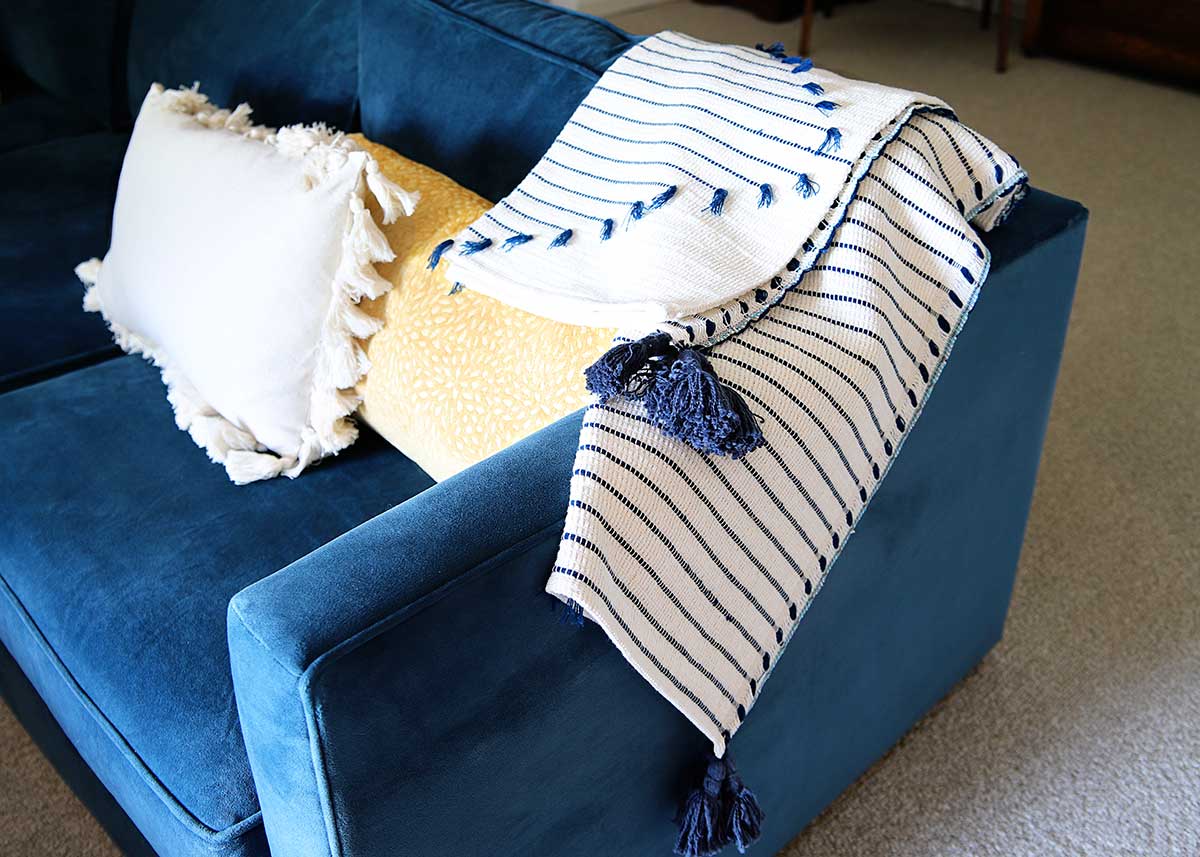 Why a sectional instead of a traditional sofa?
Two reasons.
We prefer to have the sofa facing the TV armoire (yes, I still have a TV armoire). Which means you would need another chair on the wall under the shelves. Having a sectional would do away with the need for that other chair.
To get enough room for the previously mentioned husband to be able to stretch out for naps, we needed something longer than your typical sofa.
I've never had a sectional before, but it just seemed to be the answer in this room and for this freakishly tall husband.
So basically, I decided to forgo my dreams of a mid-century modern sofa and settle for more functional sectional. But with a huge pop of color to make it far less generic.
What I Finally Decided On:
The sectional is a West Elm Harris Modular Sectional in the standard depth. It also comes in a deeper depth, but since I'm Shorty Mc-Shortster and I wanted to be able to sit in it, I decided to go with the regular depth. The standard depth is still plenty deep for my 6'5" husband.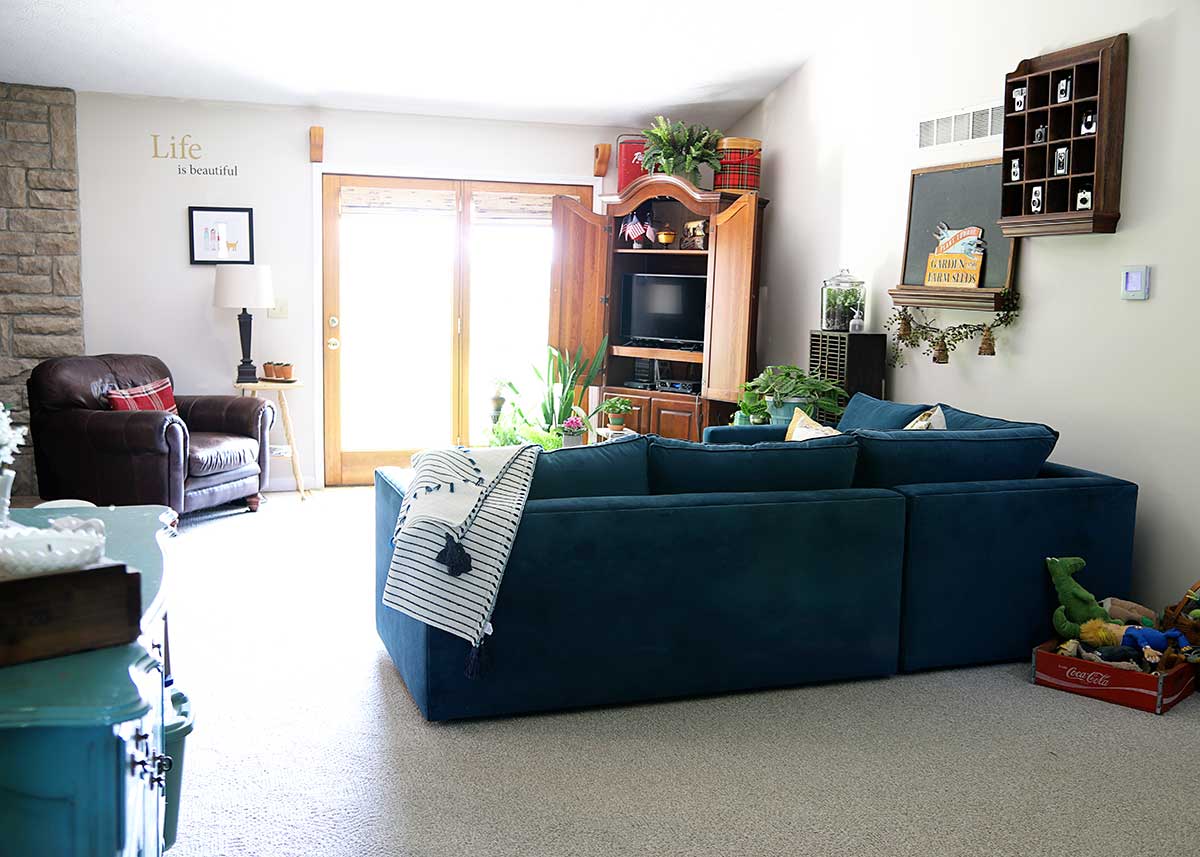 This particular sectional allowed you to pick from different sectional pieces to build your own sectional and get the arrangement you liked. As opposed to trying to cram a huge sectional into a smaller space, I got to pick what pieces I wanted and what pieces fit best.
I needed a sectional with one section significantly longer than the other section so it would fit in the room as a "L". And surprisingly almost all the "pre-made" sectionals I found were equal lengths on each side.
The pieces I got were the Right Arm 2 Seater Sofa (the longer side of the sectional), the Corner and the Left Arm Chair. They clip together so once it's assembled (done expertly by the delivery guys in the middle of a pandemic) the pieces are firmly stuck together and do not slide apart.
And most importantly the fabric is Performance Velvet in Lagoon. It's a very durable short pile velvet that is incredibly soft. And I freakin' love the color.
When starting out this sofa quest 12 months ago, purchasing a sectional had never crossed my mind. It was always going to be a sofa. But hey, things change and people evolve and we ended up with the best choice for how we live!