Probably about 90% of my home decor is bought at thrift stores, estate sales or little antique shops. I rarely if ever buy anything brand spanking new, because I like the quirkiness of a home decorated with found and vintage items.
I feel a house tells more of a story about its owners when it's filled with things that have been sought out over time rather than things bought in a ½ hour trip to a national chain store.
Or I'm cheap. There's that!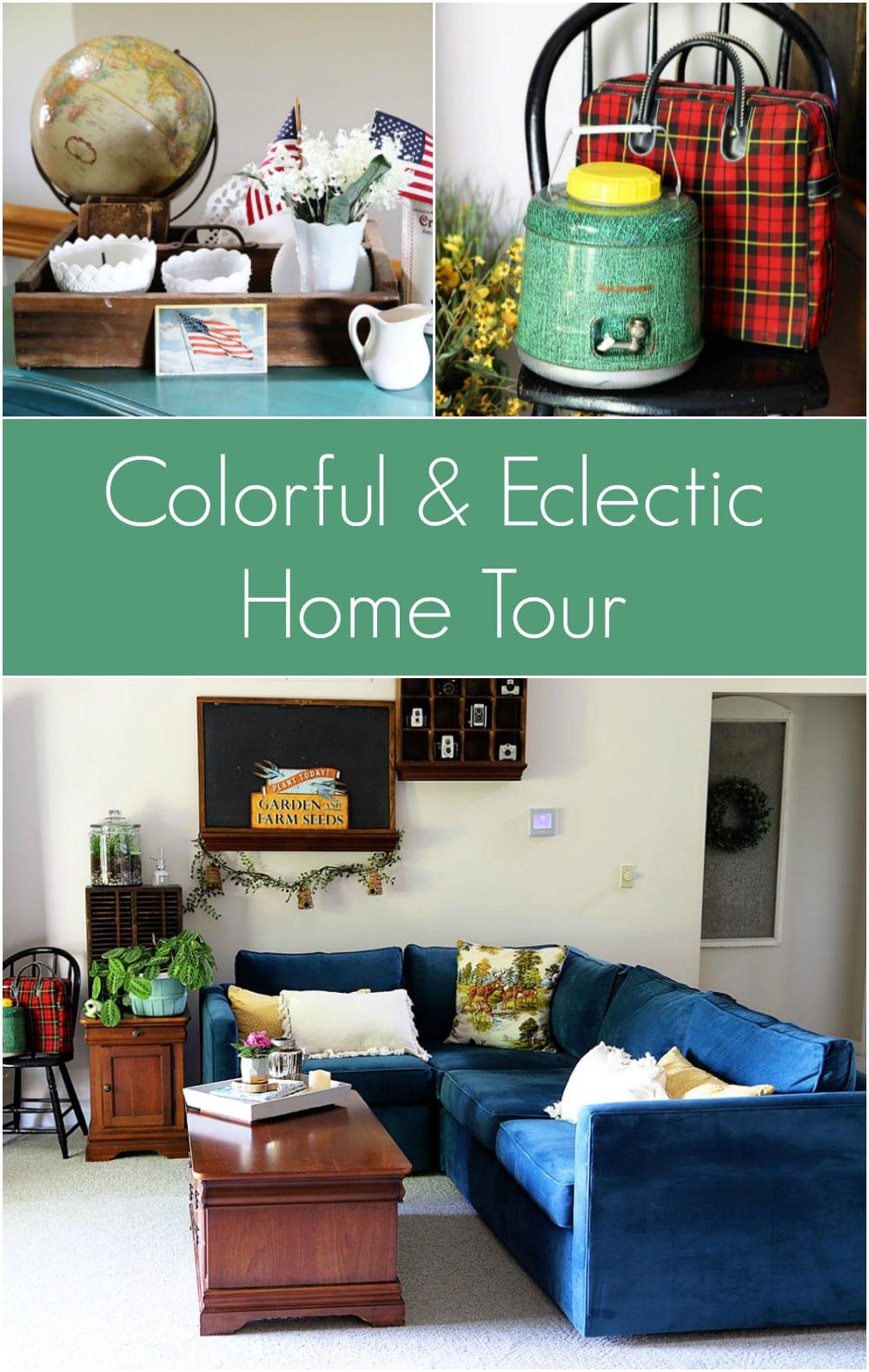 So today while I'm trying to hide from the oppressive heat of a Midwest summer and my home is somewhat clean, I took some photos of the current state of affairs at my house.
And BTW, I hesitate to call this a "home tour", because I'm not showing full rooms with a floor plan (hello, stalkers and burglars). It's more of a "little snippets here and there" tour.
Probably not the best shot to start off with, since this area is a bear to photograph with all the light pouring in the windows, but this is the kitchen dining area.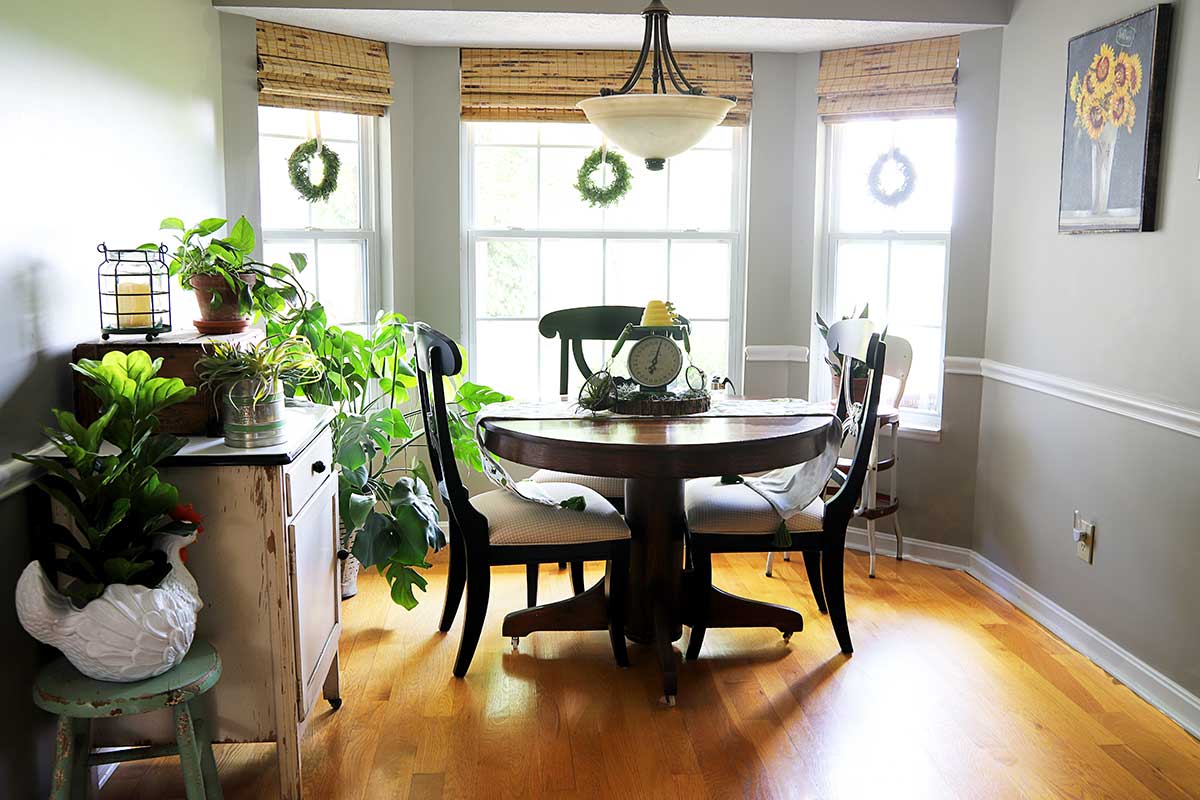 My table centerpiece is a simple wood slice from the craft store (I always buy them with my 40% coupons, because it's basically just a hunk of tree) layered with a round Christmas greenery placemat and vintage scale.
I showed you how I cross stitched the metal strainer with the bee a few weeks ago. And the other strainer holds one of my air plants which you can see in my post called Vintage Kitchen Tools Repurposed For Gardening.
It all sits on a floral table runner I bought at Target last summer. Which totally goes against my buying older things theory, but I am not immune to the allure of a good Target clearance sale.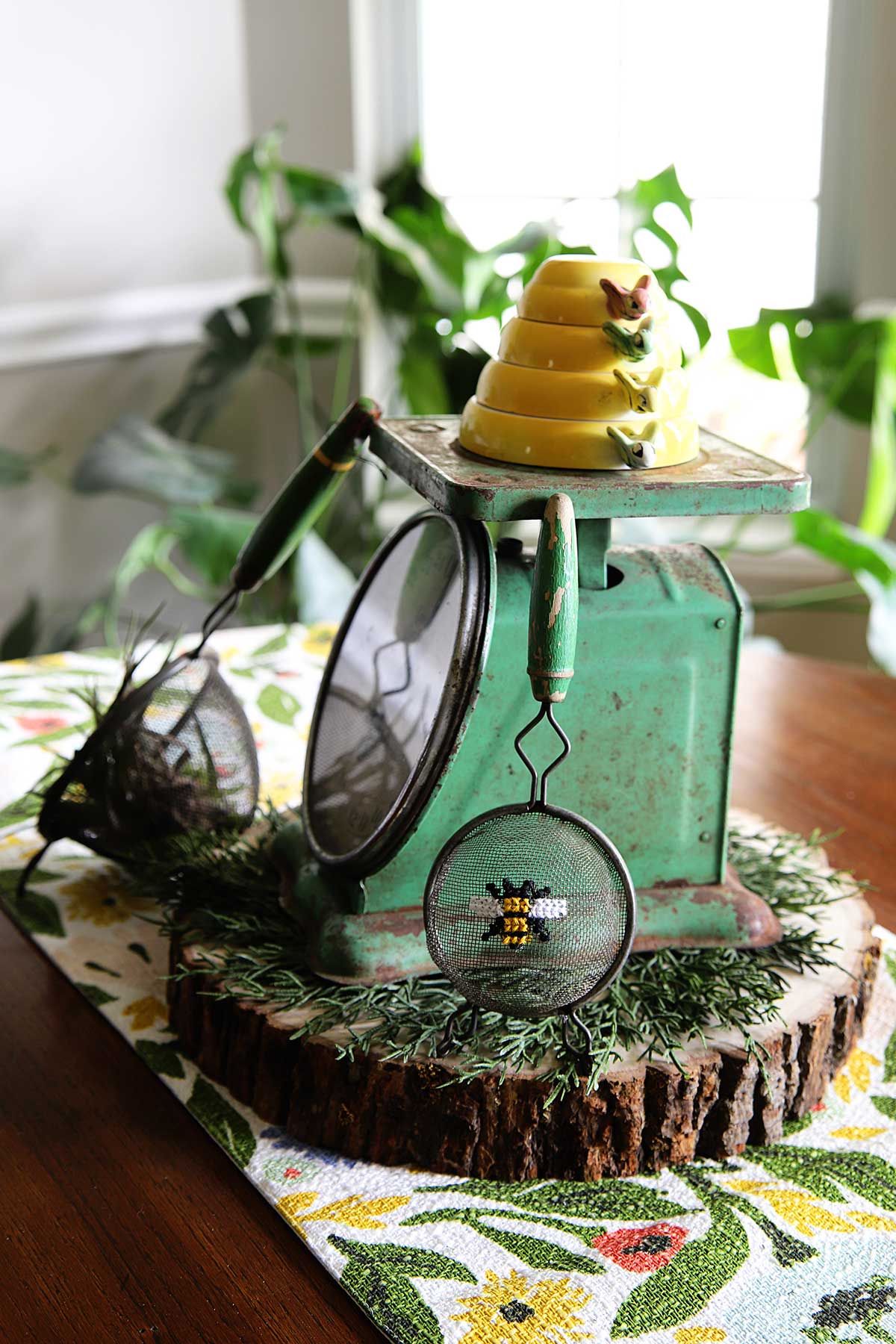 The bee hive measuring cups are one of my favorite estate sale finds.
I thought the measuring cups had little birdies flying out of the beehive, which I thought was odd, but who am I to judge. It wasn't until I got them home and did a little research on the maker (Menschik Goldman) that I realized, duh, they are bees.
It takes me a while to catch on sometimes!
My vintage baking cabinet has barely moved an inch since I bought it at a yard sale a few years ago. Some may call it a decorating rut, but why mess with what you like, right?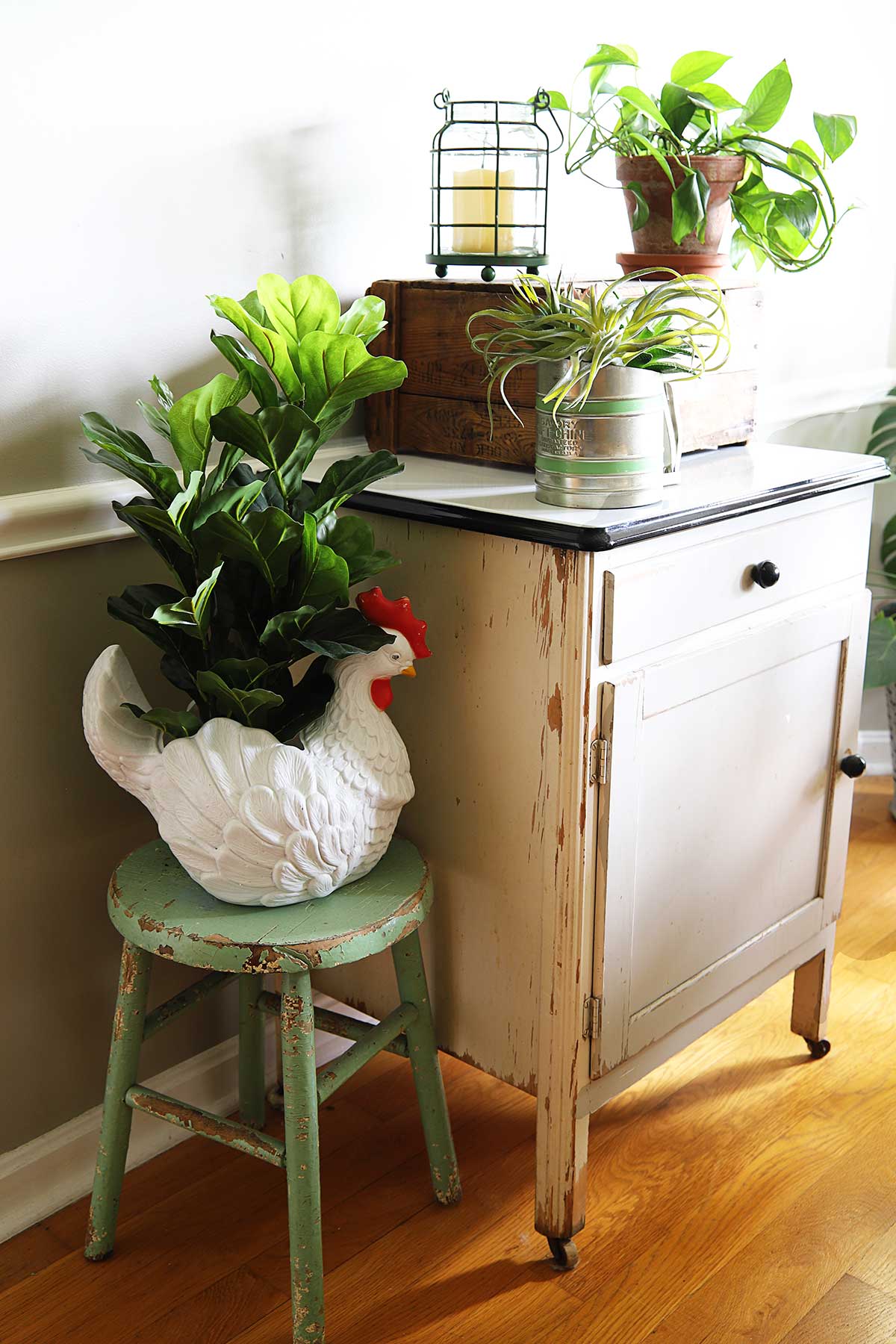 And yes, I have no desire to repaint it.
I like the chippiness of the paint. 90% of its character comes from those chips and flakes.
The flour sifter turned planter was another one of my kitchen tool repurposes.
I found it hard to water the "planter" so I've gradually replaced some of the more tender succulents with some realistic looking faux succulents that aren't as needy water-wise.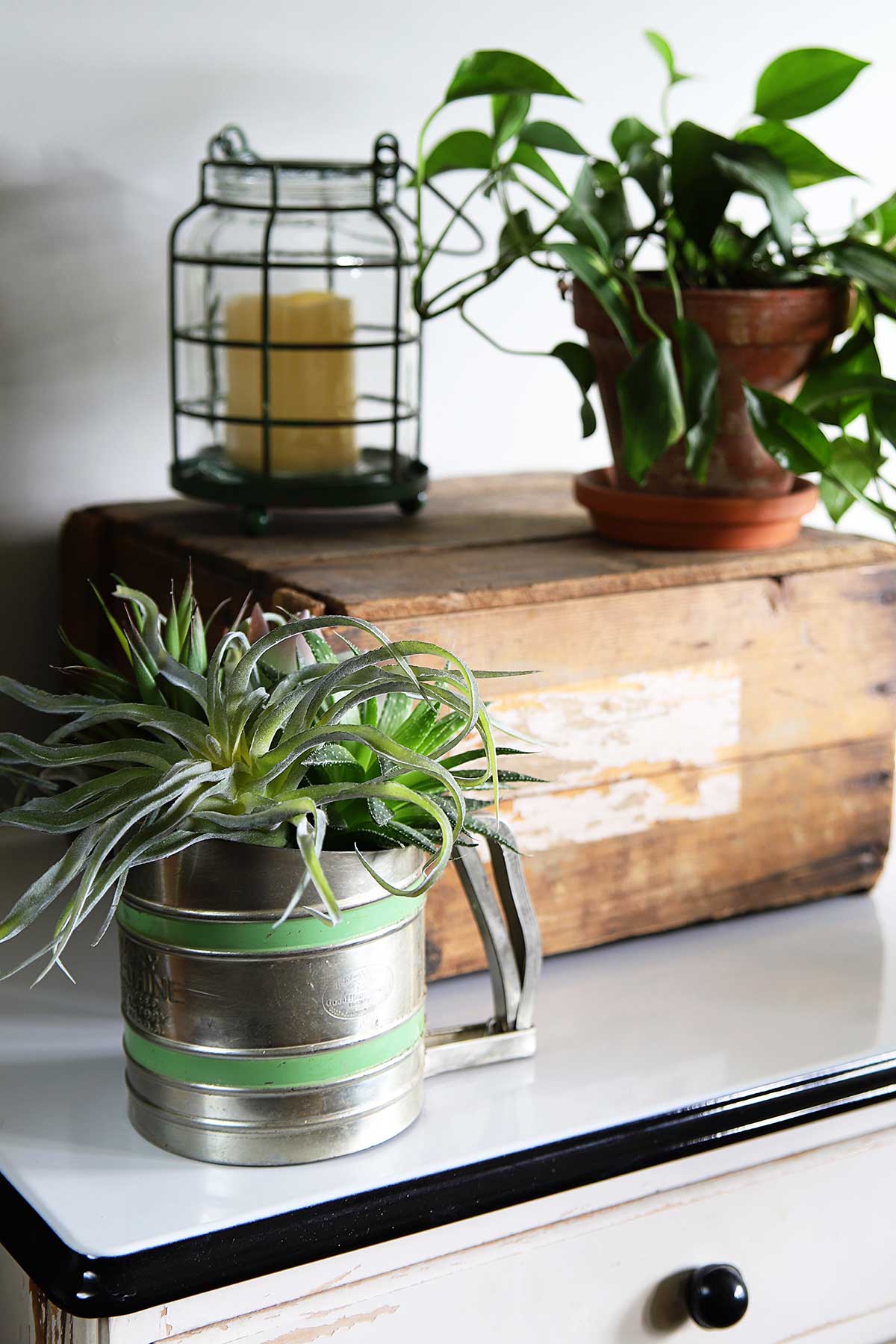 From this angle, the one on the left is faux and the spiky one of the right is real.
Did you notice that green candle holder/lantern on top of the old wooden crate?
I had seen that on someone's instagram feed way back in March, right about the time the pandemic was getting under way, and I fell in love with it. It looks industrial and vintage to me.
I sent my husband out to Tractor Supply to pick one up (he needed some lawn care products anyhow so it's not like I sent him out to risk death JUST for the lantern) and he came back with two because he thought they looked so cool.
Edited To Add 12/28/20 - I'd link to them for you, but it seems they discontinued them.
Also, did you notice my blowmold chicken! How cool is he!
I'm pretty sure roosters are boys, so I feel confident in calling him a "he".
#notafarmer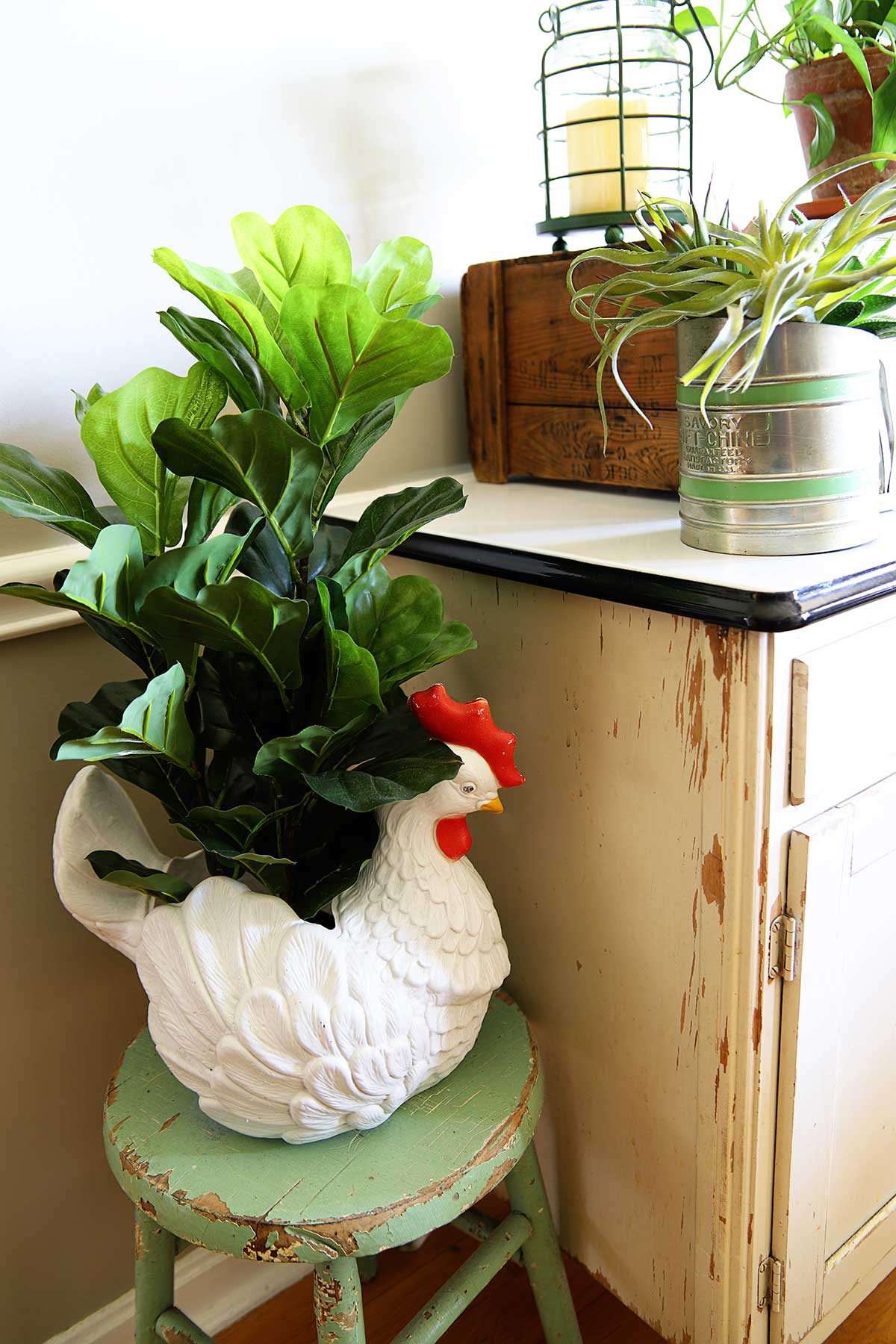 I can't say I was looking for a plastic chicken planter the day I found him, but that's the thing about thrifting. If you see it, buy it, because who knows when you'll find another funky plastic chicken again.
My living room is a bit on the colorful side nowadays since I replaced my 16 year old brown sofa with this sectional from West Elm recently.
I'll tell you all about how I picked it out, the ridiculously long journey it took me to actually FINALLY decide on it and all the captivating details in another post. Along with some other options if you are in a sofa buying season of your life.
For right now, just know that picking out a new sofa is not as easy at it sounds.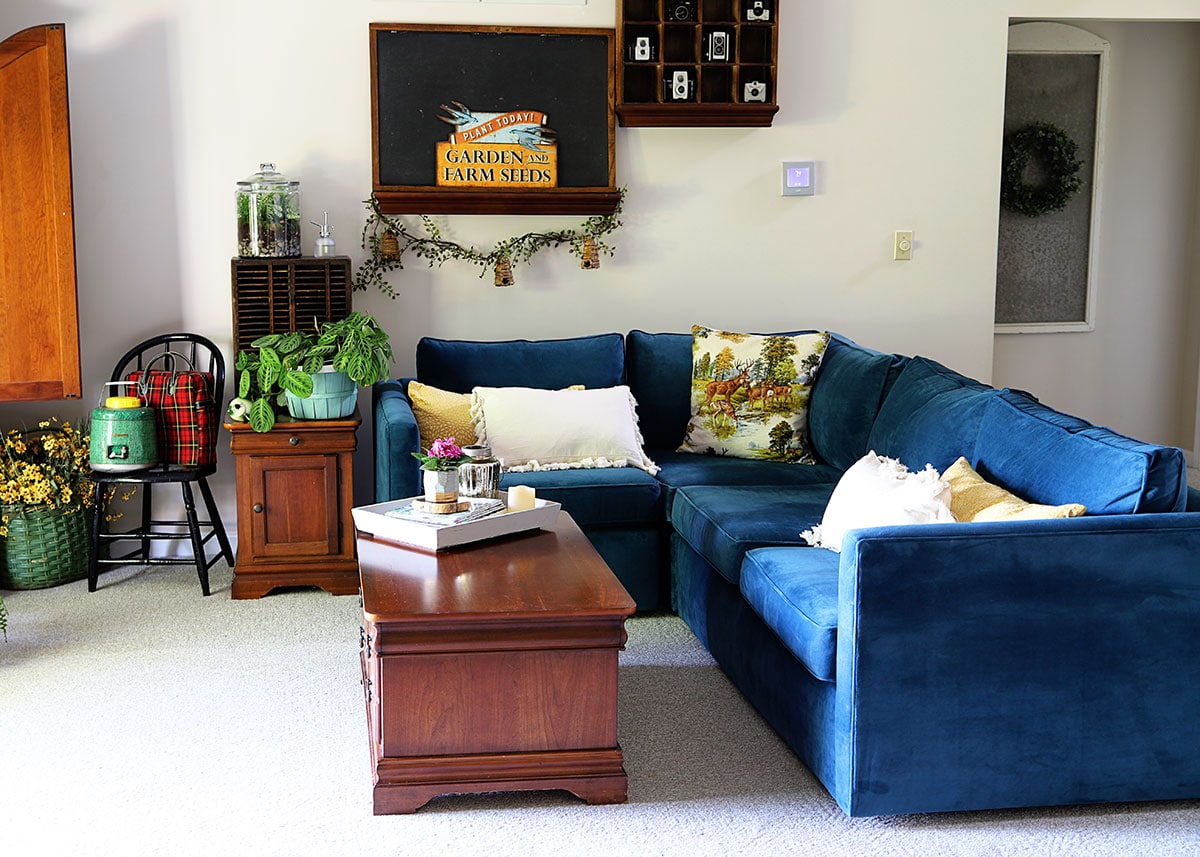 The color is called Lagoon Blue and I was a little bit nervous about ordering it with just the tiny little swatch I got from the local West Elm store to go by.
I almost chicken out and cancelled it numerous times, but am so glad I stuck it out. I love it!
Now for the pillows, that's a different story.
The couch didn't come with pillows, but you could order throw pillows from West Elm in the same fabric for an additional cost. I didn't want to be all matchy-matchy, so I bought two golden yellow lumbar pillows from Marshall's and two off-white canvas pillows with tassels from a small local store.
I had thought about going MUCH more colorful with my pillows, but decided the yellow and off-white grounded the sofa a bit. In a good way.
And then I thought it needed a special pillow for the corner section, so I used my vintage barkcloth deer pillow I had purchased locally last fall.
I know deer on your sofa is not everybody's thing, but it was the touch of vintage whimsy I was looking for.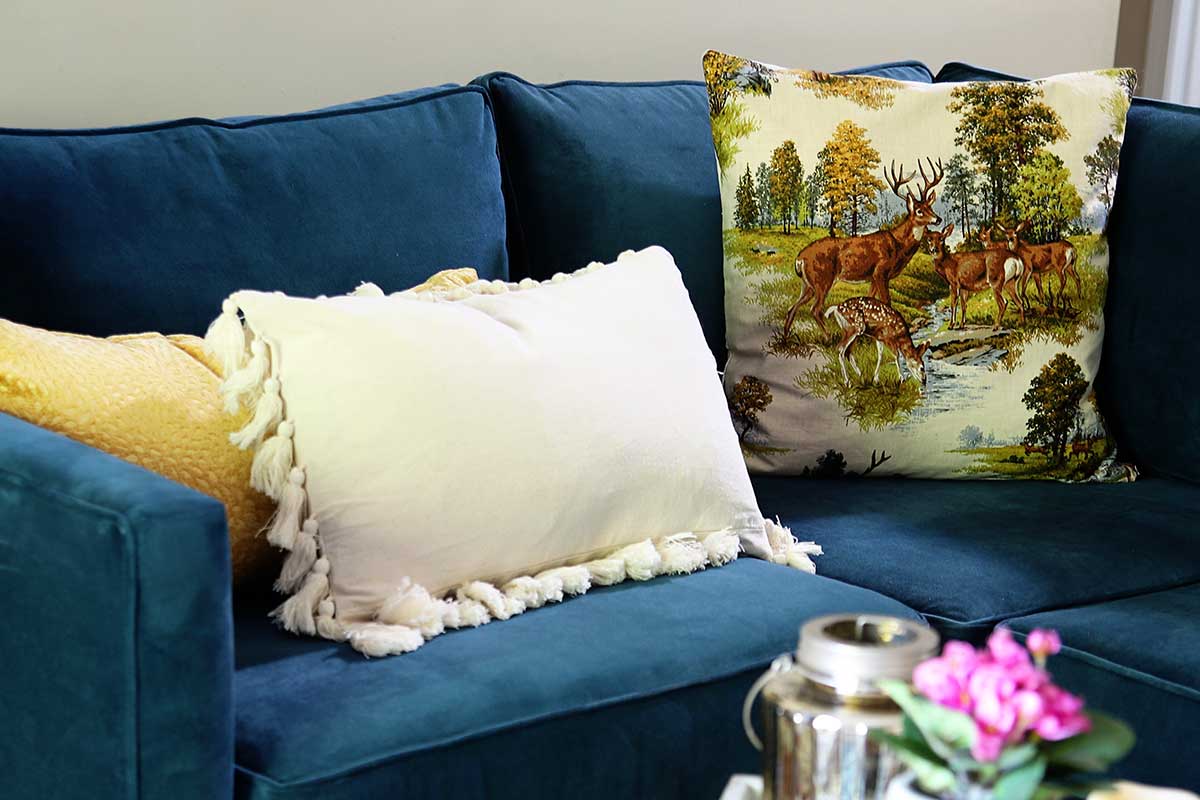 This green Red Diamond picnic jug was purchased at a local antique mall on my very first non-essential outing since some pandemic restrictions were lifted.
I gotta say, it was a little scary that first time out and I still don't go out shopping very often, but it's always fun to feel normal for a bit. Mask and hand sanitizer and all.
The plaid tote is a thermos picnic set with two thermoses and a sandwich keeper inside. Just in case I want to have a picnic lunch in the living room.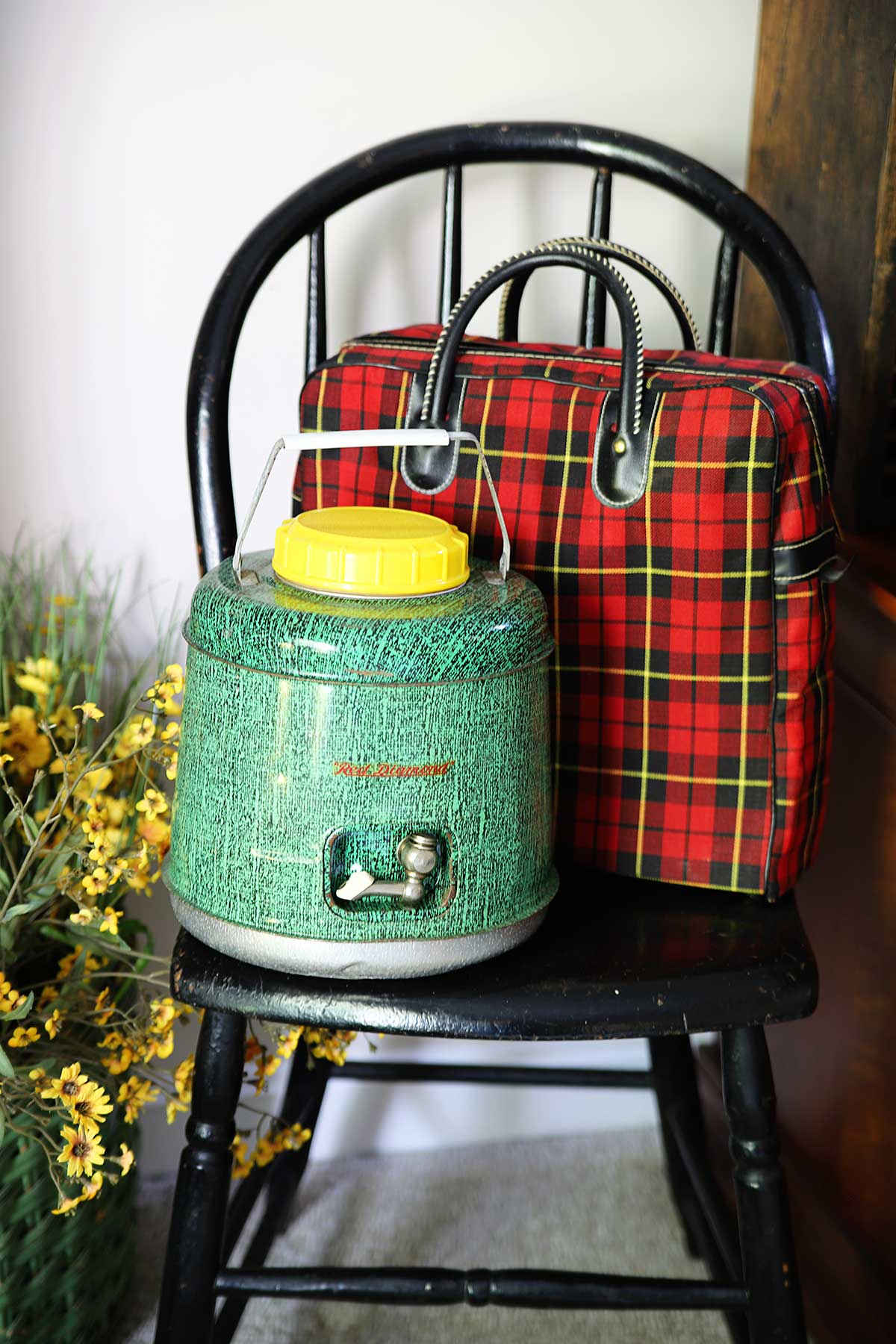 The gardening sign is a reproduction I found at a local gardening store that has since gone out of business. If I find a similar one online in the future I'll link to it.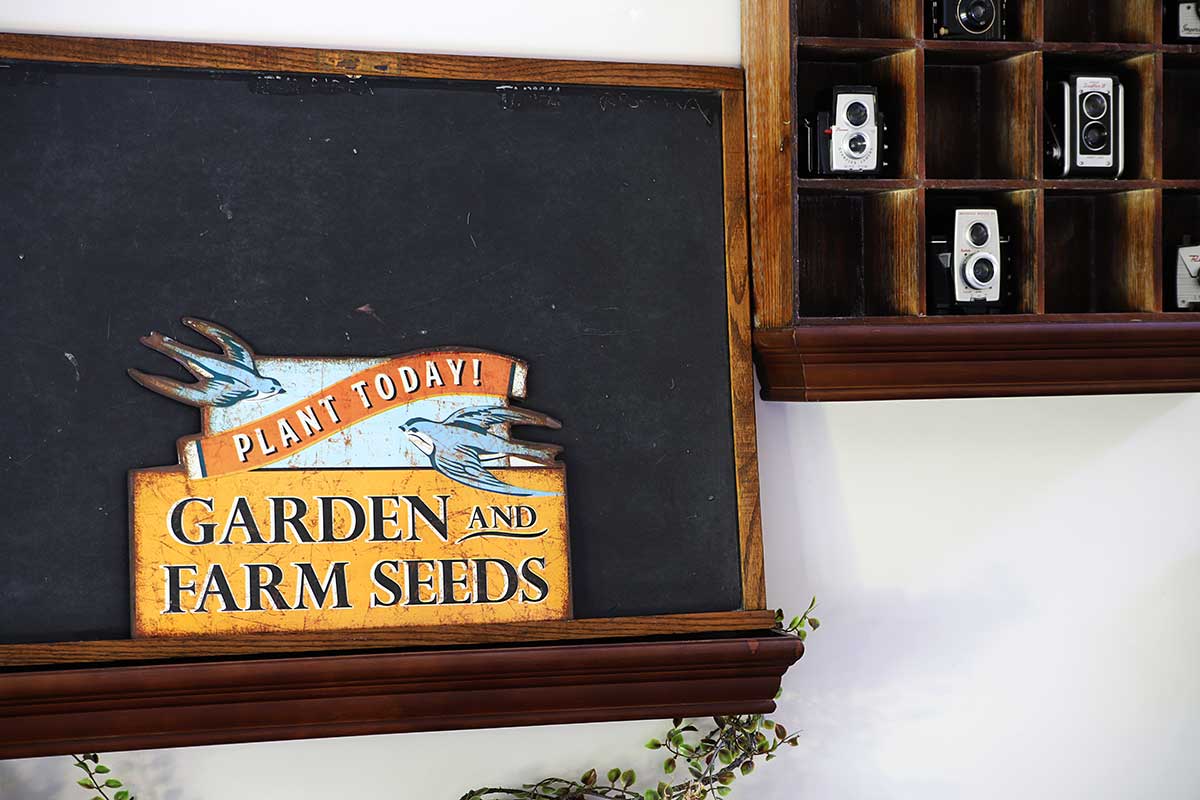 And of course, I have a little crazy plant lady area next to the window.
BTW, that little brown pedestal on the left is actually an old table leg turned upside down. It was sold as a candle holder, but it makes a perfect plant stand and adds a bit of architectural interest.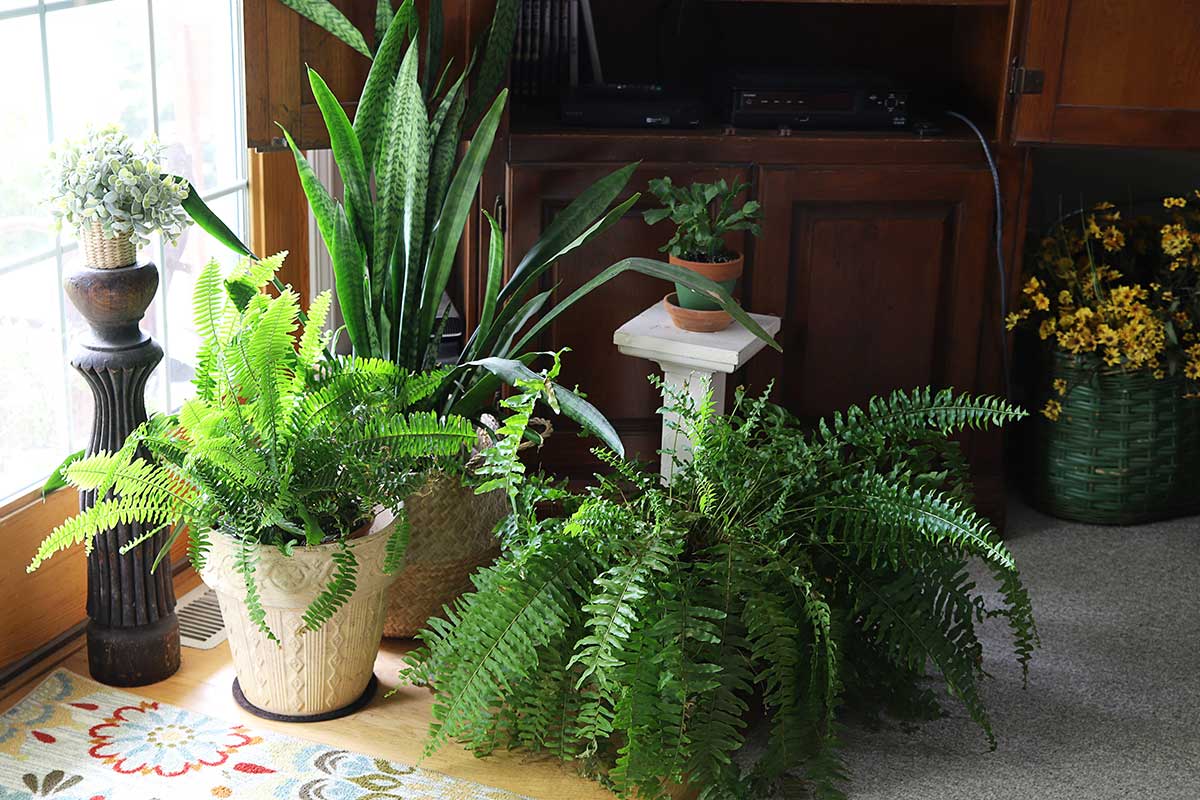 I gave my bookshelf a light summer look by adding some shells and beachy items.
In my post titled New Bookshelf To Decorate For Spring you can see how I pieced together this mismatched bookshelf and dresser along with how I decorated it for spring.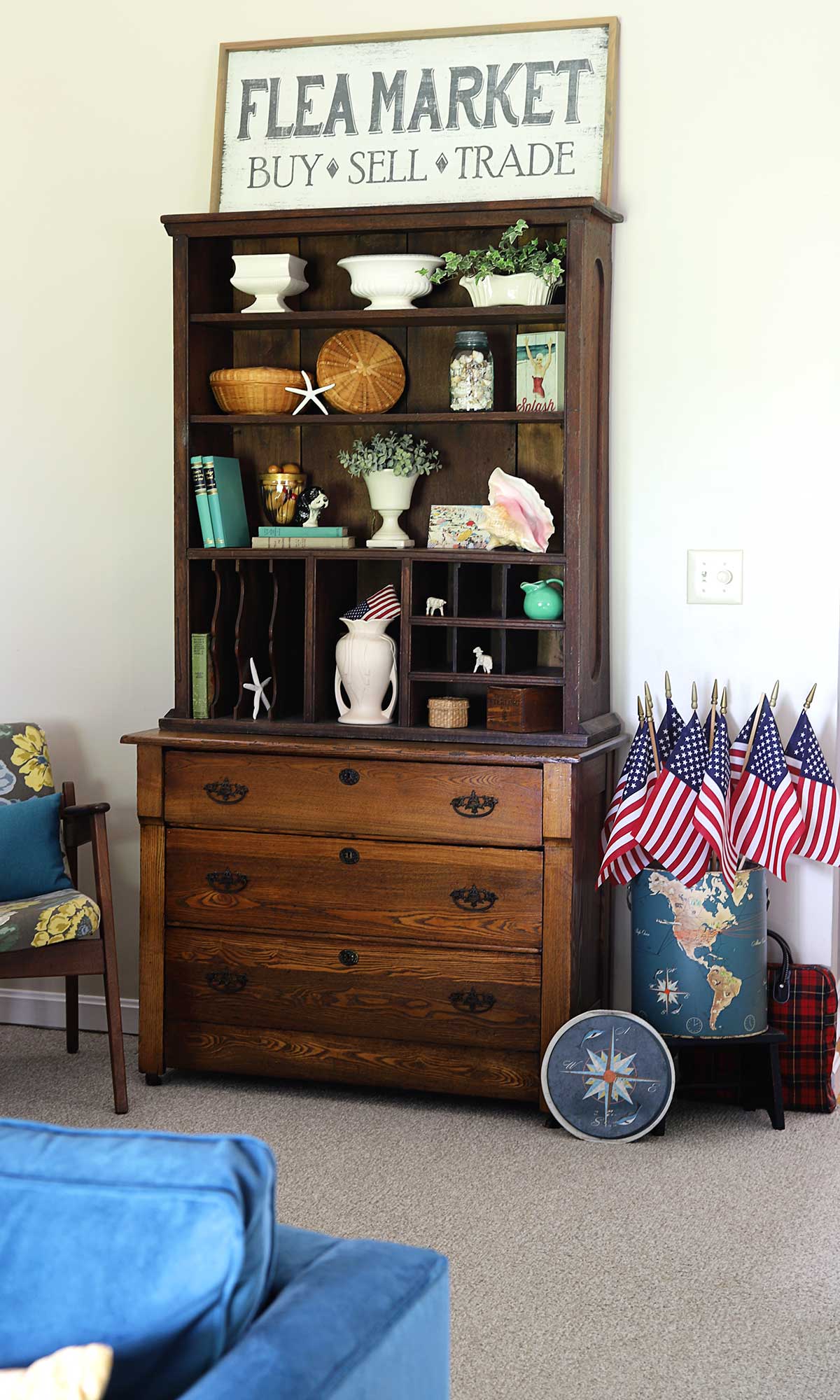 I don't want to make this bookcase too heavily seasonal though and have to change it up all the time, so I thought just a few touches here and there would give that nod to summer I was looking for.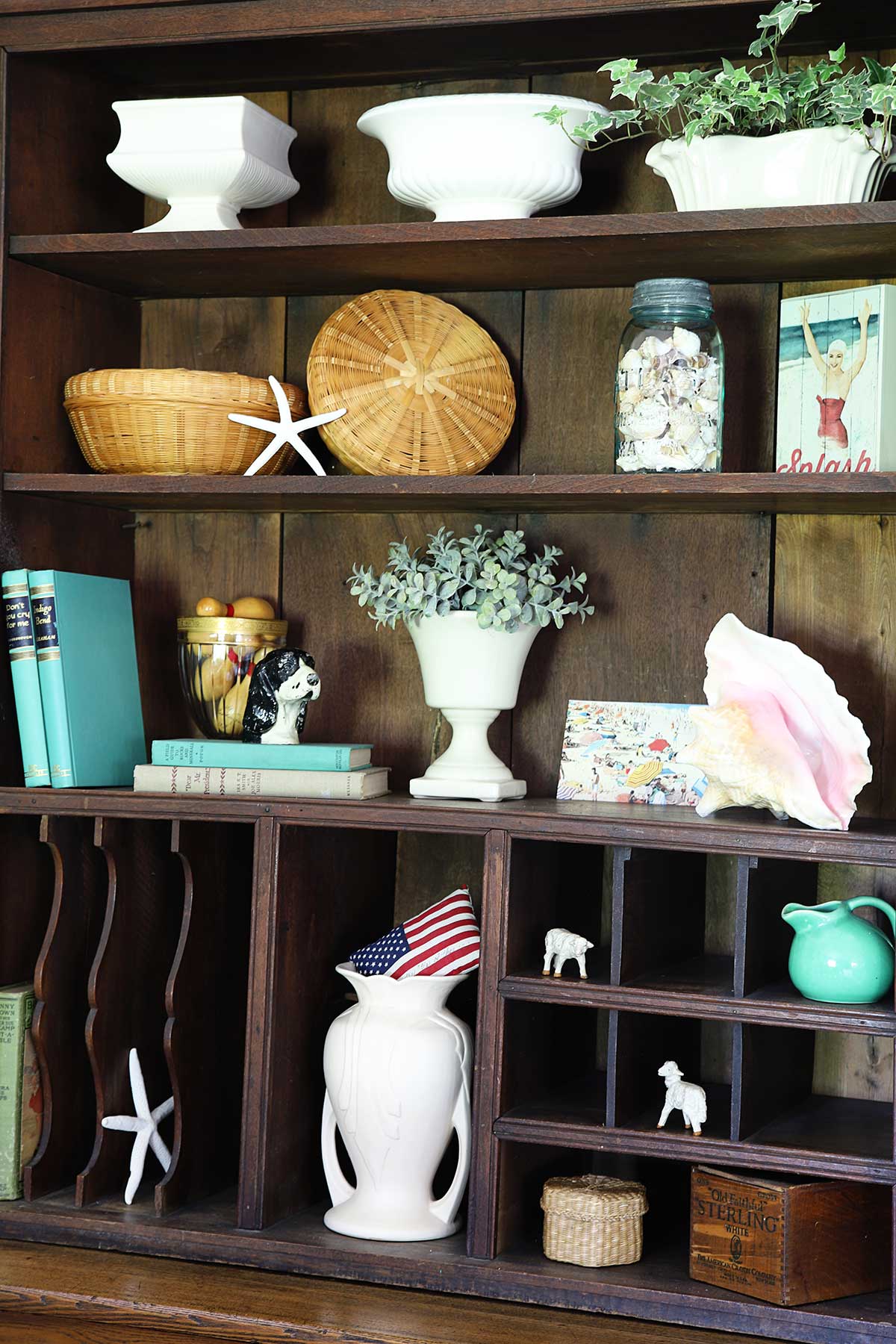 I had added these flags to my TWA World Cooler for 4th of July and liked it so much I just left them there.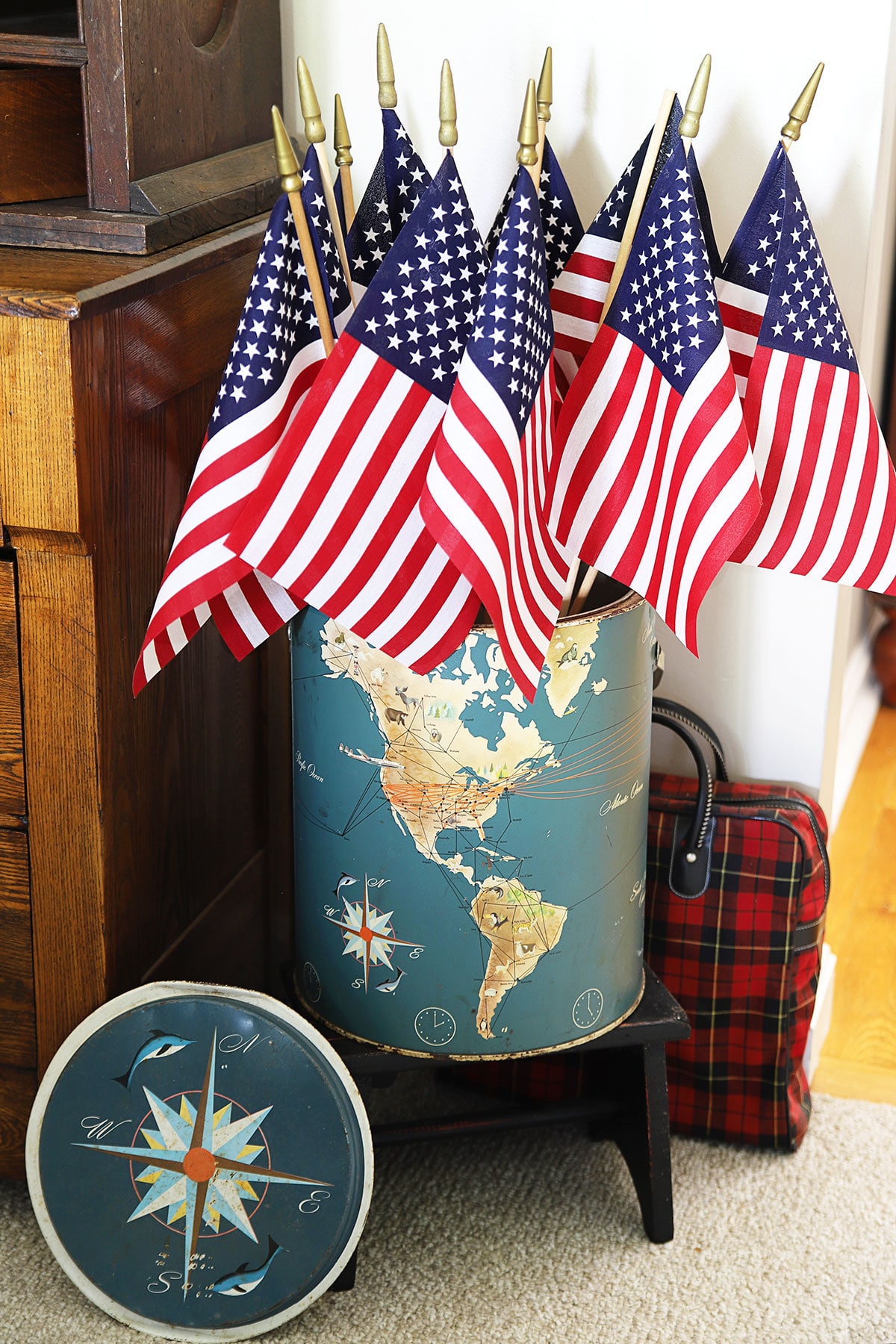 Same with this little vignette on my turquoise credenza.
The 4th sort of got gypped this year with the pandemic, so why not extend the patriotic decor a bit?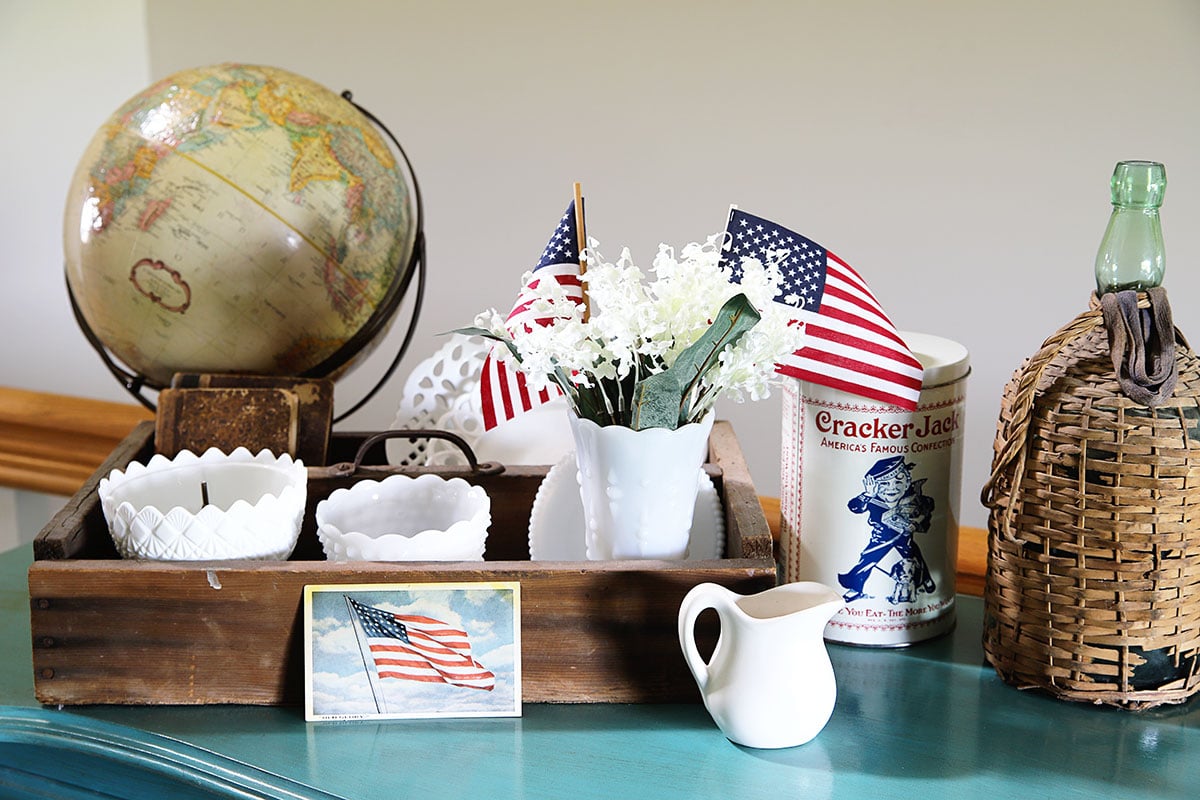 OK, I'm off to take a nap on my sofa now. If only I had a pillow to use . . .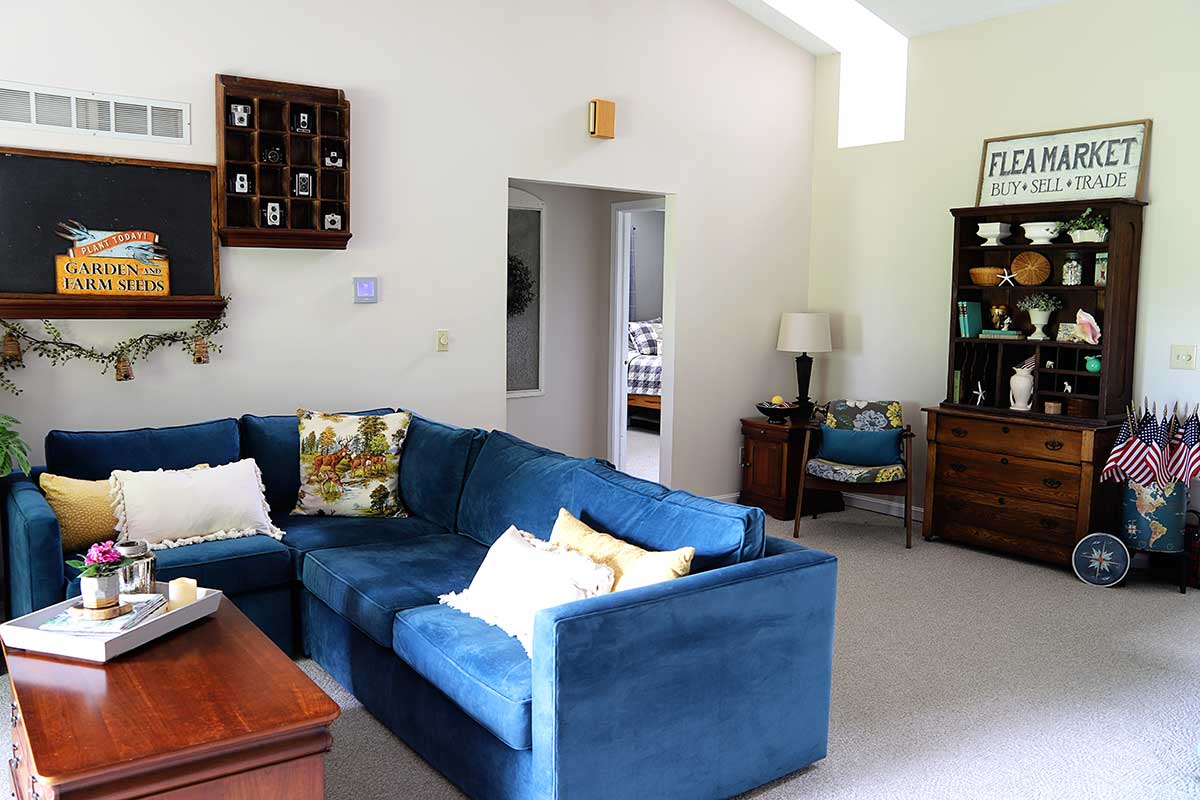 (This post contains some affiliate links for your convenience. You can read my full disclosure policy here.)
More Posts You May Enjoy:
Fall Home Decor: Thrift Store Style
How To Style A Bookshelf
Fall Porch Decor Farmhouse Style