I've had a thing for vintage Shiny Brites and other vintage Christmas ornaments for as long as I can remember.
They hung on my tree as a child.
I made sure I had a few on my very first Christmas tree in my very first apartment.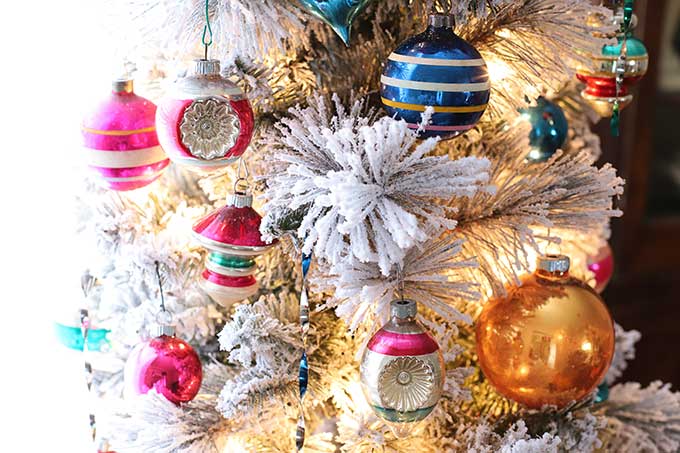 They were one of the first things I called dibs on when my brothers, sisters, and I cleaned out my mom's home when she died.
They're hanging on one of my trees right now as we speak.
I can't even imagine a time when vintage Christmas ornaments will not be part of my holiday decor. I'm hooked. For life.
Whether I brought them from my mom's house or found them at an estate sale, I feel a responsibility to protect and preserve them as much as I can. That is why I want to explain how I store my Shiny Brites and other vintage goodies from year to year.

(This post contains some affiliate links for your convenience. You can read my full disclosure policy here.)
How To Store Vintage Christmas Ornaments
Preparing Your Ornaments For Storage
Dust ornaments prior to storing them. This is extra important if they were hung on a flocked Christmas tree. That stuff is pretty to look at, but it may discolor your ornaments over time if left setting on them.
A small paintbrush is great for getting in all the nooks and crannies.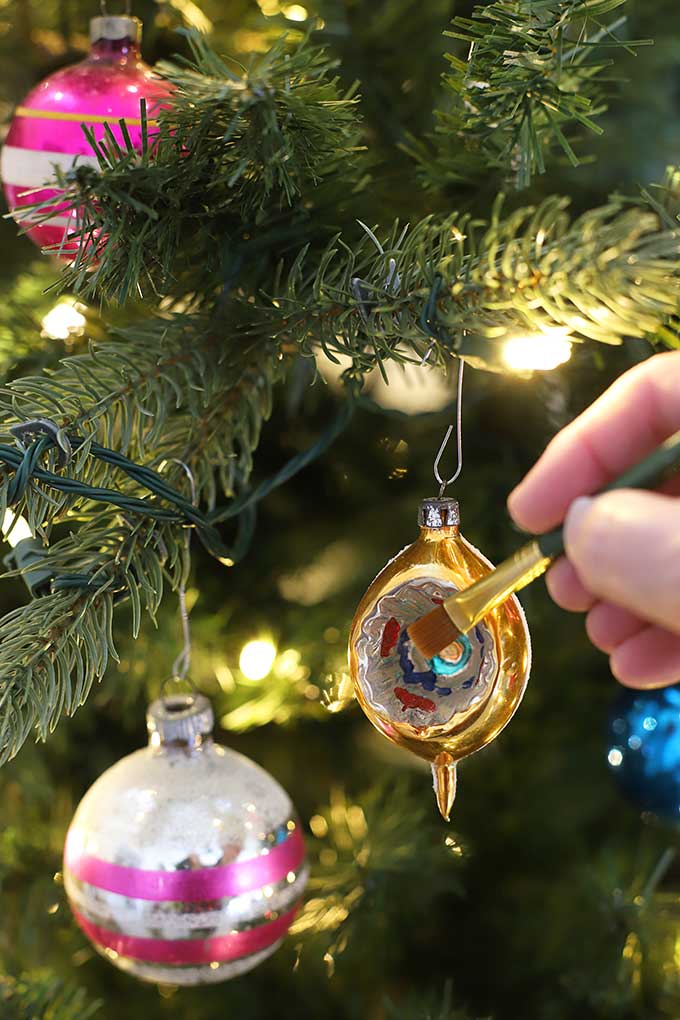 I usually dust them when I am taking them off the tree, but on the tree made for a more festive photo op!
Take the hangers off the ornaments. They can scratch the delicate painting, so best to store them separately.
Types Of Storage Boxes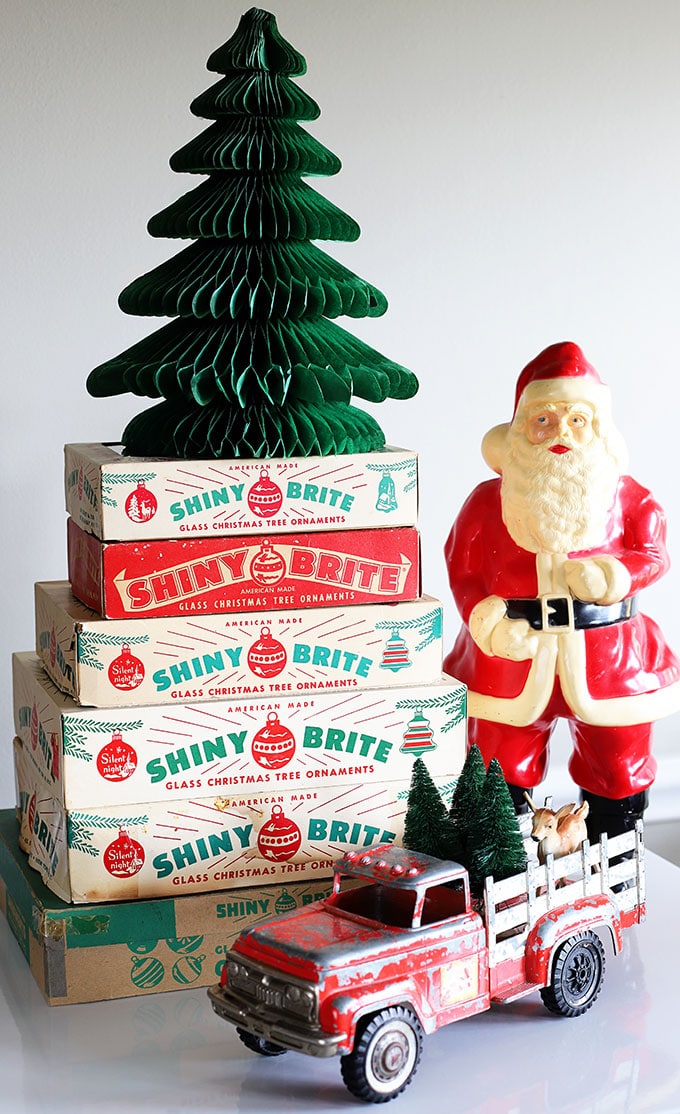 I prefer to store my ornaments in their original boxes if I have them. Besides, it's fun to stack the empty boxes in a Christmas tree shape as extra fun Christmas decor.
If you do not have the original boxes, then you have a few choices:
You can buy ornament storage boxes with divided compartments, like these canvas ones with acid-free dividers that I recently bought on Amazon. Do not use one of the hard plastic ones since the plastic can trap moisture, save those for your less treasured ornaments.
A cardboard/pulp egg carton makes a wonderful place to store smaller ball-shaped ornaments. I just use the ones from the local grocery.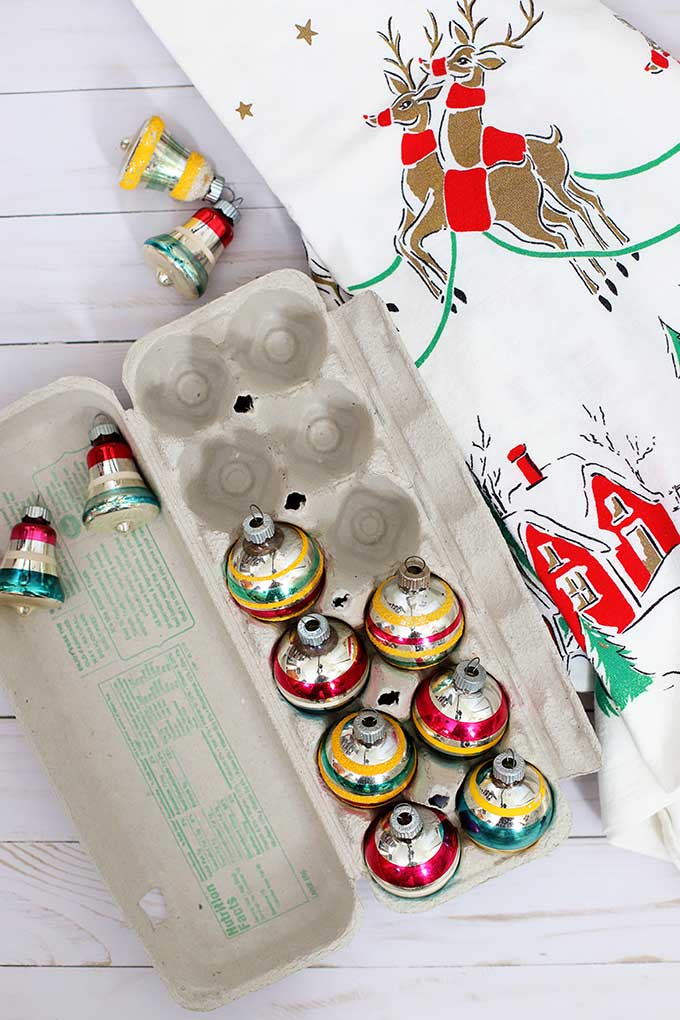 I prefer the pulp cartons over the styrofoam variety because I have a hunch the "stickiness" of the styrofoam may pull off some of the paint and vintage mica snow. And you want to keep as much of the mica intact as possible.
Side note - the mica snow looks like hard white bumpy glitter, but has a larger grain and looks more "attached" than flaky glitter would. Also, it's not nearly as annoying and prone to get in your eyeball as glitter. It is a sign of the age of an ornament as mica was used pre-1960's and glitter tended to be used in more recent years.
You can also wrap your ornaments in acid free tissue, which is free of chemicals and dyes that can harm your ornaments then place them in cardboard gift boxes or containers. Most of my more delicate, oddly shaped ones are stored in this manner.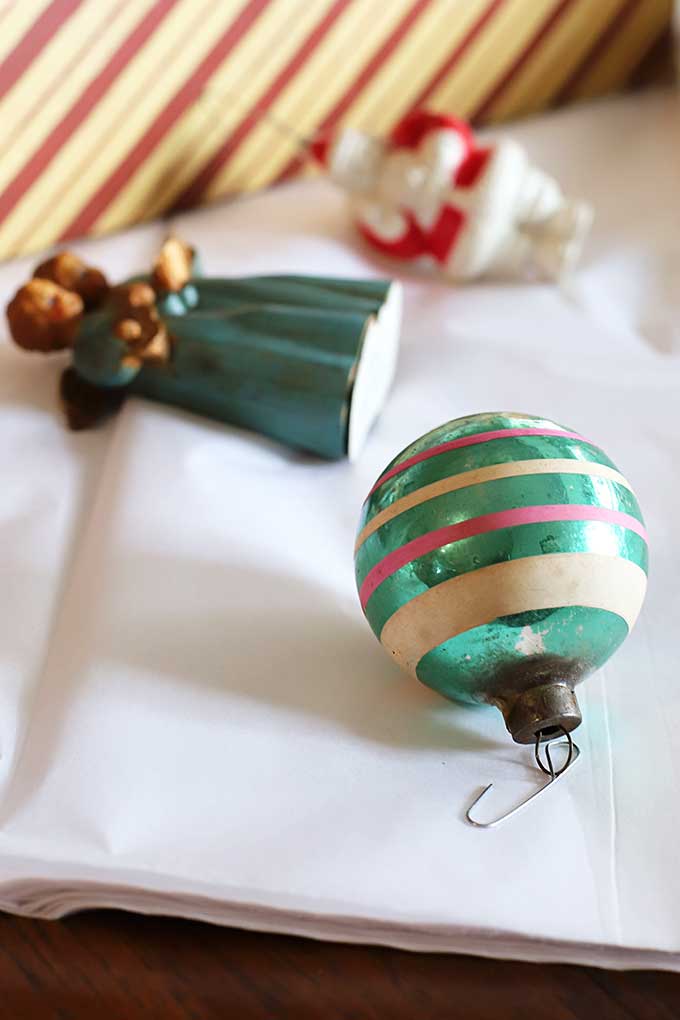 Where To Store Your Vintage Christmas Ornaments
Store your boxes of ornaments in a closet, dresser or under the bed. Basically anywhere inside your living space where you have room. Avoid storing your ornaments in the basement or attic where they would be subject to extremes in temperature or humidity.
If you wouldn't want to spend the summer locked away in a sweltering attic, then chances are your family heirlooms won't either.
Do you have any other tips for ornaments storage? Where do you store yours?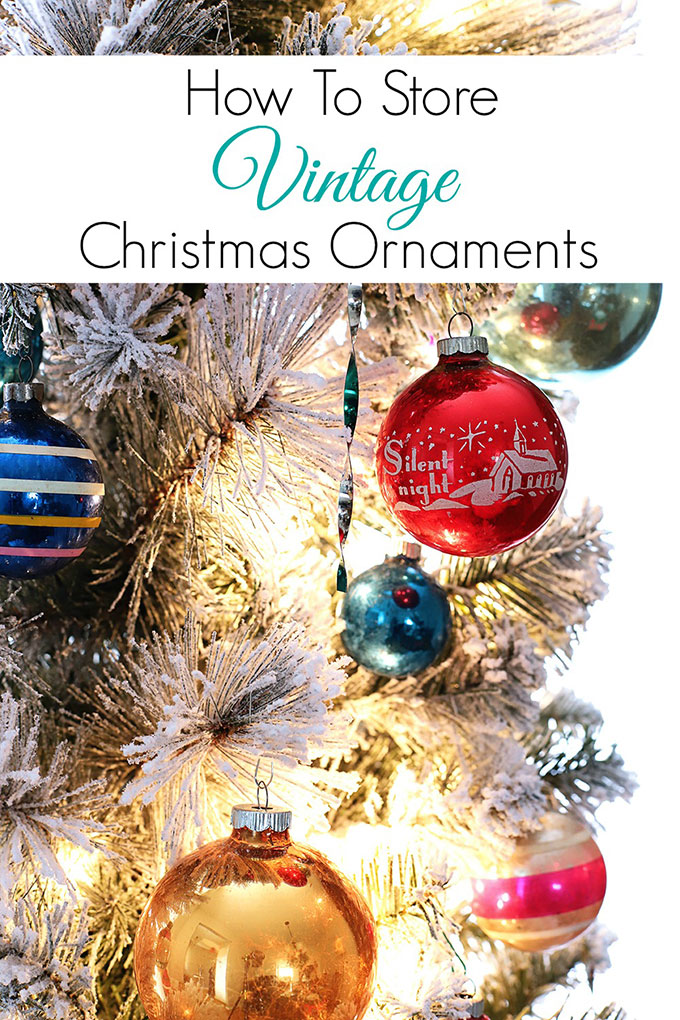 Check out the web story version of this article HERE.
Other posts you may enjoy:
Christmas Home Tour - Thrift store Decor Style
5 Iconic Vintage Christmas Decor Items
A Vintage, Farmhouse, Retro Kind Of Holiday Home Tour