This year, reproduction vintage Christmas decor is HOT at the stores. All of a sudden the stuff we love is going mainstream.
Sure, we'd all love to have original and authentic vintage Christmas decor, but what if Grandma didn't leave you all her Christmas decor when she died? What are you gonna do about it?
You can whine and moan about your cousin getting all the good stuff.
You can hang out in thrift stores and at estate sales and try to recreate Grandma's Christmas stash (this one really does appeal to me).
Or you can buy some reproductions and enjoy the look the easy way!
So for those that don't have the time or energy to hunt down the originals or for those who just want the retro Christmas look FAST, I've compiled a list of where you can find the top 5 iconic vintage Christmas decor items that you pretty much need to get for your holiday decorating.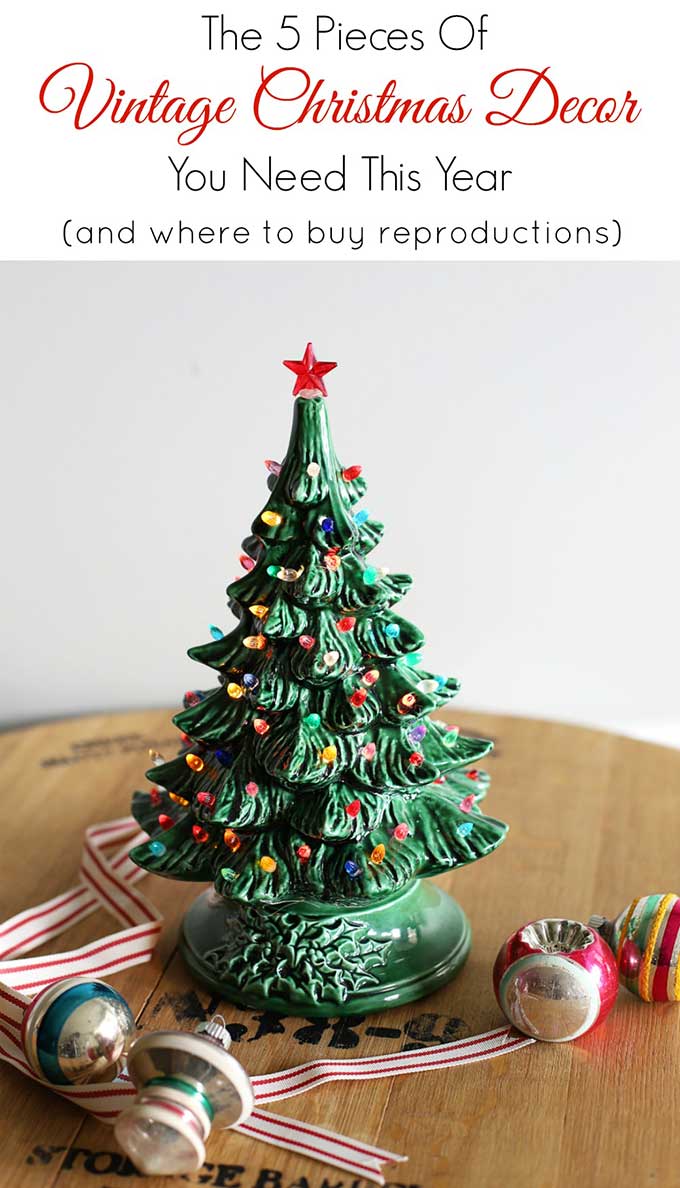 (This post contains some affiliate links for your convenience. You can read my full disclosure policy here.)
Top 5 Iconic Vintage Christmas Decor Items
Updated for 2022
Santa Mugs
There ain't no party like a Santa mug party! They're cute, they remind you of cookies and milk at your granny's house (even if Cousin Susie is drinking out of your favorite Santa mug as we speak) and some of the reproductions out there are spot on.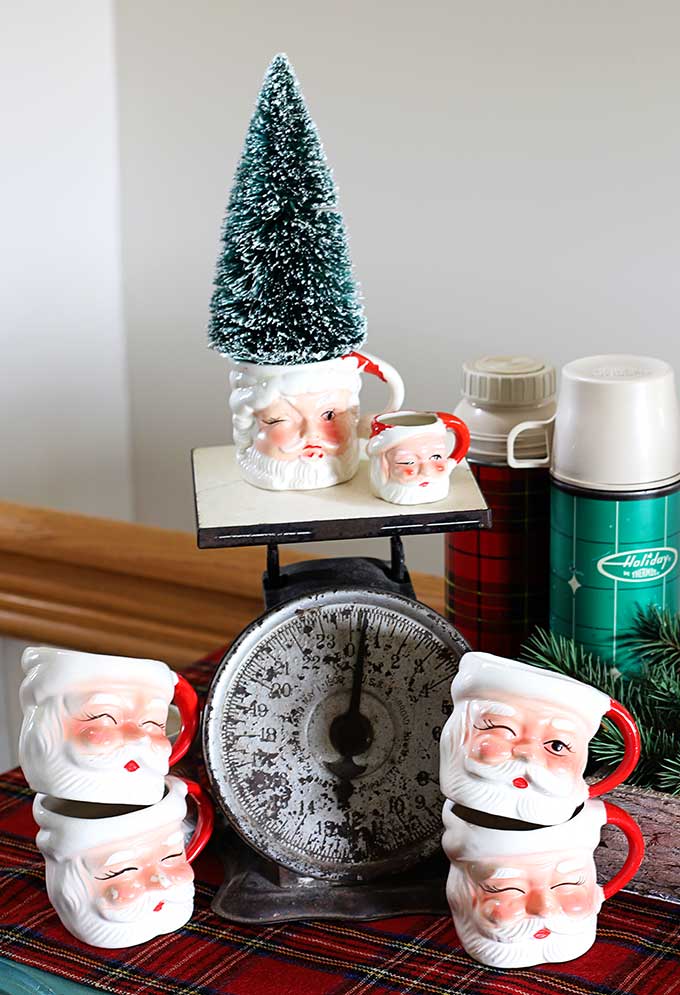 Where To Buy Reproductions:
Pottery Barn has a wonderful set of 4 Santa mugs. (And Pottery Barn has them on sale right now.)
They also have the little mini Santa mugs . Shot glasses, if you ask me. But hey, I'm not judging what you drink out of Santa's head.
Shiny Brite Ornaments
Nothing says nostalgic Christmas more than a Christmas tree filled to the brim with Shiny Brite ornaments. Most of the ones on this white tree from last year were from my mom's house, but I have found quite a few at estate sales and thrift stores also.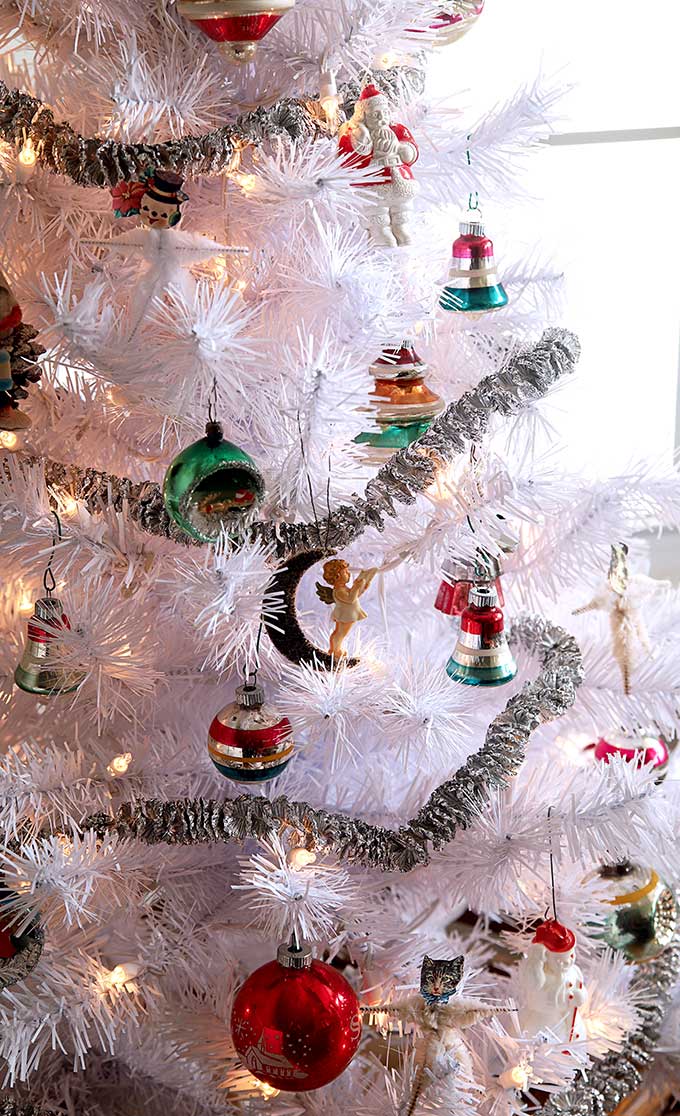 Where To Buy Reproductions:
Amazon is my go to place for all things Shiny Brite if I can't find them out in the wild.
And I've also found some nice Shiny Brite ornaments at West Elm this year. They come in all the traditional shapes (balls, bells, indents).
West Elm also has some fun pinecone shaped Shiny Brites.
I have also seen them sold at HomeGoods, but that's sort of a crap shoot, since each store has different items in stock.
(Can you say crap and Santa in the same article?)
Vintage Ornament Wreath
I've been wanting to make my own for a few years now, but just haven't gotten up the nerve to glue a bunch of my Shiny Brites onto a wreath yet.
But if you aren't squeamish like me, having a vintage ornament wreath is a great way to show off your love of vintage Christmas decor all in one space. It definitely makes a statement!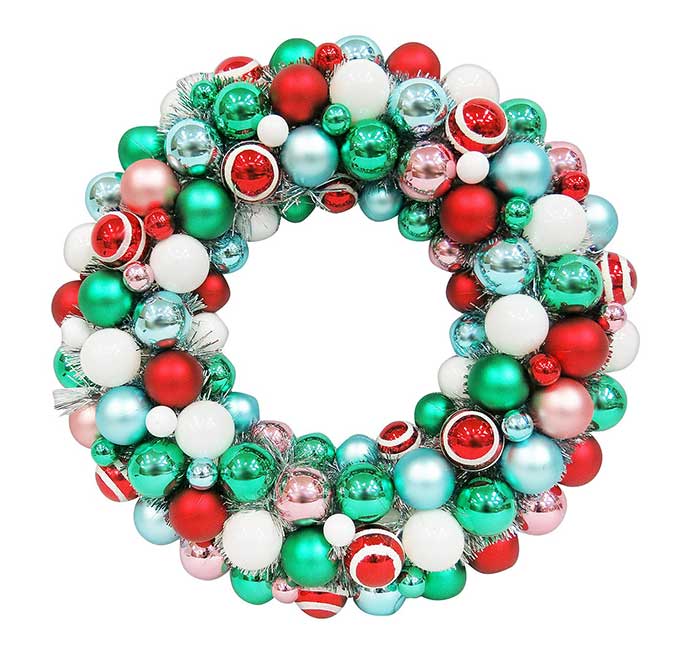 Where To Buy Reproductions:
The photo above is a wreath Target carried last year. Sadly they are not selling it this year.
Walmart carries this retro styled ornament wreath this year though. Not exactly the same, but similar. And I believe the ornaments are shatter proof, which is a good thing in my house.
Etsy is a GREAT place to find these types of wreaths at all price points. One of my favorite sellers is Kitschmas Wonderland who's wreaths are jam packed with both new and vintage ornaments and a whole lot of whimsy.
Blow Molds
Blow molds are one of those retro Christmas items that I didn't think would ever make a comeback, but comeback they did! In all their glorious plastic luminosity!
Like the candles I have on my front porch or the Santa I put out every year.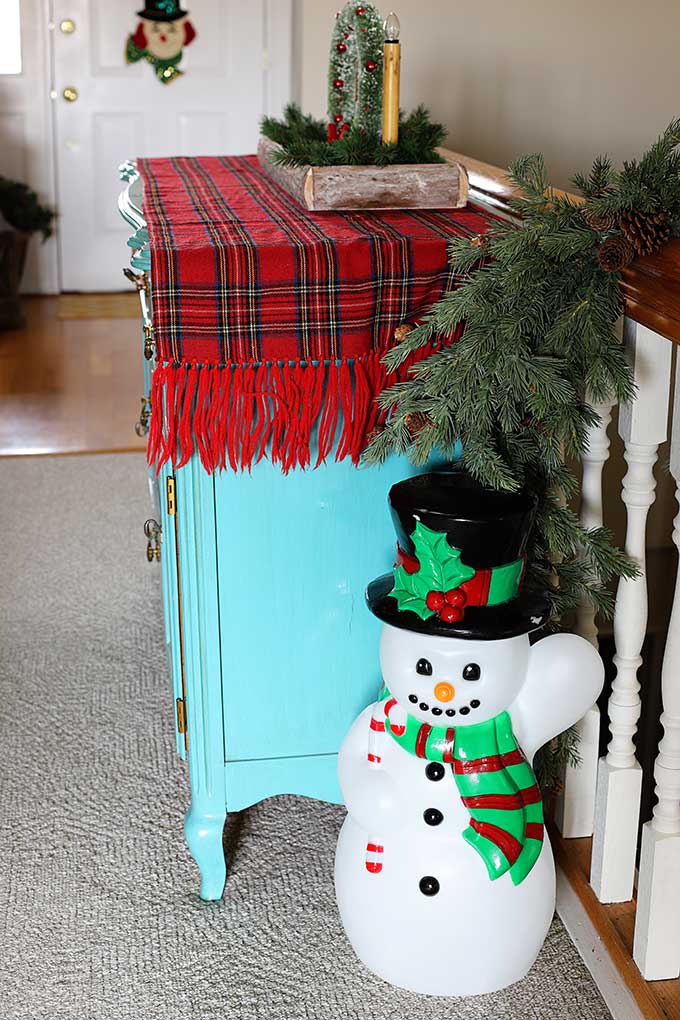 Where To Buy Reproductions:
I purchased this cute snowman at Michael's a few years ago (I just checked, he's not available for 2021!), but I did find him at Home Depot this year (he appears to be out of stock right now, but you can have them email you when they get more in). He's hanging out in my living room for the holidays. Hope he doesn't melt!
Or this happy version of a snowman carrying a wreath from Walmart.
Menard's always carries a surprising variety of blow molds. I always enjoy walking through their forest of fake trees and outdoor decor every year. Or you can find all sorts of Santas, candles, toy soldiers and such on Amazon.
This traditional blow mold Christmas porch candle is always a fun way to decorate the porch for the holidays!
Ceramic Christmas Trees
I think other than the blow molds becoming popular again this year, the one that really surprised me was ceramic Christmas trees! They are all over the place!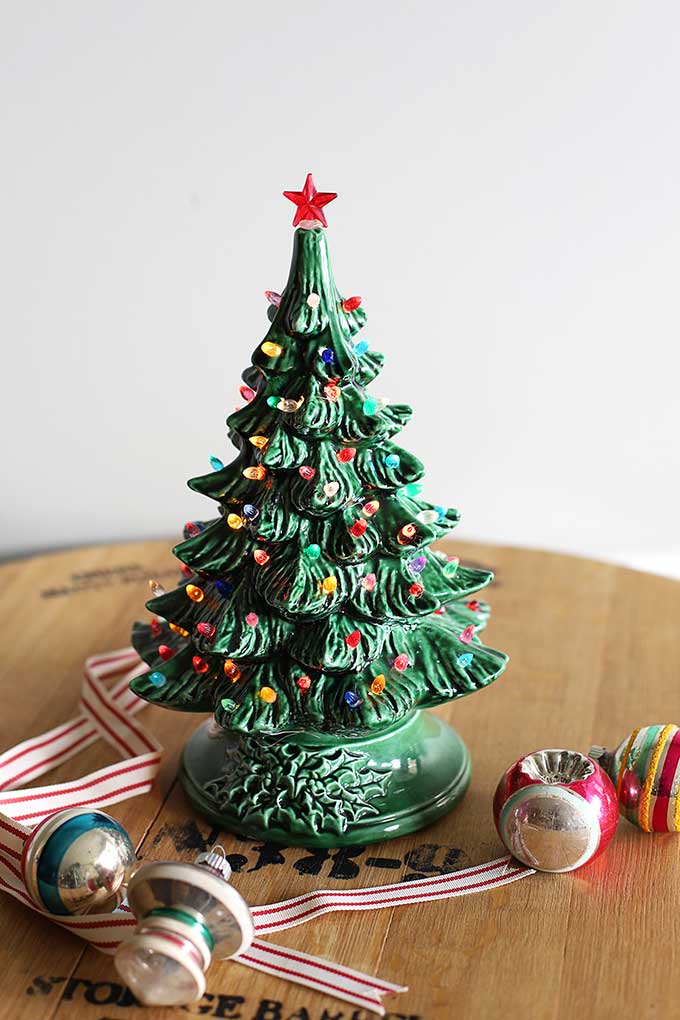 Where To Buy Reproductions:
Where CAN'T you buy them should be the questions!
Of course Etsy and Ebay are great if you want the authentically vintage ones.
I've seen the new ones on Amazon and Walmart. Target had them last year, but I have not seen them make a return this year!
Psst - You there. The ceramic Christmas tree lover. Yeah you! - You have to check out Ariel at PMQ For Two's line up of ceramic trees on her sideboard! Stunning!
Speaking of ceramic Christmas trees, I picked up the little guy above at a local antique store. It's cute at just 10 ½" tall and oh so colorful!