Fall is just around the corner!!!
Who's kidding who. School is already in session in most parts of the country, college football season has kicked off and all the things Pumpkin Spice have taken over the coffee shops already.
I'm calling it. Fall is here!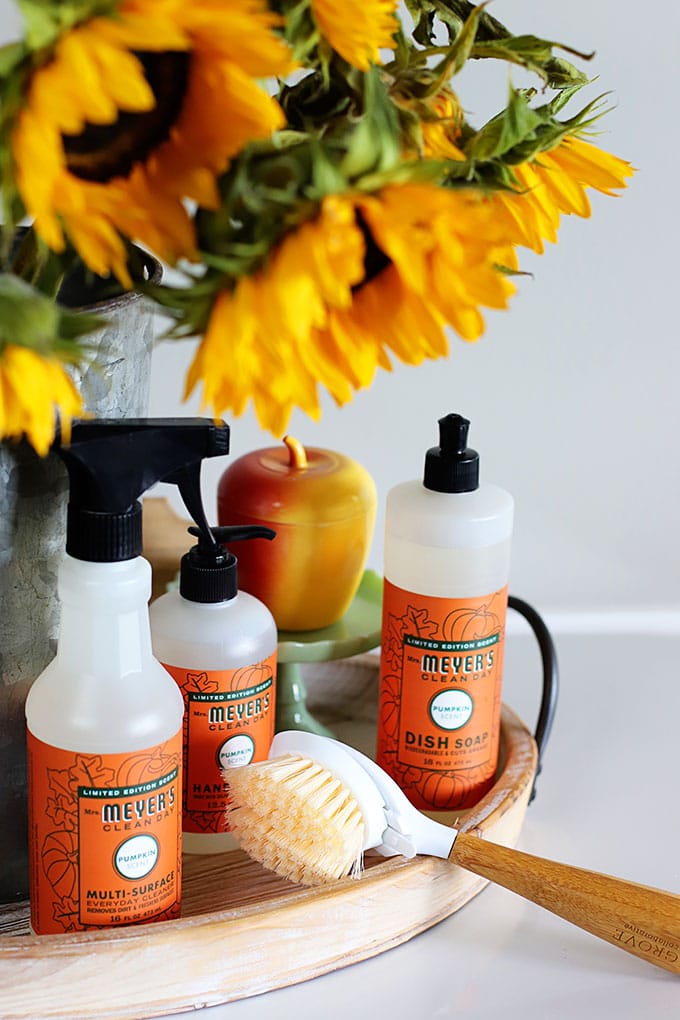 And get this! I am so thrilled to be teaming up with Grove Collaborative today for a special fall-o-licious offer!
(I am tickled pink to partner with Grove as an affiliate. You can read my full disclosure policy here.)
Mrs. Meyer's Fall Cleaning Set Offer:
When you sign up and place your first $20 or more order from Grove HERE they will include this set absolutely free (a $30+ value):
Free Mrs. Meyer's Fall hand soap
Free Mrs. Meyer's Fall dish soap
Free Mrs. Meyer's Fall multi-surface spray
Matte Cleaning Caddy
Grove Walnut Scrubber Sponges
Free shipping
Offer is available while supplies last.
And if you are already a Grove customer don't worry, you can click HERE to get a free 2-pack of the Grove walnut scrubber sponges.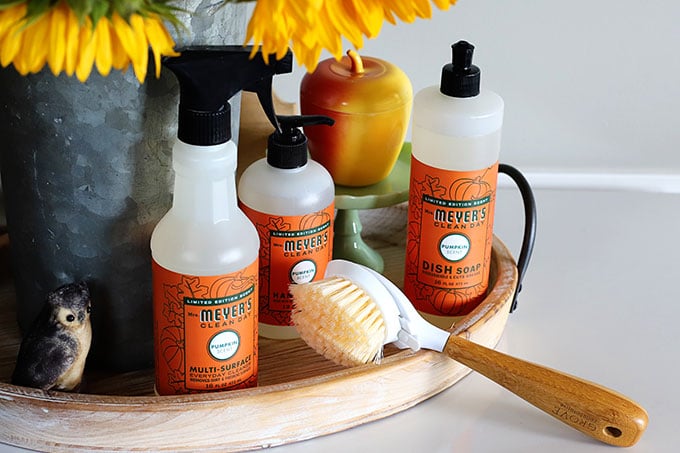 Mrs. Meyer's Fall Scents:
The limited edition fall scents are Mum (short for Chrysanthemum, but you probably already knew that), Apple Cider, Spiced Pumpkin, Acorn Spice and new for 2021, Pear Tree!!!
(Based upon availability. And if past years are any indicator, Spiced Pumpkin sells out FAST!)
Here's how it works:
Sign up for Grove Collaborative HERE. The freebie offer will immediately be added to your cart. Feel free to pick your own fall scents for your full sized hand soap, dish soap and multi-surface spray (there's a little drop down box with an arrow that allows you to choose the scent). Your cleaning caddy should already be setting in your cart for you too.
You'll be asked a few quick questions about your cleaning routine and some additional suggested items will be added to your cart. Feel free to add or delete anything from your shopping cart (just don't delete your freebies). Change the scents? Change the items? Scrap their suggestions and start from scratch? Go for it - it's your shopping cart.
With your 1st $20 purchase through Grove you will receive your free gifts.
What You Need To Know:
I rarely "try to sell you something". It's maybe once or twice a year and only when I truly love the products and recommend them with my whole vintage-loving heart. Back in January when I shared a similar (but totally different offer from Grove, because hey, they had no P-U-M-P-K-I-N scent in January!!!), a ton of people scooped it up. So when Grove asked me if I wanted to share their FALL SCENTS too, I jumped at it!
Like I've said before, I've been buying my Mrs. Meyer's cleaning products from Grove for almost 5 years now and it is a great way to get my beloved Mrs. Meyer's products at a good price (great price) and have them shipped to you from the comfort of your couch. But I have been using Mrs. Meyer's stuff from just about the time they invented the cleaning products (I just had to hoof it to the specialty grocery store to buy them previously).
This is a subscription service, so every month they will email you and/or text you 7 days before your monthly shipment is scheduled to be sent out and again 1 day before your monthly shipment is scheduled to be sent out telling you a shipment is coming up. If you don't want those items this month, take them out of your cart. If you don't like that scent, change the scent. If you don't want a shipment that month, delay your shipment until the next month or cancel your shipment altogether for that month.
And you can go to this page and Pause Auto Shipments if you prefer to not have automatic shipments sent to you. Repeat, you do not have to use the auto-shipping feature if you don't want to!!! I know that gives some people the hives, so don't feel like you have to stay with the auto-ship option.
Oh, and you may fall in love with the scents. Seriously, the fall scents are for a limited time, but the Lavender and Geranium are amaze-balls. And my husband is absolutely obsessed with the Lemon Verbena hand soap!

*Currently they only ship to the contiguous United States, meaning they do not ship to Canada, Alaska, Hawaii. But let's face it, if you live in Hawaii, you have beautiful scents right outside your window!
No idea what to spend your extra $20.00 on? Here are some of my faves!
Some Of My Favorite Grove Products:

Bubble Up Dish Brush Set / Linen Apron / Glass Spray Bottle / Wool Dryer Balls / Foaming Hand Soap / Glass Cleaner Concentrate / Castile Soap
So if you want try Grove and Mrs. Meyer's products, head on over to Grove Collaborative and sign up. If you're already signed up for Grove, claim your free walnut scrubbers HERE. Mrs. Meyer's Seasonal Scents always go fast, so don't wait. Grab your free fall set now!
Go!
Get out of here and get your FALL on!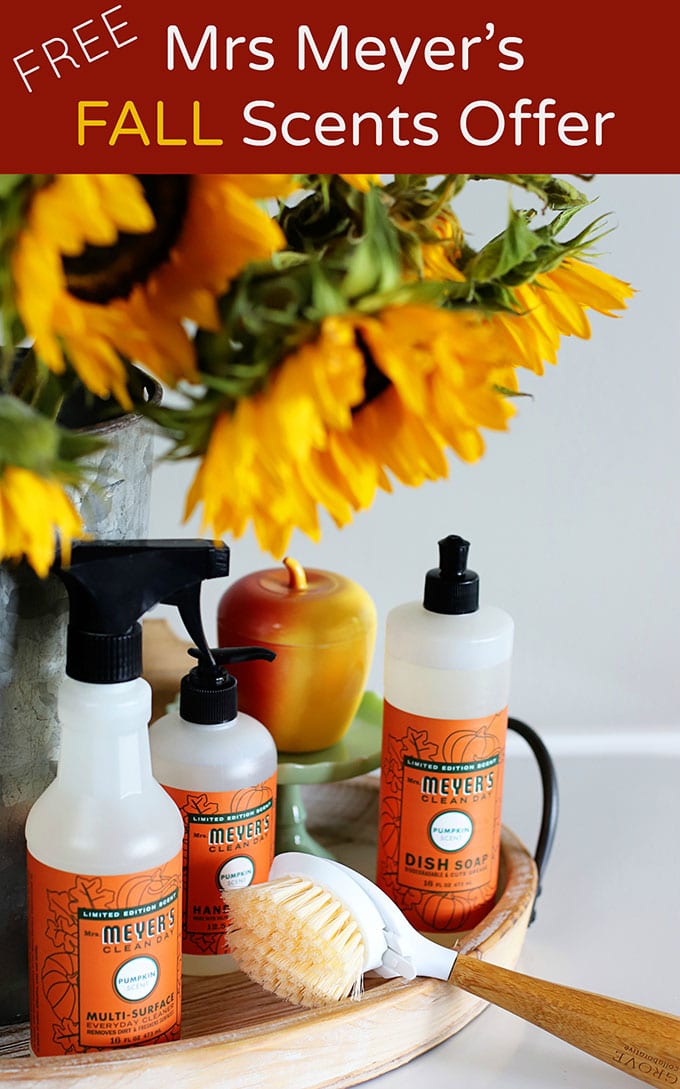 You may also like:
Fall Porch Decor Farmhouse Style
Lazy Girl's Guide To Drying Hydrangea
100 Best DIY Fall And Halloween Decor Ideas