I went to the Springfield Antique Show and Flea Market this weekend and had a great time.
On Thursday, I had asked my Facebook followers for suggestions on what the heck to do with my little old granny shopping cart that I was planning on taking to the show. I had wanted to sew a cute liner for it, but had run out of time and energy.
Polly had mentioned a grain sack and since I had one just sitting here doing nothing, it sounded like an easy fix. I just clipped the sack to the inside of the cart with binder clips (who knew Office Max was vintage now) and then whenever I bought anything small, I would put it in the sack. That way things wouldn't get lost through the holes of the cart. It would have looked so much cooler if the sack was large enough to cover the entire inside of the cart, but this was all about making do with what I had.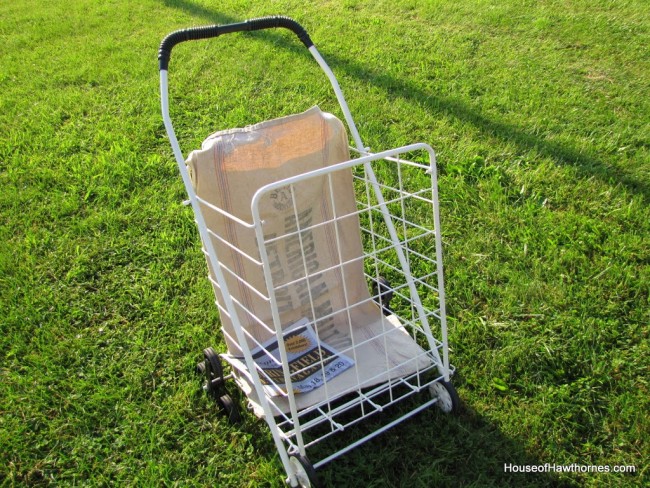 They had a new section at the show this year that featured higher end vendors. A lot of store owners. This photo happens to be from Sue Whitney's booth (Miss JunkMarket Style herself).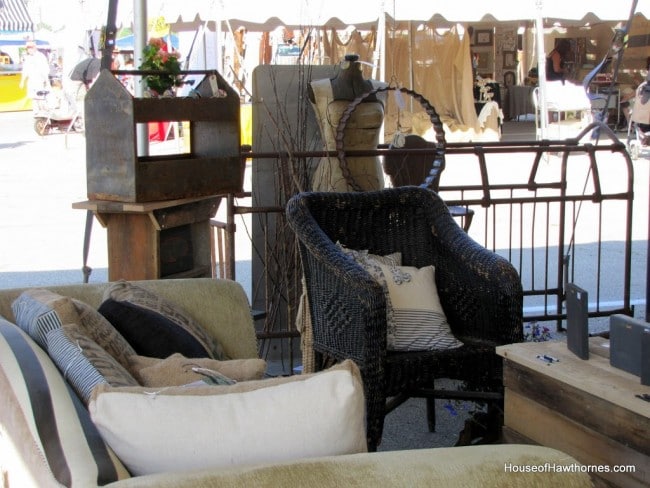 And Folk Magazine had a whole barn set up.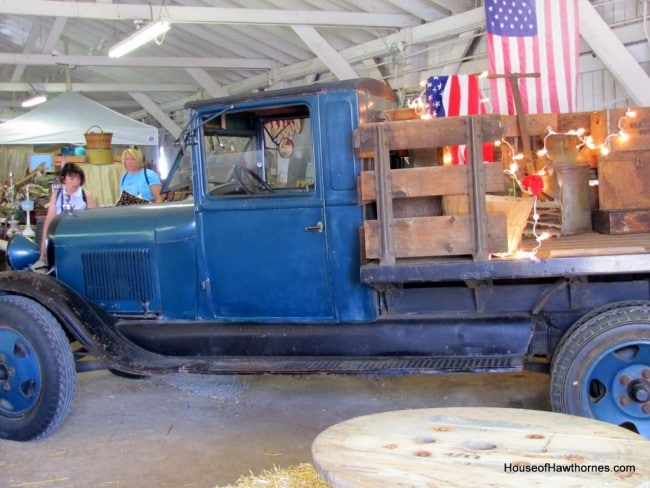 If these guys would have fit into my shopping cart, I would have brought them home with me. Every girl in Ohio needs a cow or two.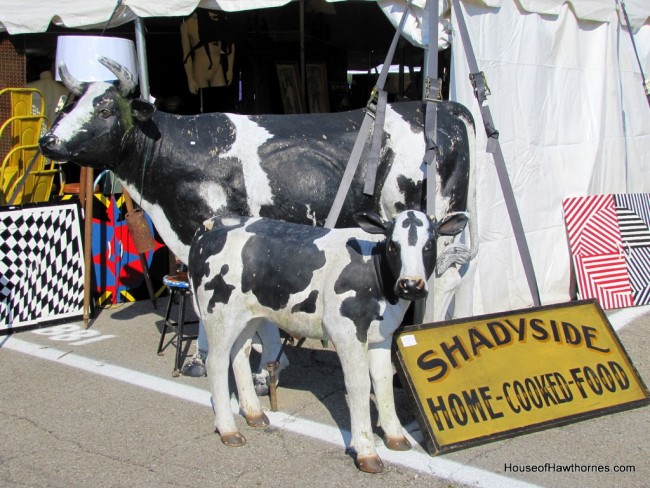 Remember last year when I was dying to find an old croquet set and looked all over and then finally found one. Well, I found at least 30 of them at the sale this weekend. Everywhere I looked, my husband would point out another one. Someone must have heard me last year and decided that this summer would be the year of the croquet set.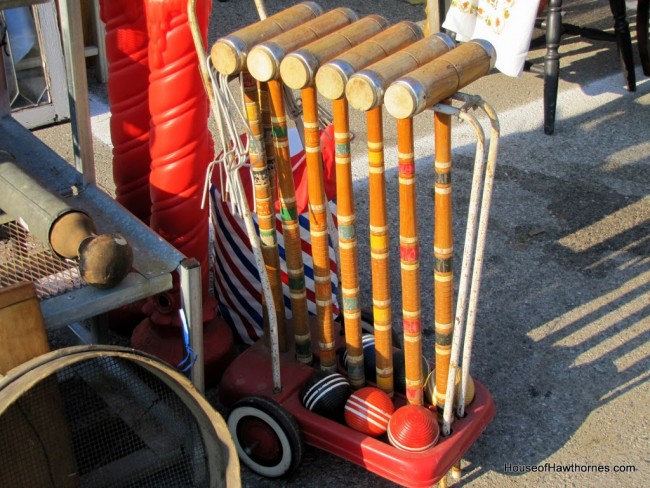 There were thousands of chairs around the show. With my chair fetish, you would have thought I would have come home with one or two. But no, I was chairless.
Not sure who would buy this, because it's basically just a used toilet, no matter what color it is. You are buying something that people used to doodie in!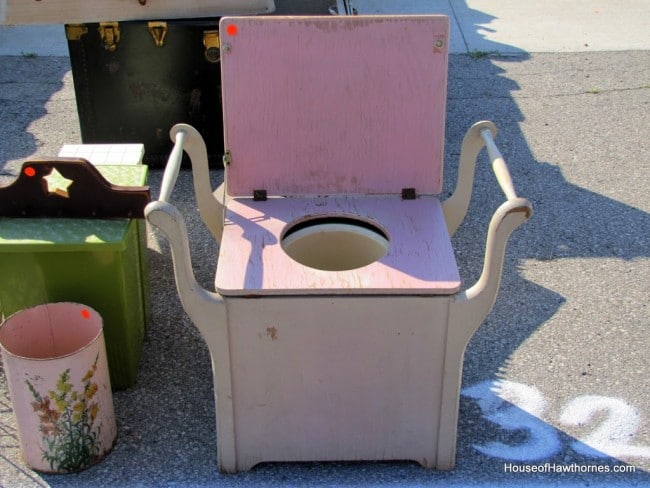 I was this close to buying this guy. Plus it was late in the show and I was a little hungry for a snack, so it would have killed two birds with one stone.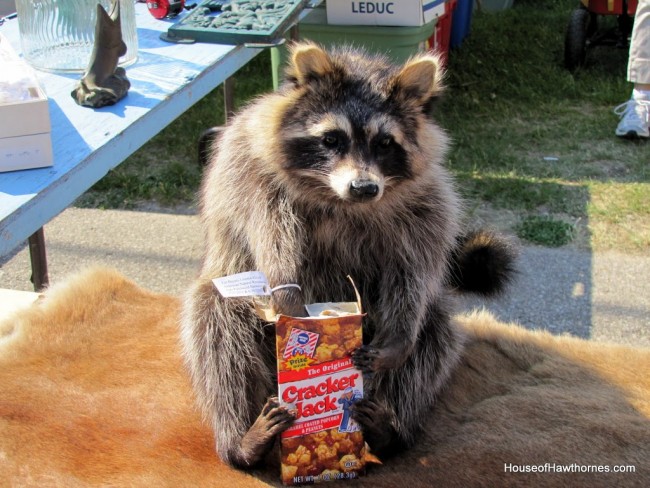 This Santa was very expensive. The tag said it was stuffed with horsehair.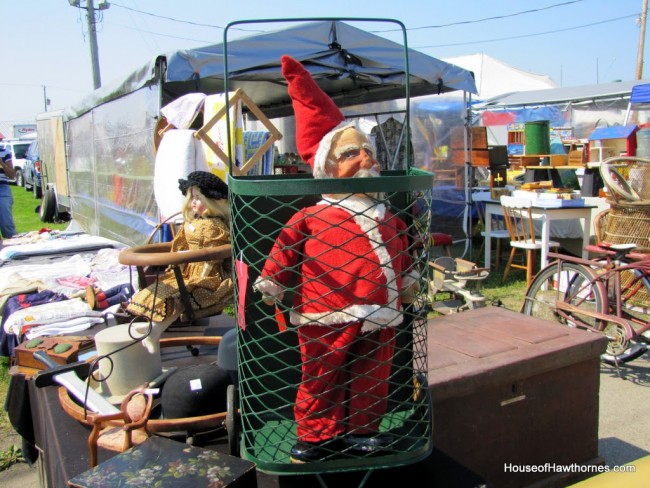 I can't imagine why Santa is in jail though. He does look a little shifty.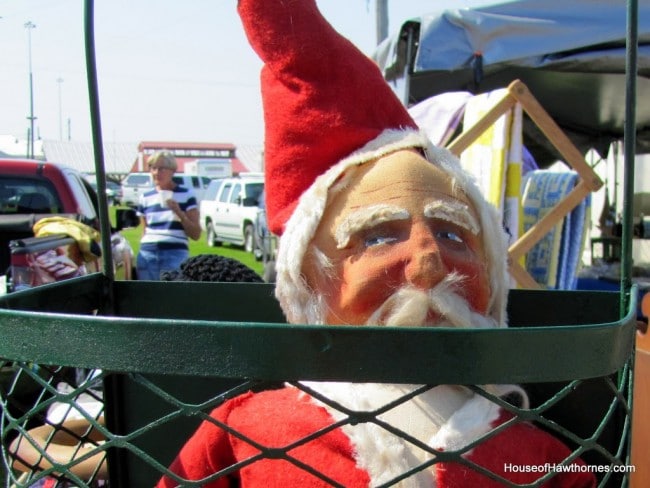 Oh no, Santa! How could you?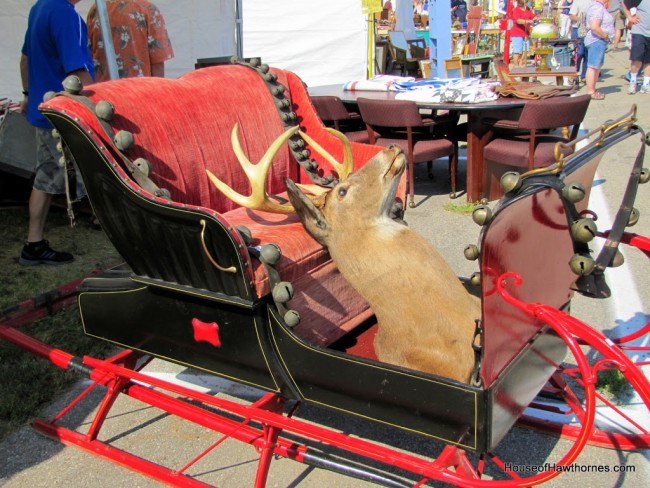 All in all, it was a great day. Great weather, great eye candy and great inspiration.
And nothing fell through the bottom on my shopping cart! Oh, a wheel did fly off though. My MacGyver husband fixed it on the spot though with one of the binder clips. I knew I had those binder clips with me for a reason.