Last year I showed you my DIY Terrarium: Woodland Version and it was a big hit. This year I was itching to expand my DIY terrarium empire with something a little smaller, a little more mobile and maybe even a little funkier.
BTW, before I get too far into this, today is Thrift Store Decor Team Wednesday and there's a lot of other thrift store upcycles down below you are not going to want to miss!.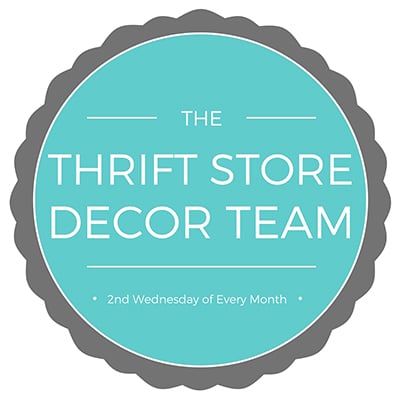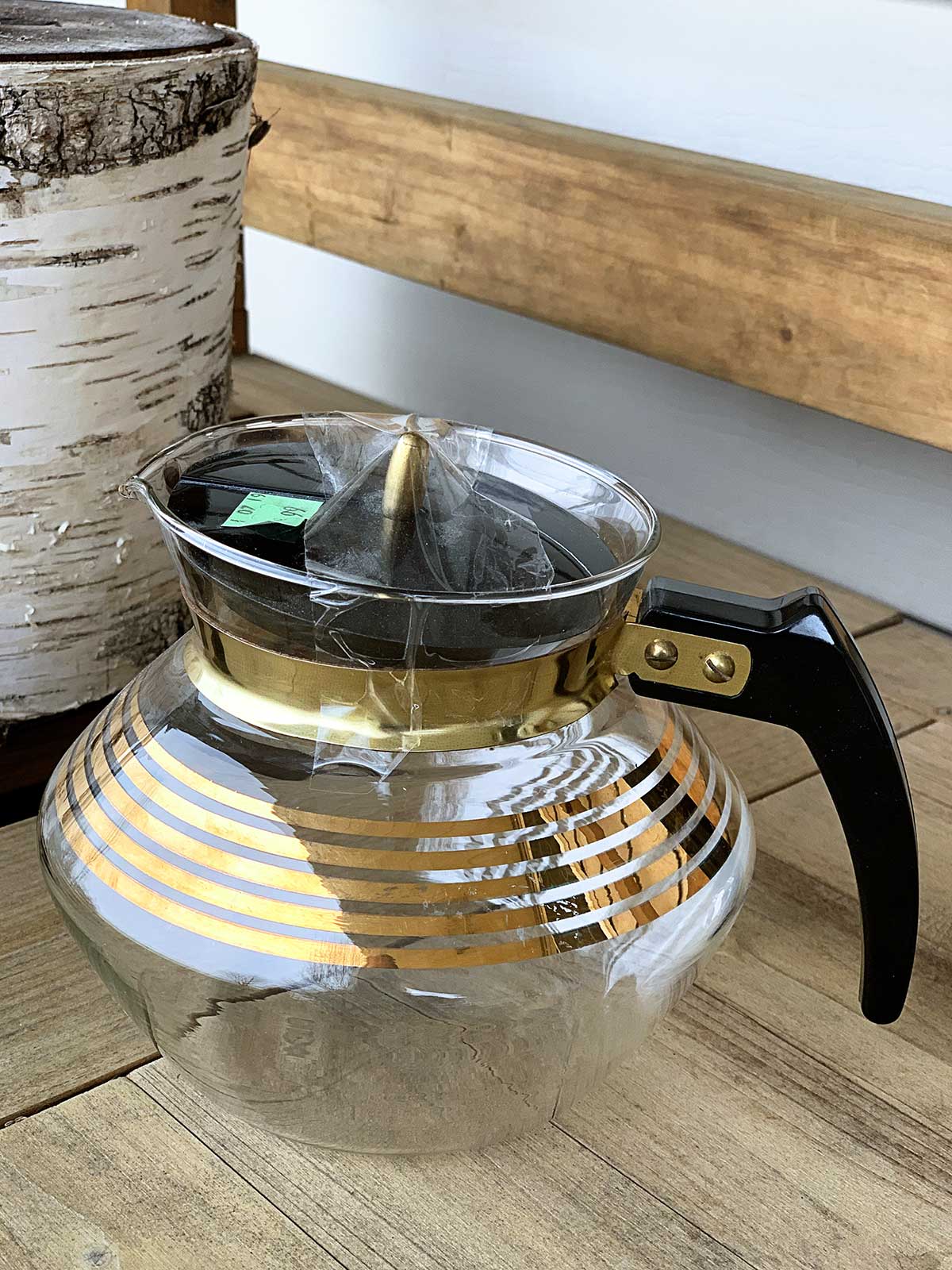 So when I saw this retro mid-century modern coffee pot (or is it a tea kettle? I don't drink either so I'm a hot beverage vessel novice), I knew exactly what I wanted to do with it.
After bringing it home, I quickly realized I have been a victim of the Thrift Store Packing Tape Gremlins. Yep, whoever priced this up for Goodwill made darn sure that lid was never going to be misplaced.
Never!!!
This is not a new rant of mine, I discussed it in my A Letter To All Thrift Store Workers post a few years ago when I bought a set of vintage croquet mallets that were taped to within an inch of their lives. But it still irks me to no end.
So basically to make a long story short, the packing tape was placed over the gold striping and could not be removed without pulling up the gold.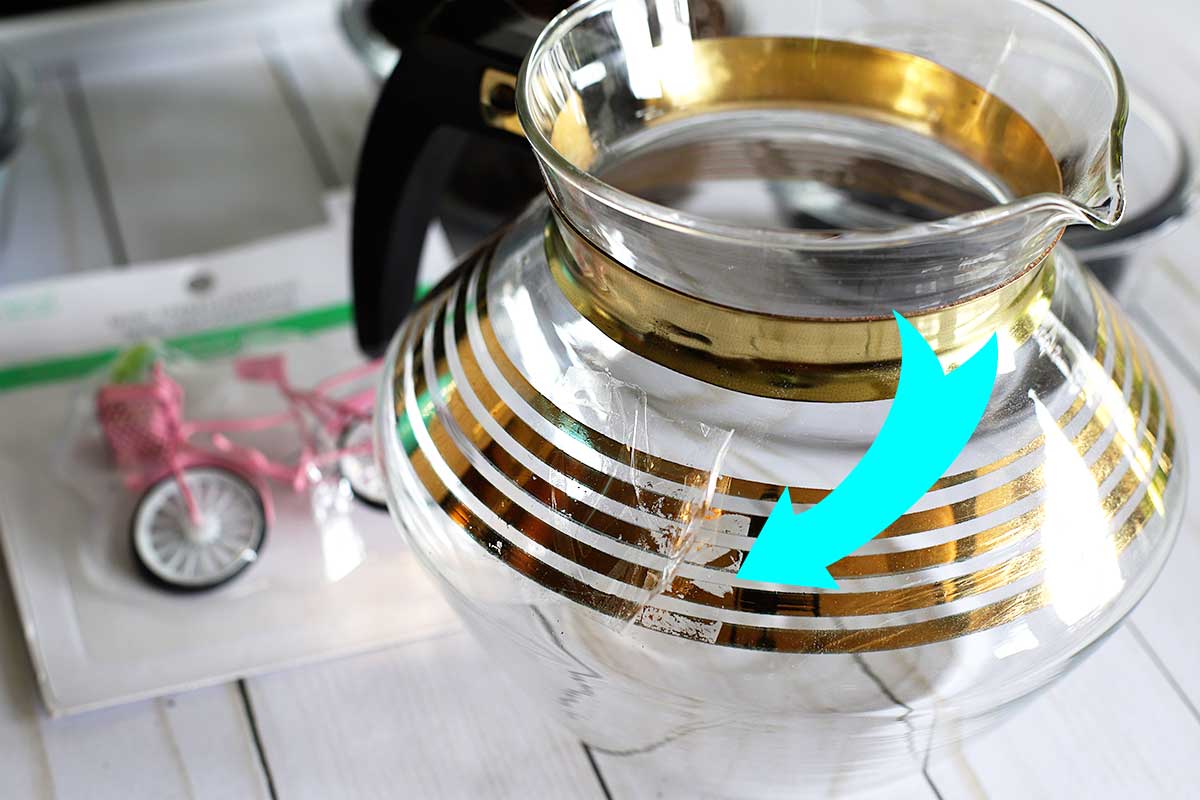 I actually thought I'd just trim the tape around the gold and make it do.
But then I ran into my 2nd problem with this fancy coffee pot.
Those darn gold stripes, that I was trying so hard to keep intact, are not the best thing to have on a terrarium where you actually want to SEE what is inside!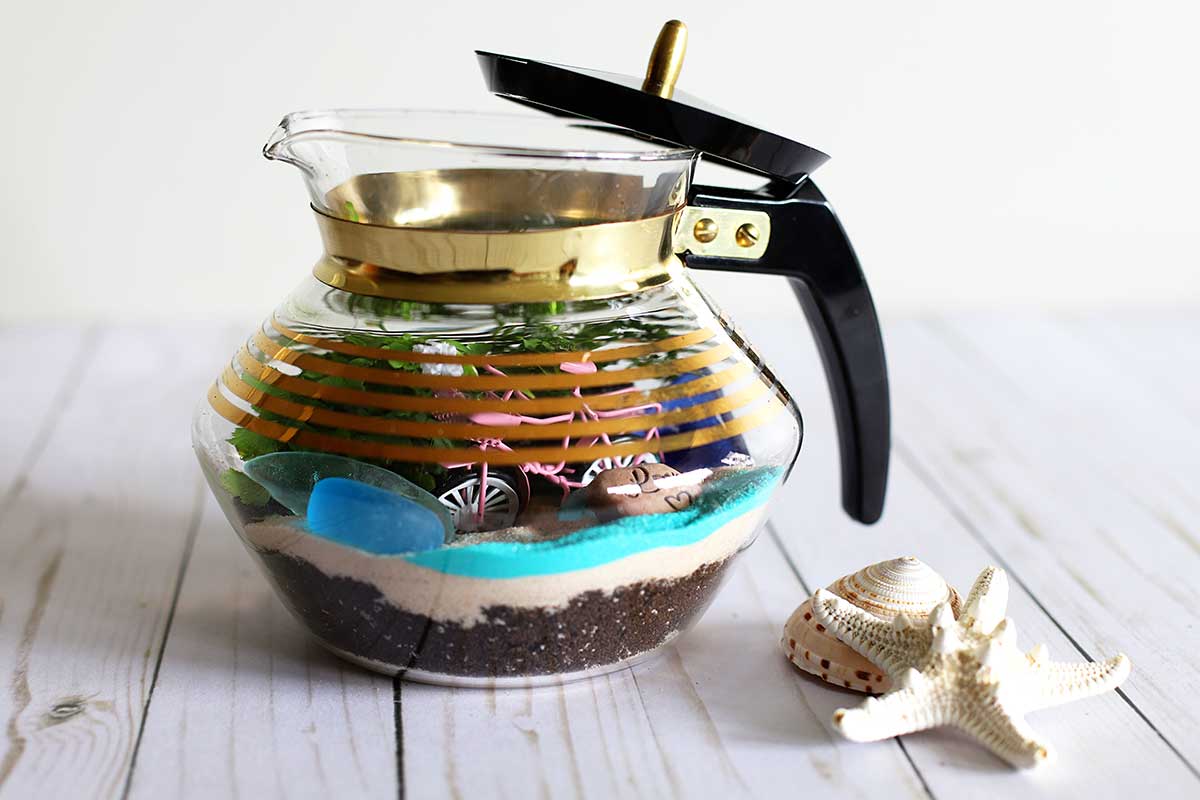 Nobody puts Baby in a corner and nobody puts my bicycle behind bars (even if they are fancy gold ones)!
So after working on the entire project with matching video included, I decided to scrap it and start anew. I ran to the thrift store and grabbed the 1st generic coffee pot I could find, then spent the better part of yesterday reinventing my entire project for you one more time!
So this is my much more generic, yet more visually appealing coffee pot Terrarium project!
(This post contains some affiliate links for your convenience. You can read my full disclosure policy here.)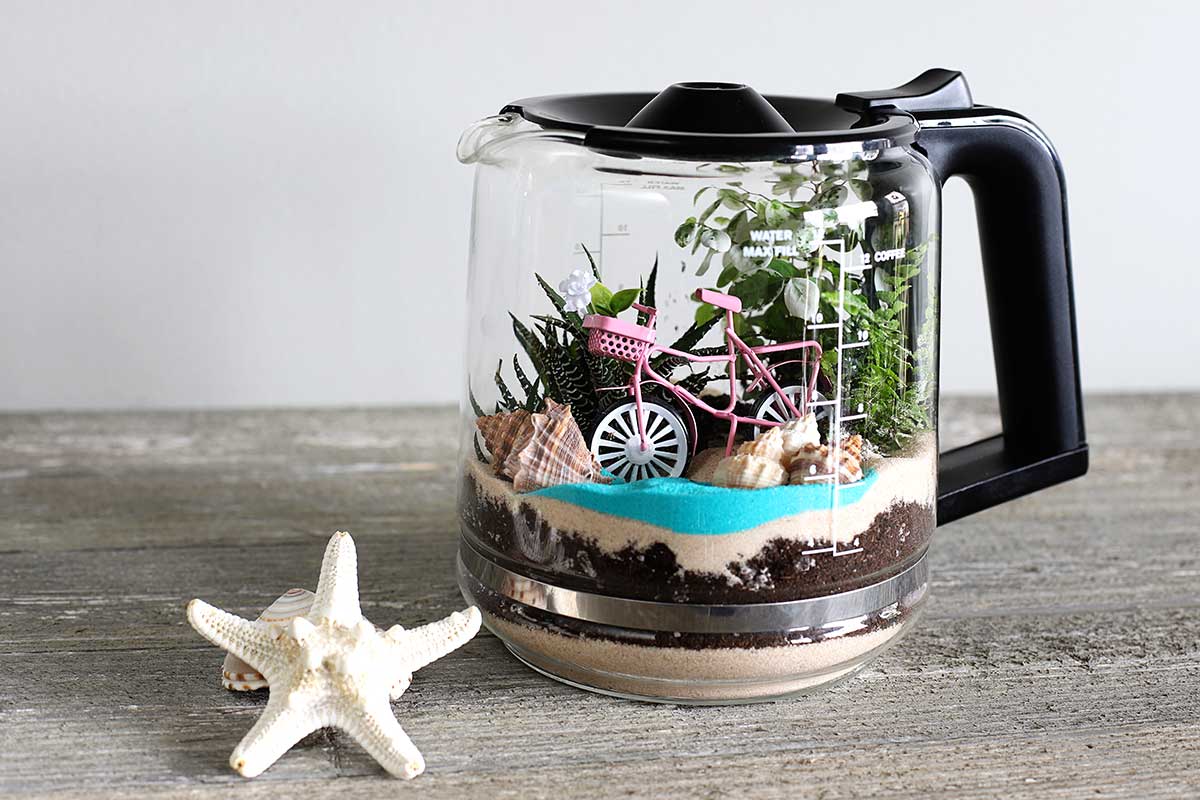 How To Make A Coffee Pot Terrarium
Supplies:
Coffee Pot (bet you didn't see that one coming)
Potting Soil
1-3 Small Plants
Small Fairy Garden Item (I used a pink bicycle from Michael's)
Optional: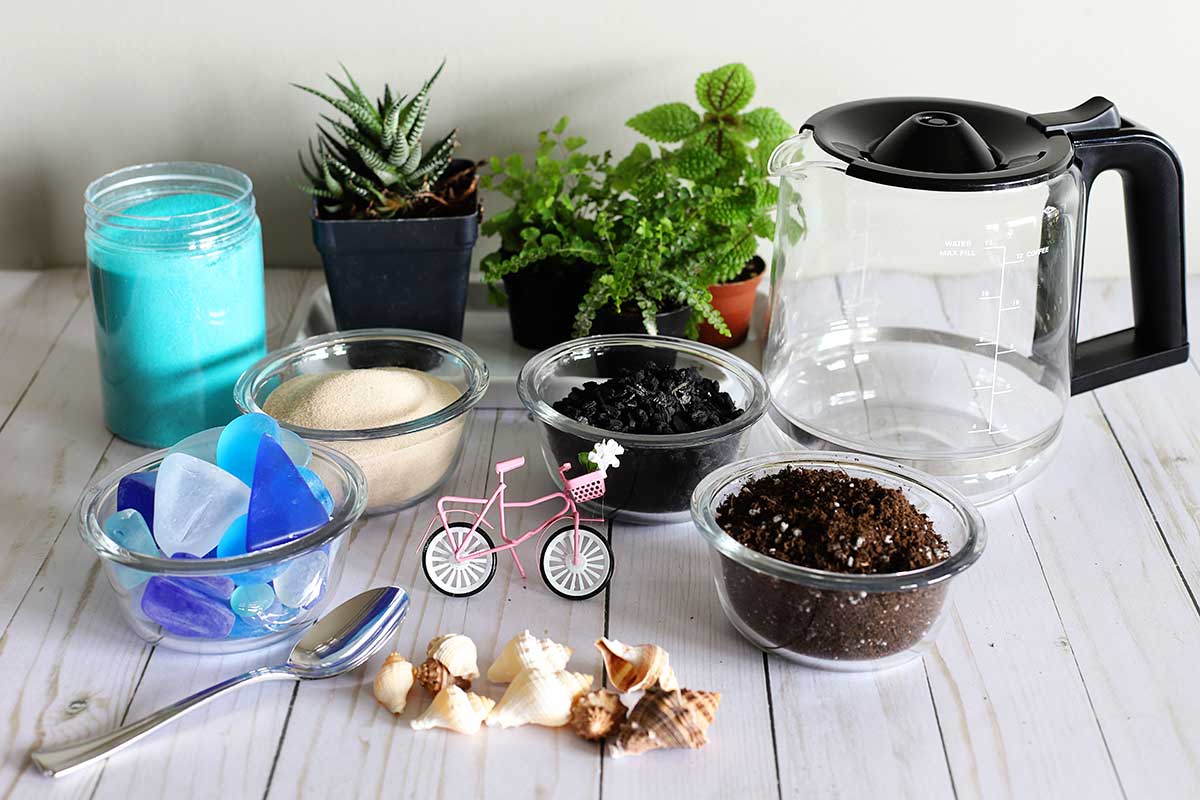 Instructions:
I've created a video so you can follow along visually and it's floating around here somewhere. Probably up above here or off to the right.
And if your prefer, here are the step-by-step directions:
Make sure your coffee pot is clean and spotless. It's not like you'll be able to wash up the inside at a later date.
Start by pouring a little bit of the white sand or small gravel in the bottom of the coffee pot for proper drainage. Roughly a half inch of sand/gravel will do.
Add a couple tablespoons of the activated charcoal on top of the sand/gravel. This helps to keep your terrarium fresh smelling and free of bacteria.
Your potting soil goes on top of this. I used 2-3 inches of soil.
Remember, your coffee pot is going to have the lid on it, so make sure you will have enough room above the dirt for plants and decorations also.
Plant 1-3 small plants in the back of the pot.
If you want a beachy look, spoon a few tablespoons of sand over the dirt to resemble a beach.
To get the look of the ocean, you can add a bit of blue or aqua sand to the front of the scene.
Add a few pieces of sea glass or shells along with your bicycle or other fairy garden accessory to complete the look.
Just spritz the plants with water occasionally as they won't have a full terrarium effect since the lid will not be airtight. (In a real terrarium that is totally enclosed it creates its own watering system through condensation and all that jazz, but a coffee pot has holes in the lid so adding water occasionally is necessary).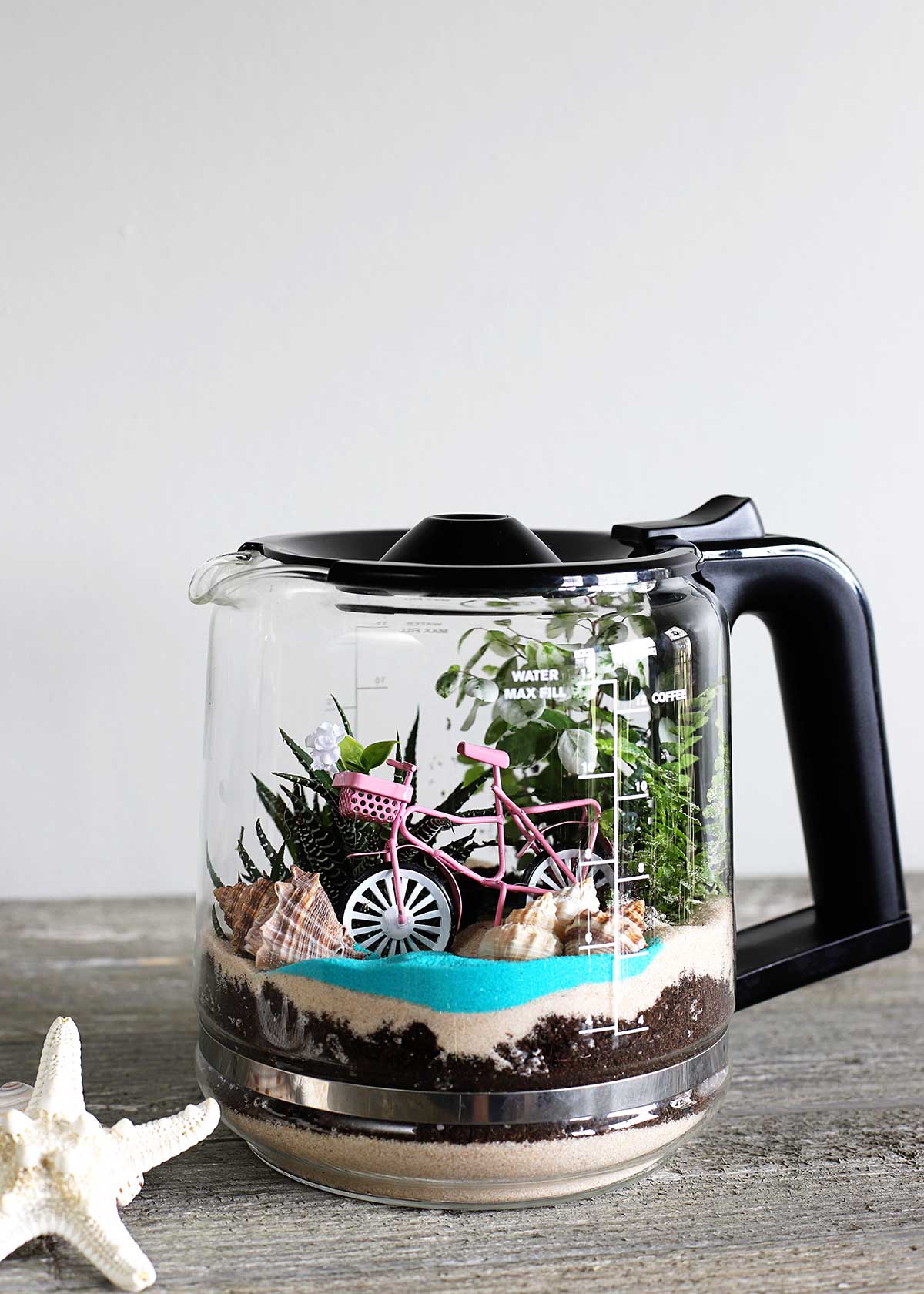 Look, I can actually see the bicycle and shells!!!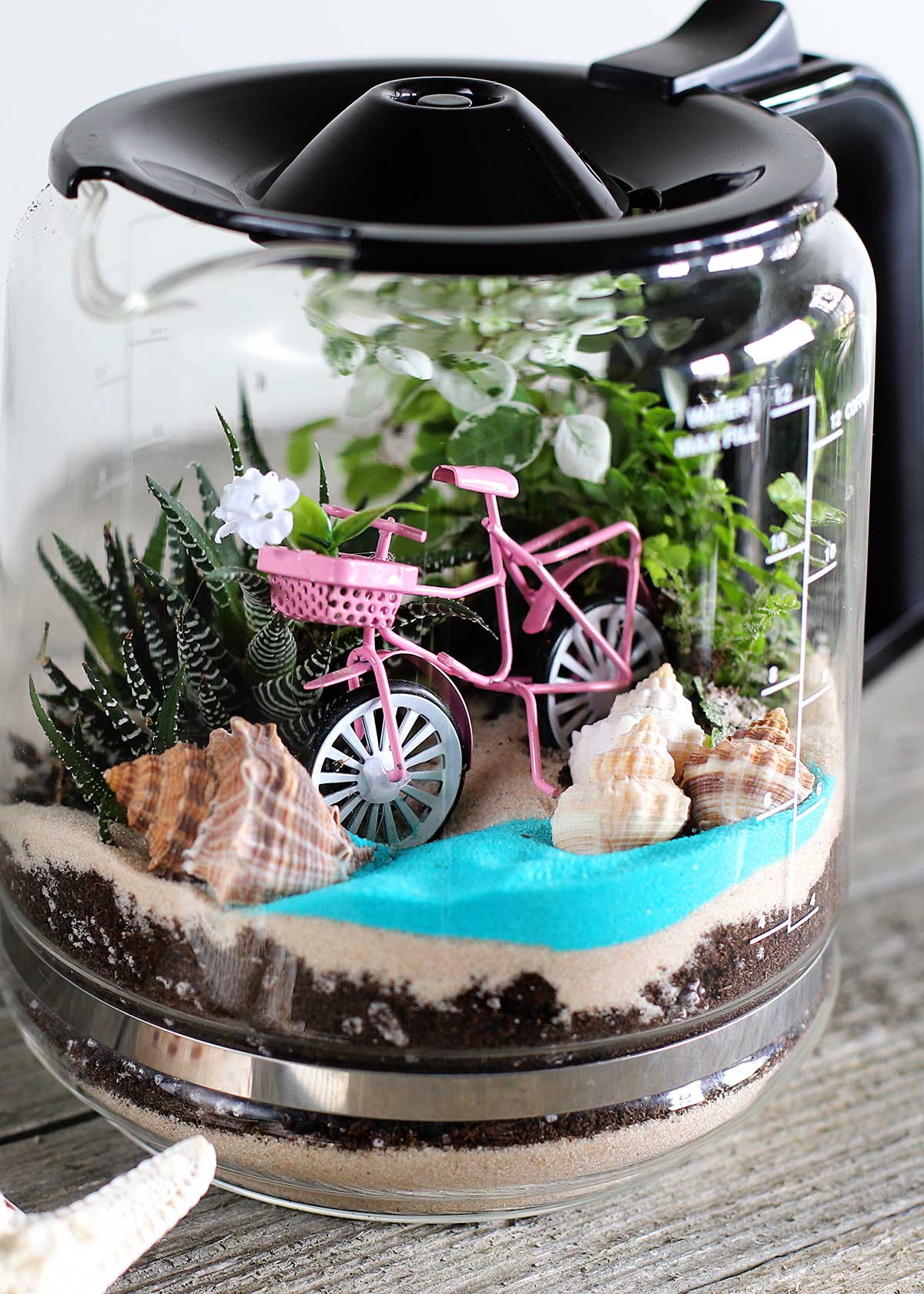 More Thrift Store Upcycles From The Thrift Store Decor Team
Today is also Thrift Store Decor Team Wednesday! So run on over and see what my friends have been busily working on this month!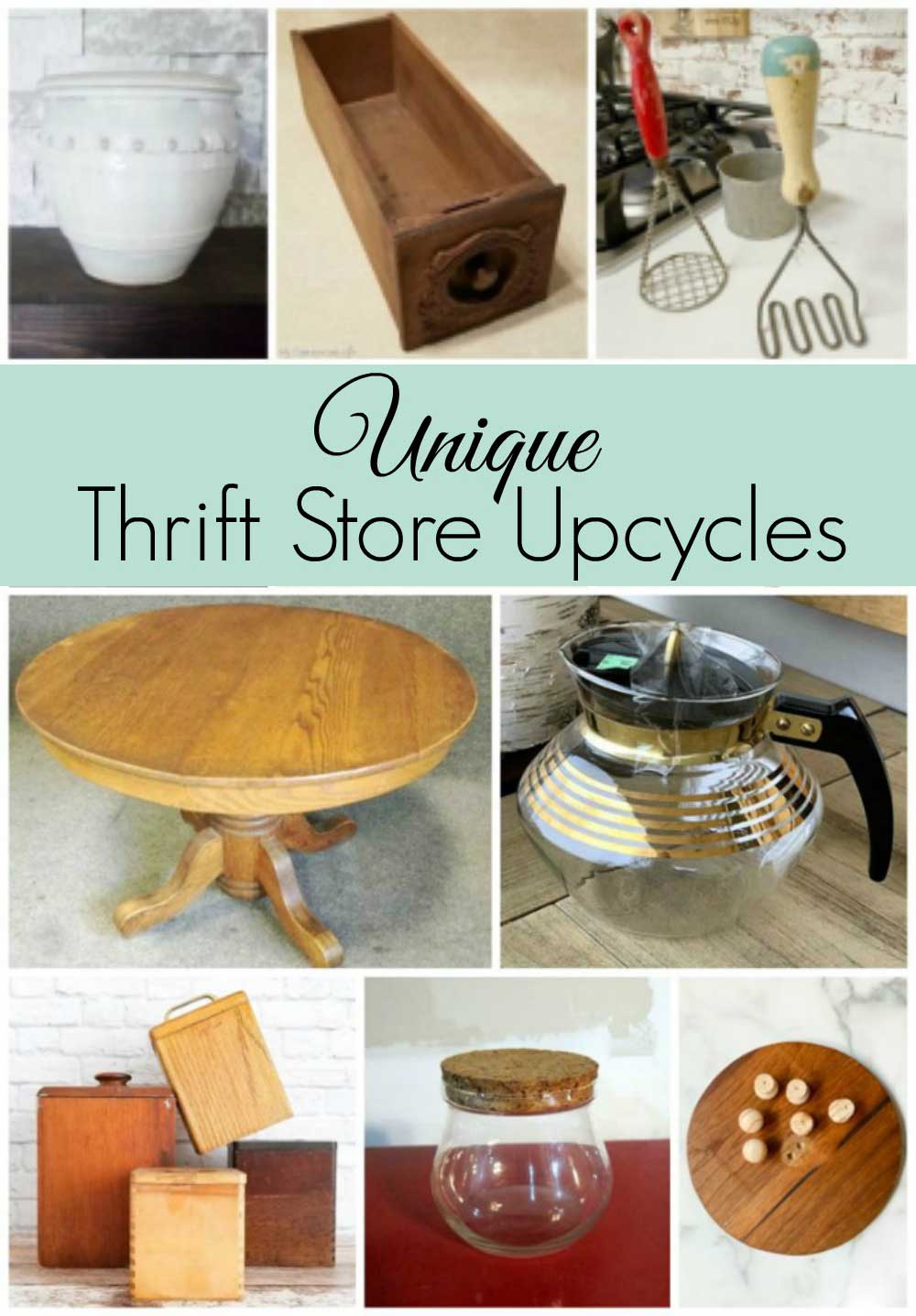 DIY Footed Tray - Our Southern Home
Create A Natural Raw Wood Look - My Uncommon Slice Of Suburbia
Retro Canisters For Vintage Kitchen Decor- Sadie Seasongoods
Decorative Candy Jar - Petticoat Junktion
Antique Kitchen Tools For Spring - Refresh Restyle
How To Make A Cement Pot - Domestically Speaking
Decoupage Sewing Drawer - My Repurposed Life
DIY Coffee Pot Terrarium - House of Hawthornes