Or should my title read that I found my head?
On one hand I bought this cute/creepy doll head, so in that respect I guess I did find my head. Or a head at least.
But man, did I lose my head about how to buy really cool stuff.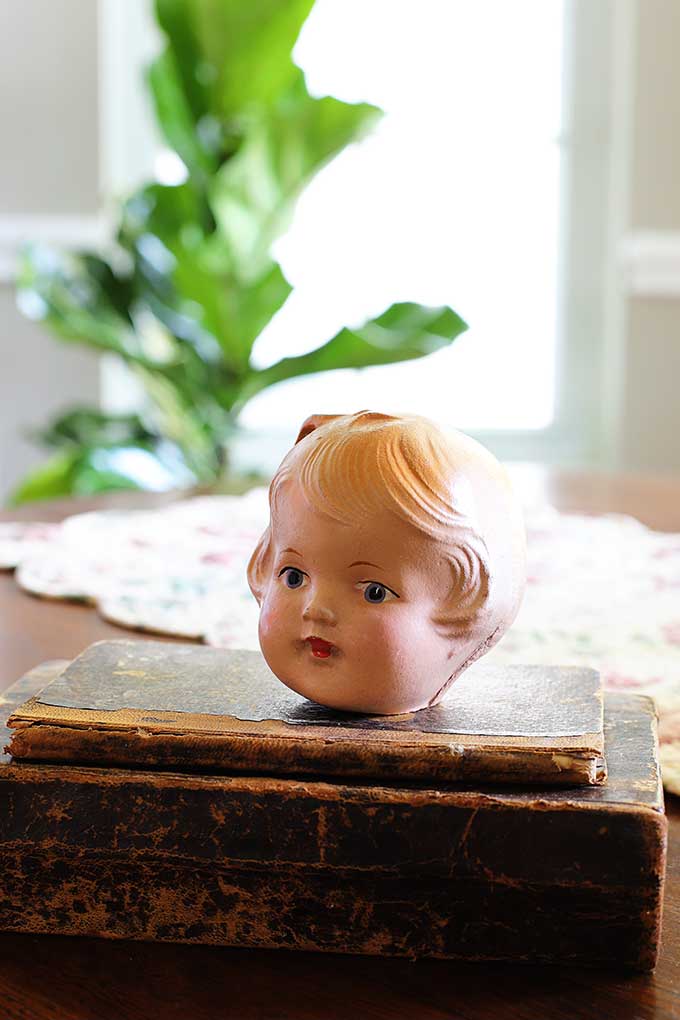 I even wrote a post titled Tips For Shopping Flea Markets, Festivals And Fairs a few years ago, so I should have known!!!
I have a hard set rule at these types of fairs and barn sales, if you see something you buy it. Right then and there.
If you think about it too long or walk around to see what else is out there, it will be gone when you get back.
Except I sort of lost my head in the pure size of the fair and the excitement of the day and completely forgot about my own rule. And it bit me in the butt.
Chomp, chomp.
For instance, I saw this fun display of vintage red plaid-ness when I first walked in.
I just assumed there would be a whole slew of other vintage thermoses and thermos sets at the fair this year, because hey, doesn't everyone love them as much as I do?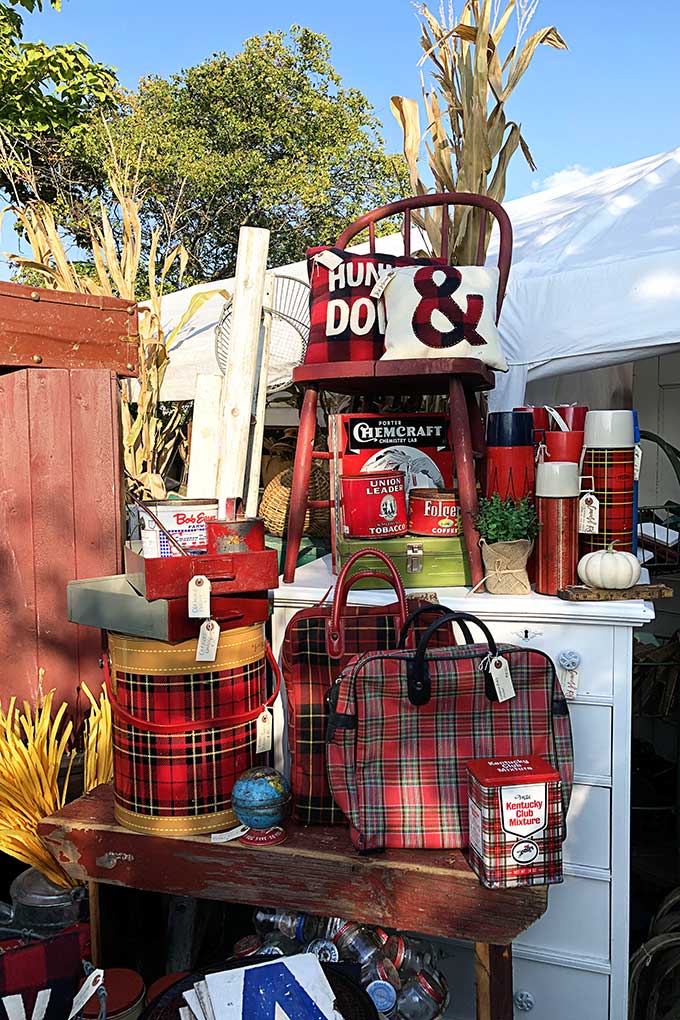 But there really wasn't a bunch to choose from.
And then when I came back around later in the morning to pick up one of the plaid thermos travel sets they were both gone.
Surprise, surprise.
Neither one had their thermoses or sandwich boxes inside them, they were just empty cases, but I thought one of them would be cute to carry as a purse this fall.
Nope, I'm still toting my basic Kohl's purse. Sorry Kohl's, but it is anything but special and anything but plaid vintage Heaven.
Example number 2 is this owl.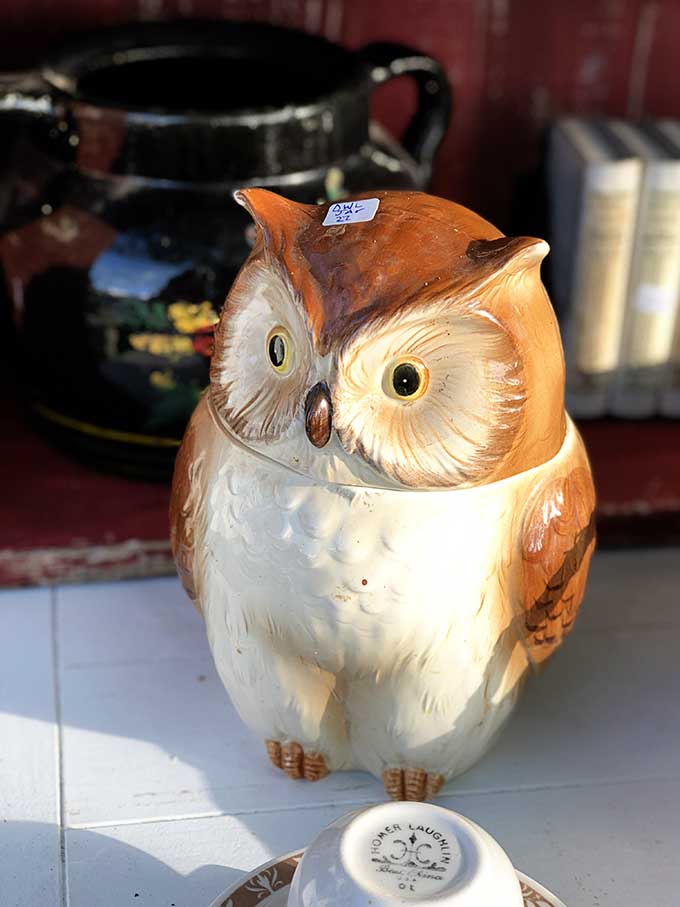 I have started to have a unhealthy obsession with owls. I only seem to like them in the fall though, it's not like you're going to see a pastel colored owl for Easter decor or anything, but even for their limited run I do seem to gravitate toward them!
This one is a cookie jar and I liked the fact that he wasn't as cartoon-ish as you normally see with owl cookie jars. Sometimes they're just so cute, they're not cute.
When I came back to grab him two minutes after I took his photo he was snatched up. Literally I was uploading him to some social media channel (why are there so many?) and looked up and he was nowhere to be seen.
I thought about putting out a missing owl report on him, but I'm pretty sure someone else bought him. Darn it!
OK, as I was writing this I kept having this vision of another owl cookie jar in my head. It was bugging me and then I realized I bought an owl cookie jar this summer. And a cartoon-ish one at that. How can I buy something and then forget about it so quickly!!!
And these yummy vintage wooden folding theater seats!!!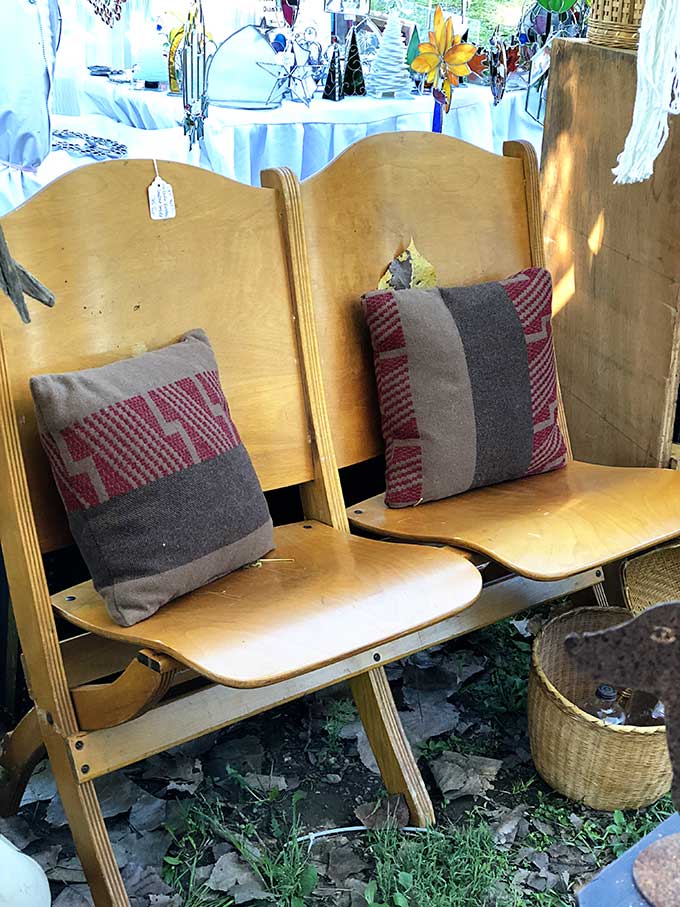 Can we have a moment of silence for these wonderful hunks of wooden yumminess.
They would have looked PERFECT in my entryway.
I was in a "Let's not go overboard and let's keep a clear head while seeing everything this year" kind of mind space. There is so much really neat stuff that you can get overwhelmed easily and spend a few hundred (thousand) dollars on stuff quickly.
So I kept hemming and hawing about buying them.
In the end I left them. With a wave and a tear in the corner of my eye I bid them farewell.
Until I got home and had serious regrets. Like HUGE regrets.
Like I actually got in my car and drove back A FEW HOURS LATER to see if they were still there kind of regrets. Just on the off chance that everyone else at the Country Living Fair was nuts and did not think they were the coolest thing EVER and they would still be setting there.
Ha! Silly me! They were not!
Someday I will find a set again. I hope.
Can I tell you something that was not in abundance at the Country Living Fair?
Blow molds.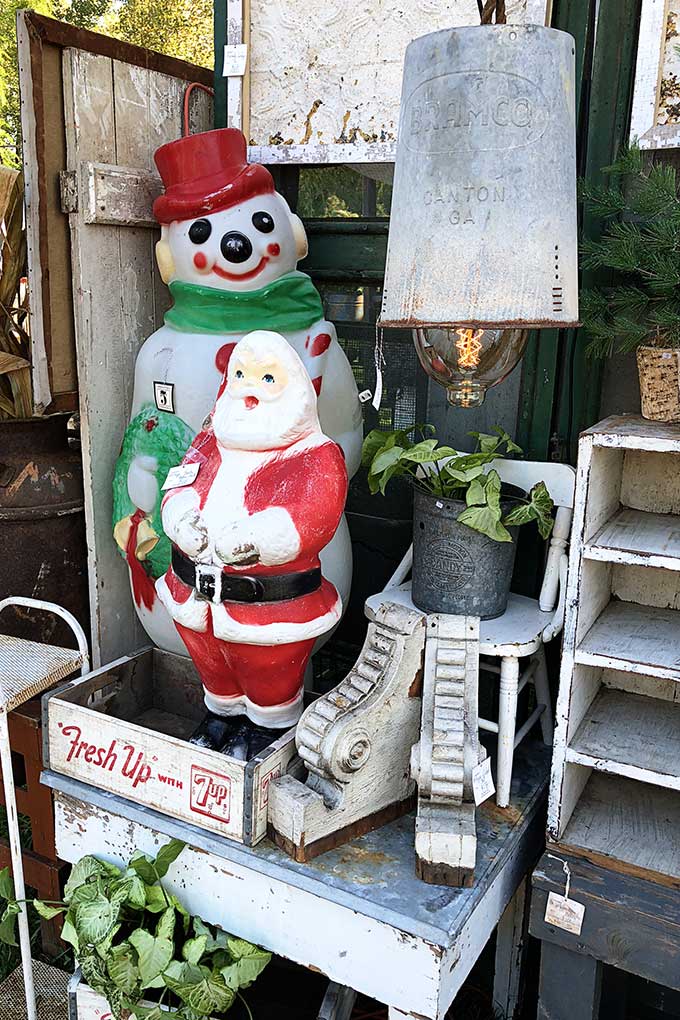 I saw a couple here and there, but nothing like last year (I wrote about last year's finds HERE)!
Are my beloved blow molds on the way out? Were they ever in?
I tend to think it's because blow molds are more kitschy and mid-century modern and the Country Living Fair tends to be more farmhouse and vintage. That has to be it!
So what DID I buy?
Well, you already saw my little friend up top. Of course she came home with me.
Oddly enough doll heads were a big thing at the fair this year. As I was buying this one a lady came up to the cashier with 3 other doll heads.
Who doesn't love a Gurley candle shaped like a jack o'lantern. It is larger than it looks in this photo, measuring in at a robust 6" tall.
It's a little dinged up and dirty looking, but that comes with the territory of being a 50 year old wax candle stored in someone's attic for the last 49.5 years.
I think I can fix that up with a little pumpkin TLC.
I adored this pumpkin painting from The Orchard House Women. I actually found her on facebook prior to the fair and her booth was the very 1st booth I made a beeline to when the doors opened. SaraJane has lots of examples of her work on her Instagram feed.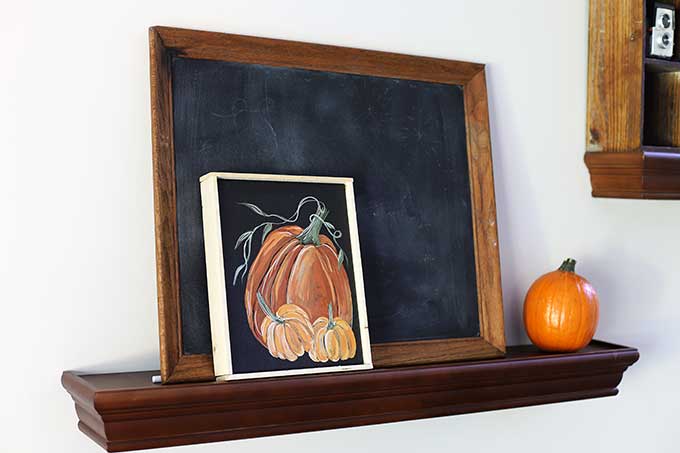 This cutie patootie baby pumpkin is made from an old chenille bedspread.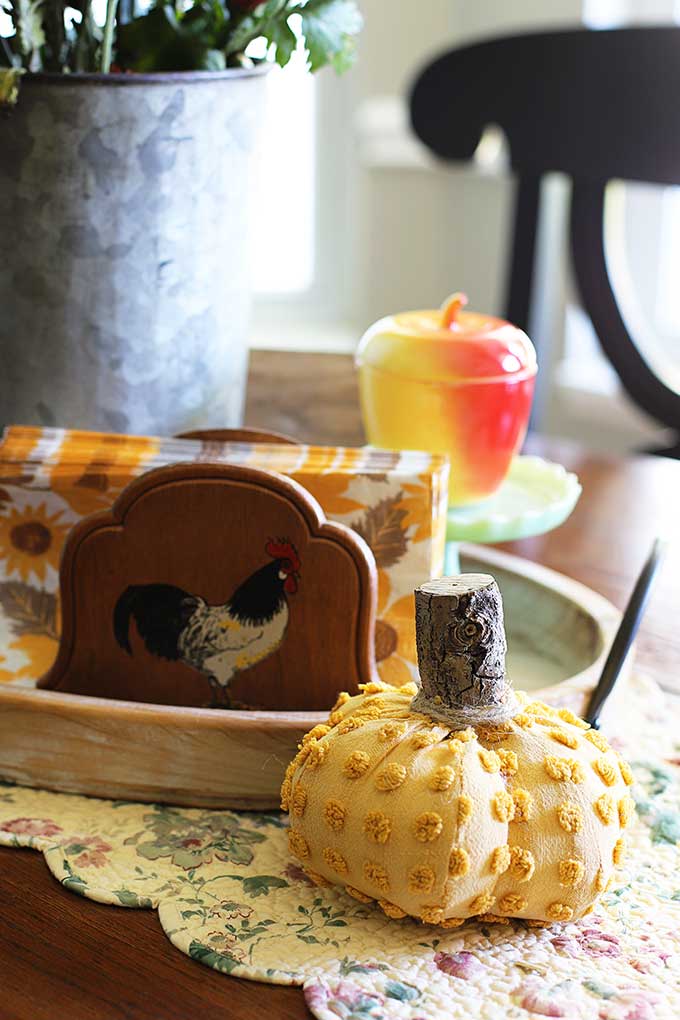 Which really surprises me because I used to LOVE to pull the little chenille threads out of my bedspread as a kid until it was just a really thin blanket, so that there are vintage chenille bedspreads still out there in the world amazes me!
Or maybe this is the only spot on the bedspread some bratty little girl from Northeast Ohio did not pick apart?
This is the ONE item I had seen on Friday and didn't buy, but was still there when I went back for it. I was really surprised because I think it's cuter then cute.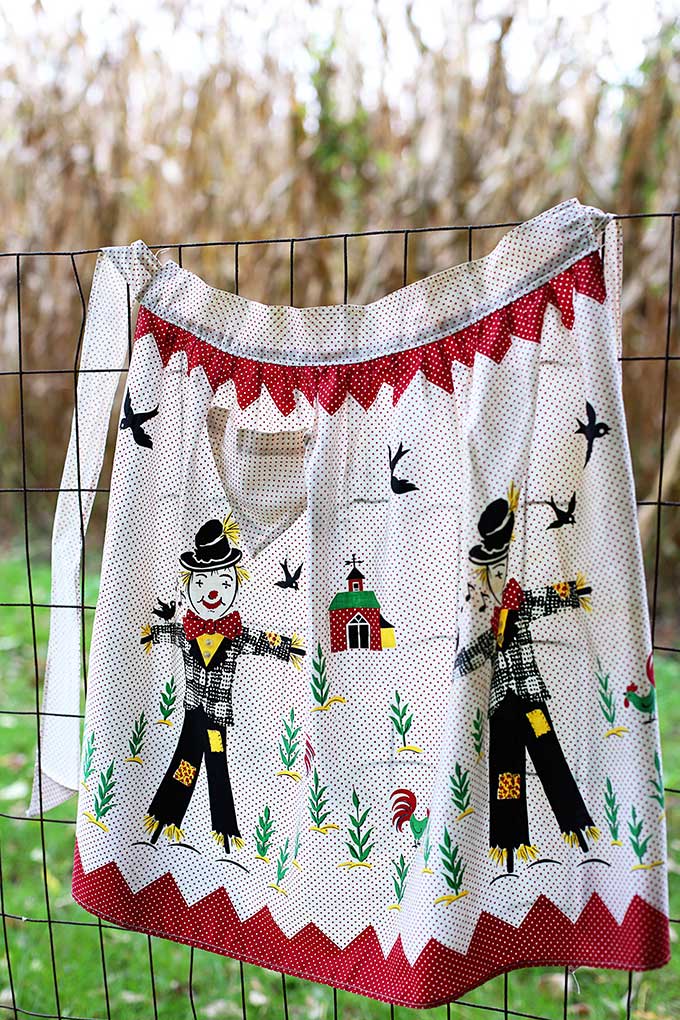 I can see wearing it when I'm baking a pie this fall. Or when I take a pie out of the freezer, slide it out of the box and pop it into the oven according to directions???
So did I buy a ton of stuff there? Nope.
But I think I made smart purchases, except for when I forgot my own rules and missed out on a few things.
Heads. Sometimes you find them, sometimes you lose them. It's all in a day of shopping at the Country Living Fair.
Other posts you may enjoy:
How To Clean And Restore Thrift Store Finds
Top Ten Thrift Store Shopping Tips